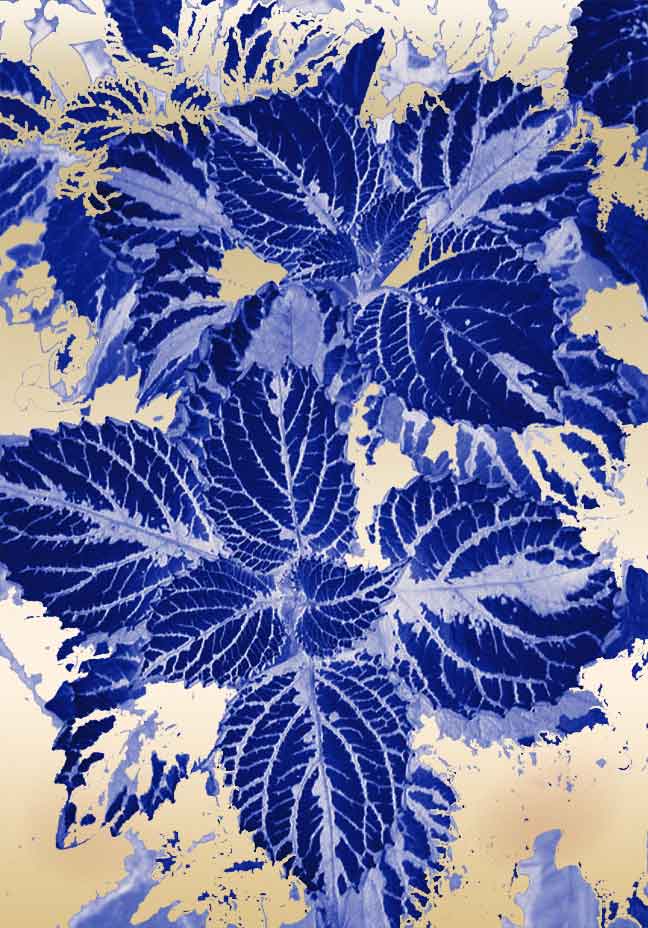 I'm looking at this coleus, which is from a picture I took several years ago at the Tucson Botanical Gardens, and I wish I could remember how I did it…..I need to find the original psd file and see if I can backtrack on it. I am enjoying getting back into playing with Photoshop at least once a week. And I have loads more pics, as we spent yesterday morning strolling the gardens. I have a show in mind called Digital Desert, where I use all local pictures of the desert that have been manipulated in Photoshop. I think that will become a "work in Progress" for the new year. I even have the name of the person to contact about a possible show. As I think about it now, I could put a small pic of the original shot on the intro card, and then display the newly manipulated image. Hmmmm……
There's been lots happening here. The major work in progress is a business piece – we have been invited to participate in Stash Fest, a fund raiser for the La Conner Quilt Museum in La Conner, Washington, on March 31 and April 1. We will be bring a LOT of marbled cotton and silk with us, so we have started already to make fabric…and run into a couple of road blocks. One, the BOLT of fabric we bought at a wholesale price, after trying a sample to see if it would work – doesn't. Between getting the sample, trying it, ordering and waiting for the bolt, and then trying two marbling sessions, we've ended up with a lot of remnants and nothing for the northwest. So we kind of lost December for production. We have ordered our usual pima cotton and are awaiting its arrival. We will probably get one marbling session in this month to finish off a custom order and hopefully begin to create what we are going to need for La Conner. In the meantime, lists are made, labels done and ready to go, folding organized, bins for storage and traveling set up. So we are slowly getting ready.
I promised a reveal of the small log cabin winter quilt. Really enjoyed making this one, and I'm looking for what I can do for the spring quilt – need to get the fabric made, and I need to get at least one of the two big art projects completed and ready for photography. So here's the little wall hanging: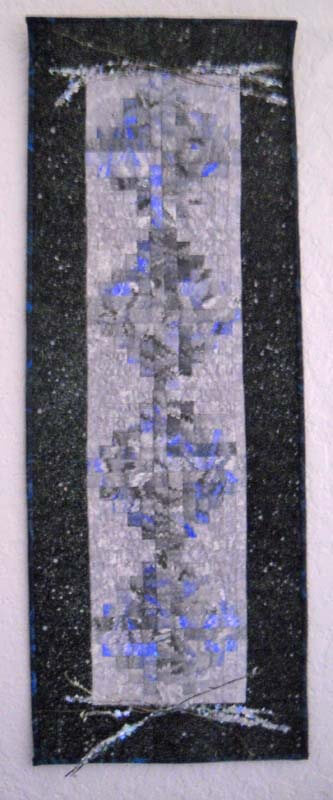 The other big stuff I've been working on are two entries to a major art show. I am progressing, and I'm pleased with what's happening. I just started a new shading on the bigger rocks yesterday, after trying some ideas. No question that the shading has really added to the depth of the piece, as well as add needed dark values. I noticed that I was being too controlled in doing the shadowing, and nature isn't perfectly symmetrical. I need to "rough up" those shadows, as well as bring in some additional other "shadow" colors. I also realized I want to get a foot with a larger plastic opening, so it's easier for me to see where I'm going. I went to the local Bernina dealer (there are several in town), and once again this particular store just manages to make me feel so stupid when I go in. I was told "that's not how you thread paint." Well, that's how I'm doing it, and I like the effect, so spplttttt……(how do you show a raspberry emoticon?)
There is still a long way to go, and I have another piece ready to go, so I have to get busy!