Well, it has been at least 10 years since we did any kind of demonstration of marbling on fabric.  Full-time teaching and the need for two of us really limited our ability to get out and work with guilds. Thanks to a faithful reader (hi, Kay!!), we were booked to do a presentation to the Sunflower quilters guild on the northwest of Tucson. I was especially excited because….it's a school day and I was doing this DURING THE DAY….love it!
We've been planning for this for a couple of weeks. At one point we figured it was going to be at least two trips to the car, but with careful packing, it was only one for the trip across town.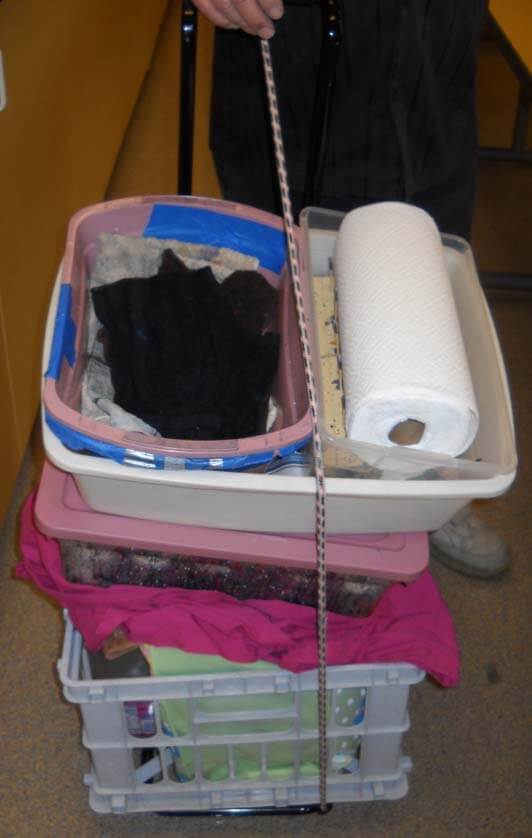 The only thing not on this stack is the crate of quilts and a green grocery bag with fabric. We pack really well.
Kay had samples of fat quarters to build interest for our demo, and the ladies were wonderful. Hubby and I work really well off each other, and his humor comes out. We spent two hours, showing the marbling process, letting people marble fabrics, and showing a progression of quilts. I've found, since we started marbling, that too often people say, "what will you use it for?" or "what will you do with it?" To answer those questions, I always pack lots of quilts (both art quilts and more traditional ones) so that folks can see so many uses for the fabrics. Plus, it's always fun for us to see where we've come as artists….and we love hearing all the "oooo's"!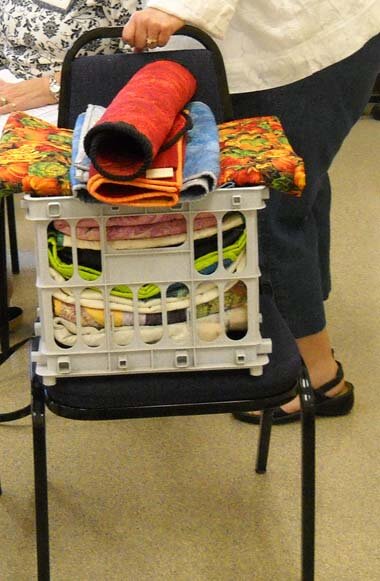 The crate of quilts, many of which are not available on the website or in the blog, because they are process quilts.
We had a great set-up in the recreation room.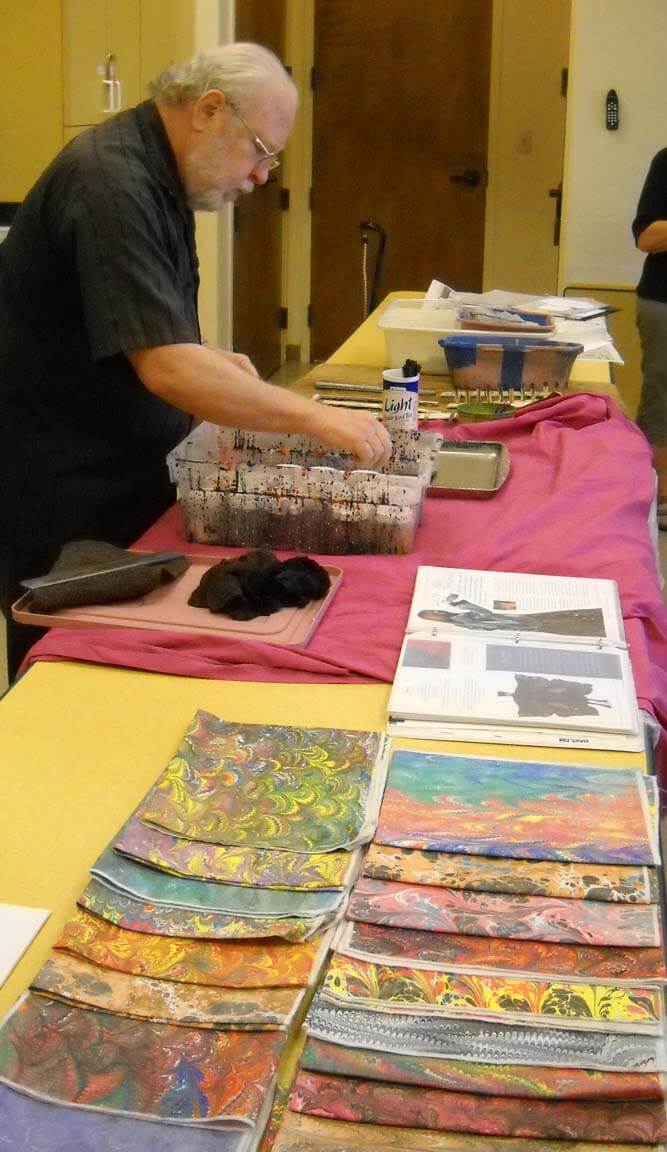 What I discovered with this layout is that as Dean demonstrated some of the patterns , I held up the fat quarter with the particular pattern on it, and that way people got a much better look at a larger example.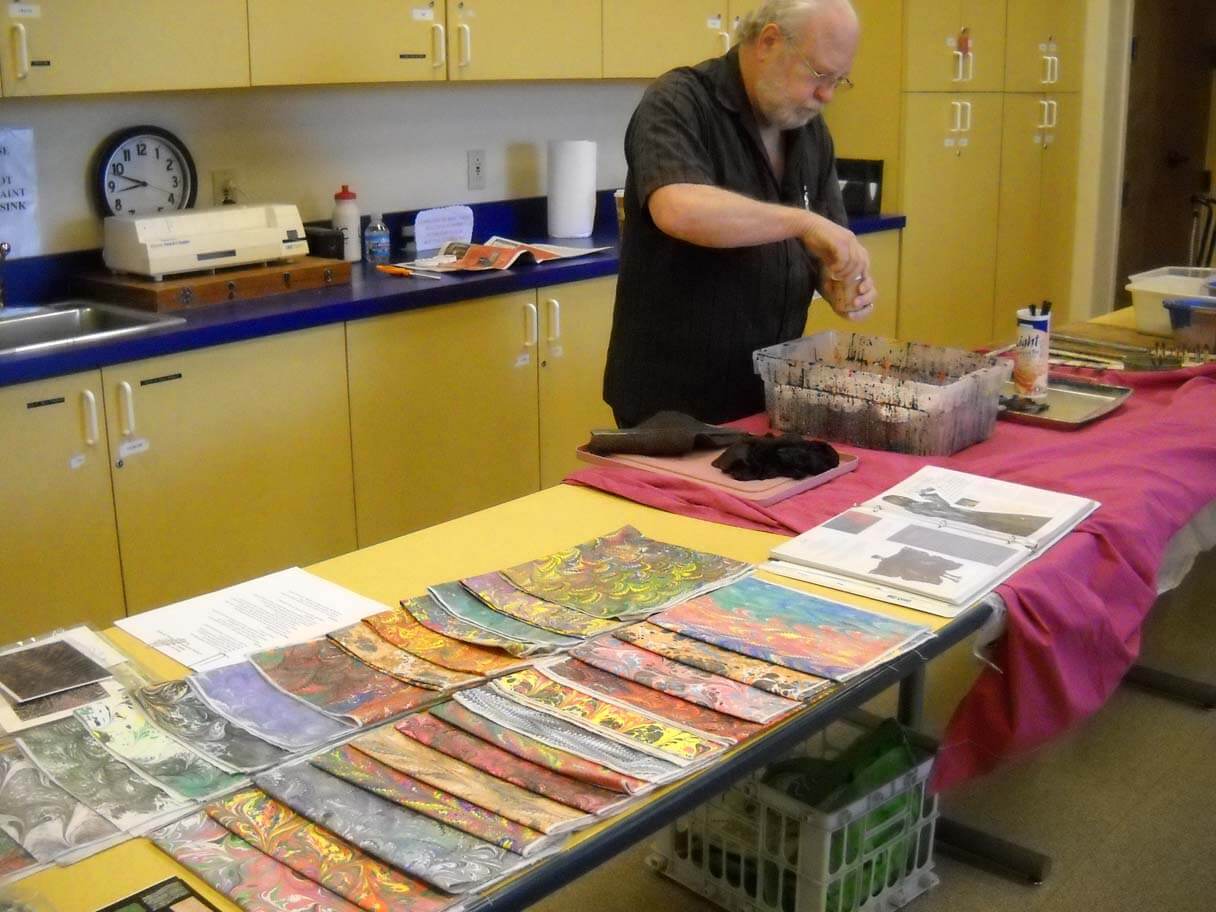 Having eye candy is always a great idea….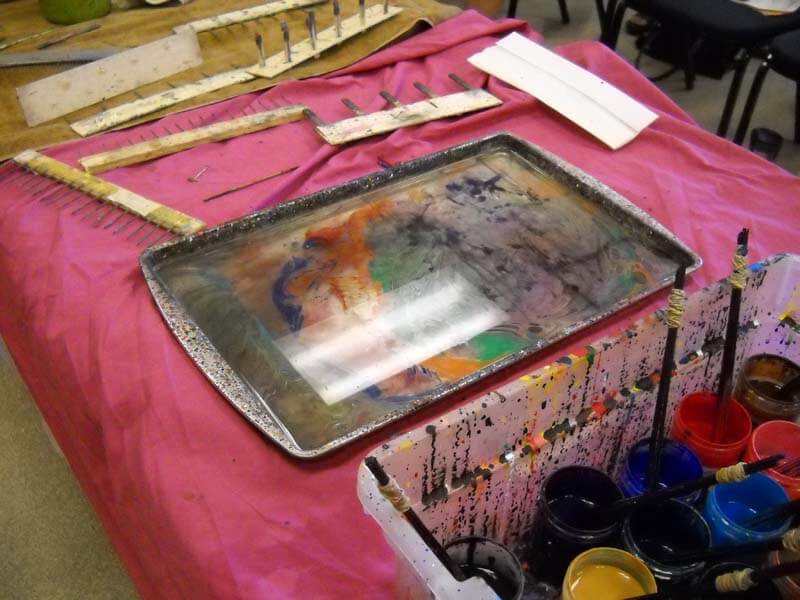 Works in progress.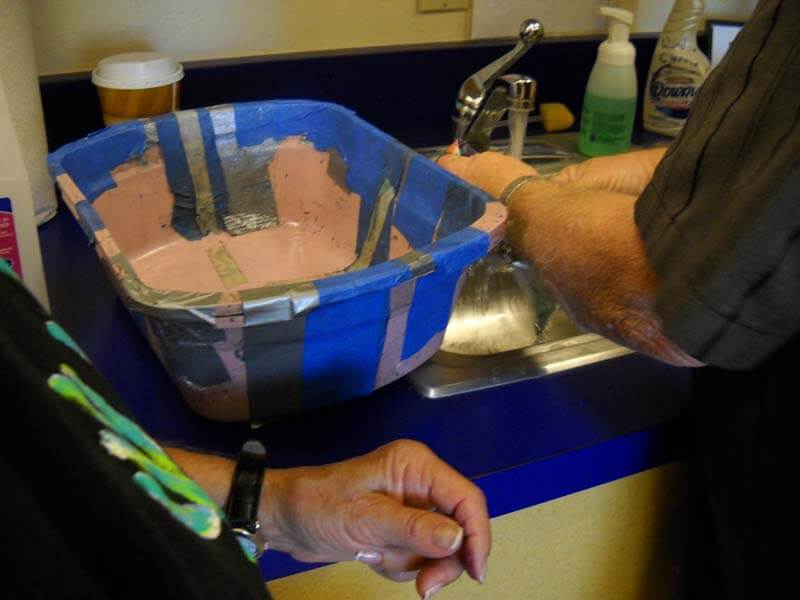 Some really high-tech supplies – left-over hospital pans for the rinse process.
What next? Well, we are going to start contacting local guilds in Arizona for demos, as we have all the handouts and  such prepared. At lunch we decided on a plan for a sampler so we can begin offering marbling classes at quilt shops. And…I'm going to start contacting friends around the country to see if we can "book" a couple of demos during the summer travel months. I'll get information up on the blog and website as I get it finalized. You can always email us for more information.
A great day was had by all!
2 Responses to "On the Road Again…."