Posts Tagged 'making meaning'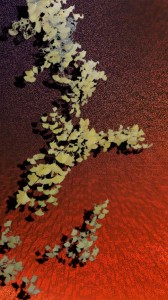 To say that it has been a while is an understatement. My last posts dealt with the Tucson shootings, and the aftermath for the community has been ongoing. Many in the community have been dealing with personal issues surrounding the events, from getting updates on Gabby Giffords and coping with the weird Arizona legislature to trying to understand our roles as humans working together.
For me, it has meant two months of a pretty severe depression, trying to cope with understanding so many of the historical aspects of this country coming in to play, trying to manage what the economy is doing to individuals, and getting ready to retire from a career of 40 years in education. I had to remove myself from almost everything extra in my life beyond the day-to-day coping within the classroom. I did a lot of sleeping and a lot of being sad. I didn't even do a Fish Follies entry this year.
At Christmas we decided to move the retirement date to June of 2012. Hubby had some major health issues in January that will eventually lead to major surgery, and all I could think about was not having time together. His next CT scan will be in August, right when school starts again. That was probably the tipping point to look at retirement this May. I made the final decision the end of February to retire after working all the numbers with the retirement folks, and then a month ago applied for SSI.
Gotta tell ya, when I made the decision, it was like a weight had lifted. I started packing my classroom the next day – and it took the three months to get it all finished. Most of my math manipulatives, books, and supplies went to an organization called Treasures4Teachers – will be a nice tax deduction, and they were very grateful for all the goodies and posters.
In April, during spring break, we spent time with our friends up north who now have a place in Cornville, AZ, just south of Sedona right along Oak Creek. It is a gorgeous, restful spot. I was admiring all of my friend's storage, and the conversation turned to the fact that maybe one of the problems getting back into the studio was the need to reorganize. Which got me thinking, and over the next month I started cleaning and organizing, and looking for new storage that would work. We're about half-way through at this point, and the place looks great – and even better – feels great. Two more sets of shelves and we should be just about done. But I don't think I'll be waiting to get in there to sew.
So I'm recovering slowly from the depression, starting the rest of my life on my terms, planning on a nice run of happiness. And I'll be back to blogging and creating and marbling and reading and writing and Photoshop and traveling and being with people and working for peace….

Today was the first day of two for professional development on Understanding by Design, or UbD. The staff at the school all has to have this training as part of our three-year plan, and I was resisting this because I've read through elements of this on my own, as well as tried to apply some of the "big ideas" to a museum project several years ago. I am here to say today is causing me to seriously rethink retirement – the day was amazing, and I do not say that lightly about professional development.
Understanding by Design is a three-stage program to develop more meaningful curriculum that is effective, engages students, and promotes enduring understanding, as Howard Gardner would say. We spent the day on Stage 1, unwrapping the curriculum in order to plan for the end result. Duh. In 20 years of doing student theater, I always did what I call "backplanning," but NOT ONCE did I think to apply that skill to my classroom teaching.
As we continued through the day, I kept seeing lights at the end of the tunnel, answering for me ways to fix what I am unhappy with in my algebra classes. I do too much direct instruction, I don't have the kids do enough inquiry, and they aren't engaged enough or see algebra as a meaningful course of study. I actually wanted to read through standards and try to cluster some of the performance objectives so the planning  makes more sense. The warm-up we did would make more sense than the (to be honest) drill and kill I usually do for practice (and, really honest, management…). In fact, I have some ideas for small group bell work for next week to extend some of the understanding.
All through the day I was (and still am) very conflicted. I am planning to retire in two and a half more years. I have been dealing with some health issues that may make me retire early. Plus, I realized if I go the full years more I will actually end up hurting my retirement benefits, as there hasn't been a raise, and nothing is in sight. Two and a half years would cut off one of my higher salary years. So I am looking at numbers.
But then I sit in a workshop and get truly excited about trying some new strategies and ideas for teaching algebra, and I don't want to leave. Retirement is an ending, as well as a beginning. I started teaching 40 years ago this September, and while it is probably time – age-wise – to go, it feels like "the end." I don't think I'm ready for closure, even though I want to seriously expand my art work and licensing. I'm not sure I can "let go" of 33 years of teaching, when I still feel like I have a lot more to offer. I still love this stuff – workshops, class management, curriculum, and all. I miss the teaching teachers that I used to do. I have all these skills and experiences (and endorsements) from all these years, and I'm not sure I can give it up…..
So just when I think I am coming to decisions, something happens to change it all. Darn you, Dr. Larry….now what do I do?