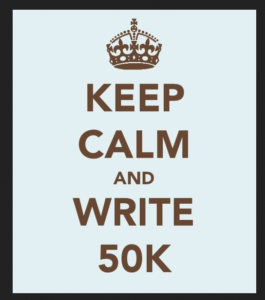 Thoughts on NANOWRIMO – yes, it's November…..been thinking about this for most of October and trying to decide what – and how – I will approach things. November 1 – I don't have a lot of luck working through the month each day, as witnessed by the last two years of not accomplishing anything – or not even trying.  So I think for this year I want to concentrate on writing my 1637 words each day – on rewrites, character studies, essays, blog posts – just getting back in the habit of writing regularly. I know two years ago I stopped on Book 2 because I had no idea where a lot of the plot was going, what the various story lines were….and then there is so much crap happening right now in the world that sometimes it seemed pointless…but my characters need some resolution, and I still have stories to tell.
So – things to write about –
* the books I have been reading since summer began
*conversations with God and the Joshua books
*science books
*where I seem to be evolving as a result of the changes in this country
*coping with changes in my life with illness with hubby
*writing concerning my art – especially blog posts – need to get regular again, as it does bring in more business, and a big show coming up
*newsletter for MTD
*pictures from this summer
*my own racism
It's been a long while for writing a blog post, but not for doing art – a brief time off after the last baby quilt was done, and then back to a new baby quilt in September, and now three new pieces finished this week – feels good to be working again. The funny thing about the blog posts – for the last two years I have been 200 blog posts away from a 1000 posts – this year only 82. Should have been a snap, right? Well…..no. That just seems to be an impossible goal. Gonna be workin' it this month….
We have so many shows coming up, starting with two small pieces tomorrow, two pieces for a January-April show, January/February for one of the community libraries, the US attorney's office in Burlington, and a bunch more. While helping hubby recuperate in December  from open heart surgery there will be a lot of time on the machine. I have some large pieces that need to be finished, and a major inventory to do of what goes to what show, without much repetition. Also, big art fest show in less than two weeks, and stuff to prepare for that – two patterns to write and put together, inventory for Square (and to figure that out), and the packing for the show.
There's a l0t of good stuff going on art-wise. After all these years, we have finally found a decent way to package the fabrics – good for pictures, easy for people to see the various pieces, and we have some consistent sizes. Also, by mounting the finished pieces on canvas, we now have people thinking more about the fiber as wall art – a big jump in perception.
The three pieces from this past week – you can see in the upper portion what hasn't been stitched. It is amazing just how much depth you get with the addition of batting and stitching. This is part of our "Leftover" series – paint left in the bottom of the tray when we clean it up. Once I add thread to it (and I used double batting for this one) it makes the piece come alive.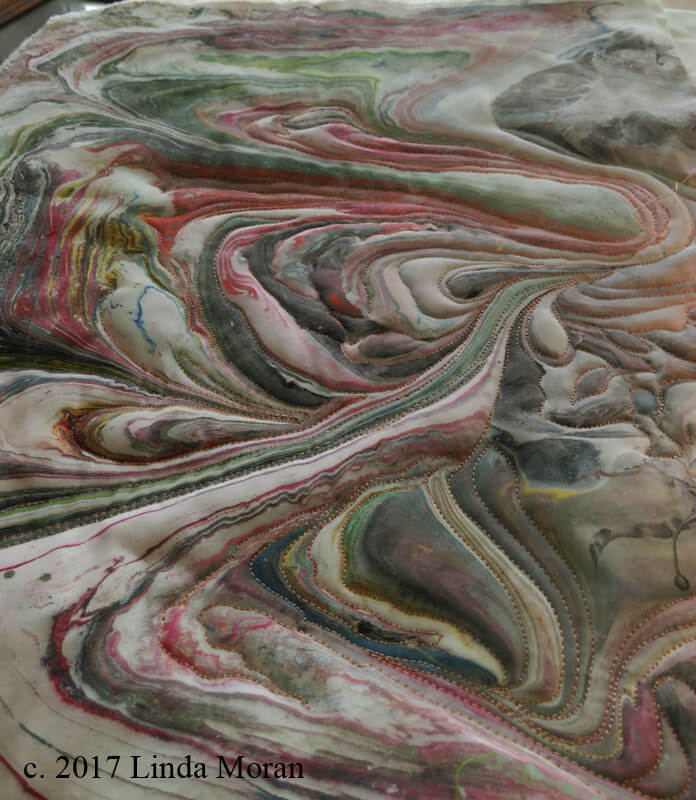 All the while doing this I was very aware of not having a focal point – I've been concentrating on that as I'm out taking pictures. It seemed like there was a consistent white stretch running from upper right to lower left – I saw it as a river, and as I used a light blue thread it started taking on some dimension, but ultimately I didn't think the river was dark enough, and I wasn't happy with other colors of blue that I had – so I used some of the India ink I've been suing for suminagashi and used a simple wash throughout the river – just the dimension I wanted.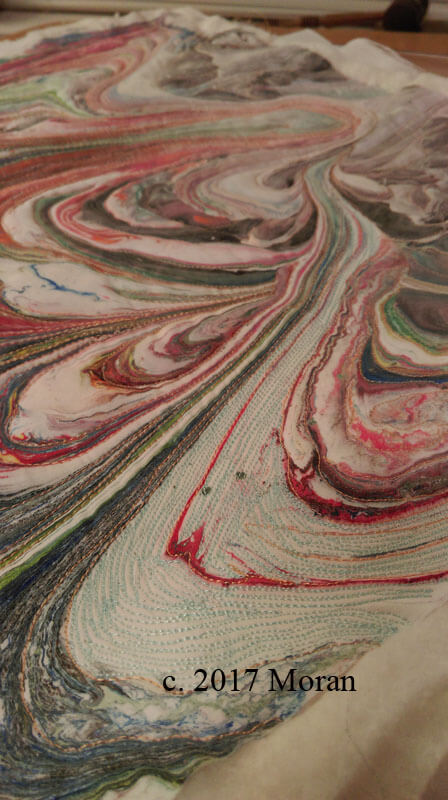 This part for sizing/mounting canvas just didn't seem to work. I assumed the canvas I had was an 11 x 14, and the piece was bigger than that. Hubby didn't want to lose the lower left because of the effect, so we went and bought a 12 x 16. Turns out when we got home, that was already what I had…so it was back out for a 16 x 20. Great batik for the canvas covering, and between the binding and the extra border around the canvas, it looks like two mats for the frame. Happy with it!
Introducing: "A River Runs Through It." $125.00 plus postage. 16 x 20 inches.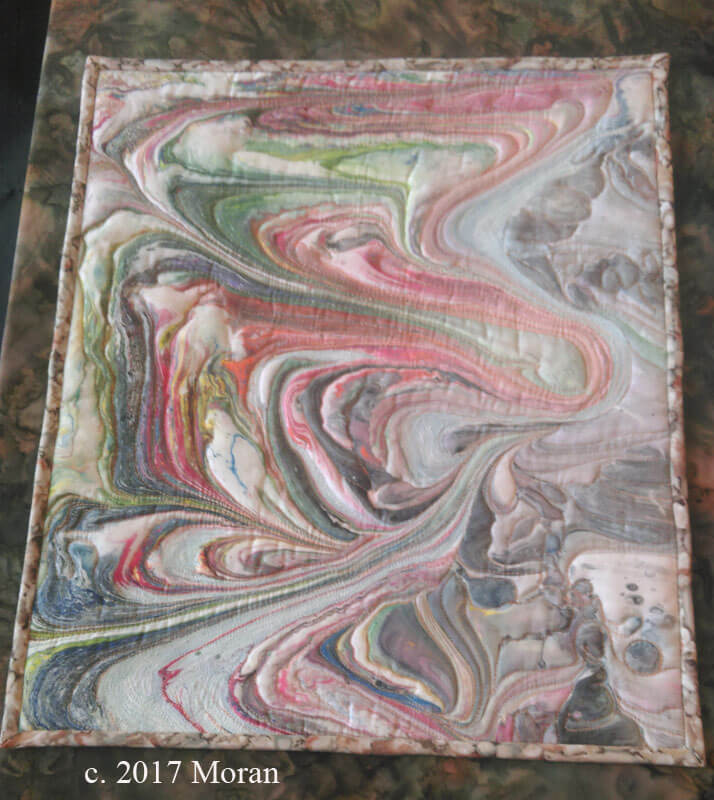 We have these wonderful polyester black linen pieces that marbne wonderfully, and I finished two of those – simple, easy to complete – not a great deal of stitching – just enough to emphasize what I want for a theme. Now they are part of a definite series – the "Moonlight" series Simple, easy to complete, and elegant.
Moonlit Garden, just starting the stitching. Finished size 8 x 10 inches.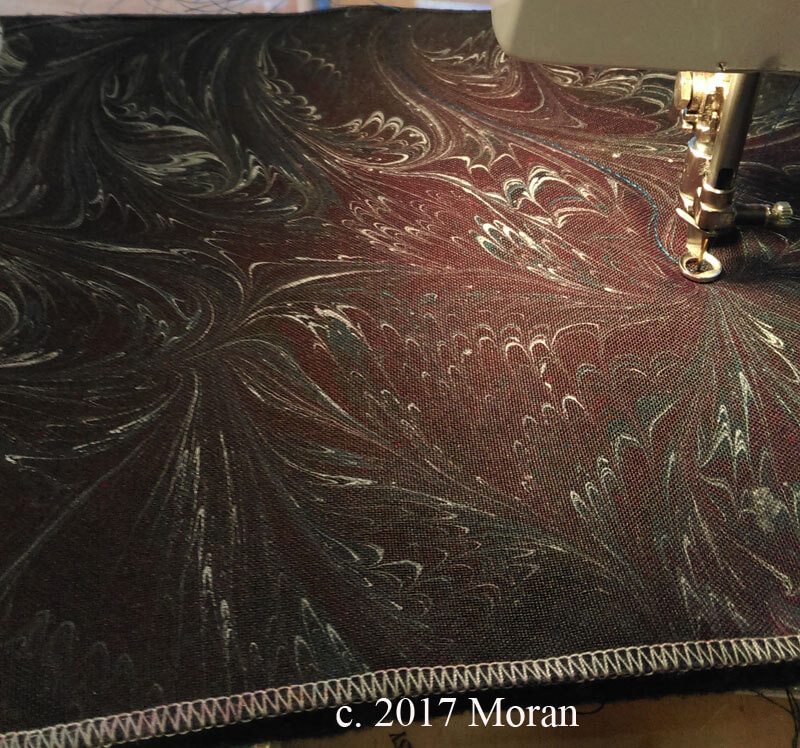 Finished piece Moonlit Garden, $65.00 plus postage.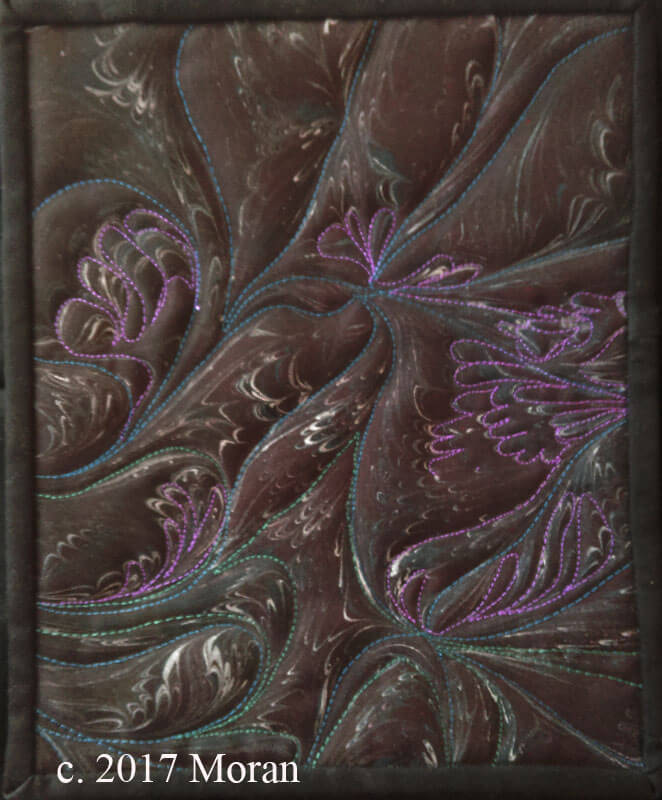 Finished Piece – Moonlit Winds, 8 x 8 inches. $65.00 plus postage.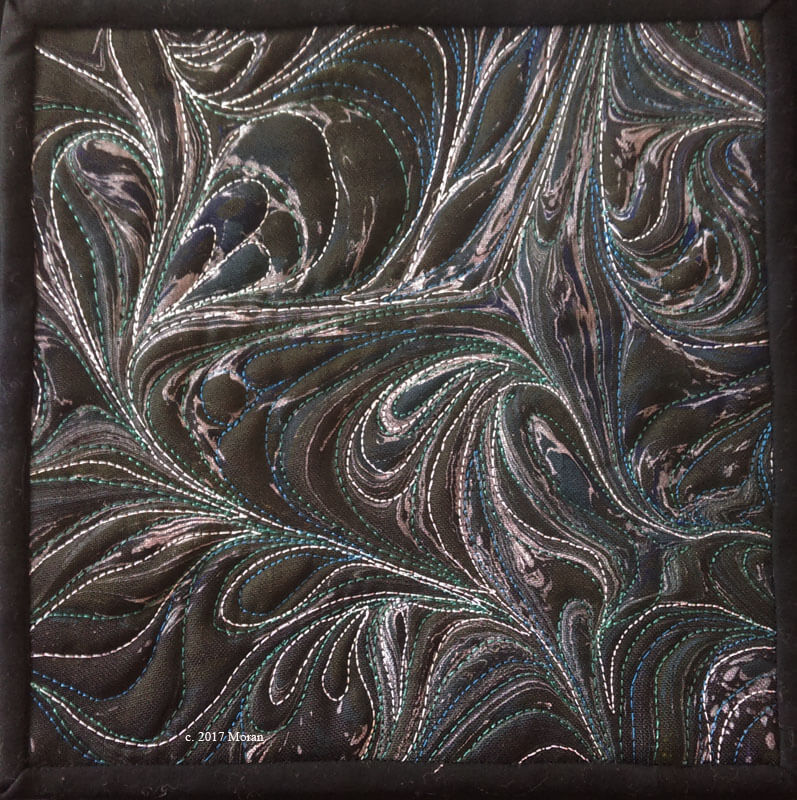 Now to go through a lot of my works in progress – like the Iceberg piece – to get a couple of big pieces started/completed for show next year.