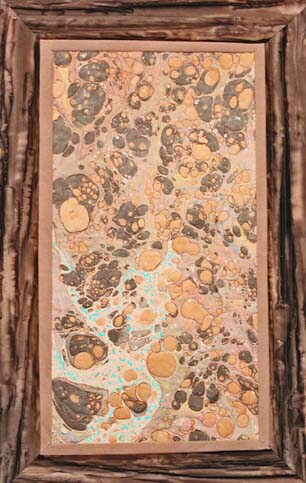 I've waited to do this page, even though the blog masters out there say this is one of the most important pages you can have on your blog. So what do I say about myself that people actually want to read? Here goes:
As long as I can remember I have done some type of artwork, despite some horrendous experiences in elementary school. I actually still have two pieces I did in ninth grade art class that I love, but for the longest time it was very difficult for me to break through the barriers to making original art. I did a lot of pen and ink drawing, along with some charcoal, in a sketch book (which I still have) when I was in my early teens. I had to work from a drawing or design – the idea of creating something just from my  own mind was daunting, to say the least. I find it interesting to reflect on this, as pen and ink is a very unforgiving medium. Perhaps this is why I enjoy the Zentangle process so much.
I dabbled in oil painting for a while, again working from another painting. I had no clue about mixing colors, or layering colors, or anything like that. I doubt those paintings even still exist. When I was in college I took up sewing my own garments, and through that I was able to do some creating, especially when it came to trims and borders. It wasn't until I was back in Vermont in the early 70s that I hooked up with Stretch and Sew classes and really started to break out of the box. When I taught in Hawaii, I made most of my muu-muus, as it was much cheaper than buying them.
I took up crochet and needlepoint, again because I could follow patterns. I got bored with basic needlepoint – same ole stitches – and it never occurred to me I could do a different stitch. When I see needlepoint today I am amazed at the yarns and creativity and designs – so different! In fact, this week I visited a yarn shop in Tucson (Tucson Yarns) and started to hyperventilate at the gorgeous yarns!!
I also did a lot of cross-stitch when I moved to Maryland. At one point my goal was to stitch every Paula Vaughn design I could find, as well as own every color of DMC thread (which I do). I started dabbling in quilting because of living so close to Lancaster and the Amish communities. When we moved back to Vermont, we had a house fire, and I lost all my needlework and framed cross-stitch. I couldn't bear to start any new pieces, so hubby and I tool tole painting classes. Patterns to follow, but a good amount of creativity in mixing and shading. I learned this wasn't for me, but I knew I could recognize good tole painting when I saw it.
Now I had all these paints and patterns, but no interest in tole. So I took my first quilting class – very traditional hand quilting. I loved it and started collecting more fabric – I already had quite a stash from my clothing adventures (most of which has since been sold on ebay!). One day I saw the rotary cutter and mat demonstrated, and I knew I was hooked. While I liked the hand-quilting, I really wanted to be able to complete things faster.
Walking through the Ben Franklin in Burlington, Vermont ( I was taking a Bob Ross class), I saw a book about fabric marbling and thought that would make some great fabric for a quilt. I set hubby to task to find what we would need. I have written a number of times about how long it took us to get supplies and then how quickly we were hooked – on our first piece of fabric. I still have my Bob Ross-inspired piece, but that was the end of my painting. The easel my hubby built now works as a stand for all the photography of fabric that he does.
Marbling and quilting were a match for me. Initially I spent my creative juices trying to figure out what to do with the marbling – I just kept putting pieces with black fabric – no clue about color, there! Now I am finding all kinds of new ways to work with marbled fabric in quilted art pieces. I am looking forward to more and more creations of unique nature-inspired pieces.
Most marblers are self-taught, I think. A few lucky people are able to work with the ebru masters in Turkey. Marblers nowadays are much freer with their help and suggestions, so newbies in the field have an easier time learning. We've been marbling now almost 20 years, and we still are learning. In fact, I tend to put a new video up on our Facebook fan page each week after I have really studied it. Then in the next marbling session I try out a new technique or two. There is so much to learn – but it's so much fun! If you are interested, check out Galen Berry, another marbler who offers beginner classes – he is excellent.
Our Professional Resume:
Professional Publications:
Create-a-Quilt by Dr. Joyce Mori, 1999
Pricing Guidelines for Arts and Crafts, Sylvia Landman, 2000
"Making Connections" in Sew News, September 2001
The Quilting Quarterly, "The Art of Marbling," National Quilting Association, summer 2002
Quilting Through the Seasons: Spring. Lois Fletcher, author, Spring 2005
Quilting Arts, Spring 2004 – closeup of the blue silk used by Larkin Van Horn in her Bernina garment.
"If You Bring It, They Will Sign," Quilter's Newsletter Magazine, Winter 2004, about Linda's wedding quilt for her neice.
Bernina fashion Show Catalogs, 2002, 2003; Larkin Van Horn and Nancy Schlegel, designers.
Galleries/Exhibitions
Textures Gallery and Studio, Scottsdale, AZ, Fall, 2003
"My World in Black and White," online exhibition, 2003-2004
"My World in Black and White," Ontario Museum of Art and History, CA, 2003 – 2004
Schullenberger Gallery, Jericho, VT. Artists' Showcase, December 2003
Leandro Fabrics and Gallery, Tucson, AZ, May 2004, September 2004
"Expressions in Textiles," juried show, New Haven, CT, August 2004. "Rock Garden"
"Fabric of Legacies," juried show, "Mandala 1: Core" Fort Collins, CO, July 2004
"Fish Follies," juried show, "Alaskan Waters" Cordova, AK, August-November 2004
"Art of the Sixth Extinction," WomenKraft Gallery, Tucson, AZ. Winter 2005 (several pieces)
"Fish Follies," juried show, Alaskan Whales" Cordova, AK, July-November 2007, with Suzan Drury
"Fish Follies," juried show, "Swimming Upstream" Cordova, AK, July-November 2007, with Suzan Drury
"Fish Follies," juried show, "Raven" Cordova, Alaska, July – November 2008, with Suzan Drury
"Fabric of Legacies," juried show, "Low Tide" Ft. Collins, CO, 2009
"Fish Follies," juried show, "Ocean's Bounty," Cordova, AK, July – November 2009
"Fish Follies," juried show, "Salmon Run," Cordova, AK, July-November 2010
"Tikkun Olam: An Artists' Restoration Project." Tucson, AZ. September/October 2011
12 Responses to "About Our Marbling"