Sometimes it seems like Friday will never get here, and this week was one of those. Last night as I was working on my Photoshop class, I kept thinking it was Friday night and I could sleep late, only to remember I still had another school day to go!
I had more fun with the Photoshop class – LaunchPad A by myJanee.com – it is a beginner's class, and while I could do some of the things in the first lesson, I still learned lots. I've attached my first "playing around" – an abstract just using colors and basic shapes.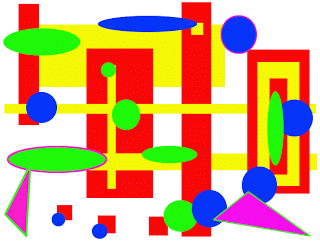 The motivation for me was to use primary colors, which I love, and just to see if I could create some pleasing shapes. I was happy with the project. The materials for the lesson are extremely well organized, detailed, and easy to follow. I have been looking to take a class for so long, even since Janet from MMU showed me the collage she had created with her photos from Africa. I've played around over the years, but there are so many ideas that have been percolating for years, that I feel I am finally getting to work on them! Who knows, maybe the t-shirts and quilt patterns will finally happen!
Linda
One Response to "Finally Friday….."