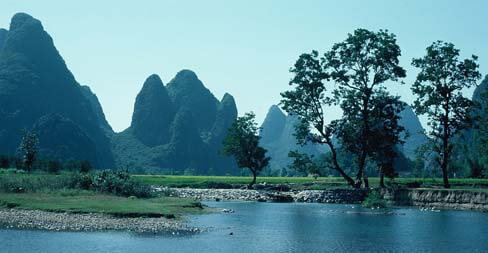 This photo is from one of my most favorite spots in the world – a small park somewhere on the Li River in Guilin, China. I've done some cropping, but this is the focus of the latest class I am taking from Quilt University: Artists Revisited. Technically I should have chosen a painting by one of the masters, but I have always wanted to translate some of my own photos to fabric, so I chose this. My colors aren't an exact match, as they should be for this exercise, but I am happy with what I have chosen. I worked on the background first and then came to the foreground, where I realized it was extremely busy. Here's what I've got: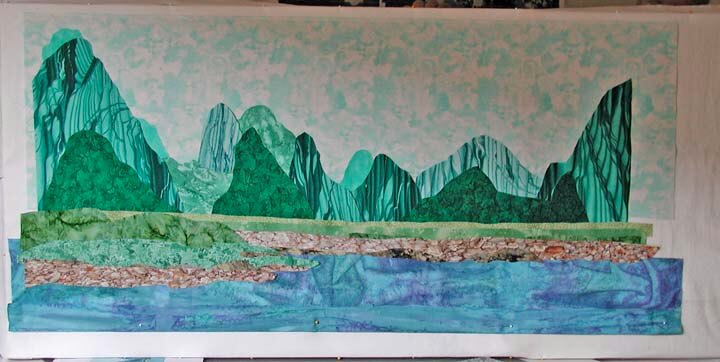 It's obviously rough, and the trees are missing. I am going to start the thread painting, and then I'll add the trees toward the end of that step. This is taking a much longer time for me, as I want to really think through each of the thread painting stages. The first step will be the horizon lines, and then I'm going to practice on the "crags" to see what I can do to accent and at the same time soften the mountains. I'd love suggestions for ideas to "paint" the sections.
Also, I've been making cloth baskets as a start for our Holiday offerings: we're doing a "basket, which is really a fabric bowl suitable for all year round, as I'm creating them with some fairly neutral fabrics. The thinking is that a bowl might be more useful around the house than a basket.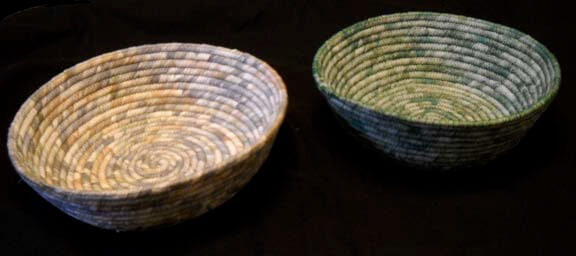 Once the bowls are done, they will then get filled with all kinds of goodies:
* A fat quarter of hand-marbled fabric on 100% cotton
* Four pieces of hand-marbled Offray ribbon, assorted sizes and widths
* A selection of coupons and discounts from a variety of Etsy sellers, good for use in their individual stores
* A Sampler Package of 6 by 9 inches swatches of hand-marbled fabrics
* A selection of hand-marbled leaves and flowers
* A set of note cards with Digital Marbling (TN) designs
* and…some type of mystery gift.
We totaled up costs, and the retail value of this offering is $75.00. We'll be selling the Holiday Bowl Packages for $50.00. Now each order will be different, as every piece of marbled fabric is unique in its creation. No two Bowl Packages will be the same.
Here's the deal – for the next week, you can order these Holiday Bowl Packages for 20% off. Email us with your order, and we'll do an invoice and arrange shipping. This offer ends on Wednesday, September 7.
Here's the start of one of the Holiday Bowls…..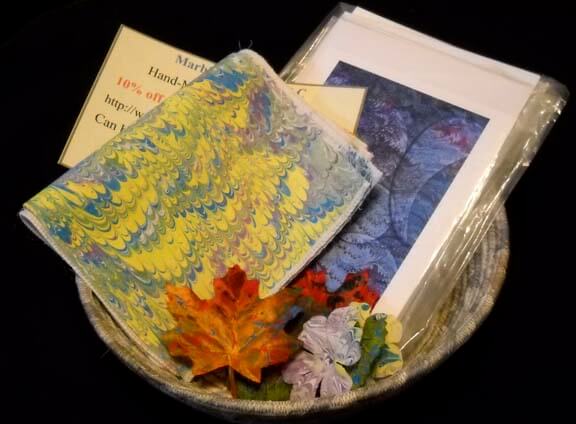 Think of all those family members who like fabric and are really hard to shop for – this will be totally unique!
One Response to "Wednesday Work in Progress"