Sitting in the Atrium at the UVM medical center, with a good friend, after several hours of waiting in pro-op. Scary times. When he did his aneurysm surgery I sat by myself – that was a mistake, so not this time. But for the last week every time we would do something together I would wonder if it was the last time we would do this. Just can't go there. Now I am on automatic pilot until surgery is finished around 7 PM eastern, then it's into ICU for up to two days. Nothing is going to be easy about this. A day at a time – lots of writing time if I can stay focused.
The art fest was good – not as many sales as I wanted, but more than any shows in the past. Sold the newest piece I just made, A River Runs Through It, and one of my Leftover series. Lots of small pieces of fabrics, and a lot of ideas for what to do next year – or the next nearest show we participate in. Need to get a couple of larger pieces made for all the traveling this coming year.
Spent a morning with Betsy Fram after her presentation with the Essex Art League – what an amazing home and view- and studio. She gave me some good ideas of working with existing pieces of fabric. Ned to find us a good photographer so we can get more mileage out of some of our pieces. See Elizabeth Fram's website and work –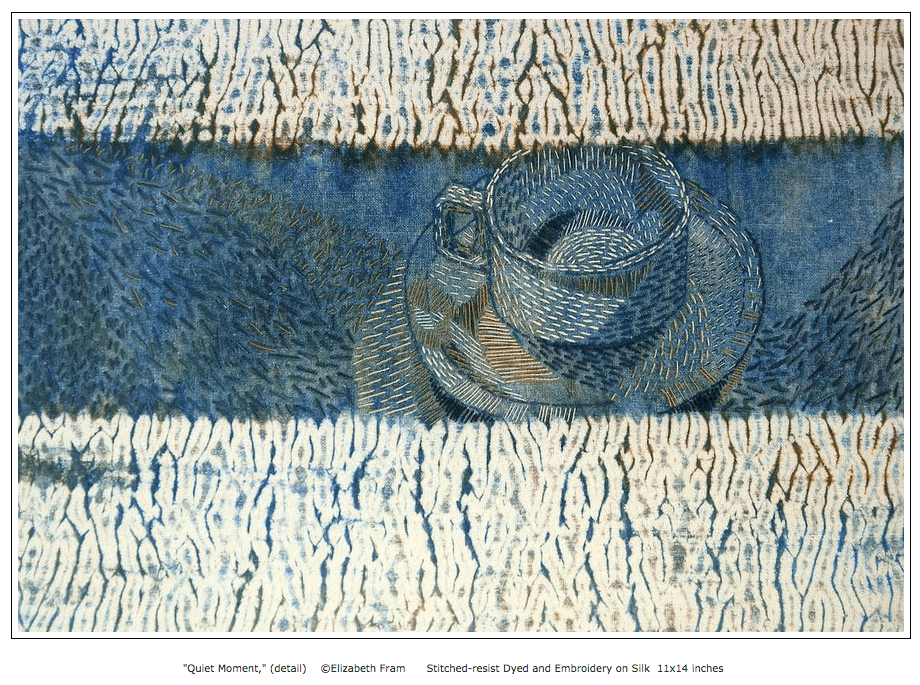 Those are teeny tiny stitches by hand – I am in awe – and she knows so much about art!
Update four days later – so four-plus days in ICU, serious kidney problems, a-fib again, this time having trouble getting heart rate to stabilize – low or too high blood pressures and the kidneys are not happy. It has become an interesting balancing act. He went to a regular room today – I stayed put – way too tired, scratchy throat, and I don't want to infect him. So I slept, cleaned up, straightened, watched some TV, and drank some wine. I can head back tomorrow in much better shape.
…and I wrote today!