Archive for the 'Oak Creek' Category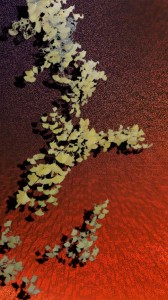 To say that it has been a while is an understatement. My last posts dealt with the Tucson shootings, and the aftermath for the community has been ongoing. Many in the community have been dealing with personal issues surrounding the events, from getting updates on Gabby Giffords and coping with the weird Arizona legislature to trying to understand our roles as humans working together.
For me, it has meant two months of a pretty severe depression, trying to cope with understanding so many of the historical aspects of this country coming in to play, trying to manage what the economy is doing to individuals, and getting ready to retire from a career of 40 years in education. I had to remove myself from almost everything extra in my life beyond the day-to-day coping within the classroom. I did a lot of sleeping and a lot of being sad. I didn't even do a Fish Follies entry this year.
At Christmas we decided to move the retirement date to June of 2012. Hubby had some major health issues in January that will eventually lead to major surgery, and all I could think about was not having time together. His next CT scan will be in August, right when school starts again. That was probably the tipping point to look at retirement this May. I made the final decision the end of February to retire after working all the numbers with the retirement folks, and then a month ago applied for SSI.
Gotta tell ya, when I made the decision, it was like a weight had lifted. I started packing my classroom the next day – and it took the three months to get it all finished. Most of my math manipulatives, books, and supplies went to an organization called Treasures4Teachers – will be a nice tax deduction, and they were very grateful for all the goodies and posters.
In April, during spring break, we spent time with our friends up north who now have a place in Cornville, AZ, just south of Sedona right along Oak Creek. It is a gorgeous, restful spot. I was admiring all of my friend's storage, and the conversation turned to the fact that maybe one of the problems getting back into the studio was the need to reorganize. Which got me thinking, and over the next month I started cleaning and organizing, and looking for new storage that would work. We're about half-way through at this point, and the place looks great – and even better – feels great. Two more sets of shelves and we should be just about done. But I don't think I'll be waiting to get in there to sew.
So I'm recovering slowly from the depression, starting the rest of my life on my terms, planning on a nice run of happiness. And I'll be back to blogging and creating and marbling and reading and writing and Photoshop and traveling and being with people and working for peace….

There are times when we really need to stop and smell the roses. We need to slow down and look, listen, and absorb. I had that chance for a few days in June, when we tried to escape to northern Arizona to enjoy cool weather and beautiful scenery. Oak Creek Canyon has always been our route of choice when we have time to come down to Sedona from Flagstaff. We checked on line and found a resort that was truly beautiful – Junipine Resort – along the creek, our own condo, a fireplace, and a view that was absolutely spectacular.


Once I walked out on the balcony I knew I would sketch, listen to music (brought the CD player) and absorb the incredible scenery. This was the basic view from our condo.
That night, I was sitting out, letting the cooler air settle around me and listening to the wind. I realized that the light behind me wasn't light from Sedona, but a rising moon. So picture this view, with the moon coming up from behind, and the light slowly creeping down the face of the cliff, lighting all these wonderful crevases and making the trees look like a silent sentinal army. It was spectacular. It was a moment of pure art in nature.
The next morning I was up early enough to watch the sunrise creep down the same cliff and create a totally different kind of light. Absolutely magical. We already have our reservations for next May.