We survived the art show on November 20, but barely. We were so well organized: we showed up at 7 and were set up by 7:20 – that's what happens when you're married to Felix – all that preplanning….By 9 AM I was thinking we weren't going to sell anything. We were next to the bottlecap framed pictures on one side and the painting on stone guy. Now I don't think I am an art snob, but I gotta tell ya, this was not the venue for us.
First, this event was scheduled the same weekend as one of the two Museum of Art art shows each year. That right there was poor planning, and our numbers in attendance certainly reflected that. Also, the main show for March at an exclusive guest ranch hasn't even been scheduled yet.
Secondly, the people who came wanted crafty things, not art cloth and digital pictures and art quilts. The other woman who had quilts was selling them off as people were making her offers below her prices and she was accepting them. Not what I want to do.
We made basic expenses, not anything else…a few bottles of paint. It looks like it is back to gallery searching for us as a venue. Which ultimately is fine, as my work is too valuable for me to just give it away. That said, I do feel like all the work packaging is going to pay off. I am much more pleased at how we presented – and wrapped – items.
Now for the great idea….a few weeks ago Alyson Stanfield of ArtBiz Blog did a great post on saying thank-you to our collectors: Gallery Space Available, Upper Right Corner. Send your mail out with a stamp of your own making, advertising your art or your business. What a great idea! Zazzle allows you to create all kinds of goodies with your artwork, but I think the stamps is just a fabulous idea. Below is an example, using a piece of our marbled paper. This is definitely on my list of things to buy, as I believe in writing thank you's for all kinds of reasons.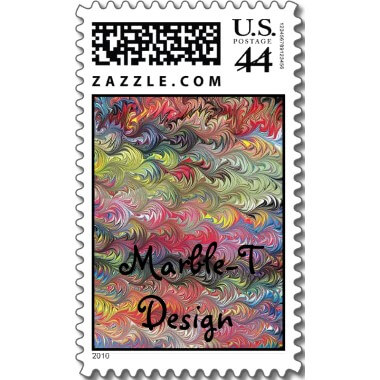 Everything comes back to packaging in all its forms. We think about the big pieces that are our art work, but let's not forget all the little things, like ribbons on packages (ours are marbled), thank-you cards (ours are digital marbling images), and now stamps.
I'm curious….what are some of your packaging and marketing ideas?
More packaging ideas:
4 Responses to "Monday Marketing – Art Show and a Great Idea"