This was an interesting question this week: How do you feel when you are by yourself?
I spend a huge amount of time time by myself, usually working on something artistic. It seems like I have always been by myself growing up…and yet, you can never be by yourself when you have a good book. And that is still true.
But I never had a lot of friends. I am quite the introvert, so moving to something artistic just seemed a natural. I think my introversion became even stronger, given my position in a family of extroverts, coupled with emotional abuse. So I am accustomed to being by myself. My husband and I do most everything together – we are each other's best friend. The fact that we can – and do – work at art together is a great plus for us.
I can remember my dad asking me how I was, one time when he came to visit. I said I was lonely. I did a lot of things by myself, and I could always read, but I think it was more a case of seeing friends with others of the opposite sex, and I would wonder what was wrong with me. I finally decided if I was going to be single, then it would not keep my from doing whatever I wanted to do.  Alone can be very good – I get a lot of work done on fiber pieces, a lot of planning. Especially with retirement. So when I do have "alone" time, I plan projects or lose myself in a good book.
So since I haven't started something new, I decided to try a "whole cloth" quilt because of the class I'm taking on Craftsy with Cindy Needham. I had the really great stencil from about 12 years ago…..I finally found where I had "stored" it. I pulled a green piece with some interesting tonal print to see what would happen. Here's the latest "in progress:"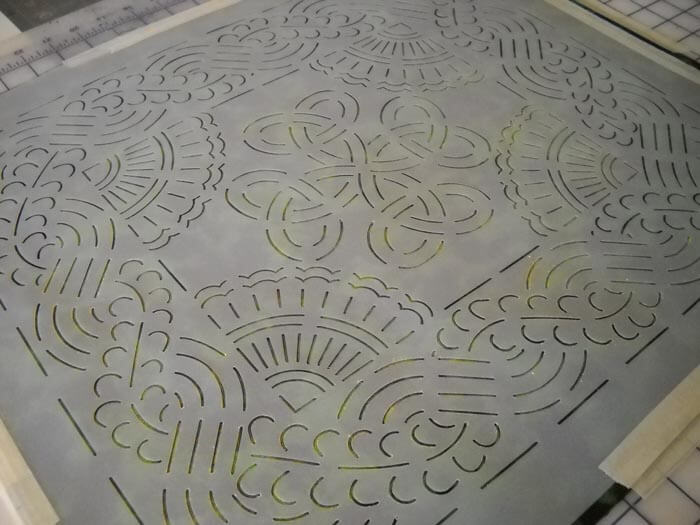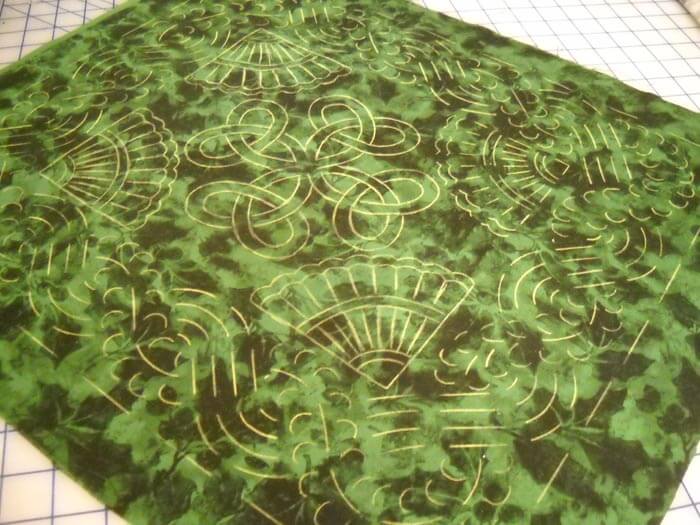 Of course, most of the yellow marker has already rubbed off…….