Well, actually….they're fabric bowls, but somehow "introducing fabric bowls" doesn't have the same ring. So this has got all the goodies of a holiday basket, but it comes in a fabric bowl that you can use throughout the year, rather than trying to figure out what to do with another straw basket. Which I must admit I thought was waaayyyy better.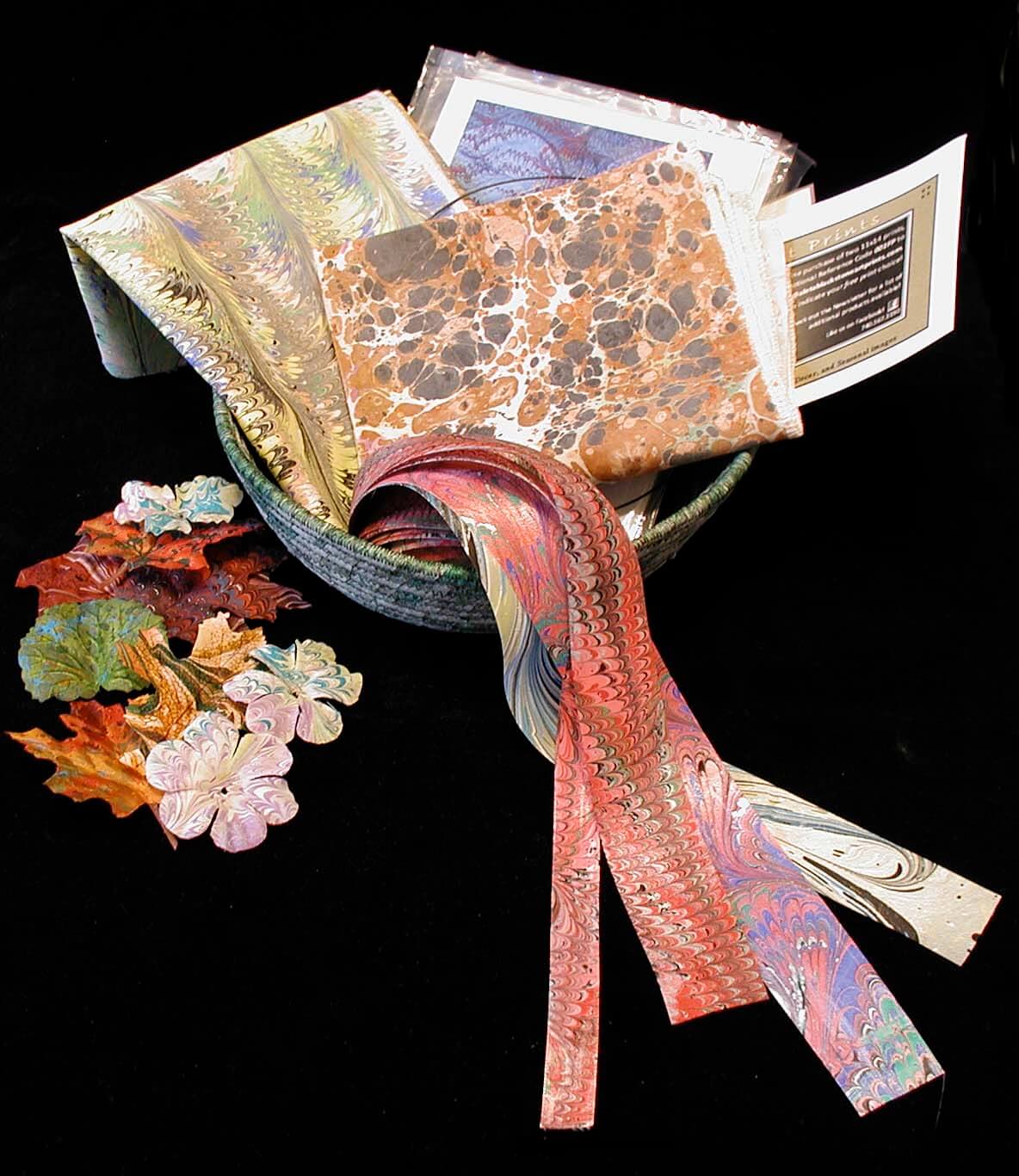 Here she is! This holiday treat starts with a hand-crafted fabric bowl, in a subdued color that makes the bowl perfect for year-round use. Then it's filled with goodies from the marbling tray: a fat quarter (18 by 22 inches) of 100% hand-marbled cotton; 4 pieces of hand-marbled Offray ribbon, in assorted sizes and width, all 18 inches in length; a 10% off coupon for our Etsy store (fabrics and small art quilts and table runners); coupons from other artists with offers for their websites; a Smapler Package of eight 6 by 9 inch hand-marbled pieces; a selection of hand-marbled silk leaves and flowers, perfect for embellishments; a set of four Digital Marbling (TN) note cards; and…a small mystery gift.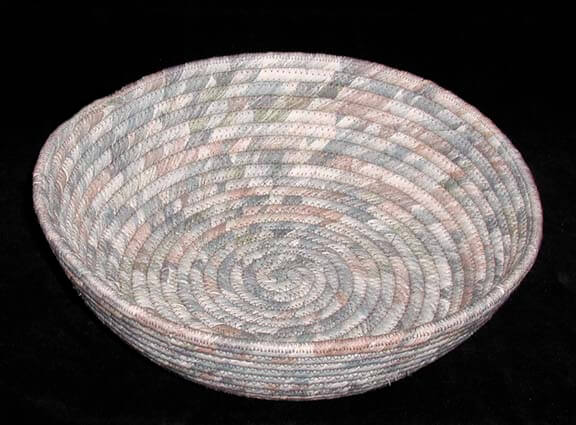 I want the fabric bowls to be in a rather subdued set of colors, as I want them to 1) fit just about any decor, and 2) be useful all year round. A "red" bowl tends to limit use. The actual bowl in this package is a nice mellow green.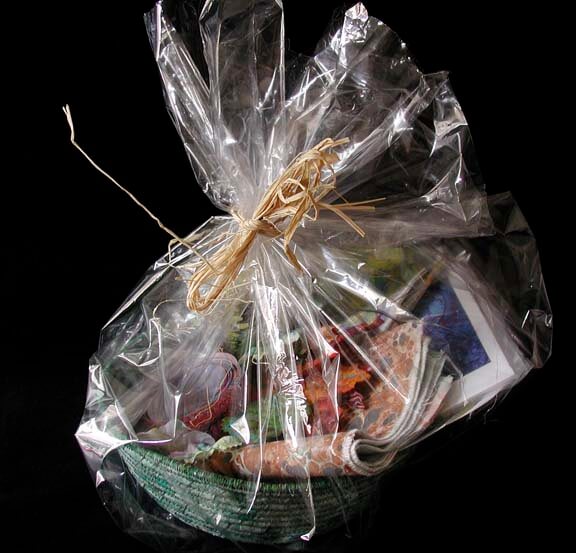 The "basket" comes wrapped in plastic and fits in a priority box, surrounded by shipping peanuts. You can have it sent to yourself, o4 let us know the address and we will ship it.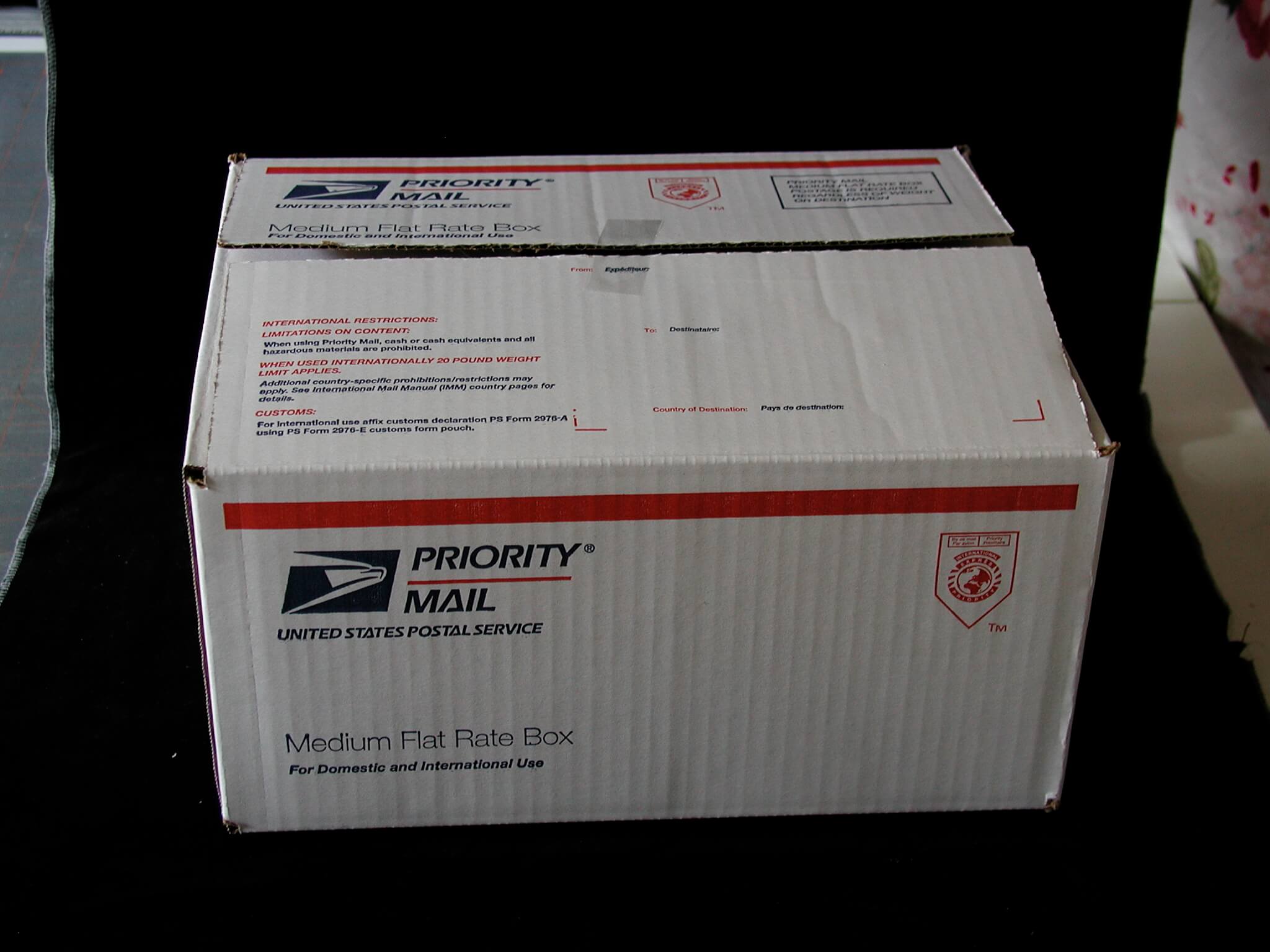 This is a $50 retail value, special available for the holidays for $35.00. Want one? Head to our Etsy store and buy the one there. We'll add additional ones as they sell, so you can see exactly what you will be getting for colors and fabrics.
These have been really fun to put together, especially choosing fabrics for the bowls. And if you haven't tried making these fabric bowls, they are incredibly soothing….wrapping fabric while you're watching television, or in the car, or waiting in the doctor's office…..There are a couple of good books available if your LQS doesn't offer a class:
We are affiliates for Amazon, so if you order through our blog, we do receive a commission (keeping the FTC happy….).