This project starts January 1, and you can read about it here. I'm trying this, as I don't usually have a lot of luck with long-term on-line projects. But as luck would have it I bought a small sketchbook to practice my zentangle patterns, and as I was cleaning boxes and sorting for the studio, I discovered lots of different size sketchbooks tucked away. So I am ready….whatever that means for me……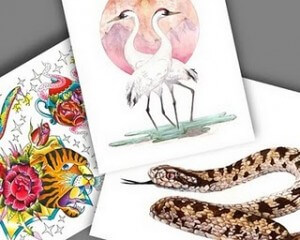 The last time I did a Top Ten, the focus was on A Note from Your Mother. Their last three posts have been interesting. If you have nature lovers or collect nature-inspired art, you might be interested in their  Endangered Species Print Project. Plus, read the post on the decline of the glorious tiger…only 3200 left in the wild.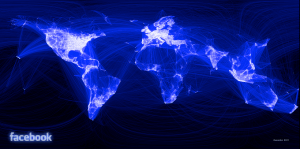 I read The Future Buzz on a regular basis, particularly his posts on viral images across the web. His collection for 2010 is amazing, and there are links to several other collections. There's a great one on probability that will work for math class, humorous ones, and ones that make us think. The graphics are spectacular.
Bonnie Samuel's Blog looks at TAMMACHAT Natural Textiles, a  fair trade, social enterprise to support  weavers and artisans in Thailand and Laos. These artisans are indigenous people who are carrying on the traditional arts of silk and cotton textile production creating beautiful fabrics and wearables.

For those of you who love sarcasm and the news, if you aren't reading The Borowitz Report, you should. His latest column interviews the devil about the obscene bonuses paid Goldman Sachs executives this year. As the devil said, "best investment" he's made.
From Cedar Canyon Textiles (The Paintstick Place) comes an interesting blog post on the importance of ritual, a reprint of a blog from the Harvard Business Review.  Just one of the gems:
"Each time we pause, notice, and offer respect for an activity, it reminds us to appreciate and focus on what we're about to do. And by elevating each activity, we'll take it more seriously. We'll get more pleasure from it. The people with whom we work will feel more respected. And we'll feel more self-respect."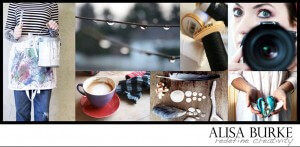 I discovered this blog like I find many others – just following interesting links. This has a tutorial for coasters, which just sparked an idea. This week I actually went through every piece of fabric, sorted and ironed, looking for inspiration for new projects. I rediscovered a few patches from a Quilt University class that I figured I should keep, as they were interesting alone, but I wasn't sure exactly what I'd do with them. Now I know!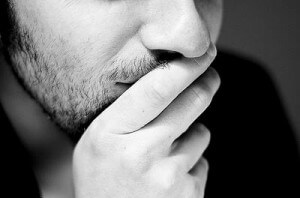 From Dumb Little Man (that's the name of the blog….) comes Seven Important Questions to Ask Yourself Before the End of the Year. Excellent way to reflect on the past 12 months.

Alphabet Photography – really interesting concept, and lots of great images to browse. They are for sale, but the crative nudge from them is wonderful!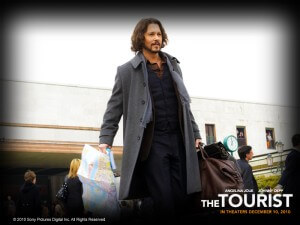 And finally, some eye candy – a great literate romantic spy novel, The Tourist….and Johnny Depp – ya can't go wrong!
You might enjoy some other Top Ten Tuesdays……

Pretty much for the year I've been doing a Monday Marketing post, looking at what I'm doing and what I should be doing to build a business. Well, I think I'm done…with the posts that is, not necessarily with the business. I still have 18 months of teaching until retirement, and to do what I would like to do with the business just isn't possible. There are not enough hours – and energy – to do it well, at least accordsing to the internet business gurus.
So I'm done with major marketing. I want to design, to quilt and sew, to fondle my stash, to dream up new ideas. I have to take the pressure off myself to have more to do when I get home from a tiring school day. Selling out (bad pun, I know…) – I finally don't think so. I need to be done with the guilt of not getting more tweets to get sales on Ebay. I need to be done with the pressure to write all the time – I just like to write. I need to be done with looking at bottom line, which isn't going to change all that much. I need to be done trying to make it with the Big Girls in the world of quilting. I need to be done with blogging courses and affiliates and trying to make big bucks.
My foray into entering quilt shows ain't workin' well. I don't need to be beating myself up when something isn't accepted. I sure don't need to be comparing myself to so many other amazing artists and complaining about the "fabric ceiling" and my quilts not being accepted. I quilt and sew and design because I want to, I need to. Who knows where my thoughts and energies will be in 18 months. I do know they will be focused on a trip to Paris and Venice, as I've already started planning. That's important…extremely, as age is creeping up and darkness is creeping ever so more into the good eye.
I like writing, I like sharing what I've learned and the occasional interesting thought. I like teaching, even though I am ready for retirement. I wouldn't be surprised if I try to find a way to stay in teaching with consulting. So as I've said before, teaching will continue to be my main creative outlet, my "art" for the time being…and maybe even longer.
I'll still tweet occasionally, put fabric in Ebay, maybe add some things to Etsy, try some goodies in Cafe Press and Zazzle, and the like, but sewing machine and ideas, here I come.

I love Christmas Eve. There's always such excitement, contentment, and the like. When we were little we'd set up the tree, and as we got older we'd beg to open just one present on Christmas Eve. I usually got hand-knitted sweaters from my mother and other clothes. One year a complete set of Cherry Ames, with the bookcase for my bedroom. As I got older the best present was a slide projector, as I moved away from prints into slides. It was tough to carry home on the plane!
Hubby and I set some of our own traditions. We'd set the tree up after Thanksgiving so we had plenty of time to admire it. We'd do presents and wrap them for each other and stick them under a tree, and then give each other a "special reason" to open a few of them ahead of time. The best part was always shopping for my in-laws, who would open presents on Christmas Eve. Most of the time I would make things for them, as they were the most appreciative of hand-made in the family. The year we shipped the tole-painted picnic basket wrapped in a garbage bag was memorable.
When my i-laws both were gone, Christmas kind of disappeared. We stopped with the presents to each other, gave away most of the ornaments, and ate dinner out. Then about 6 years ago our second family stepped in and insisted we come to their place for Christmas Eve, making us even more a part of their family. The best thing I remember was EVERYONE got books! When I was first teaching I gave a roommate, who was the French teacher at the school, a French cook book. She ws insulted that I gave her a book and couldn't think of anything better.
Well, books to me have always been THE gift, so being with my second family is just perfect. This year we are doing the cooking for 15 people on Christmas Eve, my favorite Portugese Bean Soup from an old recipe from the Kula Inn. Then we open our stockings. Now these are not ordinary stockings. Members of the family spend the year collecting lots of little goodies as stocking stuffers. The major presents are saved for Christmas morning and night, where we meet for dinner again.
For the last few years I have done hand-made for everyone. One year it was fabric bowls, which a few members wore as hats. Last year it was hand-made fabric fortune cookies, in their own take-out boxes, with fortunes customized for each member. This year it's zentangle initials. Did I think to take pictures? Of course not, and the big ones are pretty spectacular.
This year has been different in a few other respects. Now that the move is over, and most of the boxes are unpacked, the studio at least workable, we set out our stockings, started playing Christmas music, put out the Christmas quilts, and started wandering the malls just for fun. We are relaxed (no barking dogs or drug deals across the street…) and enjoying the season. The school semester ended well, I made the decision to officially retire in May of 2012, and hubby is more relaxed and at ease than in the last coupe of years.
The world is a mess, far from peace all around and good will toward human beings, but I am content for now to enjoy the season. There's friends to see, cooking and sewing to do, projects to start, and love all around. May you have peace in your life in the New Year.

This is from the front page of the blog "A Word from Your Mother:"
"The world is a dangerous place to live;
not because of the people who are evil,
but because of the people who don't do anything about it."
~ Albert Einstein
Very powerful words to introduce an extremely powerful blog about our planet. Normally I have ten different things, but this time I want to introduce you to A Word from Your Mother and ten different entries that you should read if you are at all concerned about our planet. There is some very troubling stuff on this blog, but I firmly believe that we need to understand as much as possible about the potential fate of our planet and the sentient organisms inhabiting it. Our history has been woefully uninformed on many of these issues. Be prepared to be worried, upset, and more knowledgeable. With knowledge comes action.
First up, Indigenous People: Not Only Plants and Animals Face Extinction. "According to the latest estimates, there are only approximately 370 million indigenous people, spread across 70 countries, left on earth." There are loads of great links to human rights and the UN Declaration of Indigenous People's Rights.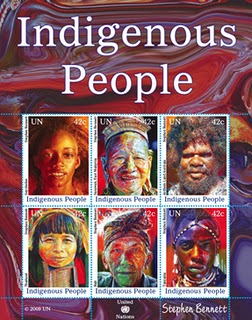 Chief Seattle sums it up well:
"Humankind has not woven the web of life.
We are but one thread within it.
Whatever we do to the web,
we do to ourselves.
All things are bound together.
All things connect."
Next, a video from TED, Ideas Worth Sharing: America's Native Prisoners of War.

OMG – One More Generation – Saving endangered animals for the next generation, an organization started by children. This is just one of the many interesting and important organizations you can get to on the sidebar of the blog.
Monsanto – a company most of us have never heard of, or if we have, we connect it to rugs. Unless you read Michael Pollen (Omnivore's Dilemma), Barbara Kingsolver (Animal, Vegetable, Miracle), and watched Food Inc. Then you're aware of what's happening with our food sources, and potentially our farmer's markets. This entry, Do You Know What You Are Eating and Breathing? takes on Monsanto. This is part 1 of 10. Again, be prepared to be troubled.

Mother Earth Still Has a Few New Things to Show Us is more uplifting.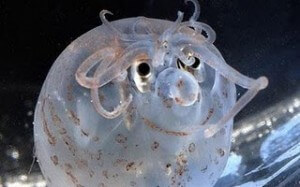 Out of Sight, Out of Mind is an entry looking at the Gulf oil spill. Take a close look at the issue of plastic in our environment.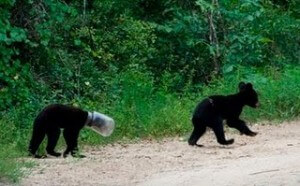 Protected Area of the Week from ICUN (International Union for Conservation of Nature) –  world's oldest and largest global environmental network – a democratic membership union with more than 1,000 government and NGO member organizations, and almost 11,000 volunteer scientists in more than 160 countries. Take a look at what's disappearing from the planet.

And finally, (I know, it's only 8…) a reminder from Randy Newman…It's a Jungle Out There.

We survived the art show on November 20, but barely. We were so well organized: we showed up at 7 and were set up by 7:20 – that's what happens when you're married to Felix – all that preplanning….By 9 AM I was thinking we weren't going to sell anything. We were next to the bottlecap framed pictures on one side and the painting on stone guy. Now I don't think I am an art snob, but I gotta tell ya, this was not the venue for us.
First, this event was scheduled the same weekend as one of the two Museum of Art art shows each year. That right there was poor planning, and our numbers in attendance certainly reflected that. Also, the main show for March at an exclusive guest ranch hasn't even been scheduled yet.
Secondly, the people who came wanted crafty things, not art cloth and digital pictures and art quilts. The other woman who had quilts was selling them off as people were making her offers below her prices and she was accepting them. Not what I want to do.
We made basic expenses, not anything else…a few bottles of paint. It looks like it is back to gallery searching for us as a venue. Which ultimately is fine, as my work is too valuable for me to just give it away. That said, I do feel like all the work packaging is going to pay off. I am much more pleased at how we presented – and wrapped – items.
Now for the great idea….a few weeks ago Alyson Stanfield of ArtBiz Blog did a great post on saying thank-you to our collectors: Gallery Space Available, Upper Right Corner. Send your mail out with a stamp of your own making, advertising your art or your business. What a great idea! Zazzle allows you to create all kinds of goodies with your artwork, but I think the stamps is just a fabulous idea. Below is an example, using a piece of our marbled paper. This is definitely on my list of things to buy, as I believe in writing thank you's for all kinds of reasons.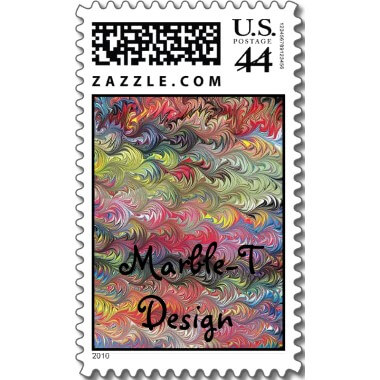 Everything comes back to packaging in all its forms. We think about the big pieces that are our art work, but let's not forget all the little things, like ribbons on packages (ours are marbled), thank-you cards (ours are digital marbling images), and now stamps.
I'm curious….what are some of your packaging and marketing ideas?
More packaging ideas:

I am hooked on zentangles. Several times this week I just found myself drawing – just pull out the pen and a piece of journal paper, and I am off with the lines. I got a couple of good ones this week, definitely more in the "zentangle" style.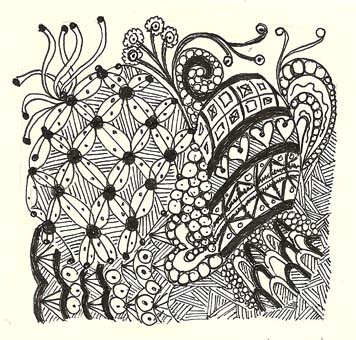 I'm slowly developing some of the patterns I like, and you'll start to see them repeating themselves.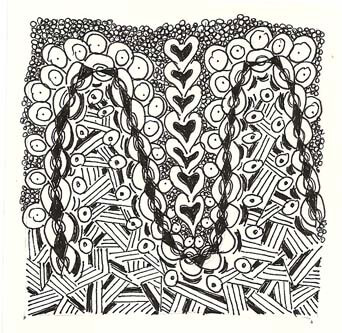 My "problem" with this one was that I couldn't seem to balance black/white and heavy/light. Still looks good, though.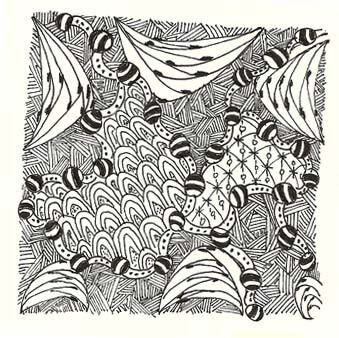 There's a lot of fine detail in this one – I really like the "plaid" design – you can really zone out working with that pattern.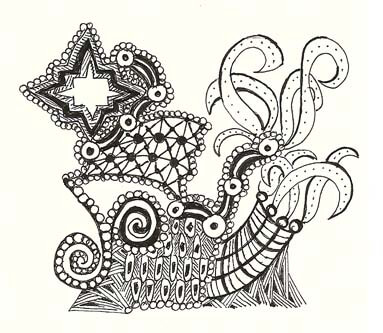 This was a fun one done yesterday morning, waiting to get with friends for our yearly "art gathering." I deliberately left a lot of white space with this one.
Then I got the bright idea to do some zentangles for my second family, based on their initials. I found some magnet frames in Michael's, so I just need to finish the letters. Here's K and G…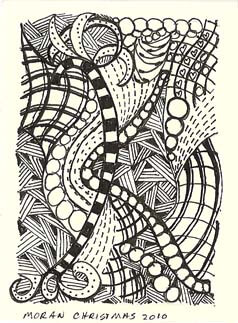 I've started the D, and I have about six more to do. It's been a great month for art, and I have quite the growing collection.

Ya know, just a random thought…I think marbling patterns are like zentangles……..
That said, I think I finally get it. This week's zentangle – that's right, just one of them – is showing me the way. I spent all week on this one, as I finally get the idea behind the "string" and the various sections. There was a lot more deliberateness in choosing some patterns and working around the design. That's right, I think I get the idea of truly just zoning in to a pattern or two and that little amount of space, and just draw, and Rick and Maria say, one stroke at a time.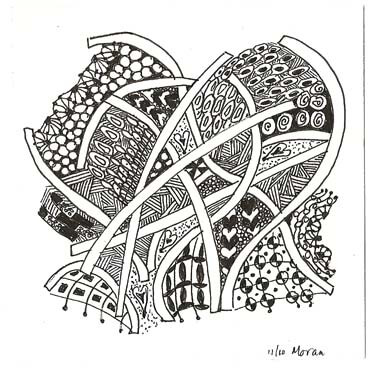 There is so much in this one little drawing. There are a couple of patterns I really like, some patterns that I would need to practice (no doubt within the context of creating a zentangle), and some that seem beyond me – I seem to make a mess of them.
As we were packing up the studio for this new move, I found the ones I have done last November. A couple I think begin to approach actual zentangles, and some I am still very fond of. I do have  quite a lot now. Here's the one I started yesterday and finished today: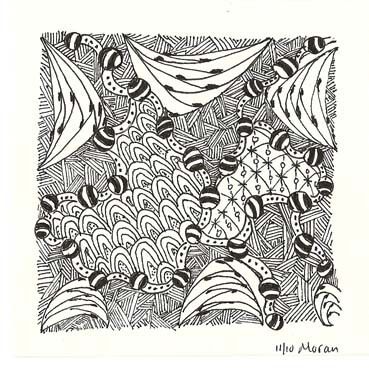 Can you tell the patterns I am really liking? And I haven't even shaded this one…although I could see where I would….Overall, way lots of fun!
And I met Kathy Anne, a CZT (certified zentangle teacher) who lives on the far Northwest and is putting together a zentangle party for the end of January. Should be lots of fun and I am really looking forward to getting in to it even more…now I want to go to Massachusetts for an official training…..there are so many things I want to do!

Top Ten Tuesday – been a while, and I haven't had as much time to surf, since school has been so busy, but there's some cool goodies from the blogs I read. So enjoy!
Elizabeth Barton has a very cool blog, Art and Quilts, Cogitations Thereon, and she has spotlighted artist Don Lipski – the butterfly below is made with test tubes filled with resin. He uses found objects with very interesting results.
Dumb Little Man always has good advice. This is an intriguing article: What Expenses will Increase Your Happiness?
"For the first time in history, there is a wealth of research on the correlation between money and happiness. In other words, we now know what expenses bring the most value to maximize our output. One recent article in Psychology Today discusses a study that tracked the expenses and corresponding happiness of over 5,000 households. The researchers were able to draw two conclusions from their effort. First, happiness increased when money was spent on creating positive experiences. Second… was that, "The best way to increase happiness, though, was to make a series of smaller purchases rather than one big one." says Art Markman PHD."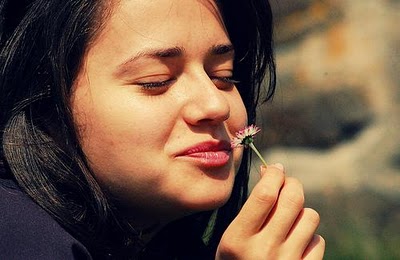 This is a great list from PlugInID and ties in with the previous article.

I love Dale Chihuly, even more so after seeing his installation at the Phoenix Botanical Gardens. This is a short video on one of his installations – really lovely.
How to Bind a Book – lots of tutorials, and some ideas that had never crossed my mind. Definitely worth a look!

Again from Dumb Little Man, Amazing Lessons from Isaac Newton. As a math nerd, I am always fascinated with Newton and Galileo and all they contributed to math and science. Lesson One – Patiently Think "If I have done the public any service, it is due to my patient thought."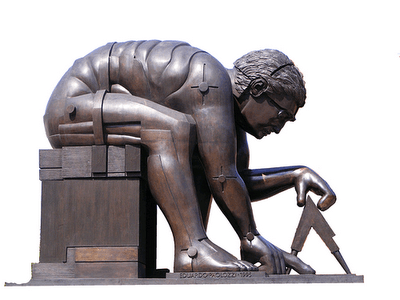 JPG Magazine has their "Best of Photo Challenge" around the theme of "Blown Away." Cool pics.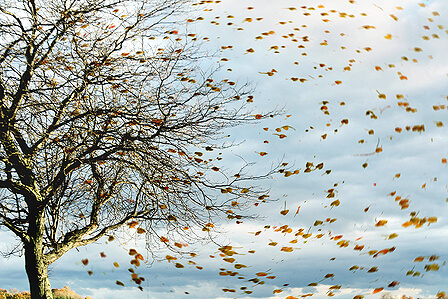 If you follow this blog, you know I'm taken with zentangles. The blog for the zentangle site has a guest artist with some very intriguing art: http://zentangle.blogspot.com/2010/11/zentangle-surreal.html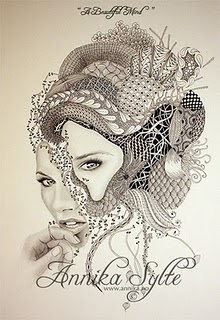 This next is extremely provocative. From Best Article Every Day comes "extremely shocking"  images with a bite. Beware – may cause irritation…..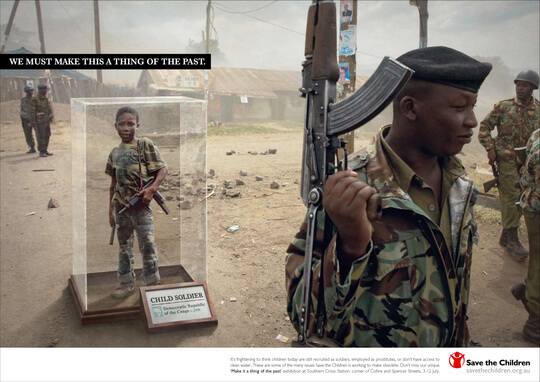 And finally, a plea. If you're not familiar with The Trevor Project, please do yourself and all the people you come into contact with and learn about this and the "It Gets Better" movement to stop bullying of young people. The latest that I watched was the gay men's chorus from Los Angeles – "We might not be able to stop bullies…but we can tell you that your life will get better." Spread the word!

Today was the first day of two for professional development on Understanding by Design, or UbD. The staff at the school all has to have this training as part of our three-year plan, and I was resisting this because I've read through elements of this on my own, as well as tried to apply some of the "big ideas" to a museum project several years ago. I am here to say today is causing me to seriously rethink retirement – the day was amazing, and I do not say that lightly about professional development.
Understanding by Design is a three-stage program to develop more meaningful curriculum that is effective, engages students, and promotes enduring understanding, as Howard Gardner would say. We spent the day on Stage 1, unwrapping the curriculum in order to plan for the end result. Duh. In 20 years of doing student theater, I always did what I call "backplanning," but NOT ONCE did I think to apply that skill to my classroom teaching.
As we continued through the day, I kept seeing lights at the end of the tunnel, answering for me ways to fix what I am unhappy with in my algebra classes. I do too much direct instruction, I don't have the kids do enough inquiry, and they aren't engaged enough or see algebra as a meaningful course of study. I actually wanted to read through standards and try to cluster some of the performance objectives so the planning  makes more sense. The warm-up we did would make more sense than the (to be honest) drill and kill I usually do for practice (and, really honest, management…). In fact, I have some ideas for small group bell work for next week to extend some of the understanding.
All through the day I was (and still am) very conflicted. I am planning to retire in two and a half more years. I have been dealing with some health issues that may make me retire early. Plus, I realized if I go the full years more I will actually end up hurting my retirement benefits, as there hasn't been a raise, and nothing is in sight. Two and a half years would cut off one of my higher salary years. So I am looking at numbers.
But then I sit in a workshop and get truly excited about trying some new strategies and ideas for teaching algebra, and I don't want to leave. Retirement is an ending, as well as a beginning. I started teaching 40 years ago this September, and while it is probably time – age-wise – to go, it feels like "the end." I don't think I'm ready for closure, even though I want to seriously expand my art work and licensing. I'm not sure I can "let go" of 33 years of teaching, when I still feel like I have a lot more to offer. I still love this stuff – workshops, class management, curriculum, and all. I miss the teaching teachers that I used to do. I have all these skills and experiences (and endorsements) from all these years, and I'm not sure I can give it up…..
So just when I think I am coming to decisions, something happens to change it all. Darn you, Dr. Larry….now what do I do?

This has been an interesting week, in that while I only have four zentangles to show, I have been exploring the wealth of patterns and information available on line. I have found myself in odd moments trying out new patterns. It seems that there is way more to this than "doodling," as I am finding out. There are identifiable patterns, and I am enjoying trying these. Some I am having more success with than others, but they're all fun to do. I can see how using patterns enables you to enter a zen state much faster, and you relax more within the art.
Here's some websites to explore:
The Original Zentangle site and their blog
Plus, go to Flickr and just explore…whch I did on my new Droid, and now I believe what the sales person said about using up your battery…..
That said, here's my work this week. I am particularly interested in the added element of shading. I definitely want to explore this more.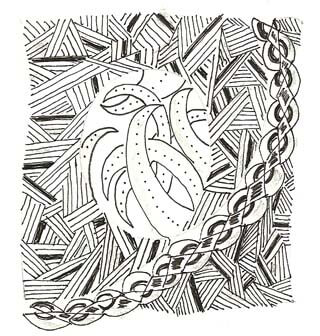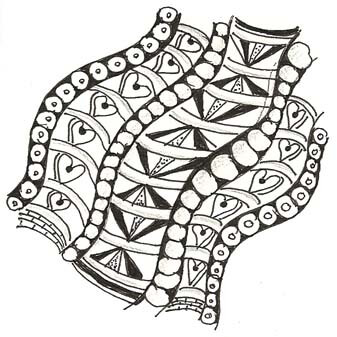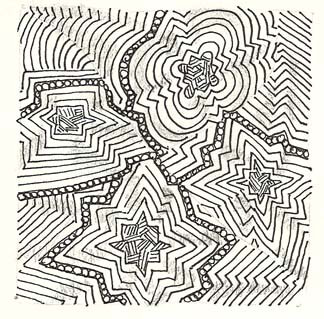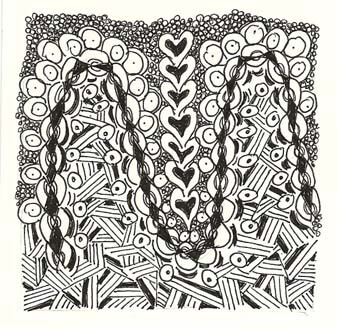 Anyone out there doing these? I'd love to see your work!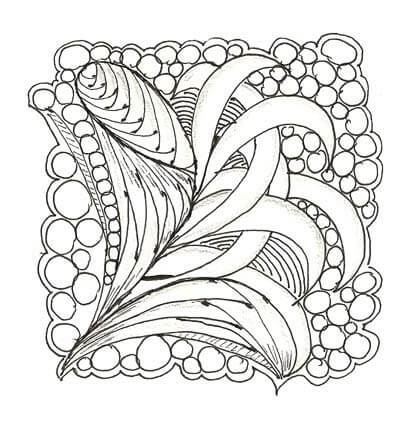 You might remember this zentangle from last week, and I said I was dying to try some Photoshop effects with it. Well, here's one night's work this week, in between grading linear graphs – this was MUCH more fun!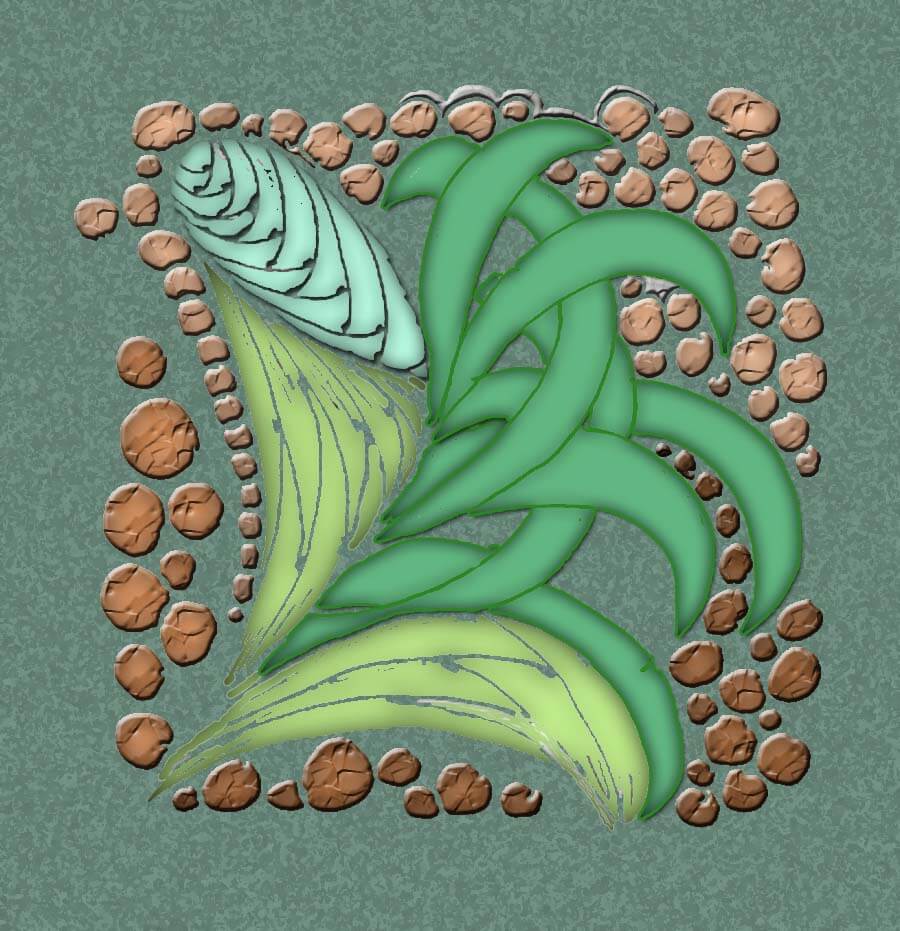 I love them both – they are each so different. This week I have been roaming the net looking for zentangle patterns. I hadn't realized that part of this art is set patterns that enable you to really "zen out," as I put it, into the drawing mode. I'll have some new zentangles up on Sunday for my week of Art Every Day Month, plus on Tuesday's Top Ten I'll list a bunch of the sites I've found.
This week also saw me playing with some of the new photos from the Tucson Botanical Gardens. Here's the original of the one I started play with: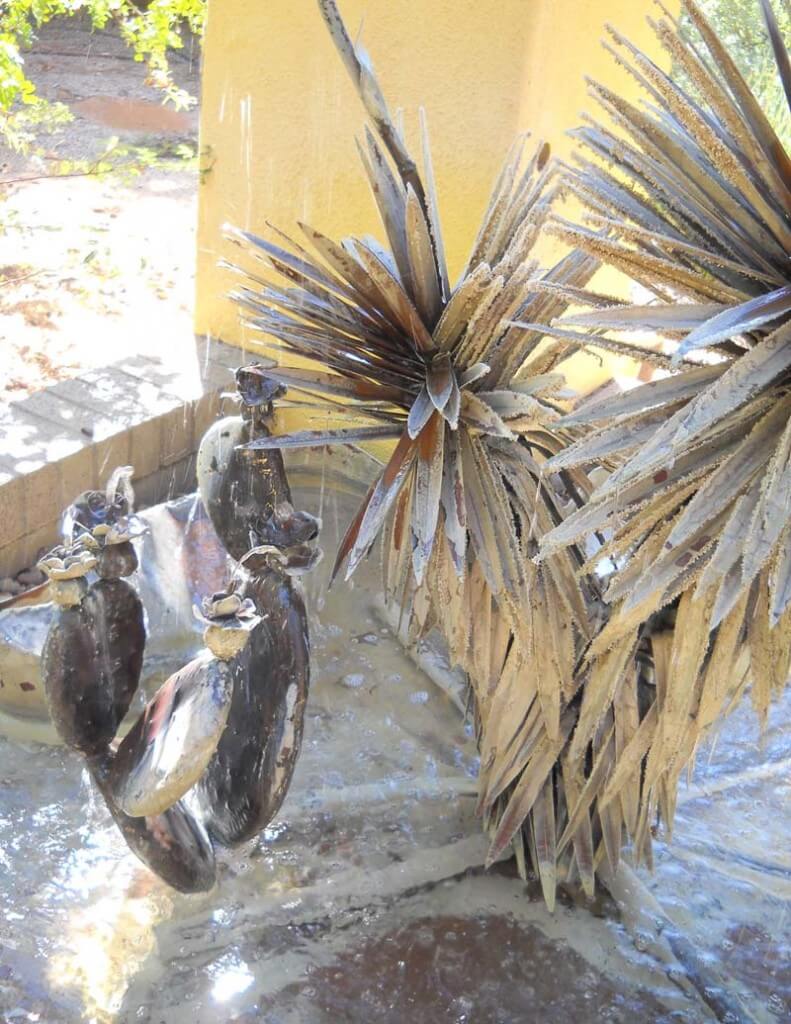 This metal fountain is part of the Zen garden, and one of my favorite places to sit and be with nature. I was able to capture water movement in this one, which I really liked.
One of the things I have been doing in my attempt to create some collages is using my magic wand and capturing several sections of the photo, ragged edges and all – gives it more of a water color effect, which I do like. Here's what I captured from this photo: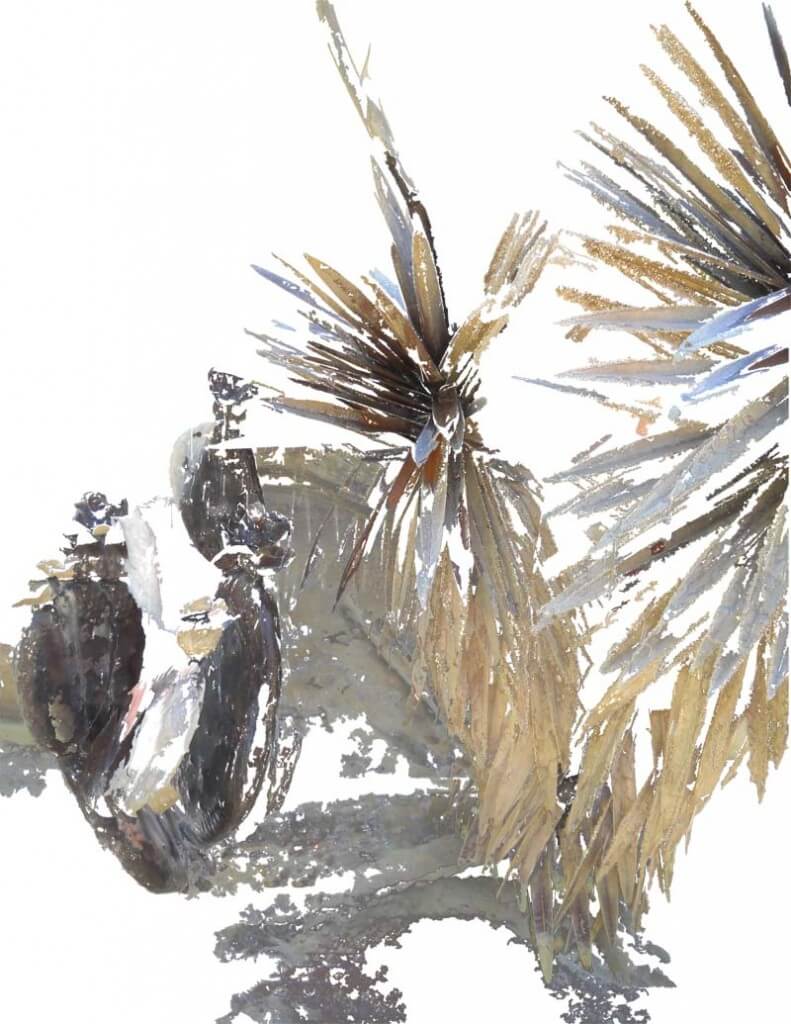 I love this just the way it is, but I kept going….Here's the marbled fabric I chose to go in the background.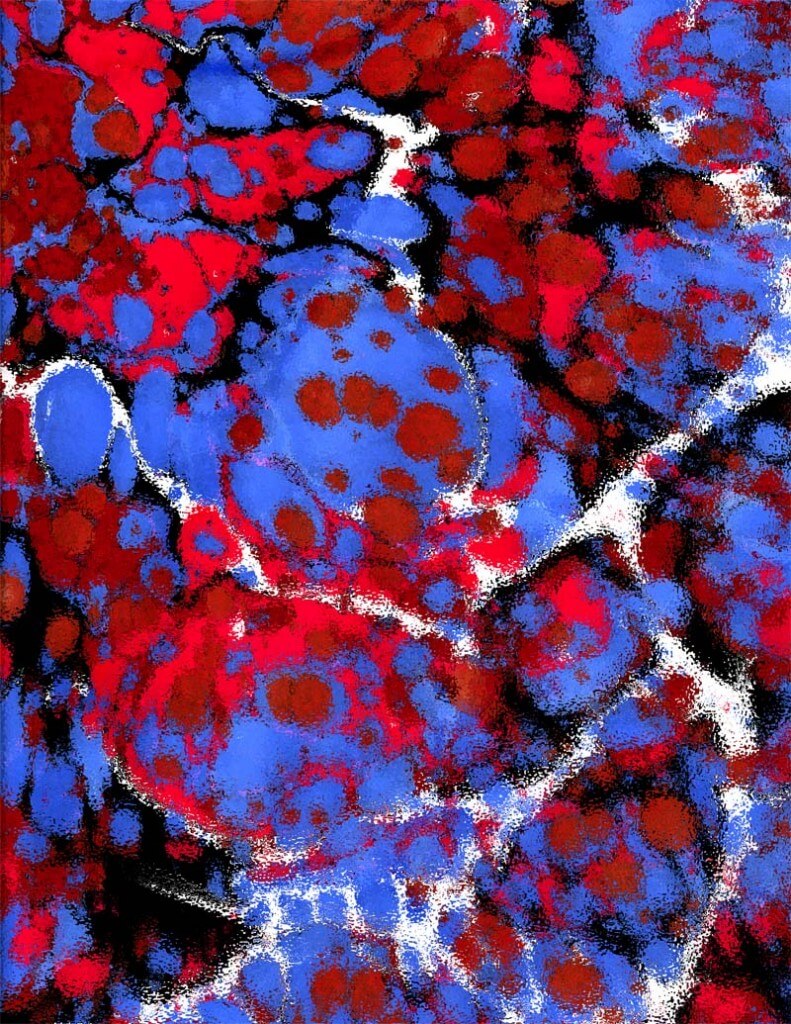 I know what you're thinking…but wait, there's more……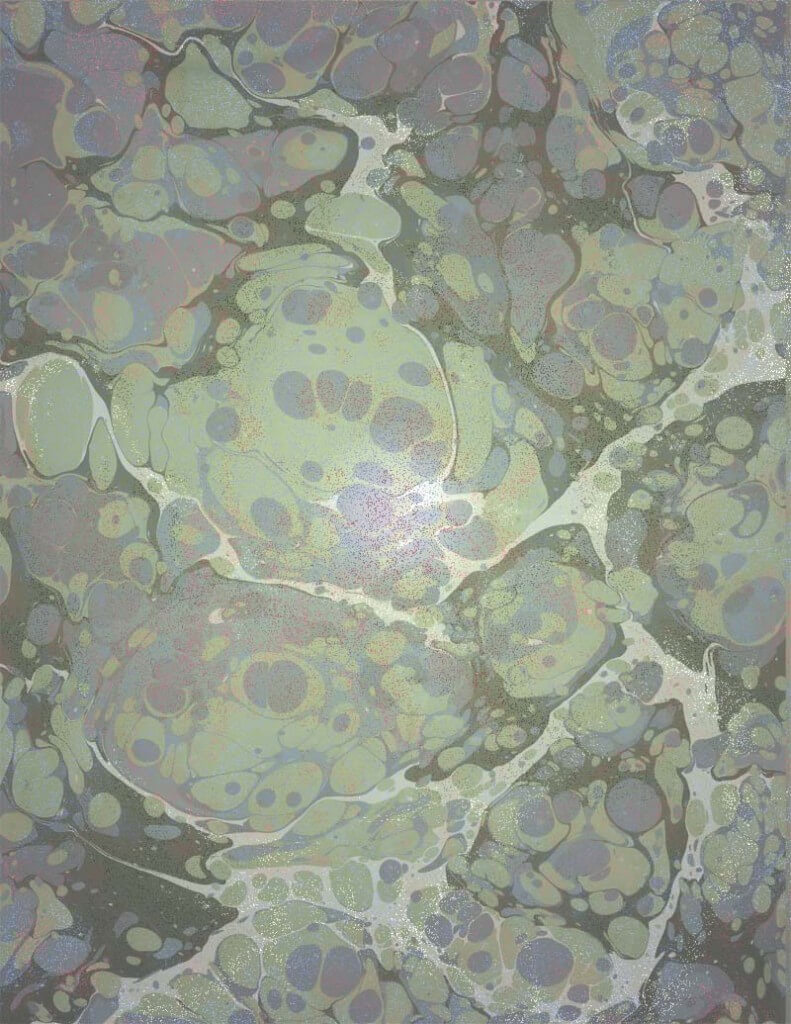 Same fabric photo, but with a gradient overlay that brings it closer to what I'm after with the fountain. Now I'm putting them all together….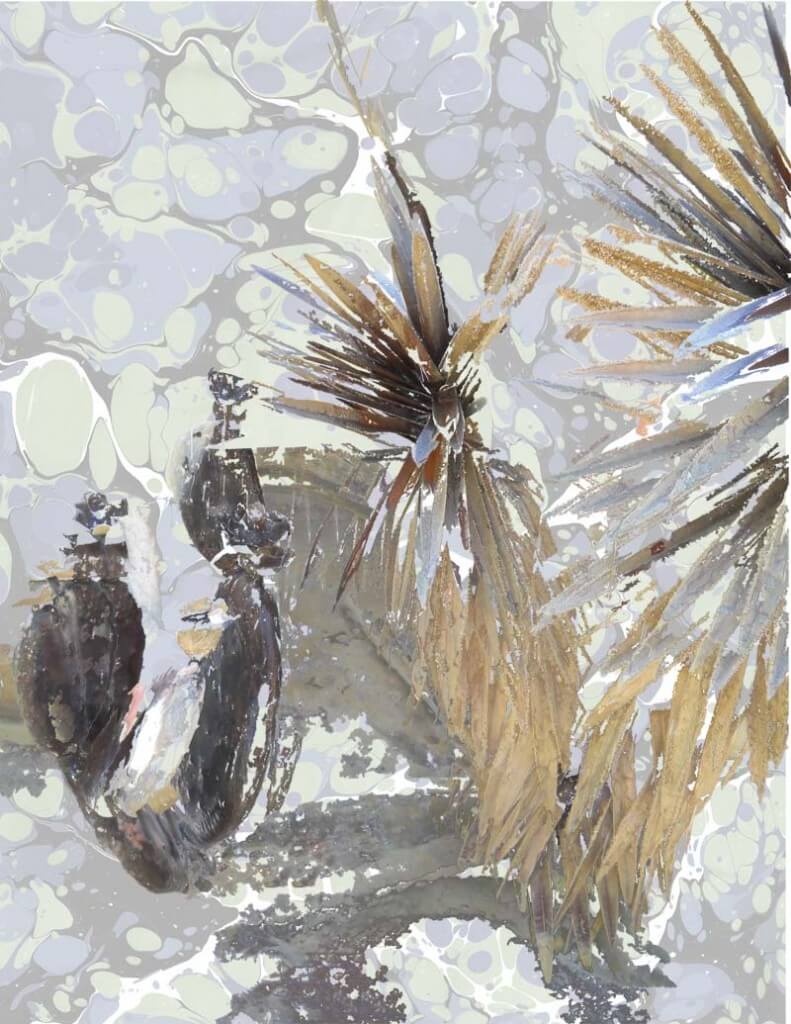 First blend – I like it….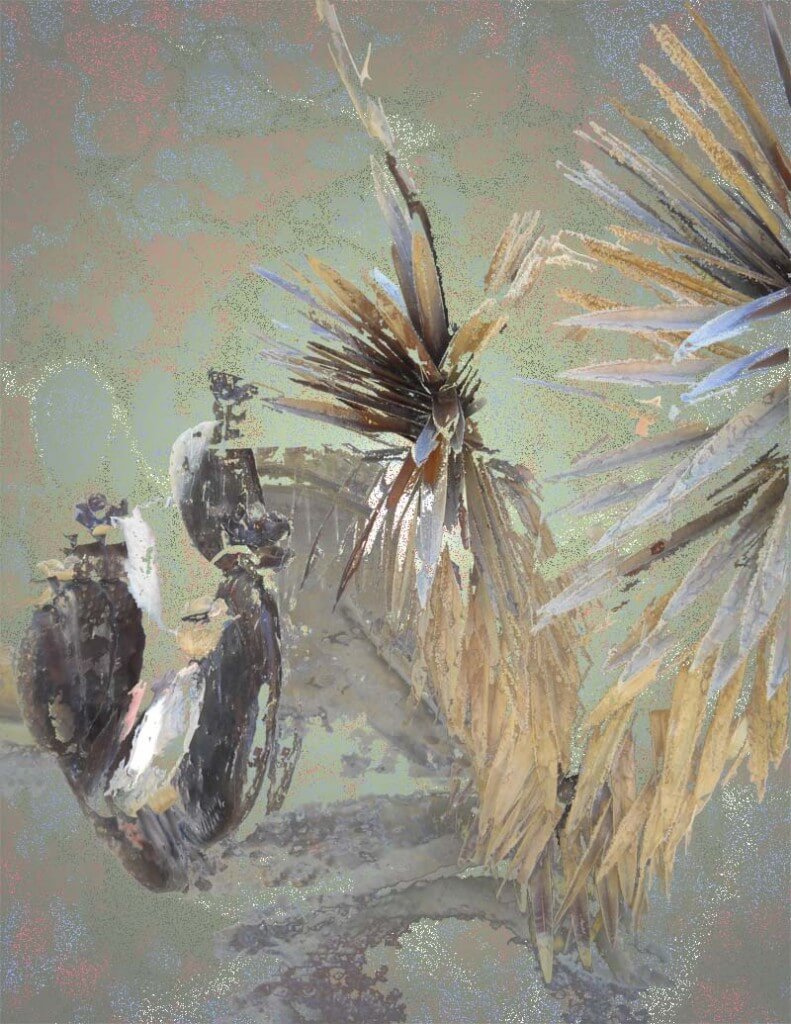 Second blend…hmmmmm……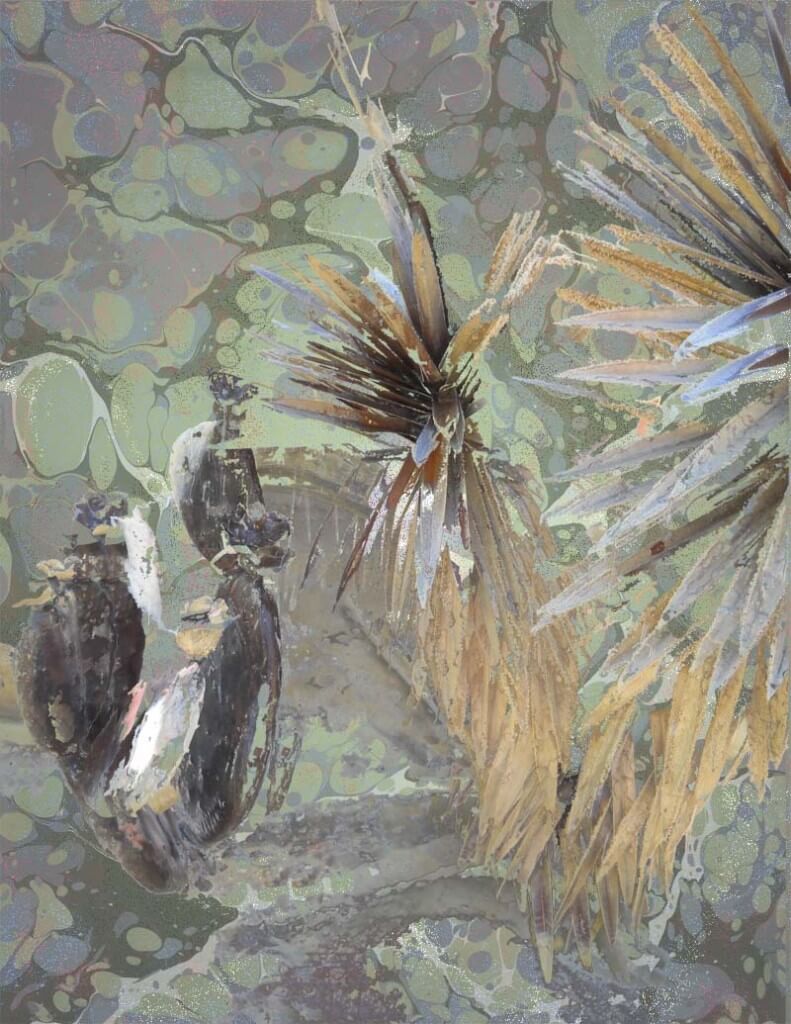 This is the final, which I think I really like. I'm torn between the first one and this one. I'll probably do prints of both! Weigh in – let me know which one you like the best!

A friend called on a Saturday morning a few weeks ago to let us know of a bookbinder's conference in Tucson, with great marbled papers. We headed over to the Radisson to find the annual Guild of Bookworkers Conference. Oh, my, the marbled papers were scrumptious. One of the marblers was from New Mexico, Pamela Smith, and her work was amazing.
Plus, there was another amazing lady there with marbled papers, whom I have forgotten, plus a couple of companies with really gorgeous stuff. Apologies for no names, but I did have permission to take the pictures. Hiromi Paper had a catalog that I picked up, because I'm always curious, and I found fascinating information about the art of paper making in Japan. This could lead to a serious new hobby…but right now I just want to take some of those marbling patterns and get them on cloth!
And now for the eye candy. You can click to get larger pics and see the incredible detail.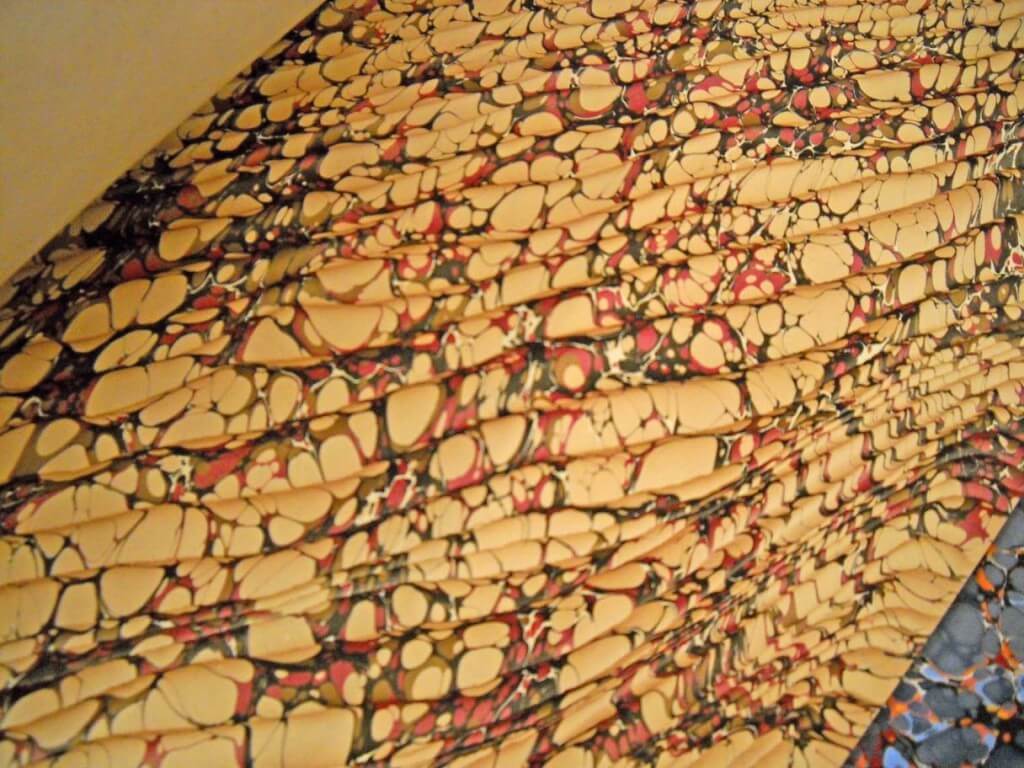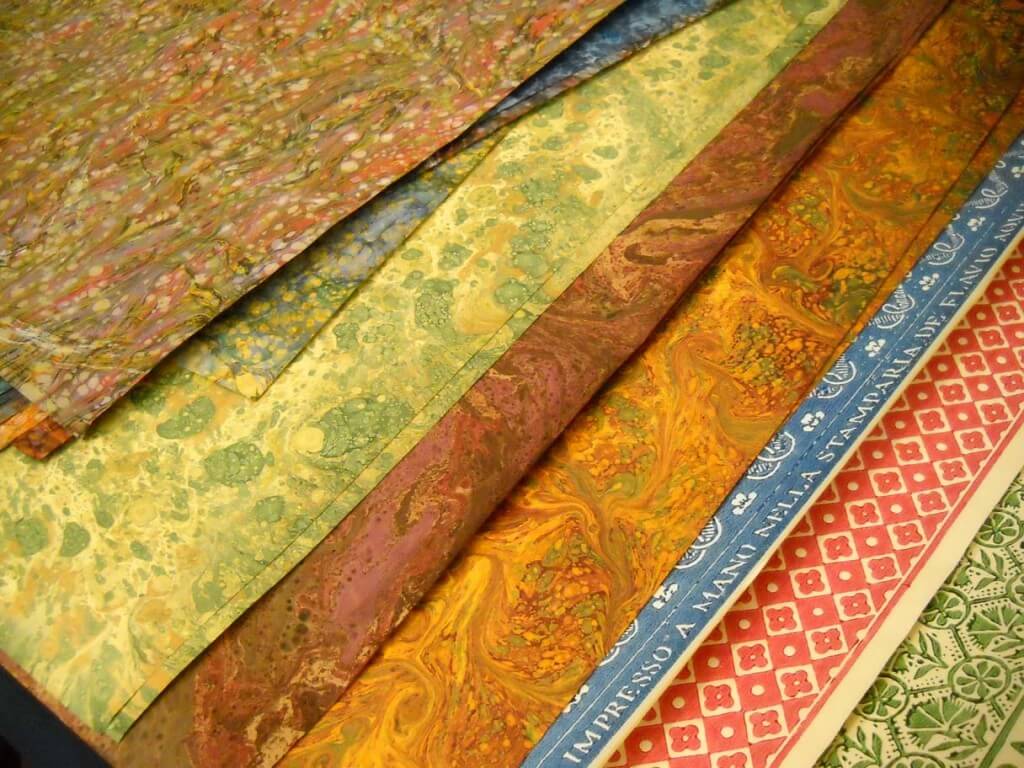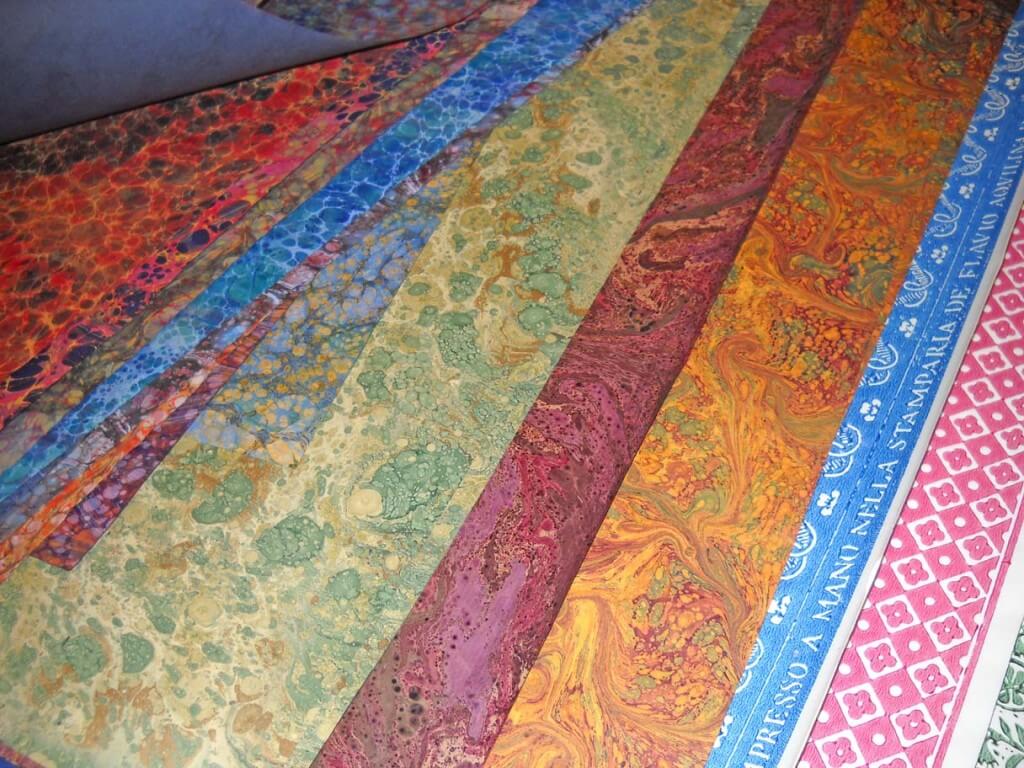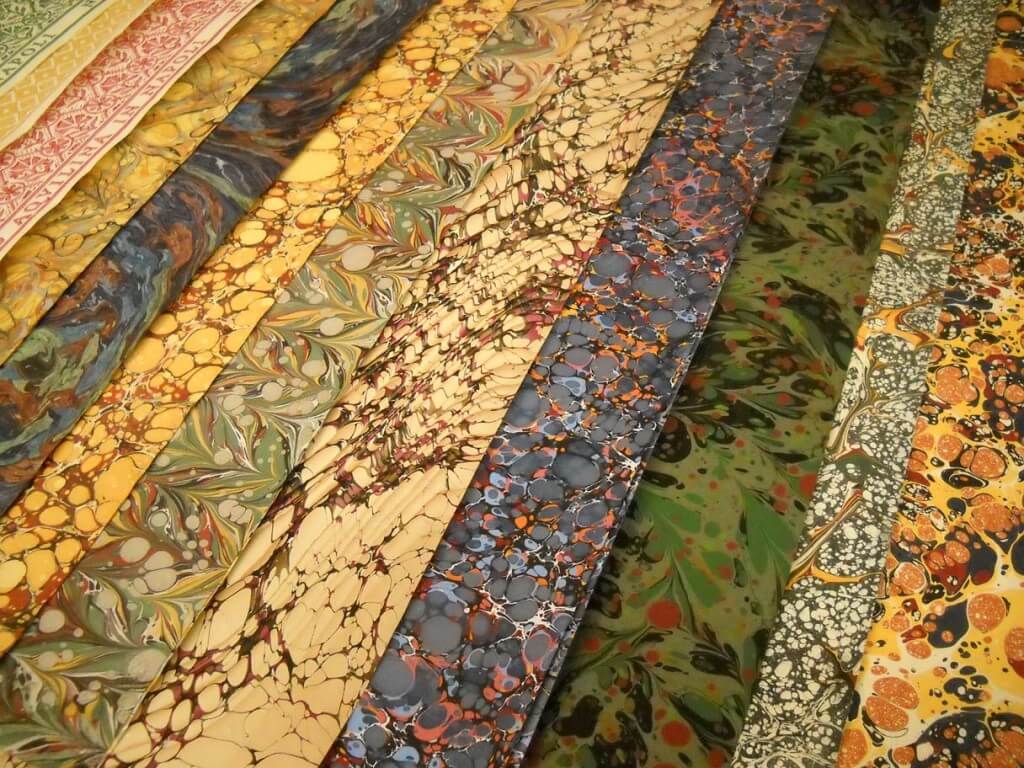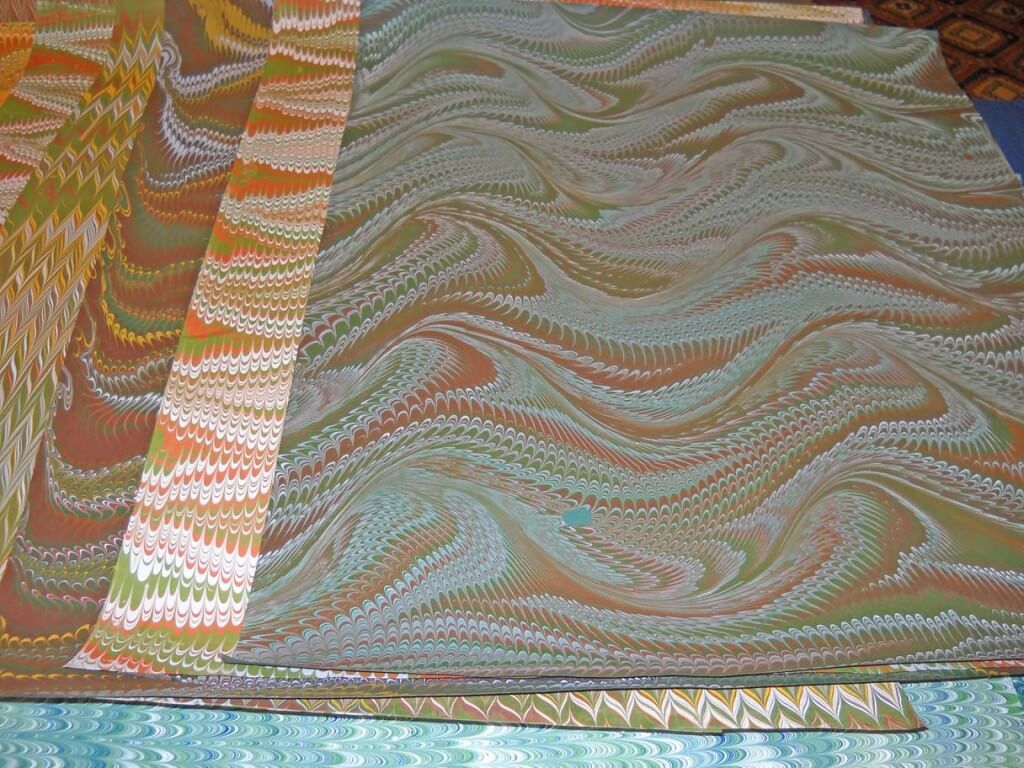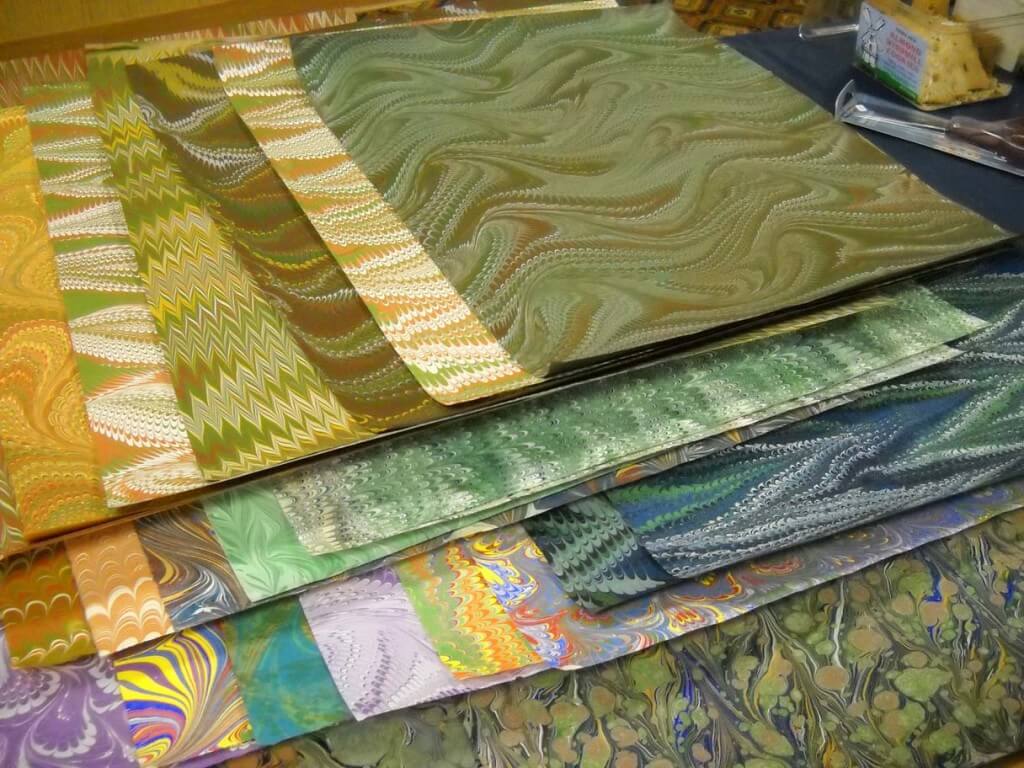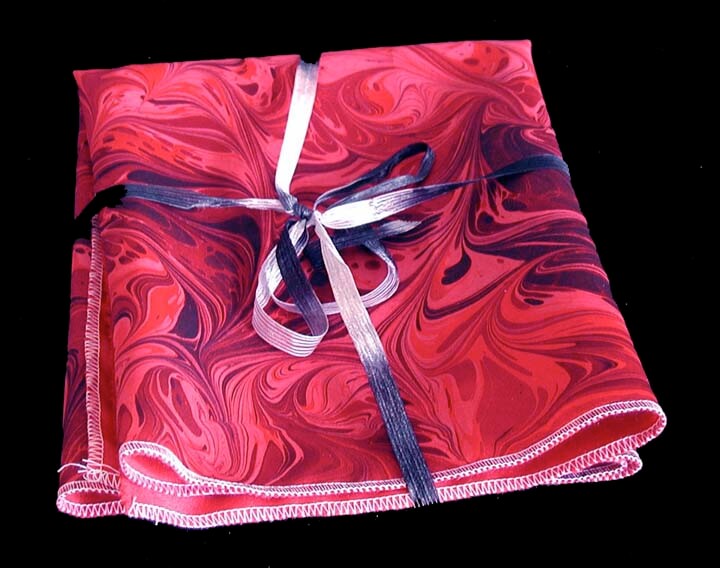 Since my post on the packaging two weeks ago, I have sold a couple more pieces of the new fabrics I listed, along with how they would be sent, like in the photo above. I also have started looking a lot more closely in the stores at packaging for different items. Now money is an issue, so there isn't a lot to purchase "extras," but that doesn't mean you can ignore the packaging.
For our upcoming show on November 20, all our fabric is wrapped with ribbon, and we purchased colored tissue paper to wrap purchases – not a great as a box, but better than a plastic recycled bag. Because we deal with fabric, I looked into how my local quilt shop packages – and believe me, they do a great job! Lots of rolled fabrics by colors, which makes a great small package. For large fabric purchases they have special white bags with "ribbons" at the top, made from strips of recycled colored papers. You walk out of that store feeling special.
Moda Fabrics started the trend for "jelly rolls" of fabrics, and they have their own "Bake Shop" to capitalize on this idea.
Robert Kaufman fabrics has a great idea for packaging – certainly an eye-catcher: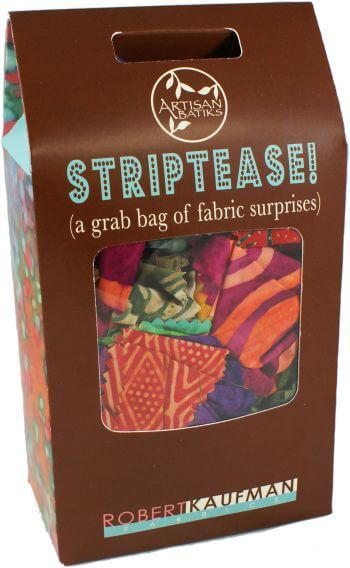 Further exploration gets us to the gift boxes from PaperMart. Loads to choose from, but I think the key is to be classy and as original as possible. I do like the "take-out" boxes.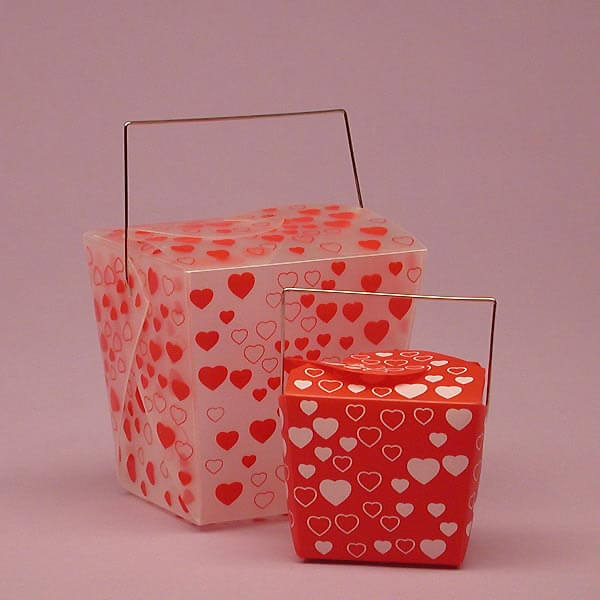 Also from PaperMart – I like these because I could roll fabrics and stand them on end in these.

I still have a lot of thinking to do concerning the whole subject of packaging, with less than 2 weeks to go to the show. I'll do what I can for now, but I'm looking ahead to other shows, plus our Etsy and Ebay sales to make sure our customers get really attractive packaging with their purchases.
How do you package? Any interesting ideas or materials that you use?
You might also be interested in these posts:
Monday Marketing: It's the Packaging, Stupid!
So Many Outlets, So Little Time!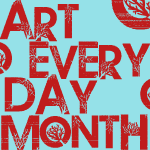 Ah, the zentangle….at least my interpretation of them. I hope to do a class with a certified zentangle teacher after the first of the year, as i have learned that there are some set patterns that help you "zen" out. But I have been enjoying my version of them – trying to do one a day for the month of November – Art Every Day Month.
Herewith my doodles for the first week – have started experimenting with some color (less is more for me) and some shading – which I just can't resist.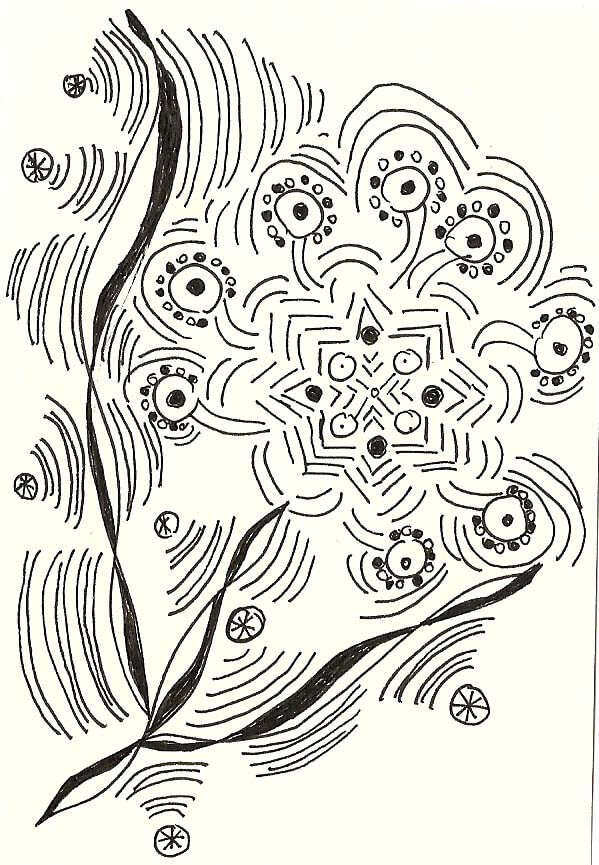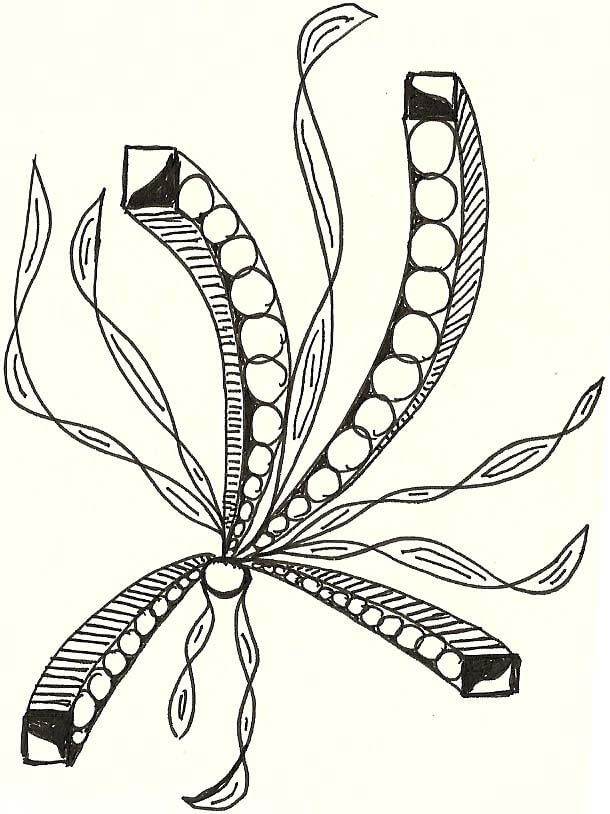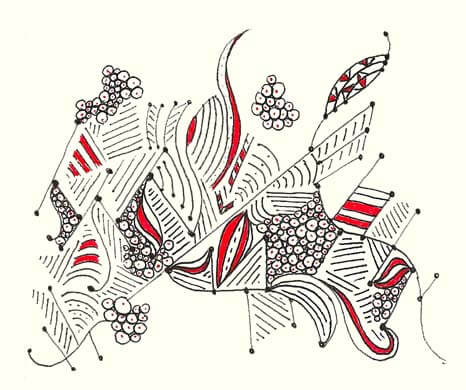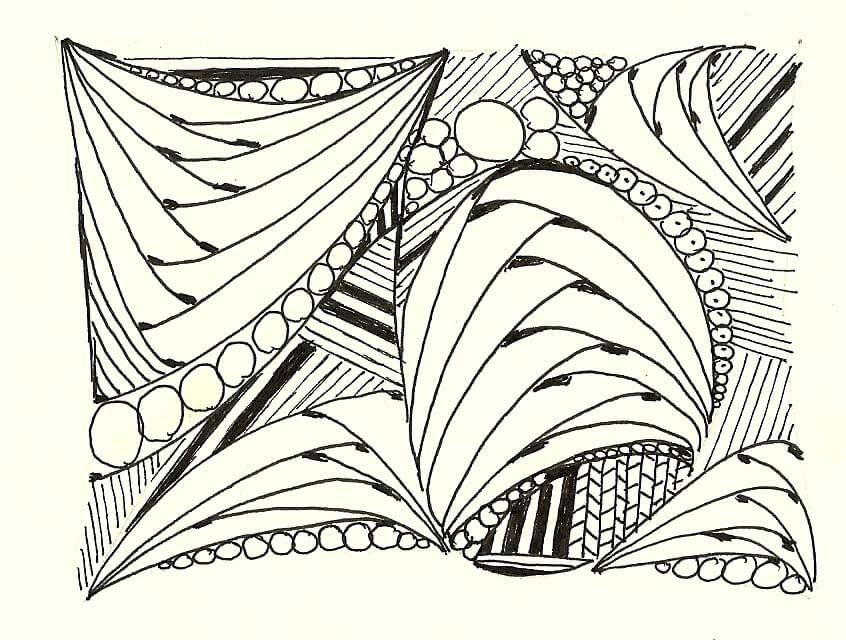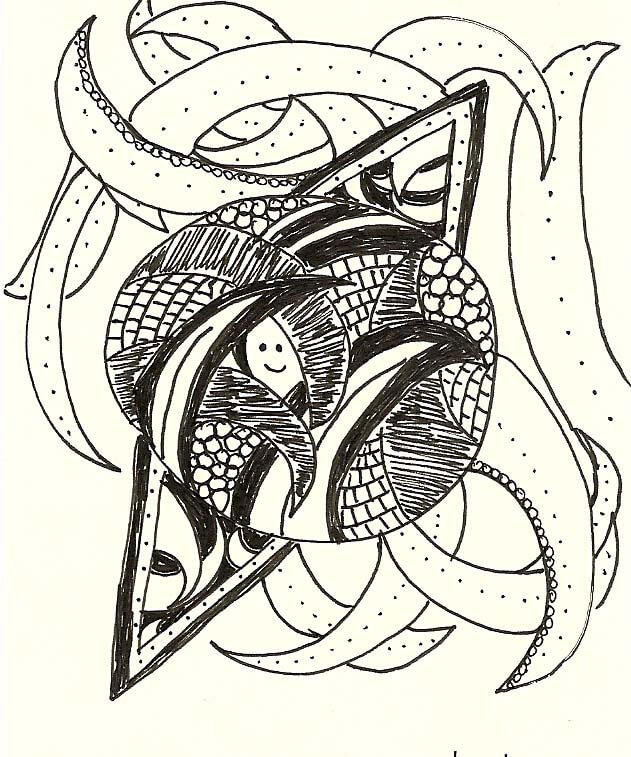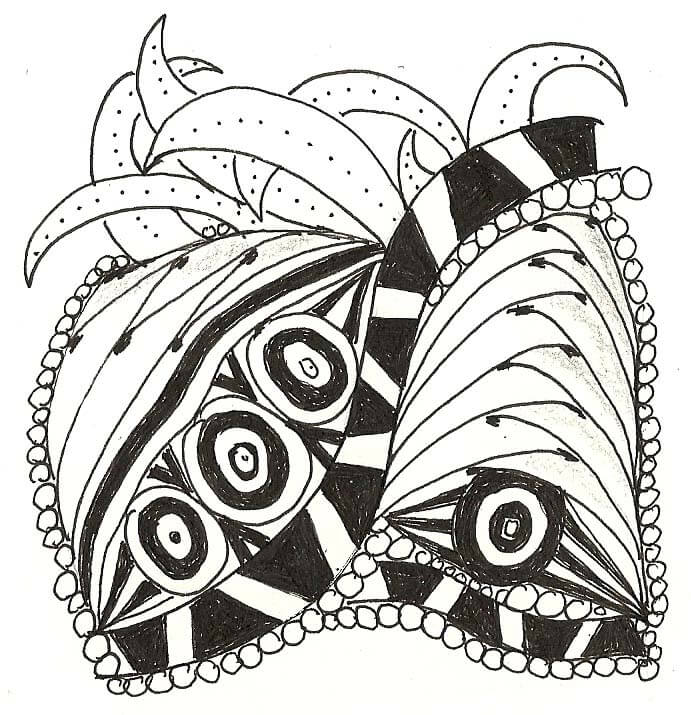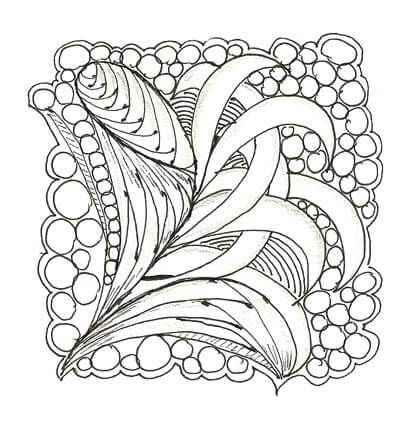 I am looking forward to putting some of these into Photoshop and see what happens. Here's the link to last year's zentangles: here, and here, and here, and here, and here.
Anyone else out there trying this? Anyone doing Art Every Day Month?

Who would have thought algebra would get political? Surely not me, naive person that I still am….I'm at Walgreens earlier today and I commented on a Halloween picture. Seems Walgreens will give a free 4 by 6 photo if the kids come in costume to the store on Friday. I mentioned that I thought that was a great idea. I said my students and I were celebrating Distributive Property Day instead of Halloween.
If you follow this blog, you know that I'm attempting to bring some humor to an otherwise excessive candy day that drives teachers nut – it's on Sunday this year, so Monday will not be pleasant….Distributive Property Day is when we "share with everyone. Here's an example of the distributive property: 3(x + 2). When you simplify, you end up with 3x + 6. You "share" the 3 with everything inside the parentheses, hence my "sharing is caring." I tell the kids Halloween is just a marketing ploy to selll candy, and we'd be better off if we practiced sharing is caring.
Back to Walgreens. I tell the guy my class celebrates Distributive Property Day, and I explain about "sharing is caring." To which he says (and I am not kidding) "That sounds like something Obama would do – distribute property to all."
What? Huh? Am I missing something?