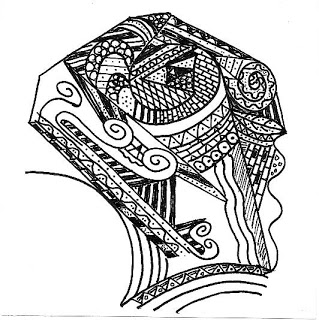 I joined Art Every Day Month, the art answer to NANOWRIMO (National Novel Writing Month), and I had been thinking of doing something like this for a while. I decided today would be a good day to start my Zentangle. This is an interesting site – very zen-like meditative doodling, and I have to agree – it is very meditative. I spent an hour with my new pens, and what you see to the left is where I stopped to take a pic before continuing.
The idea behind Zentangle is "one stroke at a time." I waited till I bought some new pigma pens, using a 3-year-old gift certificate from one of my students. I bought several widths, and I'll continue to experiment with them all. This first one is pretty dense, and I want to do some that are not nearly as detailed. But this is definitely fun!
Once I stopped to take the scan of this one in progress, I decided to try some filters and such in Photoshop. This could be an amazing way to look at new digital art. Here is the above partly-finished one with a marbled pattern behind it – looks pretty good for a start.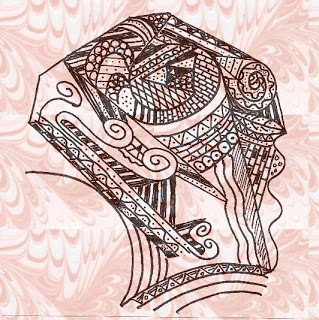 Now here's the finished Zentangle, along with a couple of adjustments – a marbled pattern behind one, an inversion to black, and a gradient to totally change the colors. I think I'm hooked!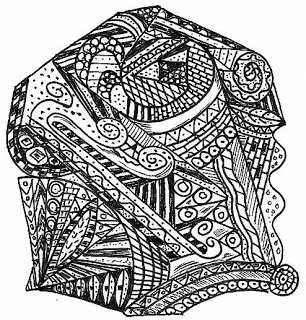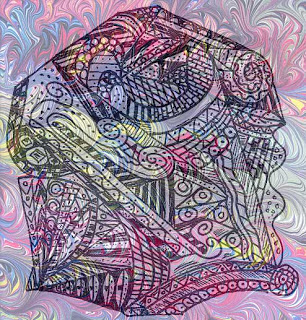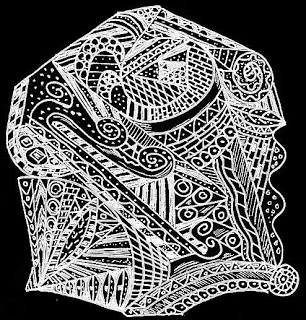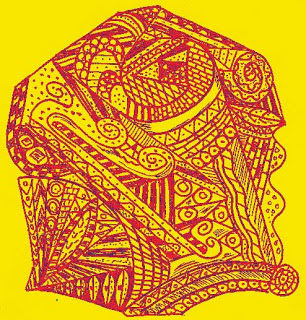 One Response to ""Art Every Day" Month"