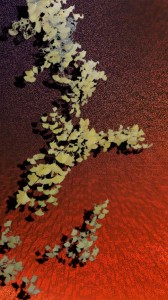 To say that it has been a while is an understatement. My last posts dealt with the Tucson shootings, and the aftermath for the community has been ongoing. Many in the community have been dealing with personal issues surrounding the events, from getting updates on Gabby Giffords and coping with the weird Arizona legislature to trying to understand our roles as humans working together.
For me, it has meant two months of a pretty severe depression, trying to cope with understanding so many of the historical aspects of this country coming in to play, trying to manage what the economy is doing to individuals, and getting ready to retire from a career of 40 years in education. I had to remove myself from almost everything extra in my life beyond the day-to-day coping within the classroom. I did a lot of sleeping and a lot of being sad. I didn't even do a Fish Follies entry this year.
At Christmas we decided to move the retirement date to June of 2012. Hubby had some major health issues in January that will eventually lead to major surgery, and all I could think about was not having time together. His next CT scan will be in August, right when school starts again. That was probably the tipping point to look at retirement this May. I made the final decision the end of February to retire after working all the numbers with the retirement folks, and then a month ago applied for SSI.
Gotta tell ya, when I made the decision, it was like a weight had lifted. I started packing my classroom the next day – and it took the three months to get it all finished. Most of my math manipulatives, books, and supplies went to an organization called Treasures4Teachers – will be a nice tax deduction, and they were very grateful for all the goodies and posters.
In April, during spring break, we spent time with our friends up north who now have a place in Cornville, AZ, just south of Sedona right along Oak Creek. It is a gorgeous, restful spot. I was admiring all of my friend's storage, and the conversation turned to the fact that maybe one of the problems getting back into the studio was the need to reorganize. Which got me thinking, and over the next month I started cleaning and organizing, and looking for new storage that would work. We're about half-way through at this point, and the place looks great – and even better – feels great. Two more sets of shelves and we should be just about done. But I don't think I'll be waiting to get in there to sew.
So I'm recovering slowly from the depression, starting the rest of my life on my terms, planning on a nice run of happiness. And I'll be back to blogging and creating and marbling and reading and writing and Photoshop and traveling and being with people and working for peace….

Last Saturday a group of us (mostly our Mixed Media group) got together with a CZT – a certified zentangle teacher from the Northwest side of Tucson. With some planning, and some ooh-ing and ah-ing over zentangle designs, we spent a great three hours learning the official way to zentangle, and a whole bunch of us are seriously hooked. Our next arts meeting on March 1 should have lots of new art to look at! We ranged from age 8 to 82 at the party and had a great time – even managed to keep the chocolate fingers off the tiles.
Even though I've been working on "doing" zentangles for over a year, it's only been since this fall that I started looking at official zentangle patterns. I do like working a little large, so my new ones are more a 4.5 square, instead of the 3.5 square. But first, a word about the Christmas presents I did for my second family this year. Two by three inch refrigerator magnets, based on their initials, none of which I have as pictures. For my friend Alison I did her initial as a five by seven, and I left a lot of white space, as her letter A reminded me of the Eiffel Tower, and Alison has lived in France.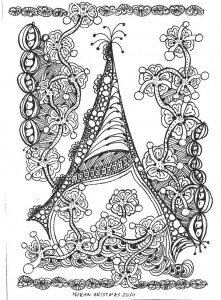 It is delicate and frilly, which Alison is not, but it just has such a great feel, and it was quite a hit. Since I couldn't resist, I also tried a gradient on it (marbled fabric) from Photoshop.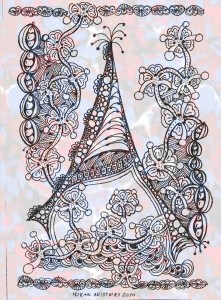 Now for my first "official" zentangle….there are some new patterns that I can see using a lot. I also love the tools for shading to enhance the patterns.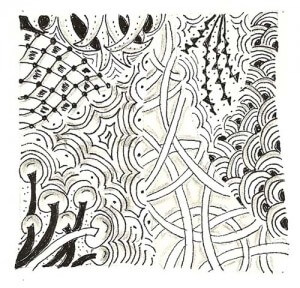 Now the ones I am doing in my sketchbook for The Sketchbook Challenge this year.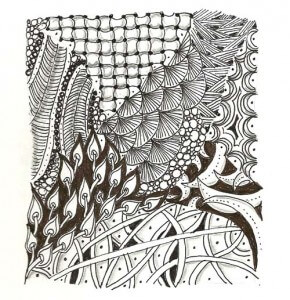 I find on these I am looking at the play of black and white, positive and negative space, and straight vs. curved. Creating a pleasing balance is definitely interesting.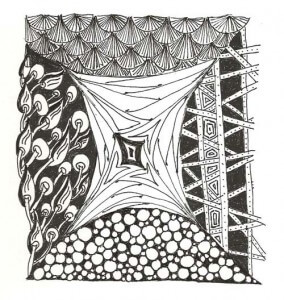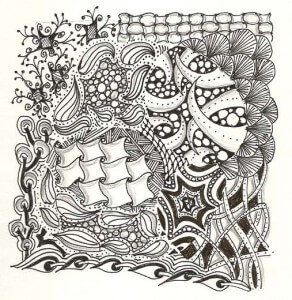 I just finished this last one, and there are a lot more official patterns invoved in this one. I want to look at creating the comedy/tragedy masks for my next one, plus continue to look at lots of new patterns. But the best part of all this is how relaxing it all is. The "zen" part really takes over your process, which is a good antidote to a lot of stress at school this year.

Fifty years ago today I became political. I didn't know it at the time, but I remember in very clear detail that day. I was twelve and only out of the hospital from eye surgery for three weeks. I still had tape on my glasses to leave only pinholes to see from, and I could only watch television for 90 minutes each day. there was definitely no reading.
On January 20 I watched the inauguration of John Kennedy as the first president I could remember really understanding and seeing. It was cold that day. I sat with my grandmother, an immigrant from Lithuania when she was only 3. I remember Robert Frost reading a poem. Even then I loved Frost's poetry.
And I listened to Kennedy's speech. I mean really listened. I realized I understood everything he was saying. He wasn't a "boring politician," which was how most people my age categorized people in office. I was transfixed.
And then he said, "Ask not what your country can do for you; ask what you can do for your country."
Wow. Talk about impact. I was idealistic enough to think he was actually giving me a clarion call. But there was no Peace Corps because I couldn't be vaccinated, so no overseas travel at the time. There was no military because my vision was so bad. There were no offices to hold, because women didn't do that then. The only thing that seemed to be available for service was teaching. I stood when the flag was raised. I stood every time I heard the national anthem, even when no one else did. I loved everything about this country.
As a sophomore in high school, in biology class, I even wrote a scathing paper against Rachel Carson and Silent Spring. How could she say our government would do that? By the time I was a senior in high school, I was debating the role of "Red China"  and its admittance into the United Nations. Quite controversial at the time. William Lederer's A Nation of Sheep was my bible.
Were I not in fear of family reaction, I probably would have become a true hippie. But I ran for office in college, ran the Student Court, and walked for Bobby Kennedy.
Life got in the way, but I think I have found a new way to advocate. Peace has got to be the answer.
January 20, 1960. A really good day.
Wow, it's been a few weeks, and a lot has happened in that time. Once again I ave fallen behind on reading blogs, so I'm sure I'll have more goodies next week. In the meantime, there are some gems here!
From The Best Article Every Day….If the Internet Existed Years Ago – Facebook in the 70s and Twitter in the 60s…..and more….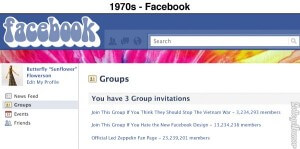 Aslo from The Best Article Every Day – Top Astronomy Shots of 2010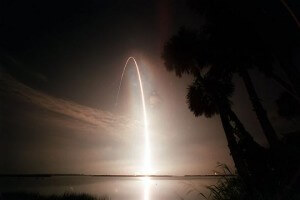 From a blog Open Seed Arts, a time-lapse of the creation of a work of art.

SAQA – Studio Art Quilt Associates – online magazine. Eye candy galore!!!!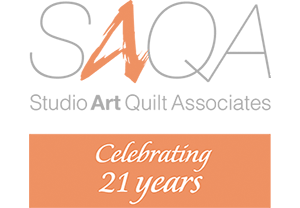 Blurberati – Picking Your Best Photo in a Series – some really good info on using the Golden Mean to help determine cropping and other great tips….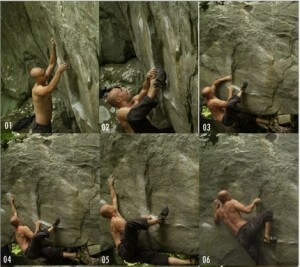 Great tutorial from C&T Publishing on making thank-you cards.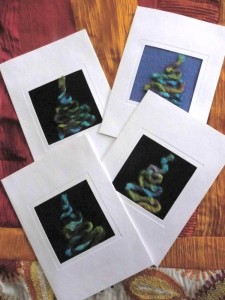 From JPG Magazine, their Best of Storefront pictures. Some very interesting juxtaposition….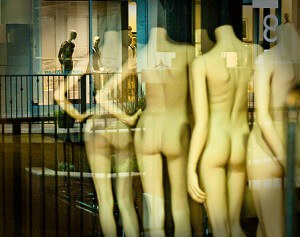 A trip down memory lane with some of the first commercials for common products – interesting to see how the technology changes. From The Best Article Every Day. Here's a sample of one…

From The Personal Excellence Blog (some really good reading) comes inspiring graduation speeches. Here's one opf my favorites – Randy Pausch.
And…from The Best Article Every Day, to round out the group, the fact that we are getting old……things that will be obsolete……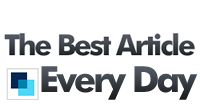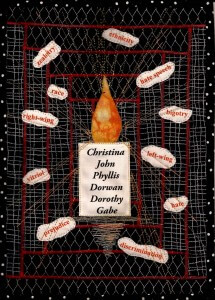 I finished my entry for Art from the Heart today. This was a tough piece to do, but it had to be done. It started last Sunday, the day after the Tucson shootings. I wanted to do the Journal Project from 3 Creative Studios, and my goal I set was to work in a 8.5 by 11 inch piece, using only scraps from  my stash.
Well, last Sunday I was in deep depression over the shootings and had to work with some fabric. I pulled some blacks that looked like barriers, fencing. One looked like chicken wire, and one like barbed wire. Black and white, barriers. I used the traditional courthouse steps pattern from quilting, and then used red thread for "blood" to stitch those into place. I was staying pretty literal at that point.
From there I wanted to look at the words and ideas that continue to divide us as a country, but I didn't want it to just be words. What about action on our parts? I printed out the words on white fabric and then sewed them to the background. If you look at the words closely, you'll see I used a large needle with very fine thread, as I wanted the needle holes to show…like the bullet holes that wound us.
I actually had trouble coming up with the words to use. So many words I thought of are far more inflammatory than I wanted for this piece. I wanted more general terms that would not cause people to fixate on them and get angry. Yes, the vitriol is heating up, but the purpose of this piece is not to add to the anger. I included left-wing as well as right-wing, and if you look, they are on the opposite sides of the quilt. This needs to be about "us," not "we" and "them."
I knew I would have a candle with a flame to illuminate the darkness. Again I printed out the names of the shooting victims. I know from visiting the Vietnam Memorial how powerful names can be, and I do not want us ever to forget these six people. I want their lives to shine down on us and help us overcome these horrible things that divide us. I used three different colors of metallic threads to develop the light from the candle. It doesn't photograph as brightly as it actually is, so I may still add more  strands of candle light.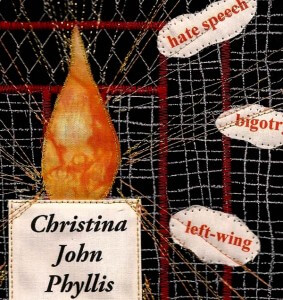 I don't think – in fact, I know – I'm not done. There is more I need to say through fabric, but I need to get a week or so of distance for myself, as well as work on the website. Plus, I am having to think through my own issues with some of these words – monitor my own language and actions.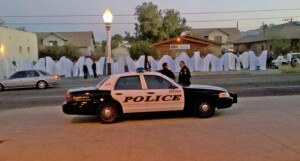 We made it through the week, but not without a lot of extra angst. We planned on Thursday what we would do to keep the kids save if the WBC protested outside out school. It is not easy trying to convince teenagers that doing nothing is the best course of action.
I got to school on Friday at 6:45 AM to find several police cars already in front of the school. That was a comforting sight. Those of us volunteering met in front of the school, only to hear that the WBC members hadn't gotten on the plane to leave Kansas, so good news for us. The police wanted us to stay through the next half hour to help students enter in case others decided to show and protest.
When we went back out, the Angels were across the street. This is a group of people who show to protect groups from the WBC protests. They do this around the country, and specifically in Tucson to keep the families of shooting victims from having to see the hate.
I got tears in my eyes. It was a beautiful site, these people who don't know us who came to protect our students from these hate-filled people. The kids thought they were the "bad guys," and so we were explaining to them this whole situation. A lot of students were convinced they were the KKK, so yet again we had interesting discussions in class, rather than doing a lot of math.
Everyone was tired, and it was certainly difficult maintaining the usual classroom decorum, but as I've said, sometimes systems of equations take a backseat to life. I'm still feeling very raw about everything, but I've been getting good feedback for the Art from the Heart project. I spent a few hours today working on my piece, and I should be able to finish it up tomorrow. It is raw, like my emotions, but I think it conveys a powerful message. I'll have more on that tomorrow.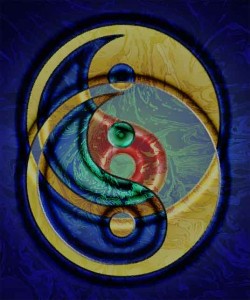 Being a teacher is hard work at the best of times, but this week is definitely one for the books. Dealing with your own emotions in a time like this is hard, but trying to help teenagers understand the ramifications of their own actions as well as trying to understand the motivations of groups like the Westboro Baptist Church – well, it's a supreme challenge.
At 7:30  this morning is news that the WBC will be picketing my high school on Friday to protest our ethnic studies programs. Oh, good. How do you explain to young people whose brains are not yet fully developed to make good choices that they will be confronted with hateful messages and they shouldn't respond? In my classes, after managing to get some math accomplished, the questions just kept coming. Why are these people coming to our school? Do they hate us? Why do they say that God is glad little Christina is dead? Can we protest? Why do these people hate Mexicans? Are they really Christians?
Wow. Makes finding the equation of a line using only two points pretty insignificant. How do you get kids this age to understand the wackos who spew hatred deliberately to inflame and sue and collect damages, regardless of whom they hurt. My high school has amazing students within such incredible diversity: we have a support group for homosexual students, we have strong ethnic studies classes that help students understand their own diverse cultural backgrounds, we have fine arts programs to rival small colleges, and we have students who are organizing to present a calm, peaceful face to these protestors.
But we also have kids for whom violence is a fact of life. Too many students here have lost loved ones through acts of violence. You tell them someone wants to cancel their classes because they're a minority, and they want to lash out. It is so difficult – and so needed – to get the kids to listen to your message that what these people want is to have you react, to mess with you, to get you upset, and that the best way to cope and make a statement is to stay silent. They lose when you don't respond.
So they leave my class after 30 minutes of intense discussion and historical background, and you wonder how much made sense, how many would reflect on this evil that will take over our sidewalks on Friday, and how much more can you as their teacher take? This has been a very hard week. So many questions, so few answers, so much hate.
I'm going to sit and watch the President. I need this.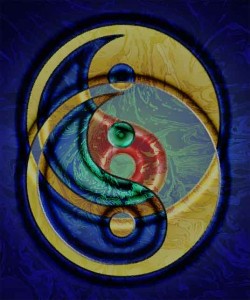 This has been a long, hard day at school. My high school made the New York Times this weekend about our ethnic studies program being in violation of state guidelines, according to our state attorney general. He has  been after the high school for what he calls subversive teaching, that the Hispanic studies program encourages students to question the actions of our government, and the program also builds unnecessary ethnic pride.
I am trying to be as unbiased as possible here and just state the facts. This specific action is targeting only our Raza Studies, not Native American programs or African American programs. Well, let's face it, if any groups should question the actions of our government throughout history, it should be these two groups. With the presence of the national media in Tucson this week, I am sure they will descend on the high school for more information.
Our staff meeting this morning dealt with registration issues, as well as with the moment of silence. I was ready for the moment of silence, but there was so much laughing and snickering about being quiet. I wanted to get so angry, but too often laughter is a response to events that make you uncomfortable. The kids in all my classes had questions, from "what happened this weekend that's got everyone so upset?" "what's bigotry?" "who's Gabrielle Giffords?" and "he should get the death penalty," just to name a few. Rumors abounded, many from news stations outside of Tucson, as well as off MySpace and Twitter. The adults were somber, but the students pretty much accepted it as just another act of violence from so many they have already witnessed or been exposed to. That's also a very sad commentary on what our inner city students have to deal with on a daily basis.
I'm still stunned, and last night I just felt I had to do some kind of positive action. I had been sewing a piece during the day to represent all the vitriol I see around us. This has morphed into plans for a website to host artwork that carries a message of peace. I plan to unveil the website on Monday, January 17, the anniversary of the birth of Martin Luther King, Jr. There will be more to follow in the next days.
This involvement with peace goes back to college days, advocating against the Vietnam war, and World Peace Day, an activity sponsored by the high school chapter of the Pacific and Asian Affairs Council of the high school I taught in on Maui. Students wanted to do some type of activity to promote peace in 1972, and that morphed into a student-run day-long look at peace activities. This was an eye-opener for me, as I was followed, called a Communist, and questioned constantly on the purpose of this day-long activity.
What is it about peace that is so controversial? What is it about nonviolence that is so controversial? Through this art website, with Art from the Heart: Healing Hatred in America, I am hoping we can shed some light on these issues through personal stories and artwork.
If you need to express yourself about the tragedy here in Tucson, about the need for rationale discourse in this country, or about the need for peace, start thinking about how you would express yourself in art.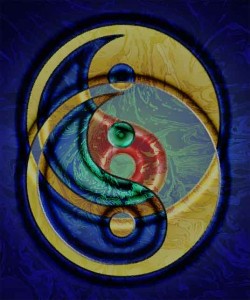 The cosmos is seriously out of whack and crying today.
I got home from school on Friday and sat down to read my email and Facebook, the daily practice in this computer age. I had an email from Gabrielle Giffords inviting me to an even called Congress on Your Corner. During this past election season I had helped walk the streets for our Democratic candidates, especially a new School Superintendent, passing out literature for Gabby, as she's known to supporters here. I looked at this email, and the political science person in me said, cool. This is the way we are supposed to meet and talk to our congress-persons.
I contemplated getting hubby to go over, as I would like to meet Gabrielle Giffords some day. I wanted to tell her to hold strong against the rhetoric that is coming from the new Congress and for her to continue to represent us as best as she could, while maintaining her values. I also wanted to tell her I was disappointed that some of her ads in the last campaign were objectionable. I wanted her to be above the mud-slinging, but I recognize the inevitability of having to counter her opponent. Still, the idealistic part of me that worships this flag and Constitution want our public servants to be that and not politicians.
The time frame of the event just wasn't going to work for us. Doctor appointment in the morning, weekend errands to run, and the event was on the other side of the city. We got home for lunch and checked Facebook to find Tucson was now right up there with Columbine, Ft. Hood, Oklahoma City and Dallas. We were glued to the television set for the rest of the day. Friends from Vermont who know me and know I do tend to be politically active called to make sure I hadn't gone grocery shopping. Ironically when we moved to Tucson, that had been our grocery, we had banked there, and now one of our favorite restaurants, Beyond Bread, had opened up on that corner. We wondered how they would handle the increase in traffic.
The social media aspect was very evident to me. I was watching the news channels, and two hours after the shooting there didn't seem to be enough information. I was hungry for more. What was her condition? Who was the shooter? Who else was hurt? I even turned to Fox News to see what I could hear. And then I remembered I was on Twitter, although not regularly.
Twitter was certainly active. To my amazement I saw how quickly news could travel. I read that Gabrielle Giffords had died, and I felt a punch to the stomach. Why did this keep  happening in this country? Then I read about Sarah Palin's "gun sights" on her webpage that had suddenly disappeared from cyberspace. I posted on Facebook that there had been tweets she had died. I was frustrated with the local stations for not confirming, for not giving us more information.After all, it had been on Twitter…how could we not know? Then I stopped reading Twitter, concentrated on Facebook, and channel-surfed for information.
The difference between now and 1963 with the media is dramatic. Then we waited patiently for news. We were glued to our TV sets as long as possible. It was the first assassination to be televised. We as a nation were stunned, regardless of our political leanings. Then when Jack Ruby was murdered live before our eyes, we wondered what else could possibly happen to us as a nation. Now we watch scenes over and over, becoming immune to the shock visually, but still heart-stunned.
All this time I'm thinking, this was only a matter of time before some nutcase pulled a gun and started firing. I hoped whomever it was wasn't Hispanic. That would have been the match to the fuse here in Tucson. I must congratulate the news outlets here in Tucson. As much as I was frustrated, they held the course, let us know only when things were confirmed, kept their cool, no rhetoric beyond their own sadness. They cautioned us to listen closely for confirmed reports. NRP had to retract that Giffords was dead. The news conference at the hospital gave us hope, and at the same time sucker-punched us again when we heard a nine-year-old girl had died.
All of this is inexcusable, but that was a very cruel joke. Then later in the evening we learn Christine-Taylor Green was a 9/11 baby, interested in politics, and had just been elected to her student council. She was there with a neighbor to meet the Congresswoman. At times like this you wonder about God.
One of our most respected judges in this crazy state died. Judge Roll went to mass as he usually did and then decided to stop by to say hi to his friend the Congresswoman. At times like this you wonder about God.
An up-and-coming congressional aide trying to bring democracy to the streets and people of Tucson was doing his job and was gunned down. He was 30. At times like this you wonder about God.
Three others are dead, names and no background. Six are still injured. Who are they, what about their lives? And what about the "second gunman," another person of interest? Is he a second gunman? Was he the mastermind? So many questions and no answers….
Tomorrow will be an interesting day at my high school, the flash-point for an Arizona state bill on ethnic studies, targeting a program at my specific high school. How will the students react to all this? I know many will say "let's just shoot the bastard." And it will be up to me and the other educators to convince them that violence doesn't solve anything – to students who already live with violence in their lives as they cope with an inner city environment. It will be up to me to get them to listen to facts before they make judgments, to try and listen to all sides before they jump to conclusions. It will be up to me to convince them that they really do need algebra in their lives, in the midst of all this tragedy.
And it will be up to me to show them sadness and coping. That I can cry, not because I knew them, but because this hurts us all. Not because I dislike what is happening to the United States, but because I know the amazing potential that we can be if we work at it together, unified in heart and soul.

Last week I show the beginnings of my Ice quilt, to complement the Desert Heat quilt I made. I went to Girls' Night Out at the LQS last Saturday and got a lot of quilting done. I then decided what to select for the first interior border. THe cool thing with the Deat quilt is the inner border really is unexpected. The blue really sets things off nicely.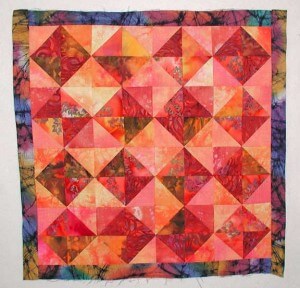 For the Ice quilt I decided to look for a yellow to represent the very weak winter sun, especially being from New England! You can see the yellows I pulled from the stash. I decided to go with the middle one because it was pale, and there is some very interesting texture within the fabric itself, with brighter yellows in a few places.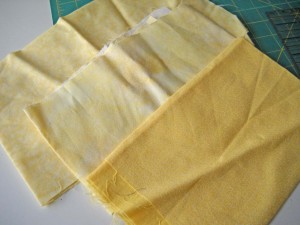 Here is the finished center. It is fairly "cold" and rigid, which of course is what ice is. Hopefully by next week I'll have the flying geese borders on as the next step.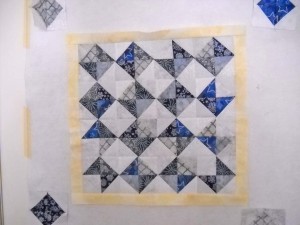 Also this week I have been having some fun with the Sketchbook Challenge. I uploaded my first pic to Flickr and got some very nice feedback. I was so pleased with the first one that I had trouble sleeping, because I kept thinking of more things that are "highly prized," and I wanted to get to work on them. So far this week I have a zentangled book, which I love!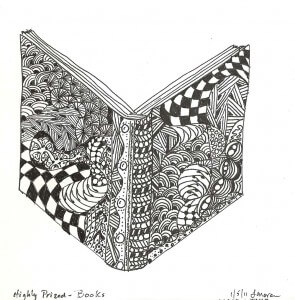 And then, since I am working on trying to keep balance in my life, I went for the yin-yang symbol. I kept only two patterns, one straight and one curved. I'm liking what I can accomplish with these patterns. I think  a music note and the comedy/tragedy masks might be next.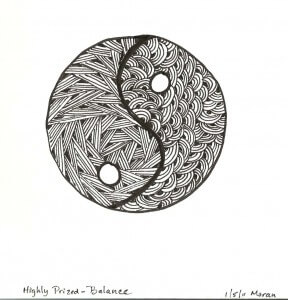 Send me some links to see your sketches if you're doing the Challenge. You can click on the link on the right to get to information about the Sketchbook Challenge. I am also thinking of looking into 3 Creative Studios for their Journal Quilt Challenge, and potentially their color challenge. I just want to keep myself motivated and try some new ideas, but no pressures on me – if I do it, fine, and if not, fine also.

I hesitated to sign up for The Sketchbook Challenge, especially when seeing the sketchbooks of the people who are coordinating the challenge. Intimidating, to say the least….But I can't let that stop me. I want to explore this idea of a sketchbook and break through some of my own barriers, the main one being that my sketch has to look like something "arty." I'm sure I'm not alone in that thought….
Anyway, enough about them. This challenge is for me to break some long-standing barriers. I have to stop worrying about what the final product is going to look like. So I started thinking about items/things/ideas that are highly prized by me and came up with Peace. So I did a peace sign, complete with all the zentangles, since I'm really working on zentangles over the last month. And…since I had trouble going to sleep last night, I kept thinking about more "highly prized" items and how I could work on them through the zentangle process. So that's how I'm starting. If I feel like sketching, then I will. Here's my peace sign: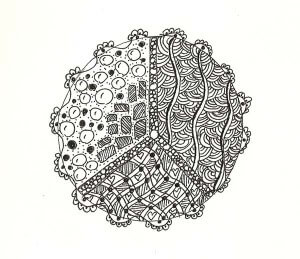 I might try playing around in Photoshop and add some color, but I am so taken with black and white and Pigma pens. It goes back to childhood, and I'm just going to go with it. I did buy some new colored markers, and I will play with those, but I LOVE the black and white effect.
I also prize books, and I am halfway through a book sketch. If I have time tonight I'll finish that up. I must say it's looking quite cool. But I don't plan on keeping any kind of daily schedule with this. I may try some other challenges this year, just to get myself to expand my thinking and to diversify my skills. And I have an idea for Fish Follies this year that I need to mull.
All in all a good start to the new year.

One of my projects as a result of our recent move is to sort and organize slides and pictures: one because of the need for the extra space, two to eliminate anything that still has smoke from our fire 20-plus years ago, and three to find a way to enjoy all these memories. Now that I have a home for "recycling" slide mounts and boxes, I am ready for this project. Slides are sorted into a slide box we had been given years ago and never used; there's one drawer of China slides and a second drawer of personal slides. I'm starting on the China slides.
How to organize? One of the most impressive memories from this trip in 1978 (before normalization of relations with the US) was the visits to the schools, so that's where I am starting. Some background: I was teaching middle school science at the time in Phoenix, Arizona, when I became involved with the US-China People's Friendship Association, a group working to bring about normalization (the recognition of "Red China") as a legitimate country. This has been a passion of mine for years, since early high school, and especially influenced by a book by William Lederer (senior moment – lost the name) about the "truth" about Chiang Kai-Shek. I won a number of debates in high school based on the strenghts of my pro arguments, which didn't make me any more popular. Oh well, I WAS right.
In 1978 I was selected as one of 20 people from the western part of the United States to travel for 3 weeks in China. I had never been anywhere, and China was at the top of my travel list. I was in heaven! I was gone for nearly a month, have a full notebook of interviews and impressions, and probably well over a thousand slides (all of which are being weeded down to the best. Each place we visited (fron Guangchou – the "old" Canton" to Beijing) we were able to meet and ask questions. I was in charge of all the school stops, since I was the only teacher in the group. It was the most amazing adventure.
Our first visit was an elementary school, and the playground looked suspiciously like the typical US school ground. Teachers were wandering around, organizing activities, like tug of war. Notice the blues and grays for colors, especially on the adults. We were there at the end of the Cultural Revolution; the Gang of Four had just been imprisoned. Bright colors were a "western" problem, and we had been asked in doing our packing to look at basic browns, blues, and grays for colors, pants, no dresses, to respect the Chinese. We only saw bright colors on the children, until we hit Tokyo on our way back – our senses were literally assaulted with color.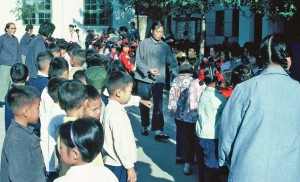 If you notice make-up on the children, it's because many of them were going to be performing for us during our visit. We were treated to amazing displays of arts and athletics, and at the time China was not a player in sports on the world stage. We all know that has changed.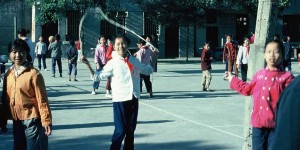 I was particularly taken by the blackboard at the end of the playground, with all the announcements. It was pristine; no damage, vandalism, or the like. One of the questions I asked at our first meeting with the teachers and administrators of the school was how they dealt with vandalism. I ws asked to rephrase the question, and then asked to define vandalism. The teachers looked at each other, not understanding the word…or the concept. The reply was "why would anyone want to destroy what they need?" Why indeed….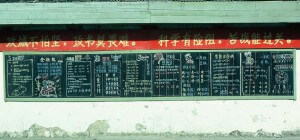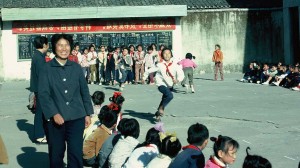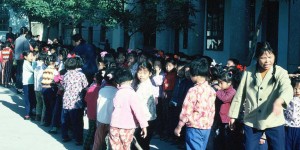 We saw all types of entertainment, from the little singers, singing songs of leading the good life according to Chairman Mao….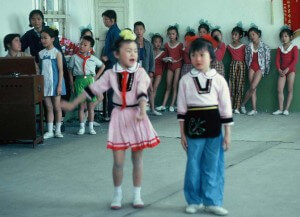 …to guymnastic displays of all ages. Look carefully at their equipment. Floors covered with skinny rugs, bare walls – nothing like we would expect for building athletes.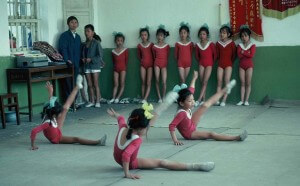 Some performances were more formal. This was a group of young ladies performing basic magic tricks for us, and they were very good. Stage presence was something I remarked upon at the time, and I still think it's pretty amazing how poised they all were. I know how difficult it is to develop that in young children during theater.

This dance/song number talked about importance of water and work to develop a good cotton crop.
This is the classroom that sticks with me so many years later. Sixty students in the classroom, no textbooks in sight. If you look closely, you will see double-digit multiplication problems on the board. No paper visible among these second graders. Students would raise their hand with a solution they had worked out in their heads, be called upon, come to the front of the room, and respond. We don't even begin teaching basic multiplication facts until third grade….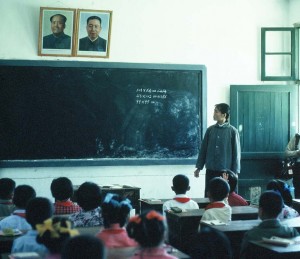 We had certificates made up of our trip before we left the United States. We brought along a Polaroid camera to take pictures of our hosts and the group, which would then be affixed to the certificate. This is still one of my prized possessions. (I'm second row on the left….)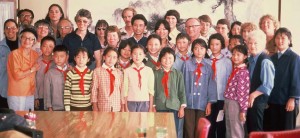 The children crowded around us to watch the picture develop – absolute magic!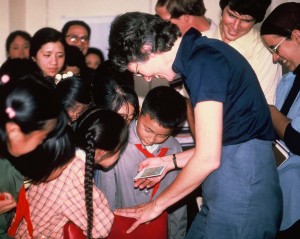 Shanghai, as well as most other cities, had what were called Children's Palaces, a place for students to go after school for more activities. A good many of them were focused on the arts, but many others were practical. Here's one of our group members playing – of all things – Chinese jump rope.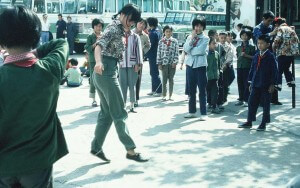 Lots of musical instruction, as well as impromptu concerts for us.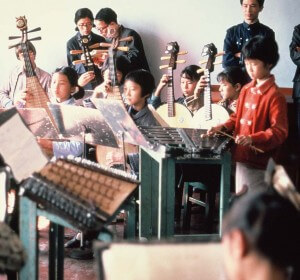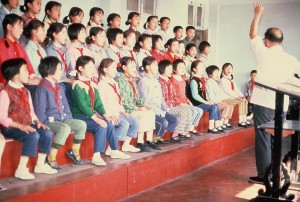 The needlearts are very strong in China at that time, especially needlepoint.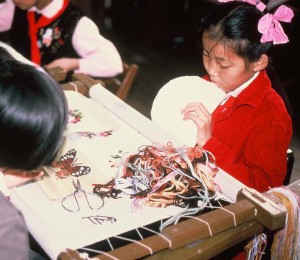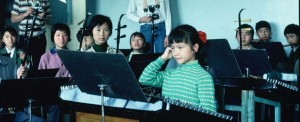 Lots of martial arts demonstrations….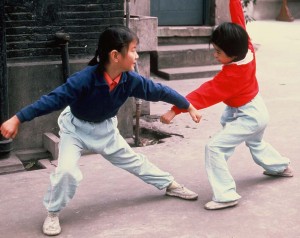 …and every where we went we were sent off to applause. For so many people we were the first Westerners they had ever seen.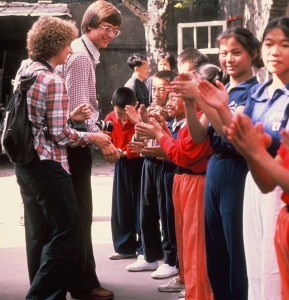 Ballet had been banned during the Cultural Revolution, so it was encouraging to see this, and then one evening a classical ballet performance.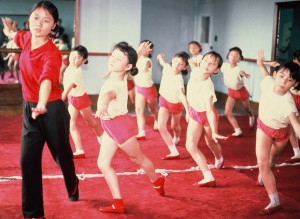 This is going to be wonderful, retracing this amazing trip. I will be culling the best of the slides to put together in a photo book so that I can look at these images more often. I'll post more as I proceed with this project…and a glimpse of a China just beginning to modernize and embrace capitalism.

I haven't had a chance to do too much with playing around with the latest group of pictures from the Botanical Gardens, and there's so much I need to plan out for these pictures. So today, after sorting through slides and doing some general organization, I decided to play.
We have one lone ginko tree at the Gardens, and it was nice and yellow when we were there over Thanksgiving weekend. I didn't realize until I was looking at the photo that I had gotten some shafts of sunlight. Here's the original, which I really like.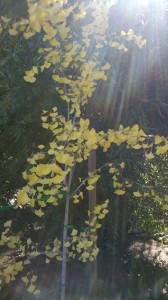 I didn't realize that there were some surprises in the upper right corner as a result of the sunlight.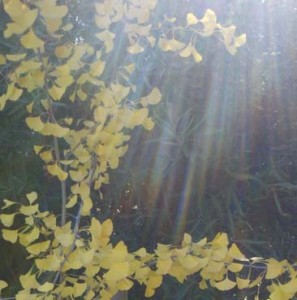 I love the shadows of the ground cover in the background. But you know me, I'm not content to just leave a picture alone, especially since I have plans down the road for some of these pictures. So….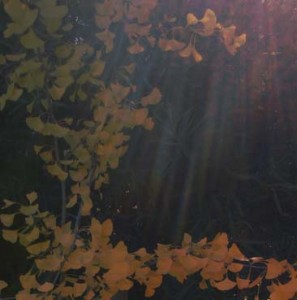 I don't remember what the filter was, but it's even more ethereal.
Now back to the whole shot….with a bunch of filters……I'm really partial to the sponge….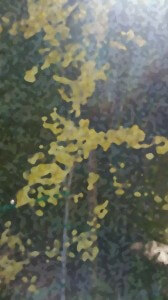 …but then I went very abstract…..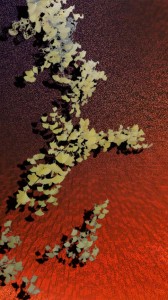 …again, very Asian in its simplicity, and I can see it in fabric……
Some other Photoshop Fridays you might like:
October – some of my favorites

Usually in Tucson the bad weather hits on a school day – the kind of weather where you want to hole up under a quilt, read, and drink hot chocolate. Today's the day, and I am staying home…I'm debating even getting dressed today. Let's end the year in a nice relaxed mode.
I like not having much of anything on my to-do list. Taking the pressure off to be the new emerging artist (after 15-plus years of marbling and quilting) feels very good. I played with new markers yesterday – a splurge at Michael's with a gift card. I'm usually a pen and ink person, but I think I'm going to like adding some color to my zentangle work. I have a tentative zentangle party set up for February with a CZT here in Tucson, which should be lots of fun. I cleaned out my Google reader of blogs where no one's posting, or it's scrapbook stuff, and I've been discovering lots of great zentangle blogs.
School starts next Monday and I'm all ready….lesson plans for most of the week already set. I know with the retirement decision that my school days are numbered. This time next year I'll only have 5 months to go. The time will go faster than I think it will
I'm reading books on France, specifically Paris, as we start to plan for our trip to Paris and Venice in September of 2012. There is SO much to do in Paris…it's going to be a lot of fun to plan and read about historical France (since I don't remember a lot from European history, except reading the actual words of Rousseau and the like) and about the artists I want to see in the Louvre. That will make some good planning reading over the next few months.
I'm working on a new quilt that I am going to make up in a pattern. I have a bunch of ideas, and I need to see how to save a document as a PDF – I'm thinking I need an updated version of Office for Mac (mine's 2004…..). And it looks like the computer is going to need a trip to the shop for a needed cleaning. And…lots of back-ups done over the next few weeks, as I have so much that is old stuff, and too many pics and graphics slowing the computer down.
The elephant in the room is getting back on track for weight loss. I need to get back to my blog and keep myself on track. I like not having weight be constantly in the fore-front of my mind, but unfortunately I think there's a pound or two creeping back up. There have been a lot of good changes in terms of health this year, and I want to build on those.
Goals for the last few days of vacation? Take it easy, maybe start work on sorting slides. Go through two more scrapbooks to decide what to keep for pictures. Get caught up on reading blogs. Finish Silk Road. Buy fabric for the bedspread I have been promising myself…notice I didn't say quilt, because I know from past experience if I start a bed quilt (and I have…) it's not going to get finished. So rather than spend another $30 for a cheap coverlet, I'm going after some home dec fabric for a bedspread that will work across the seasons – Joanne's 50% off over the next few days….
I'm off to enjoy the rainy, possibly snowy weather today.

I am enjoying not feeling pressure to finish or make something under deadline. So I started another new quilt that I would like to make into a pattern. That's one thing that's been appealing to me…ever since I sold off the rights to several early quilt patterns. This one just seems to be happening.
It started with my Desert Heat Quilt.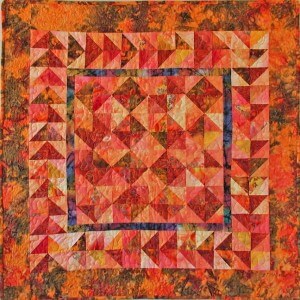 I really like how this came together, and everything I wanted it to do (especially radiate heat), I was able to get it to do. Once it was up on the wall, I decided I needed a companion piece, called Winter Ice. So since the move happened, and I had to rearrange and clean the studio, I pulled all the fabrics that spoke to me of "cold."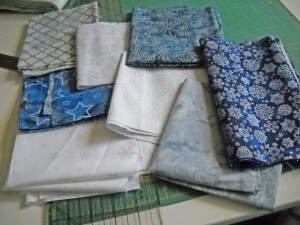 A beginning selection to work with. The center white one is full of glitter.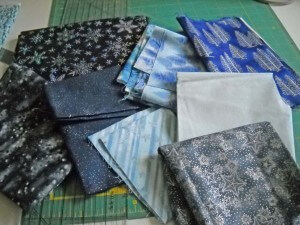 Except for the bottom right, ones that didn't make it into the selection. I try to match a light and a dark, a light with a medium, a medium with a dark. I make waaayyyy more triangles than I need, because I like to have a variety to choose from.  My center block with be eight by eight in triangles. You can work in groups of fours to keep a square: 4 by 4, 8 by 8, 12 by 12, and so on. I like the 8 by 8.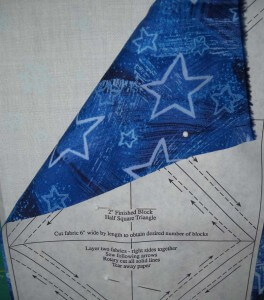 I like using the Triangles on a Roll, because you can do some mindless sewing. I cut pieces the long length of the fat quarter, about 6 inches wide. Put the right sides together. I tend to carefully pin, but if you don't iron well first, you can get lumps in the back that may not come out with ironing, and may cause some stretching.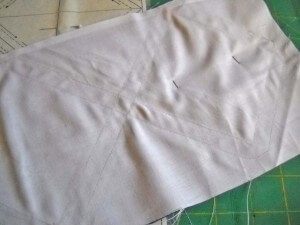 But the great thing about sewing these triangles is that you can just follow the lines. Use a small stitch, because you will be tearing the paper off each smaller triangle when you are done.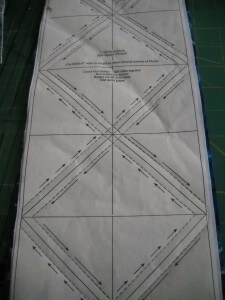 What's nice about this also is that you can have several stages going at the same time…..sewing on the paper, cutting the triangles apart,  tearing off the paper, pressing, cutting off little ears. Some at different times, or all at once. I like doing the stages.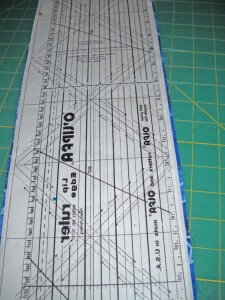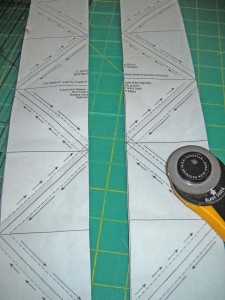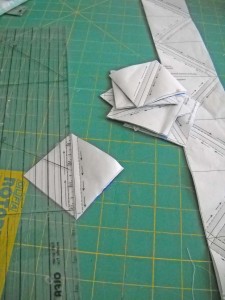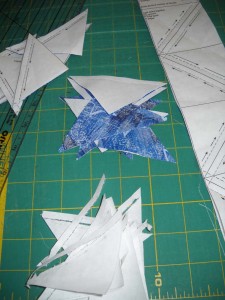 I iron to the dark piece. I tried on Desert Heat to iron all the seams open, and I ended up with major lumpy bumps, so this time through I am ironing everything to one side. I use a small container to keep my triangles, ironed and un. I just slowly work through the ironing. Once I have them all cut, I play around with a design. Below you can see how the initial triangles worked out.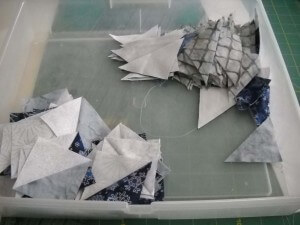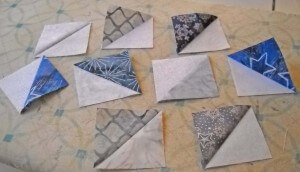 First part of a layout, just playing around…..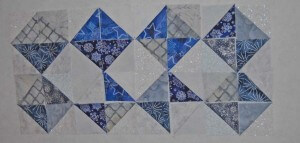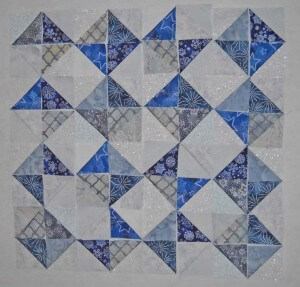 The last is the potential final layout.
Then I strip-piece the rows together. This can be a bit tricky, as you are matching the seams on top of each other.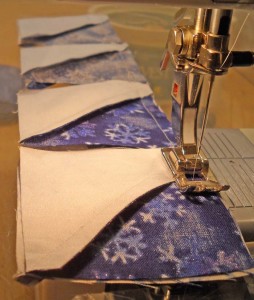 At this point you need to make some decisions again about ironing.

Here's two rows pieced together, waiting for ironing. One row I press seams in one direction, the other row the seams in the other direction. Then you can "butt" each of the seams together for virtually perfect points.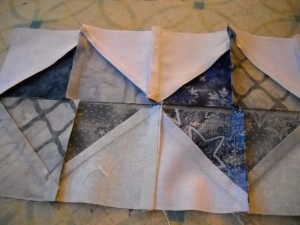 And that's where we are at this point. I now have a draft of the beginning of the pattern, and I know all the places where I want to add more hints. So we'll see where I am this time next Wednesday.
Any pattern-writing hints you want to share? Let me know – I'm interested in any and all ideas!
Other Work-in-Progress Wednesdays: