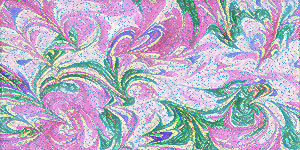 Busy week on the web this week. From The Best Article Every Day comes 106 Excuses That Prevent You From Ever Becoming Great. How can you not read an article with a title like that?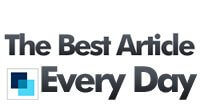 I particularly like this one, as this was my generation of breaking boundaries:
"YOUR GENDER WON'T LET YOU. Gender roles are increasingly less relevant. There have been women CEOs and male nurses for years. Men can start a daycare and women can start a design firm. Blaming your gender simultaneously speaks poorly for your gender, and empowers those who refuse to fit a mold."
TED Talks now has a YouTube channel, Ads Worth Spreading. The TED talks are always wonderful, and now there's a TED Blog, with great articles.

Light bulbs? Yup – evidently we artists might have some trouble coming with the phase-out of regular 100-watt bulbs. This from the Joanne Mattera Art blog.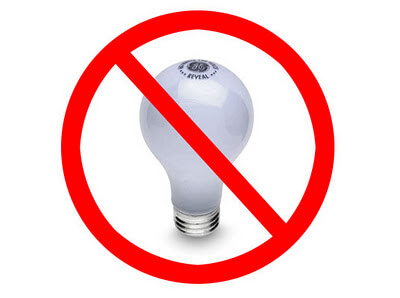 From JPG Magazine comes a photo tribute to Steve Jobs….some interesting…and weird…photos here.
Very reminiscent of Andy Goldsworthy.
I have a former student, Dr. Matt Lyon in Charlotte, NC,  who is doing some amazing work when it completes to complete health and wellness. I invite you to visit his blog and download his ebooks on wellness. There is some great information there, certainly worth researching.

Mary Edna Fraser does some simply amazing batik, and most of it in the name of climate change awareness. Check out this book signing for global climate change.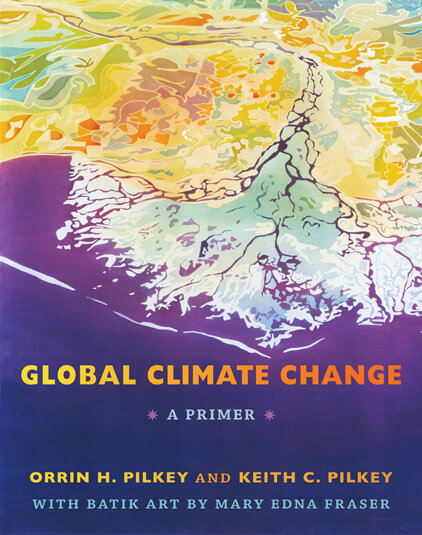 I love Vi Hart, who bills herself as a recreational mathematician. She does amazing stuff with doodles that makes mathematics seem so clear. She also has her own YouTube channel…yeah, I know…..doodler extraordinaire!
And now…candy buttons and mobius strips…

Phil Hanson – wow! I put in "amazing art" on YouTube…who knew I would find this?
And finally, is it art? Elvis in cheetos????

Have a great week!

We are getting quite active around the web and I thought it's time to spotlight some of the things available on line this week – you can only find them this week.
First up is Ebay this week – lots of great fabric pieces available – assorted colors and marbling patterns, perfect for piecing, applique – and don't forget – sometimes you can just make a small quiltlet with quilting the marbled pattern line. Two pieces of denim – really intriguing designs and effects.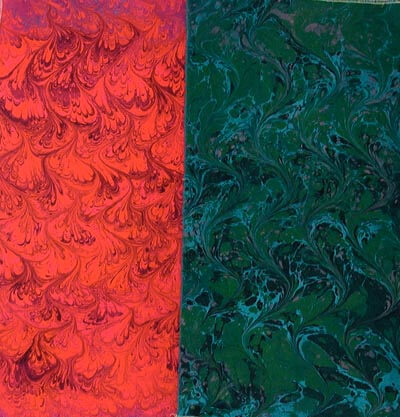 On Etsy this week is a piece of art cloth again with lots of possibilities. We were trying for a starburst effect, and I think we achieved it. I have a smaller piece that I'm going to quilt for a small hanging.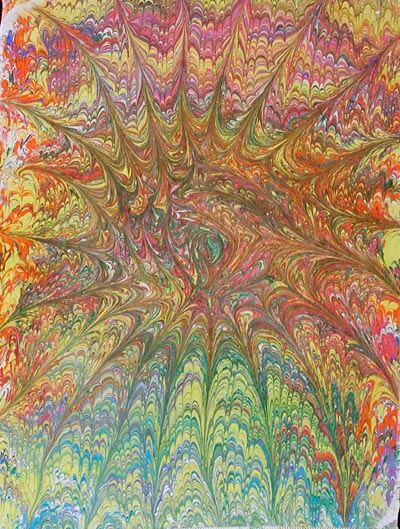 On Cafe Press, one of our most favorite digital prints from our Botanicals Series: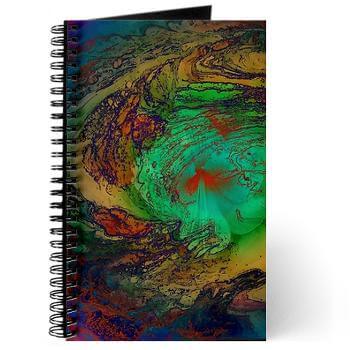 And also from Cafe Press, a cool totebag with a digital manipulation of a Southwest gecko: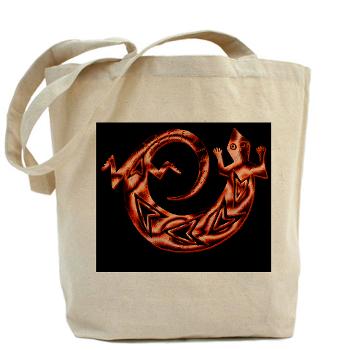 So enjoy exploring this week – we'll have some new goodies next week!

So…..I did pretty well last week and then faded at the end of the week. Plus, I am taking two online classes, and I needed to leave myself time to work on activities. Pretty much I got the goals for the week done, and I'm ready to set the goals for this next week, but I know I need to make some adjustments.
Major problems with Tweetdeck, so I wasn't able to schedule the tweets that I wanted. I can only afford to take the time to read through the Twitter feed once a day, so I should probably change the time each day that I read it. I will keep to the schedule of reading tweets each day, with Sunday the day I schedule for the week.
One of the things I found was that I was busy trying to keep up with things and I didn't really accomplish much for my own personal business. I need to change that, especially in the light of the marketing class I am taking. I need to be sure I am accomplishing what I want for Marble-T Design. I was able to work on the weekly goals of sewing, marbling, and adding to the Etsy shop.
Weekly Goals for this coming week July 18 – 24:
* Finish the Sedona commission
* Marble fabric for Etsy and Ebay
* Finish Lessons 2 and 3 of The Artist's Toolbox with Lyric Kinard
* Do some goal-setting per the marketing class, primarily with Facebook and Cafe Press
* Get ready for gallery visit (inventory, etc) for Saturday
* Some work to do on the blog: more pages? widgets? other affiliates? blog giveaway? update current pages?
Daily:
* Read Twitter feed at a different time each day
* Google Reader – comment on at least three blogs
* AT LEAST 5 blog posts this week (only fot the three last week)
* Read newsletters from Linked in groups twice a week
* Facebook fan page each day…..
* At least one art activity each day
So I need to get back in gear, get back to being positive and feeling that anything is possible……..How many of you have found your energy levels with drop without any warning? And what do you do to get back to work? Inquiring minds…..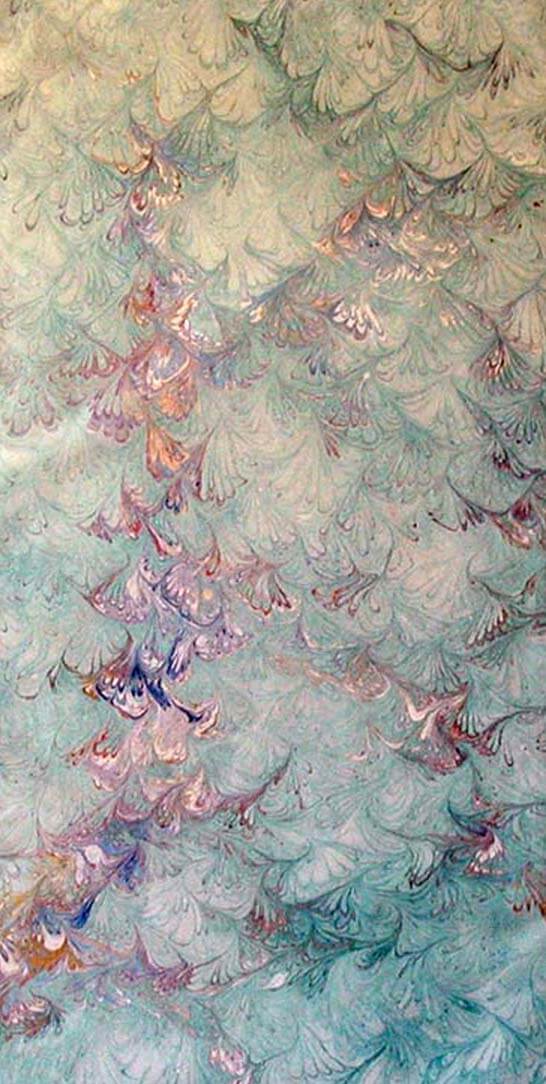 Two weeks ago I showed the start of a commission here, and I am almost to the end of it. Lots of interesting decisions to make along the way – I am really enjoying the decisions in the design process, especially as they relate to using marbled fabrics. My biggest problem is trying to photograph the colors so they are true.
The quilting of the marbled fabric went really well – I emphasized the white area with bubbles, as though it were a stream working its way through the rocks. Went through two different colors of threads before I decided which one I liked. That's different for me…in the past I would just let it go.
The first border is a very soft corduroy, and I left it a little "puffed," rather than pulled straight. I liked that it played off the roundness of the pebbles. I love the batik for the outer border, and I also used it for the backing. I realized again why I'm not fond of mitered corners (but that's what this piece needed), as I took two of them out several times. I still need to trim the outer border by an inch so that it seems better balanced, but I decided to quilt the outside first. Again, a struggle with what I wanted to use for thread, as well as how I quilted it. I wasn't happy with following the pattern of the batik, as it looked too crooked. So I opted to play off the idea of the frame, and I'm quite pleased. What faces me tomorrow is making sure the piece is completely square, which I need to worry about, as it is a commission. Thank heavens I know about the diagonal to check for a square.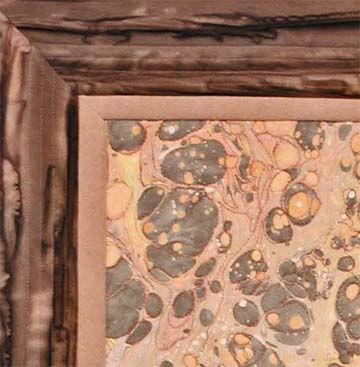 I'm going to use the Alzheimer Quilt hanging system – the little triangles in the corners, as I think this will help the quilt lay flat on the wall. I also plan a label for the back with all the information about the quilt, including care. I found a "certificate" on line to use for the new owner of the artwork with all the official details.
Here's the large shot, still untrimmed: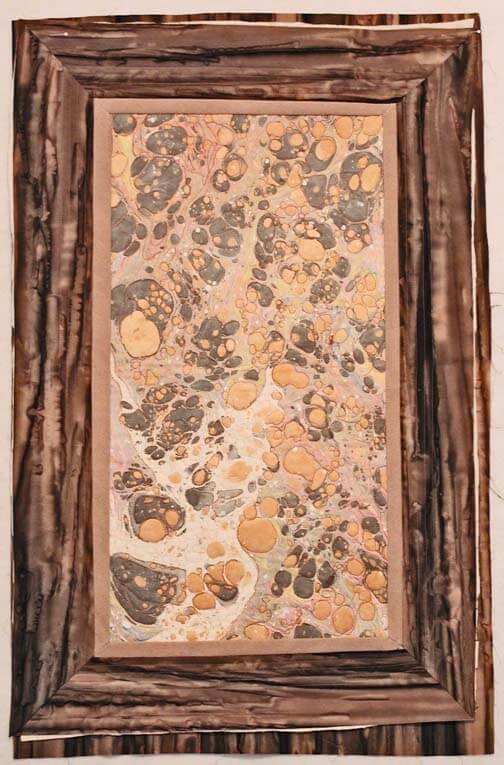 I am really loving this piece, which is actually more true brown and copper than in the picture. Still thinking about some seed beads……see what happens next week…..

It's Monday again….and it seems like all I did was read, look at emails, and set up buttons and the like. This is the "time-sucker." So my goal for this blog post is to try and identify what needs to be done each week for marketing and set up a kind of calendar to work with.
This is what I'm dealing with: Ebay, Etsy, LinkedIn, Facebook, Twitter, Cafe Press, Zazzle, newsletters, a website, lynda.com, flickr, and a blog. I am trying to avoid doing all of this every day, because nothing else seems to get done. I'm brainstorming as I write, with the hope that by the time this post is done, I will have a plan.
Ebay: hubby handles almost all of this, including postal trips. But…if we are going to increase sales, we need more product, and I would like to help with the actual marbling. So…..marbling weekly. I do need to update the About Me page…..
Etsy: the bulk of the organization is done. But…I need to be adding product on a regular basis, which means I need to keep making things. It would be nice to have one new product up each week, if not more often. One of the goals this week is to add some of the major artwork (even though I don't expect to sell it on Etsy, it is more exposure) on the site, as the pictures are redone. I want to continue with the circles marketing, which, if I have enough products, could be done every day – 15 minutes for this. Plus, I need to keep working…….
LinkedIn: profile is done, and I have registered for several groups for business. I have found already difficulty in keeping up with reading emails each day from the groups and have already deleted one group. This week I will determine which groups look to be the most advantageous. I also need to complete the setting up of a profile of artwork.
Facebook: I read this several times a day. I have a fan page which needs serious work, as well as Art From The Heart, which is to support healing art after the Tucson shootings in January. I have added FB buttons to my blog and this week to my website. I have read the Terms and looked at all the privacy settings. I also went through the photo stream stuff for FB and fixed photos for both the personal and fan page. I need to really think through what is going to happen with the Fan Page.
Twitter: I am finishing a class from lynda.com on using Facebook and Twitter for business, and I highly recommend the site. For #25 you can choose different trainings all available for a month at your schedule. I picked up all kinds of little tips, most of which have already been implemented. But….and this is a BIG but….the time for tweets and what to tweet. By syncing a lot of the programs, my blog appears on Twitter, FB, LinkedIn, my tweets appear in a couple of places. I don't think I can go further with this – the tweet button is on the blog and soon to be on the website. This is one area that needs some serious scheduling. Since I use TweetDeck (which is free…), I can schedule and keep track of who's following and what is getting retweeted. So…I'm going to use Sundays for scheduling business tweets for the week, and I will look through the twitter feed once a day to see if there's some good stuff to retweet.
Cafe Press: I have a site, a free one, so I am limited as to the number of products I can put up. I haven't looked at this in several months and it needs serious work. To have a store isn't much money each month, and I could have a lot more products available, but the issue is marketing and driving people to the site. I have some great digital stuff already to go, and I need to start planning around the holidays, reading about marketing through Cafe Press, and so on.
Zazzle: Ditto for Cafe Press……both are not a high priority right now.
Newsletters: oy, it's been months since a newsletter went out, and I have all these contacts where nothing is happening. I used Constant Contact last year for a few months, until I couldn't keep up with the demands and school at the same time. I was happy with it, but disappointed that not many people actually read it. I need to go back to a newsletter and offerings at least once every three weeks, and more during the holiday seasons. I need to check out Mail Chimp, which is free, and I have heard people have good luck with it. I'll try and make this a priority this week.
Website: Most of the changes to the website have been made by my wonderful web lady Suzan. I need to get a couple of buttons set up, and then do something about newsletters and contacts. I also have some pages to add on Digital Marbling (TN), and I need to evaluate "print on demand" for artwork. This is a "need to think about" topic…..
lynda.com: I have until Friday to finish my month of training. I still need to finish Twitter, and I want to get the html newsletter course done. I am not going to continue with Dreamweaver because it isn't a priority.
Flickr: I have photos up, not all of them with copyrights, and there is a class on lynda.com if I have time. I'm not really sure what I want to do here….
And finally, my blog, Marbled Musings. I went a bunch of months with no new writing, and I'm at maybe three times a week. I need to get back to at least four times a week, and eventually every day. I have plenty to write about…and I need to stay up with my Google reader – as well as comment more on some of the posts. This is probably the biggest area for marketing that I have to schedule.
Weekly:
* Marbling fabric
* Work on Etsy products
* Sewing and other design
Mondays:
* Add Etsy product
* Add Etsy circle information
* Read newsletters from LinkedIn groups
* Read Twitter feed
* Blog post Monday Marketing
* Google reader and at least three comments
Tuesdays:
* Add Etsy circle information
* Read Twitter feed
* Blog post Top Ten Tuesday
* Google reader and at least three comments
Wednesdays:
* Add Etsy circle information
* Read newsletters from LinkedIn groups
* Read Twitter feed
* Blog Work in progress Wednesday
* Google reader and at least three comments
Thursday:
* Add Etsy circle information
* Read Twitter feed
* Blog – Thursday Thoughts
* Google reader and at least three comments
Fridays:
* Add Etsy circle information
* Read newsletters from LinkedIn groups
* Read Twitter feed
* Blog Photoshop Friday
* Google reader and at least three comments
Saturdays:
* Read Twitter feed
* Blog posting on Specials
* Google reader and at least three comments
Sundays:
* Read Twitter feed
* Schedule Tweets for the week (i.e. Etsy, Ebay…)
* Blog Sunday Stories
* Google reader and at least three comments
Goals for next week:
* FINISH LYNDA.COM

*Update "About Me" page on Ebay
* Update Etsy products, especially note cards
* Evaluate how calendar is working
* See if buttons are added to the website
* Decisions on what will happen with the Facebook Fan page
* Long-term thoughts – what to do with CafePress and Zazzle
* Read and decide about Mail Chimp for a newsletter
* Spend some time thinking about what the website still needs….
Okay, I think I have a handle on this…we'll see next week as I evaluate how the week goes. And…I'm taking some online classes!
Thoughts??
Lots of great stuff on line this week – some very cool eye candy to enjoy!
From Cool Hunting, a site with some unusual items and projects… some original artwork "Field Recordings" by Bryan Graf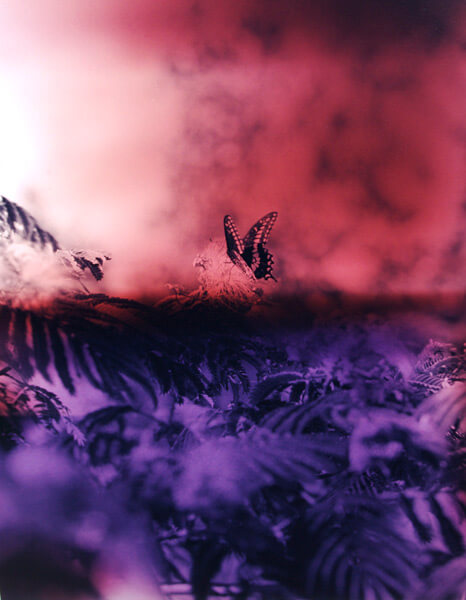 Also from Cool Hunting, one of the most unique book displays I've ever seen, as part of an art installation. The best pics are on the site, so check them out.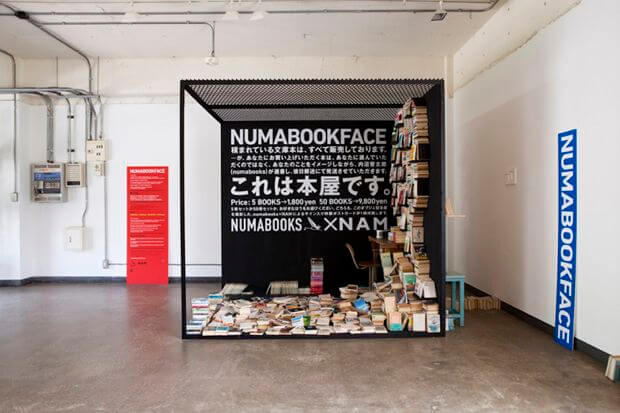 Vicki Welsh does some really gorgeous hand-dyes…here's her latest batch for this month's challenge. I could spend all my spare money to her weksite!

From Kate Harper's blog – Legal Tips for the Starving Artist, and a very good review for all of us.

And even more from Kate – lots of articles on copyright and protecting our designs….I know for me this will be some serious reading this month – need to do it!
How will the price of cotton affect art licensing from Joan Beiriger's blog – very interesting. I know that we have had to raise our prices for our marbled fabrics significantly.

If you are where I am in looking for gallery representation, then Joanne Mattera's Art blog is for you. She has an article on gallery red flags that is very valuable….I've seen a couple of these flags in the past.
Also from Joanne is this article on Rethinking Artist's Statements, again very timely for me as I redo a lot of things on the website.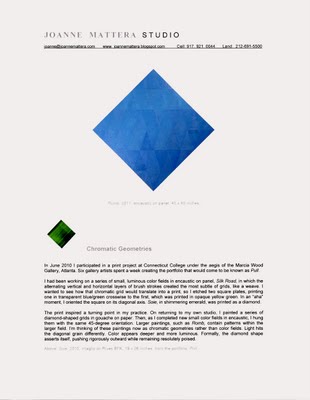 Rayela's Art (AKA Rachel Biel) is spearheading the fund raising campaign for the Textile and Fiber Art List. This is rapidly becoming THE place to find any type of textile art on line. If you are interested in becoming part of an outstanding collection of fiber and textile art, then visit and donate, even just $10. The eye candy alone is worth the donation!

Again from The Best Article Every Day comes Dear Photograph – a really cool idea to superimpose a past photograph with the current location. Clever!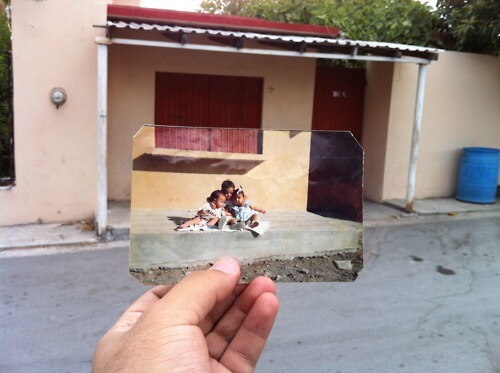 Enjoy your week – send me cool stuff you find on line!!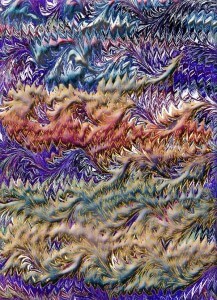 The last couple of months have been difficult, with virtually no art getting accomplished, much to my dismay, and no doubt added significantly to feeling bummed and sad. About the only thing I was able to attempt was some zentangling. The April theme in the Sketchbook Challenge was to "go out on a limb." I interpreted that to attempting to use more color in my zentangles, which met with a small amount of success. The second one that I did brought back to mind all the attempts at art over the years that didn't succeed. I was faced again with my internal need to have everything "look good" when I try it. It is very difficult for me to "try" and see what happens – it still needs to "look good." So I spent some time pondering that lesson, which didn't help my mood much at all.
So April was pretty darn dry. I admired the zentangles of my friend, who is branching out and developing her own patterns. I was really feeling jealous, and by the beginning of May I was ready to pick up pen again. I have no idea what the theme was for May, but I did get productive…some pieces took about 90 minutes to finish, and some went really quickly. I still want to experiment with color to see what I can do.
The other thing that has been keeping me sane throughout the past month was looking on line at lots of new patterns. I knew I needed to increase my repertoire of patterns, and once I got started with new ones, I could see myself making progress with new tangles.With that bit of intro, here goes: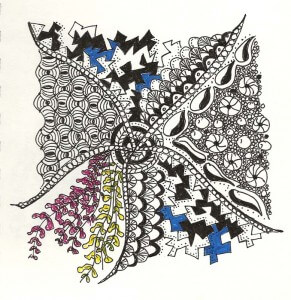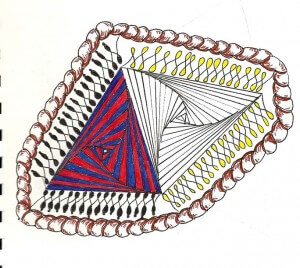 The thing I liked originally with this, before the color, was the way the paradox pattern worked with the two triangles. I thought color would enhance the pattern, and I found it just the opposite – I lost the twisting that I so love in this particular pattern.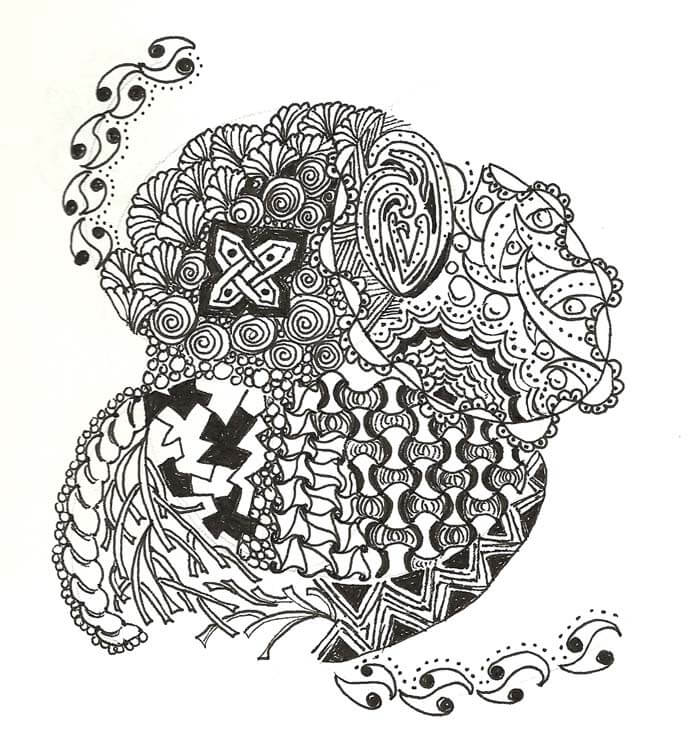 Lots of new patterns in this one.

I am enjoying not feeling pressure to finish or make something under deadline. So I started another new quilt that I would like to make into a pattern. That's one thing that's been appealing to me…ever since I sold off the rights to several early quilt patterns. This one just seems to be happening.
It started with my Desert Heat Quilt.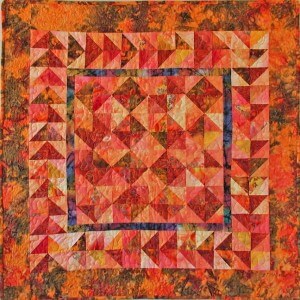 I really like how this came together, and everything I wanted it to do (especially radiate heat), I was able to get it to do. Once it was up on the wall, I decided I needed a companion piece, called Winter Ice. So since the move happened, and I had to rearrange and clean the studio, I pulled all the fabrics that spoke to me of "cold."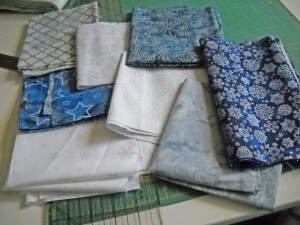 A beginning selection to work with. The center white one is full of glitter.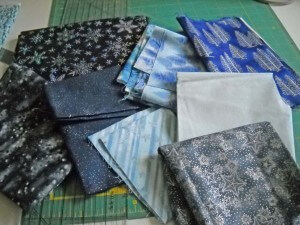 Except for the bottom right, ones that didn't make it into the selection. I try to match a light and a dark, a light with a medium, a medium with a dark. I make waaayyyy more triangles than I need, because I like to have a variety to choose from.  My center block with be eight by eight in triangles. You can work in groups of fours to keep a square: 4 by 4, 8 by 8, 12 by 12, and so on. I like the 8 by 8.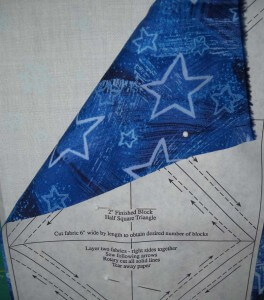 I like using the Triangles on a Roll, because you can do some mindless sewing. I cut pieces the long length of the fat quarter, about 6 inches wide. Put the right sides together. I tend to carefully pin, but if you don't iron well first, you can get lumps in the back that may not come out with ironing, and may cause some stretching.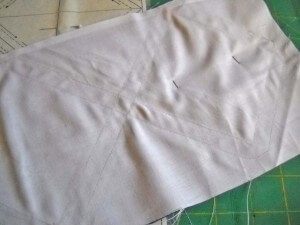 But the great thing about sewing these triangles is that you can just follow the lines. Use a small stitch, because you will be tearing the paper off each smaller triangle when you are done.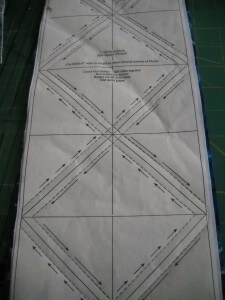 What's nice about this also is that you can have several stages going at the same time…..sewing on the paper, cutting the triangles apart,  tearing off the paper, pressing, cutting off little ears. Some at different times, or all at once. I like doing the stages.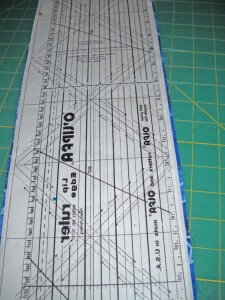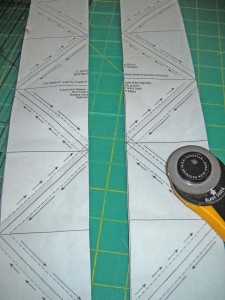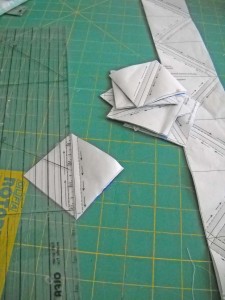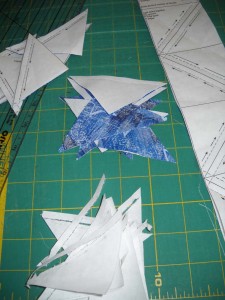 I iron to the dark piece. I tried on Desert Heat to iron all the seams open, and I ended up with major lumpy bumps, so this time through I am ironing everything to one side. I use a small container to keep my triangles, ironed and un. I just slowly work through the ironing. Once I have them all cut, I play around with a design. Below you can see how the initial triangles worked out.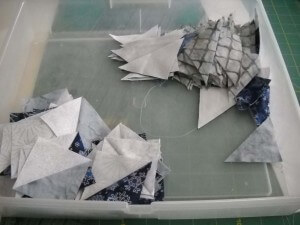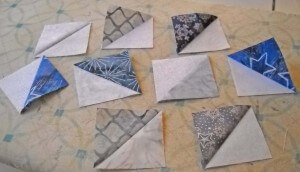 First part of a layout, just playing around…..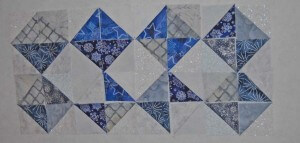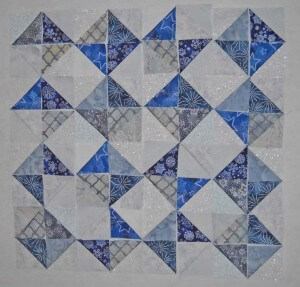 The last is the potential final layout.
Then I strip-piece the rows together. This can be a bit tricky, as you are matching the seams on top of each other.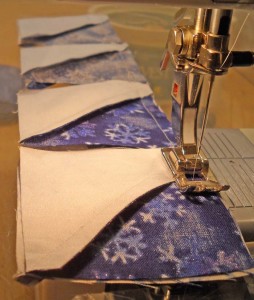 At this point you need to make some decisions again about ironing.

Here's two rows pieced together, waiting for ironing. One row I press seams in one direction, the other row the seams in the other direction. Then you can "butt" each of the seams together for virtually perfect points.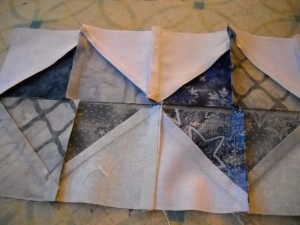 And that's where we are at this point. I now have a draft of the beginning of the pattern, and I know all the places where I want to add more hints. So we'll see where I am this time next Wednesday.
Any pattern-writing hints you want to share? Let me know – I'm interested in any and all ideas!
Other Work-in-Progress Wednesdays:

We survived the art show on November 20, but barely. We were so well organized: we showed up at 7 and were set up by 7:20 – that's what happens when you're married to Felix – all that preplanning….By 9 AM I was thinking we weren't going to sell anything. We were next to the bottlecap framed pictures on one side and the painting on stone guy. Now I don't think I am an art snob, but I gotta tell ya, this was not the venue for us.
First, this event was scheduled the same weekend as one of the two Museum of Art art shows each year. That right there was poor planning, and our numbers in attendance certainly reflected that. Also, the main show for March at an exclusive guest ranch hasn't even been scheduled yet.
Secondly, the people who came wanted crafty things, not art cloth and digital pictures and art quilts. The other woman who had quilts was selling them off as people were making her offers below her prices and she was accepting them. Not what I want to do.
We made basic expenses, not anything else…a few bottles of paint. It looks like it is back to gallery searching for us as a venue. Which ultimately is fine, as my work is too valuable for me to just give it away. That said, I do feel like all the work packaging is going to pay off. I am much more pleased at how we presented – and wrapped – items.
Now for the great idea….a few weeks ago Alyson Stanfield of ArtBiz Blog did a great post on saying thank-you to our collectors: Gallery Space Available, Upper Right Corner. Send your mail out with a stamp of your own making, advertising your art or your business. What a great idea! Zazzle allows you to create all kinds of goodies with your artwork, but I think the stamps is just a fabulous idea. Below is an example, using a piece of our marbled paper. This is definitely on my list of things to buy, as I believe in writing thank you's for all kinds of reasons.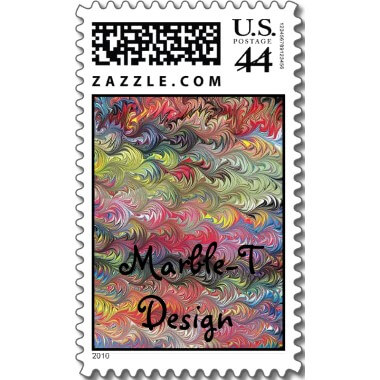 Everything comes back to packaging in all its forms. We think about the big pieces that are our art work, but let's not forget all the little things, like ribbons on packages (ours are marbled), thank-you cards (ours are digital marbling images), and now stamps.
I'm curious….what are some of your packaging and marketing ideas?
More packaging ideas:

This has been my latest project. Rachel of Rayela Art does an amazing job, having only started this in February. Members include working artists, textile businesses, galleries, suppliers and other fiber/textile people. All have an established web presence. Our common connection weaves us together: a love for textiles and fiber art. Getting this together was not an easy task…biographies, store links – there is a LOT of thought put into developing this, and the site is getting a lot of viewers.
I've been analyzing all the various areas where I have a presence – some stronger than others. There will be an Etsy group on the Textile and Fiber Art list, and I am looking forward to being mentored, as I need assistance in creating a good Etsy shop. My current shop has a dozen items (as of tomorrow night), and part of what I was stressing over was creating new work just for my Etsy store. Well, duh – it occurred to me that I could list some of the work from our website that gets admired, but no one thinks to buy. So we shall see……
Now along with this was getting the connections to Twitter and Facebook and the Facebook fan page…all of which require time. It's a good thing I have some basic computer knowledge and can find my way around the web and individual sites. Some just aren't as intuitive as they could be……But I think Facebook is now linked to my blog, my networked blog, my Etsy…..
I've just begun to look at ArtFire as another outlet, but I need to read about that more. I can't add widgets for Cafe Press and Ebay because I am still using just the free listings for Cafe Press (limited items) and weekly auctions for Ebay. I know you have to spend money to make money, but a store on Cafe Press and Ebay costs additional….need to make good use of marketing dollars, as we still need to buy supplies to continue to make art to sell in these various outlets.
I did enjoy yesterday – spent the majority of the day at the computer, working with Photoshop on some new images, writing bios, and looking for a pic of hubby and moi for the TAFA site. Those of you who know me know it's not really a current picture, but it is a good one!
Had a great time doing all this yesterday, and then it's always coming down to reality when Monday morning hits and it's back into the classroom. I also got the new newsletter out – special on Sampler Package 1 – 20% off….check it out – perfect for collage, mixed media, small quilt projects….
Didn't get to read my blogs this weekend, and I miss knowing what people are up to. But I do have some good stuff for tomorrow's post on the Top Ten on the web this week. Stay tuned for Wednesday with unveiling of two pieces that are either home from shows or aren't traveling to any at this point.
Make art this week! Tell me what you're working on!

I have been very interested in licensing my art images for quite a while. I'm doing a LOT of reading, as it is a complex issue. The first source I found that got me started in the right direction was Tara Reed's Art Licensing Blog.* I confess at this point I am still in the reading stage, but slowly moving in the direction of working on patterns, repeats, and mock-ups. Funny how full-time teaching gets in the way….
However, I am a firm believer in doing my homework. One of the things the "big boys" in internet marketing talk about is the actual format of your blog, and that the recommended format is Word Press. I was wondering about why the need to move from Blogger, and I was disconcerted when I learned I would have more difficulty protecting my images on Blogger. So when I had this opportunity for a guest post from Tara – and David – I thought this would be appropriate. Plus, as Tara mentions below, I wanted something classy for my blog.

Tara writes: David Darrow has been in my online life from the very beginning of this (Art Licensing) blog… he was one of the first subscribers to my Art Licensing Info eNewsletter and I remember him sending one back to me with a note: "Do you realize this is what this looks like?" That was when I was "following directions" and keeping it all text, never more than 70 characters per line, like I was told to do.
David wasn't the only artist to think this was a BAD IDEA so I realized artists want something a little more visually pleasing. David helped me figure out how to do it. A talented artist and techie – he's passed on more good information that I can "Share with the group". When he was listening to the replay of last week's Ask About WordPress for Artists call (do you have your copy yet?) he sent me the following information that I thought would be helpful.
He knows of what he speaks since he has a blog – on blogspot – called "Where art meets technology"…
---
I believe there is a misconception about Blogger vs. Blogspot.
Even that phrase is misleading, because they are the same thing.
The best way I understand it is that
1. Blogger is the on-line tool which allows one to create new
2. posts, which are individual, chronologically ordered in reverse "entries" or "posts" in your
3. "blog," which is your journal, diary, log or web-log, from which we get the word [we]blog.
Blogspot is actually blogspot.com, a domain where all the Blogger-created blogs are stored or hosted.
You cannot use Blogger to create a blog and store that data ANYWHERE else but on blogspot.com — Both are owned by Google. Additionally (corollary) you cannot create/edit a blog with any other tool but Blogger and have it stored or hosted by Blogspot.com .
***Every Blogger-created blog is stored as a unique "subdomain" of blogspot.com , which is why every Blogger blog address has in common "blogspot.com." A subdomain is the unique "areacode" that comes before the phone number, and the phone number is always 2 items: domain name and venue, "terareeddesigns" and "com" — you could have a separate site at store.terareeddesigns.com ; it would be a "subdomain"
Like Kim said, one issue to consider is that all Blogger.com blogs cease to exist the moment Google decides to stop supporting them. WordPress blogs will only disappear if you delete them or stop paying your domain-hosting bill. You control that. If WordPress.org disappears, you will still have all your data and your most recent installation of the version of the code that runs it.
Wordress.org is a group of programmers worldwide that work together on standards for an Open Source blogging service. WordPress.com is a Blogger-style tool that allows a simpler blogging method and can raise money (through more premium blogs) for WordPress.org costs.
One other thing; people with Blogger.com blogs VERY often misaddress their blogs, adding a "www" ahead of their blog address. Both will work, but one is wrong.
http://www.EverydayPaintings.blogspot.com is wrong
http://EverydayPaintings.com is right
---
Thanks David!
Learn more about David Darrow at www.DaveThePaintingGuy.com
Be sure to check out his painting classes too – I'm told they are amazing!
Here's to your creative success!
– Tara Reed
P.S. To learn more about how to earn an income licensing your art, visit www.ArtLicensingInfo.com* for a wide array of free and for-fee information from experts in the industry.
* FTC disclosure: any links with an * is an affiliate link and if you make a purchase, I will earn a commission for the referral. This helps me keep buying art supplies – thank you for your clicks!
Even though I haven't been blogging much lately, and not reading my usual blogs, I have still managed to accumulate some really interesting websites. When I go back through all the bookmarks, I am reminded about what an awesome thing the internet is. You can find just about anything, and then some. While I so enjoy the eye candy from fiber sites, there are still so many things that interest me. Here's a mere ten for this week. I'm going to try and get back in the habit of doing this once a week.
Cabinet Magazine – (from the website) Cabinet is an award-winning quarterly magazine of art and culture that confounds expectations of what is typically meant by the words "art," "culture," and sometimes even "magazine." Like the 17th-century cabinet of curiosities to which its name alludes, Cabinet is as interested in the margins of culture as its center. Presenting wide-ranging, multi-disciplinary content in each issue through the varied formats of regular columns, essays, interviews, and special artist projects, Cabinet's hybrid sensibility merges the popular appeal of an arts periodical, the visually engaging style of a design magazine, and the in-depth exploration of a scholarly journal.
Sounds like a potentially great look into today's art and culture!
Homework – Hand-Built Shelters – (from the website) features: homes, cabins, cottages, bungalows, homesteads,   sheds, shacks, huts, treehouses, bottle houses, yurts, hogans, tipis, tents, beach shacks, stilt houses, greenhouses, small houses designs, and MORE!
The sheer scope of different types of homes boggles the mind.
A Moment in Time – from the Lens project to document one moment of one day on the earth. As the site says, "make no plans for the rest of the day." You get to look at photos from around the world, all taken at the same time on the same day – a great look at "us."
When Graphic Artists Get Bored – a great selection of graphic art. Take a good close look – you won't be disappointed!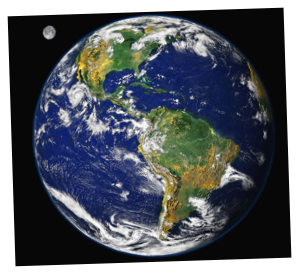 Real World Math – Using Google Earth in the Math Curriculum. Oh, to use this in the classroom – and if this had only been available when I was in school! My ideal job would be a curriculum coordinator for Google Earth. I would never be off the computer!
While I have had my own blog about teaching, I occasionally read others, like this one – A Teacher's Education. I can so relate, and if you are a teacher and any good in the classroom, you will relate, too.
Urban Homestead – since I have become very interested in sustainability and locally grown food, I found this interesting. Path to Freedom – the Original Modern Urban Homestead.
The Scribbler – be prepared to waste lots of time, because after all, you have to get good at this – scribbling, that is…who knew it could be so much fun to just doodle – no, make that scribble, and in color – and you can save them! Here's info about how it got started. You have been warned…..
Quantum Learning – Visiting Auschwitz –  interesting blog. "Help build a world where everyone is valued irrespective of wealth, origin, colour or beliefs and conflicts are solved peacefully. Here you'll learn how to do this in day to day life."
And finally, Gray Eagles , a nonprofit dedicated to preserving the stories of World War II pilots. "The Gray Eagles Foundation is a non-profit organization dedicated to keeping aviation history alive through dynamic audio-visual media created to educate and inspire those from all generations. Specifically, it is our hope that our films will encourage others to share their stories, and by doing so, build family connections, foster community, and nurture a culture of multi-generational understanding and respect." After all, the past is prologue.
Other Top Ten Website articles:
Top Ten Tuesday – Getting Here
I'm continuing to play around with more brushes as part of this week three lesson. For this portion we were to work on layers, and then move one of our objects. So here we go –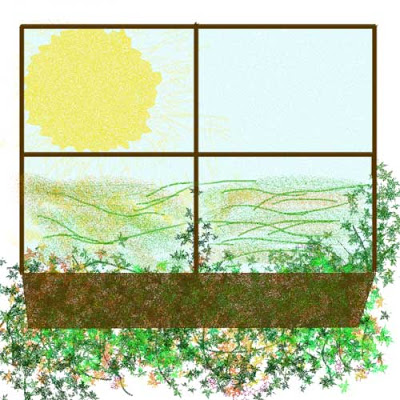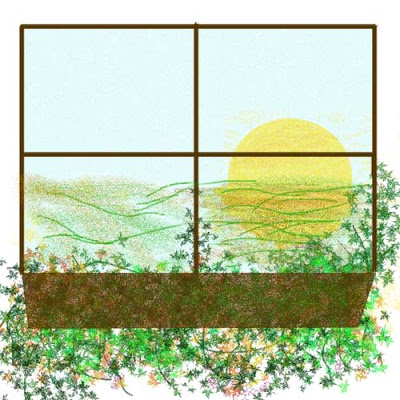 I would like to figure out how to make the shadows of the sun better, as well as crop the sun for the second one. But for a freehand, not too bad. I had watched Sewing With Nancy about landscape quilts, and part of what was included in that episode was tips on shading. So I wanted to do more with the window frame – but it needs to be larger – the scale seems all right for this, but not for more shading.
This just means I have to do more work…ahhh, too bad!