This was a wonderful collaboration with dear friends. Dave wanted a present for his wife (our maid of honor many moons ago), and he came by to watch the marbling process. He had in mind something similar to one of our "stone" pattern pieces, so he went and bought about a half-yard of an unpolished white satin for us to experiment on. The top picture is the very beginning – good colors, a focal point, but oh, my, was it flat! This would be my chance to use wool batting, and the piece started to pop after only outlining three of the "rocks."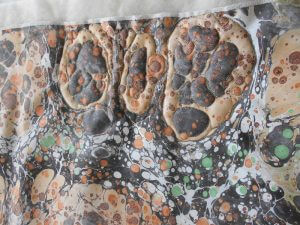 If you look at the center right top of the next picture, you will notice some darker brown that is very lacy-looking – not a good marbled stone. However, the more I studied it, the more it looked like moss and lichen – I couldn't have asked for something better. Serendipity.
Lots of little green specks throughout the piece, so that was more moss and lichen, and I used my "lichen" stitch, as I call it, to accent them.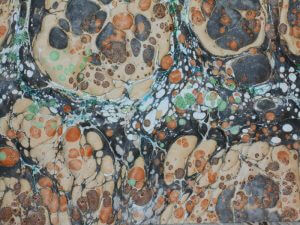 By this point, I had a bird's eye view of a southwest canyon, reminding me of Sedona and Oak Creek, so I knew I wanted to accent the creek throughout the piece. After lots of variegated threads I added seed beads in four shades of blues to pick up sparkles.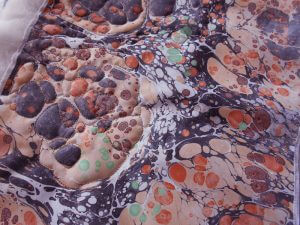 I played with a variety of fabrics for a border, and this is where Dave's color sense really helped. He picked two fabrics I never would have thought of, and they worked perfectly. The only change I made was to thin the first border a little bit. And then the final reveal……