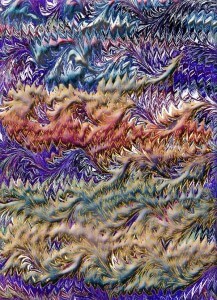 The last couple of months have been difficult, with virtually no art getting accomplished, much to my dismay, and no doubt added significantly to feeling bummed and sad. About the only thing I was able to attempt was some zentangling. The April theme in the Sketchbook Challenge was to "go out on a limb." I interpreted that to attempting to use more color in my zentangles, which met with a small amount of success. The second one that I did brought back to mind all the attempts at art over the years that didn't succeed. I was faced again with my internal need to have everything "look good" when I try it. It is very difficult for me to "try" and see what happens – it still needs to "look good." So I spent some time pondering that lesson, which didn't help my mood much at all.
So April was pretty darn dry. I admired the zentangles of my friend, who is branching out and developing her own patterns. I was really feeling jealous, and by the beginning of May I was ready to pick up pen again. I have no idea what the theme was for May, but I did get productive…some pieces took about 90 minutes to finish, and some went really quickly. I still want to experiment with color to see what I can do.
The other thing that has been keeping me sane throughout the past month was looking on line at lots of new patterns. I knew I needed to increase my repertoire of patterns, and once I got started with new ones, I could see myself making progress with new tangles.With that bit of intro, here goes: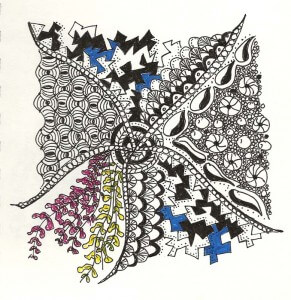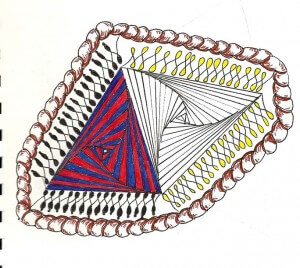 The thing I liked originally with this, before the color, was the way the paradox pattern worked with the two triangles. I thought color would enhance the pattern, and I found it just the opposite – I lost the twisting that I so love in this particular pattern.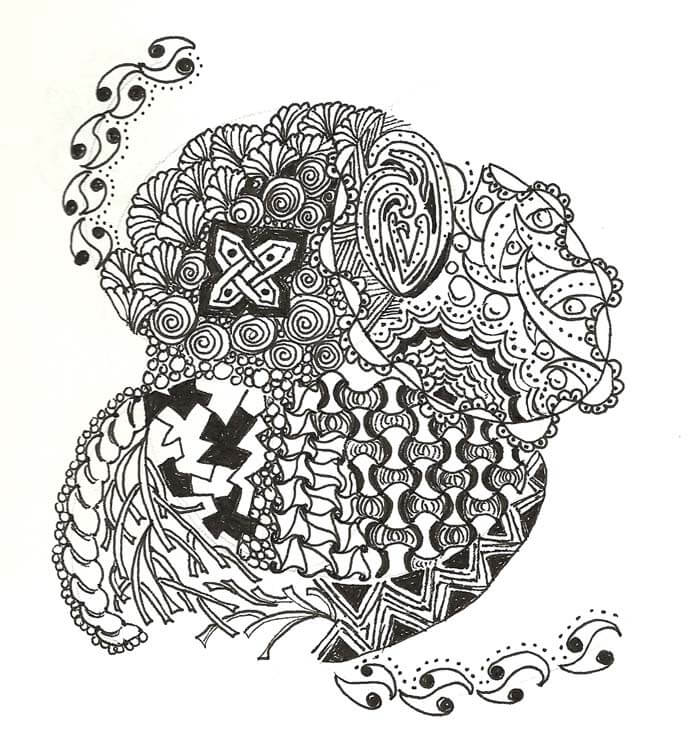 Lots of new patterns in this one.