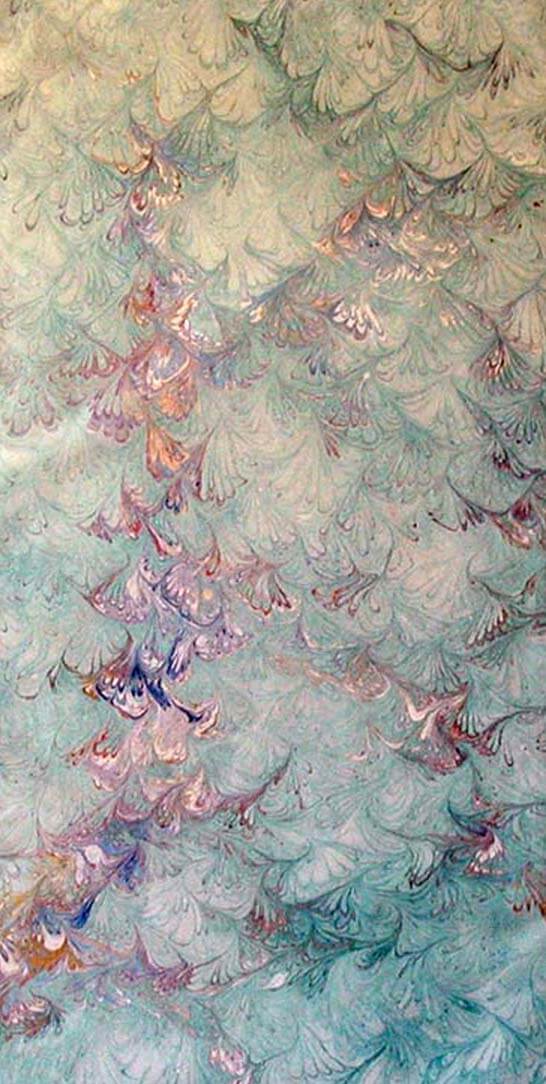 Two weeks ago I showed the start of a commission here, and I am almost to the end of it. Lots of interesting decisions to make along the way – I am really enjoying the decisions in the design process, especially as they relate to using marbled fabrics. My biggest problem is trying to photograph the colors so they are true.
The quilting of the marbled fabric went really well – I emphasized the white area with bubbles, as though it were a stream working its way through the rocks. Went through two different colors of threads before I decided which one I liked. That's different for me…in the past I would just let it go.
The first border is a very soft corduroy, and I left it a little "puffed," rather than pulled straight. I liked that it played off the roundness of the pebbles. I love the batik for the outer border, and I also used it for the backing. I realized again why I'm not fond of mitered corners (but that's what this piece needed), as I took two of them out several times. I still need to trim the outer border by an inch so that it seems better balanced, but I decided to quilt the outside first. Again, a struggle with what I wanted to use for thread, as well as how I quilted it. I wasn't happy with following the pattern of the batik, as it looked too crooked. So I opted to play off the idea of the frame, and I'm quite pleased. What faces me tomorrow is making sure the piece is completely square, which I need to worry about, as it is a commission. Thank heavens I know about the diagonal to check for a square.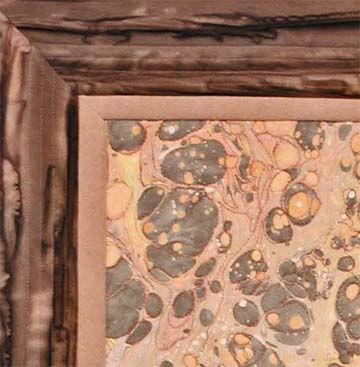 I'm going to use the Alzheimer Quilt hanging system – the little triangles in the corners, as I think this will help the quilt lay flat on the wall. I also plan a label for the back with all the information about the quilt, including care. I found a "certificate" on line to use for the new owner of the artwork with all the official details.
Here's the large shot, still untrimmed: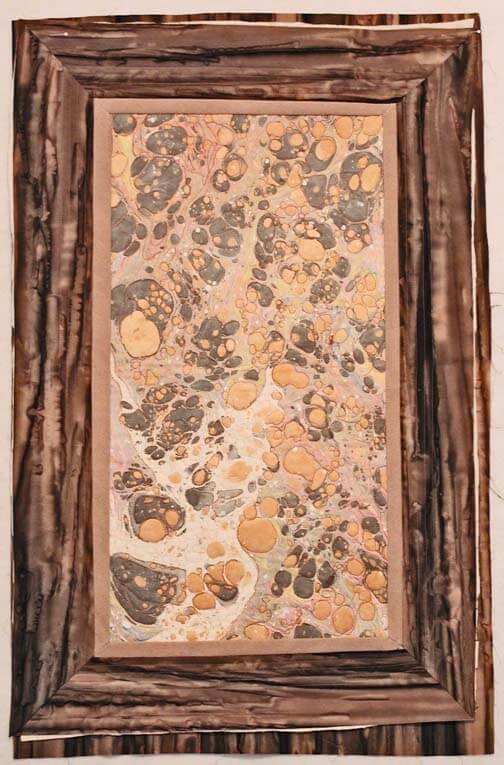 I am really loving this piece, which is actually more true brown and copper than in the picture. Still thinking about some seed beads……see what happens next week…..