I had my goals all laid out for last week, so first an update on how I did…..
* worked on getting more items up each week on Ebay, which will mean going back to marbling once a week, whch won't be a problem since we now have the time during the week.
* Etsy store is up and operating again, with more items this time, and plans to add two or three each week.
* along with this is a lot of work looking at what's going on with Etsy, including circles and favorites. I am seeing some great artwork, but I am realizing that "hearting" other textile artists probably isn't going to get me anything more than additional traffic.
* I got caught up on all the basic website changes I needed to make, and this is where I made a very interesting discovery…..
I signed up for lynda.com, a training company online, particularly for their Dreamweaver class. As I started in with the first of the videos, I realized I probably should work through the course on web basics, and I gotta tell ya, my respect and admiration for my friend the web designer when up a thousand fold. She knows so much! As I got into the Dreamweaver class, I realized I was in WAAAYYYY over my head…..
Hence the headline….this is the place for an expert. I am working through these videos and trying to figure out how to get the web pages even on to my computer to work on them. I realized I am way past wanting to learn and understand a new web program for web design, when I have a fabulous person available to do the changes for me in a minimum amount of time. I realized I didn't want to spend the time it would take to learn all this. That's not where my interest is.
Which is a major change for me, since I had been doing all this in the late 90s because I couldn't afford to pay to have the site done. Not the case now. I realized just how valuable my time is to create the art. I'll spend the time figuring out Ebay and Etsy, but beyond that, I am not interested in more skills.
So value your time and know when you need to go outside for help. It relieves your frustration and moves you along a lot faster.
Timely for me was this blog post by Alyson Stanfield on marketing. Your strategies are more than just setting up your social media; it's making them connect to give you a wider audience, but you have to have a plan for all that. I did discover this week that I was spending a huge amount of time on Facebook, Twitter, and reading past blogs. I need to be much more selective as to how I spend that computer time and make sure it all works together.
That's what is leading me to my goals for this coming week:
* Twitter and Linked In courses through lynda.com
* get LinkedIn set up, updated, and useful
* update Facebook Fan Page
* change out some of the older pictures on the website as well as add new work up on line
* define my marketing goals and draft a mind-map of my goals
* if time, HTML class on lynda.com about newsletters
* and…order a free VistaPrint t-shirt advertising Marble-T Design!
Save up to 80% on custom printed products at Vistaprint. Order today!

"The ocean nurtures each and every one of us,
without it human life cannot be sustained."
~ Dr. Robert D. Ballard
author and discoverer of the Titanic
From A Note From Your Mother:
The Ocean and 50 Ways to Save It. There is some great information on this site – useful and scary at the same time.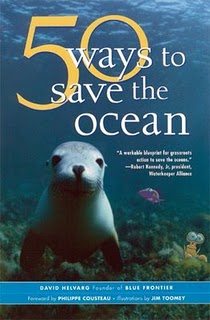 Alyson Stanfield on her
ArtBiz
blog says this:
"These are not marketing strategies: having a website, starting a blog, signing up for Twitter, adding a page on Facebook. My definition of a marketing strategy is a thoughtful plan for putting your art in front of more people and engaging potential audiences." She has excellent points for those of us looking to develop "marketing strategies." A good, thoughtful read.
From JPG Blog, their new contest – Where in the World…….amazing places around the world…makes ya want to travel!

Sunset Over Milky Bay by Marcelo Vicente
Marie Segal's blog Art from My Heart always has wonderful goodies she either makes or finds. Remember using popsicle sticks as a kid?   Follow her links for some great pictures, including furniture……

Who knew? Polyurethane projects as a new art form…You will always be surprised by the items on Cool Hunting.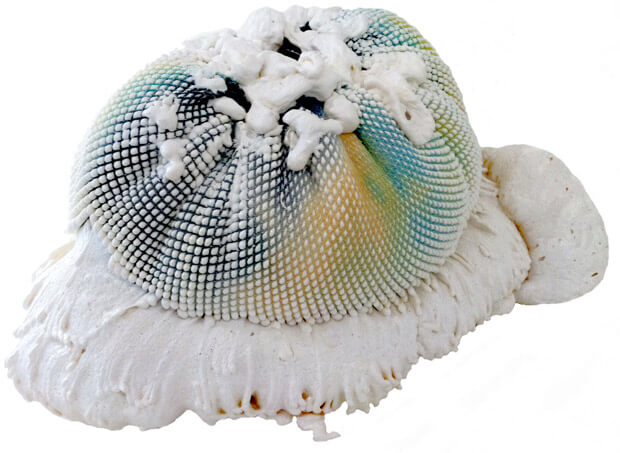 From Cool Hunting this week, a cool idea for an artist's residency – on a lake and sustainable – Rabbit Island.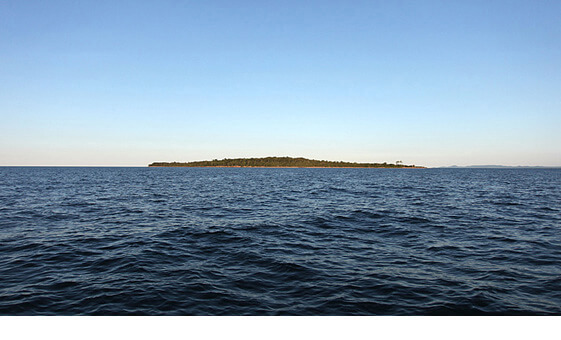 Also from Cool Hunting, a rooftop garden in Brooklyn, harvesting its first crop: Gotham Greens.
An Inspiring TED Talk on vulnerability with Brene Brown.
Want to see more of the world's paintings? From Lines and Colors, a post about a project of the BBC to put artwork in British Museums up on line – and it will be searchable. Looks like a lot of computer time looking at art!


I LOVE this idea from Alyson Stanfield' blog ArtBiz…..taking credit cards at small art shows is always a bear for so many of us. Look what technology has in store for us: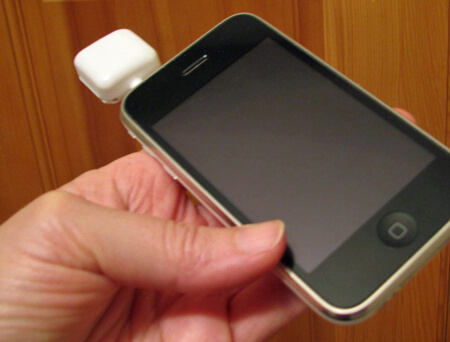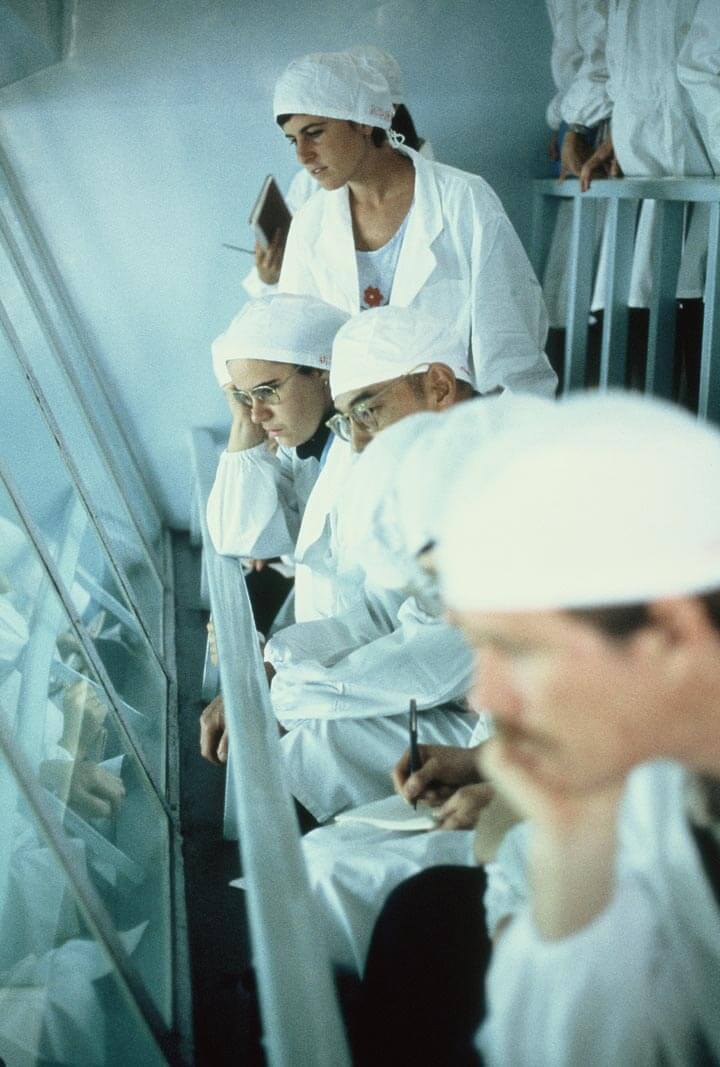 It'll be 33 years this October that I went to China, and from all the pictures I see of modern China, I don't think I would recognize some of the places. So many of the pictures I have are very special to me, especially for the time period. This one to the left is of one really interesting morning spent at a hospital in Beijing. I'm the one whose elbow is on the railing.
Many years ago I had thyroid surgery and have the neck scar to prove it. That's the exact surgery I am watching in this hospital. The female patient came in fully dressed, bowed to us and the doctors, and lay down on the operating table. She was awake the complete operation, the only anesthesia coming from acupuncture. Needless to say, I was absolutely fascinated. When the surgery was done, she got up from the table, bowed to the doctors and us again, and went off to her room to recuperate. We were all pretty stunned.
From there we toured the rest of the hospital, which looked extremely primitive to all of us, familiar as we all were with "western" medicine. I am fortunate to have a chiropractor who believes in alternative forms of medicine, especially acupuncture. We saw needles being used for anesthesia, treatment of mental disorders, electrical stimulation for some patients, among a few things. Doctors took the time to talk with us, as did patients. One of the members of our tour group (US-China People's Friendship Association) spoke fluent Chinese, and she was able to fill us in on anything we felt we didn't "get" from our interpreters. These five interpreters who traveled with us were wonderful and answered any questions we had, even political ones.
Here's the operating room we were looking into, as well as the patient: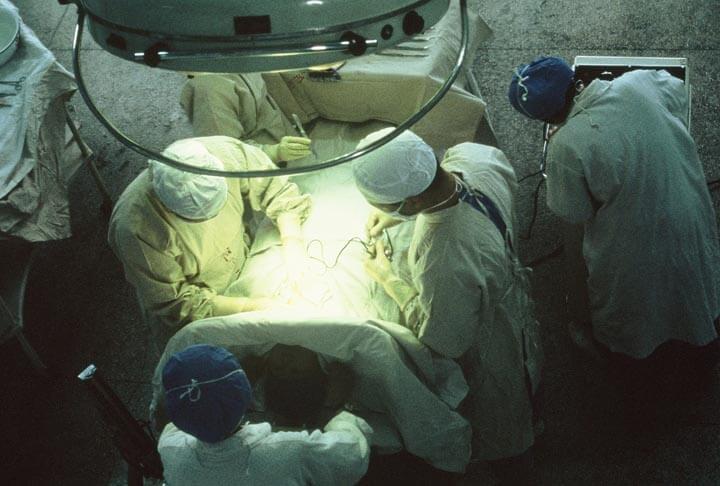 Now a visual tour of this hospital: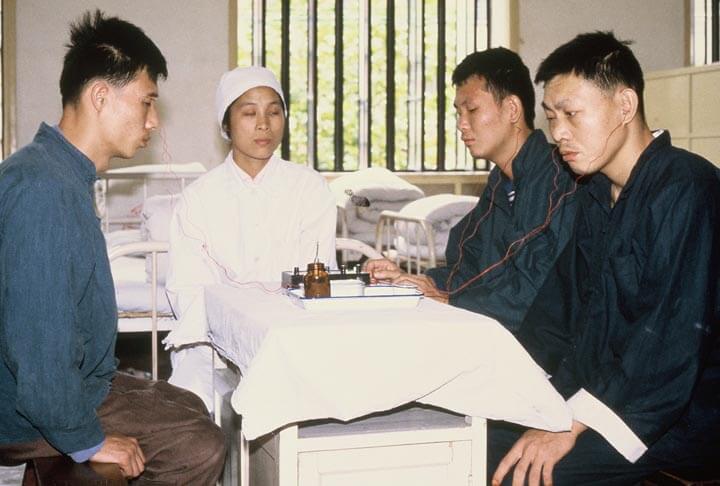 These patients were receiving electrical stimulation with acupuncture.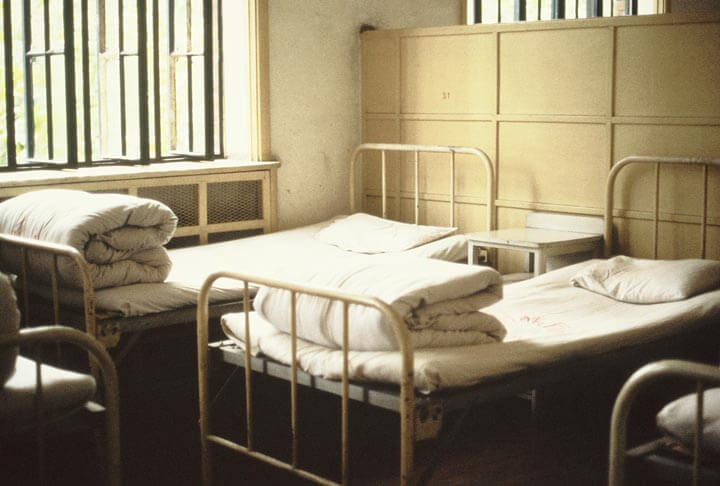 The hospital ward looks pretty primitive.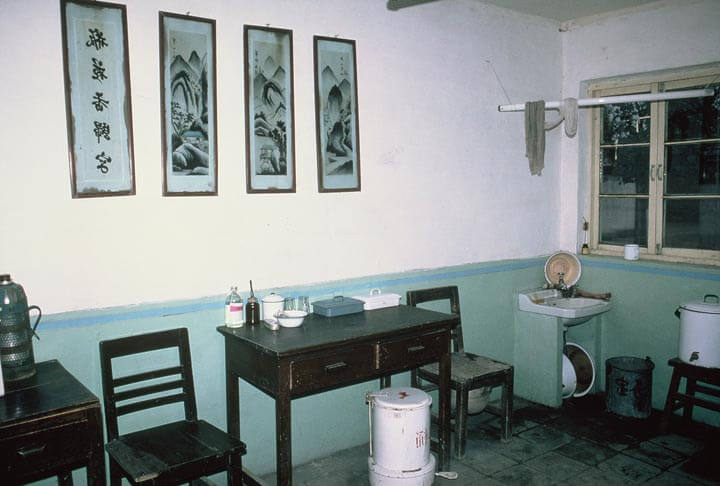 Basic patient consultation room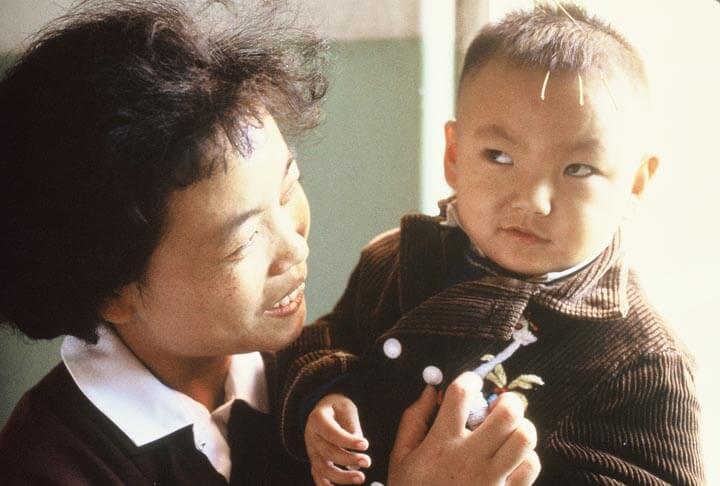 The needles really do not hurt! I've had it done many times, and the needles work – they let you know when they're done working – until then, they will not come out easily.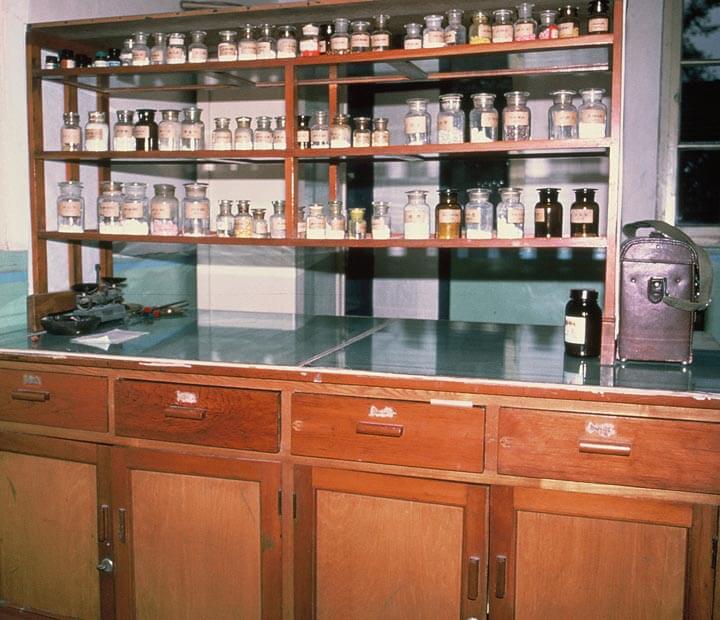 The pharmacy – and any places I visited dealing with medicines looked much like this – but with lots of little drawers. When I got medicine for cramps, the pharmacist went to a small drawer, took some herbs and ground them up, and gave our interpreter instructions for making the tea.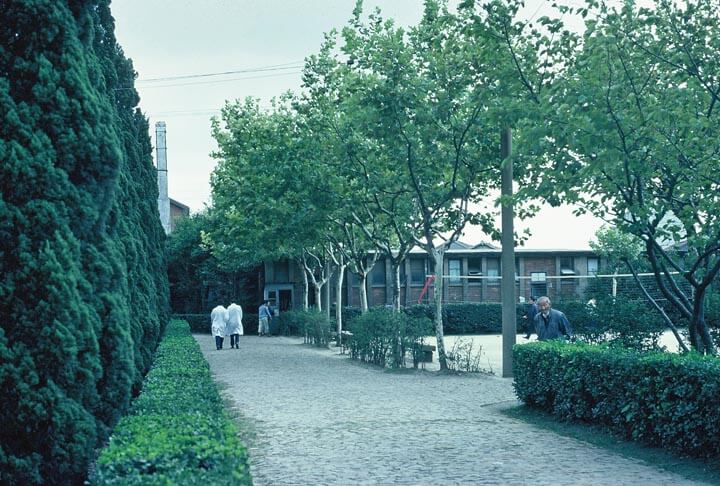 The hospital we visited – outpatient clinics, mental health wards, surgery centers.
I had brought along some Pepto-Bismol tablets, and at one point I showed them to one of the "barefoot doctors" – the term for local medical personnel after the fall of the Gang of Four, and I remember the puzzled looks on her face. She prescribed some shots, and our interpreter took the vials of medicine and found a medical person at each of our stops to help administer my shots. It was a pretty amazing trip.
And now, two of my most favorite shots, of farming in a third-world country.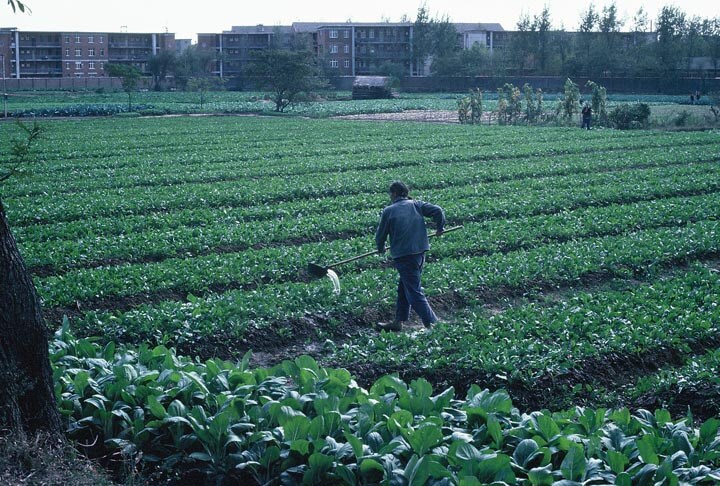 We stopped on the return trip from a commune just to be able to walk around. I saw these women in the fields, and only when I looked closer, did I see how they were actually watering the fields – by hand, scoop by scoop, from a small canal running along the fields.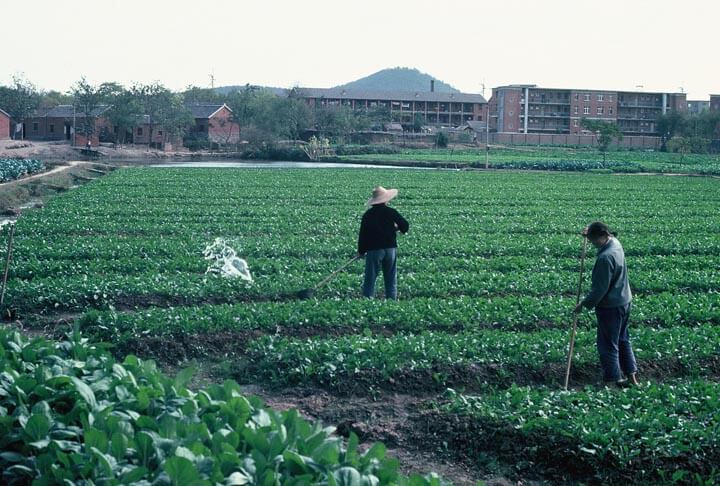 Truly one of my most memorable moments.

It has been a productive week, and I have two new projects on the agenda, but first – my finished quilt from last week. This is waaayyyy better! It was originally done many moons ago as  a marbled BOM, and I wanted the quilt, which I have always liked, to reflect the new skills I have. It's from a block pattern from Judy Martin's Around the Block.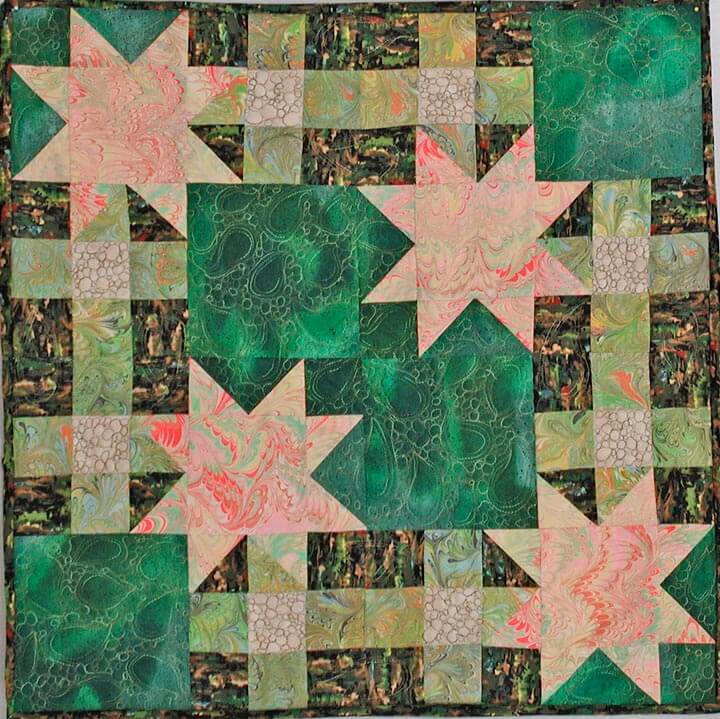 I'm calling it Monet's Marbles, based on the mottled green fabric, which I bought years ago because it reminded me of Monet. I didn't quilt anything in the stars, because I wanted them to stand out from the rest of the quilt. Here's a close-up: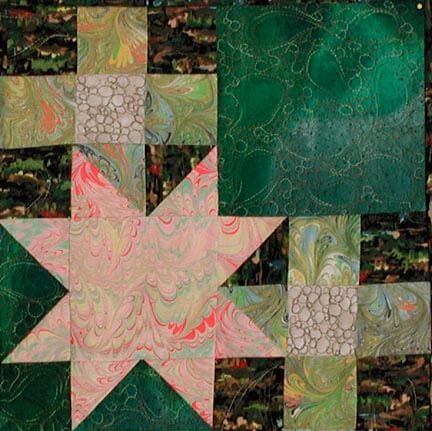 This is one of the blocks from Judy Martin – the quilt has four and uses two different marbled fabrics.
The next project is to finish up some small wall hangings for my second mom. She spent one winter in Vermont cutting out Hawaiian designs for a potential quilt – they never made it into a quilt, and I am  trying to put them into something that Momcat can use. There is one major problem….these amazing blocks are all cut out of a heavy white polyester fabric…that ravels…………so I am using a lot of satin stitch, which also adds a slight bit of color to the blocks.
We decided on a black background to emphasize these wonderful patterns. I am hoping for one of the small wall hangings to be done for next Wednesday….we shall see…..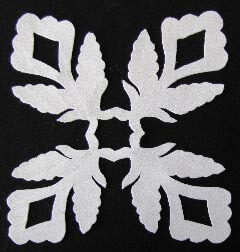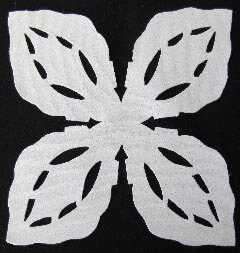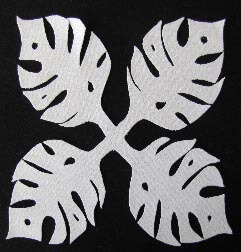 Many of these are original designs , and they are certainly a challenge in corners, heavy polyester, and satin stitch….but they will be gorgeous!
Lots of great stuff on line this week – some very cool eye candy to enjoy!
From Cool Hunting, a site with some unusual items and projects… some original artwork "Field Recordings" by Bryan Graf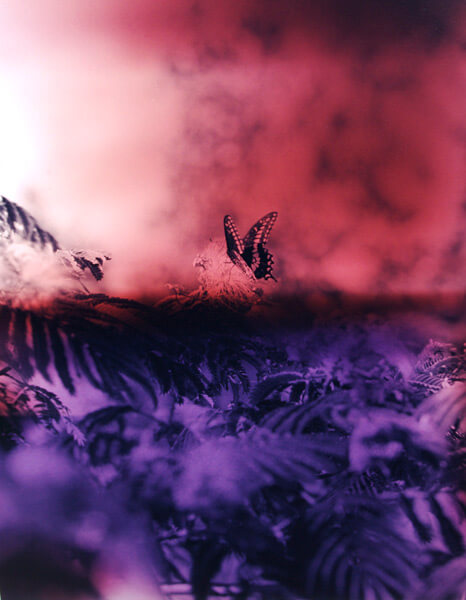 Also from Cool Hunting, one of the most unique book displays I've ever seen, as part of an art installation. The best pics are on the site, so check them out.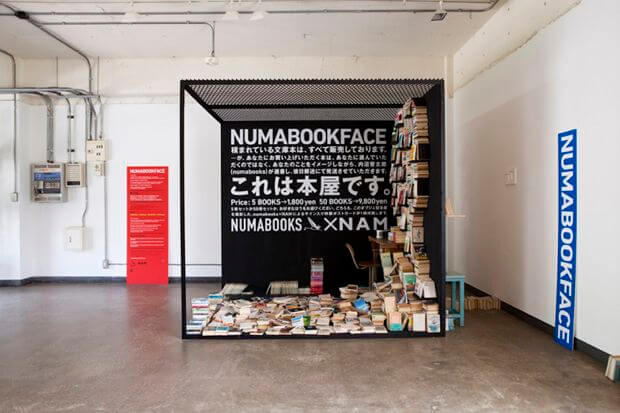 Vicki Welsh does some really gorgeous hand-dyes…here's her latest batch for this month's challenge. I could spend all my spare money to her weksite!

From Kate Harper's blog – Legal Tips for the Starving Artist, and a very good review for all of us.

And even more from Kate – lots of articles on copyright and protecting our designs….I know for me this will be some serious reading this month – need to do it!
How will the price of cotton affect art licensing from Joan Beiriger's blog – very interesting. I know that we have had to raise our prices for our marbled fabrics significantly.

If you are where I am in looking for gallery representation, then Joanne Mattera's Art blog is for you. She has an article on gallery red flags that is very valuable….I've seen a couple of these flags in the past.
Also from Joanne is this article on Rethinking Artist's Statements, again very timely for me as I redo a lot of things on the website.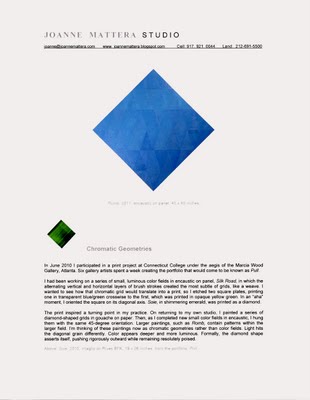 Rayela's Art (AKA Rachel Biel) is spearheading the fund raising campaign for the Textile and Fiber Art List. This is rapidly becoming THE place to find any type of textile art on line. If you are interested in becoming part of an outstanding collection of fiber and textile art, then visit and donate, even just $10. The eye candy alone is worth the donation!

Again from The Best Article Every Day comes Dear Photograph – a really cool idea to superimpose a past photograph with the current location. Clever!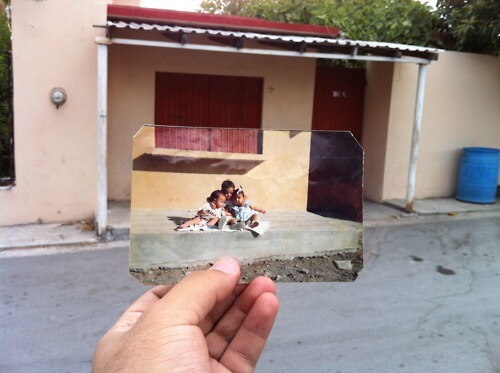 Enjoy your week – send me cool stuff you find on line!!

It's Monday, week four into retirement, and I've been getting lots of loose ends accomplished on the home front. But the biggest is starting to attack what I want to do in marketing the business. It's probably a good thing I have been thinking on this, as I need to answer a very big question first – just what do I want to accomplish for Marble-T Design, as well as my personal art goals? I can't really start marketing successfully and fruitfully until I make some of these decisions.
I have started a list of some potential galleries and shows I would like to enter, but I find myself asking "is that really the route I want to go?" I probably should have looked seriously at this a long time ago, but, hey, school got in the way. And since Marble-T Design is 17 years old and in a new phase, I should probably also consider what we've done in the past and what was successful.
We've actually been on line with our website since 1997. We were some of the earliest in e-commerce, without even realizing it. I went through a bunch of computer programs to get the original site up, starting with Pagemill. Eventually I realized I needed to turn the design over to a professional, and Saltwater Systems has handled that beautifully over the last seven years. And we had a much wider line of products available – close to 12 sampler packages. we did a lot more marbling in our large tray, as well as a lot more custom work.
So that's part of the "thinking" I need to do. More large trays? More shows? More product? Classes and workshops again? Just where are we taking this business? I need to be honest in my thinking about the future. Marbling in the large tray is very tiring as we have gotten older, and with the price of cotton and carrageenan going up, prices will have to go up.
Whew…..that's a lot of questions to answer. Once again, starting to write is helping me focus on the bigger picture. So I need to start….
What do I really want to do with my art and my business? I want to make art, no question about it. I would like to sell my art, whether it be on line or actually in some galleries. I think  I am realizing I don't want to do a lot of shows. I do have enough on my resume to show the work has been accepted, but I will probably only look at two or three a year. As for the actual business, I want to be able to bring in a certain amount of money each month to help with traveling during retirement. I'm starting with the idea of $500 additional a month, and moving from there.
That means looking seriously at outlets. Ebay has been steady, but I would like it to do more. So we need to marble more pieces and packages. I have sold a few pieces of fabric on Etsy, but this needs to be seriously marketed. We've been selling on Ebay for probably 7 years and we have a good steady family of customers, but I want it to generate more sales.
I haven't really looked seriously at marketing my work on Etsy, and I think with the TAFA List, I can make a good start. So I think at this point a goal for this week is to list potential products for Etsy and read everything I can about Etsy and The Textile and Fiber Arts List.
The other big thing is we are a sponsor for The Sketchbook Challenge for July, and probably for a few months after that. This will drive more traffic to our website, The Art of Fabric. This means getting the site updated and ready for additional traffic in July. So also this week is spending time learning Dreamweaver to take care of a lot of small changes that will update the site.
THIS WEEK:
Finish Dreamweaver class for making changes to my website
Make the changes to the website
Etsy products, increased Ebay ideas
Reading about Etsy selling and developing strategies

Reading through everything on The Textile and Fiber Arts List and developing concrete plans

I'm interested in the thoughts of those of you selling on line – favorite sites? Suggestions? Pitfalls?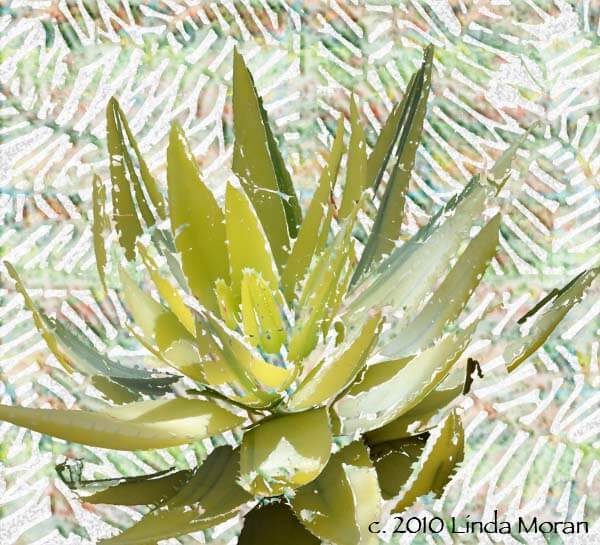 As I have written over the last month or so, the shootings in Tucson really affected me, especially the fact that we had almost headed over to the Congress on Your Corner but we had a doctor's appointment instead and decided to do the next one. I wrote here about what it was like for that following week at school, helping kids process the shootings and the hate from the Westboro Baptist Church directed toward our school.
I studied history and political science in college, at the height of the Vietnam War. I was a drug-free hippie who believed in freedom of expression and the peace movement. I loved seeing trends and themes in history, and then when I taught Advanced Placement US History, I kept discovering things I hadn't known about our country. I followed that up with reading Howard Zinn's A History of the American People. That is a pretty amazing book. You can follow The Zinn Education Project on Facebook.
Throughout January, into February, and particularly March and April I sank into a real morass of despair, looking at everything going on in this country and the lack of civility in understanding. I "unfriended" some folks who's attitudes I felt were very destructive. I would listen to the news and start yelling at the television, reminding the screen about all that came before. Needless to say, I accomplished very little….
I have since gotten myself on track with enjoying life through a couple of – what turned out to be major – changes. No more news. I read the headlines each morning from the local paper on line, and I read the headlines from Al Jazeera English, each time amazed at what is going on in the world that we have no idea about in this country.
Stay away from movies that will P*** me off, like Sicko. There is nothing I can do. I understand the situation, and I cope as I can, but there's no point getting upset.
Stay positive. I am working with the Co-creating Our Reality site, and I am amazed at just how happy and relaxed I am becoming, Of course, retiring from teaching didn't hurt…..
Create art. I am finally getting back into the creative spirit, and I think as I create more, not only will I feel better, but I will begin to get some of my frustrations out into art work.
Enjoy people. Given my background and being very shy, I tend to stay away from a lot of socializing. That is changing. I am meeting more people, going out with friends more, having people over, and the like. I'm enjoying sitting on the couch in the afternoon with hubby (35 years this Saturday), streaming something from Netflix that we can enjoy together, and not hve to worry about marking papers or doing lesson plans!
Ooooh yeah, I'm gonna love retirement!
Sometime this past autumn, I posted a picture of a quilt completed at least 10 years ago, asking for suggestions on quilting it. I had used invisible thread (waaaayyyy before the improvements in threads) and did basic in-the-ditch quilting. Pretty darn blah. So I took ALL the quilting out, including taking the binding off, and washed it to hopefully remove the shadow lines.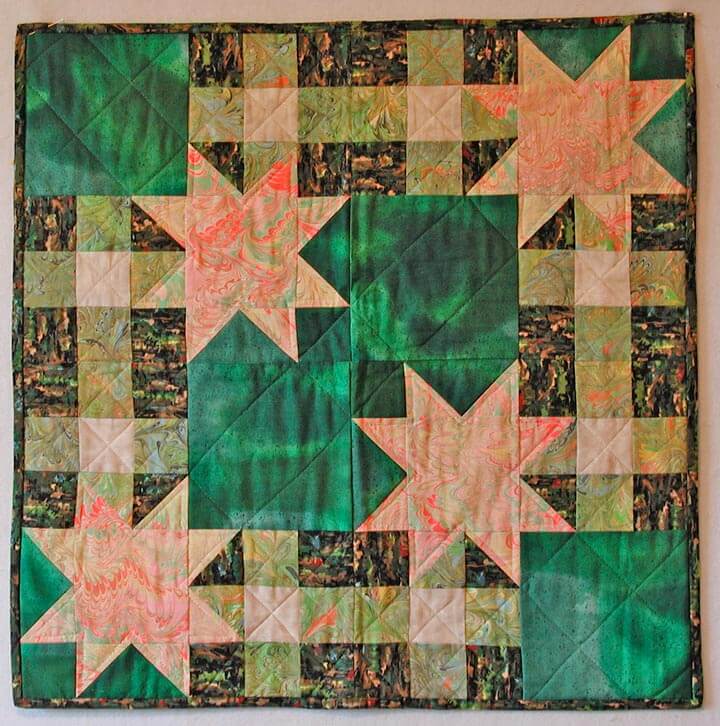 Silly me, I was thinking of having it available for sale at the art show we did in November. Well, that didn't happen, so it moved to my "to do" list for when I retired, and then to the top of the list as I saw the studio coming together. I thought of attempting some feathers, because most of what I have done for quilting has been stippling or stitch-in-the-ditch.
Before I could start, I discovered this video on stippling, and I was hooked. Sharon Schambler had an hour-long video (actually longer) with 9 free motion patterns she has used in one of her quilts. Easy to watch and very easy to do!

I chose the second pattern, used some variegated thread from Superior (of course – I am totally hooked!), and started. I wasn't sure I could really do this. So voila –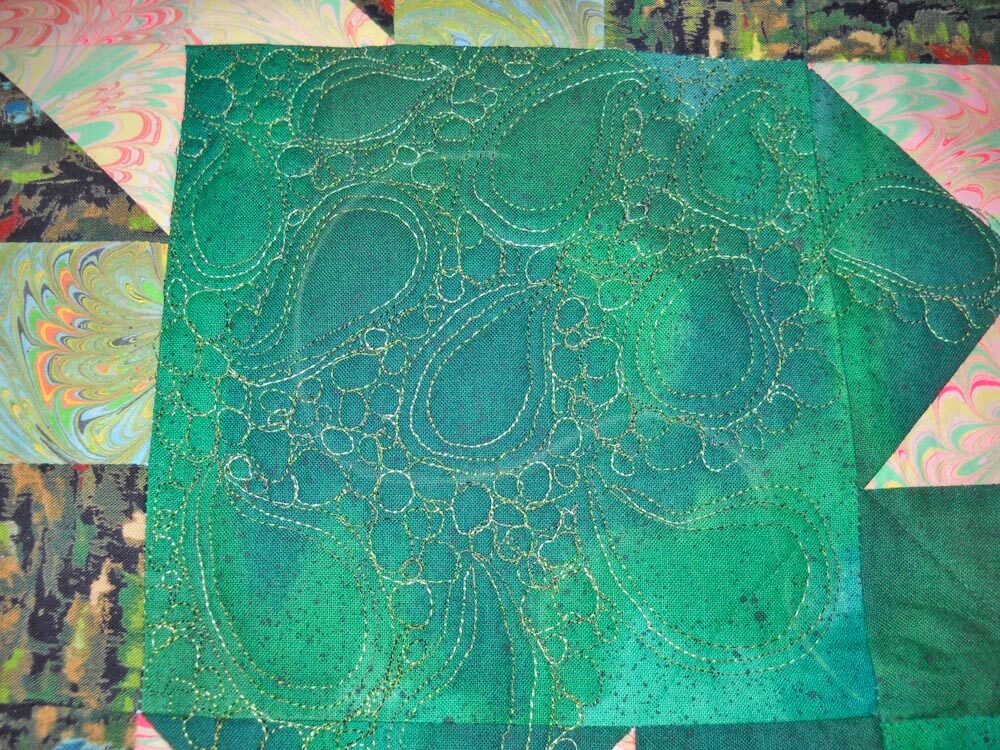 I was thrilled at this point, because I realized 1) I could do this, and 2) the quilt was going to look SO much better!!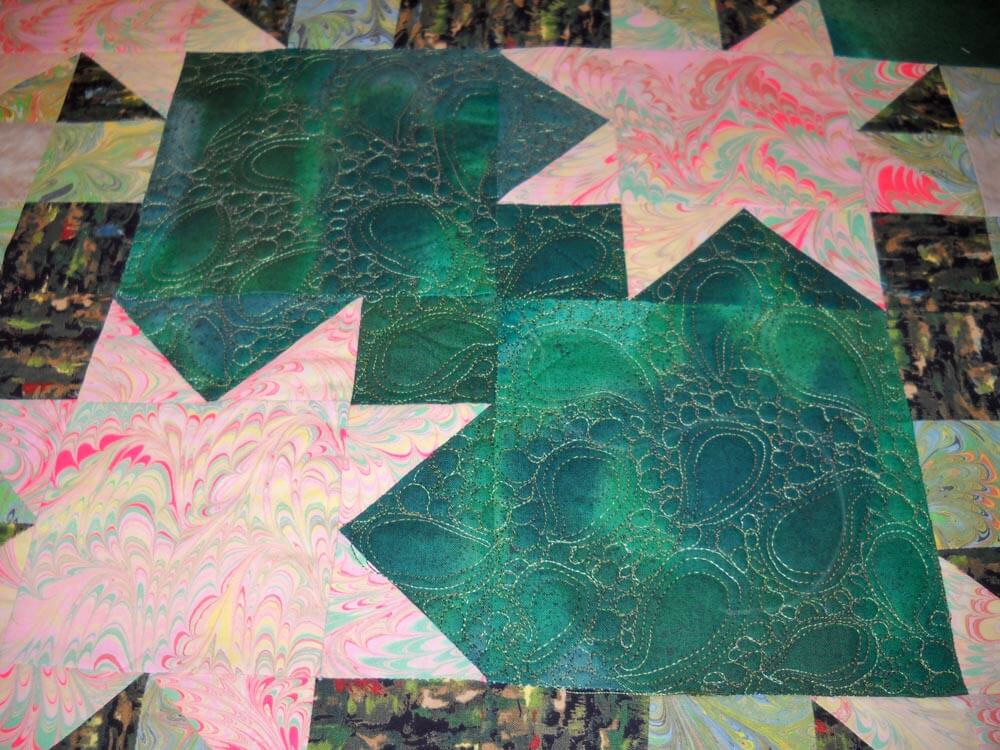 This is the completed center. I'm not going to quilt the marbled stars (unless someone has a really good idea for me?? Hint hint…). I ABSOLUTELY love it! I'm doing a variation of the pattern on some of the side strips, and it's coming along well. Hopefully pictures this weekend…..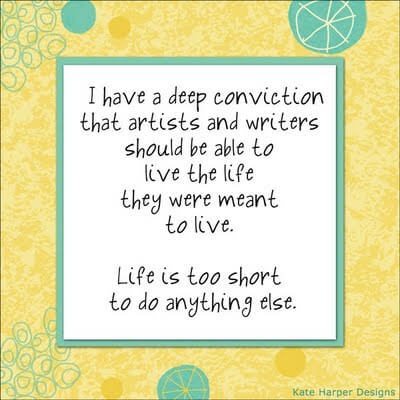 This is now on my desktop! I found it here at  on the Kate Harper blog. After all these years of teaching, life is definitely too short to mot make art!
Now I spent the last two weeks going through all the blogs I haven't read in two months – and mined a WEALTH of great stuff!
Zen Habits had a great and timely article on Decluttering, as I was working through all the little bits of odds and ends that I was sorting. Two key points – we don't want to let go of the past, and we're afraid of the future. Definitely worth a read.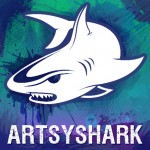 From ArtsyShark – Is there a future for trade shows and sales reps – adapting to changing commerce. Lots of great points, especially if you are thinking of doing the art licensing route.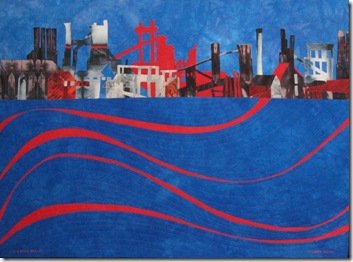 Elizabeth Barton  has a fabulous blog  with lots of food for thought. As I contemplate becoming more active with my work, this post of entering shows was extremely valuable.  Don't you just love the colors in this quilt?

Alyson Stanfield had a guest post on Photoshop (How to Make the Best of Your Art Photos with Photoshop) by Chris Mills. If you're not reading the ArtBizCoach blog, you should be. – http://artlicensingblog.com/2011/05/16/how-to-make-the-best-of-your-art-photos-with-photoshop-by-chris-mills/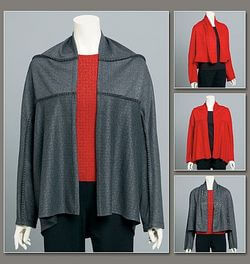 A friend of mine turned me on to online pattern sales. I haven't sewn for myself in years, and I never thought about the pattern lines being on line. Marcy Tilton has some really nice wearable patterns – I could get hooked! Patterns on line
The Textile Blog has an interesting article on the future of hand production, starting with a video about hand-made lace production. Here's a quote: The video deals with the seemingly age-old problem of machine versus hand production. The video itself deals with the situation in Cyprus where traditional lace embroidery is inevitably being led towards extinction by the importation of cheap machine produced lace, mainly from China. Cyprus is by no means the only area of conflict between machine and hand production and China is not the only culprit in flooding the market with cheap products.

Sites on greeting cards – I had no idea there was so much available on line. This article is also from Kate Harper and gives 6 articles on card design tips.
Also from Kate Harper's blog (a HUGE wealth of information), much more about art licensing…..walking the floor at the Surtex licensing show.
This week's eye candy from The Best Article Every Day – great ads  for AT&T – forget the company, just look at the art work! This is a long graphic – go to the article and take a closer look – and then spend some time with all the rest – these articles are just the best!


As of yesterday I was finally able to finish the studio remake by actually cleaning off my sewing table, which had become the repository for all the loose ends. I can finally start working again. Hubby marbled on Thursday and enjoyed having a more organized and larger space. Here's the "before" pictures….
We have (well, had – it's gone the way of Craig's List) lots of storage shelves that could be configured in a variety of ways. This is most of the marbling stuff, just kind of packed into various boxes, and not really easy to find anything. The shelves continue next to it, with more cloths, plastic, and trays. We had more of this shelving in the closet.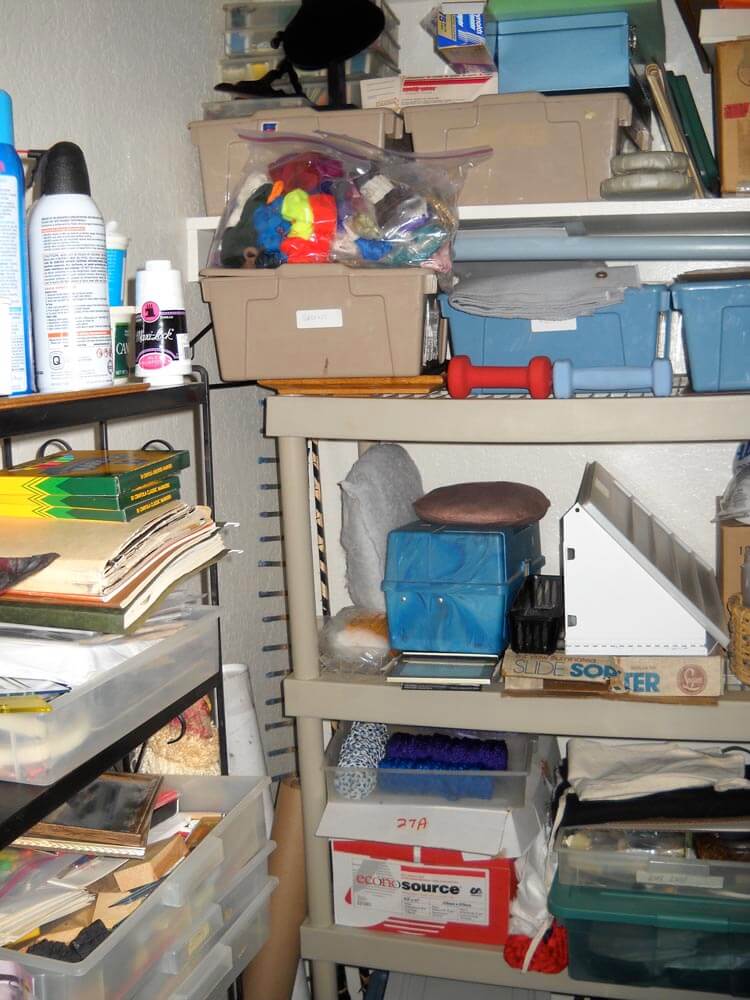 So much storage in the closet – lots of different containers and boxes collected over the years – fabric is kind of organized by color, but it's a pain to get to. To the left is an old baker's rack (like about 36 years old – from before I got married, and it has a new home).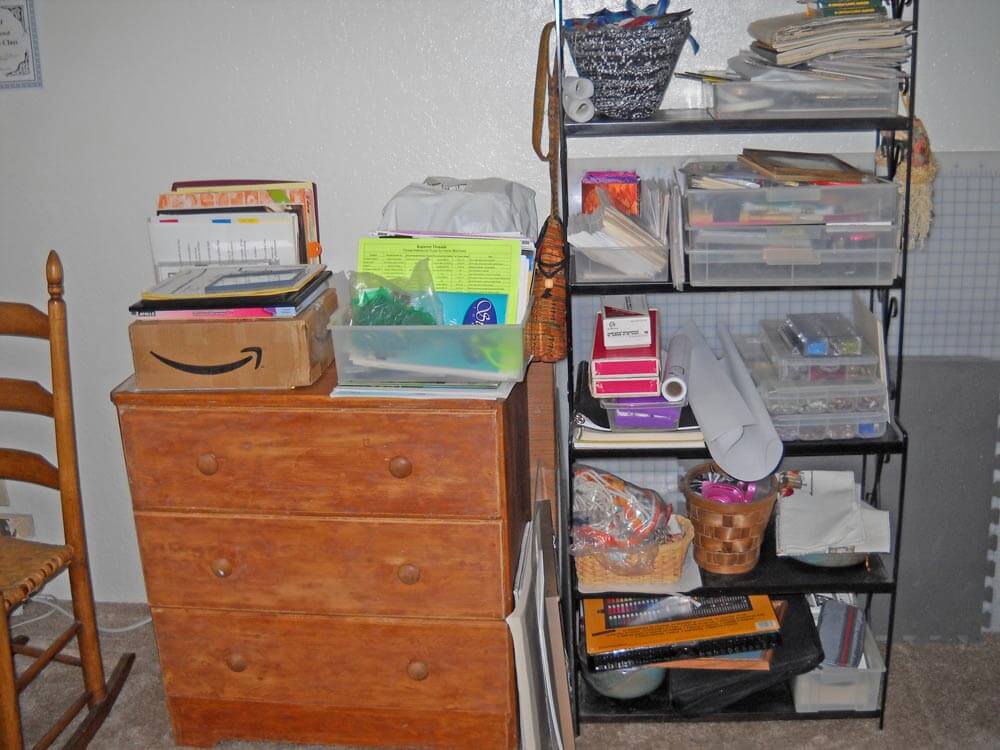 The small chest of drawers belonged to my dad – it is now in the closet, with all the cloths and plastic and towels. Much easier to get to things and it's now keeping everything more organized.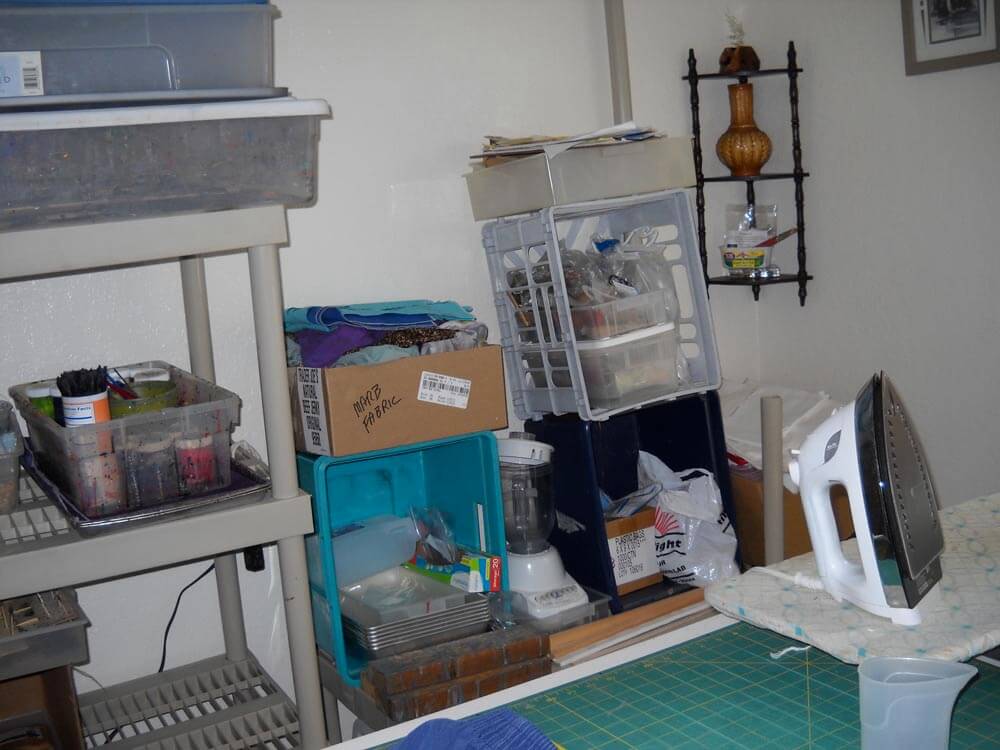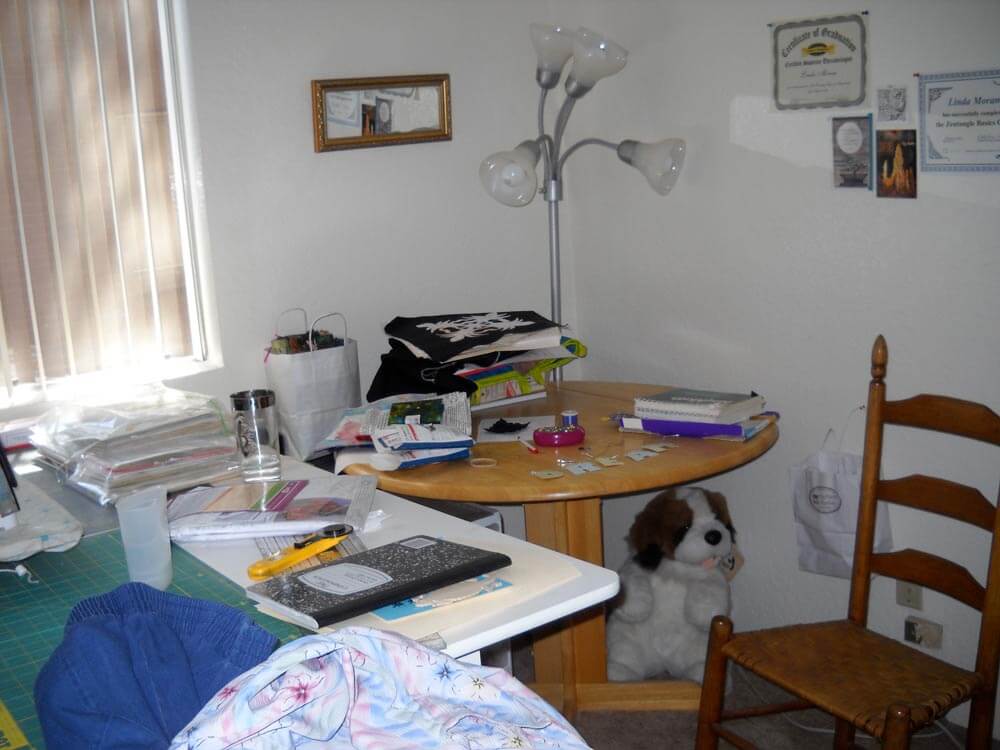 This was the worst part of the studio – my actual sewing area. I felt enclosed and couldn't really move around. It was not a comfortable area, and this was the main reason for re-doing the studio.
And now……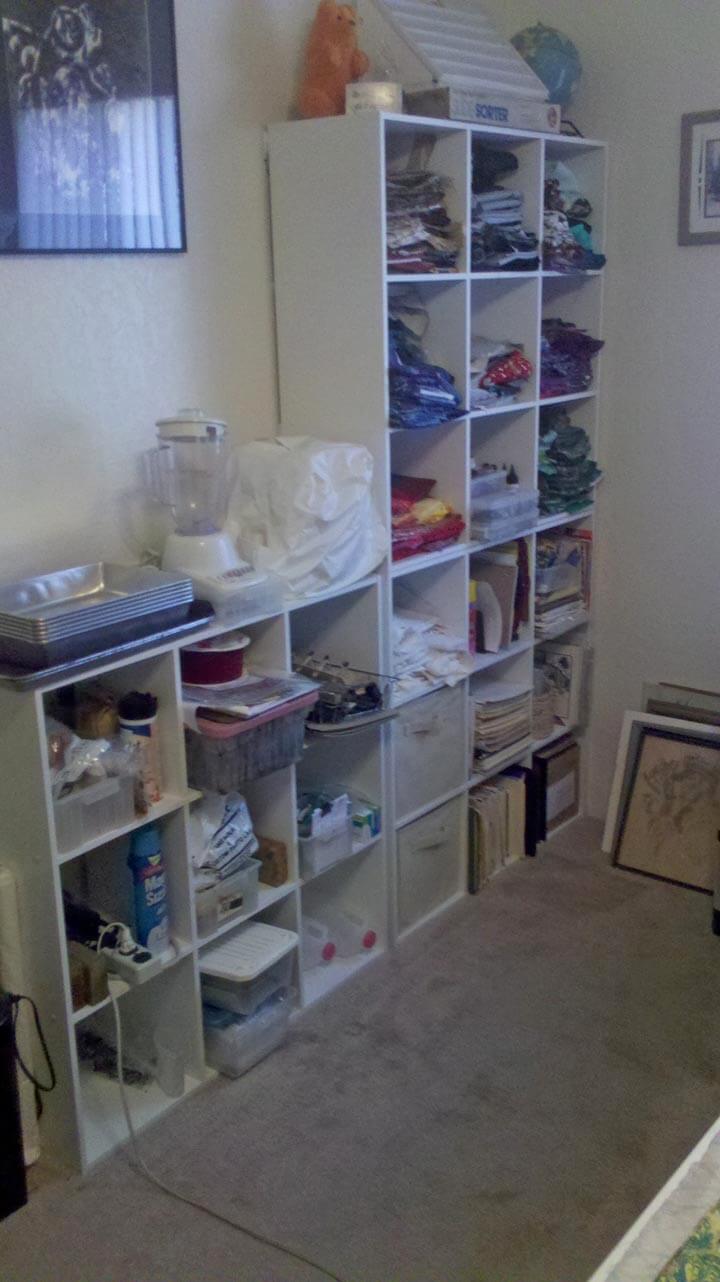 This is where all the marbling supplies were – in storage that is more efficient and actually takes up less floor space. I have fabric out by color, files from school, art supplies in one of the canvas storage bags, and patterns all sorted.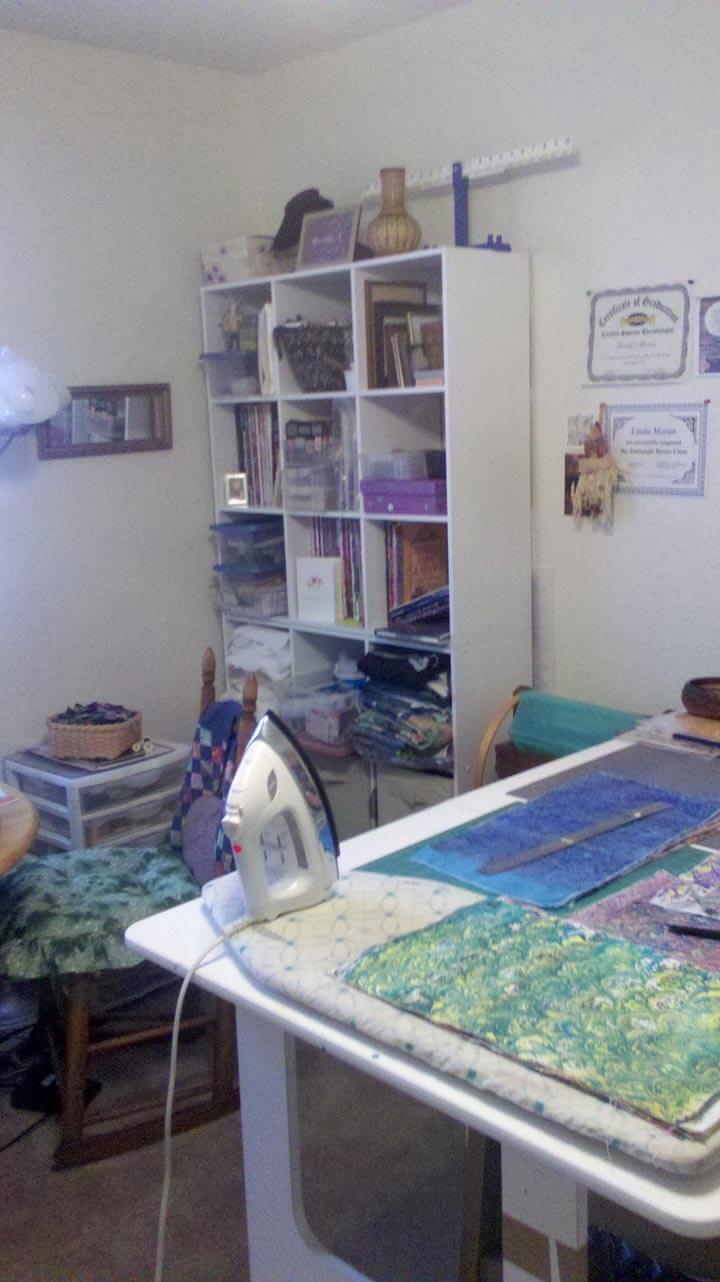 My sewing table is now under the window with much better light and room to move around. I am now right next to the cutting board and ironing board. Art books and lots more storage.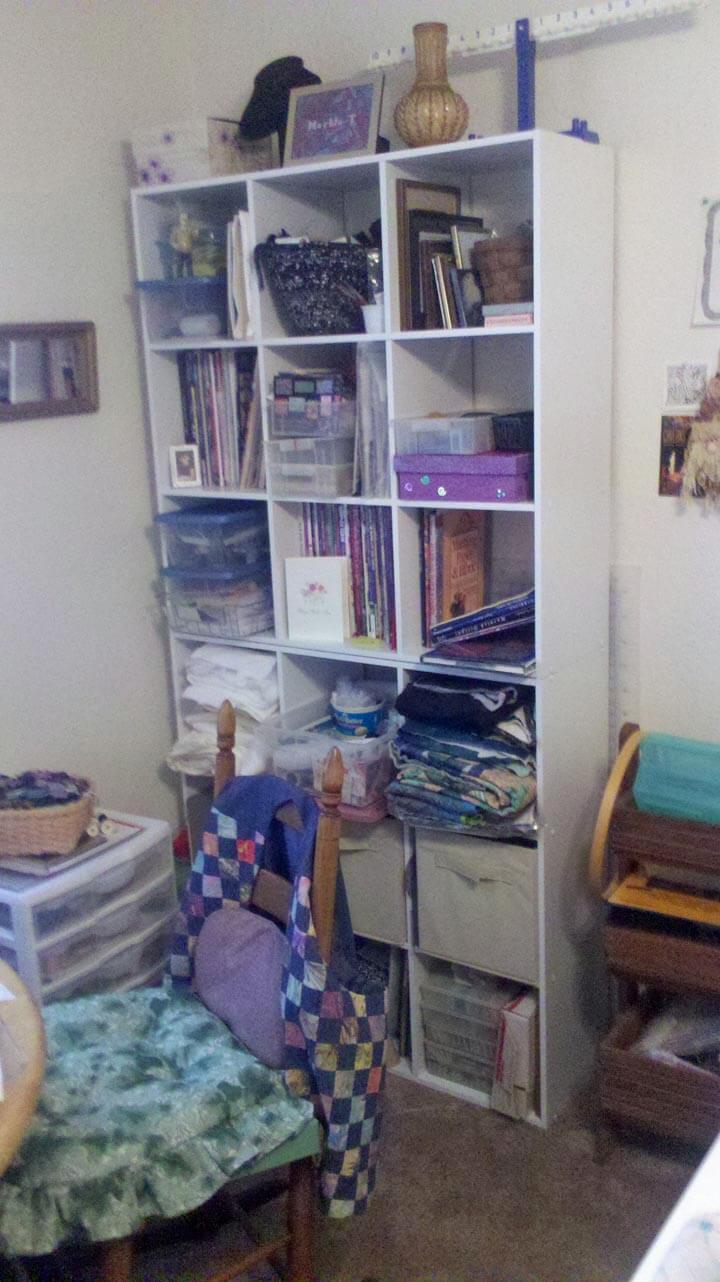 You can see more of the sewing area here.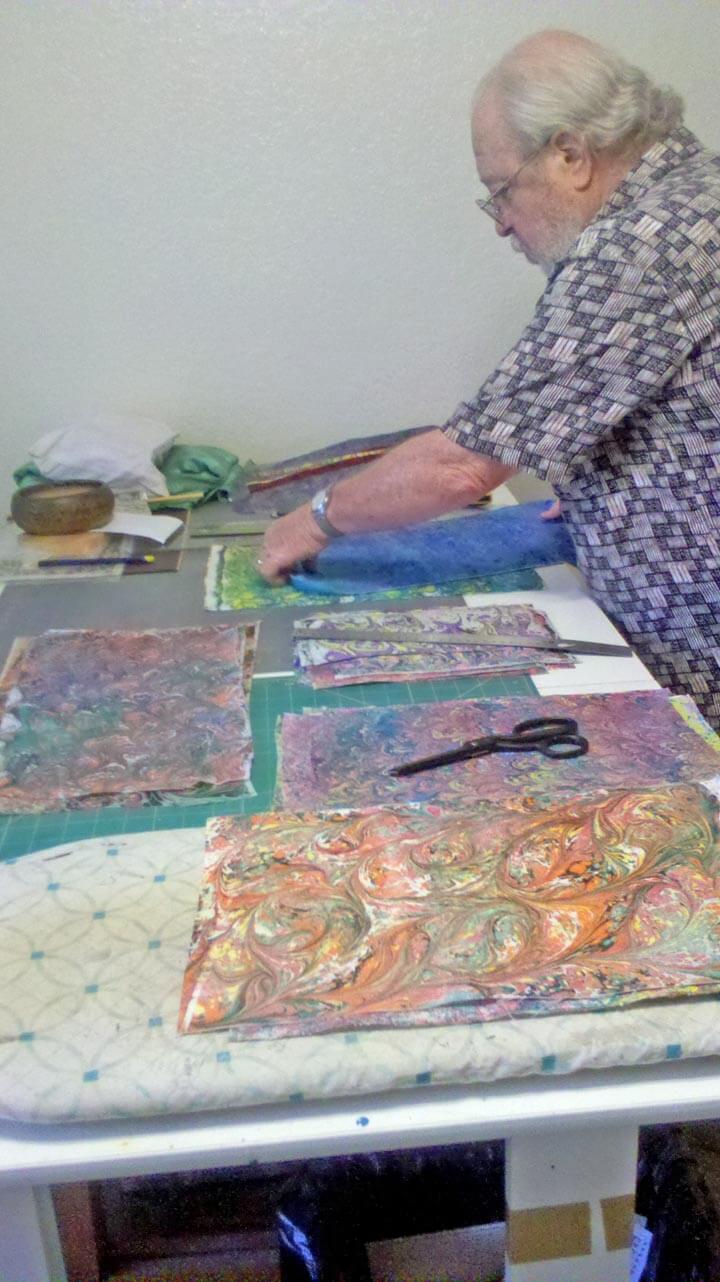 Hubby in his new space, organizing the latest marbled fabrics. Lots of stuff is stored under that cutting table! You'll see some of the fabric up on eBay this week……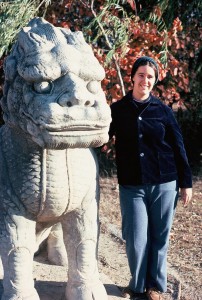 Ah, the part of me that is into cleaning and organizing is having a ball with undiscovered-in-years stuff! As part of my goal of getting all my slides to CD, this last bunch that went off are all of the area around the Ming Tombs outside of Beijing. I think we spent the morning at a museum and then took the bus ride to the tombs and had a packaged picnic lunch before touring the tombs. It was a glorious late October day, and autumn was in full color in the countryside. I actually have very few pictures of inside the tombs themselves, because, after all, they were tombs. I was taken with the stories and the countryside, so that's what I focused on. The main story is that the tombs were discovered by accident by workers digging in the area. As you will be able to see from the pictures, this was a major tourist 30 years ago, and I'm sure it still is. The Clay Army hadn't been discovered yet, which gives me another good reason to go back to China someday.
The statue I am standing by is one of many that lined the road to the tombs. These in themselves were gorgeous works of art. If I had been sketching at the time, I don't think you would have gotten me away from them.
This next picture shows the line of statues – look under the elephant's trunk. Keep in mind they lined both sides of the road.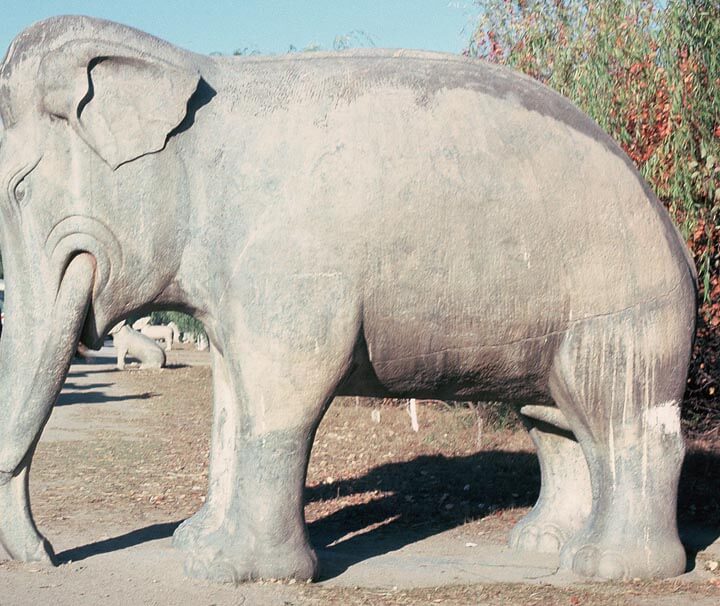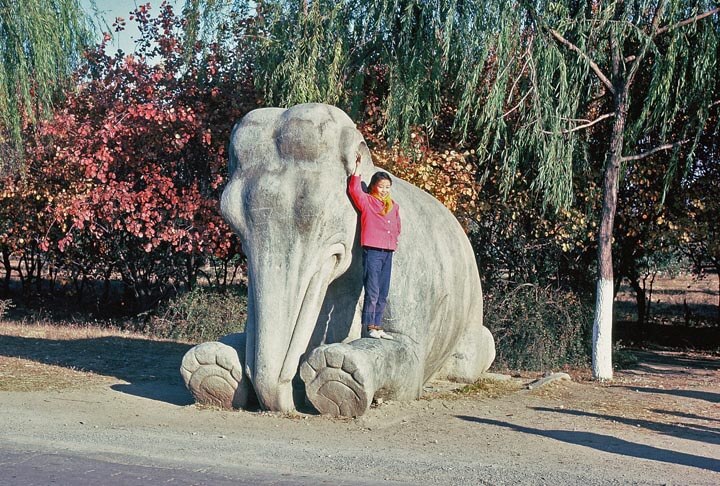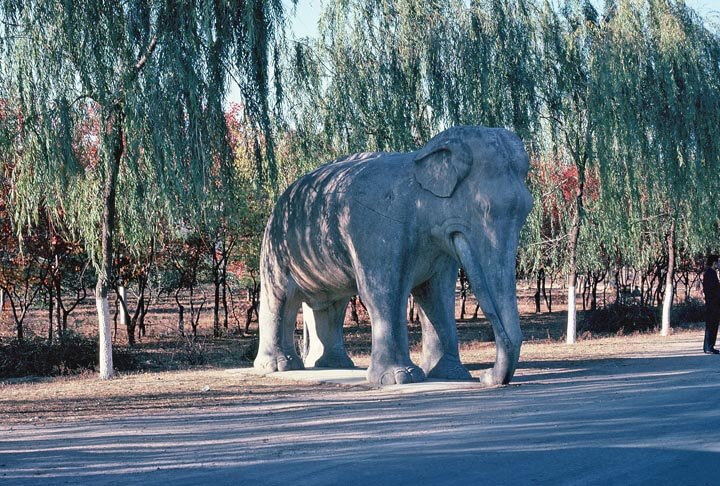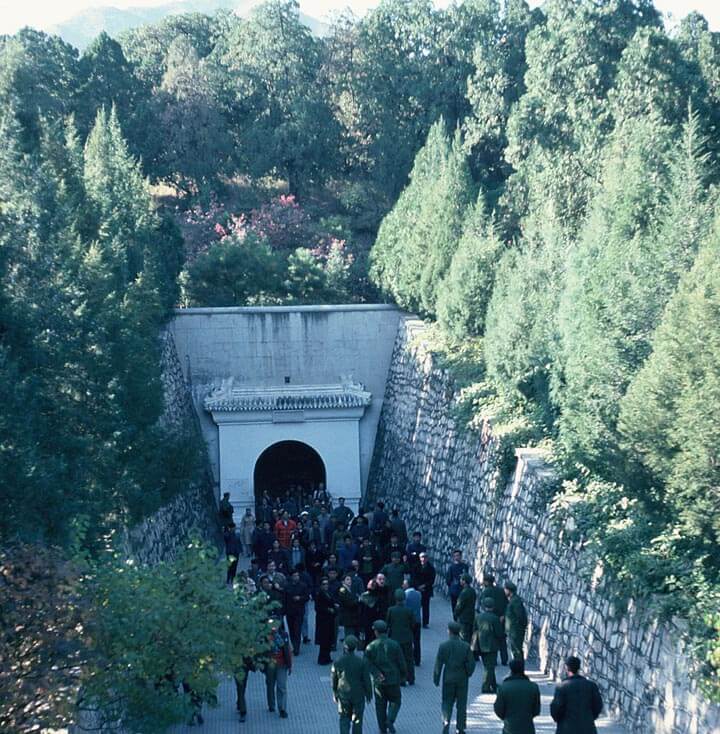 Notice the similarity of drab colors, except among foreigners. The green in front is the Chinese Army visiting. This is the entrance to the tombs.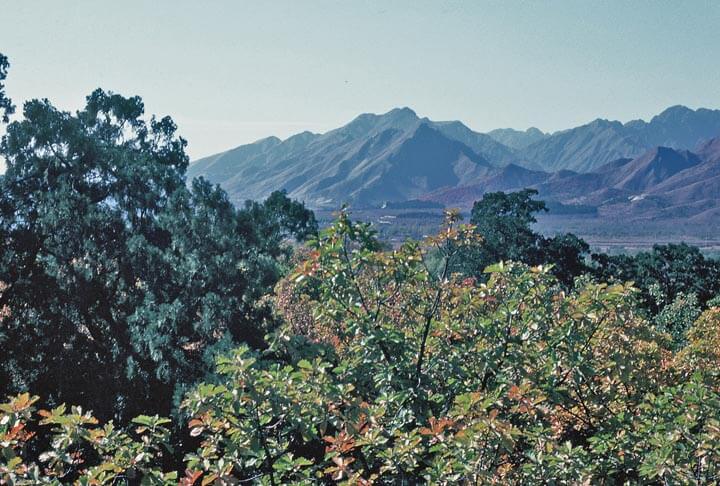 The gorgeous autumn countryside.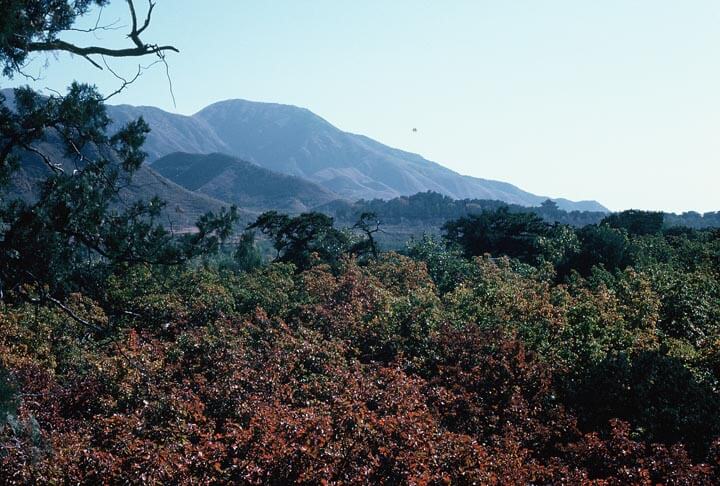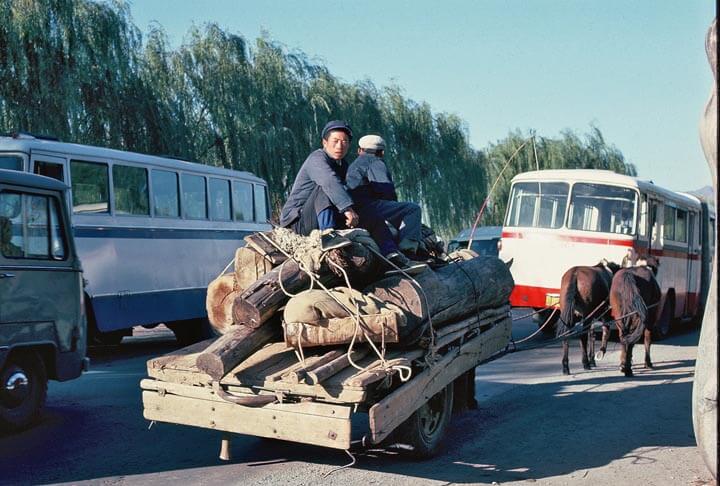 Again, old meets new.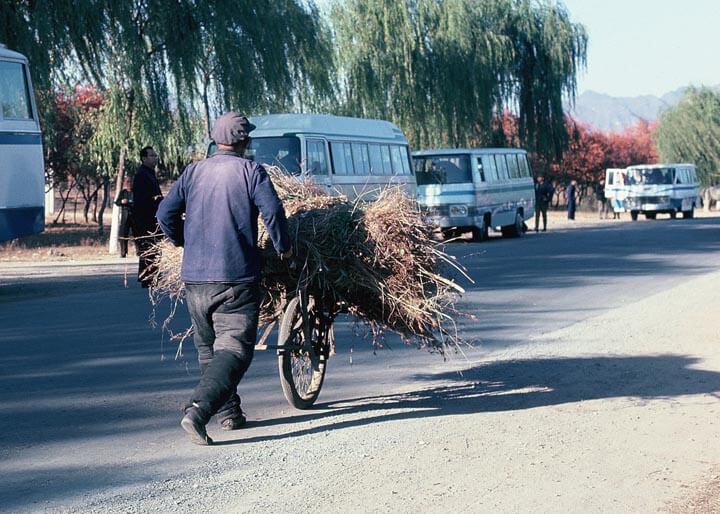 While retiring is going to be a joy, there are definitely some things I am going to miss about teaching. So here goes:
1. The Kids. Even the class from H*** this year had its good moments. The kids keep me young, they keep me laughing, and they'll believe just about anything you tell them. Case in point: Nicole a year ago asking me where zombies go when they die. Despite my trying to get across to her that zombies don't exist, she kept asking, saying "Hypothetically." So I finally answered "They go to algebra heaven." And she was fine with that answer.
2. The challenge of teaching so many different subjects and learning so many new things. Over the years it's been high school American History, AP US History, psychology, literature and writing, grammar, earth science, basic math, middle school social studies, elementary gifted programs, middle school math, and finally high school math. I'm a walking Jeopardy board.
3. Mathematics, particularly algebra and geometry. After some dismal experiences in high school, I have relished understanding the ins and outs of algebra and geometry, and I will miss the opportunity to continue to improve my explanations of how algebra really works.
4. The Kids. I am in touch through Facebook with so many former students, and I just love watching them grow and have families.
5. Student theater. I did this for 15 years, thanks to one of my first mentors, Sue Ann Loudon. From Carousel to Oliver to Music Man to Peter Pan and numerous small plays in between, I loved every moment, and I have the pictures and tapes to prove it. But that's a job for someone much younger.
6. Conferences, especially when paid for by the school districts. I loved my time with the art partnership with the Kennedy Center for the Performing Arts. A great time at the ASCD conference both in Baltimore and Anaheim – and if the principal had approved our plan for taking kids to the Getty, so many more would have benefited. To think it all started with the National Association of Gifted and Talented in Portland, and included being in DC the night of – and day after – the 2000 election for the International Dyslexia Conference.
7. The creativity of planning a successful lesson. When it goes right, there's nothing better.
8. Being "on stage" and having a good time with the kids during lessons. There's all the voices and chants and little dance moves, the quadratic formula to the tune of Jingle Bells, and all the videos.
9. The "Big Projects." All the plays, World Peace Day in April 1972, Model UN in 1973, the Shakespeare Festivals with 150 kids, the Learning Lab, and many more.
10. The Kids and making a difference in their lives. It took me a long time to realize that this is what I was meant to do.

I will no doubt spend some time in reflection over these last 40 years in some form of public education. I found an interesting editorial I had written about 8 years ago that I will probably recreate here. Mostly this week it's been about things I am not going to miss.
1. Short lunch periods. Some of the schools I've been in had 20-minute lunch periods, which makes it tough to have any kind of a leisurely lunch, especially when you factor in having to use the bathroom and set up for the next class after lunch. I still eat fast at lunch; it'll be a hard habit to break!
2. Lack of accountability on all parts. Teachers – there are so many in the profession who shouldn't be there. I find myself at times taking shortcuts just to survive the daily grind, and I lose sleep over it. Students who do not take responsibility for their work and behavior. Parents who let kids get away with anything they want. Makes me scared for the future….
3. Spending most of Sunday doing lesson plans and marking papers for the coming week. I don't see myself getting depressed anymore on Sundays, trying to get ready for the week and resenting upwards of 8 hours spent on paperwork and lesson plans.
4. The next "new thing" – everything old is new again….Professional development, for the most part. If I had stayed, I would be taking Essential Elements of Instruction for the third time in my career – doesn't matter that I can prove I have taken it already, and that I use the information when I plan classes. I am also spared Restorative Practices and Circles……
5. "Teenage drama." Especially from the girls. Oy, teenage girls and cat fights and gossip. Perhaps not as bad as middle school level, but I have to keep telling myself the frontal lobe is not completely developed…..
6. Sagging pants on the boys. Do you realize just how stupid we think you look? And grabbing your crotch to hold your pants up makes you look even more like an idiot….
7. NCLB – good ole No Child Left Behind, that has managed to remove any joy from learning completely. I can prepare kids to pass tests with the best of them, but that isn't an education.
8. Bathroom on a bell schedule. I gotta tell ya, bathroom breaks with 90 minute classes? No wonder teachers don't get all the water they need in a day. If we save it till we get home in the late afternoon, then we're up several times at night.
9. Unresponsive school districts and wacko state legislatures (yes, Arizona, I'm talking about you…). This is the worst time in my career for teacher-bashing. I'm tired of no support, large class sizes, out-of-date technology, especially when we are evaluated on how we use the technology.
10. Whining students. No more "do we have to?", "that's too much work," "I didn't do it" and ad nauseum.
Ah, retirement!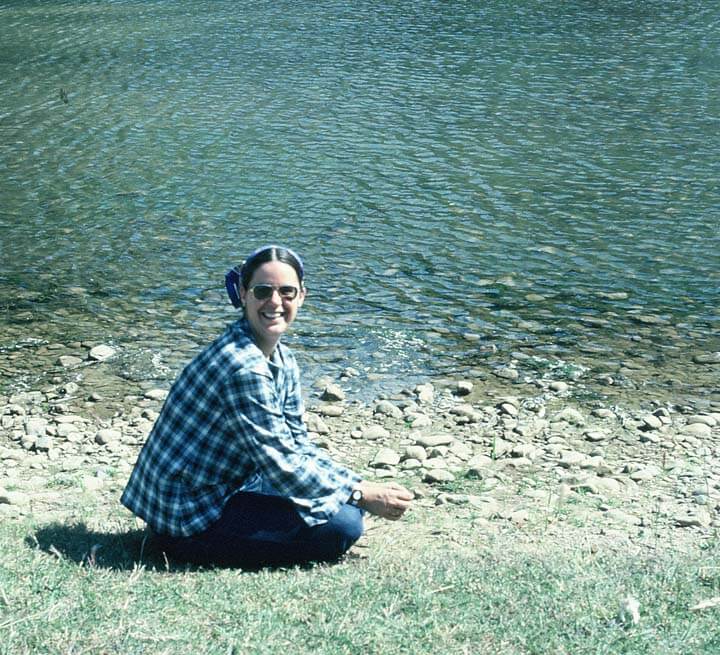 One of my projects that has been on hold these last couple of years has been making sense of all my slides and photos so I can look at them on a regular basis. I am slowly converting all of my slides to CDs, and I have started on all my China slides. There is another post here of other adventures in China. One of my goals is to print a couple of Apple books with my adventures, so I can look at pics very easily….no sorting through boxes and setting up the now ancient slide projector (which I tried to donate, and no one wants it….).
One of the most beautiful places I have ever been is Guilin, China. That's me some 33 years ago sitting on the bank of a river that runs through Guilin.  We all wore lots of dark blues and subdued colors during our month in China, as the Chinese frowned upon bright colors and dresses, anything that was "decadent" western. My trip to China coincided with the downfall of the Gang of Four, led by Mao's wife, and the reopening of China to western influence.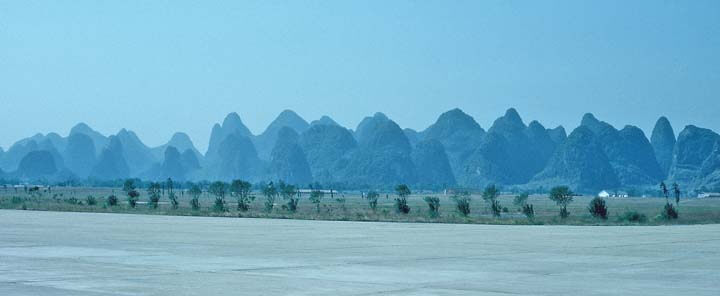 We flew into Guilin from Shanghai, and this was my introduction to the volcanic plugs in this part of China. I fell in love almost immediately, even with hearing combat fire in the distance, as China was at war with Vietnam – a little disconcerting.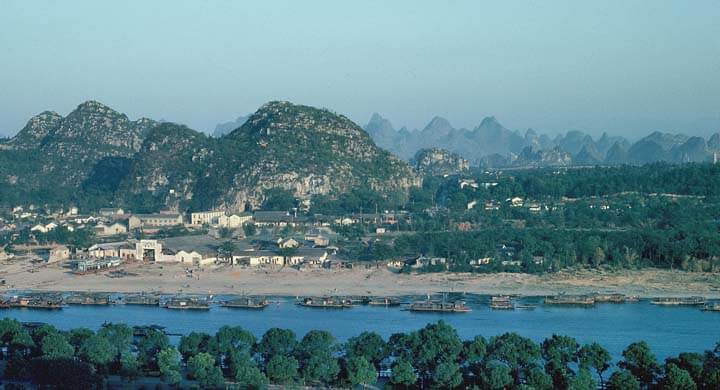 Guilin is on a river, and as you can see, the river was very low. This is one of the views from the top of our hotel. One thing about the hotels – no locks on the doors at all (some 30 years ago) until we got to Beijing, where the concern for theft was with the tourists.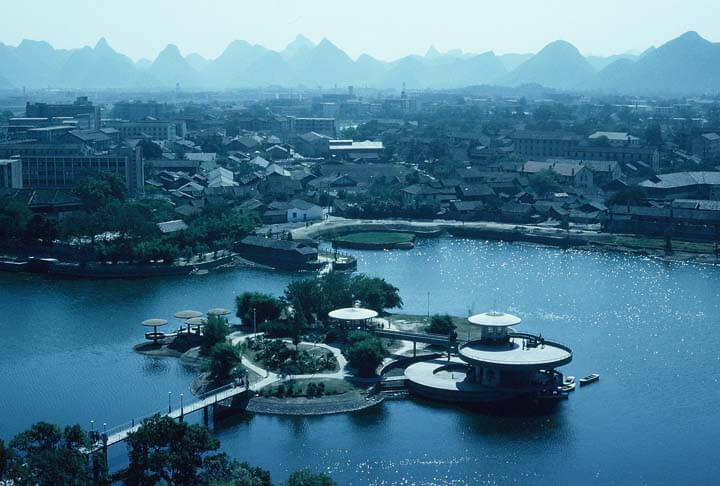 Another view of the city from the hotel in the early morning. We were getting ready to leave on a boat trip down the Li River, so we were up early.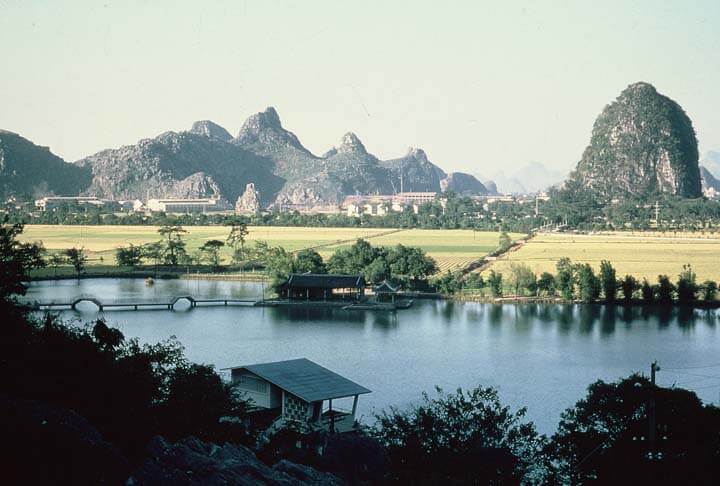 On the way to catch the river boat.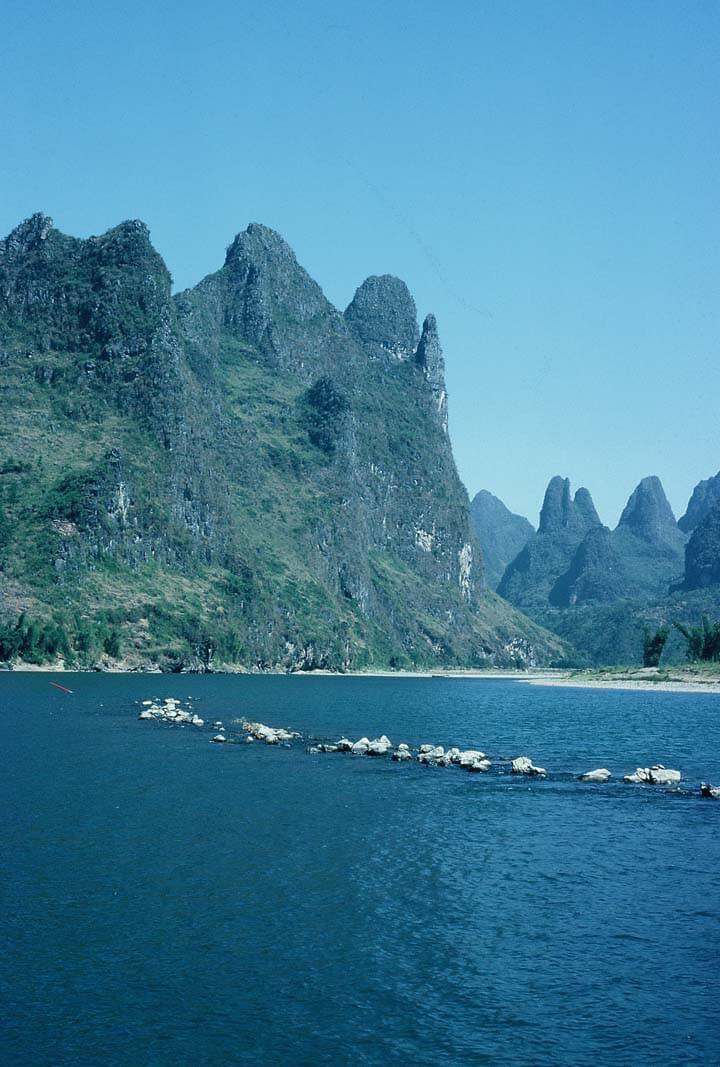 This was a nice relaxing trip through beautiful scenery. One of the guests with us was a leading opera singer, and we had the opportunity to ask questions about her life as a performer, expecially since the Cultural Revolution under Mao.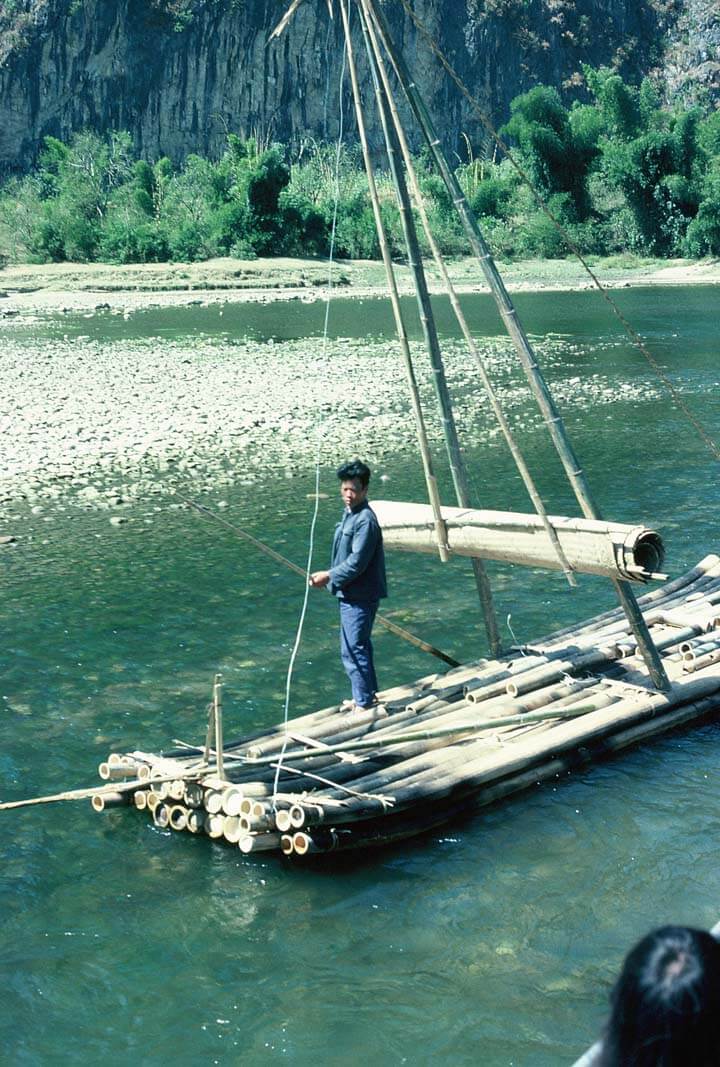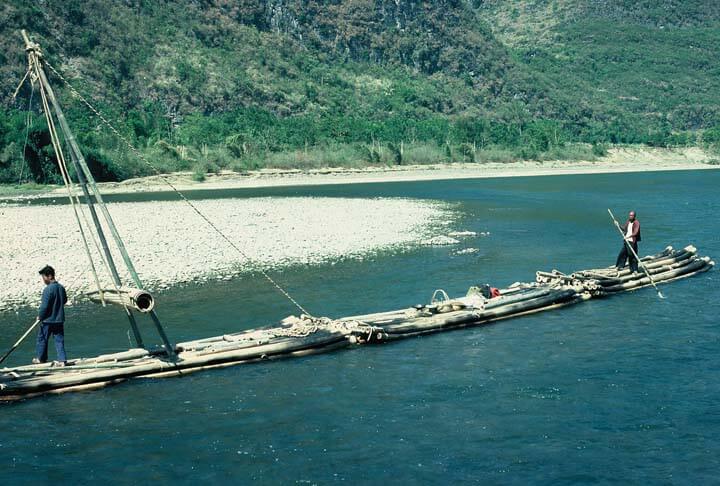 This is one of my favorite photos of this whole trip – another example of modes of transportation that get the job done.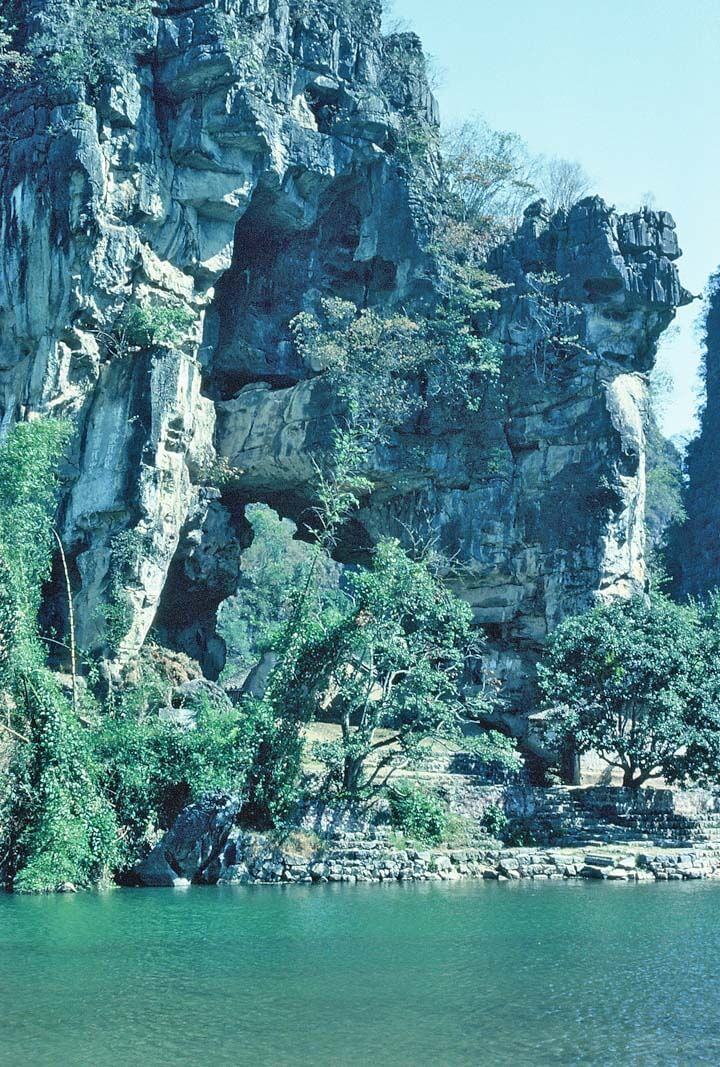 There were all kinds of spiritual spots along the river, names now lost to me.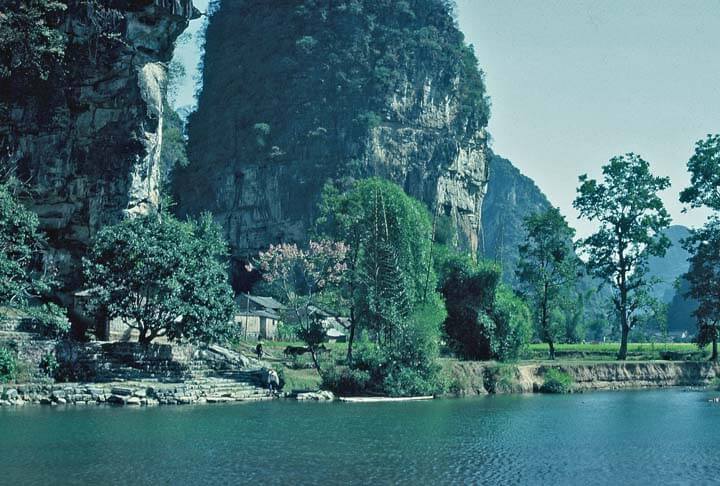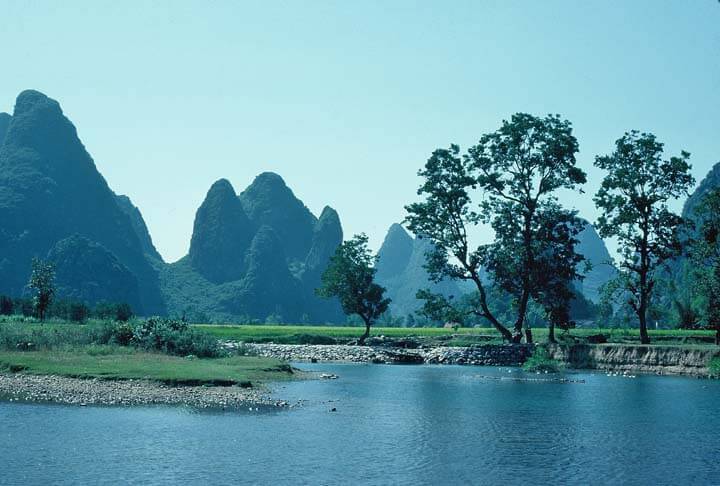 We had a lovely picnic waiting for us in this amazingly tranquil spot.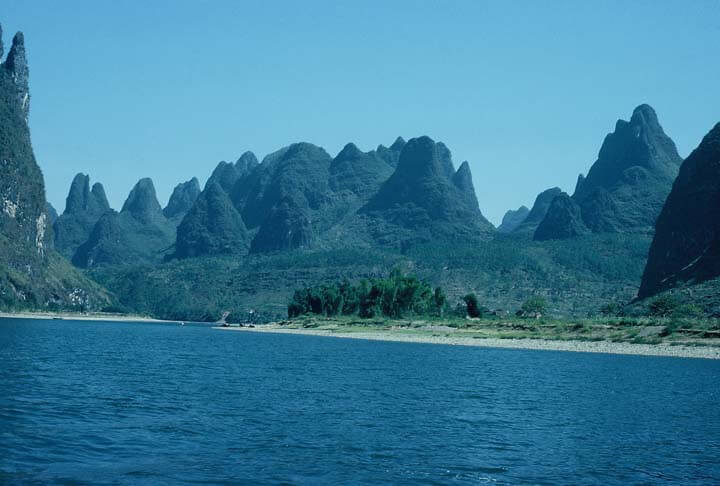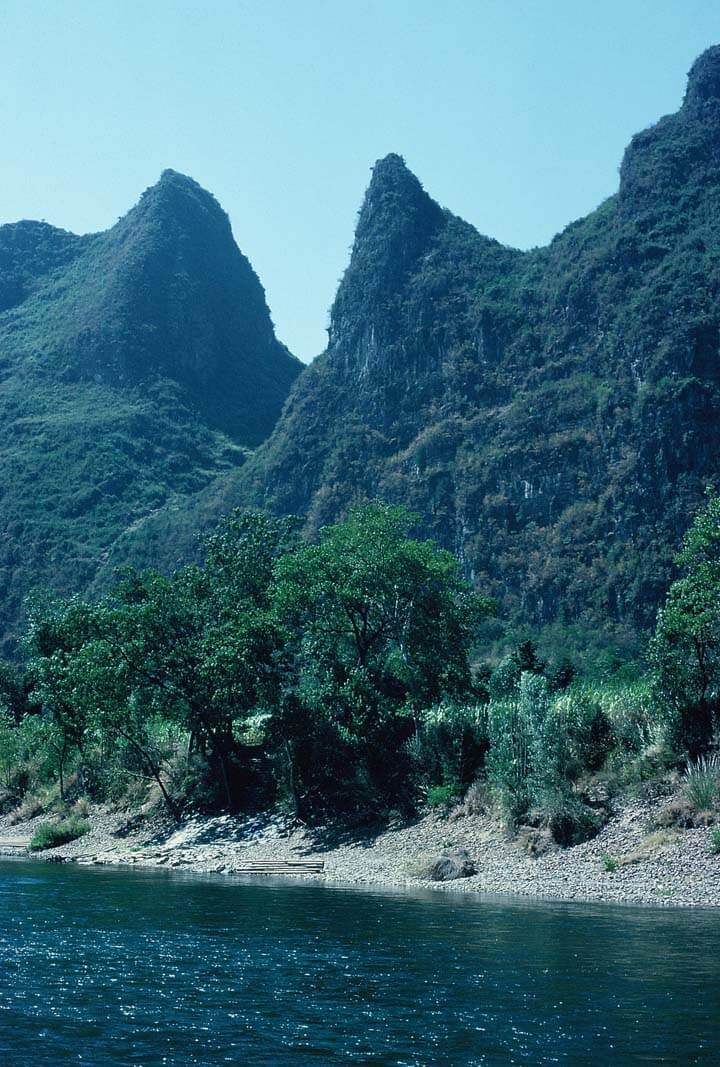 From here we were bused back to the hotel, as the river was too low for a trip back. Lots of fields and farming – countryside that didn't look much different from the Midwest – except for those glorious mountains.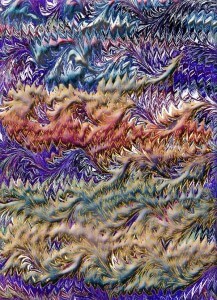 The last couple of months have been difficult, with virtually no art getting accomplished, much to my dismay, and no doubt added significantly to feeling bummed and sad. About the only thing I was able to attempt was some zentangling. The April theme in the Sketchbook Challenge was to "go out on a limb." I interpreted that to attempting to use more color in my zentangles, which met with a small amount of success. The second one that I did brought back to mind all the attempts at art over the years that didn't succeed. I was faced again with my internal need to have everything "look good" when I try it. It is very difficult for me to "try" and see what happens – it still needs to "look good." So I spent some time pondering that lesson, which didn't help my mood much at all.
So April was pretty darn dry. I admired the zentangles of my friend, who is branching out and developing her own patterns. I was really feeling jealous, and by the beginning of May I was ready to pick up pen again. I have no idea what the theme was for May, but I did get productive…some pieces took about 90 minutes to finish, and some went really quickly. I still want to experiment with color to see what I can do.
The other thing that has been keeping me sane throughout the past month was looking on line at lots of new patterns. I knew I needed to increase my repertoire of patterns, and once I got started with new ones, I could see myself making progress with new tangles.With that bit of intro, here goes: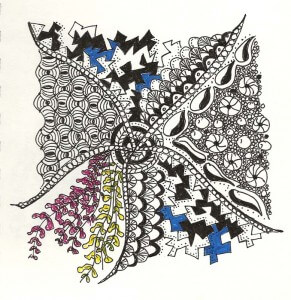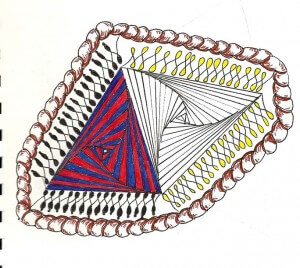 The thing I liked originally with this, before the color, was the way the paradox pattern worked with the two triangles. I thought color would enhance the pattern, and I found it just the opposite – I lost the twisting that I so love in this particular pattern.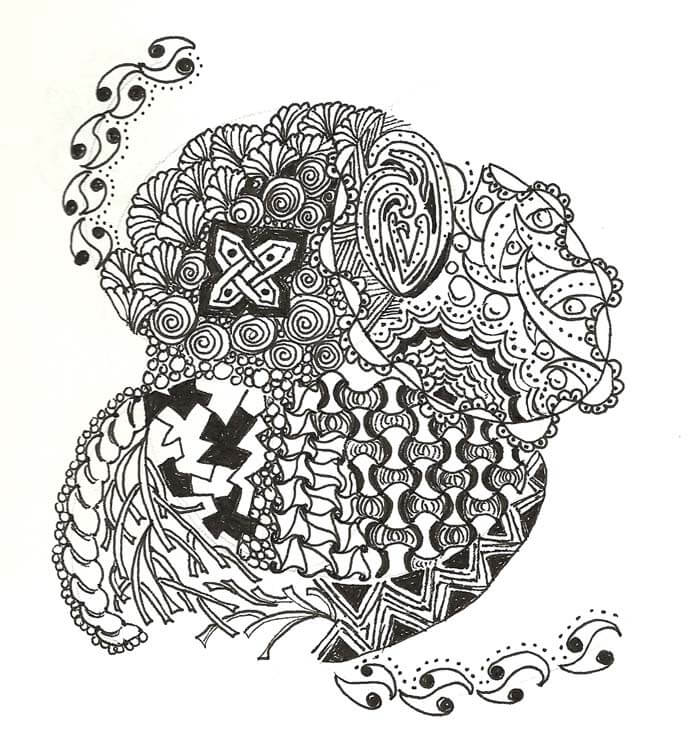 Lots of new patterns in this one.