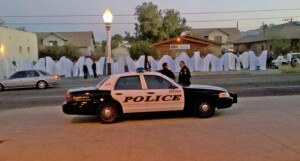 We made it through the week, but not without a lot of extra angst. We planned on Thursday what we would do to keep the kids save if the WBC protested outside out school. It is not easy trying to convince teenagers that doing nothing is the best course of action.
I got to school on Friday at 6:45 AM to find several police cars already in front of the school. That was a comforting sight. Those of us volunteering met in front of the school, only to hear that the WBC members hadn't gotten on the plane to leave Kansas, so good news for us. The police wanted us to stay through the next half hour to help students enter in case others decided to show and protest.
When we went back out, the Angels were across the street. This is a group of people who show to protect groups from the WBC protests. They do this around the country, and specifically in Tucson to keep the families of shooting victims from having to see the hate.
I got tears in my eyes. It was a beautiful site, these people who don't know us who came to protect our students from these hate-filled people. The kids thought they were the "bad guys," and so we were explaining to them this whole situation. A lot of students were convinced they were the KKK, so yet again we had interesting discussions in class, rather than doing a lot of math.
Everyone was tired, and it was certainly difficult maintaining the usual classroom decorum, but as I've said, sometimes systems of equations take a backseat to life. I'm still feeling very raw about everything, but I've been getting good feedback for the Art from the Heart project. I spent a few hours today working on my piece, and I should be able to finish it up tomorrow. It is raw, like my emotions, but I think it conveys a powerful message. I'll have more on that tomorrow.
3 Responses to "The Events in Tucson, Part 4"