Posts Tagged 'graphic design'

Last Saturday a group of us (mostly our Mixed Media group) got together with a CZT – a certified zentangle teacher from the Northwest side of Tucson. With some planning, and some ooh-ing and ah-ing over zentangle designs, we spent a great three hours learning the official way to zentangle, and a whole bunch of us are seriously hooked. Our next arts meeting on March 1 should have lots of new art to look at! We ranged from age 8 to 82 at the party and had a great time – even managed to keep the chocolate fingers off the tiles.
Even though I've been working on "doing" zentangles for over a year, it's only been since this fall that I started looking at official zentangle patterns. I do like working a little large, so my new ones are more a 4.5 square, instead of the 3.5 square. But first, a word about the Christmas presents I did for my second family this year. Two by three inch refrigerator magnets, based on their initials, none of which I have as pictures. For my friend Alison I did her initial as a five by seven, and I left a lot of white space, as her letter A reminded me of the Eiffel Tower, and Alison has lived in France.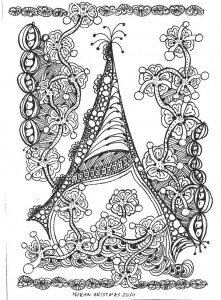 It is delicate and frilly, which Alison is not, but it just has such a great feel, and it was quite a hit. Since I couldn't resist, I also tried a gradient on it (marbled fabric) from Photoshop.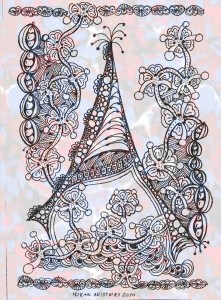 Now for my first "official" zentangle….there are some new patterns that I can see using a lot. I also love the tools for shading to enhance the patterns.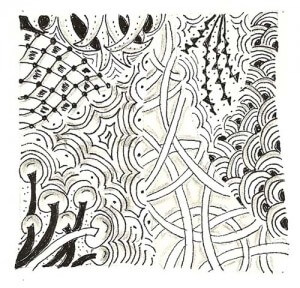 Now the ones I am doing in my sketchbook for The Sketchbook Challenge this year.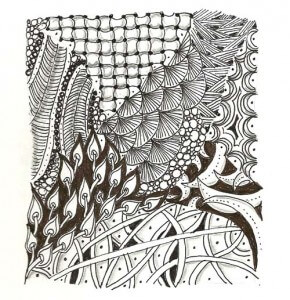 I find on these I am looking at the play of black and white, positive and negative space, and straight vs. curved. Creating a pleasing balance is definitely interesting.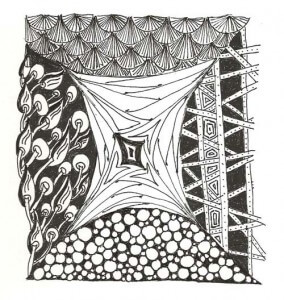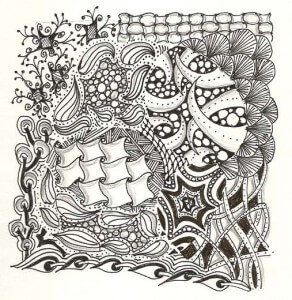 I just finished this last one, and there are a lot more official patterns invoved in this one. I want to look at creating the comedy/tragedy masks for my next one, plus continue to look at lots of new patterns. But the best part of all this is how relaxing it all is. The "zen" part really takes over your process, which is a good antidote to a lot of stress at school this year.