Ten years. It seems very hard to believe that much time has passed and the country has changed so dramatically – and not for the better. The history person inside of me has had a difficult time adjusting to the changes over these last ten years, and most times I cringe when I hear of some new law or policy designed to keep us "safer." I thought in 1991 when the Berlin Wall came down that I would no longer need to think about where to hide in my house to be safe from attack.
Yet on the Thursday after the attack, September 13, my husband and I sat at the dining room table, making evacuation plans and preparations in the light of not knowing anything. He would remain in the house, and I would be on the first school bus out of our school that came to my neighborhood. We wouldn't have to worry about someone on the road trying to find the other. We would use this plan to be together.
Being a teacher during events like these (and like the shootings in Tucson) is very difficult. We are a different type of first responder. We're the ones who have to try to calm and explain what just happened and why. I just wanted to stay home and watch the television and cry in horror. But I had students coming. From 6 AM when I first turned on the computer to 7:15 when I left for school, after sitting in disbelief as a building actually collapsed, I wondered what we would be facing and what we would be saying to kids.
Adolescents want to know the "whys" of events. There was no way there would be science lessons that day. The kids wanted to be at home with their parents. They wanted to watch television. They wanted to know who hated us so much. They wanted to know how buildings could just fall down. On the playground at lunch that day they ran for cover when an Air Force plane flew over the city. I went home drained, wanting to know more about what had happened, wanting to hold my husband, wanting to cry. Any teacher who is good knows what days are like when you try to help kids make sense of a tragedy – when there's nothing that makes sense to begin with.
My parents' generation had Pearl Harbor. My generation had President Kennedy and now the Twin Towers. I watched and listened as events unfolded over the next couple of weeks. I read a variety of articles about the causes. I was called un-American by family members because I wouldn't say Freedom fries, or I disagreed with Bush's call to go shopping to maintain normalcy. I looked at all the missed opportunities we had to make a new way in this crazy world to honor those who had fallen.
We all cried for the dead. The children on those planes, the people in the upper floors of the Towers, folks on the hijacked planes making their last phone calls. Thinking about the people manning the 911 system in NYC and what those three hours must have been like for them. And each hour that went by on that day brought more and more horror to us.
I won't be watching memorial shows today; those images are forever in my mind. I'll spend the day thinking about the things we each can do to make this world safer. It doesn't involve guns and wars and oil and seeing who has the most. It's about knowing where we've come from, who we want to be as a people, and how all of us around this planet can come together to build a safer world before it's too late.
It was a horrible day.
I leave you with a few interesting views about those events. If you choose to comment, please remember that our Founding Fathers (about as "American" as you can get…) believed in civil discourse and discussion and compromise. There is room for everyone at the world table.
The Sad Legacy of September 11
The Legacy of 9/11 and the War on Intellectuals
After 9/11 Was War the Only Option?
September 11 Lessons: Combating Ignorance, Avoiding Arrogance

One of our regular stops is now the Mingei Museum in Balboa Park. They have the best exhibits! The "Bold Expressions" exhibit is African-American Quilts from the collection of Corrine Riley. They reminded my of the Gee's Bend quilt exhibit I saw in Houston about 8 years ago. They're utilitarian, basic, practical, and a simple beauty in their creation.
"The exhibition showcases more than fifty quilts made throughout the American South between 1910 and the 1970s. Stunning color combinations and distinctively free patterns epitomize an artistic vision that is unique to the American folk art tradition. African American quilts, made entirely by women, are celebrated for their bold improvisation and modern take on traditional quilting patterns, such as the House Top or Log Cabin, Star of Bethlehem and Pine Burr. Many of the quilts are made from materials that were readily available to the makers, including flour sacks, old blue jeans and work clothes and fabric remnants. This early form of recycling and reuse was a necessity that became the foundation for unique expression. The exhibition will also explore a variety of construction techniques and quilting." (from the exhibit)
I took a lot of pictures, as some techniques really struck a chord with me.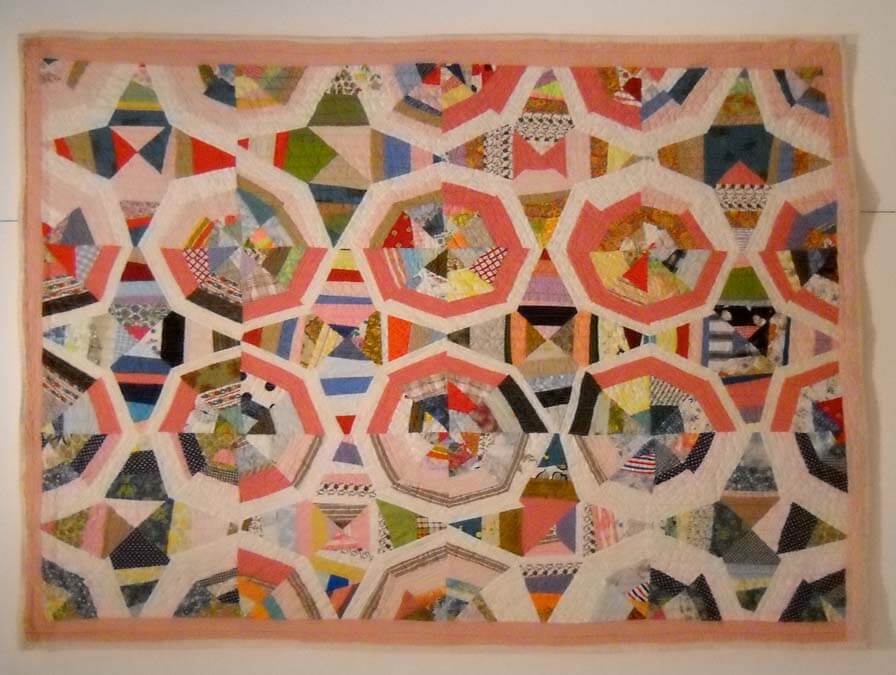 I liked the color and secondary designs that were apparent in this one.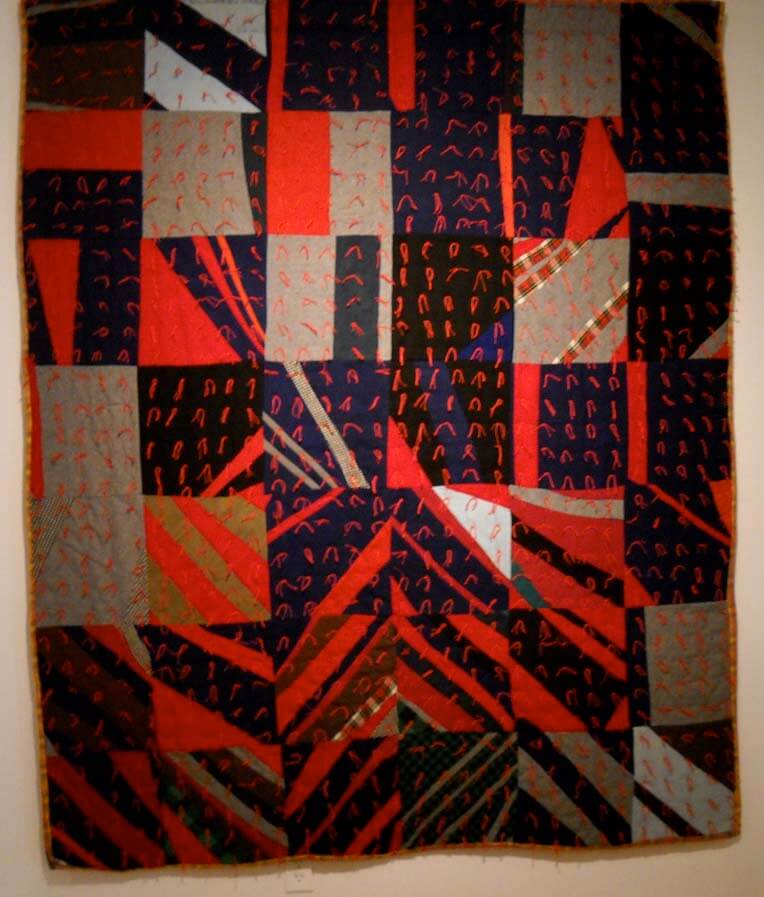 What struck me with this quilt was how much the ties became part of the overall design. I've always looked at the ties as something toat should not be obvious, but I did like what they did to this quilt.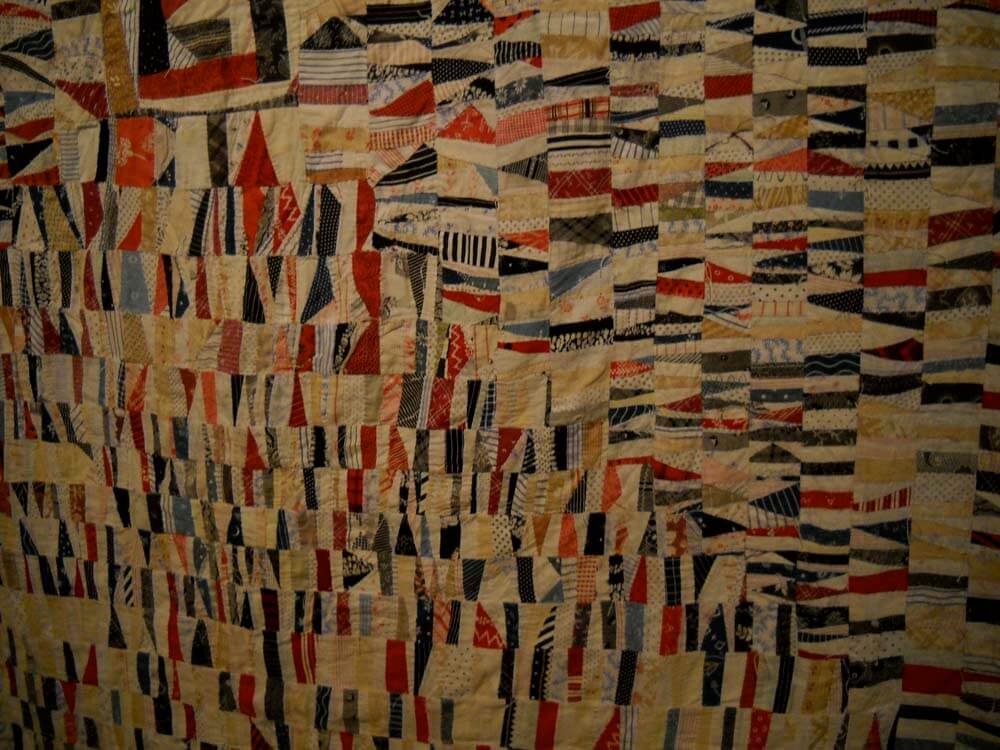 Look at all those little pieces pieced together…..I love seeing remnants of shirting fabrics.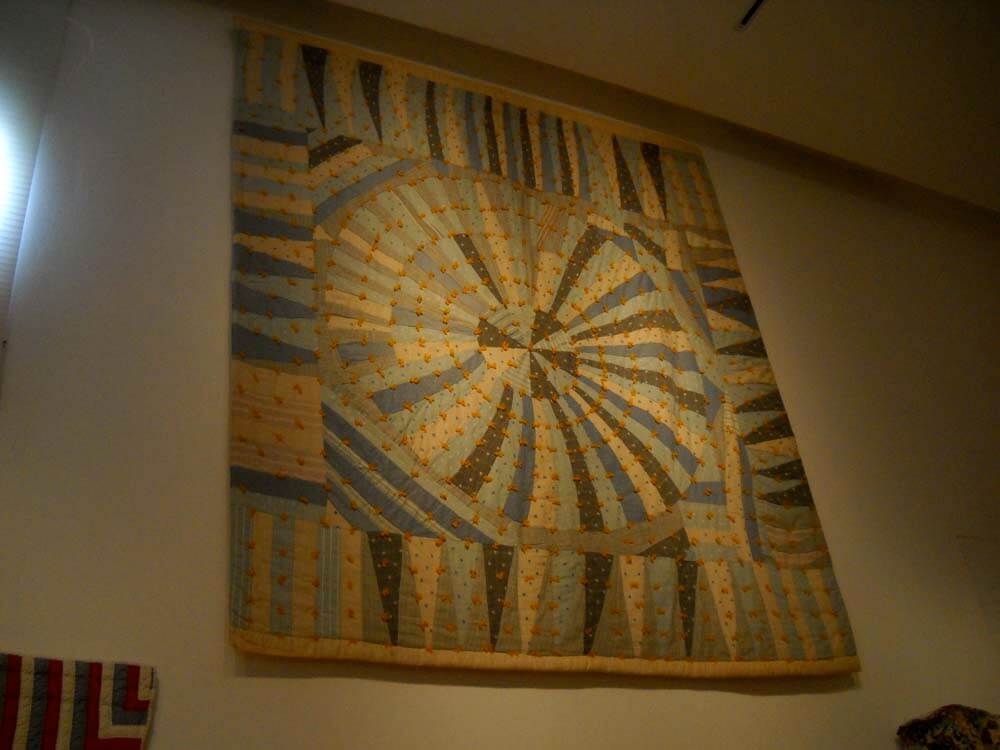 Once again with this quilt, I love the secondary design from the quilt ties.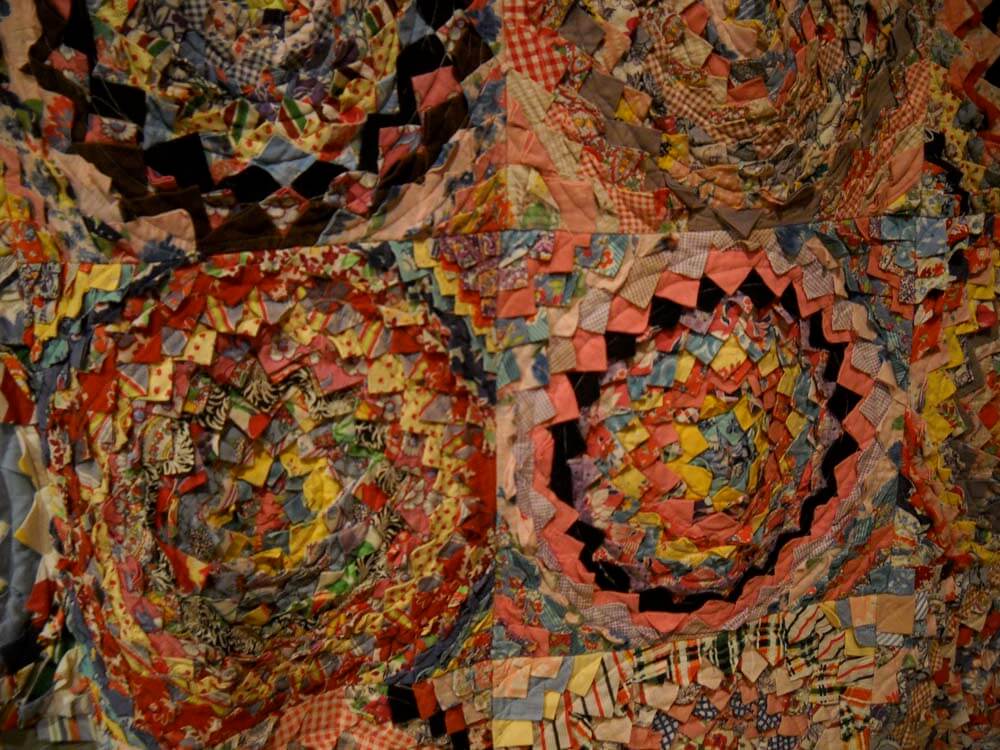 Prairie points – tiny tiny prairie points!!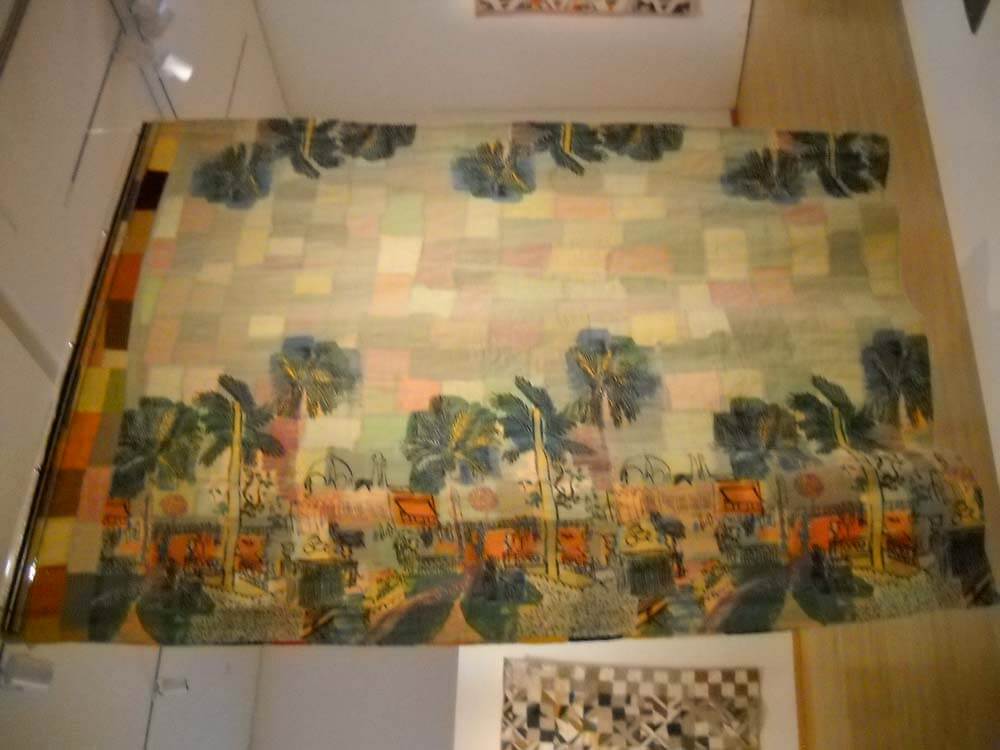 Love the backing fabric on this one.
Also in the museum was Maneki Neko – Japan's Beckoning Cats.
"Made in the nineteenth and twentieth centuries, each cat is unique. Most are made of clay, but some are wood, metal, ceramic and papier mâché….Since the Edo period (1603-1868) a fabricated cat with a paw upraised in the Japanese gesture of beckoning has been considered a good luck charm, drawing good fortune to individuals and businesses.  Maneki neko are common sights in local Japanese and Chinese restaurant windows, where they silently beckon to potential customers." (from the exhibit)
Something I had no idea about, but I began to get a sense of where the "Hello Kitty" craze might have come from. I fell in love with this piece of furniture – absolutely scrumptious!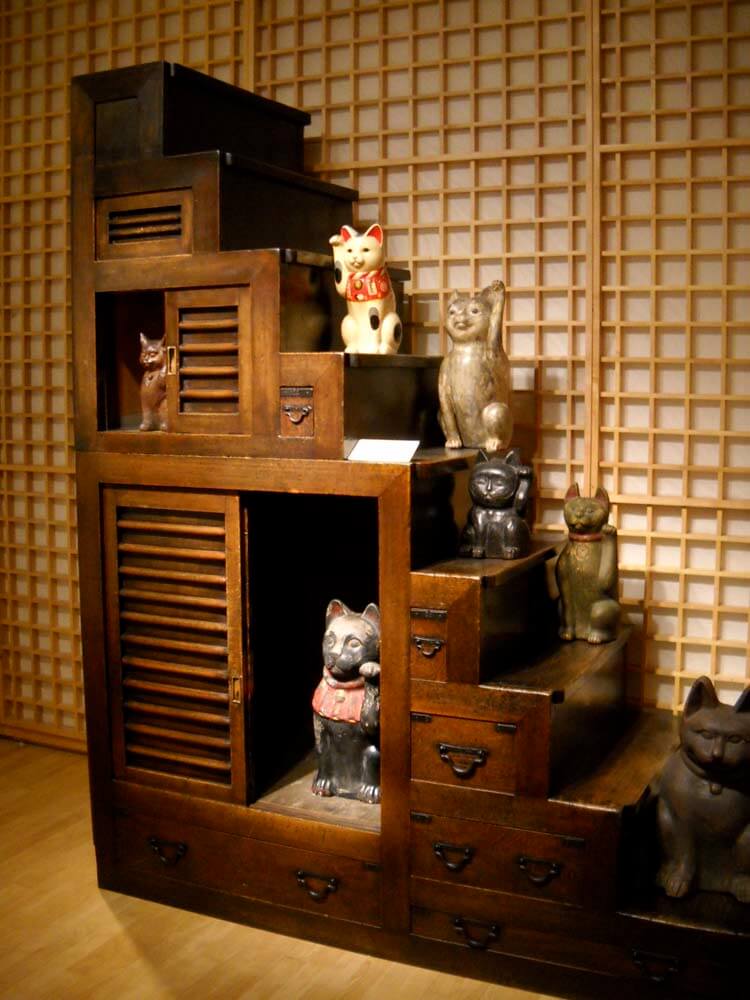 A third exhibit we saw was "In Their Own Words," classic and contemporary Native American Art. Billy Soza Warsoldier has some amazing wolf paintings – you just get lost in the palette knife work – such a large amount of paint, and every stroke adds to the finished piece.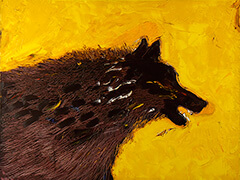 The Gallery shop here is one of the BEST I have ever been in. I settled for a picture of the cats on a great piece of furniture. I could spend a small fortune on books in this store!

Next time – the Visions Museum…..oh my!

Busy week at the marbling ranch….getting ready for a marbling session tomorrow – lots of leaves for our holiday baskets, new fat quarters, and some ribbon coming. In the meantime, here are some goodies available now in our various shops.
On Ebay this week: some great remnants. These are hand-marbled Kaufman cotton remnants,  fifteen (15) pieces, in  assorted colors and designs.  Sizes are 3×6, 1×9, 8×9, 5×8, 4×15, and 6×17 inches.  All pretreated, heatset,  and preshrunk – ready to go for your project. Perfect for art projects,  scrap booking, quilt blocks, doll clothes,  book marks, embellishment,  accessorizing.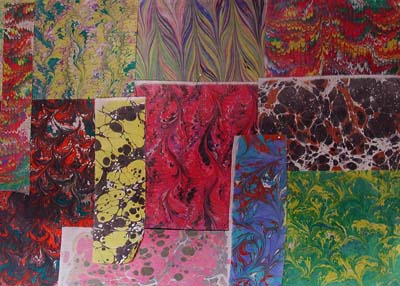 On Etsy this week, a really gorgeous piece of hand-marbled crepe.

Hand-marbled silk crepe fabric in a contemporary wave pattern. Size 10 by 28 inches. Edges are serged solely to prevent raveling. There is so much movement to this piece, and the colors are summer-bright. You can use this for a center medallion, for applique flowers – nice and bright for a basket design! Fabric is pretreated and heat-set – ready to go for your project. Also perfect for ATCs and small art works.
Also on Etsy, a unique table runner, made of a batik that is machine quilted, edges serged, and then woven in strips for this look.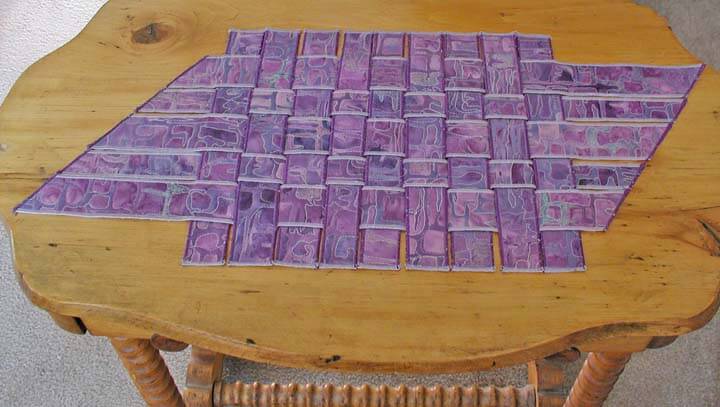 And on Cafe Press this week: our best-selling journal. One of our most favorite Digital Marbling (TN) pieces on the front of a journal. With the increase in personal journals, you owe yourself a great design!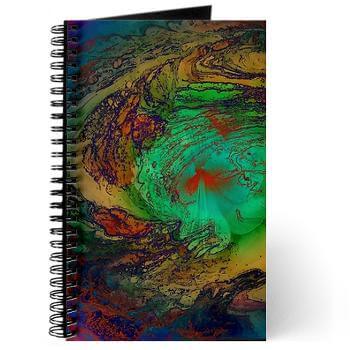 Go ahead and browse – you never know what you'll find! Start shopping early.
Don't forget our coming Holiday baskets – perfect for the artist or crafter who needs some unusual goodies. More on this next week.

I am making a serious effort to finish any new piece I start – and that includes backing, signature, binding, hanging system, and anything else – oh, pictures. I started three smaller pieces since retiring the end of May, and I am happy to report that as of yesterday each one is complete. Absolutely positively complete. I still have a huge cubby filled with UFOs, but I am certainly making progress. In fact, I spent last night working on the start of thread painting for the newest piece for my Quilt University class. More pics on that later – it's looking pretty cool….but I need to buy more thread…oh the problems we have….
In the meantime, here's the finished version of my rhythm piece. This started as a piece of hand-marbled green silk that I attempted to quilt about eight years ago. It wasn't working. But my skills are improving tremendously, and as a result of one earlier class, I wanted to see if I could accept the movement in the piece with the wave design. Here's "Rhythm of the Wave," complete with a few added seed beads.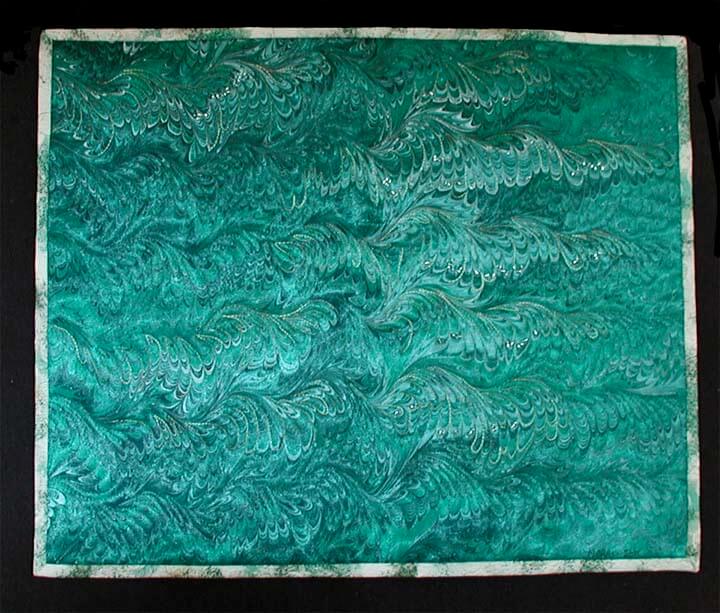 Here's a closeup: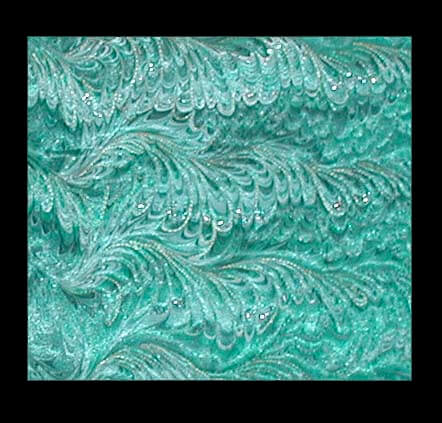 Overall I accomplished what I wanted to with this piece. It will go up in the Etsy shop in the next few days.
Also completed is my "Explosion" piece, based on a new marbling pattern we tried. My goal here was to accent the movement from the center of the piece outward, which I did with lots of diagonal stitching. Again, I'm pleased with the results. This wil also go up in my Etsy store.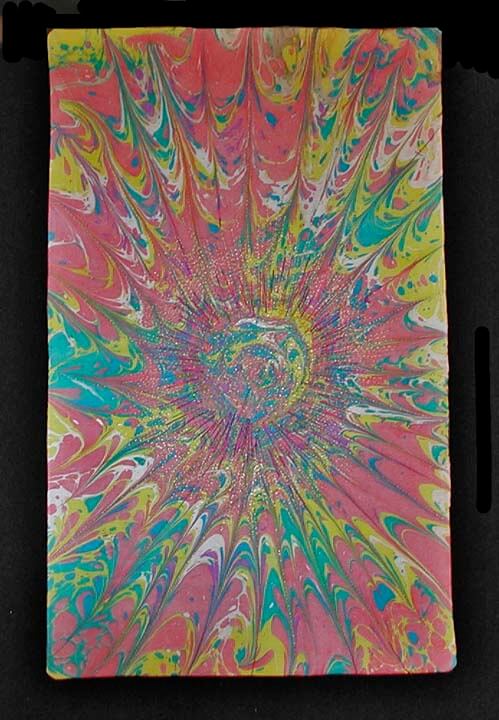 And finally, a piece I completed for a show coming up in Tucson – there will be more details on the show once it opens. This piece is a look at the devastation of oil spills. What starts as a beautiful garden is stlowly destroyed by the effects of oil – called "Insidious Oil."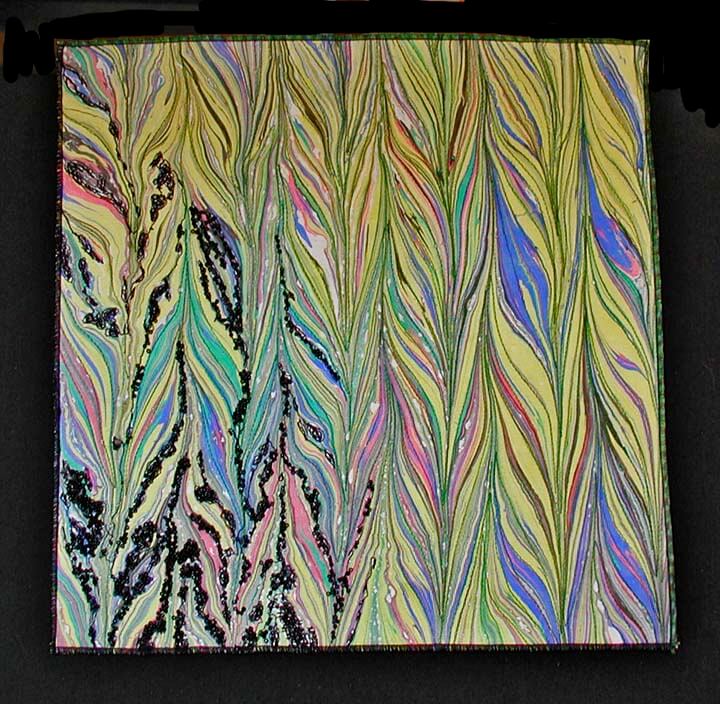 Here's the statement:
As a trained historian, I always see the past and the future in environmental events. As a fiber artist, I feel challenged to take an ancient medium and create a piece that speaks to the environment.
Oil is an insidious liquid. We need it for so much of our daily lives, and yet it can be so destructive. The discovery of oil in our past has enabled us to have the current future. But an oil spill destroys for decades, from wildlife to the water table. This piece of fabric has been marbled, using a centuries-old process of floating paint on water. The beauty of the design reflects the joy we find in a garden, a flower bed, a landscape, or the wildlife that calls a piece of land home. But oil can run away and destroy that which is so beautiful. In a spill the oil creeps through the cracks, crevices, the waterways, looking for a new resting place. It works into the land or water and remains for decades, fouling the life around it, destroying the very fabric or life, much as the black threads do to this marbled garden.
As always, I am interested in your comments. I'll post more on the art show once it opens and I have pictures from the reception.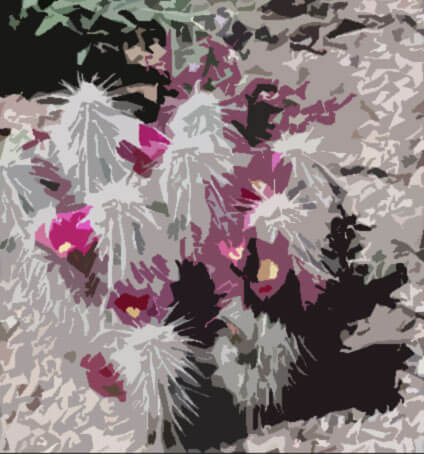 To start us off this week comes a post from Dumb Little Man on productivity – stating that multi-tasking is a myth. I tend to agree, now that I'm older and can't do what I used to….Number 6? Exercising regularly…….
Tips for pricing your goods – a series of articles from Handmadeology.

Another "shoot-out" from JPG magazine – some really gorgeous eye candy.
A new blog I discovered – Delete Apathy – with photos of Hurricane Irene.
"Delete Apathy is a venue for creative people to change the political climate of environmental and social policy. We hope to form a pattern for activism in your backyard. Delete Apathy is our signature for various events and includes choreographed dances, musical compositions, and other fine arts, planned for major universities and institutions."
I drove Highway 12 on the Outer Banks for many years. Just one of the places I've been or have friends.
For zentangle lovers, some of you may have struggled with Paradox. I did, until I started being slower, more deliberate, and turned my tile more often. Well, from CZT Margaret Bremner comes a wonderful tutorial on Paradox.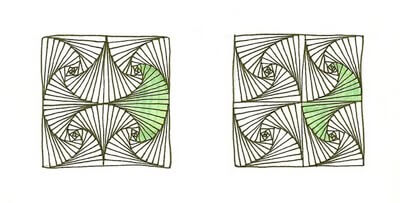 From Joan Beiriger's blog comes a post on licensing for calendars…something that has been on my mind as I organize my various collections.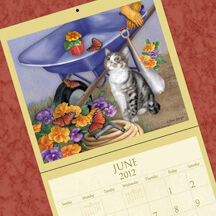 And along with this is Joan's article with a list of over 50 US art licensing agencies. Some great info here.
A little bit of fun with this video – could you see the pranks you could play??
From the OMG file and Cool Hunting – they always spotlight really cool gadgets and new products. Can you find the one that prompted me to go OMG?

And from Kate Harper Designs comes a cool video on typography – extremely interesting, as is everything on her blog.
Send me your cool stuff – it's amazing what's out there, and let's share what we find.

Oy, sometimes ya just need to be hit with the proverbial two-by-four….For YEARS we have worked on product with our marbled fabrics, and we have also tried lots of different venues for arts and craft shows. Some product has worked, which has been good. The art and craft show circuit – not at all. We invariably lose money. We take framed work, digital work, fabrics, digital cards…..nothing sells because most people don't have a clue what to do with the fabric.
Now we're working on putting together our gift baskets for the holiday season. We know that we can keep these going year round by keeping the hand-crafted bowls a fairly neutral color, as well as adding in some seasonal items. It dawned on us, as we threw away the latest offer for a holiday craft show, that all we could really bring was the baskets.
Well, duh. The baskets all along could have been the seller. All in one place, items for that family member that can be hard to buy for. Shrink-wrapped. Lots of goodies. No worry or muss. No explaining how to use the fabrics.
And then….as we're talking about maybe choosing a couple of shows for next year, it occurs to us we could offer the gift baskets in two sizes, small and large.
Duh.
All these years, staring us in the face, and we never saw it.
Sometimes we work so hard and miss the obvious. Right now I'm pretty irritated with us for this having taken so long. But on the other hand, now we have a great new product that should work long-term and give us a lot to build on for more stuff in the baskets. Who knows what else we might have missed along the way?
Suggestions?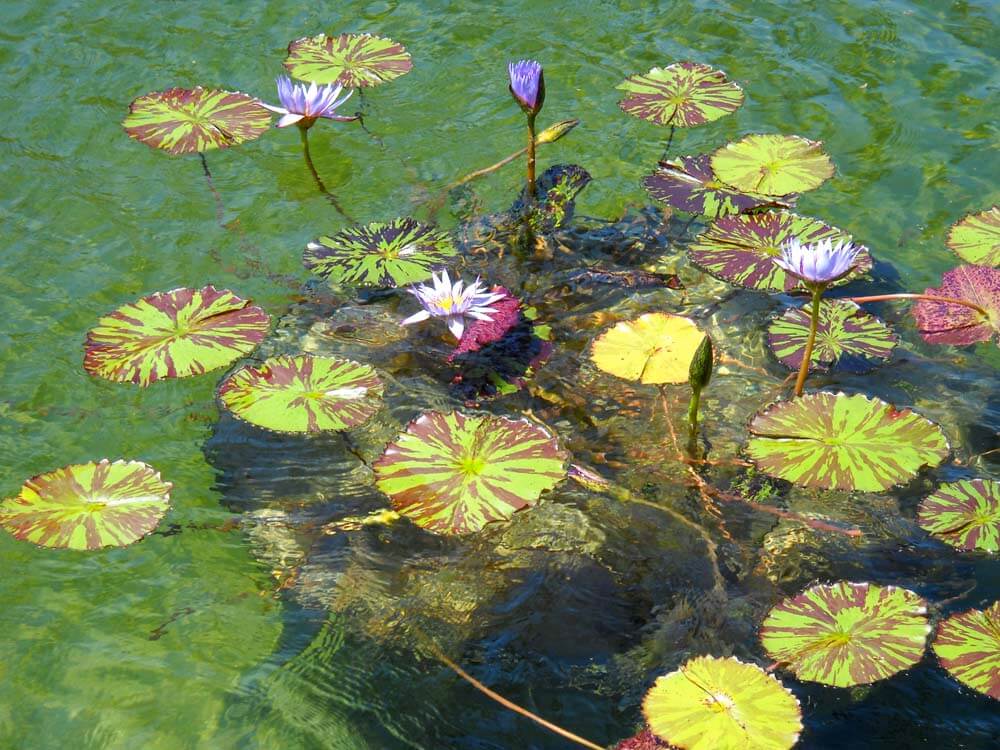 This trip to San Deigo has been postponed twice, so we were REALLY glad to finally get there and see water again. Anything with water was our main destination. That and the fact that I am fascinated with texture. I'm thinking that is probably because I have no depth perception, and the vision just keep getting worse. So when I see texture I am absolutely fascinated by it.
As in this picture of water lilies in the reflecting pool at Balboa Park. I have never seen the pads with such striations to them. They were really gorgeous, and the only lily pads in the whole pond that had the multi-colored leaves. This would make a great quilt….
Water was the most important element to this trip, and we had a motel right across from one of the MANY marinas. Plus, as soon as we checked in, we headed to the point of land where Cabrillo landed, Point Loma.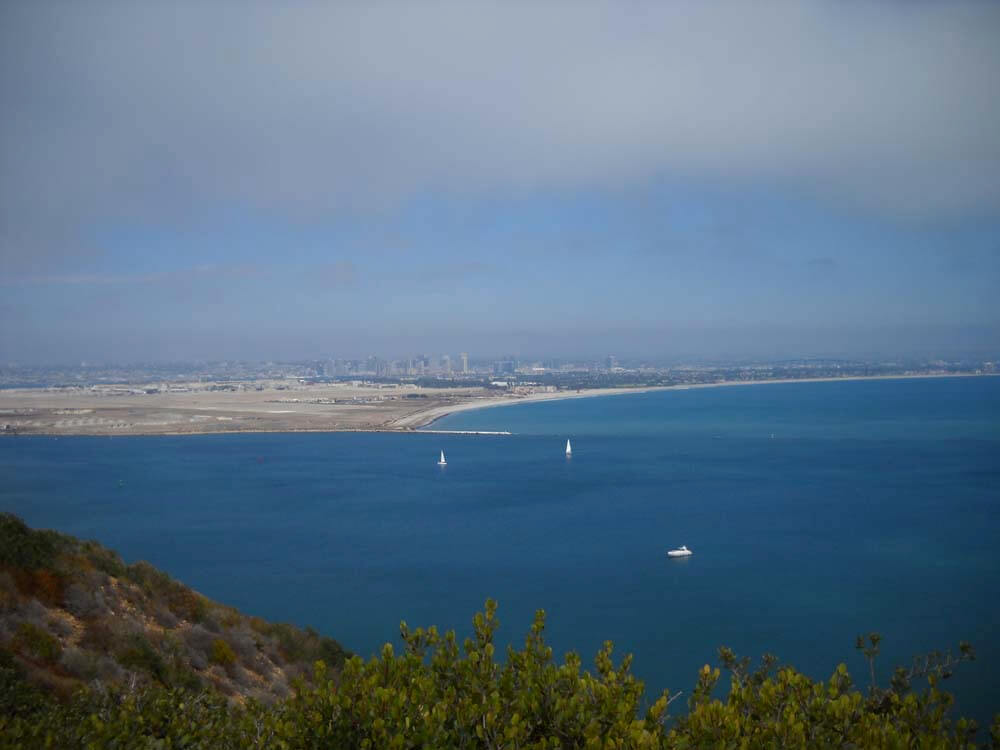 I did not adjust any of these photos – my camera really captured the wonderful colors and weather. This is looking southeast from Point Loma, with the naval base on Coronado in the foreground and the skyline of San Diego barely visible. That water had some of the best shades of blue I've seen since floating back from Lanai in 1996.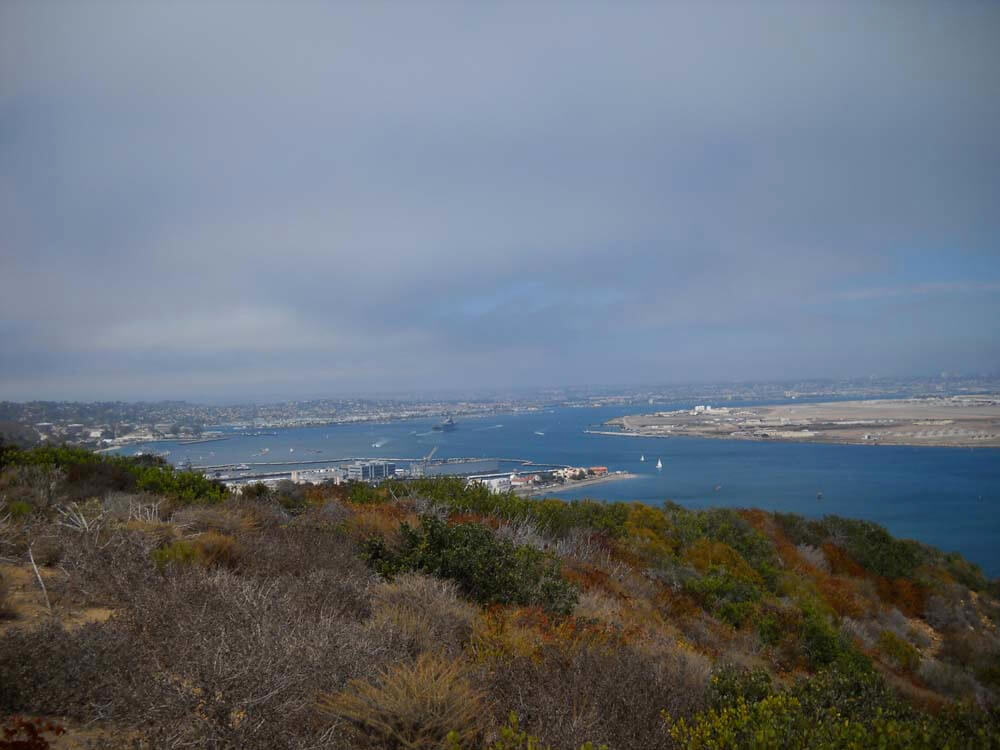 Love the different colors of all the various flora and fauna.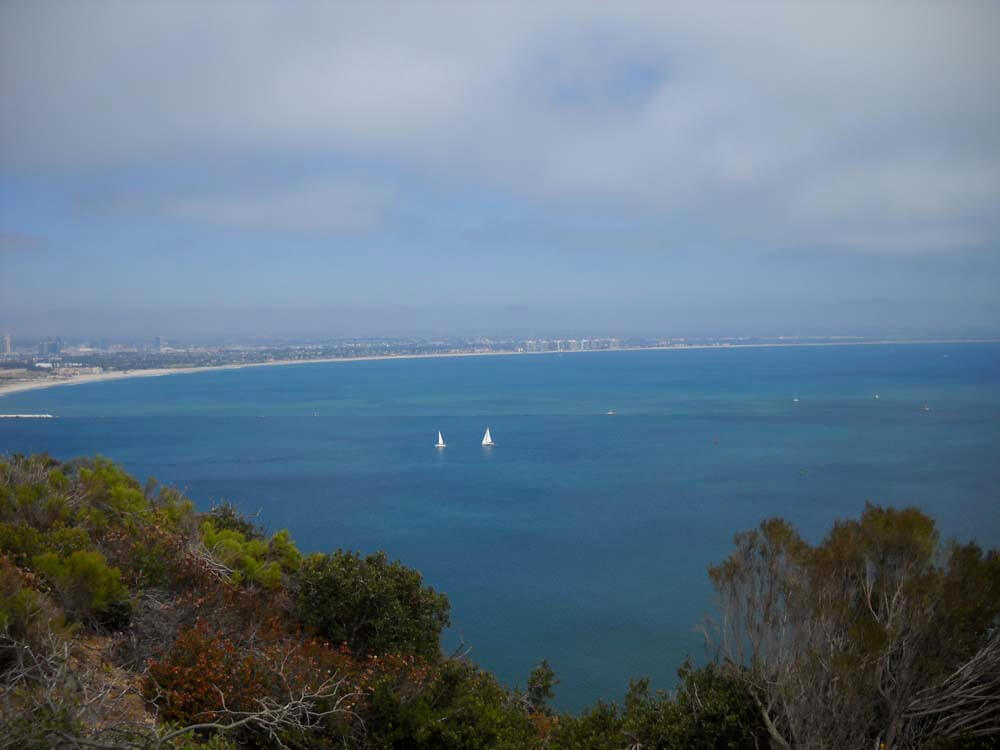 The wonderful beaches of Coronado.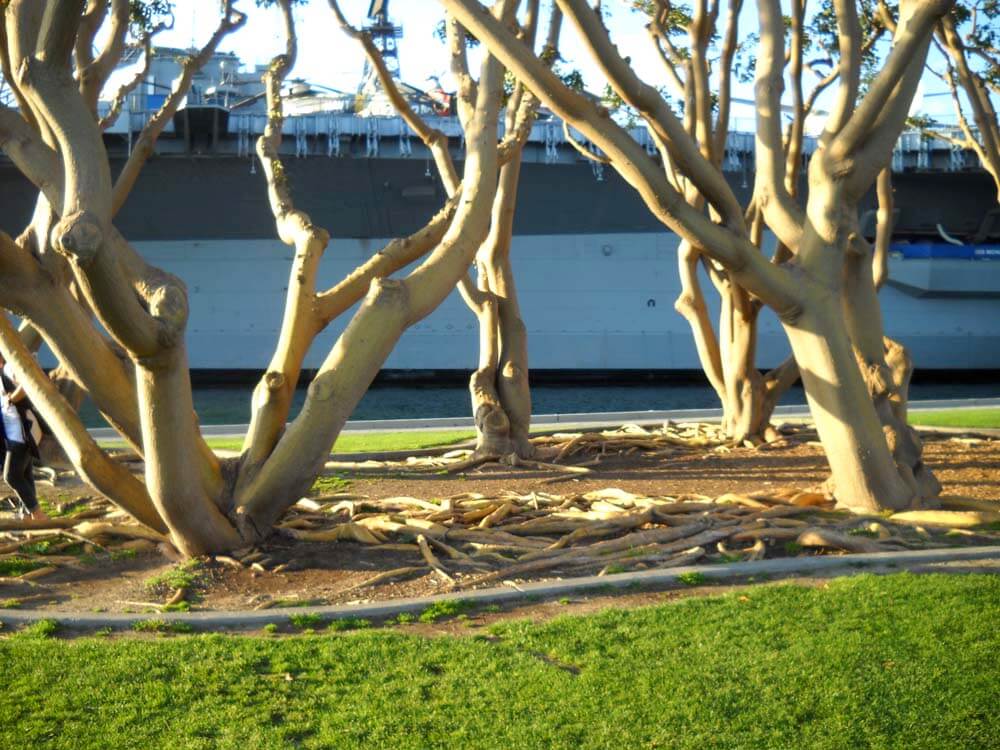 Look at these trees! This is at Embarcadero Park, at the base of the aircraft carrier Midway.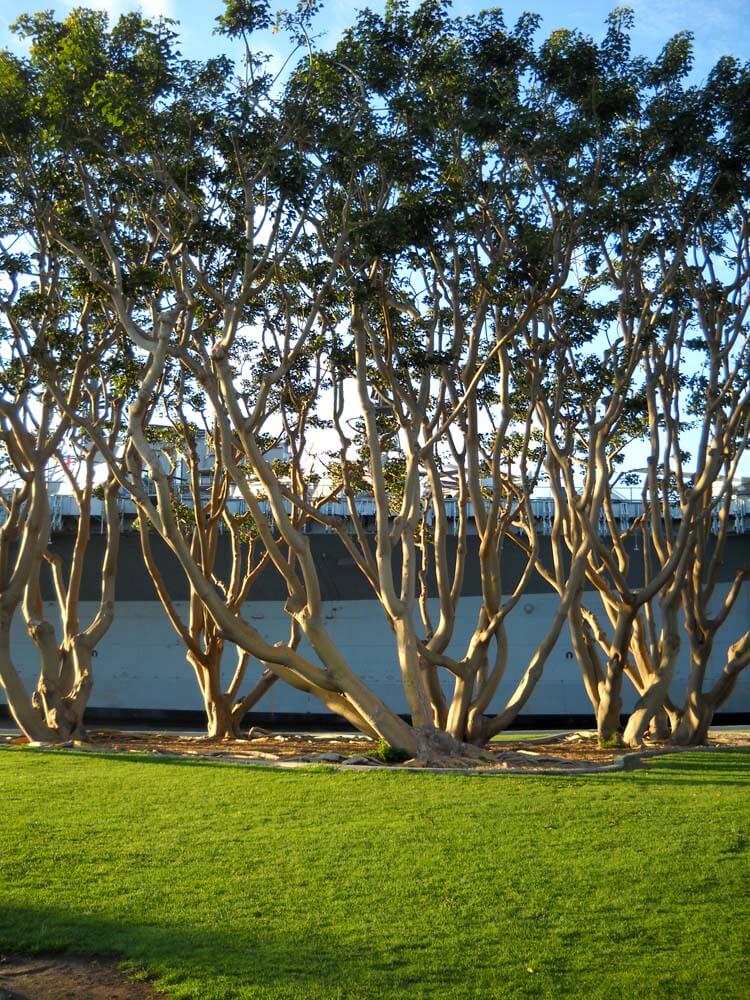 The memorial to the work of Bob Hope and all his USO tours – quite moving, especially at sunset and in this setting.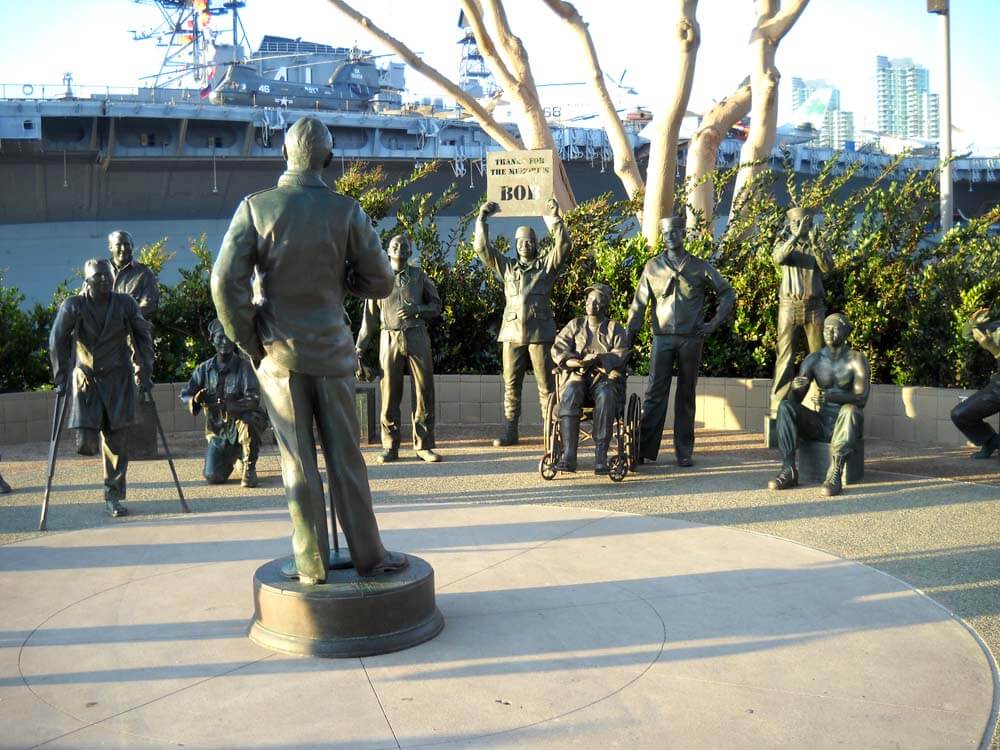 At the park at Seaport Village, looking south towards the Coronado Bridge, just at sunset.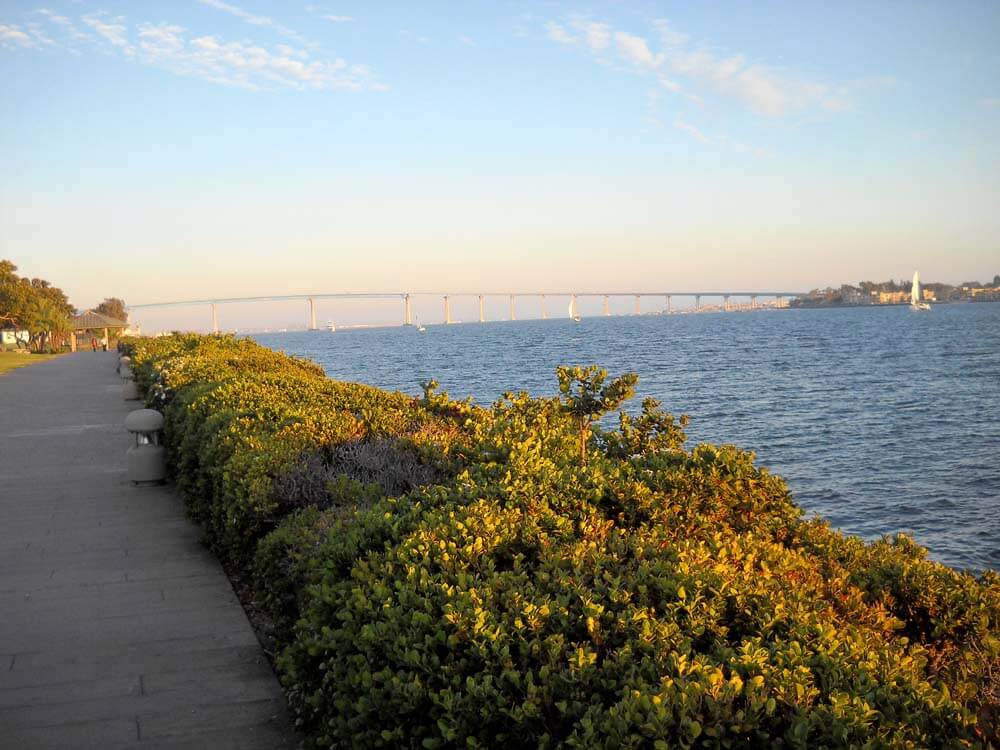 Looking west to Coronado as the sun starts down below the persistent cloud bank.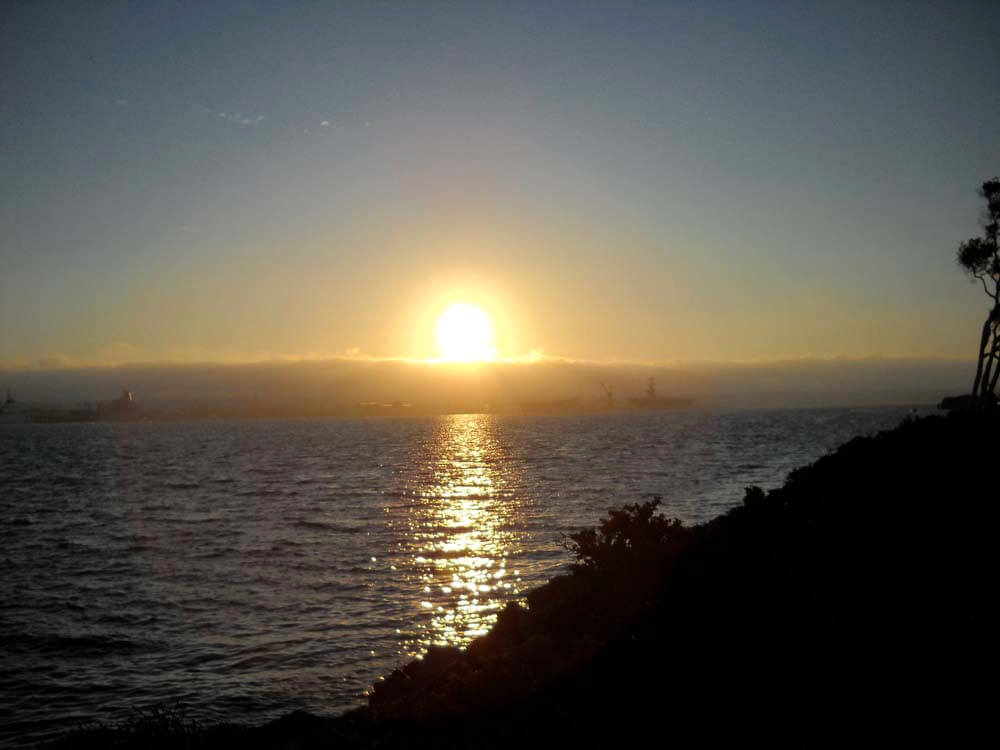 I waited two years to get these pictures of these palms at the Prado Restaurant in Balboa Park – the first time we were there – no camera with us!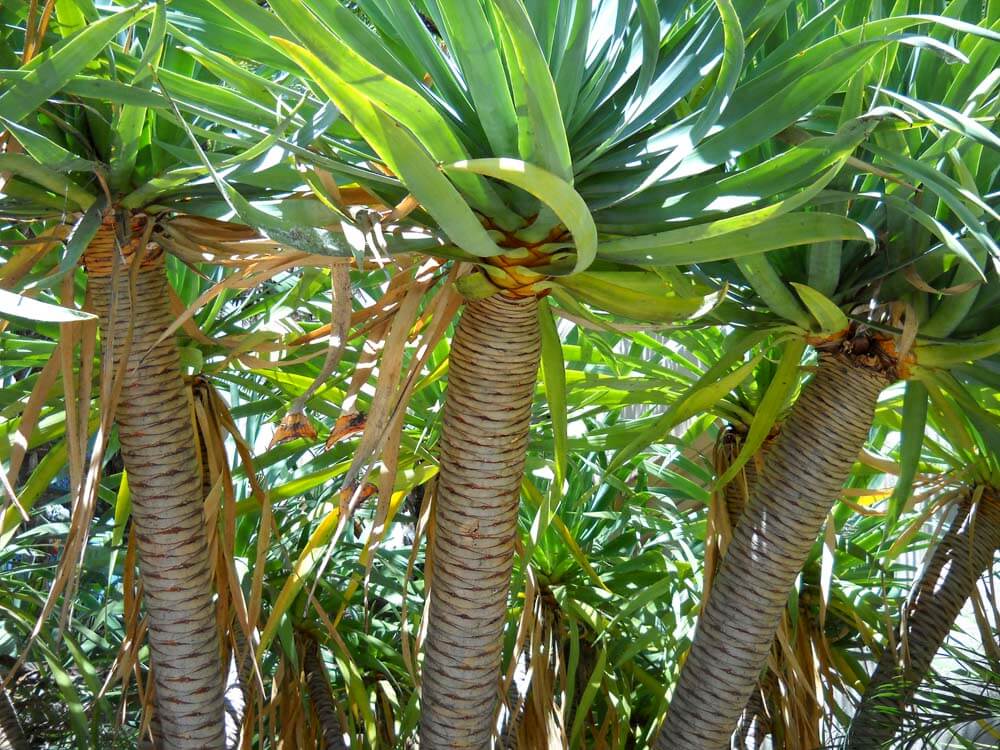 The only touch-up in this photo was removing the security camera – the detail is just too gorgeous – this is part of the facade for the San Diego Museum of art.
Which leaves us ready for…
The Mingei and Visions Museums……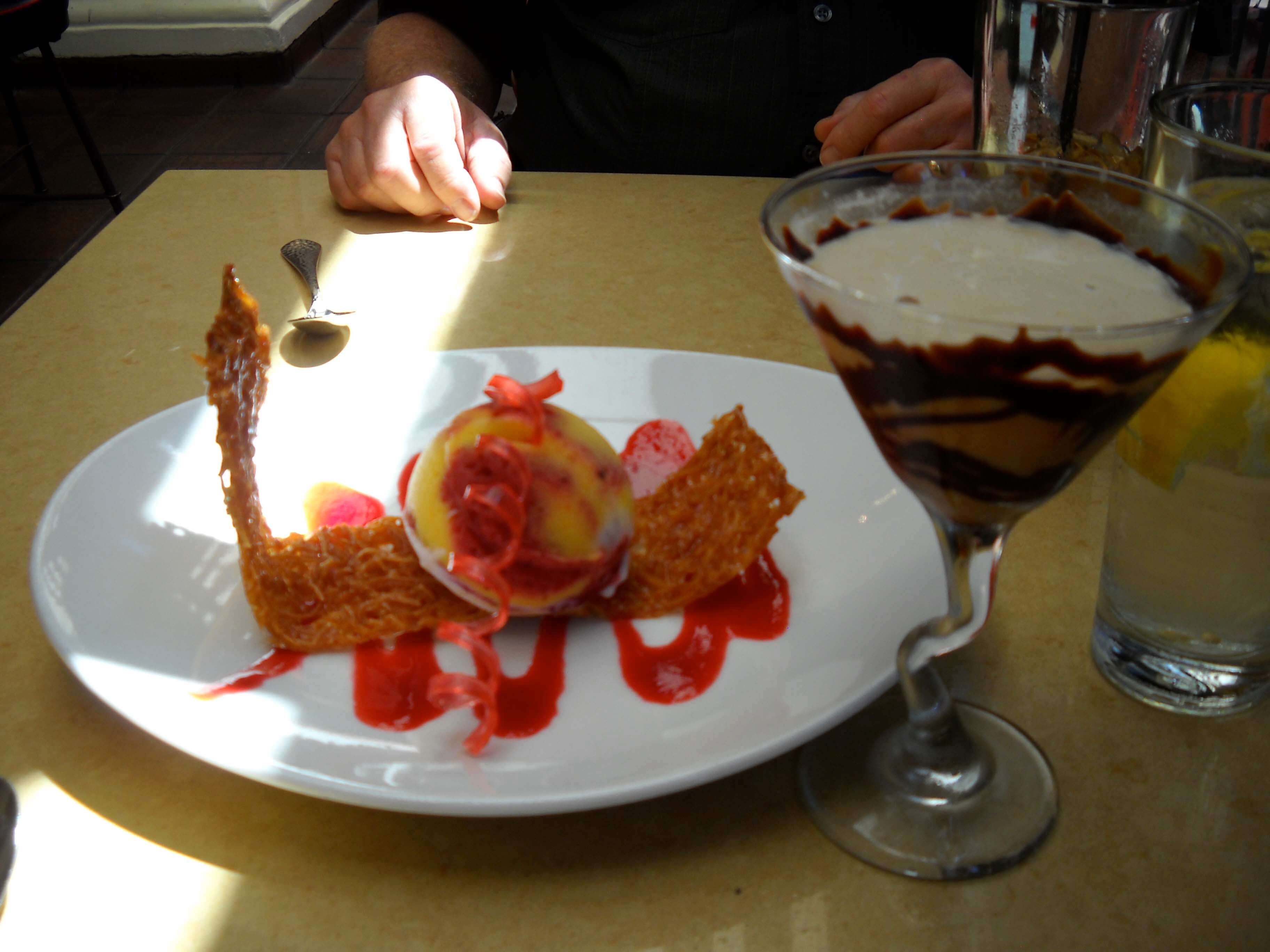 Ah, vacation! We are slowly starting to get some traveling in since I retired. We have plans for September – Santa Fe and Taos, October – Austin, and November back again to San Diego. There's a wonderful restaurant at Balboa Park, Prado, with wonderful food and fabulous service. You're looking at our dessert: a chocolate martini (OMG, amazing….) and mango/raspberry/lemon sorbet with carmelized coconut. Lunch was in between the stop at the Mingei and then the Botanical building.
We are hoping  for a long travel trip next spring to the Maritime provinces. But in the meantime we are busy making art and organizing ourselves. One of my projects, as readers of the blog know, is organizing my China slides. I've got some pictures that are kind of miscellaneous – they are of some very interesting moments or things that struck me in my early-30-first-time-oversees mind.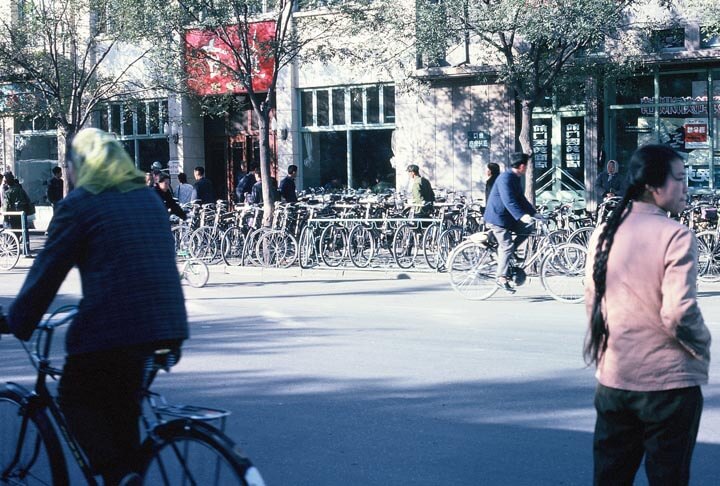 Bicycles – lots and lots of bicycles, the major form of transportation. I look at these shots and then compare them with China today, and you have nothing but cars.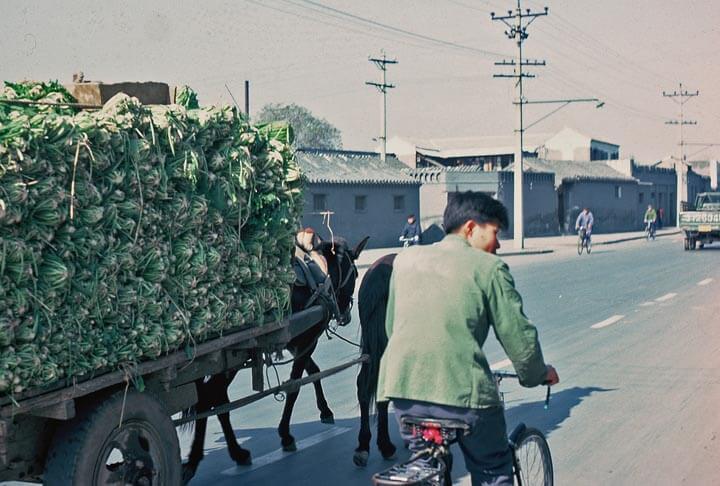 I should probably call these my transportation series. I took a lot of pics of people getting around – this was, 33 yeas ago, a third-world country.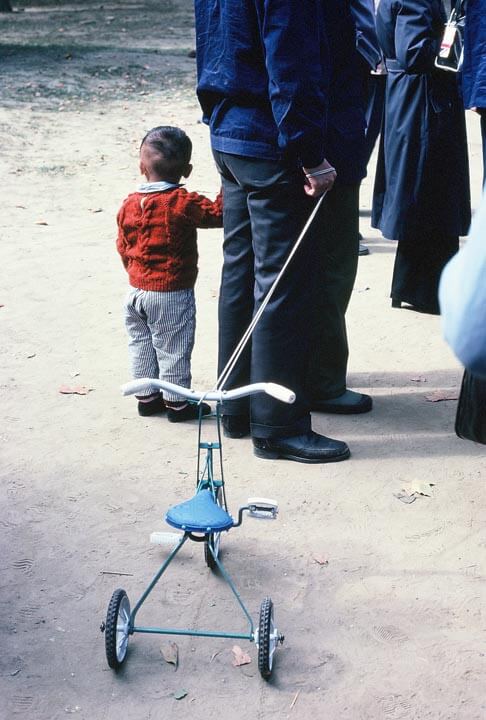 Some things never change across cultures. We just need "the basics."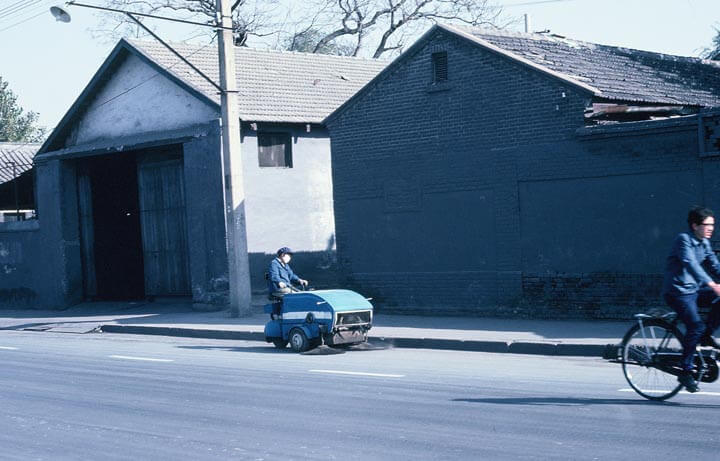 Thirty-three years ago the Chinese people were wearing masks for protection, something we have just begun to adapt.
Lots more bicycles. I love the parking lots set aside for the bikes.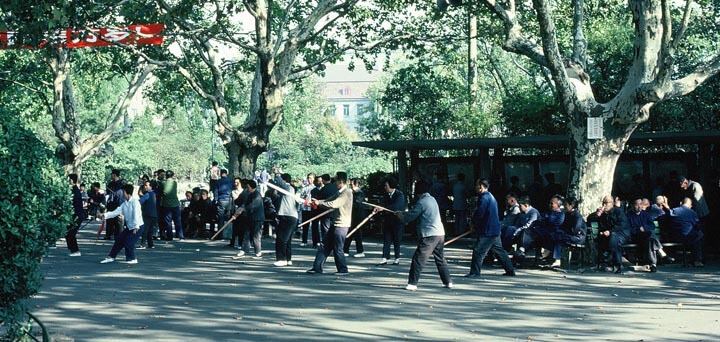 Every morning, regardless of where we went, people were out exercising.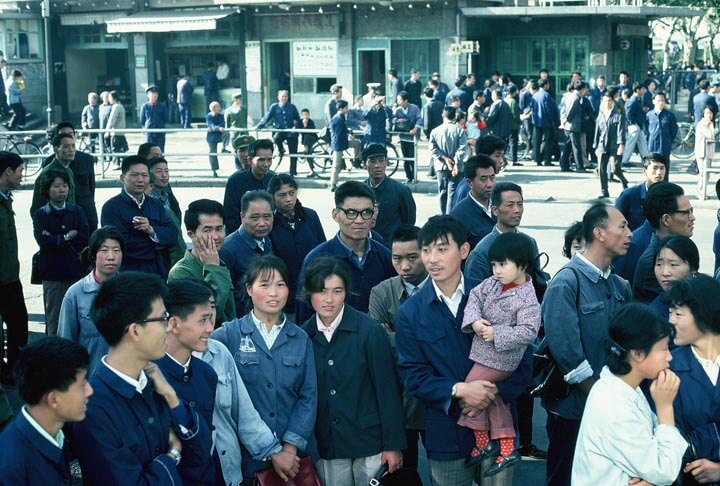 Everywhere we went we were objects of curiosity. These wonderful people had not ween Westerners in a number of years, due to the Cultural Revolution. We were advised to bring only clothes that were blues and grays. The only place we saw color was in the children. When we stopped over in Tokyo on our way home, I was assaulted by all the color – the first time I had experienced something like that. If you see pictures of modern China, clothes look very Western. To suddenly come back to a culture that used – and celebrated – color was quite the change!
An absolutely amazing trip, even 33 years later. I watched "The Red Violin: a couple of weeks ago, and one of the stages for the violin was during the Cultural Revolution. Having seen the pictures and video from the time, and having talked to people who went "to the countryside," the movie was a stab in the gut, to see it portrayed so realistically.
To someone who had never traveled overseas, it was the trip of a life time.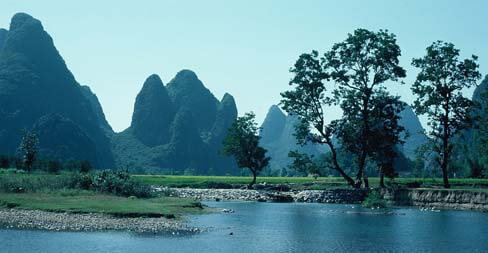 This photo is from one of my most favorite spots in the world – a small park somewhere on the Li River in Guilin, China. I've done some cropping, but this is the focus of the latest class I am taking from Quilt University: Artists Revisited. Technically I should have chosen a painting by one of the masters, but I have always wanted to translate some of my own photos to fabric, so I chose this. My colors aren't an exact match, as they should be for this exercise, but I am happy with what I have chosen. I worked on the background first and then came to the foreground, where I realized it was extremely busy. Here's what I've got: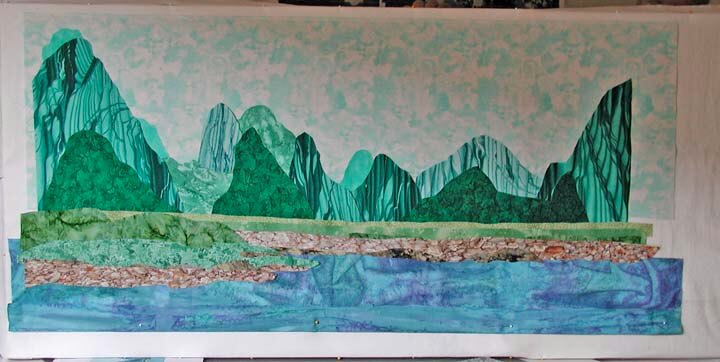 It's obviously rough, and the trees are missing. I am going to start the thread painting, and then I'll add the trees toward the end of that step. This is taking a much longer time for me, as I want to really think through each of the thread painting stages. The first step will be the horizon lines, and then I'm going to practice on the "crags" to see what I can do to accent and at the same time soften the mountains. I'd love suggestions for ideas to "paint" the sections.
Also, I've been making cloth baskets as a start for our Holiday offerings: we're doing a "basket, which is really a fabric bowl suitable for all year round, as I'm creating them with some fairly neutral fabrics. The thinking is that a bowl might be more useful around the house than a basket.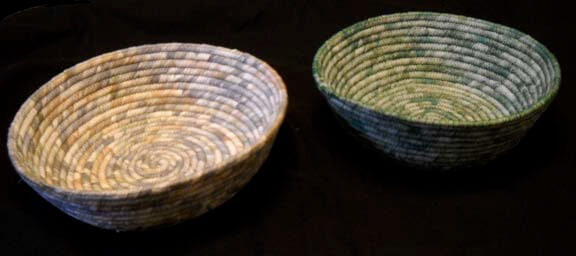 Once the bowls are done, they will then get filled with all kinds of goodies:
* A fat quarter of hand-marbled fabric on 100% cotton
* Four pieces of hand-marbled Offray ribbon, assorted sizes and widths
* A selection of coupons and discounts from a variety of Etsy sellers, good for use in their individual stores
* A Sampler Package of 6 by 9 inches swatches of hand-marbled fabrics
* A selection of hand-marbled leaves and flowers
* A set of note cards with Digital Marbling (TN) designs
* and…some type of mystery gift.
We totaled up costs, and the retail value of this offering is $75.00. We'll be selling the Holiday Bowl Packages for $50.00. Now each order will be different, as every piece of marbled fabric is unique in its creation. No two Bowl Packages will be the same.
Here's the deal – for the next week, you can order these Holiday Bowl Packages for 20% off. Email us with your order, and we'll do an invoice and arrange shipping. This offer ends on Wednesday, September 7.
Here's the start of one of the Holiday Bowls…..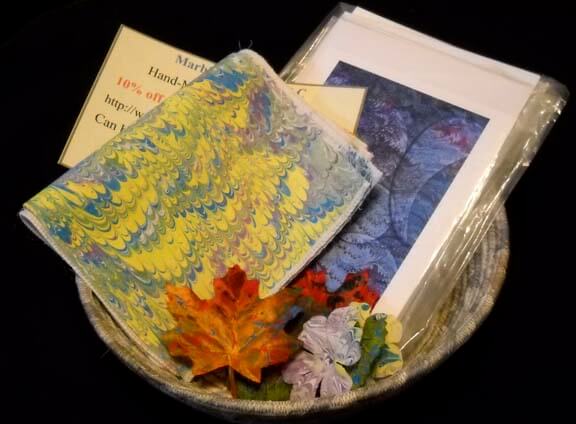 Think of all those family members who like fabric and are really hard to shop for – this will be totally unique!

I'm getting caught up from a few days off, so I'm overwhelmed with all that I'm reading and seeing on line this week. The first article from Dumb Little Man has some great thoughts on productivity, perfect for me now as I try to be productive and at the same time not flit from one thing to another.  "Is Your Passion for Productivity Hurting Your Creativity?"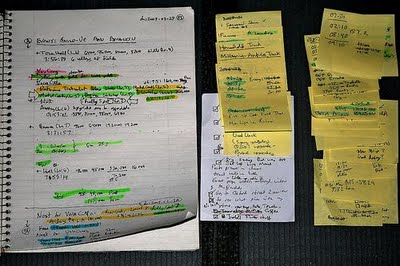 Also from Dumb Little Man, and in line with the last post, comes finding time for meditation. "Three Ways to Bring Meditation into the Chaos of Daily Life." Sounds like my life on a regular basis…although not as much now that I'm not teaching. (Have I mentioned at all that I'm retired?!?!)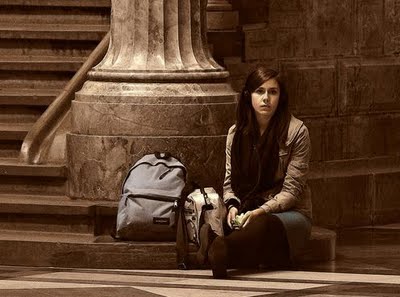 I enjoyed the one or two times I have dyed fabric. I played everything by ear, bot really sure what I would end up with. I discovered one very important lesson – I have a LONG way to go to get good at this. One person who already is there is Vicky Welsh of Field Trips in Fiber. Read about her process just in creating a monthly color palette, in this case reds. And many of us know just how difficult it is to achieve the right red.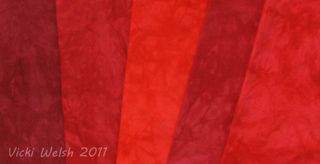 Since I am actively marketing my Etsy store, I discovered a blog related to all things Etsy, called Handmadeology. Lots to explore and read about – I've already picked up an idea for promoting my holiday sales.

And…for those of us getting older….remember Wayne Newton as a young sensation? Check out Mad Magazine's send-up of a new album…..you have to go and look – won't spoil the surprise here…..
And also from Mad – Dick Cheney's resignation letter….you'll laugh and cry at the same time for poor Dickey…..
I am really taken with the flash mob concept, and this one is pretty cool – Ravel's Bolero at the Copenhagen Central Station. Imagine a full orchestra just appearing….loved the bassoon, and wondering about transporting the percussion section….
Anyone using Pinterest? I'm having trouble getting it to work – maybe it's because I don't understand it totally, or maybe…it's because the IMac is over 5 years old and not happy these days….Anyway, I'm a sucker for post-it art. I'd like your feedback on using Pinterest.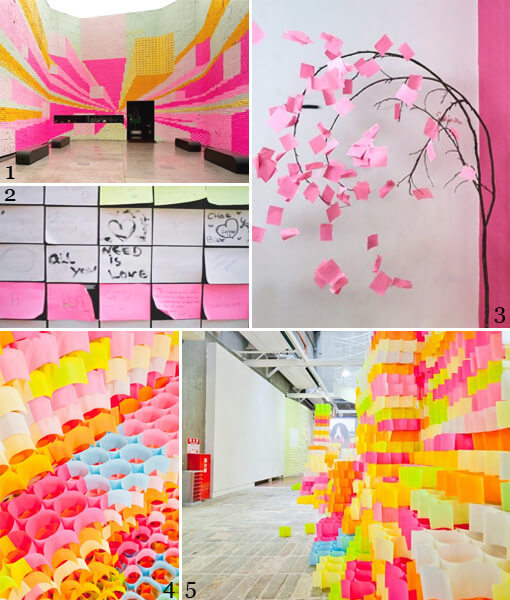 In memory of September 11, here's an update from The Best Article Every Day about the World Trade Center.

Finally, to end with a tie-in to the beginning: 20 Ways to Be Better at Life Today, fropm the folks at Nerd Fitness (how can you not love that?)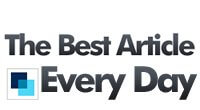 As part of my goals for this next set of 100 days, I want to work through a minimum of three of the action goals from Alyson Stanfield's I'd Rather be in the Studio! Action 2 is all on organizing, something I have SLOWLY been pulling together. The business is at a point where a folder for me won't cut it any more. Hubby handles the finances and anything with Ebay. He has the chart of accounts set up, all the ledgers updated, all Ebay items organized, and does the quarterly justifying of the books. He is the Felix in the family, and I certainly qualify as the Oscar.
That said, I can find anything I need in the organized chaos I sometimes live in – comes from 40 years of teaching and knowing immediately where something is, even if I can't see the top of my desk. But now that I have time, I took Alyson's suggestions and looked at so many different areas.
The answer for me was a large notebook with dividers. Now I have a place for emails, articles, lists – and every time something new comes up, I set up a new divider in the notebook. When we were on vacation for a dew days in San Diego, I brought the notebook to the beach and we sat and went through each section, brainstorming additions, corrections, new products, immediate followup, and the like. I think hubby was kind of impressed at how much I organized everything.
I particularly like that I can sit with the notebook each week, go through the sections and pick out what needs to be worked on for that particular week. I can add dates for finished items, move things around and change dates, and decide which project will get accomplished that week.
Of particular help was using the notebook to then help organize the computer desktop for all the images and emails and documents related to the business. Now I have major folders, especially for the licensing art, on the desktop, and I feel like I finally know where all the images are going to go. Case in point: we have Ebay photos from 2004, when we first started selling on line. Now there's a folder of "old" Ebay photos, organized by year, as well as the most current images. I've done the same thing with the Etsy folder, and this will carry over to the Fine Art America photo. What helped in organizing all these images was finally figuring out how to work with Adobe Bridge in the Creative Suite. I love seeing all the photos at once!
If you need help in getting organized, I recommend two sources. One is the "Multiple Streams of Income" ebook from Laura Bray. (I'm an affiliate, and it you click "katydid" on the right side, you'll go to her site for ordering. I do recieve a small compensation for sending you there, but I've taken the course and it helped me tremendously.) The other is Alyson Stanfield's book I'd Rather Be in the Studio! You can order from Amazon (and yes, I'm an affiliate there, too…..one of the things Laura Bray talks about in her Multiple Streams ebook and course is setting up affiliate accounts.).

Happy organizing – share your tricks and ideas here in the comments.

It's Thursday, so let's take a look at what's available for MarbleT-Design around the web this week.
On Ebay: I love a couple of the pieces this week, and if they don't sell, well, I'm a gonna quilt 'em. This one is very organic and would be great to quilt. A fat quarter in Halloween colors, looks very much like an actual piece of marble. We are getting MUCH better at creating that pattern!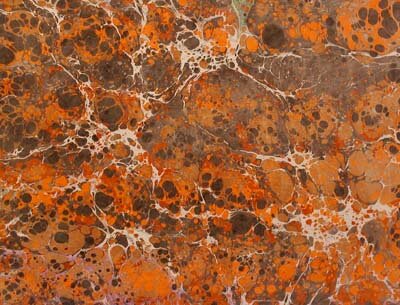 Also, a great fat quarter in the traditional peacock/bouquet pattern. Some great colors and lots of movement.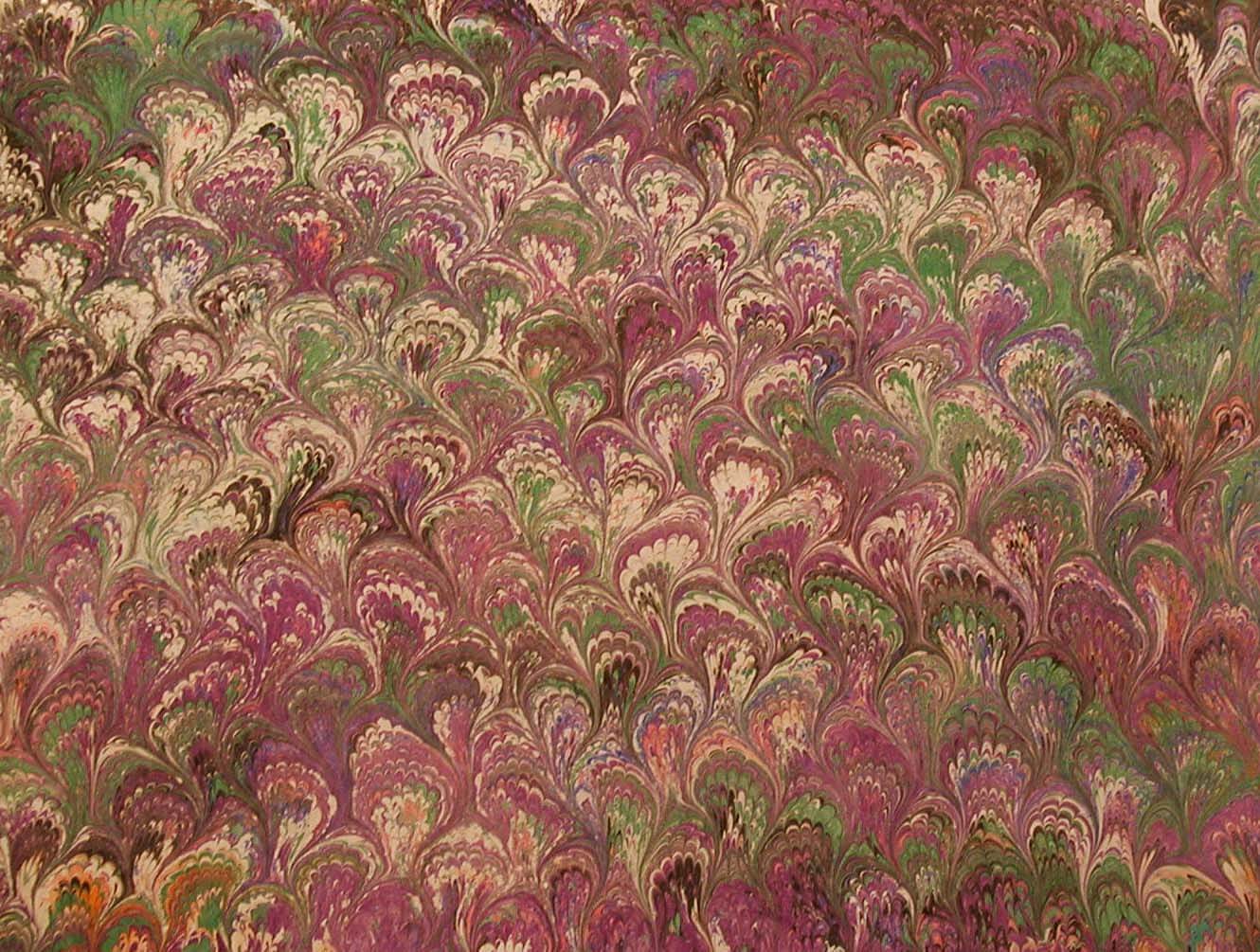 On Etsy this week: a gorgeous fat quarter of unpolished white satin – multi-colored with lots of movement to the piece. Satin requires a lot of work – from pretreating to the actual marbling – you have to be very careful about each step or the pattern washes right off the satin. Once it's heat-set, you're fine. All our fabrics are heat-set and ready to go for your projects.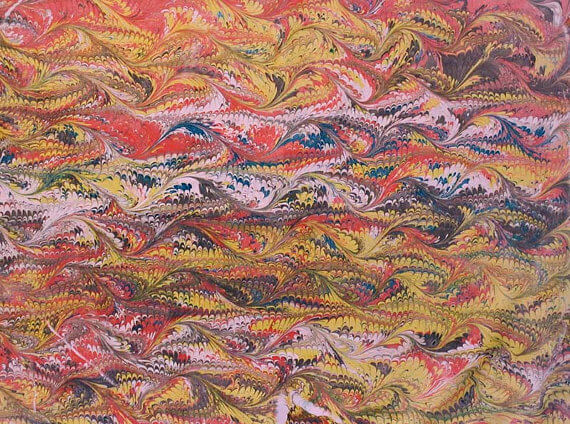 On Cafe Press: a cool little magnet, of the traditional pineapple quilt block, made with marbled fabric. Great little gift for yourself and your refrigerator….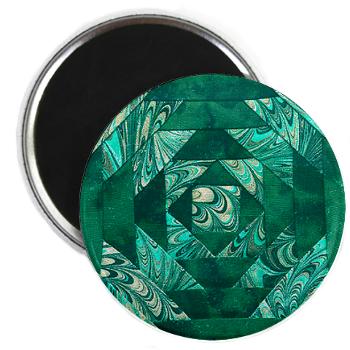 And from Zazzle: a piece of artwork created a year or so ago that you can put on any number of cool items. "I'd Rather Be Making Art!" And wouldn't we all…I gave this mug to a few of my teacher friends who would lament about not having time to make any art during the school year. I'm still trying to figure Zazzle out, so you'll have to click on the link. It's so cool that you can customize this item on whatever you would like – different mugs and so forth.
There will be more – we are making fabric each week now that we both have the time and can work together. So check back – or better yet, let us know if there's a custom product you are interested in.
This new piece has had an interesting origin…..we were in Cornville , AZ visiting friends, and our driver wanted to stop in the high desert and see about getting some yucca stalks for walking sticks. If you look at the picture, the stalks are what's left after the gorgeous blooms are done. They are evidently extremely strong and hold a lot of weight. So we have two collected stalks in the car, and I'm thinking, hmmmmm – these could make interesting wall hanging "hangers." Turns out we got as a gift two really strong, perfect-height-for-hiking sticks from another friend we were off to visit, so I decided to keep these two, one as a walking stick for me (I just need it for balance) and one for a potential hanger for a wall piece.
I was looking at it today, as I was kicking around another weaving piece. It would make a good "topper" for a new piece. I had in mind a set of seasons pieces, and then suddenly I got the thought to create the fabric and weave them all together for a year of seasons.
Here are two samples of some of the weavings I have done with marbled fabrics. The first is my very beginning one, Gaia 1: Interdependence. The second is  Gaia 3: Autumn.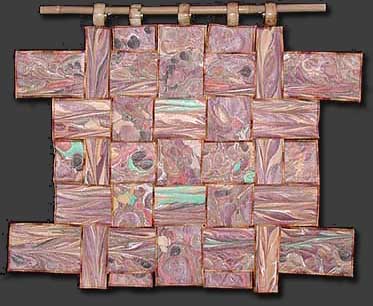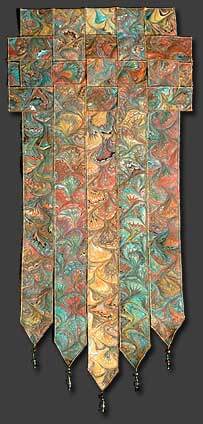 All of a sudden the design was in my head, and I sketched it out, something I don't normally do. Here it is: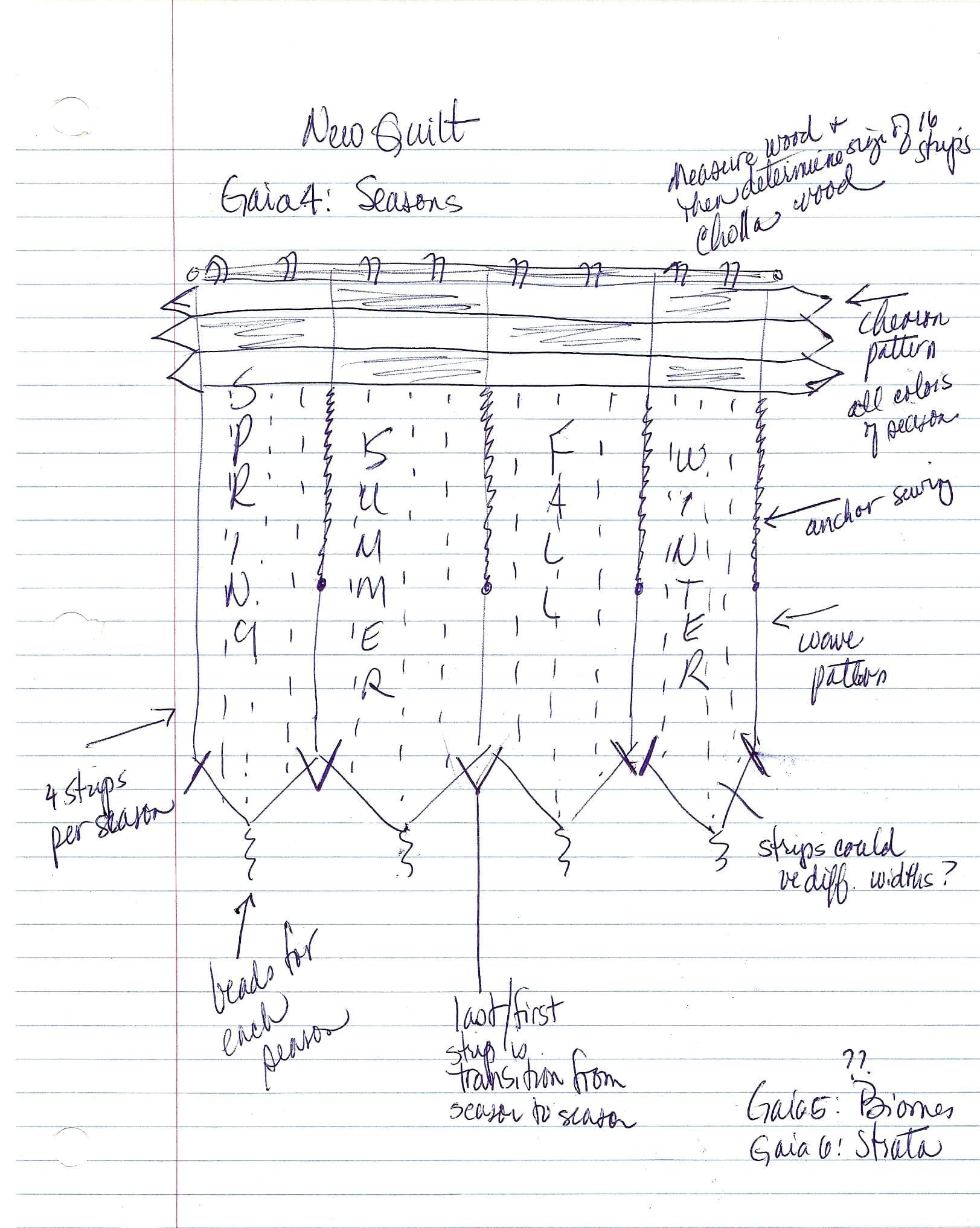 Creating the fabric will take some time, and I know with other projects in the pipeline, I won't get to this until mid-September. Hubby is the main marbler, so he will have his work cut out for him. I will need to also watch the proportions in this piece – ever mindful of Michael Kors and Nina Garcia from Project Runway…..
Stay tuned for progress. In the meantime, here's a few stories for past weavings in the Gaia series.

You may have noticed a new page on the blog – Art Blogs. I tried to go through the MANY blogs I follow through Google Reader to give you some added goodies to view. That said, I don't always get to read everything every day, but there are some folks I read, regardless of how busy the day has been. So here they are:
Anne Huskey-Lockard – El Milagro Studio: Little Miracles of Art – photography that is absolutely magnificent, and tutorials that will have you itching to try new techniques.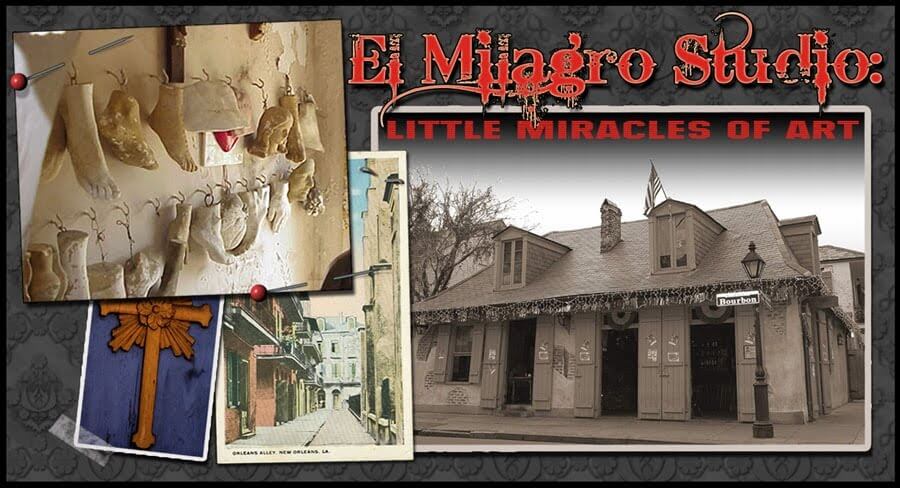 Blue Moon River – Susan Brubaker Knapp – I wanna be Susan when I grow up…..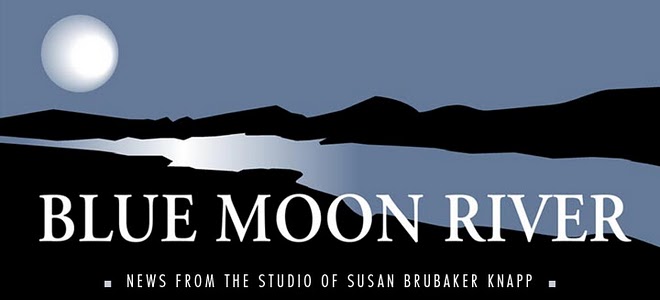 Art and Quilting in Camden – Sarah Ann Smith, author of Threadwork Unraveled; lots of process on how she finishes quilts.
 Art and Quilts, Cogitations Thereon – Elizabeth Barton; explanations of processes plus some great philosophy
Art Biz Blog
– Alyson Stanfield – the business of art  you NEED this site.
Joen Wolfrom – the color lady – I have all her design books, and I love reading her blog – LOADS of great info on color.
Kathy Nida– I understand the workings of her mind…it takes another teacher to really understand! And her work is WONDEFUL!
The Free Motion Quilting Project – how can you not love a site that has a new free motion quilting video almost every day?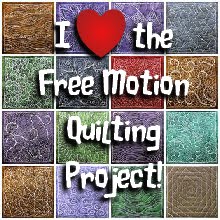 Mary Helen Fernandez Stewart – a wonderful lady who does art with children – you can see the absolute joy on the kids faces.
Enjoy these wonderful people!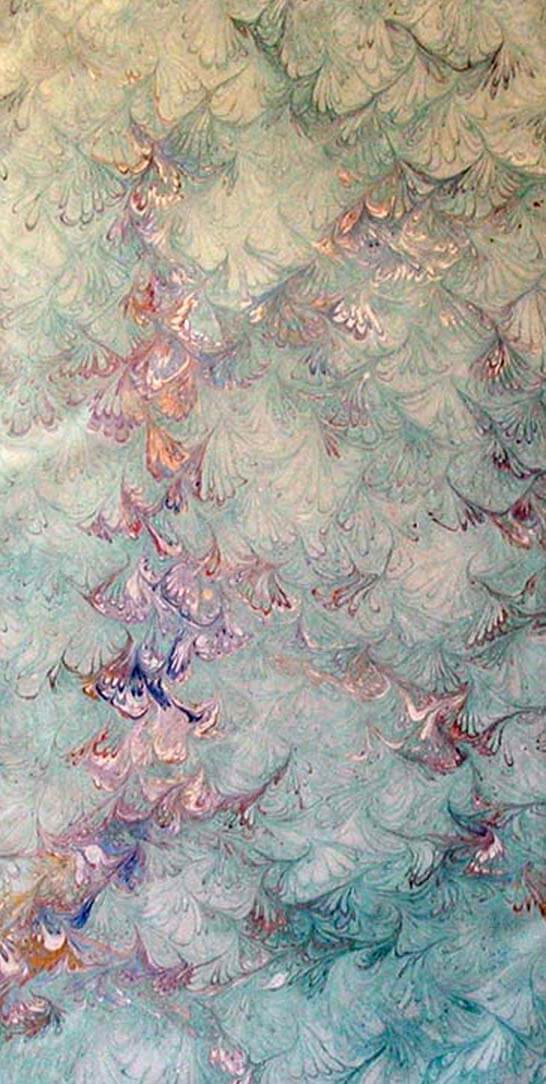 After nearly three months of work to get Marble-T Design in shape for some serious expansion, I have been thinking about the role of social media, since that has been a big focus. I've also been thinking about the market pieces in place now and how they are working.
Biggest help of all so far has been getting up and operating on Linked In. I completed my profile with two basic pieces: the art and my interest in doing private tutoring, with the emphasis on the art business. Even more so has been the group aspect of Linked In. I've joined a couple of discussion groups and met some great folks. Art Business, Art Marketing, Manhattan Arts International, and TAFA have been incredibly productive. Advice, people viewing and commenting on the art, increase in "Likes" on the fan page as a result of round robin visiting – lots more people know about our marbling.
Twitter – can't seem to develop this one to the extent I probably should. I do tweet interesting articles, retweet others' information, but I am lucky to get a half hour each day to read recent tweets. I do know that taking advantage of the Tweet aspect of listing items on Etsy has led to a lot more views, as well as some sales. That's a plus, but I can't seem to devote the time – at this point – to being a major presence in TwitterWorld. I use Tweetdeck to schedule my tweets, but I got really frustrated when it wasn't posting tweets for the TAFA fund raiser. That's on my long-term list of things to do, because frankly, it's not a priority right now.
Facebook has been great – of recent interest has been the 7th grade picture of my class in elementary school – lots of interesting comments there! But in terms of business, the Fan page has been much more active, with an increase in "Likes," and I am trying to post something every day. With the integrating features, my blog automatically gets posted, as well as Etsy items, and I try to get an Ebay item up at least once a week. I can tell from the stats on Ebay that the traffic increases each time I post. And…sales have been up.
Responding. This is the key. You just can't read this stuff without letting people know you're out there, enjoying/responding to what they've posted. And that takes time. But it has to be done, and done in a meaningful manner. When I first started blogging (some 528 posts ago), I was thrilled the few times a comment came in, but I never acknowledged it.You must do that, and you must have something sincere to say. I love doing this now – it is so gratifying that someone visits, and I want to respond to that.
Ebay – business is increasing, and we can see that because we are marbling more often.
Etsy – slowly starting to build. The key has been finding the niche market for Etsy, which is some of our more expensive marbled fabrics, not the big art pieces. I do think with the right marketing I can sell some of the small marbled art pieces, if I keep things under fifty dollars.
Blog – back to almost every day, and traffic is increasing significantly. I'm finally taking the advice of some other bloggers and having at least one day a week for what's on sale from Marble-T Design. I do enjoy writing, and I enjoy visiting other blogs. I've expanded additional pages on the blog, from art blogs to visit to resources available. I still have more that I want to add.
These have been the Big Three that are in place and are working. Each week I am nurturing them along.
Website – we need to add more items (we used to have close to 14 items available for sale), and we need to increase the traffic/sales to the site. I need to update some of the art work, and I have done some rewriting of copy within the site.
Cafe Press – well, not so much, but I am advertising something each week. It's been interesting to see the Cafe Press ads online – every time I see one, one of the items is usually our gecko tote bag.
Marketing materials – new business cards with all the social media information on them, thanks to Vista Print freebies. Plus, new postcards as thank-you's for customers, encouraging them to sign up for our newsletter and win free fabric.
BUT – absolutely the BEST thing in all of this is that hubby and I are finally able to work together each day with our art, creating and having fun together all the while.