I'd like to post a reminder here for readers about the Art from the HeART Project and its current push to get 50 works of art on the site by January, in time for remembrances of the January 8 shooting victims in Tucson. Please consider creating a work of art that speaks to peace and kindness, in any size and any medium.
Submission Guidelines
You are about to embark on an artistic endeavor to help change our world. I firmly believe that each one of us can be an instrument of change, regardless of how small. Please join us in creating art to heal our wounds.
Art From the HeART: Healing Hatred, Promoting Peace

An Online Exhibit to Counter Hatred in the United States and Foster Peace in the World

In Memory of: Lives lost and changed forever in the shootings at 10:11 AM on January 8, 2011 in Tucson, Arizona.
Who: Any artist who wishes to express his/herself about the growing problem of hatred, hate speech, discrimination, prejudice, and political vitriol in the United States. Any artist who wishes to express his/herself about the need for peace and nonviolence from our neighborhoods to the planet.
What: an online exhibit, complete with process descriptions, of art designed to bring attention to the growing problems of hatred and violence in the United States, as well as the need for peace and nonviolence on the planet.
When: starting as soon as possible and continuing until such time as violence and hatred are no longer problems within the United States or the world.
Organizers: Linda Moran, digital and fiber artist, Tucson, AZ; S. L. Drury, digital and fiber artist, Sedona, AZ; Anne Huskey-Lockard, mixed media artist, Peru, Indiana.
Art: 8 by 10 inches to 9 by 12 inches work of art depicting some abstract or realistic image of the growing problem of hatred in the United States or the personal reaction to events caused by hatred and discrimination in this country. These works of art can be paper, fiber of any kind, oil, photography, weaving, water color, mixed media or digital images. The purpose of every piece MUST BE to shine a light on the growing issue of hatred in America and/or promote a message of peace and nonviolence. Work that is larger or smaller than the indicated sizes will certainly be considered but may not fit the online needs. At this time sculpture or other three-dimensional objects will not be considered. SIZE is NOT a primary consideration. If you work larger or smaller, please continue to do so. The hope is that this size might be comfortable for many who might not otherwise enter.
Submissions: jpgs (one full image and one or two close-ups) at 72 – 100 dpi shall be sent to submissions@artfromtheheart.org along with a written description of why this image addresses the issue. Additional consideration given to personal stories behind the art. Please include media type, materials used, and size of work in description.
Current Deadline: December 15, for art work to be juried onto the site in time for remembrances on January 8.
Jurying: once the jpg of artwork is submitted, along with the written description/essay of the work, artists will be notified of their acceptance within two weeks. Artists retain all rights to their images. Artists will be allowed a link to their personal blogs or websites, but this is not a venue for marketing or selling work. With acceptance of their piece/s, artists commit to spreading a peaceful, nonviolent message.
Please help to spread the word and message of Art From the HeArt. You can view the website here.
Linda, Anne, and Suzan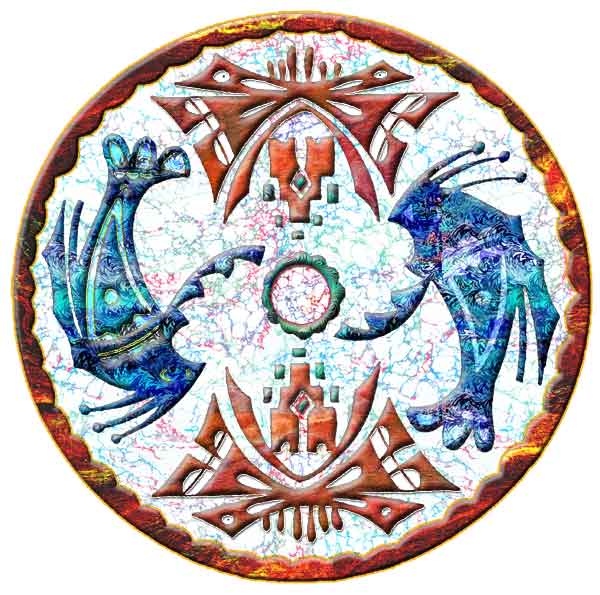 This weekend is the Tucson Sewing, Quilt, and Craft show, which has not been publicized much. I only know about it because I had a call from a vendor trying to sell me stuff, and I found out they would be here in town. Plus, the show is at an "expo" center that's not in a great part of town, and entrance was around the back – and not well marked. That said, I enjoyed two things about the show. One, I could go on a SCHOOL DAY!!! I didn't have to wait until the weekend. Two, I met some really cool people and saw some unusual gadgets that I really want…..that's always a good sign….
The Handy Caddy – I don't normally buy impulse items, but I could immediately see a use for not only organizing my sewing table, but also carrying my sketch materials with me a whole lot easier than dropping everything in the bottom of my purse. The bigger tote will hold my sketchpads and assorted material for trips.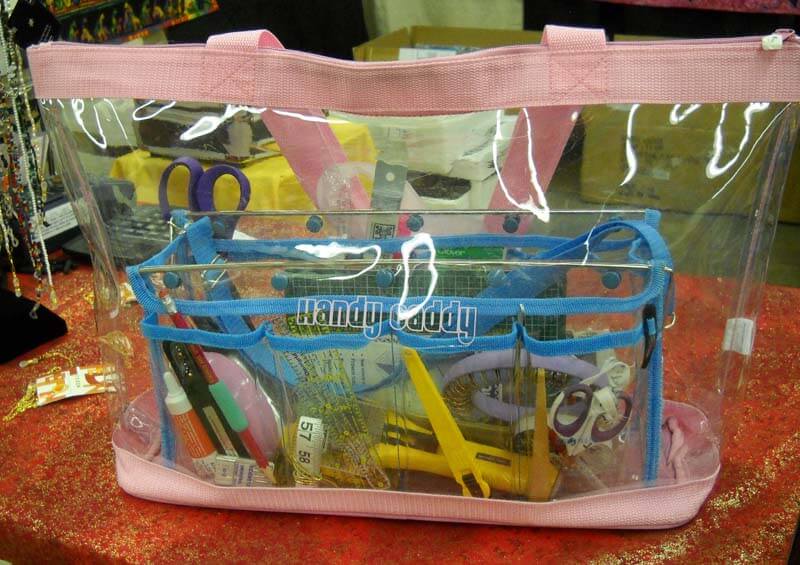 Also of interest were these really cool custom quilt hangers. I could see using these to hang pieces of fiber art for a quilt show, from Summer Sky Creations. The owner is local to us (well, norht of Phoenix, as opposed to East Coast) and can do custom work.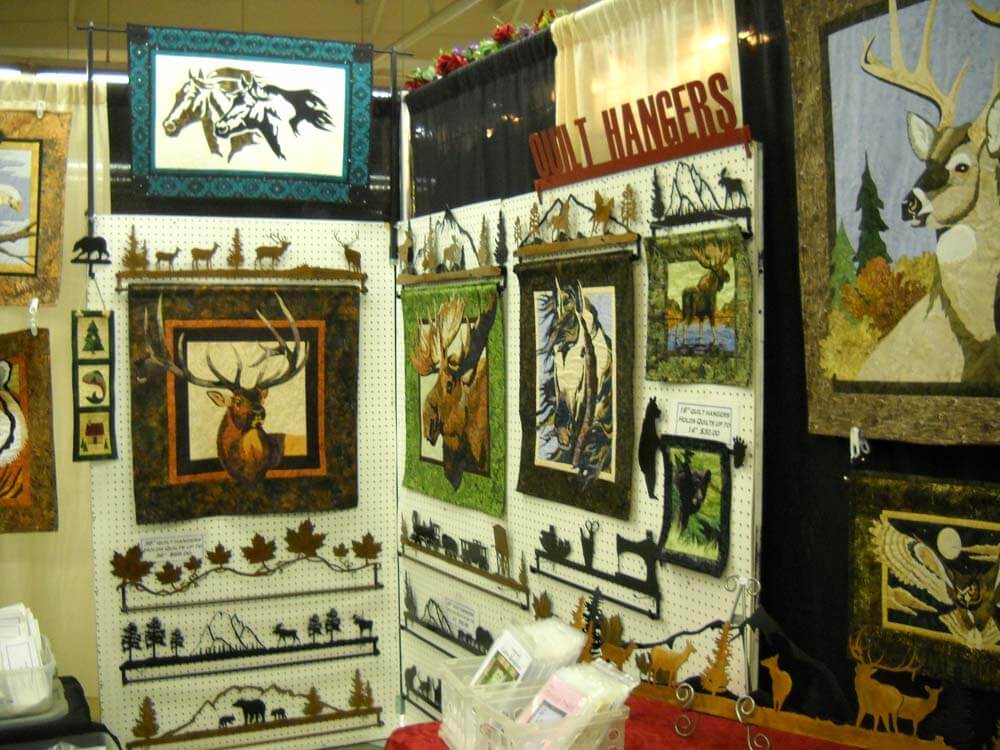 There was another quilt hanging system that uses magnets that I thought was brillian – even better for hanging shows at a gallery, and no tools needed or holes in the wall. From Rom Woodworking (check under Miscellaneous) comes Magent-Ficent: "$35.00 – Magnet-Ficent(TM) Invisible Quilt Hanger A simple and versatile system for hanging your quilts without using push-pins, screws, nails, or levels!  Magnet-Ficent(TM) Invisible Quilt Hangers allow you to easily and securely support your quilt for display, yet it will appear to be floating very close to the wall with no means of support.  This hanging system uses a small mounting plate attached to your wall using removable adhesive strips. " We saw it displayed and LOVED the idea.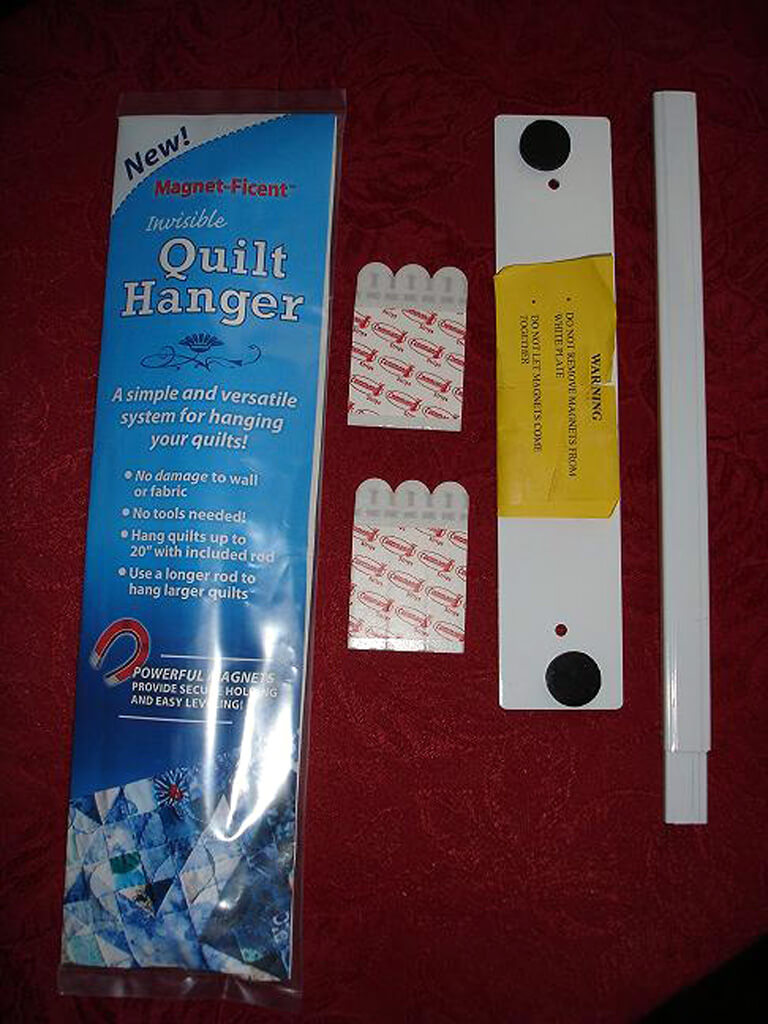 PS – his wooden thread cabinets are gorgeous!
From VJ's Creative Designs come additional quilt hangers, and they are also even more local to us – just south of Tucson. Gorgeous wood designs for hangers.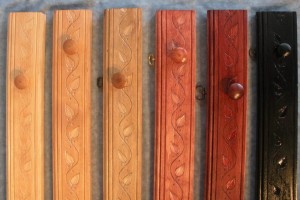 This is within the first hour, and we could already of spent lots of money. I did pass on the $300 iron (down to $200 as a show special). Loads of bells and whistles, but I really don't need steam…..
Then we saw THE cutting system….on our wish list. From Sew EZ Quilting comes this QuiltCut2 Fabric Cutting System. We saw it demonstrated, and when we get a little busier, it will help us save a lot of time preparing fabric.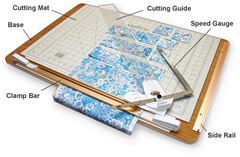 Love this! Then I saw some GLORIOUS patterns from Pacific Rim Quilt Company that would be gorgeous in marbled fabrics. I love this pattern: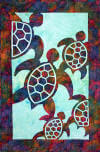 So it was a wonderful 2 hours of browsing, shopping, and talking to vendors. Now I need to go get busy!!

Busy week – lots of marbling going on today as we start to gear up for the holiday season. The last two years we just weren't organized enough to deal with the holidays, and we let them get completely by us. Not. This. Year. We will have fabric!! And…you can always email us for orders or go to the website and see what's available.
Speaking of the website, the question we get a lot is why no pictures of the Sampler Packages. Good question, and we have a good answer. Marbling creates unique pieces, and for us to put a picture up of each package, each piece, would be time consuming, very expensive, and probably lead to unhappy customers because you wouldn't be getting "exactly" what's in the picture. So we've given you a basic description. You can be pleasantly surprised! Or, if you want to know exactly what you're getting, you can browse the Eaby auctions. We have a liberal return policy if you're not happy, but we've gotten two packages back in the last 10 years…..and we've been on line since 1998…….almost the beginning of e-commerce!
Sampler Package 1: assorted colors and patterns. Eight 6 x 9 inch hand-marbled swatches on 100% white pima cotton. Perfect for piecing, appliqué, patchwork, scrapbooking, wearable art. You get a variety of marbled colors and patterns so you get a "taste" of this wonderful art form. $10.00
Sampler Package 2: assorted colors and patterns. Four 18 x 22 inch hand-marbled fat quarters on 100% white pima cotton for a great stash builder. Available in the following color ways: volcano reds/oranges; underwater blues and greens; deep woods browns and greens, and pinks/purples. Perfect for some serious quilting. $25.00
Sampler Package 3: assorted colors and patterns. Eight 10 x 10 inch hand-marbled squares on 100% pima cotton, for those larger block patterns you want to create. Perfect for piecing, appliqué, patchwork, scrapbooking, wearable art. $15.00
Now for Ebay this week:
A REALLY gorgeous piece of silk art cloth, in greens and blues, 17 by 23 inches. All preshrunk and heat-set and ready to go. Some nice movement to the piece!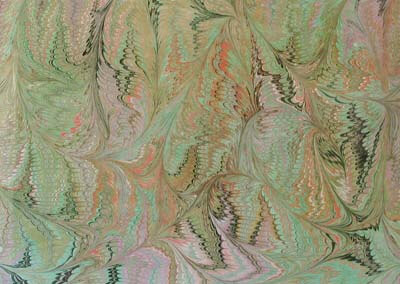 The Etsy shop is a little bare this week – we've been selling lots of fabric, but we do have a few small art quilts that would make good presents – and they are reasonably priced. Here's "On the Rocks" – a small 8.5 by 12 inch fiber art piece, perfect for a small table or a small wall area that needs just the right bit of color.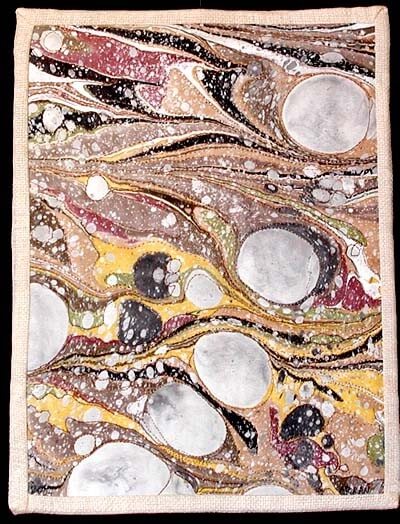 More coming next week! We're surrounded by fabric around here!

It's Tuesday, and here's the Top Ten.One advantage to being on trips is I get caught up all at once and get lots of things listed for the next Tuesday! Don't forget the bonus at the bottom from MAD Magazine!
From Dumb Little Man comes another interesting idea for organization: Try the Tag-It Approach for Increased Daily Productivity. I particularly like the parameters for tagging the tasks…like "high on irritation/nagging."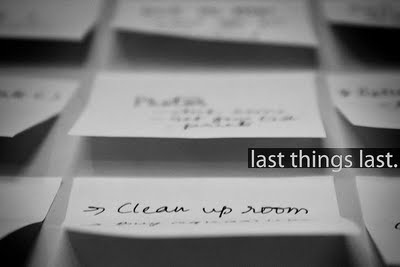 30 Places to Buy and Sell Stock Photos, from Kate Harper's blog of Greeting Card Design. Some great resources for photographers.

From JPG Magazine comes some great photos of  their challenge "Give Me A Sign."If you're a serious photographer, you probably already know this site. If you just love eye candy, then follow along with their blogs.
Linda Matthews has a guest blogger on the topic of our inner critic. Here's the start of Chris Zydel's essay:
"I came across a startling statistic recently, which is that more than 90% of all children consider themselves to be creative yet only 10% of adults see themselves as having any creative capacity.
So what happened? How do so many of us lose our connection with the basic truth that we are all born creative and that it's not meant to just go away once we get our adult badge?"

Alyson Stanfield has an amazing, right-on post about exposure for artists and the pitches that are thrown our way: You Promise Exposure, We Want Results.  This really resonates with me, as we have had issues with folks from quilt guilds asking for donations. We no longer do that because 1) we were never thanked, 2) we never got a copy of the program or any publicity material mentioning us, and 3) our local quilt guild made assumptions about us always donating because they couldn't afford to pay us. Sorry – I have bills to pay. So – if you've been in this position – and even if you haven't – read this article!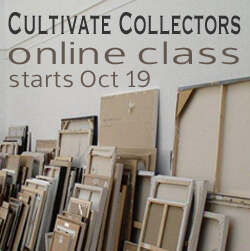 Okay, here's some of the coolest new fonts! Kate Harper Designs has a cool link to a blog post on typography. How can you not love a chocolate font?!?!? This is from DJ Designer Lab: 40 Beautiful Handmade Fonts.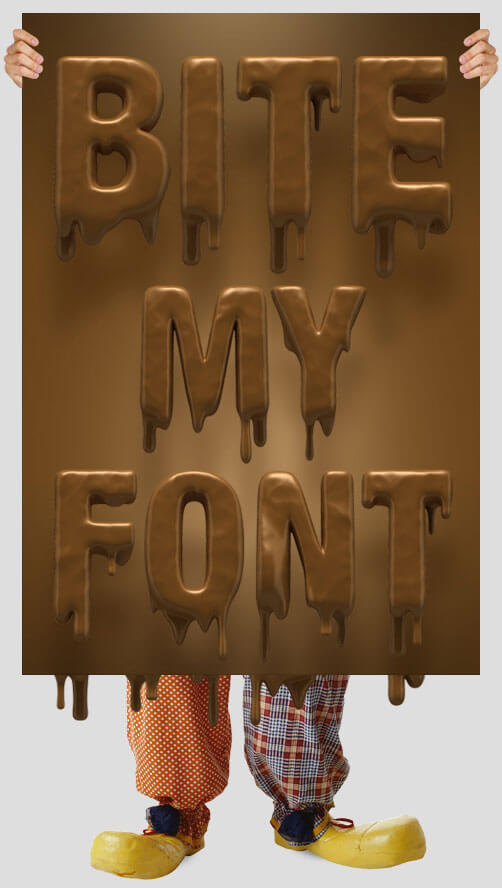 From Lyric Kinard comes a bead tutorial that goes with her new DVD, Bead It Like You Mean It (on my wish list….). I do want to try these stacks.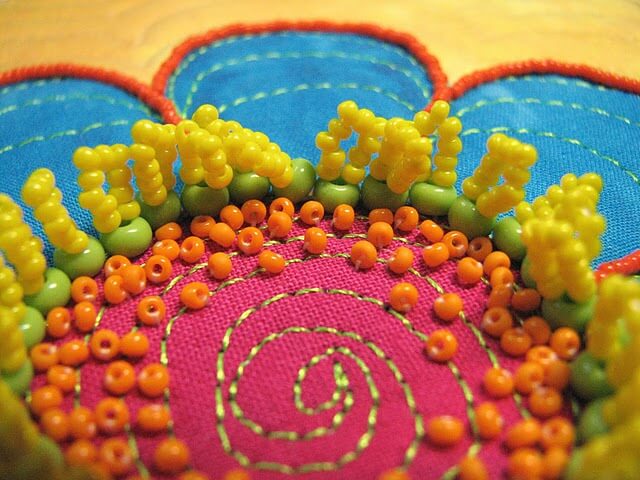 From Cool Hunting comes a look at word play, "Word as Image," much like the words we tried to decipher in class. Some interesting new revisions.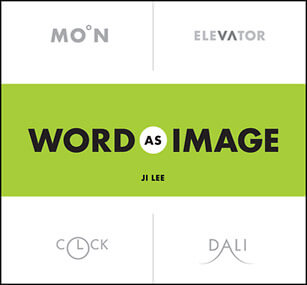 From Fine Art Views comes a blog post by Moshe  Mikanovsky about 10 Ways to Use Your Smart Phone when it comes to marketing and building your business. A couple of good ideas here, and I personally need to get over being phone-challenged by my Droid. Making lists – and checking them – is probably the biggest thing I could do….

Also from Fine Art Views is a piece that really resonates with me this week, as we just got some local gallery representation. "Forget New York City – Think About Your Own Art Community." We finally made the break-trough locally – and in a good way!
So…what have you found on the web this week? Send along a couple of links in the comments section!
BONUS: From MAD Magazine…….new Super Heroes…….Just Us League of Stupid Heroes….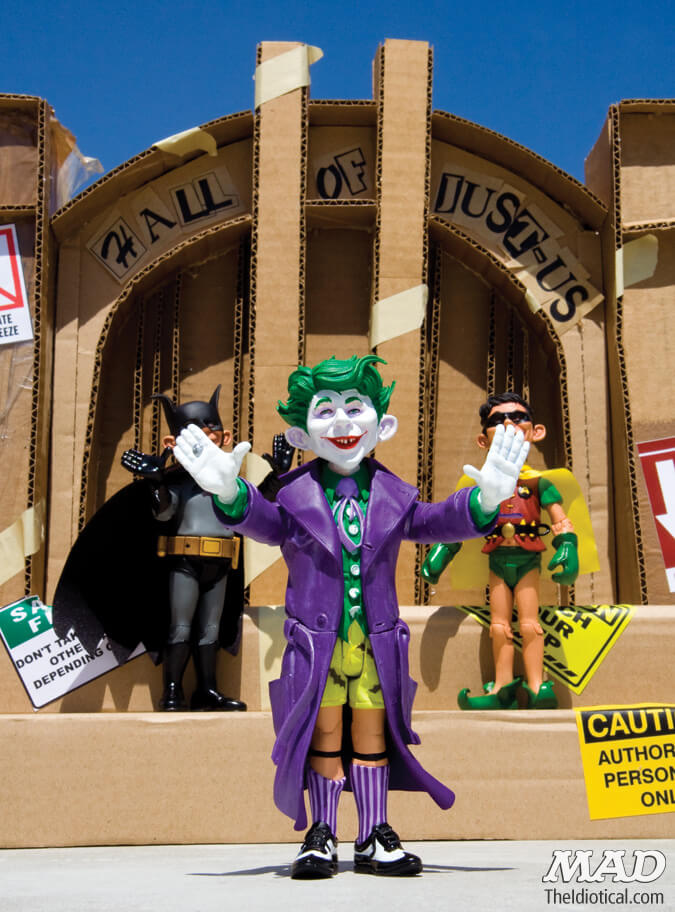 Action 4 in Alyson Stanfield's I'd Rather Be in the Studio! talks about the artist statement. So I pulled out my really old one and held it up to the checklist for scrutiny. By golly, except for the first person narrative it still works. I am deciding to keep it third person as it applies to the both of us, and I think it sounds silly in first person – it's like hubby is an afterthought. Kind of amazing that after four or five years it still says what we are about and what direction our work is moving.
So here it is – send me your slings and arrows – I want to know what'cha think….
Dean and Linda Moran
Marble-T Design, LLC.
6770 East Carondelet Drive #223
Tucson, Arizona 85710
520-747-3857
The Art of Marbled Fabric
 Dean and Linda Moran took an interest in a new hobby and turned it into a new passion. Linda wanted to marble fabric for quilts. After doing research, Dean created the tools they needed. With their first piece, they knew they had a vision for a new art form using traditional marbling designs. Over nearly twenty years of practice, they created a personal art form using traditional marbling designs, as well as contemporary variations, to enhance their creative spirits.
Fascinated by the whims and mysteries of nature, their art incorporates dimensional form as they continue to explore the marriage of marbling and fabric. All of their commissioned pieces have celebrated the magic of the Earth. One unique piece represents a wave cresting the shore, drawing the viewer into a vortex of energy.
Starting with basic white cotton, Dean and Linda soon developed a "no fabric is safe from marbling" attitude. Using silk, satin, corduroy, denim, velveteen and whatever else may cross their paths, they have broadened their artistic horizons. The fabric may dictate a theme; other times the magic of the marbling will dictate the focus of the finished piece.
Dean and Linda have expanded their work into a number of series. "Gaia" celebrates the abstract of Earth, using a weaving design. "Nature" takes a specific look at the little wonders around us, like a quiet pond or an unexpected rock garden. "Mandalas" pay tribute to the dynamic energy of the universe.
Each marbling session is a new experience, exploring the infinite designs and colors possible, both in the art form and in our world. Current work involves embellishment and thread painting/quilting. The work evolves with their experience and excitement.
http://www.marbledfab.com – website
https://www.marbledmusings.com – blog
http://facebook/com/MarbleTDesign
http://etsy.com/shop/marbledfabrics76
http://twitter.com/ArtsyLindaMoran

So the week has been so busy – and so amazing – that I'm almost stunned as to what to do next……I've been sewing up a storm on a commission that I would like to finish by Thanksgiving, making lists, and not seeming to check anything off of them. I'm as busy as during the school year, but what's SO wonderful is that it is all of my own making, and ALL things I want to do.
Jury duty on Tuesday, and I need to be sure I have plenty with me, as I will be the day without a computer (no iPad yet….). I can probably spend time doing lesson plans for my first class a week from now, and then I will just need to spend time doing the presentations at home on the computer. I don't have any hand sewing yet – saving that for a trip to Sedona in mid-October. I can only do so much listing…. Got a couple of thank-you notes to write, so that's for Tuesday.
While I'm at jury duty, hubby will do the alum, and then we'll start marbling for several large projects over the next month. I'm going to post the holiday basket this week and start marketing those. Speaking of the baskets, we did a lot of marbling of silk flowers and leaves last week – some of the look superb!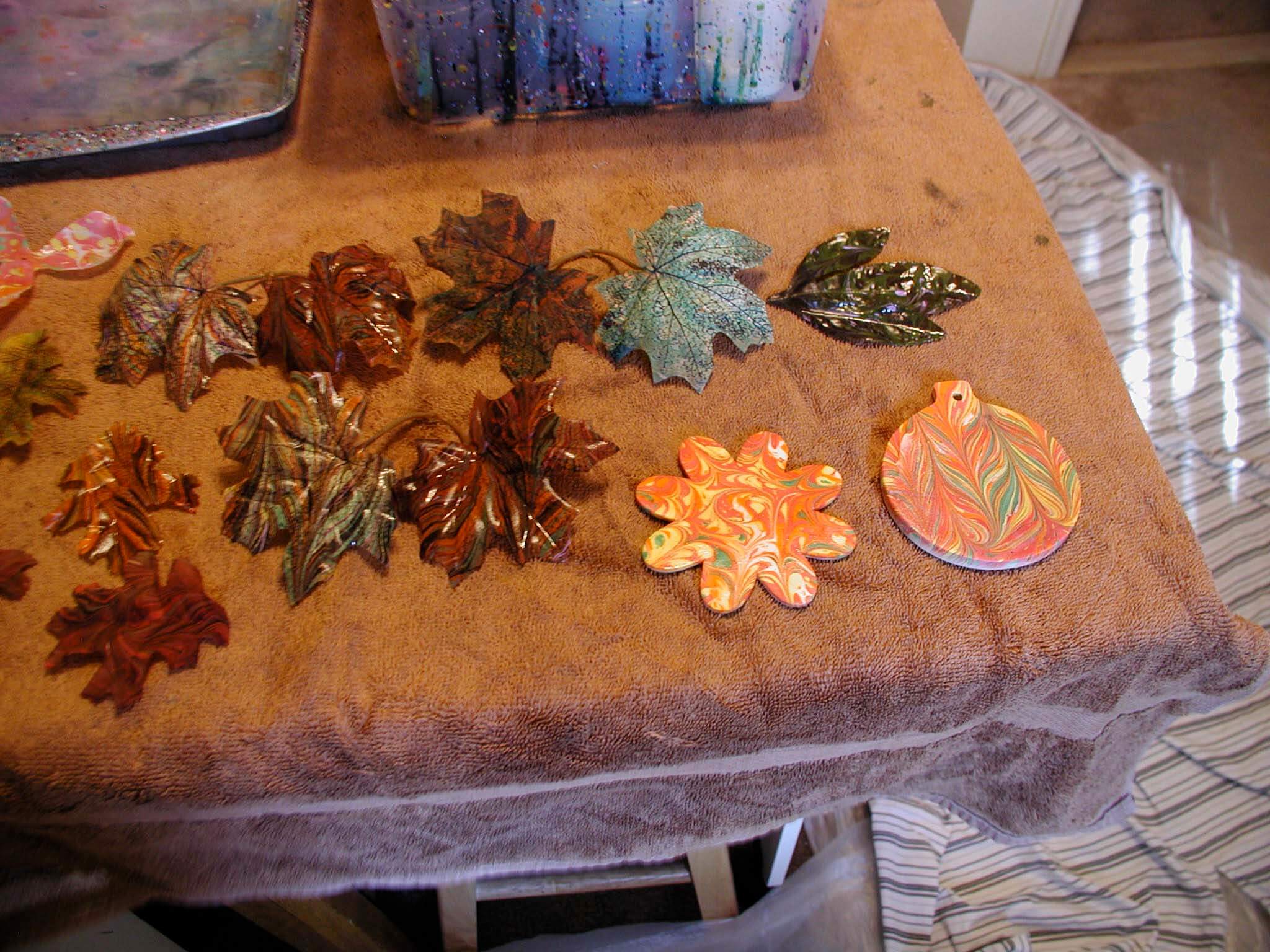 The two items on the lower right are experiments: one is  clay ornament – curious to see if it marbles (and it does…), and the other is a small piece of wood – could do some interesting things with that…..Both were successful, and the leaves look spectacular.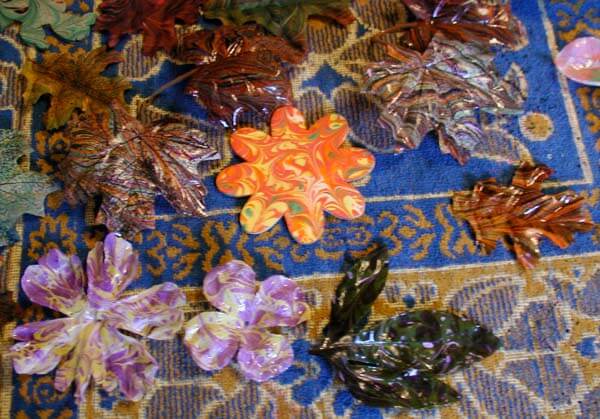 These will all be part of the gift baskets going up on Etsy and soon to be available here. The next two months will be crazy – which is good, because for the last two years we haven't taken advantage of the main holiday season. Not so this year!
So get busy and make art!!
P.S. I LOVE my new Mac!!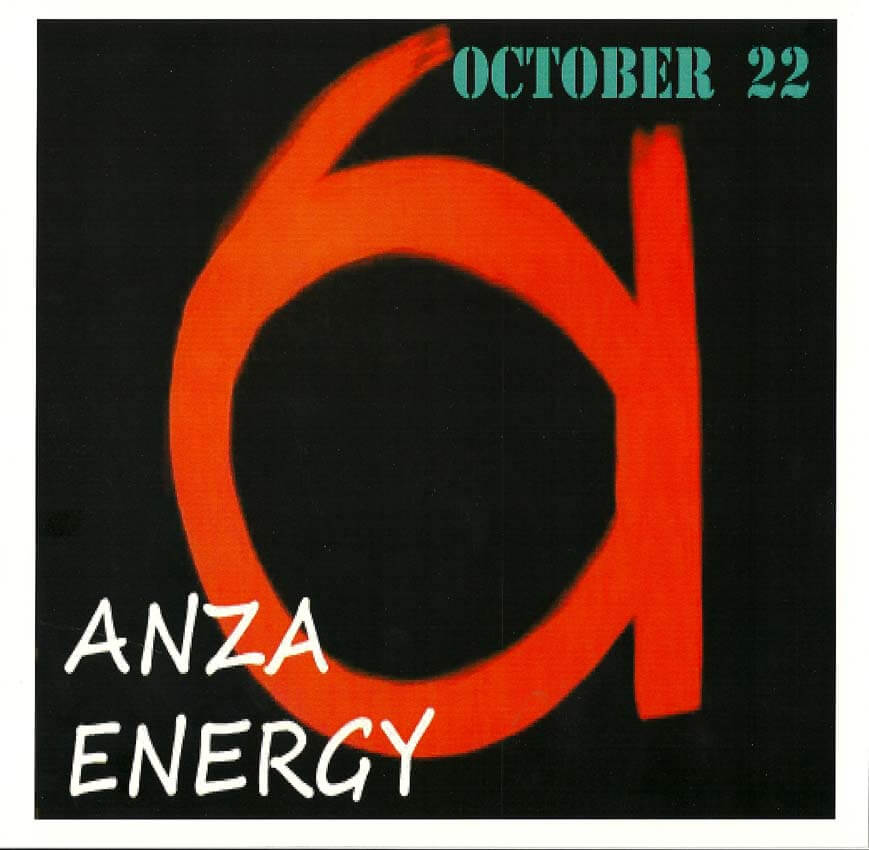 Coming to historic Tubac in Southern Arizona – October 22 from 1 to 5 PM. An eclectic afternoon of art and music, featuring Turkish musician Latif Bolat. The event is called Anza Energy, and you are viewing the "teaser" poster on the left.
Specializing in the ancient Turkish mystic devotional music genre, Latif Bolat has been received with appreciation and enthusiasm throughout the world, as he provides a unique philosophy and approach to the performance of traditional music. (from his website).
Turkish Singer, Composer and
Scholar of Turkish Music and Folklore
Latif Bolat, one of the most renowned Turkish musicians in North America , is a native of the Turkish Mediterranean town of Mersin. After receiving his degree in folklore and music at Gazi University in Ankara, Turkey, he taught traditional music throughout the country. He then went on to manage Ankara Halk Tiyatrosu, a musical theater company, which performed traditional musical plays. Mr. Bolat also received additional degrees in Turkish History and Middle East Religion and Politics from Ankara University and an MBA from San Francisco State University. (From the website)

Also during this afternoon event will be an art display from six artists in the Tubac and Tucson area: Peter Zimmerman, Nancy Geddes, Rebecca O'Day, Dean and Linda Moran, Jeff Mott, and Aleda Burkholder. Over the next few weeks you'll see examples of their work and receive more information about this unique event.
So mark those calendars!
Wow – what an amazing couple of days, and the workload changed dramatically! Which is good, because I have the time for it! If I were still working full time teaching, I'd be pretty depressed right now because I wouldn't have the time to do all thesethings. But I am thrilled that life is picking up!!
So – I snapped a few picks of the studio (I forgot all the stuff on the dining room table – the "other" studio) as the new Mac is headed up to the Apple store for an "overnight" as all the material, photos, etc. gets transferred from the oldie to the newbie. Here's what's happening in my world today: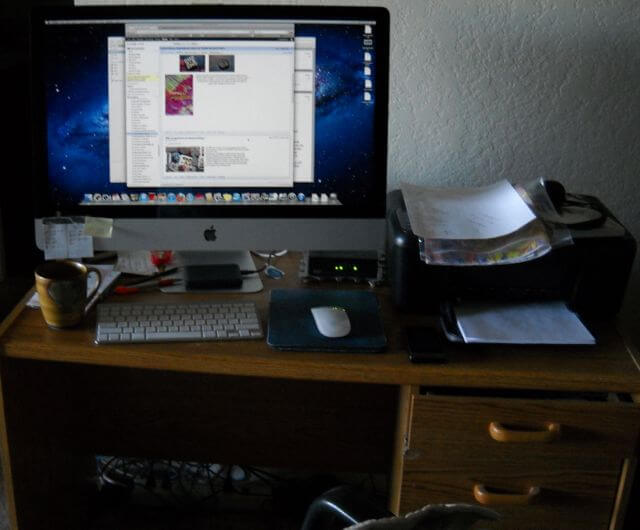 The new desk/computer work station, with a fabric piece that needs to go onto Etsy…not happenin' today….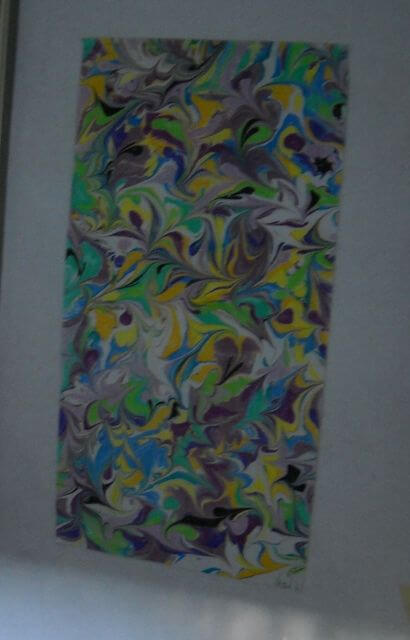 Fabric on the design wall that's part of a larger order to be completed (that's actual marbling of the order) as a reminder of this part of the business.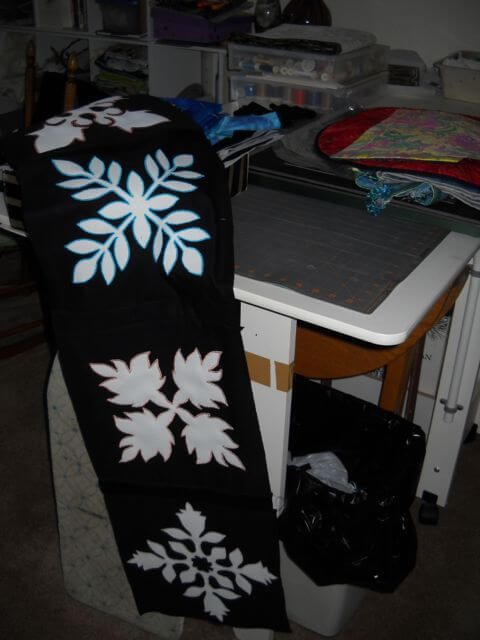 The Hawaiian table runner commission that I want to have done in time for debut at the big Thanksgiving dinner…plus it's for my second mom who is amazing, so I really want this to be special.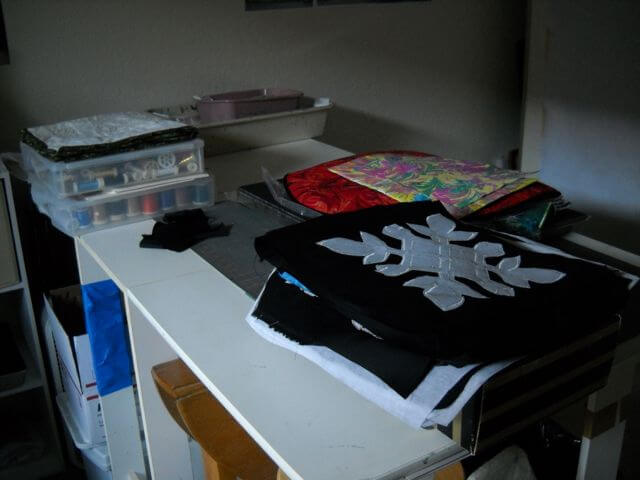 The cutting table/workspace, which will need to be rearranged so hubby can alum lots of material today so we can marble tomorrow morning.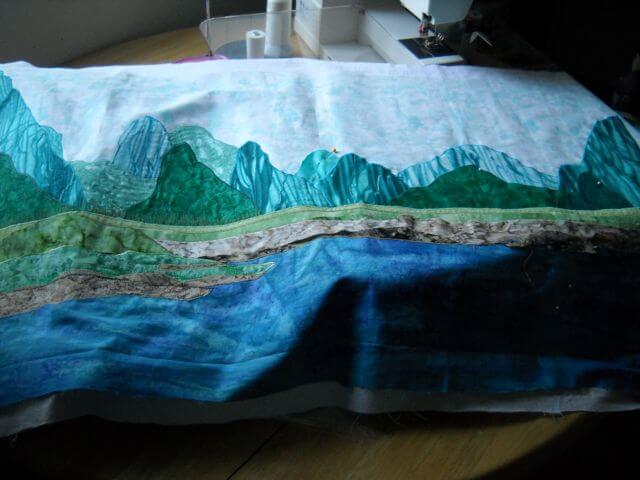 And finally, my Guilin piece, which I really want to finish – learning lots from my Quilt University class, and get hung on my bedroom wall, so I can start (snort) the next landscape – my Great Wall piece………
Life is AWESOME!! Just when I posted yesterday about how amazing the day had been, I checked email one last time before bed to find we have a demo gig planned potentially for the beginning of November – which makes me think I need to respond to that NOW since we will be without computer till sometime tomorrow………
Oh my goodness. Today is the third amazing day in a row! It all started on May 1 when I began the first season of Cocreating Our Reality and practicing the Laws of Abundance and Attraction. I started with changing my thinking to always being positive. The first week was very tough, as I became aware of just how negative many of my thoughts were. Eyeopener, to say the least.
So when I retired the end of May, I knew I was going to become a full-time artist – something I have wanted to do for YEARS. Each time I wrote an abundance check with the New Moon, great things happened. So how does Monday Marketing and Top Ten come together? Well, if you've been following the blog, you know that on Mondays I have been looking seriously at marketing the business and our art. It's been all about organization and learning and getting out there. At times it seemed like I was just doing more things and not having anything to show for them.
The rationale part of me knew that I was laying groundwork, and I would have to be patient. Now here's the top ten for us since June 1 when I started the heavy work for marketing.
* I started with lynda.com and took some classes on Facebook and Twitter, making changes and setting up pages and addresses and plans.
* After getting them set up, I then started a class in Linked In, as I had an old profile from over a year ago. Again, I worked through a class on lynda.com to do all this. So the profile got set up.
* One of the things suggested in the Linked In course was to join some groups and become part of the conversations to develop our networks.
* I joined Art Business and Art Marketing, as well as a few others, and I heard about a call for work for a show in Tucson called Tikkun Olam. All work was 12 inches square and reflected on crises facing the earth.
* I offered to help and sent out information about the show throughout my various networks, plus I made a piece for the show.
* I attended the opening reception for Tikkun Olam (see the post here) and met and chatted with the organizers of the show, two artists from Tubac and Santa Fe, plus talked to a couple of people interested in the piece I created (you can see it here – it's the yellow piece). What was so cool was to get the positive feedback from the organizers; they loved the piece and (as I found out today) the hanging system.
* I sent thank you notes with offers of additional work to the organizers the next day.
* I got an invitation as a result of the reception to join a group of artists planning a show in October in Tubac (a major arts mecca in southern Arizona) and attended the organizational meeting today.
* This show will be October 22 in Tubac, called Anza Energy. We're putting about a dozen pieces in the show. And…..
*One of our marbled pieces, Ocean's Bounty, may be the piece on the main poster for the show, and…..several of the pieces – if they don't sell – will probably go into a spa resort as part of a water show in Tubac, and….one of the galleries whose owner is also participating, has a couple of our pieces now in his gallery as part of the publicity about the Anza Energy show.
So……get out there and do the work – your art and your marketing!!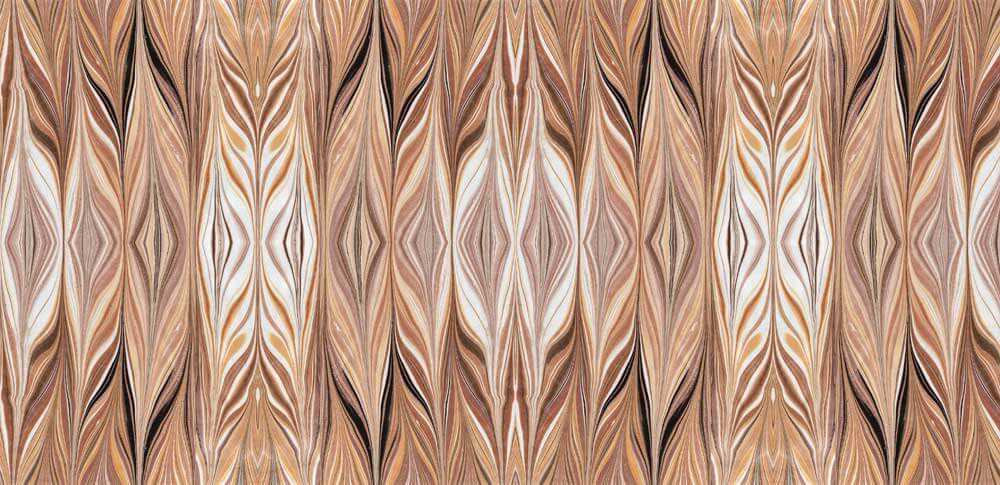 This Monday there are some great resources for you in various aspects of building your business. Hopefully you'll find something interesting and useful. I'm starting with a quote from Dale Ann Potter from  her blog:
Affirm the positive, visualize the positive and expect the positive, and your life will change accordingly…. Remez Sasson
Great words, and I gotta tell ya, I am loving being positive and sending good energy out into the universe. It paid off big time yesterday with a couple of connections to some galleries in Santa Fe….
This first article came via a blog from a blog from another blog – and I discovered Harriet Estel Berman and some really great information – professional guidelines.

A Good Holiday Season for Etsy – are you ready? A timely article from the folks at Handmadeology. I intend to read and reread this article several times and really get into the aspects they talk about for being found.

Also from Handmadeology (love the name) comes a timely article on getting those views to conversions and sales.
From Social Media Examiner (a great resource you should definitely subscribe to) comes an article on 20 Ways to Promote Your Facebook Fan Page. Where should you be putting links? And other great information. Then check the sidebar for more great tips.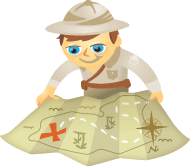 Also from Social Media is a GREAT article on companies that have created wonderful fan pages, with lots of helpful ideas for you. It goes perfectly with the above article. I tell ya, ya need to sign up for updates from Social Media!
In keeping with the positive quote at the beginning, here's an article from Dumb Little Man – You Must Resist the Urge to Quit. I so agree with the sentiment – since I've retired and have had the time, I am so involved in making art, as well as marketing.  I think of the times when I was tempted to quit, because I just didn't have the time – but I stayed with it, and now it's paying off.
From Step 2: "Action creates momentum around a goal. If you've been taking action consistently and suddenly quit you'll notice that it's going to be hard to get your momentum back. That's why one of the best things you can do when you're tempted to quit is to take action. You'll start noticing that even the smallest action taken on a consistent basis will have a compounding effect. The smallest action can reignite your fire or give you hope that there is a light at end of the tunnel."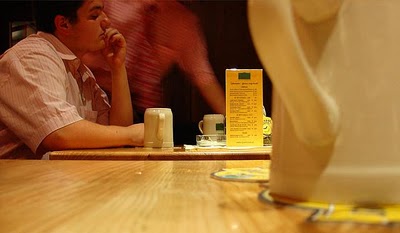 So what have you found on line about marketing that you want to share with others? Leave a comment with the information and we can all check it out. Now get busy!!
The "Tikkun Olam: Artists Respond to Earth's Crises Past and Present" art show opened Thursday, and I just returned from the opening reception. What a delight! I haven't "done" a reception where I have had a piece entered into the show, and it was a lot of fun walking around, listening to comments, and then actually have someone ask to meet the artist – me! And…the organizers of the show were really intrigued with the process of marbling and the creation of the piece. So that makes me feel really great.
Mickey Bond is one of the organizing artists for this project, and she's from Santa Fe. You can check her out here. She not only has a show in Santa Fe right now, but she's here to hang this show and attend the reception. I love this part of her artist statement:
"My mixed media series explore the mystery of creation by enabling nature's influence on my paint and media. Winter's freezing temperatures provide the chance to freeze paint, elicit frost crystals and create a unique kind of crackle in frozen polymer mediums. I've discovered that the surface of clayboard behaves like cold glass on a wintry night, providing (with my help) the right conditions for ice crystals to form delicate patterns and for acrylic media to freeze and splinter into organic crackles and snake skin designs." (from her website)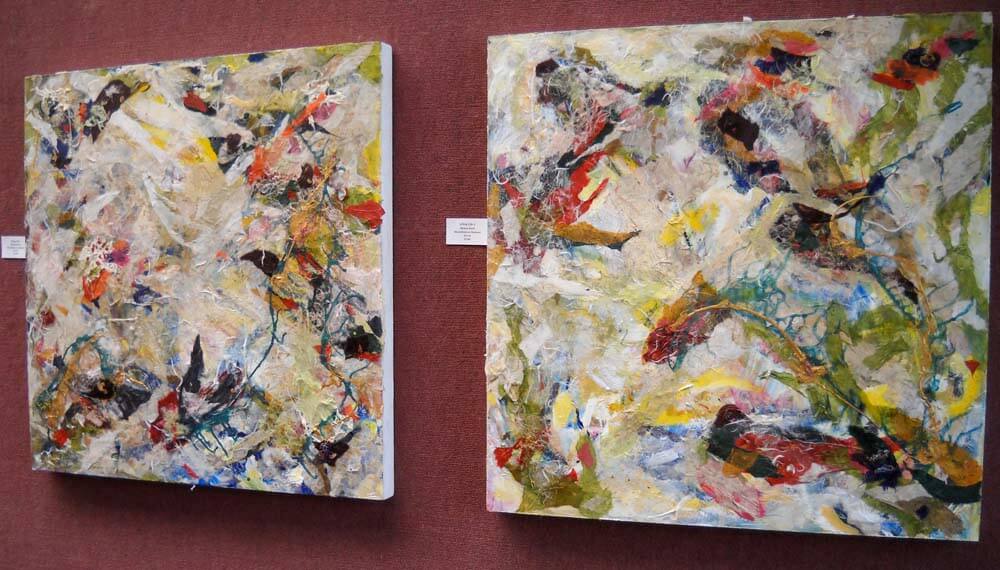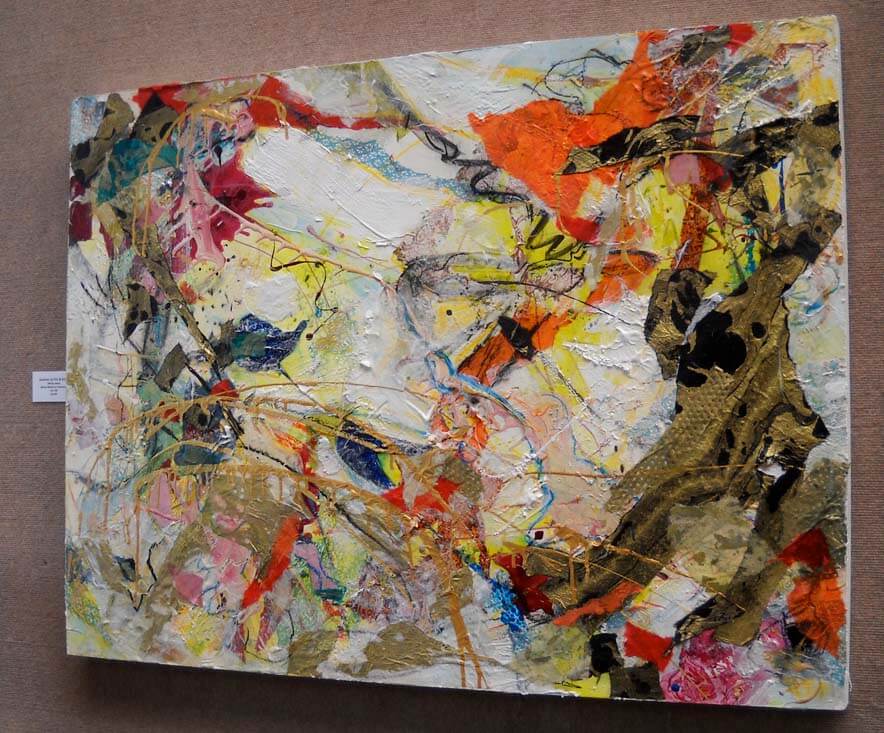 Rebecca O'Day is an artist in Tubac, AZ, and is also organizing this show. I apologize to Rebecca, but the photos I took of her work were very blurry.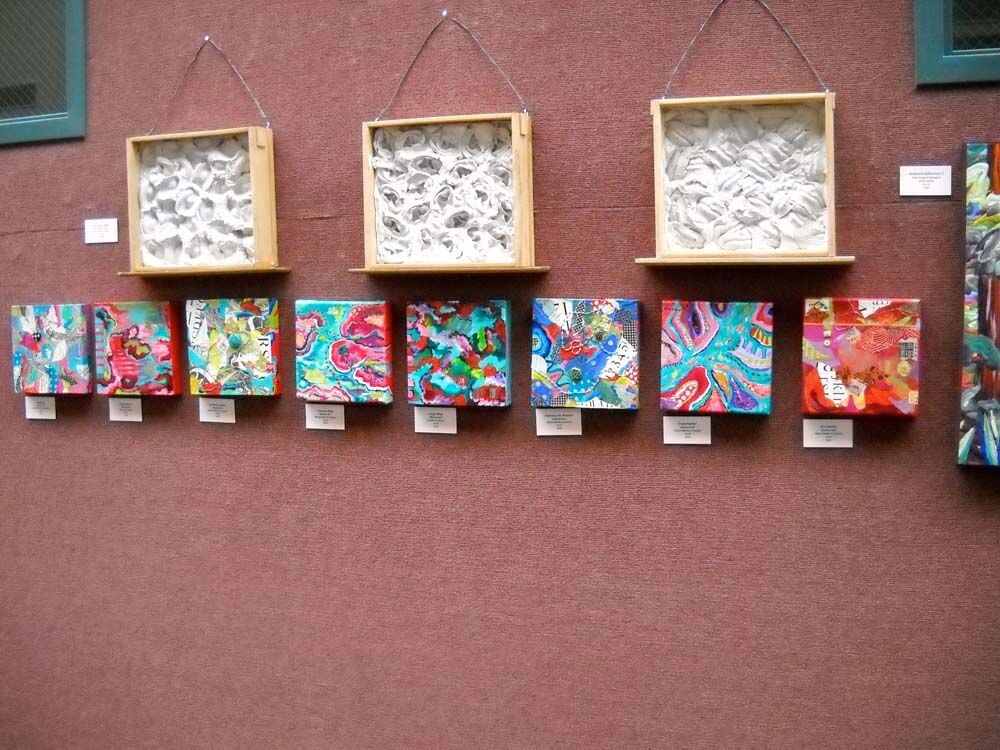 Also having work in the show is quilt artist Katie Pasquini Masopust. Three LARGE quilts plus some great new work on the redwoods, and the canyons.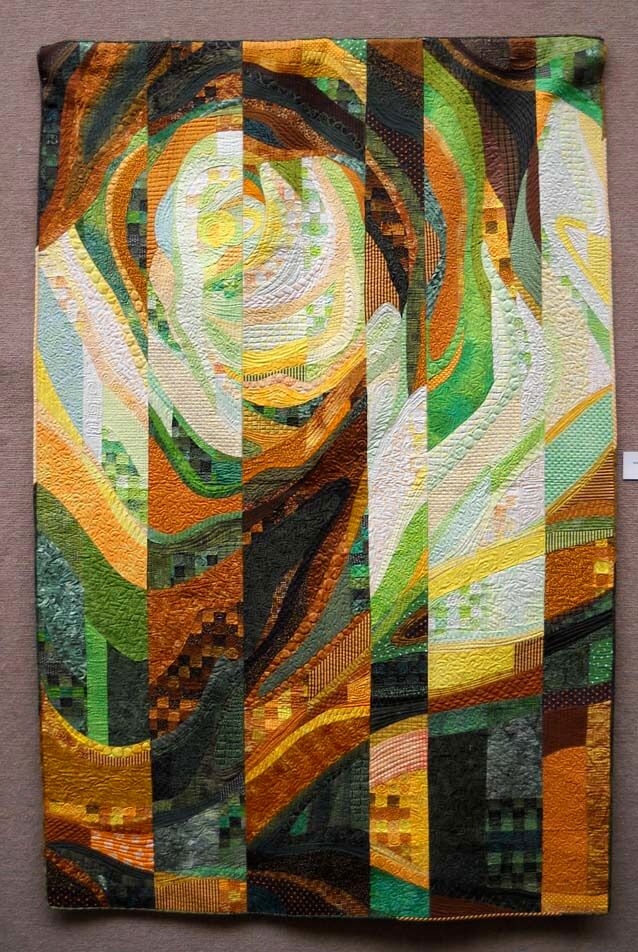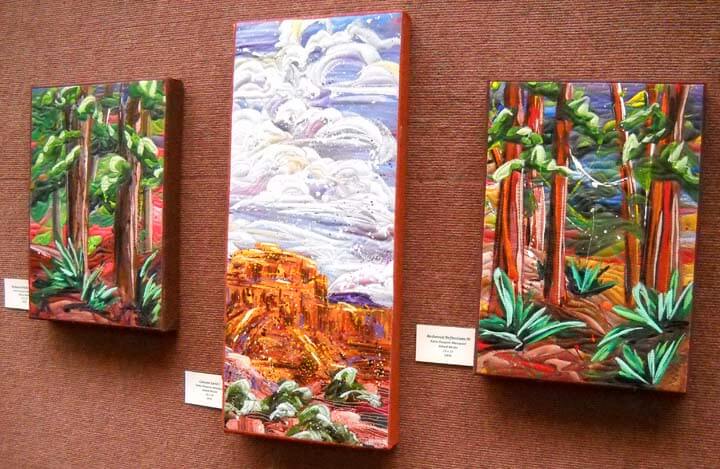 And now, some shots of the overall show – each piece on the wall is 12 inches by 1 inches – forming a really nice grid. One hundred artists from around the world with statements about our planet.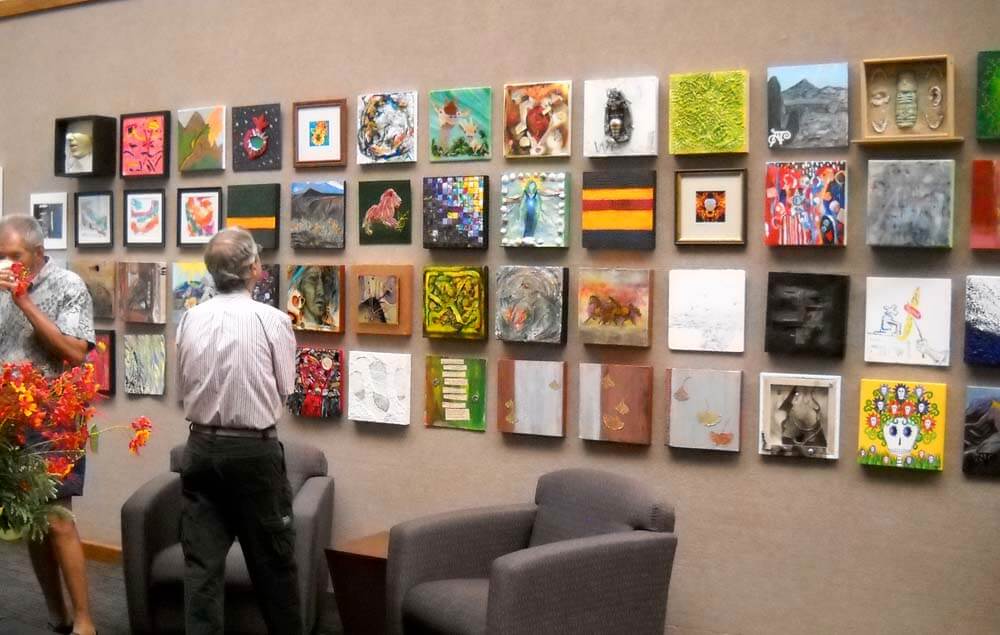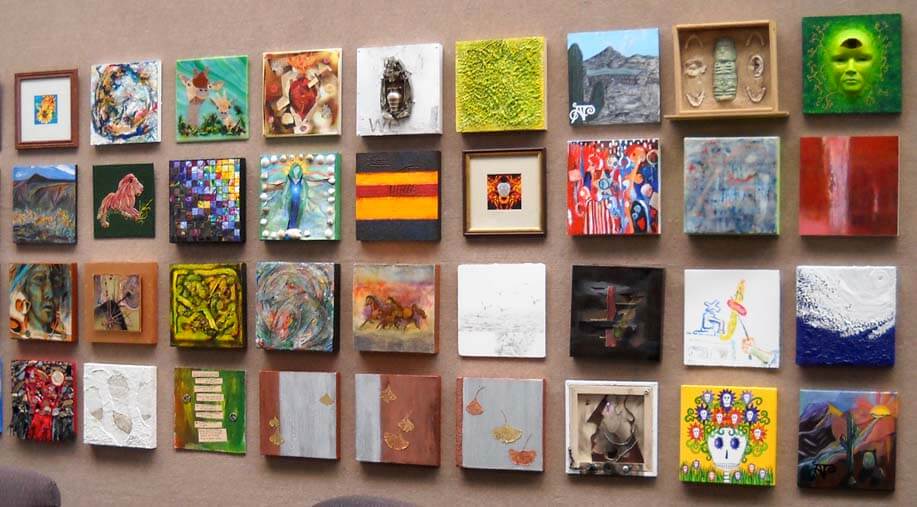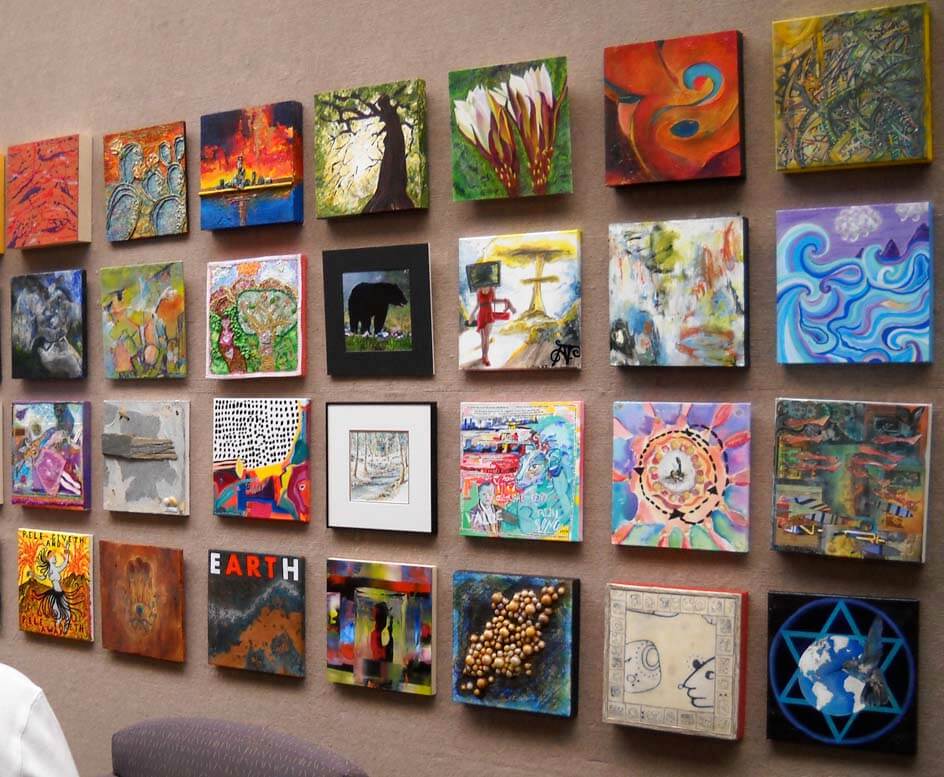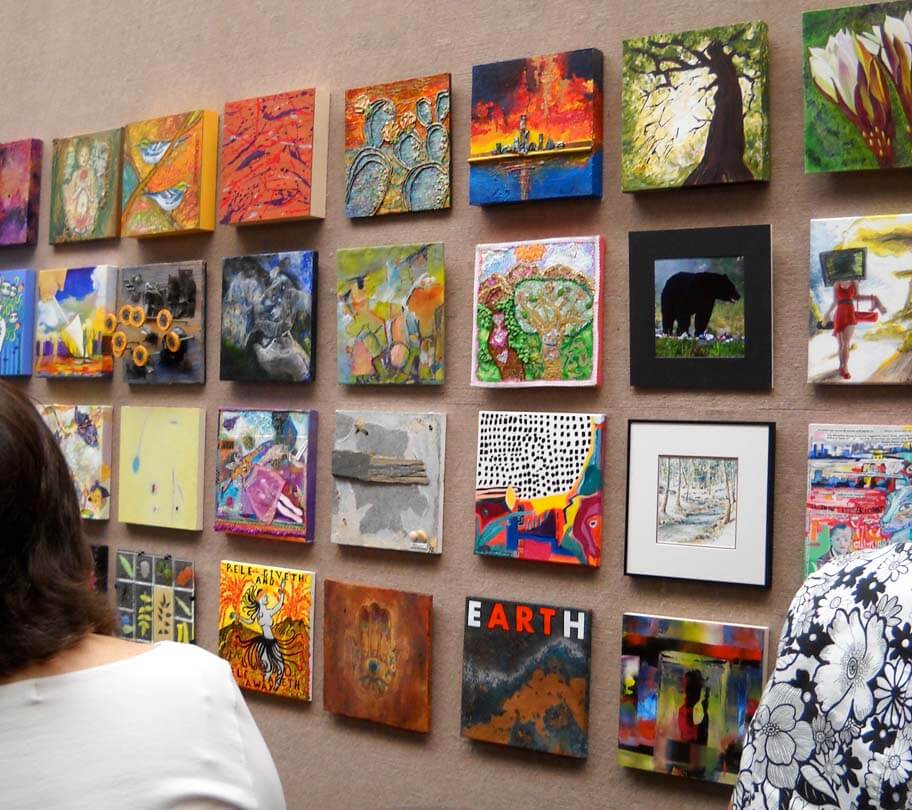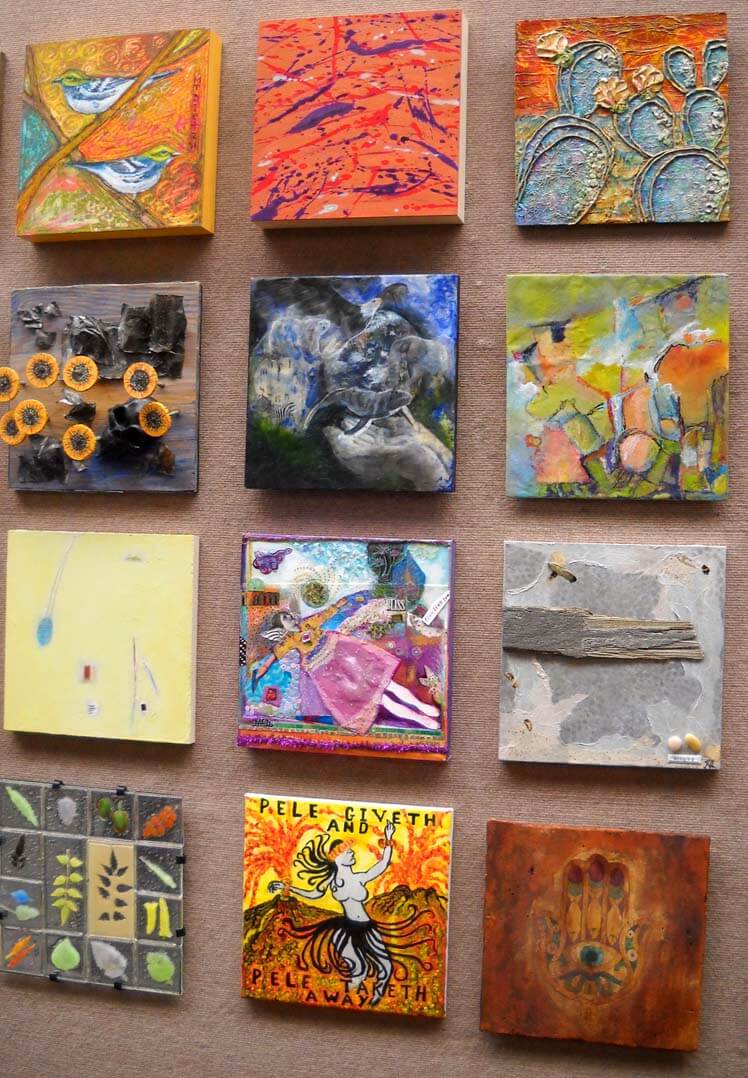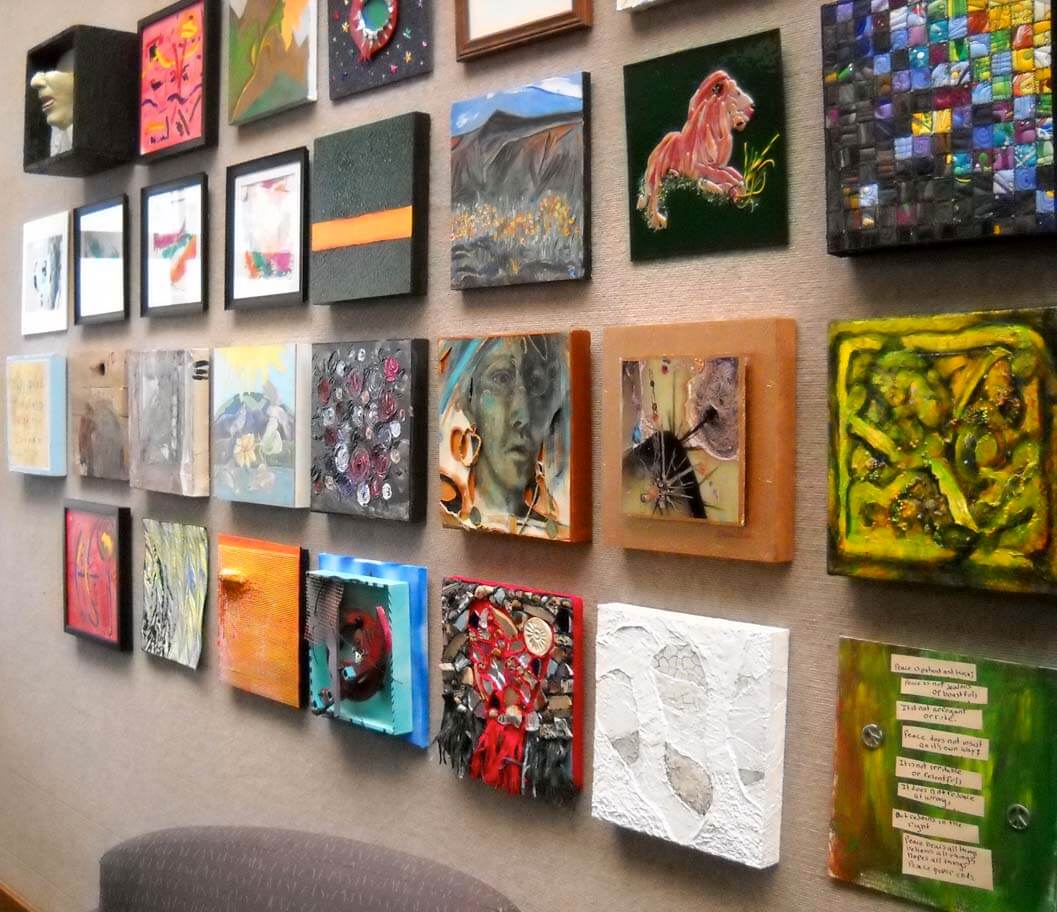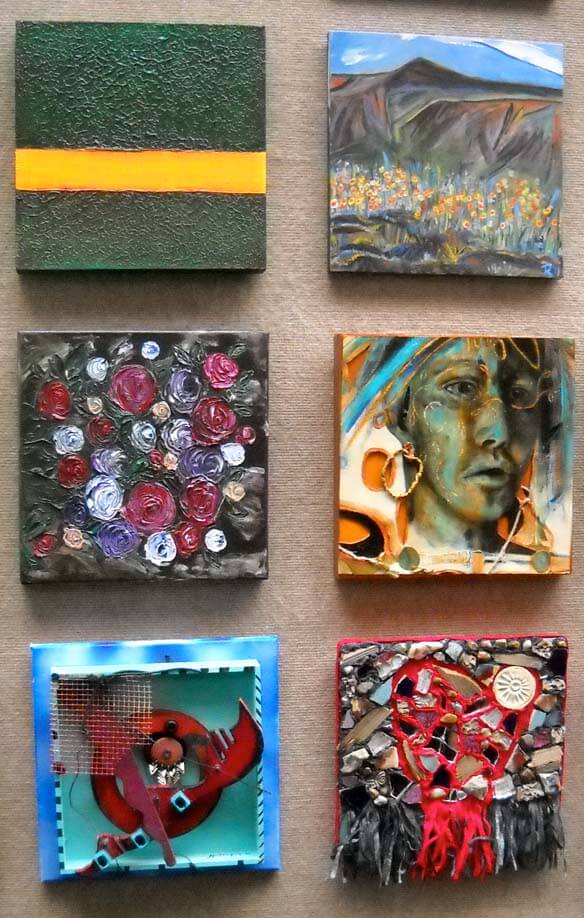 If you are in Southern Arizona between now and October 25, you need to stop by the Jewish Community Center and view the show.

Lots available this week! We'll start with Ebay:
Silk remnants available – some really nice patterns and colors. Hand-marbled Habotai 8mm silk remnants.  Four pieces in assorted  colors.   Sizes are 8 x 25 and 8 x 26 inches. Designs are Large Feather(Chevron), Freeform, and Stone. All pretreated, heatset,  and preshrunk – ready to go for your project. Perfect for art projects, scrap booking, doll clothes,  embellishment, accessorizing.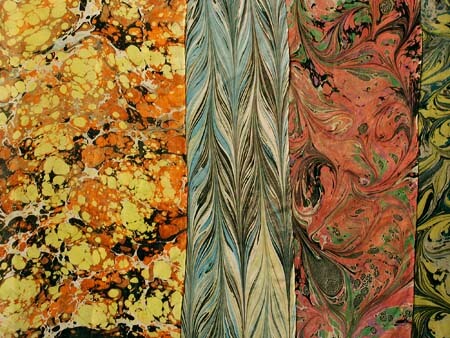 Also on Ebay this week:
Hand marbled cotton remnants available – assorted colors and patterns. Thirteen  pieces in assorted colors and designs. The sizes range: 3 x 8, 4 x 8, 6 x 8, and 3 x 17 inches.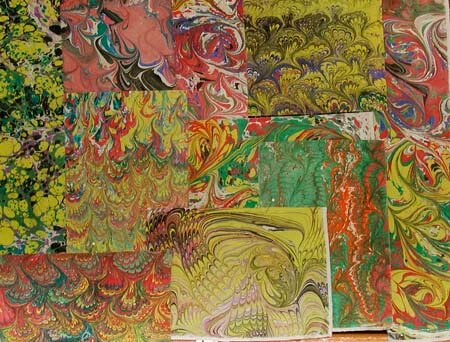 On Etsy, a really scrumptious fat quarter of cotton: This fat quarter on Pima cotton is hand-marbled on white pima cotton in a very traditional nonpareil marbling pattern. There is incredible detail to this piece, and it can be used horizontally or vertically, depending on how you want to use the "movement" in the piece. 17 by 21.5 inches. Edges are serged to prevent raveling during the marbling process. Pretreated and heat-set and ready to go for your project. Perfect for piecing, applique, wearable art accents – plenty to think about for projects! This fat quarter on Pima cotton is hand-marbled on white pima cotton in a very traditional nonpareil marbling pattern. There is incredible detail to this piece, and it can be used horizontally or vertically, depending on how you want to use the "movement" in the piece. 17 by 21.5 inches. Edges are serged to prevent raveling during the marbling process. Pretreated and heat-set and ready to go for your project. Perfect for piecing, applique, wearable art accents – plenty to think about for projects!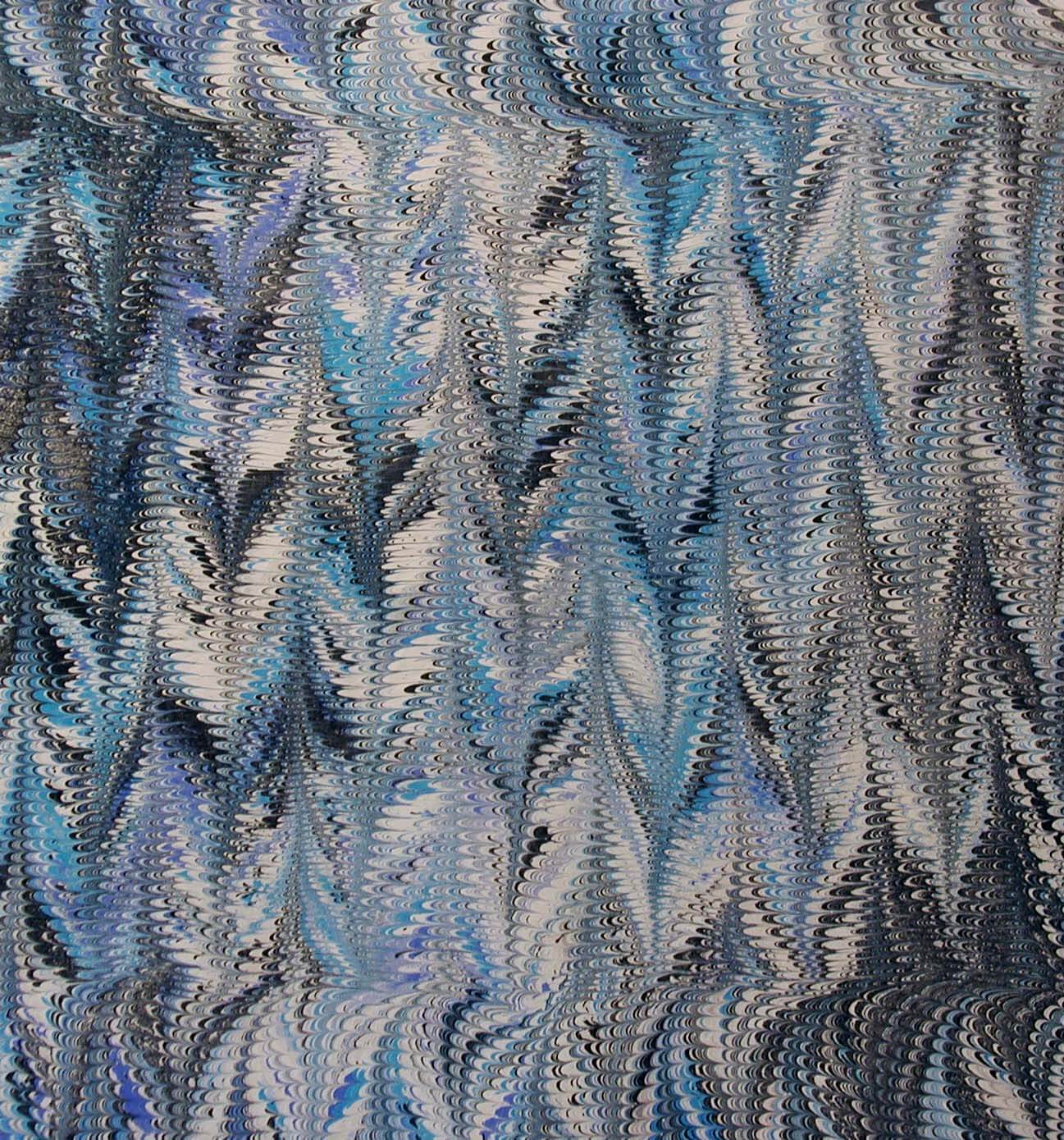 From Cafe Press, a package of Digital Marbling (TN) postcards, with one of our favorite designs.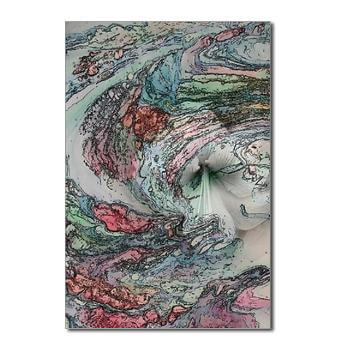 We are always open to custom work, so let us know if there's something you would like, and we'll see what we can do.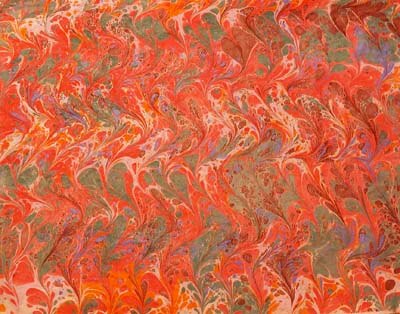 "Visions" is a major quilt art exhibit usually held in Oceanside, CA, every two years. It's like the Holy Grail for art quilters. The Visions Art Museum has now opened in San Diego, at the old Naval Training Center, and will now host its own show. Just to be able to finally get to the museum this last trip to San Diego was a delight. The docents were wonderful and took their time showing us quilts, as well as asking us about our work. It is SO NICE to be with other artists who GET your work! One of the disadvantages to being an artist in the Southwest is unless you're a painter or sculptor who "does" the southwest, no one is really interested in your work.
The major exhibit was Urban Landscapes and Soft City, with a special collection by Marilyn Henrion. Pictures were allowed in the outer area and in the gift Gallery. You can view a gallery of work by Marilyn here.
Here's one of the really intriguing quilts from Urban Landscapes by K. Vellis Turan: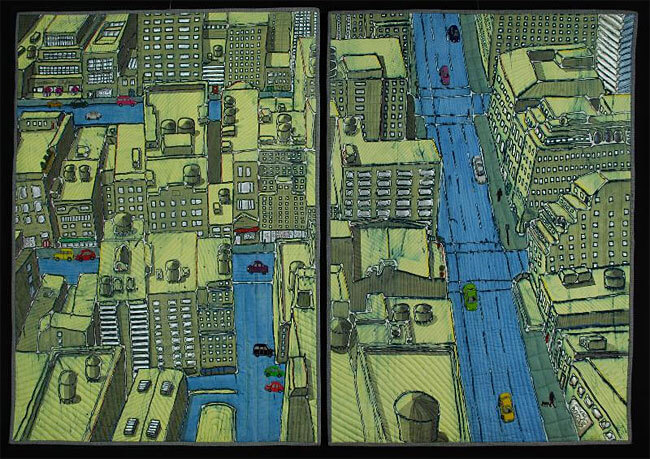 I purposely left this large so you could see details.
The challenge had some really interesting small quilts – 12 by 12 inches, which is a size I have just started to work with. These are all by members of the Visions Museum. Sorry I don't have names….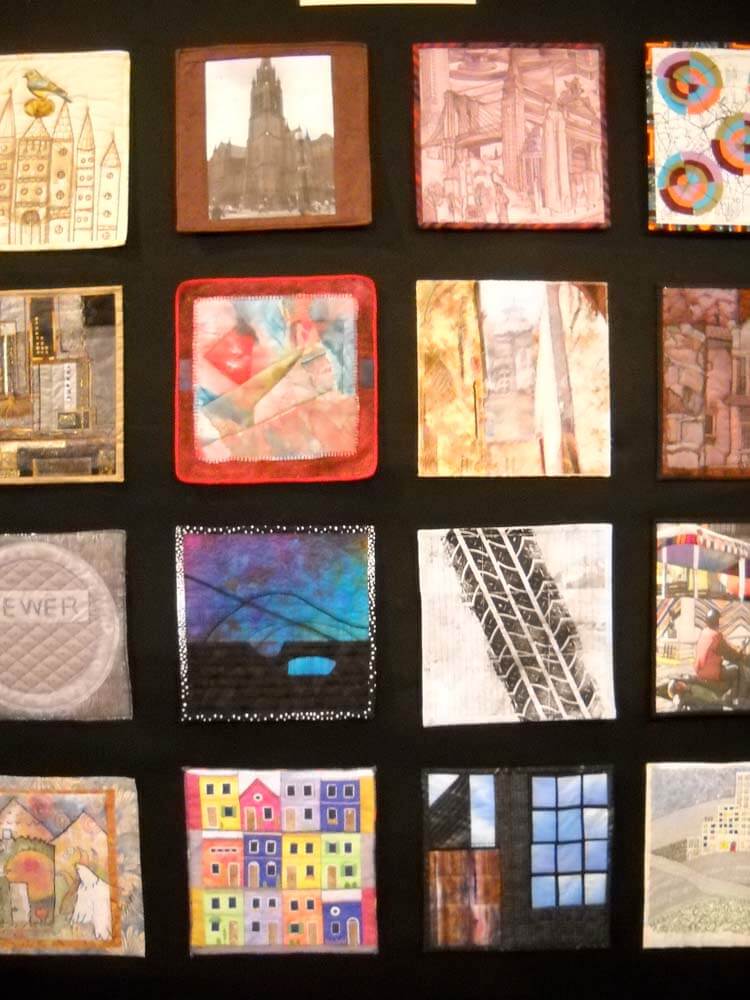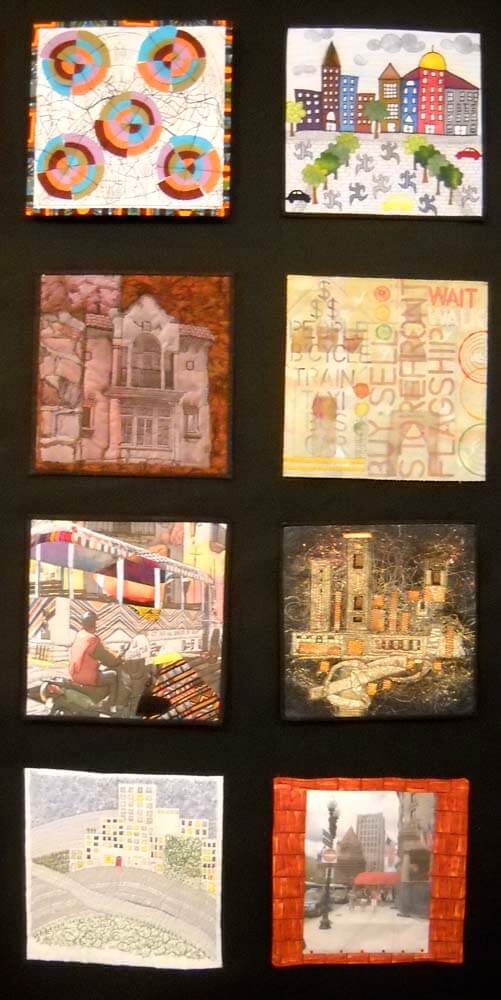 Here is an example of Marilyn's work. Her Photoshop skills are superb.

There were a couple of quilts by members in the gift Gallery – really superb work – and again, sorry for no names.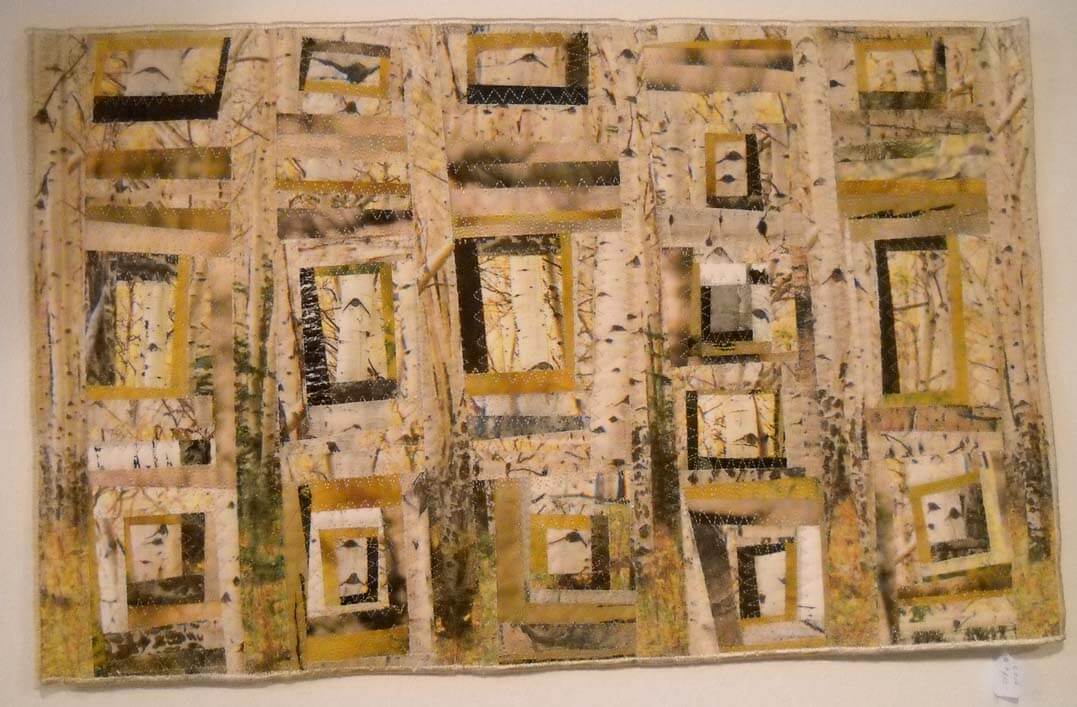 An interesting take on the "log cabin" traditional pattern, with lots of details.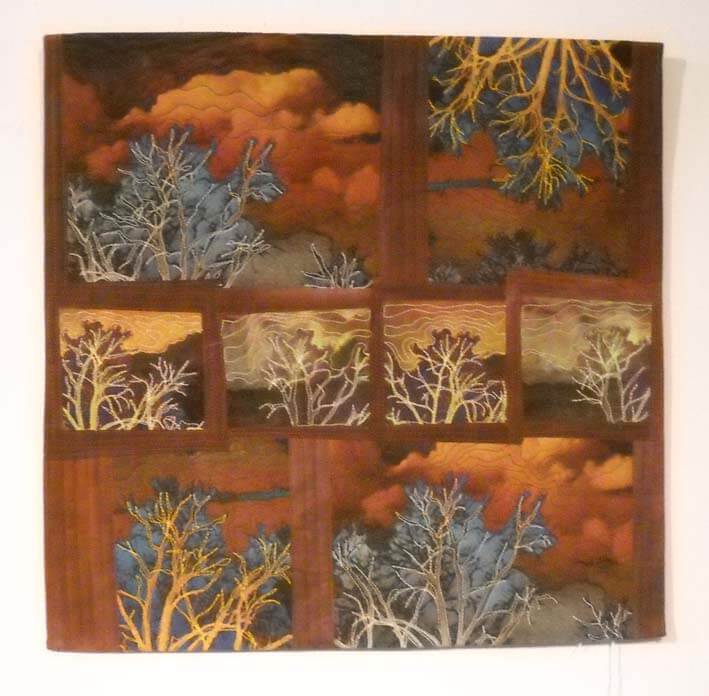 Love this one. Those are definitely my colors!
We bacame members, and I am looking forward to our November trip to see the new exhibit on "Interpretations." LOVE LOVE LOVE seeing fiber!!

Once again, great stuff on line this week. I actually lost a bunch of hours last weekend on YouTube. I found the video below, and that led to another, and then another…I stopped at "Slumdog Price is Right." The amount of creativity out there – that people are willing to admit to – is staggering.
On to what I've found this week: Great photos from World War II – Lest we forget….images from World War II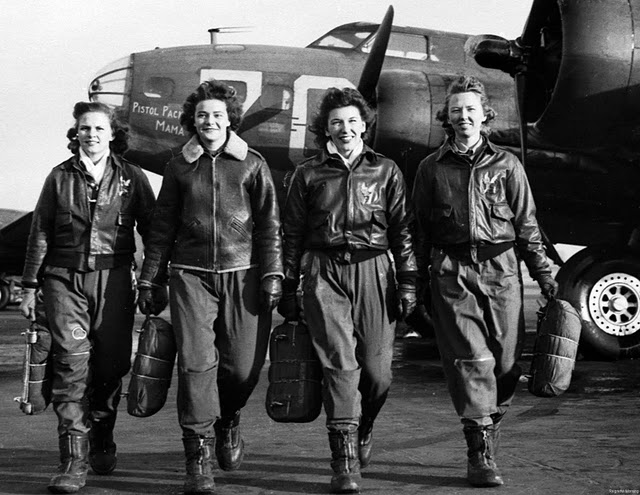 Thinking about making a book? Contributing a book? Here's really good advice from Joanne Mattera Art Blog. What about ne-time use of your images? There's a lot of good information in here about points I hadn't considered.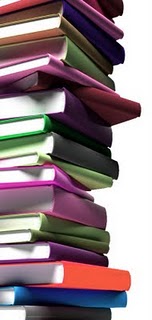 THE. BEST. PARODY. EVER. Especially if you know the music to West Side Story…..
Boy, have wedding invitations changed! Here are 50 Stunning Wedding Invitations – I love the "wheel"!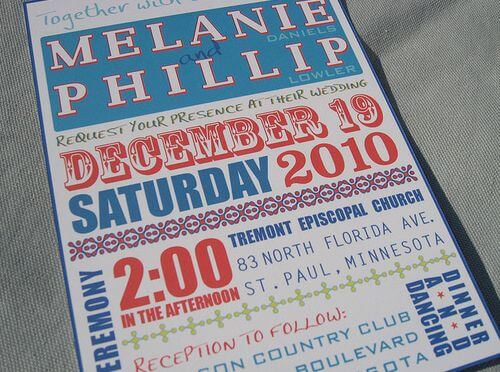 Via Alyson Stanfield's Art Biz Blog comes this article of "speed dating for artists and retailers." This is a really cool concept – check out the article – and successful.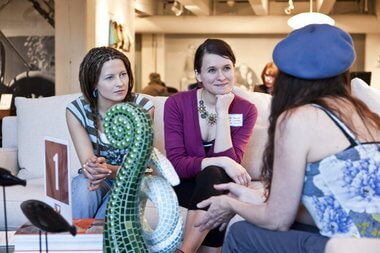 Fine Fine Art Studios Online comes a timely article on doing your art inventory – something on my to-do list for the next month.

From Rayela Art comes a review of Hand/Eye Magazine. Wow – that is definitely on my subscribe list. I agree with Rachel's comment about wanting to have something in your hands to admire, even though you can see some of the same things on line.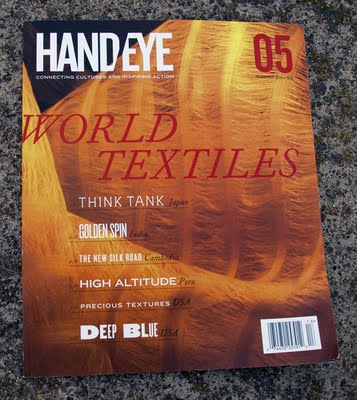 One of my favorite artists is Chris Jordan, who does a series called "By the Numbers: Portraits of Global Mass Culture," which points out environmental facts in an "in your face" piece of artwork. This is his "Whale."  Go to the site and zoom in – Depicts 50,000 plastic bags, equal to the estimated number of pieces of floating plastic in every square mile in the world's oceans. It is an amazing piece of work. On the one hand, you are stunned by the statement, and then when you zoom in, you are horrified as each plastic bag becomes noticeable.

From Happy Place, Brilliantly Smart-ass Responses to Completely Well-meaning Signs.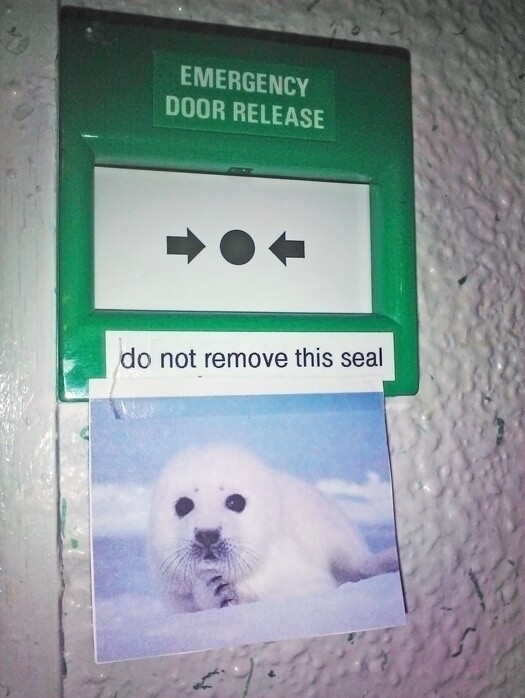 And finally – the really critical stuff we should have learned in math – from The Oatmeal: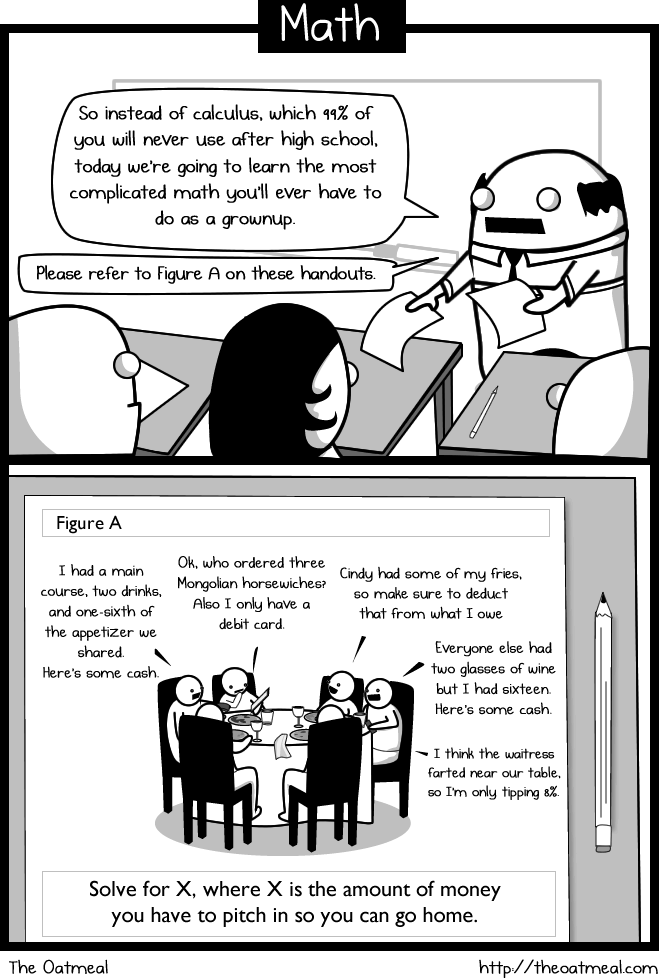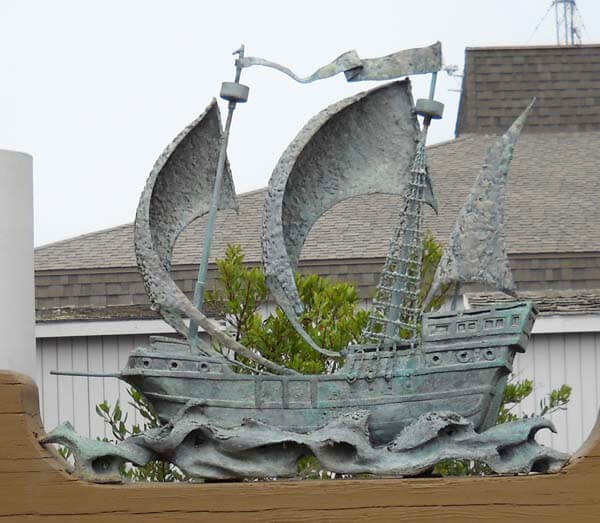 I did a lot of thinking about organization and related business aspects during our trip to San Diego (hence the picture). I had my big notebook with me for major planning, and I keep a small notebook in my purse for sudden ideas and strokes of genius (yes, there have been some…).
  But man, there is a lot to this organization, especially if you don't want it taking over your actual art work. I am slowly making progress in a number of areas, but I have to give myself a break and realize it's not going to all happen at once. The important things – growth in blog visitors, more art being created – and more sales – are all starting to happen. It just takes time…and organization.
So herewith, my latest attempts, based on Action 3 of Alyson Stanfield's I'd Rather Be in the Studio! I have read ahead in other actions, and I am making slow progress, but for me, I need to also complete each piece. That's one of the biggest challenges I have found – not trying to accomplish a zillion things and making small progress but having nothing completely finished. Comes from years of multi-tasking in teaching and directing theater.
Action 3 looks at routines. Here's an interesting thing I'm finding. In the past when I read a book (and I've done many), I usually skip the exercise part – figure I'll get the most out of the reading and then move on. But I never really make any improvement. So part of my promise to myself in buying new books and art materials is that I WILL USE them. Does make a difference.
Routines: Every Day
* Sew (I have been VERY GOOD about this!)
* review goals (yup)
* comment on other blogs (kinda)
* send at least 2 tweets (nope)
* upate fan page (kinda)
* work on newsletter info (nope…..some kind of block going on here….)
Routines: Every Week
* accomplish 1 action (yup)
* Etsy marketing and new items added to the store (yup)
* review organizational notebook for progress (yup)
* add connections to Linked In (yup)
* get caught up on email (yup)
* take care of at least 3 loose ends for actual art making/sewing – like getting bindings finished (pretty much)
* work on licensing collection (not yet…)
Routines: Each Month
* read magazines at Barnes and Noble (yup)
* send newsletter (ABSOLUTELY DEFINITELY THIS MONTH)
* new work photographed (yup)
* visit two galleries (yup) – and a show in a week!
* check on affiliate income, etc. (yup)
Routines: Each Quarter
* complete at least 2 licensing collections
* set new 100 day/Season goals
*look ahead to holidays for Cafe Press
* add a new affiliates
We'll see how this quarter goes. I'm happier with this organizational than when I tried to delineate my marketing on a day by day basis. Then I felt guilty if I didn't get everything done each day! Here's Alyson's book – I HIGHLY recommend it!