Posts Tagged 'gift baskets'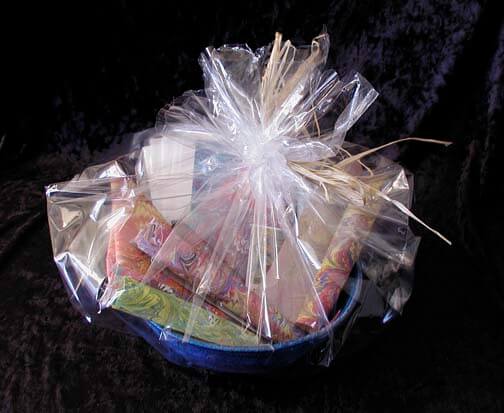 SOLD!
We've been almost missing the holiday season this year, but we finally have enough of our lives together again to offer gift baskets of marbled goodies. The top is a basket from a year ago; the new pics will follow. These baskets contain:
a hand-wrapped fabric bowl, good for all kinds of uses around the house (and perfect for regifting!);
a fat quarter of marbled fabric;
two 8 x 8  swatches of marbled fabric for piecing or applique;
six 6 x 9 swatches  of marbled fabric for piecing or applique;
five pieces of hand-marbled satin/nylon ribbon in two lengths;
4 note cards with digital marbled designs;
a coupon for a FREE table-runner pattern for the fat quarter or other material (sent to you as a PDF);
a coupon for 10% off any sampler package from the website;
two notions of our choice; and
hand-marbled leaves and flowers.
For your viewing pleasure –
So you want one……email me. Baskets are $50.00 – a $75.oo retail value, shipping is USPS Priority, $16.00. We can custom, but our time is short…..If you want to order one beside this one (they are all one-of-a-kind)- and want it by Christmas, December 10th is the LATEST!! Domestic orders only. OR….plan now for birthdays and Mother's Day!

Oy, sometimes ya just need to be hit with the proverbial two-by-four….For YEARS we have worked on product with our marbled fabrics, and we have also tried lots of different venues for arts and craft shows. Some product has worked, which has been good. The art and craft show circuit – not at all. We invariably lose money. We take framed work, digital work, fabrics, digital cards…..nothing sells because most people don't have a clue what to do with the fabric.
Now we're working on putting together our gift baskets for the holiday season. We know that we can keep these going year round by keeping the hand-crafted bowls a fairly neutral color, as well as adding in some seasonal items. It dawned on us, as we threw away the latest offer for a holiday craft show, that all we could really bring was the baskets.
Well, duh. The baskets all along could have been the seller. All in one place, items for that family member that can be hard to buy for. Shrink-wrapped. Lots of goodies. No worry or muss. No explaining how to use the fabrics.
And then….as we're talking about maybe choosing a couple of shows for next year, it occurs to us we could offer the gift baskets in two sizes, small and large.
Duh.
All these years, staring us in the face, and we never saw it.
Sometimes we work so hard and miss the obvious. Right now I'm pretty irritated with us for this having taken so long. But on the other hand, now we have a great new product that should work long-term and give us a lot to build on for more stuff in the baskets. Who knows what else we might have missed along the way?
Suggestions?