Busy week at the marbling ranch….getting ready for a marbling session tomorrow – lots of leaves for our holiday baskets, new fat quarters, and some ribbon coming. In the meantime, here are some goodies available now in our various shops.
On Ebay this week: some great remnants. These are hand-marbled Kaufman cotton remnants,  fifteen (15) pieces, in  assorted colors and designs.  Sizes are 3×6, 1×9, 8×9, 5×8, 4×15, and 6×17 inches.  All pretreated, heatset,  and preshrunk – ready to go for your project. Perfect for art projects,  scrap booking, quilt blocks, doll clothes,  book marks, embellishment,  accessorizing.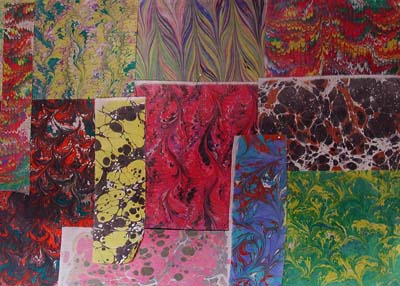 On Etsy this week, a really gorgeous piece of hand-marbled crepe.

Hand-marbled silk crepe fabric in a contemporary wave pattern. Size 10 by 28 inches. Edges are serged solely to prevent raveling. There is so much movement to this piece, and the colors are summer-bright. You can use this for a center medallion, for applique flowers – nice and bright for a basket design! Fabric is pretreated and heat-set – ready to go for your project. Also perfect for ATCs and small art works.
Also on Etsy, a unique table runner, made of a batik that is machine quilted, edges serged, and then woven in strips for this look.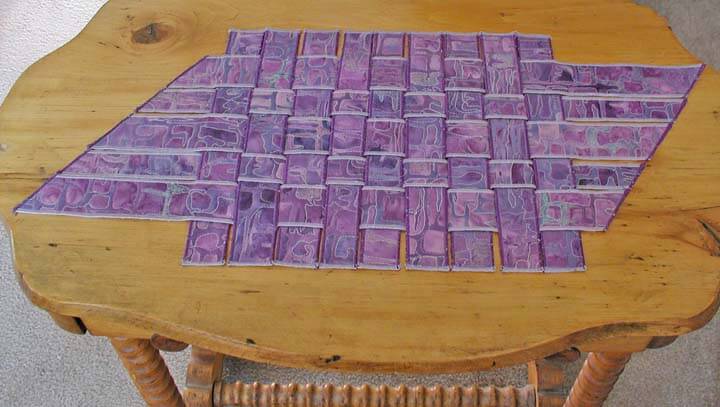 And on Cafe Press this week: our best-selling journal. One of our most favorite Digital Marbling (TN) pieces on the front of a journal. With the increase in personal journals, you owe yourself a great design!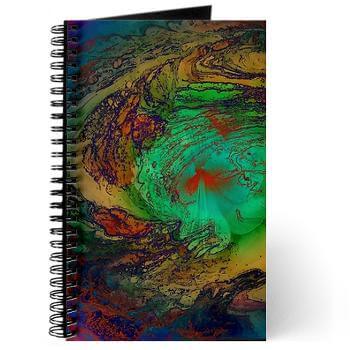 Go ahead and browse – you never know what you'll find! Start shopping early.
Don't forget our coming Holiday baskets – perfect for the artist or crafter who needs some unusual goodies. More on this next week.