I am making a serious effort to finish any new piece I start – and that includes backing, signature, binding, hanging system, and anything else – oh, pictures. I started three smaller pieces since retiring the end of May, and I am happy to report that as of yesterday each one is complete. Absolutely positively complete. I still have a huge cubby filled with UFOs, but I am certainly making progress. In fact, I spent last night working on the start of thread painting for the newest piece for my Quilt University class. More pics on that later – it's looking pretty cool….but I need to buy more thread…oh the problems we have….
In the meantime, here's the finished version of my rhythm piece. This started as a piece of hand-marbled green silk that I attempted to quilt about eight years ago. It wasn't working. But my skills are improving tremendously, and as a result of one earlier class, I wanted to see if I could accept the movement in the piece with the wave design. Here's "Rhythm of the Wave," complete with a few added seed beads.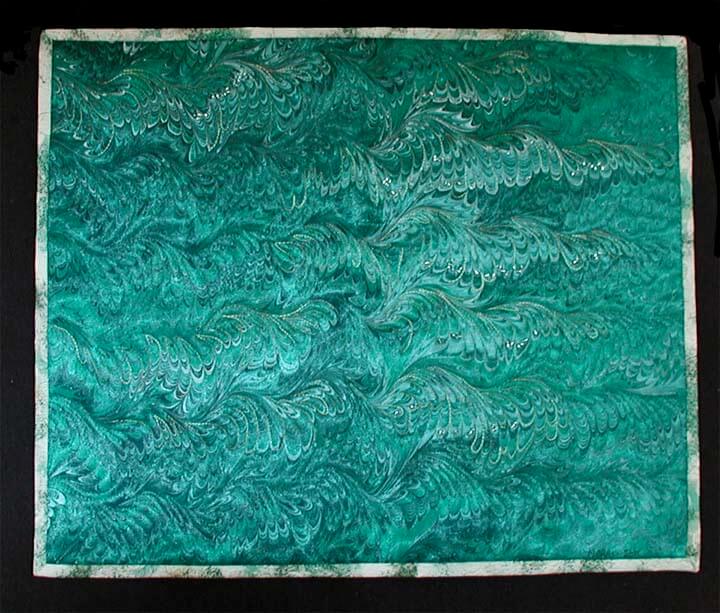 Here's a closeup: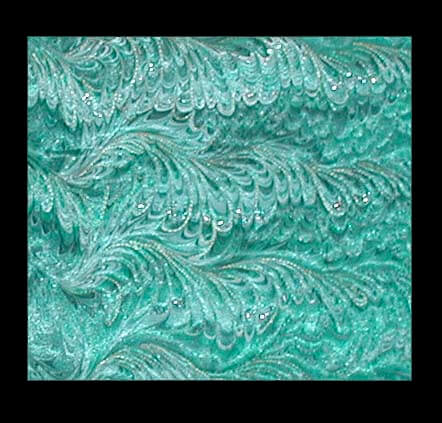 Overall I accomplished what I wanted to with this piece. It will go up in the Etsy shop in the next few days.
Also completed is my "Explosion" piece, based on a new marbling pattern we tried. My goal here was to accent the movement from the center of the piece outward, which I did with lots of diagonal stitching. Again, I'm pleased with the results. This wil also go up in my Etsy store.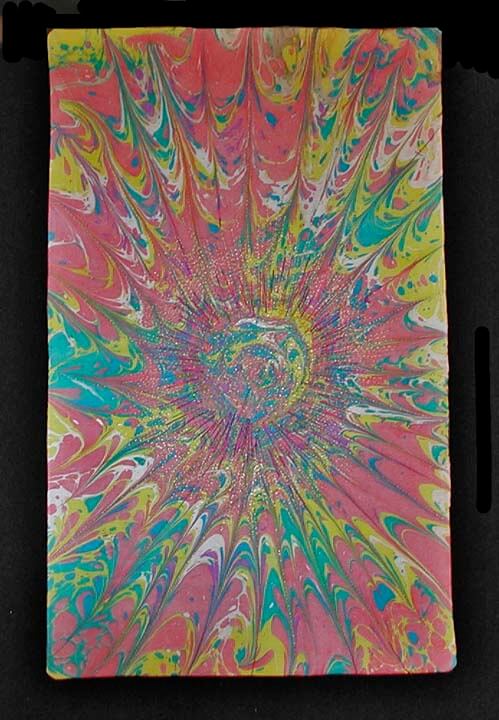 And finally, a piece I completed for a show coming up in Tucson – there will be more details on the show once it opens. This piece is a look at the devastation of oil spills. What starts as a beautiful garden is stlowly destroyed by the effects of oil – called "Insidious Oil."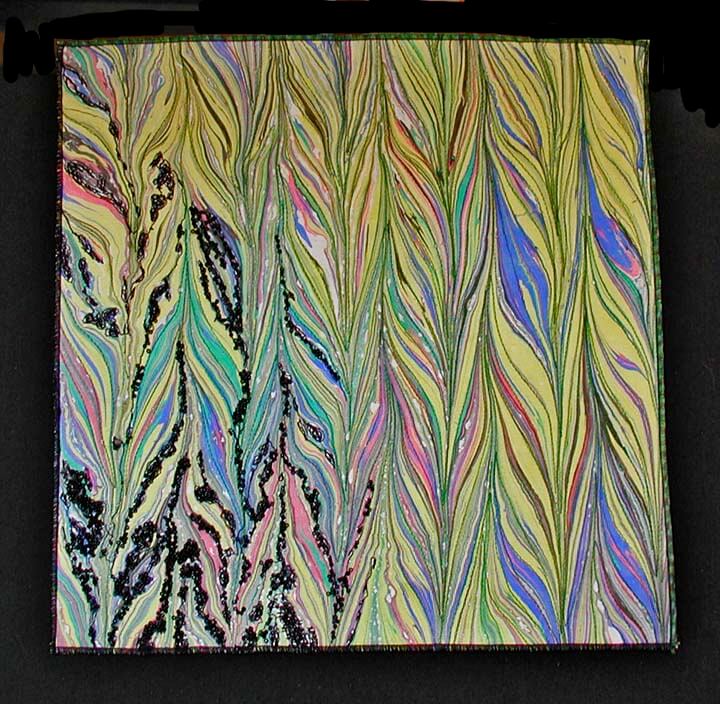 Here's the statement:
As a trained historian, I always see the past and the future in environmental events. As a fiber artist, I feel challenged to take an ancient medium and create a piece that speaks to the environment.
Oil is an insidious liquid. We need it for so much of our daily lives, and yet it can be so destructive. The discovery of oil in our past has enabled us to have the current future. But an oil spill destroys for decades, from wildlife to the water table. This piece of fabric has been marbled, using a centuries-old process of floating paint on water. The beauty of the design reflects the joy we find in a garden, a flower bed, a landscape, or the wildlife that calls a piece of land home. But oil can run away and destroy that which is so beautiful. In a spill the oil creeps through the cracks, crevices, the waterways, looking for a new resting place. It works into the land or water and remains for decades, fouling the life around it, destroying the very fabric or life, much as the black threads do to this marbled garden.
As always, I am interested in your comments. I'll post more on the art show once it opens and I have pictures from the reception.