When we started marbling, we were hooked from the very first piece. The problem was…what do we do with the fabric? Each piece was so gorgeous it was hard to cut into it. We knew we had to get over that mindset. Folks consistently asked, "What do you do with the fabric? I don't know how to use it." Confession time – I wasn't quite sure either. I saw a book and thought marbled fabric would look cool. Now it was "put up or shut up."
I was a beginning quilter with virtually no good color sense…that was hubby's field. I figured black goes with everything, so my first quilt was an attic window pattern.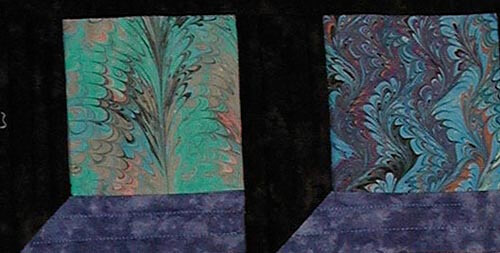 This was a nice way to show off smaller pieces of marbling, but I had to stretch further. It took a number of years before I stopped being afraid of any color except black. I started a Block of the Month, using blocks from Judy Martin. I became more daring…this time it was not black…..but other solids. I built the designs on the colors in the marbling. My January block had a definite "coolness," so I looked for solids with some texture that would work. I started to expand design ideas and felt that traditional blocks could be the key to using these fabrics.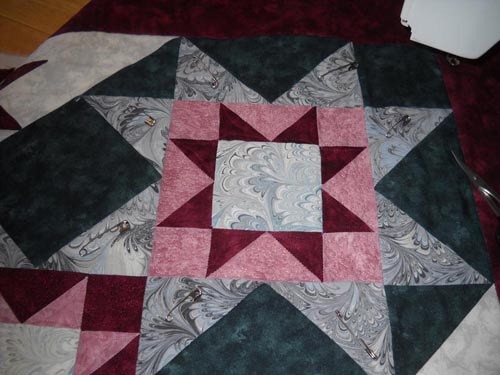 Now another confession…..when I first started doing quilting, I was pretty much "stitch in the ditch"….with metallic threads, no less. The quilt above is 12 years old, and I took it apart (oy) and used my newly acquired FMQ skills. I didn't stitch the marbled blocks, as I wanted them to stand out.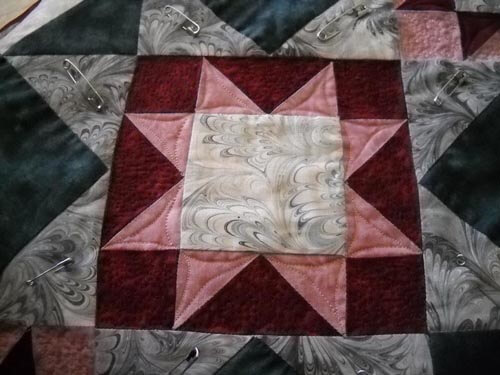 The completed quilt – marbled fabrics within traditional blocks. You can read more about the actual quilting here.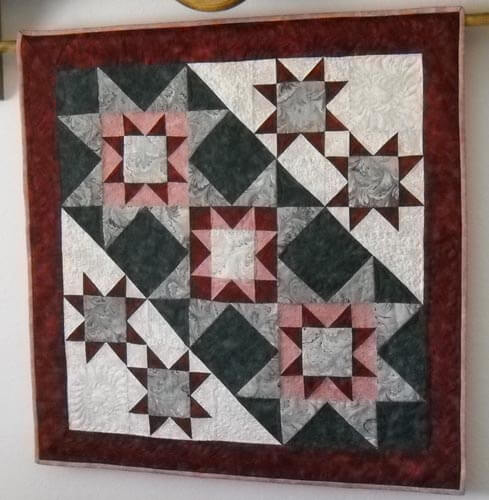 I was hooked on finding some great traditional blocks that could spotlight marbling and go together harmoniousl. Summer……..I had some great neon orange cotton, a nice piece of Moda Marbles, but I needed additional fabrics so the quilt wasn't overloaded with green. I stretched with the print fabrics I added to complement the marbled fabrics.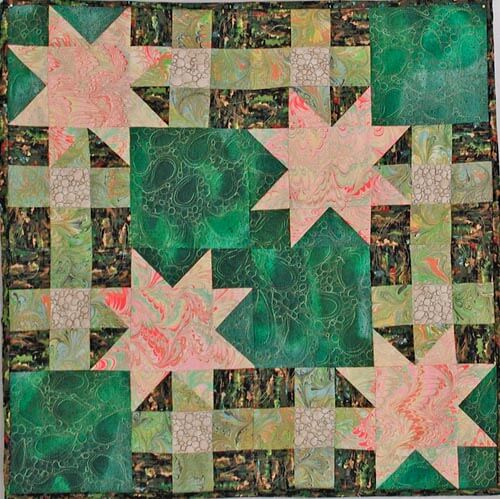 There's lots of machine quilting throughout, but the marbling has been left on its own. (I also took this quilt apart…. kind of obsessive. But as quilters, we KNOW what we want. More about the quilting here).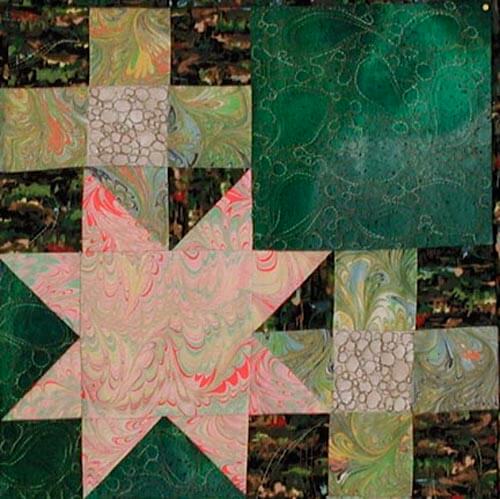 At this point, I had a great piece of marbled fabric that said "I want to be fish." I found a traditional block that could be used as fish. Thus the "fish quilt" was born (you can read about that quilting here). This time I quilted the marbled fabric by following the lines of the pattern and used stitches from my workhorse Bernina.
The completed quilt –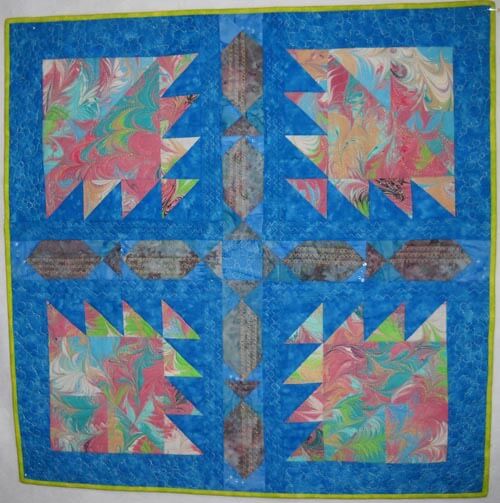 I started getting very bold – it never occurred to me to just quilt the marbled fabric itself. This was a major breakthrough. Traditional is fine, and I still work with traditional patterns, but quilting the marbled pattern gives a completely different look to a quilt. This quilt, "Nature 1: Rock Garden," became my first quilt accepted into a juried show, "Expressions in Textiles." It is very zen-like, and the quilting emphasizes the rock garden and sand.

Go traditional or go contemporary. Don't be afraid of the marbled fabrics. They can be the spark that makes your quilt.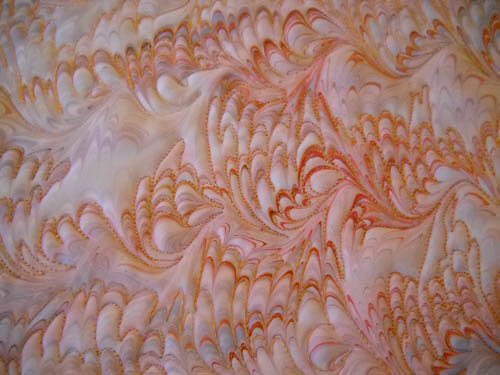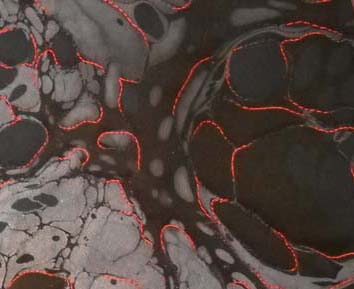 I've had a couple of people come by and see my "Misfiring Synapses," a piece I did on depression. It's getting mixed reactions. Some people don't get it because it's fiber and doesn't look like their mental picture of fiber – which is a typical quilt. Some don't get the imagery in the abstraction, and that's okay. But most people who do get it love it – they say it's exactly what they figure their mind is going through. Which is what I was aiming for in its creation. I think if you've suffered from some form of depression, especially situational, you get the idea that something is ultimately not right in your brain.
When the call for this show came up, I spent a lot of time trying to think 1) how I would interpret it, and 2) how I would do it in marbled fabric. We had done some black satin a while back for a different piece, and it was pretty organic in form. As I was going through fabric, I happened on the piece and thought it looked quite a bit like a nerve ending. Very dendritic. So I went with that piece, and I wish I'd taken a picture of the satin without anything done to it.
I wanted the effect of an irritation, like an itch that just wouldn't go away. As I was checking through my threads, I saw a Rainbow thread from Superior that was a red/purple/black, and I thought it might work. When you look at the above photo, you can see that the red shows, and then it looks like there isn't other thread. It looks like an irritated part of a nerve. Just what I wanted.
So I had the center of the piece, but I wasn't sure how to develop the "looking inside" aspect – I wanted it to feel like you were looking deep into the brain and seeing just this one little piece of irritant. I had two different types of red fabrics, both satins, and both with some freeform designs, again very organic.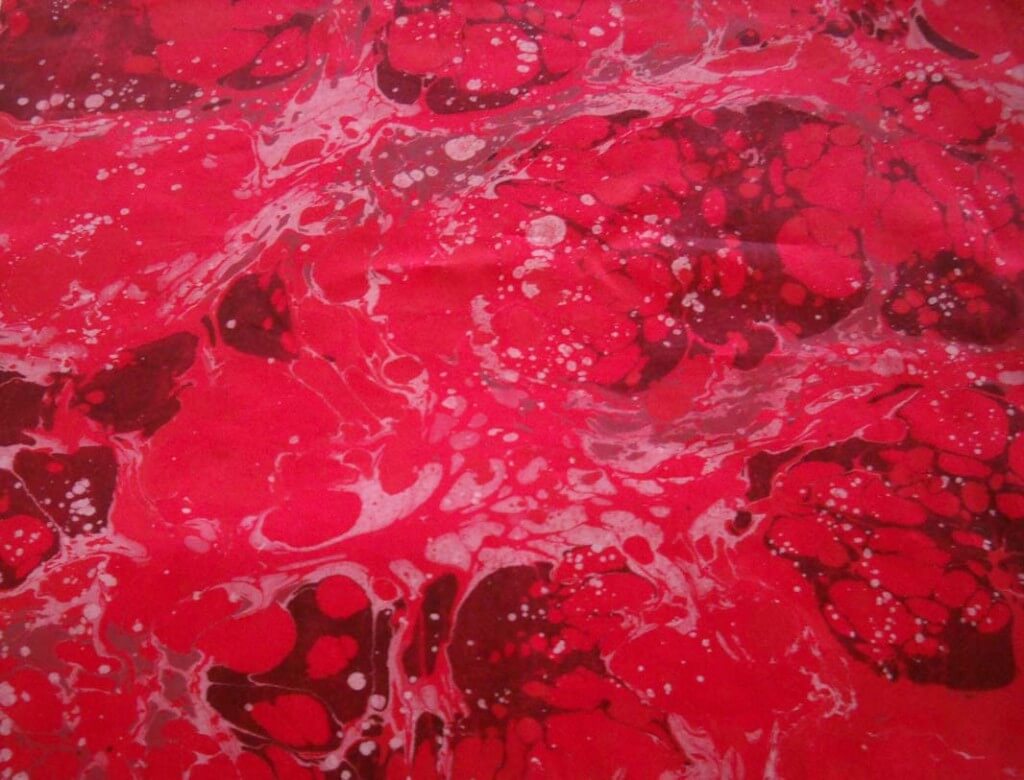 I did a lot of the same type of quilting, following the black, this time with a variegated series of reds. Lots of bubbling texture resulted. I did the same thing with the second piece of red. What I seemed to have were two different areas of the brain, both pretty irritated.
I also had some more great black satin, this time in more formal marbled patterns, and I figured this would work really well for the outer shell of the brain, all the "gray matter." I continued with the curved pieces that overlapped each other, much like I would imagine the parts of the brain does. Each of the curved pieces had serged edges with the idea of the gray matter and all the wrinkles you see in the surface of the brain. There were a lot of issues in connected these pieces. I had to work from the design wall to the flat table, and then to the sewing machine, hoping I could get all the pieces of the puzzle together. My intriguing back of the piece started to look really messy, so before it travels at all, I will add another backing to it, to make it a lot neater.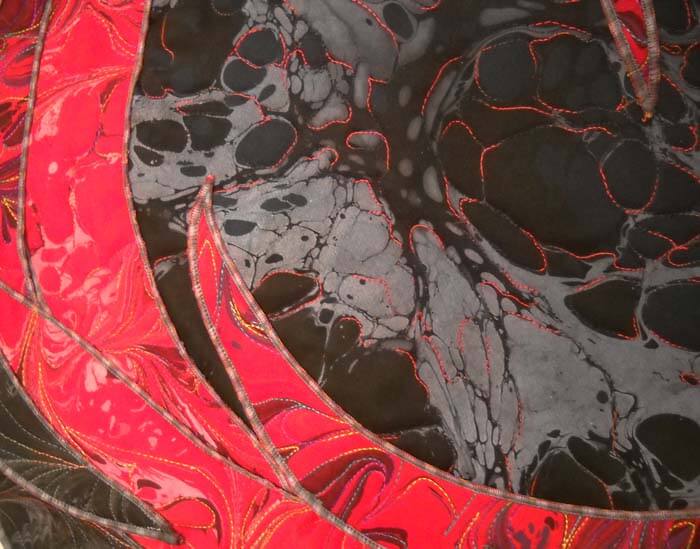 You can see a lot of the overlaps and edging in the above picture. What I particularly love about the piece is that it works both from a distance and close up. From a distance you see this really interesting organic shape, and the colors are somewhat disconcerting and upsetting. Close up it looks like it is undulating.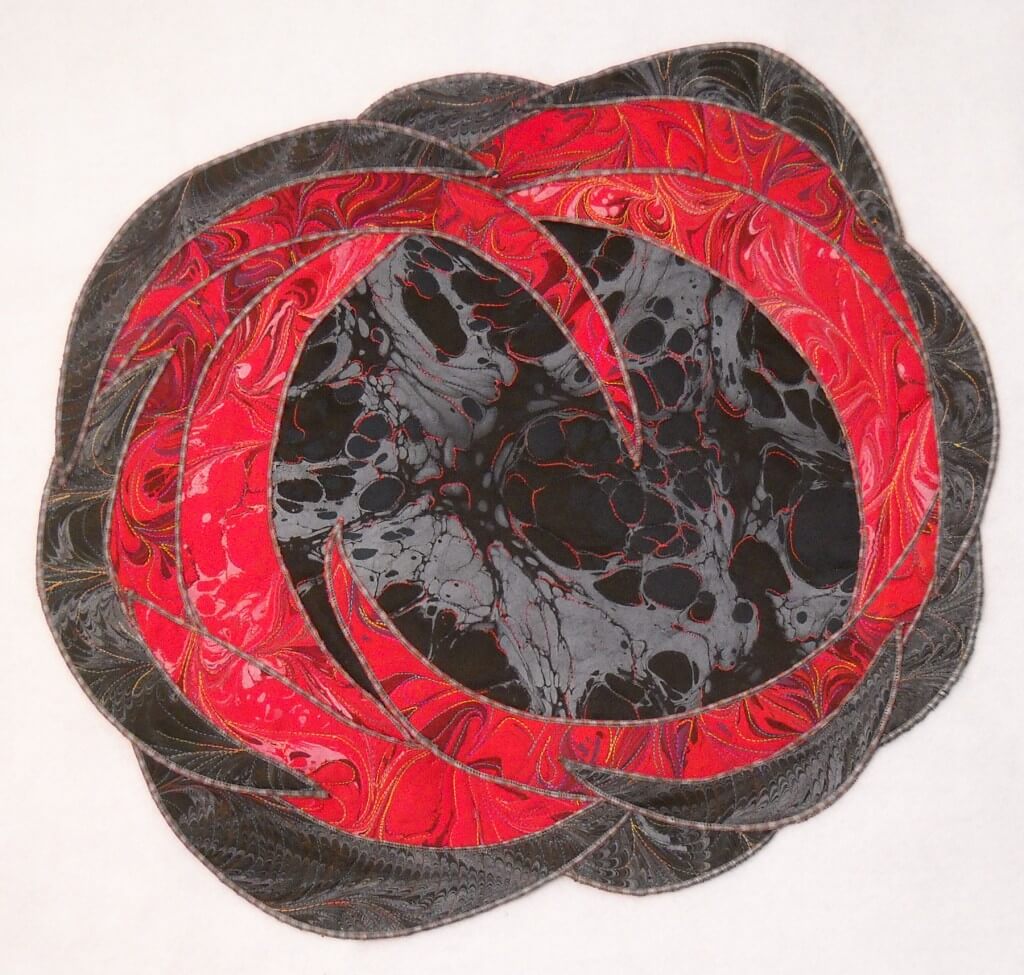 I left it nice and big for you so you could examine all the various parts of this.
17 by 20 inches, available for sale.
Comments?

I've written that one of my goals for this first quarter of the year is to create some new artwork to enter into a few select juried shows. Joanne Mattera had a really interesting blog post on Monday about entering shows: When Do You Stop Entering Shows?

Certainly timely for me. Her checklists of questions to ask yourself are excellent. I had success about 10 years ago with a series of shows I entered, especially Expressions in Textiles, which was more an early art-quilt venue. I would consider this my first prestigious show. I have success entering a show in Alaska each year, which is an art show, and fortunately for me they like fiber entries. I stopped entering a lot of shows from about 2006 on for two reasons: I was teaching full time and had  very little time for creating art, and entry fees were expensive (moderately so nbow, but I must say, being able to do online entries is a blessing). The entry fee was groceries. Then I entered an art quilt show two years ago and was rejected. Aside from being P.O.'d, when I looked at the artists selected, they were the "same ole – same ole" quilt artists whose work is very recognizable. That's when I figured I wasn't going to play with the "big girls" any more. I needed to make work for me.
Hence my decision to try for Visions and a SAQA show this year….there, I've said it. Big time. If I am selected, these will be two huge pieces for my resume. Which brings me back to Joanne's article. "But at a certain point—a tipping point, let's think of it—you want to see your exhibition experience evolve into opportunities in which you are invited to participate."
Yup, that pretty much says what I am aiming for. Joanne goes on to say: "Indeed, most dealers looking at an artist's resumé want to see that evolution. 'When I see a string of juried shows on a mid-career artists's resume, I have to ask, 'Where's the progression?' says a dealer I know."
I know I'm making progress in creating art, and I want to be mindful of shows that would add value to my resume and future opportunities. Quilt shows aren't going to do it for me. Some art quilt shows? Visions, SAQA, Tactile Architecture…..probably. I'm not interested in dealing with the "quilt police." My work is not mainstream quilting, although that's a skill I use. A number of years ago we had our work in a now-defunct fiber gallery in Scottsdale. At the time I was doing different things with my "bindings." I was serging or facing the edges of my art quilts because the technique helped enhance the message of the piece. The gallery owner – a fairly traditional quilter who worked with bright fabrics and called them art quilts – was appalled that I didn't have regular bindings on my quilts, and she wouldn't take a couple of pieces without regular bindings. Well, to my way of thinking, a binding would have constricted the design in a way I didn't want.
Those pieces are now all in private collections, and I'm still spreading my wings as an artist, trying all different kinds of techniques.
Some shows I do enter – nonjuried, no-fee art shows, where fiber will be accepted. The Tikkun Olam show was an easy show, a twelve-by-twelve piece dealing with the theme, and it could be any media. I did receive a lot of feedback about the piece and some interesting opportunities – and a lot of interesting lessons (just because you say you're a curator doesn't mean you're especially good at it….). There is another show like that coming up that I plan to create work for.
In retrospect, I am on the right track. My decisions seem based in reality and forward movement for me. We'll see how everything plays out. I am behind on my piece for the Visions show, but I have a month…..less, when I think about photography, but I'm almost there…..a solid week of sewing (which will have to be next week…) should finish it for me. And then on to the rest of the first quarter list.
I've been working on improving my free motion quilting since June, when I took apart an old quilt and redid all the quilting. I am doing a HUGE amount of quilting right now on a piece I'm working on, but with the start of Sew Cal gal's free-motion challenge for the year, I am plunging right in. We got our first lesson on Sunday, and I started on Tuesday with some practicing. This is a lot of fun. Here's my first attempt: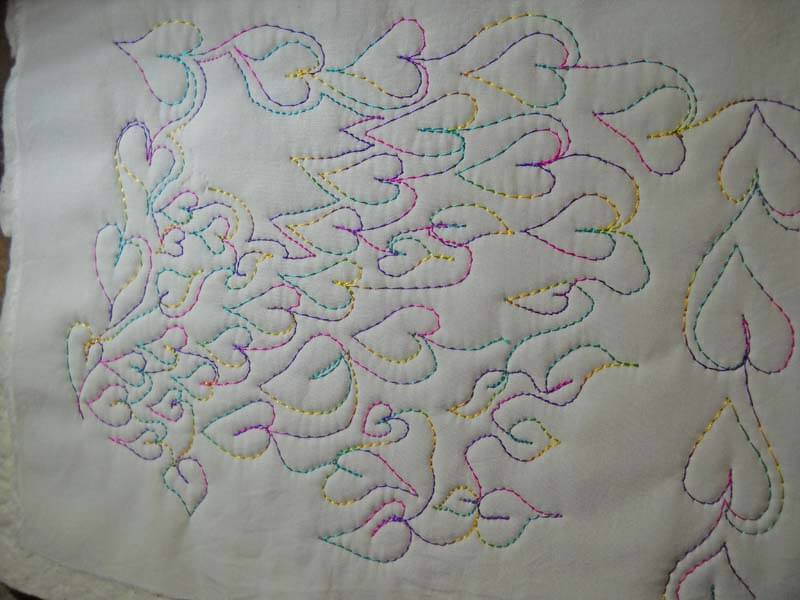 Bottom Line by Superior Threads in the bottom, with a Superior Rainbow in the top, feed dogs down. Overall pleased with the stitch length, as it seems pretty even. However, I keep feeling like my stitches need to be smaller. But the pattern is easy to follow, and I like the effect.
Along with this challenge, Leah Day is continuing her pattern-a-day with a Wednesday Quilt-along. Several of her blog posts have talked about getting ready to free motion, and she posted her "wiggle" practice.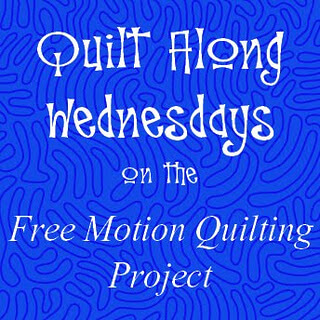 So here's the word on the additional practice. I used Superior LAVA Thread, with some Bottom Line in the bobbin. I was pleased with the design. I even tried a variation on the left side – leaves next to each other.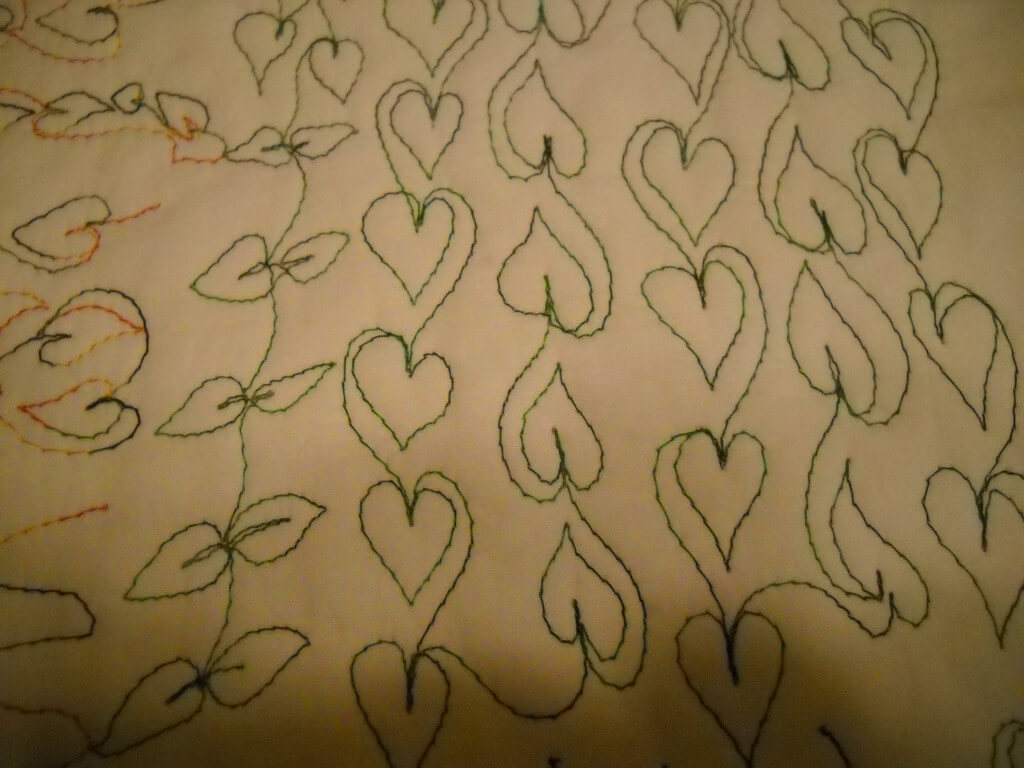 This was intriguing for me. Normally with something like this, I try to be exact in the practice, but I found I really wanted to take off and try a few variations. The only reason I think I did this is that I've been doing some practice since June, so I felt more confident.
Someone suggested trying to quilt with leaving the feed dogs up. So I tried that today as I was practicing Leah's wiggle. If you look closely you can see where I removed stitches because the tension on the back was off badly. In fact I removed stitches three times.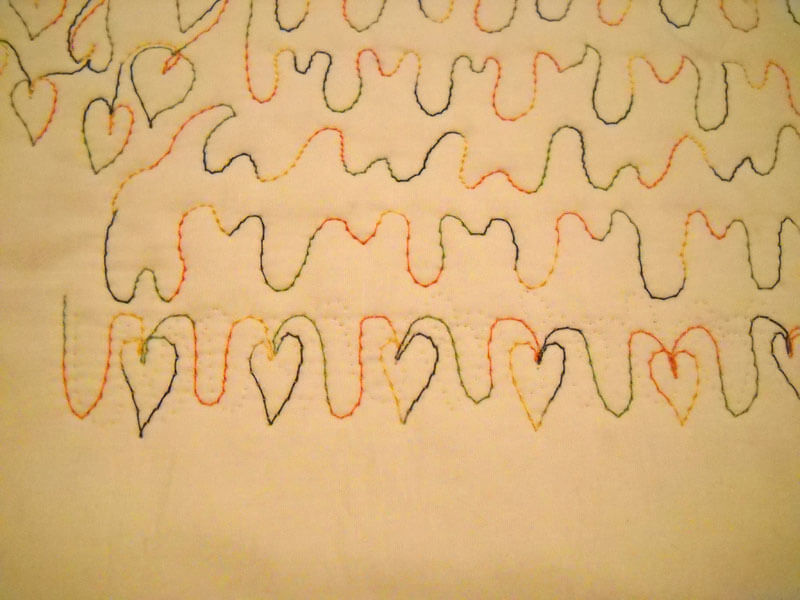 Now I wasn't having any problems moving the sandwich around with the feed dogs down, and I adjusted tension on the top. Bottom Line in the bobbin, King Tut in the top. It finally occurred to me that maybe for my machine I needed to have the feed dogs down. Yup, that was it. Fixed the feed dogs and everything was fine. You can see that once again I was trying a variation of the two patterns.
I also tried to see how small I could get the leaves.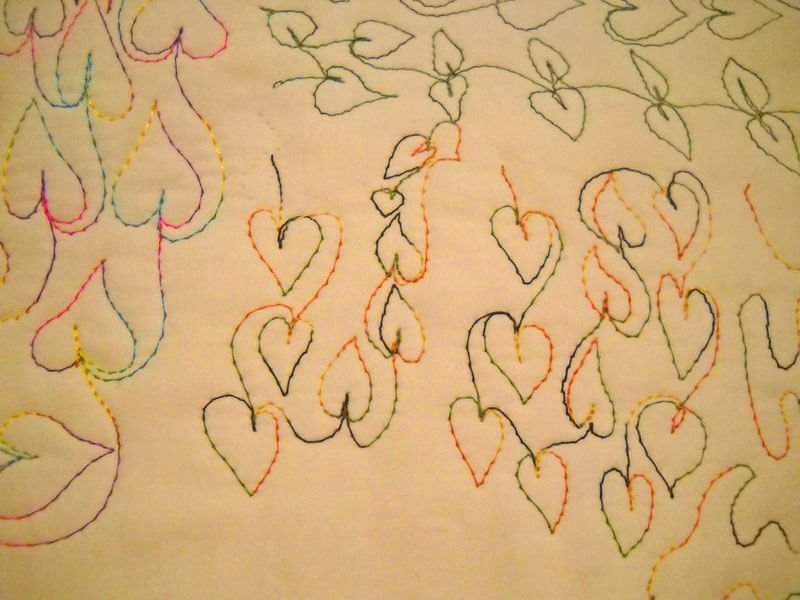 Again, overall pleased. I do need to practice going backwards. I like changing the direction of the vines with each leaf. That's something I will probably keep. One other thing I tried was speeding up the machine, and keeping the hand speed the same. The stitches were smaller and fairly consistent, but I must say I like the somewhat longer stitch length. I think it shows the thread more.
I think this is going to be an excellent way to practice. A lot of my previous free motion practice has been on marbled fabric, where the line of the pattern helps guide you. Some marbled patterns lend themselves to a regular foot (like the chevron), and some need a free motion foot (like the nonpareil and its variations).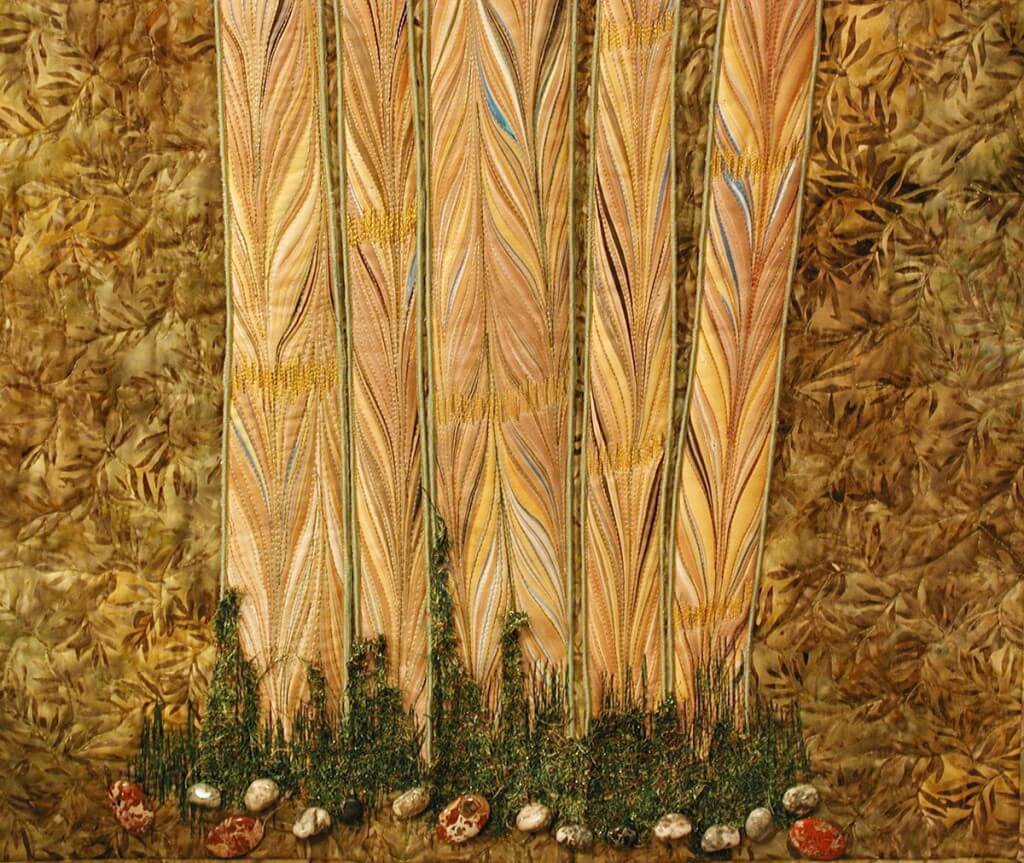 The bamboo stalks are quilted using a regular foot, just following the line of the pattern. The quilting really adds dimension.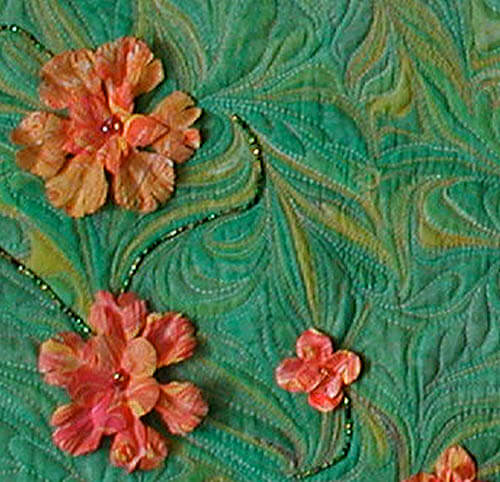 In the avatar I use on line, Rainforest, I used the free motion foot and just followed the line of the pattern This particular pattern, which we call free form, is a lot of fun to quilt. You get in a kind of zen-like mode when quilting this.
In this closeup of "Ocean's Bounty," the traditional stone pattern lends itself really well to free motion quilting. You can see the whole piece with all the free motion quilting after this small shot.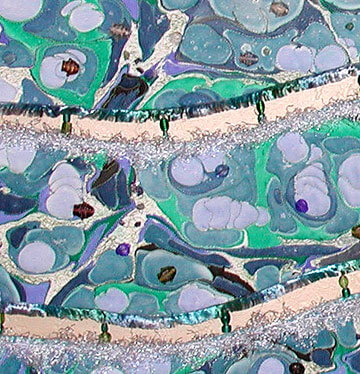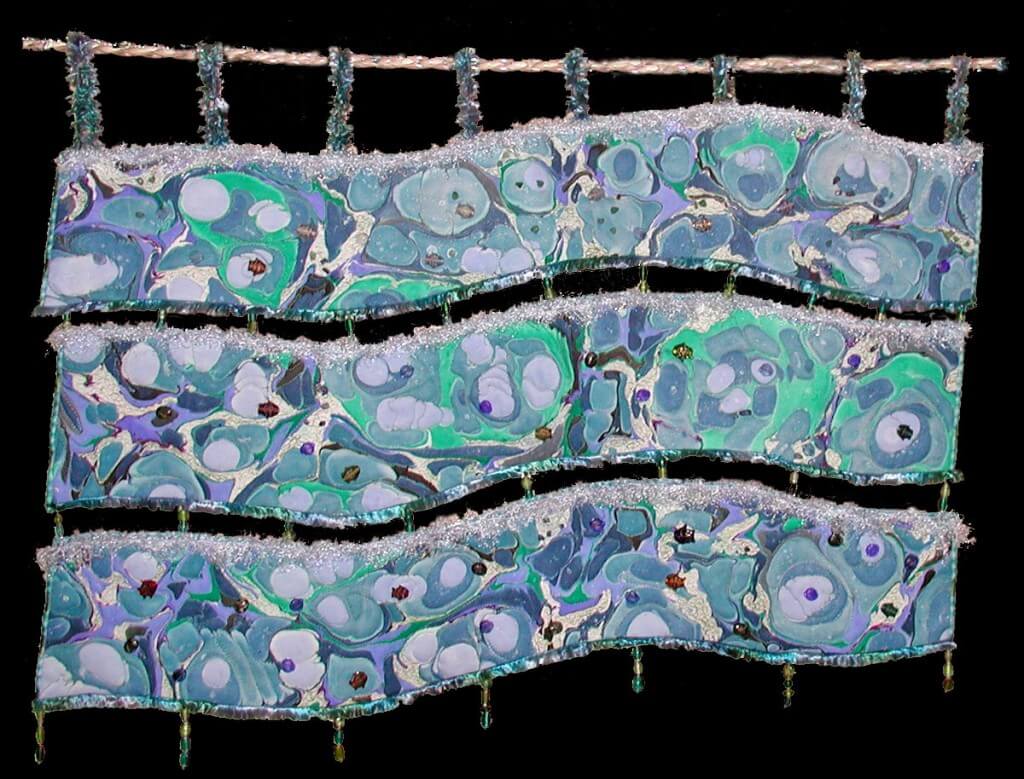 This is a small piece of turquoise silk that has free motion quilting along the pattern to accent it. Complex pattern to quilt in free motion, but it gives some great effects.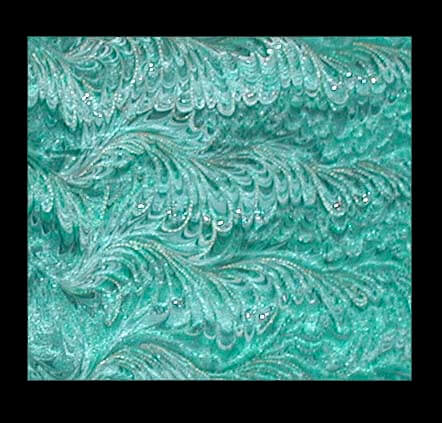 Here's a closeup of "salmon Run," accepted into an art show in Alaska. The free motion quilting follows the nonpareil wave pattern.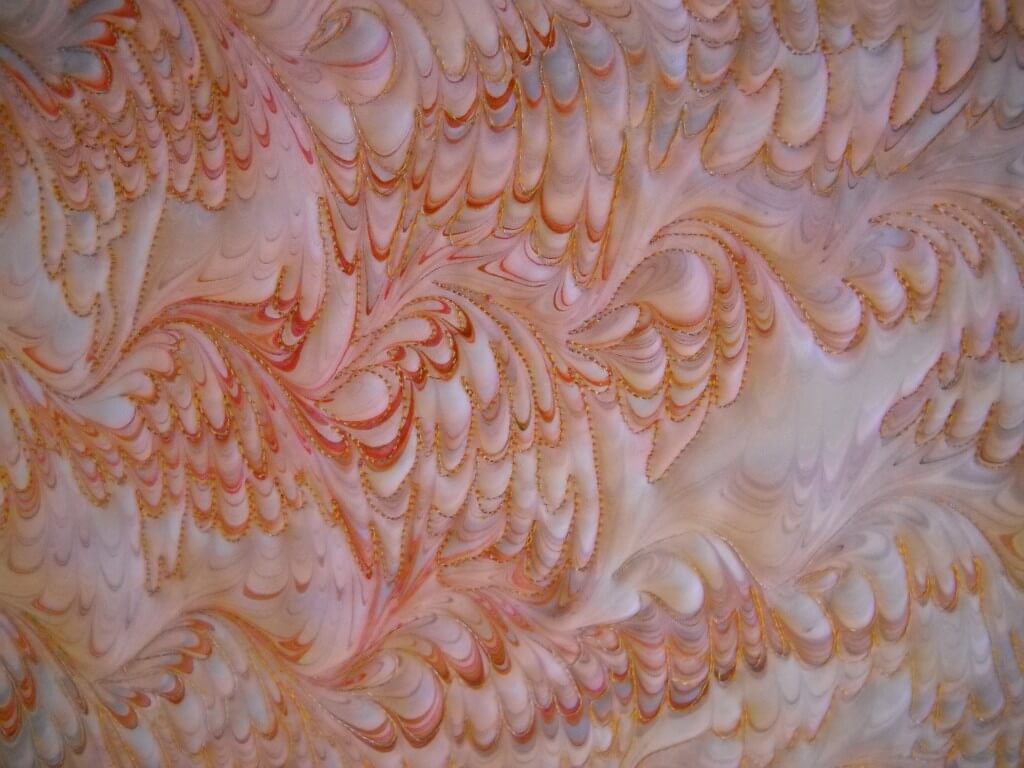 You can see more of the art quilts at our website.
And….along with everything else today, we marbled 20 fat quarters in preparation for a show in Seattle in March. They are gorgeous. Here they are, folded and ready for packing.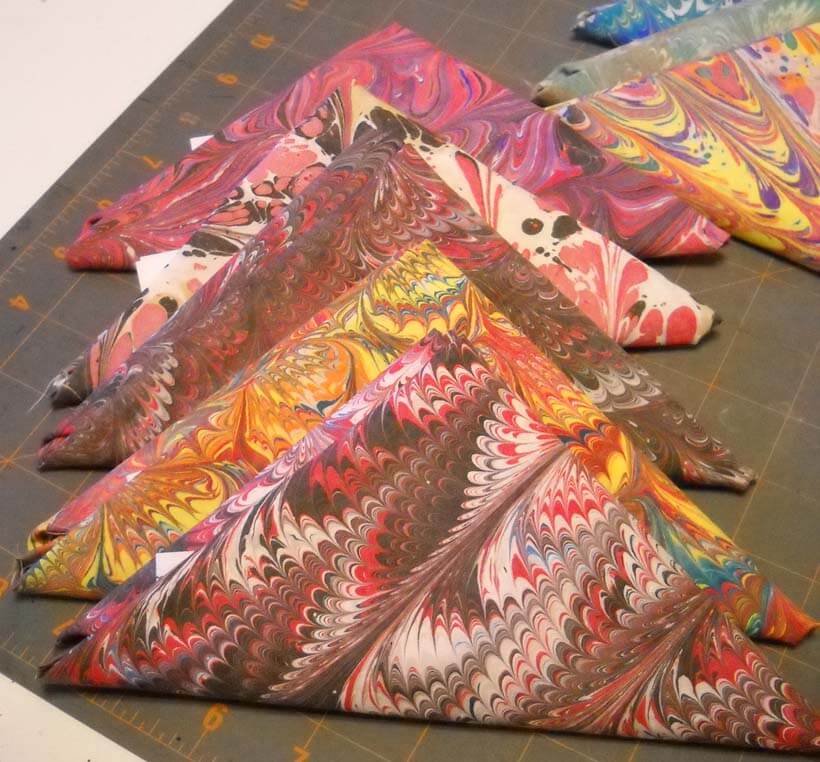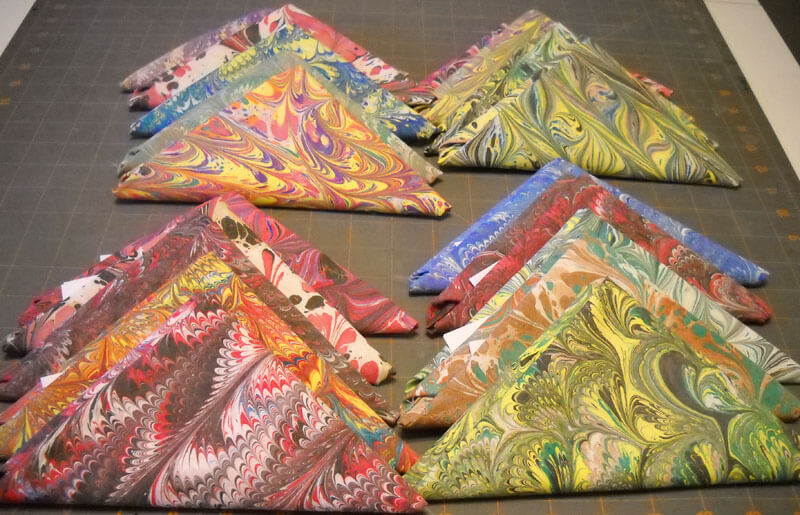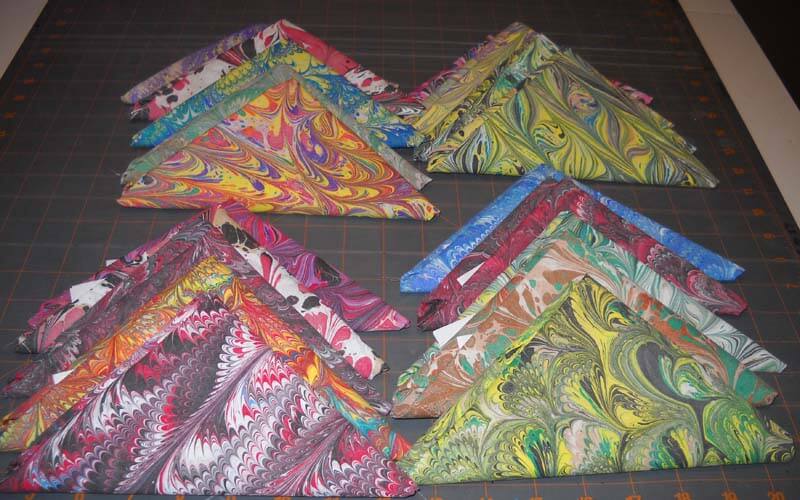 And then this afternoon, we cut another 10 yards for another 40 fat quarters, along with the 15 we still have, for the next three marbling sessions. Pretreat one day, alum the next, and then marble the next. It's going to be a busy two months, but oh, are we having a good time!

Yesterday I started the "winter" quilt for the group of Seasons, and I made quite a bit of progress. It was an interesting day, as design decisions kept sneaking around as I was working. Now, a while ago I realized I had some "branch" left over from some silk flowers that I thought I could use on this piece. I got a bunch of pieces cut, and then I  realized that about 3 years ago I bought some snowflake glitter for just such a reason as this. And what follows is proof you need to be a little crazy to attempt mixed media….
After spreading some of the glitter on the quilt top itself, I liked it…and realized I had to do some massive clean-up of my "trial and error." Then I wondered if I could coat the small branches with the snow glitter. Once I was able to finally get the glue bottle open, the fun began. I put part of the branch in the glue bottle, tried to shake off excess (not successful), and then dunk the branch in the bottle of glitter. Messy, and lots of snowflake glitter that would shed constantly.
Time for a new plan…dip the top part of the branch in the glue, and then using fingers, distribute the glue down the rest of the branch, and then roll the branch on the pile of glitter on the paper. Shake well and let dry. Clean off very sticky fingers, covered with glitter, and repeat….
I did about nine branches and worried about them drying and sticking to the mat board. I did about 8 small branches, and I love the effect….but I still have to figure out how to attach them. this is certainly a first for me. I'm not one to mix these different media together, and I can see why people get hooked on mixed media collage. In the meantime my idea to add a small piece of blue fabric before the binding changed – I ended up wrapping it to be the binding itself – a lot more subdued that way. I also did some stippling in the gray area – it gave it more texture and lightened the gray slightly.
After a lot of pondering, I took some of my beading processes to attach the branches to the top and bottom of the quilt. The reveal will be next Wednesday.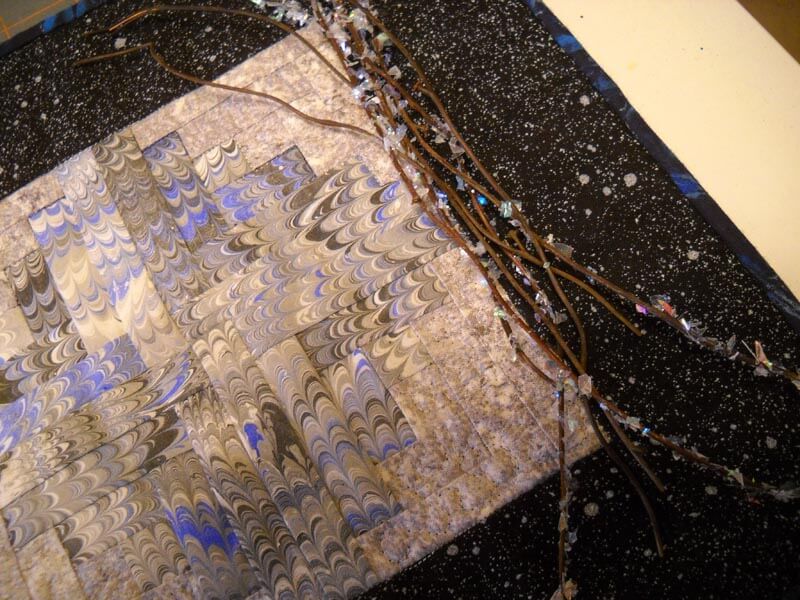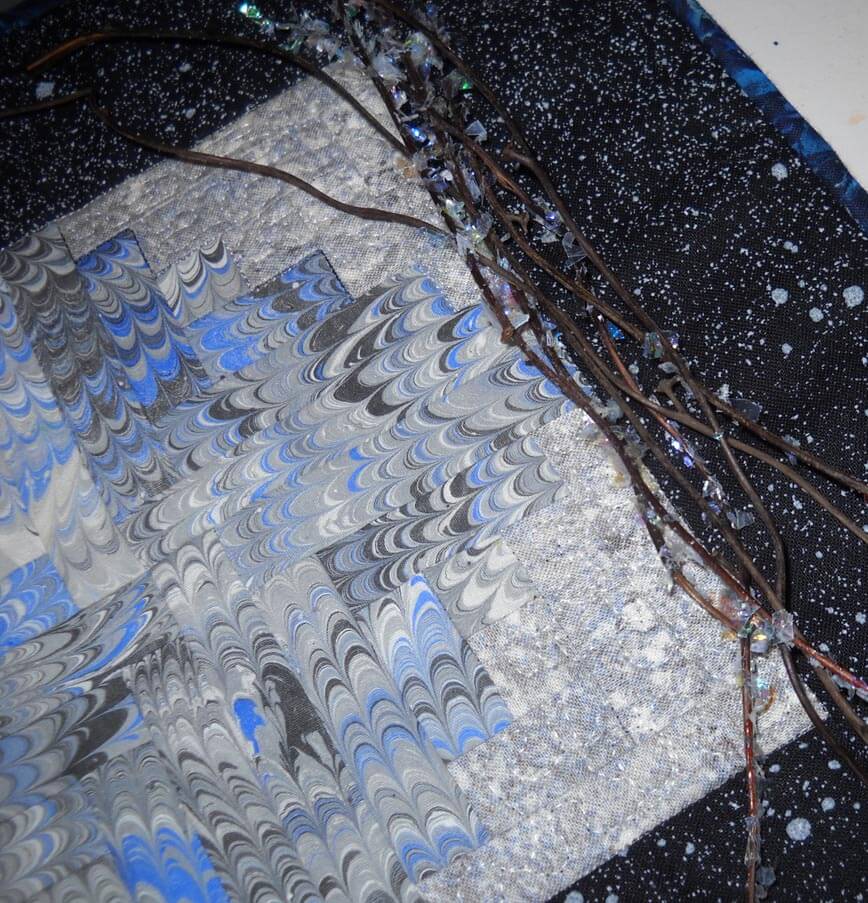 This last is the truer picture of colors – very icy, which is my complete intent.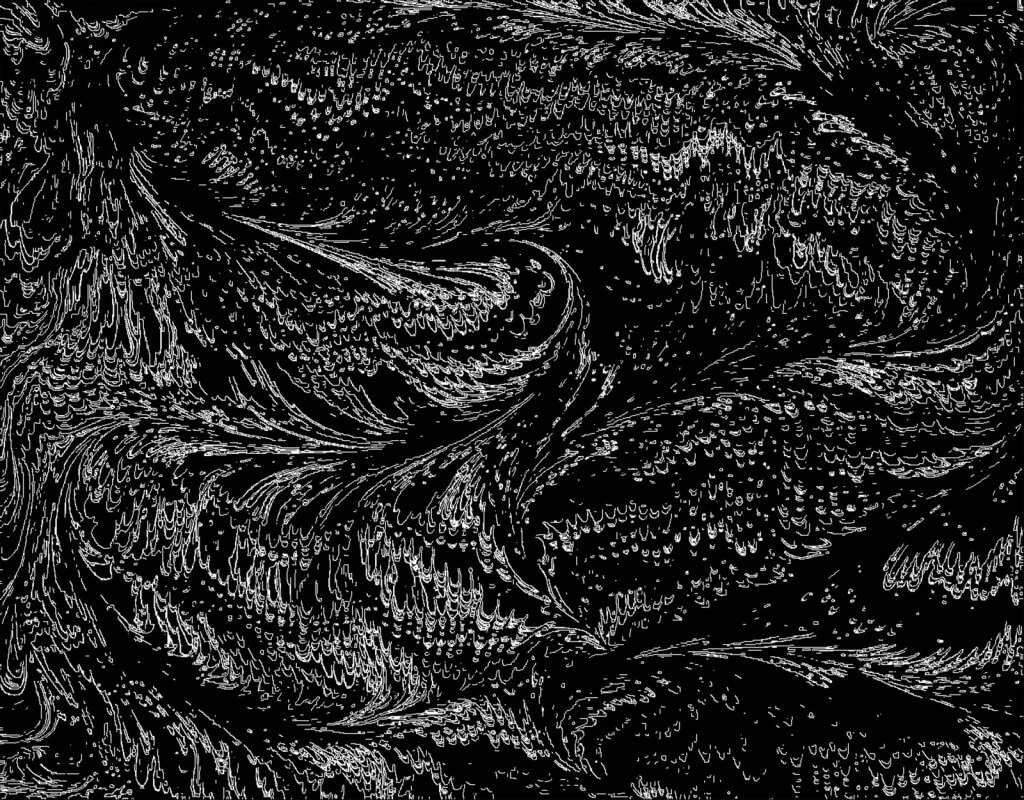 I am really fortunate to have a couple of good friends who can help me with a critique when I am working on a new piece. Sometimes the piece flows, and sometimes I'm blocked in making decisions and moving ahead. It is made more complicated by the fact that I am trying to use our marbled fabrics to create unique art pieces. In surfing the web on a regular basis, I don't see anyone else doing what I'm attempting to do with marbled fabric in the art quilt movement.
There are a lot of things to consider in developing these pieces of fiber art. Are my sewing skills strong enough? Are my quilting skills advanced enough? Does the fabric speak to us? Can the design tell an interesting story? Can I work with the principles of design?
In looking at all these questions, there are two that I am the weakest in, and this is where my group of friends can really help. Quilting skills and design principles.
Momcat is my first voice. She is a digital artist in her own right, and a self-taught expert in Greek pottery, among all the other skills in being a Renaissance woman. Suzan is my overall digital partner and a superb, published quilter and designer in her own right. Karin is a water color artist with a very strong sense of color and overall design organization. Hubby is the marbler and can see things in the designs that the rest of us miss.
I am at a point in this new piece where I needed advice. Which way should the piece hang, for one – vertical or horizontal. Usually that's one of the last questions for me, because by the time I'm done, the piece has usually told me what it wants. With this piece, I need to decide this now, as I will need to work on the shading with a light source from the "northwest," which is how scientific illustration is done. I was leaning in one way, and my group confirmed that. They pointed out that I already had a lot of the "shadows" developing on their own from the new orientation.
The second was size and pattern. I am fine with all the quilting on half of the piece, but the other half seems naked of color and looks like it would require some serious thread work that wouldn't necessarily add to the overall effect. I had been thinking about potentially cutting away half of the piece. We looked at that possibility, and once we folded back some of the fabric (which had never occurred to me), we knew it needed to be tall and narrow, not wide and thick.
Now, Momcat had sent me some of her photos of rocks and lichen that Dali had painted, and I LOVED the lichen. I was initially thinking of marbling some very small silk flowers and then attaching them with some thread painting. The group didn't like that idea – felt they were not "tough" enough for the texture of lichen. Momcat disappeared, only to come back with a small vial of green stuff that she proceeded to spread on the one or two rocks that are already green. Perfect! Upon closer look – they are very fine chopped-up pieces of old money from the Denver Mint. Who knew? I guess now this is a "mixed media" piece…..We are also thinking about using some coconut Husk or actual moss from a pet store – need to think that through.
Next question: facing vs. binding vs. frame. How do I want to finish this? I don't see a basic binding. We talked about fabric as an inner mat and as a frame. We looked at serging the edges – which I have done with pieces in the past, much to one gallery owner's chagrin – "wasn't finished properly" was her verdict. But I always let the piece tell me what it wants. I am thinking this piece is telling me it doesn't want anything more to constrain it beyond a facing that wraps to the back.
The final discussion revolved around light, medium, and dark. I know if I were to take a picture of this and turn it to black and white, everything would pretty much be medium values. I know it needs more dark, so I need to think through how to do that with thread…..or moss…..or coconut husk…..or…….actual small stones…….
I left energized, ready to complete the piece. Amazing how being with a great group of like-minded visual people can  make a difference!
This new piece has had an interesting origin…..we were in Cornville , AZ visiting friends, and our driver wanted to stop in the high desert and see about getting some yucca stalks for walking sticks. If you look at the picture, the stalks are what's left after the gorgeous blooms are done. They are evidently extremely strong and hold a lot of weight. So we have two collected stalks in the car, and I'm thinking, hmmmmm – these could make interesting wall hanging "hangers." Turns out we got as a gift two really strong, perfect-height-for-hiking sticks from another friend we were off to visit, so I decided to keep these two, one as a walking stick for me (I just need it for balance) and one for a potential hanger for a wall piece.
I was looking at it today, as I was kicking around another weaving piece. It would make a good "topper" for a new piece. I had in mind a set of seasons pieces, and then suddenly I got the thought to create the fabric and weave them all together for a year of seasons.
Here are two samples of some of the weavings I have done with marbled fabrics. The first is my very beginning one, Gaia 1: Interdependence. The second is  Gaia 3: Autumn.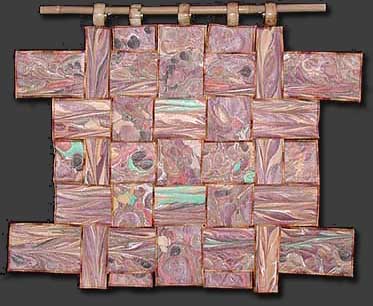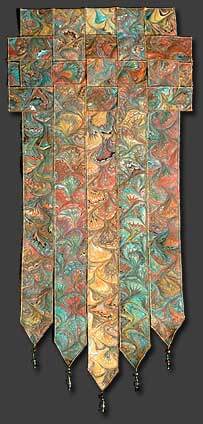 All of a sudden the design was in my head, and I sketched it out, something I don't normally do. Here it is: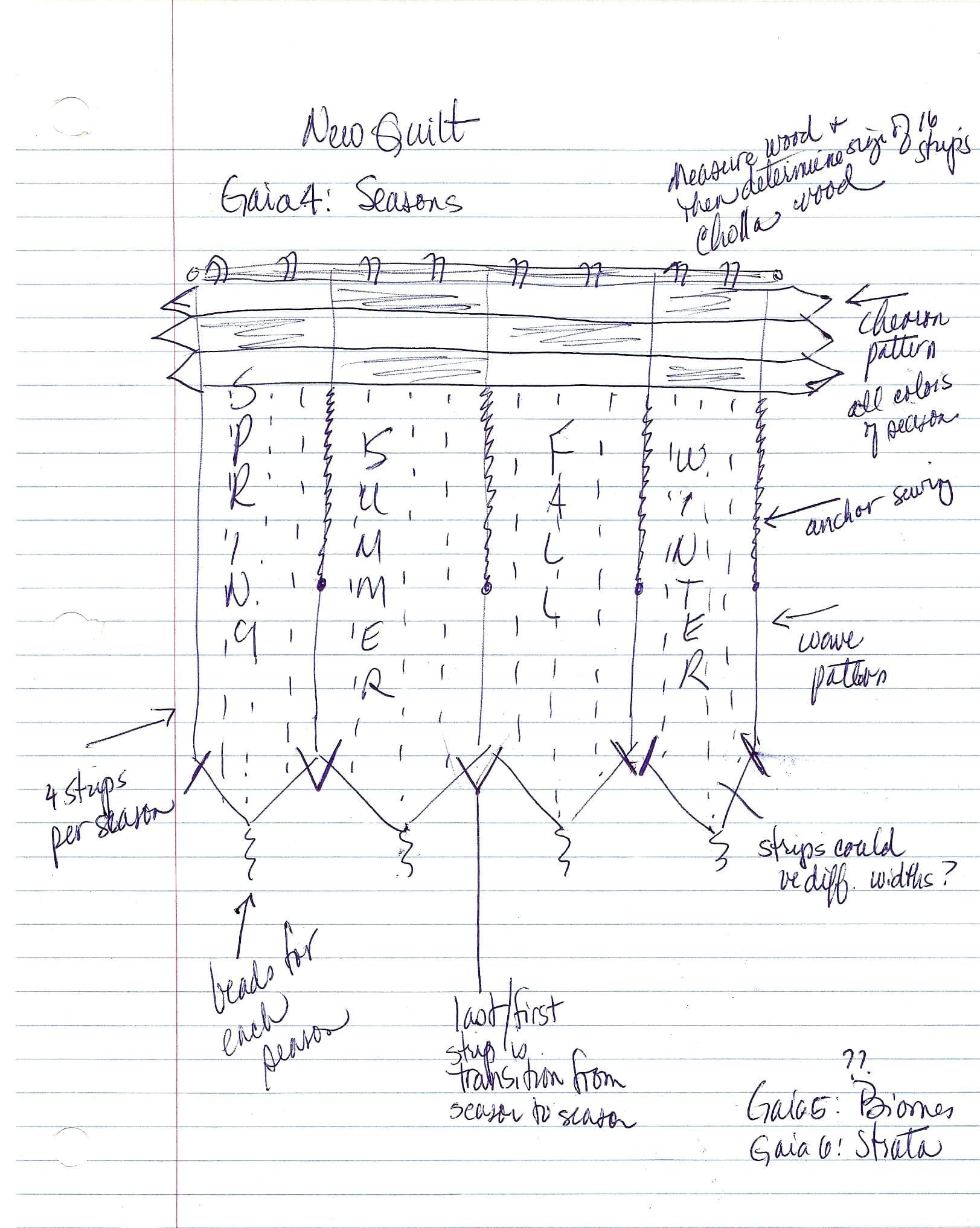 Creating the fabric will take some time, and I know with other projects in the pipeline, I won't get to this until mid-September. Hubby is the main marbler, so he will have his work cut out for him. I will need to also watch the proportions in this piece – ever mindful of Michael Kors and Nina Garcia from Project Runway…..
Stay tuned for progress. In the meantime, here's a few stories for past weavings in the Gaia series.

We are getting quite active around the web and I thought it's time to spotlight some of the things available on line this week – you can only find them this week.
First up is Ebay this week – lots of great fabric pieces available – assorted colors and marbling patterns, perfect for piecing, applique – and don't forget – sometimes you can just make a small quiltlet with quilting the marbled pattern line. Two pieces of denim – really intriguing designs and effects.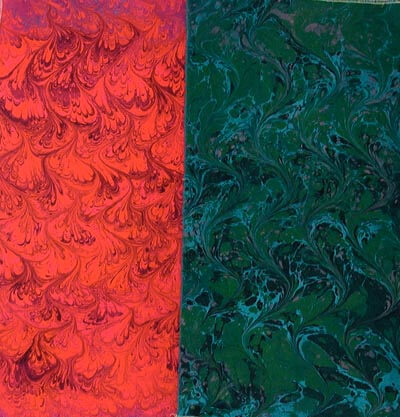 On Etsy this week is a piece of art cloth again with lots of possibilities. We were trying for a starburst effect, and I think we achieved it. I have a smaller piece that I'm going to quilt for a small hanging.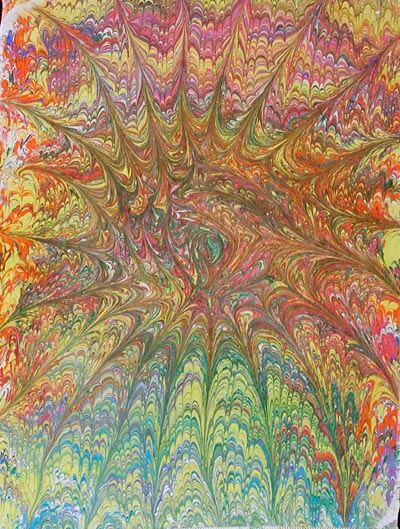 On Cafe Press, one of our most favorite digital prints from our Botanicals Series: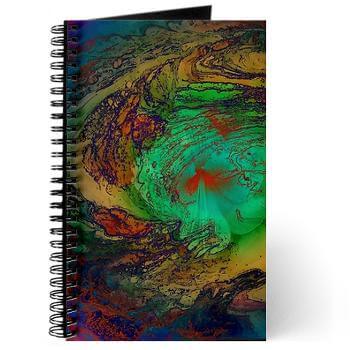 And also from Cafe Press, a cool totebag with a digital manipulation of a Southwest gecko: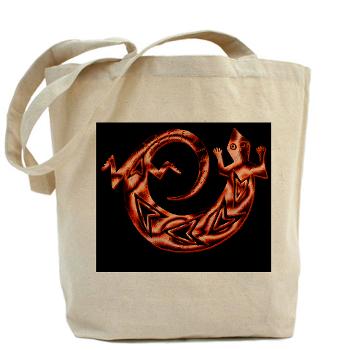 So enjoy exploring this week – we'll have some new goodies next week!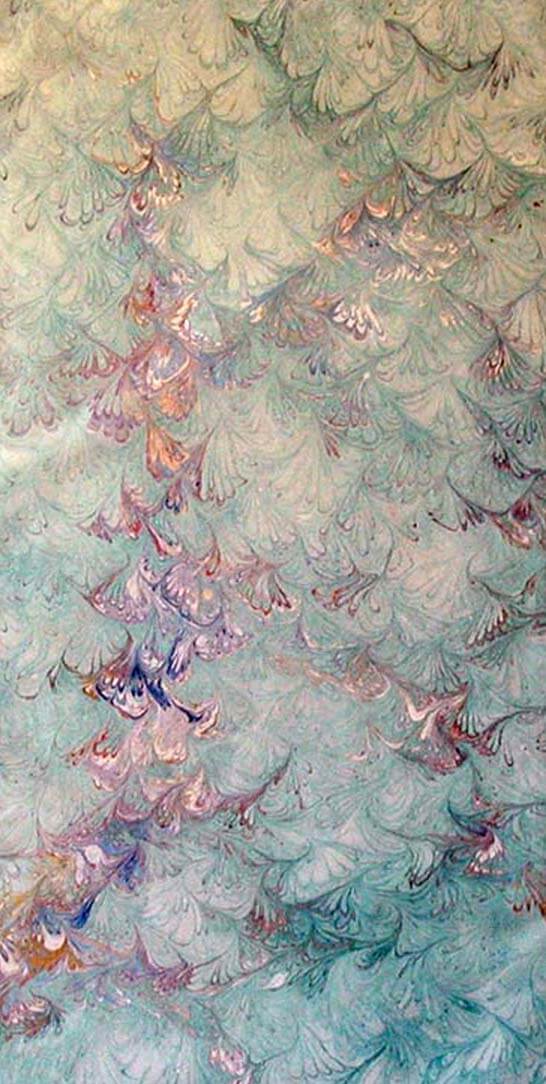 Two weeks ago I showed the start of a commission here, and I am almost to the end of it. Lots of interesting decisions to make along the way – I am really enjoying the decisions in the design process, especially as they relate to using marbled fabrics. My biggest problem is trying to photograph the colors so they are true.
The quilting of the marbled fabric went really well – I emphasized the white area with bubbles, as though it were a stream working its way through the rocks. Went through two different colors of threads before I decided which one I liked. That's different for me…in the past I would just let it go.
The first border is a very soft corduroy, and I left it a little "puffed," rather than pulled straight. I liked that it played off the roundness of the pebbles. I love the batik for the outer border, and I also used it for the backing. I realized again why I'm not fond of mitered corners (but that's what this piece needed), as I took two of them out several times. I still need to trim the outer border by an inch so that it seems better balanced, but I decided to quilt the outside first. Again, a struggle with what I wanted to use for thread, as well as how I quilted it. I wasn't happy with following the pattern of the batik, as it looked too crooked. So I opted to play off the idea of the frame, and I'm quite pleased. What faces me tomorrow is making sure the piece is completely square, which I need to worry about, as it is a commission. Thank heavens I know about the diagonal to check for a square.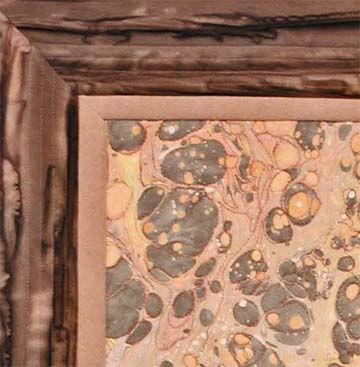 I'm going to use the Alzheimer Quilt hanging system – the little triangles in the corners, as I think this will help the quilt lay flat on the wall. I also plan a label for the back with all the information about the quilt, including care. I found a "certificate" on line to use for the new owner of the artwork with all the official details.
Here's the large shot, still untrimmed: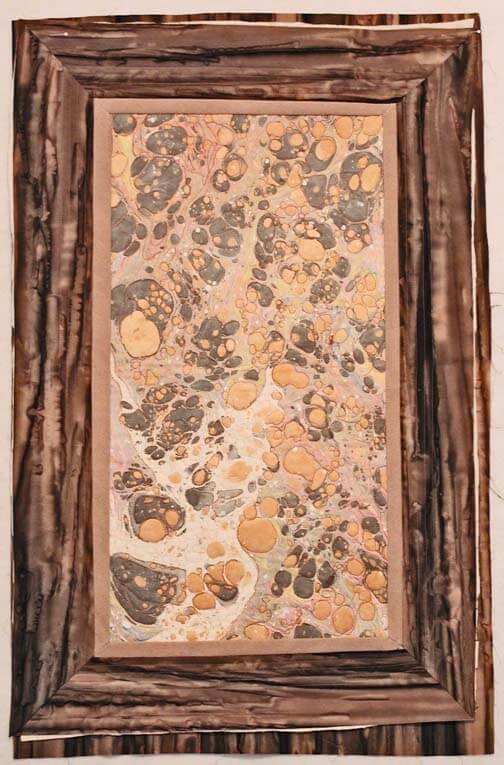 I am really loving this piece, which is actually more true brown and copper than in the picture. Still thinking about some seed beads……see what happens next week…..

It's Monday, week four into retirement, and I've been getting lots of loose ends accomplished on the home front. But the biggest is starting to attack what I want to do in marketing the business. It's probably a good thing I have been thinking on this, as I need to answer a very big question first – just what do I want to accomplish for Marble-T Design, as well as my personal art goals? I can't really start marketing successfully and fruitfully until I make some of these decisions.
I have started a list of some potential galleries and shows I would like to enter, but I find myself asking "is that really the route I want to go?" I probably should have looked seriously at this a long time ago, but, hey, school got in the way. And since Marble-T Design is 17 years old and in a new phase, I should probably also consider what we've done in the past and what was successful.
We've actually been on line with our website since 1997. We were some of the earliest in e-commerce, without even realizing it. I went through a bunch of computer programs to get the original site up, starting with Pagemill. Eventually I realized I needed to turn the design over to a professional, and Saltwater Systems has handled that beautifully over the last seven years. And we had a much wider line of products available – close to 12 sampler packages. we did a lot more marbling in our large tray, as well as a lot more custom work.
So that's part of the "thinking" I need to do. More large trays? More shows? More product? Classes and workshops again? Just where are we taking this business? I need to be honest in my thinking about the future. Marbling in the large tray is very tiring as we have gotten older, and with the price of cotton and carrageenan going up, prices will have to go up.
Whew…..that's a lot of questions to answer. Once again, starting to write is helping me focus on the bigger picture. So I need to start….
What do I really want to do with my art and my business? I want to make art, no question about it. I would like to sell my art, whether it be on line or actually in some galleries. I think  I am realizing I don't want to do a lot of shows. I do have enough on my resume to show the work has been accepted, but I will probably only look at two or three a year. As for the actual business, I want to be able to bring in a certain amount of money each month to help with traveling during retirement. I'm starting with the idea of $500 additional a month, and moving from there.
That means looking seriously at outlets. Ebay has been steady, but I would like it to do more. So we need to marble more pieces and packages. I have sold a few pieces of fabric on Etsy, but this needs to be seriously marketed. We've been selling on Ebay for probably 7 years and we have a good steady family of customers, but I want it to generate more sales.
I haven't really looked seriously at marketing my work on Etsy, and I think with the TAFA List, I can make a good start. So I think at this point a goal for this week is to list potential products for Etsy and read everything I can about Etsy and The Textile and Fiber Arts List.
The other big thing is we are a sponsor for The Sketchbook Challenge for July, and probably for a few months after that. This will drive more traffic to our website, The Art of Fabric. This means getting the site updated and ready for additional traffic in July. So also this week is spending time learning Dreamweaver to take care of a lot of small changes that will update the site.
THIS WEEK:
Finish Dreamweaver class for making changes to my website
Make the changes to the website
Etsy products, increased Ebay ideas
Reading about Etsy selling and developing strategies

Reading through everything on The Textile and Fiber Arts List and developing concrete plans

I'm interested in the thoughts of those of you selling on line – favorite sites? Suggestions? Pitfalls?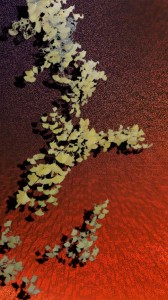 To say that it has been a while is an understatement. My last posts dealt with the Tucson shootings, and the aftermath for the community has been ongoing. Many in the community have been dealing with personal issues surrounding the events, from getting updates on Gabby Giffords and coping with the weird Arizona legislature to trying to understand our roles as humans working together.
For me, it has meant two months of a pretty severe depression, trying to cope with understanding so many of the historical aspects of this country coming in to play, trying to manage what the economy is doing to individuals, and getting ready to retire from a career of 40 years in education. I had to remove myself from almost everything extra in my life beyond the day-to-day coping within the classroom. I did a lot of sleeping and a lot of being sad. I didn't even do a Fish Follies entry this year.
At Christmas we decided to move the retirement date to June of 2012. Hubby had some major health issues in January that will eventually lead to major surgery, and all I could think about was not having time together. His next CT scan will be in August, right when school starts again. That was probably the tipping point to look at retirement this May. I made the final decision the end of February to retire after working all the numbers with the retirement folks, and then a month ago applied for SSI.
Gotta tell ya, when I made the decision, it was like a weight had lifted. I started packing my classroom the next day – and it took the three months to get it all finished. Most of my math manipulatives, books, and supplies went to an organization called Treasures4Teachers – will be a nice tax deduction, and they were very grateful for all the goodies and posters.
In April, during spring break, we spent time with our friends up north who now have a place in Cornville, AZ, just south of Sedona right along Oak Creek. It is a gorgeous, restful spot. I was admiring all of my friend's storage, and the conversation turned to the fact that maybe one of the problems getting back into the studio was the need to reorganize. Which got me thinking, and over the next month I started cleaning and organizing, and looking for new storage that would work. We're about half-way through at this point, and the place looks great – and even better – feels great. Two more sets of shelves and we should be just about done. But I don't think I'll be waiting to get in there to sew.
So I'm recovering slowly from the depression, starting the rest of my life on my terms, planning on a nice run of happiness. And I'll be back to blogging and creating and marbling and reading and writing and Photoshop and traveling and being with people and working for peace….
Yesterday I wrote about what's happening with the bamboo piece. Here's a sneak piece of it in VERY rough form: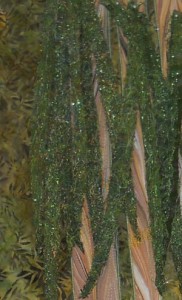 Now to today's story – my piece for "My World in Black and White," a show curated by Anne Copeland, like around 2003. This was a challenge issued on the QuiltArt list, and I decided to try something. Here's the piece: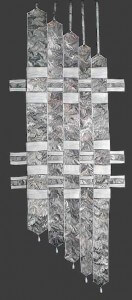 This was the first show where I realized I had to pay more attention to the theme. Mine was a more abstract look at black and white. We marbled a three-quarter-yard piece of unpolished white satin in blacks and whites. There was still a little orange left in the tray from a previous piece, so the name became "Black and White with a Hint." I cut five strips and quilted them, following the marbled patterns. You can see the hints of orange.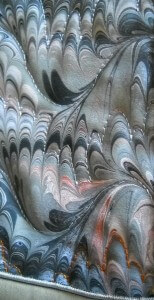 At this point, I really didn't know what form this was going to take. I decided to stagger each of the strips, but it was pretty boring with just the strips. That's when the "hidden" architect in me took over. I marbled some ribbon, serged the edges of the ribbon to carry the serging motif through, and attached it to some strips of gray cotton. I did eight strips all together, some of them plain with just a meandering quilting line, and some with the ribbon, and then I wove them through the other strips.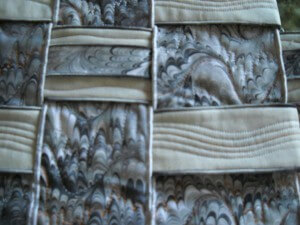 I liked how it was shaping up, and now I had to deal with a hanging system, as well as finishing the bottom. I figured I wanted some beads to hang at the bottom. I went to the local bead store and found these teardrops – have NEVER seen anything like them since then.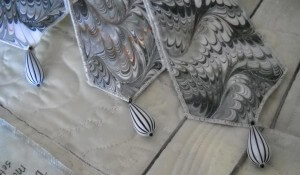 If you look closely, you can see how each strip gets hand-stitched to the ones around and underneath it. I figured I would use a plexiglass rod for the hanging system. I marbled some thinner ribbon, and with careful measurements attached the various lengths at the top, with a bead embellishment.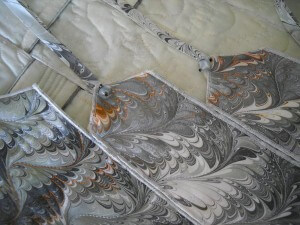 I learned a lot, as I seem to do on every piece, and this is still one of my favorites – my first piece to travel (to Ontario, CA as well as the online exhibit), my first piece that was professionally appraised, my first piece that "hung" in a very different style, and my first ribbon (for entering, but none-the-less still special!).
I am really enjoying revisiting these pieces and their stories. I hope you enjoy as well.
I woke up a few times last night, thinking about this piece – mainly, was there too much quilting? I have avoided looking at it today, as I want to wait till I have better light tomorrow to really evaluate what's going on.  I have so enjoyed quilting this – I love the Superior Threads – NOT ONCE has the thread broken, and there's a lot of it on this piece. I need to look at the threads I have again, as I think I want to use something for the sky that just gives texture but no emphasis on the stitches. Trouble is, I do not have clear invisible thread, just smoky, and that definitely won't work. And now that I understand about nylon as an invisible thread, I'm not even considering using the old stuff.
I may cut off about two inches, as I'm not sure about the puffiness at the very bottom – it is the bottom, and I do want the emphasis on the "fish," and I think the extra texture will work. The big problem is the decisions to be made on the upper part that is supposed to represent more of the sunrise. Definitely less stitching, just don't know what thread yet.
Here's link to the original piece, with almost no quilting, and a bad border. I said in the post I would be willing to take the quilting out – which I have now done twice…..I'm looking forward to quilting tomorrow…just need to be done with a border on for pics on Saturday.