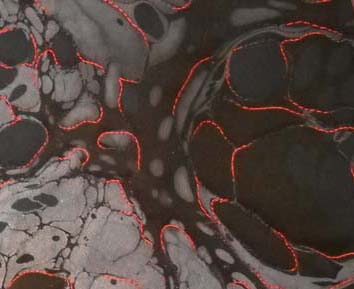 I've had a couple of people come by and see my "Misfiring Synapses," a piece I did on depression. It's getting mixed reactions. Some people don't get it because it's fiber and doesn't look like their mental picture of fiber – which is a typical quilt. Some don't get the imagery in the abstraction, and that's okay. But most people who do get it love it – they say it's exactly what they figure their mind is going through. Which is what I was aiming for in its creation. I think if you've suffered from some form of depression, especially situational, you get the idea that something is ultimately not right in your brain.
When the call for this show came up, I spent a lot of time trying to think 1) how I would interpret it, and 2) how I would do it in marbled fabric. We had done some black satin a while back for a different piece, and it was pretty organic in form. As I was going through fabric, I happened on the piece and thought it looked quite a bit like a nerve ending. Very dendritic. So I went with that piece, and I wish I'd taken a picture of the satin without anything done to it.
I wanted the effect of an irritation, like an itch that just wouldn't go away. As I was checking through my threads, I saw a Rainbow thread from Superior that was a red/purple/black, and I thought it might work. When you look at the above photo, you can see that the red shows, and then it looks like there isn't other thread. It looks like an irritated part of a nerve. Just what I wanted.
So I had the center of the piece, but I wasn't sure how to develop the "looking inside" aspect – I wanted it to feel like you were looking deep into the brain and seeing just this one little piece of irritant. I had two different types of red fabrics, both satins, and both with some freeform designs, again very organic.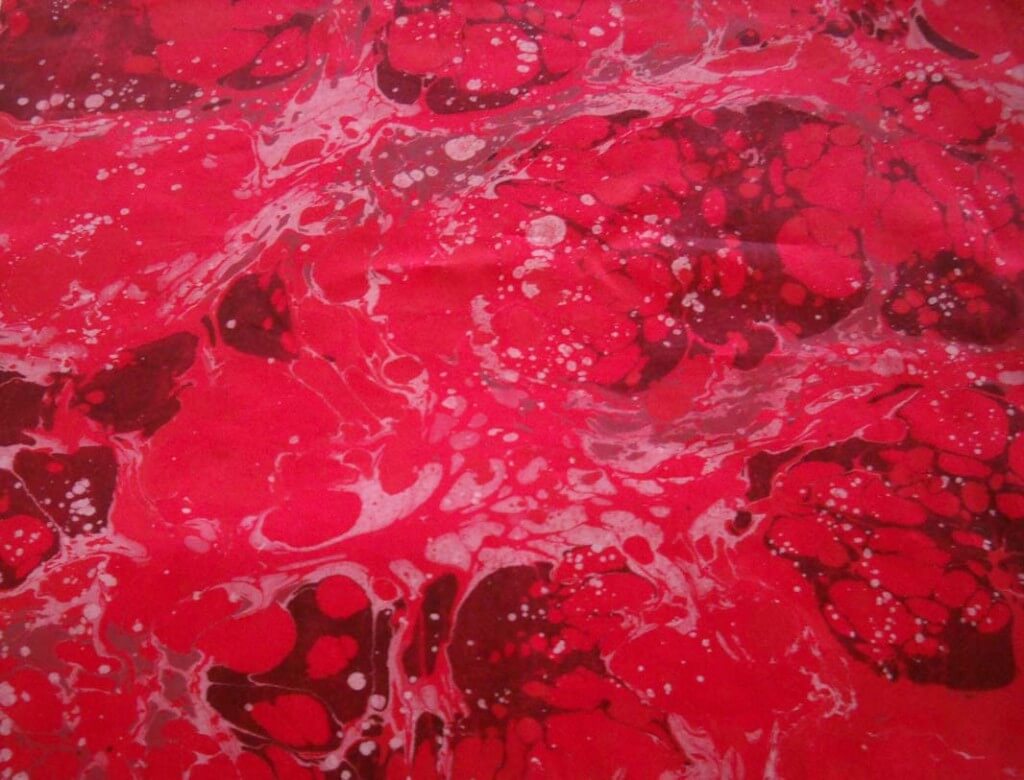 I did a lot of the same type of quilting, following the black, this time with a variegated series of reds. Lots of bubbling texture resulted. I did the same thing with the second piece of red. What I seemed to have were two different areas of the brain, both pretty irritated.
I also had some more great black satin, this time in more formal marbled patterns, and I figured this would work really well for the outer shell of the brain, all the "gray matter." I continued with the curved pieces that overlapped each other, much like I would imagine the parts of the brain does. Each of the curved pieces had serged edges with the idea of the gray matter and all the wrinkles you see in the surface of the brain. There were a lot of issues in connected these pieces. I had to work from the design wall to the flat table, and then to the sewing machine, hoping I could get all the pieces of the puzzle together. My intriguing back of the piece started to look really messy, so before it travels at all, I will add another backing to it, to make it a lot neater.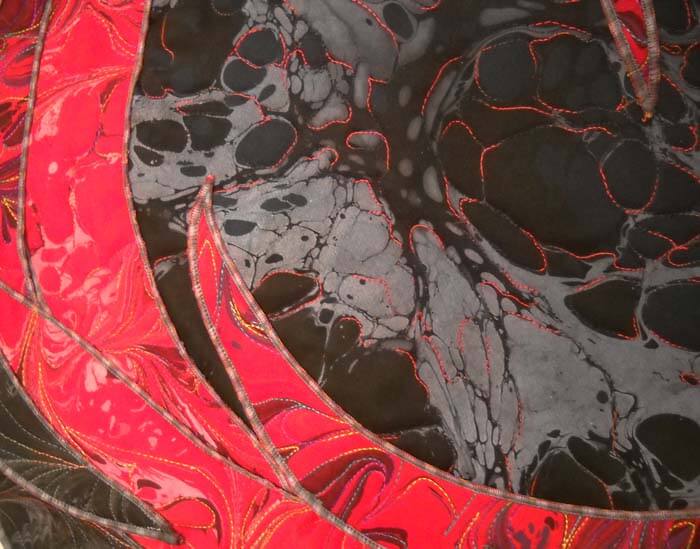 You can see a lot of the overlaps and edging in the above picture. What I particularly love about the piece is that it works both from a distance and close up. From a distance you see this really interesting organic shape, and the colors are somewhat disconcerting and upsetting. Close up it looks like it is undulating.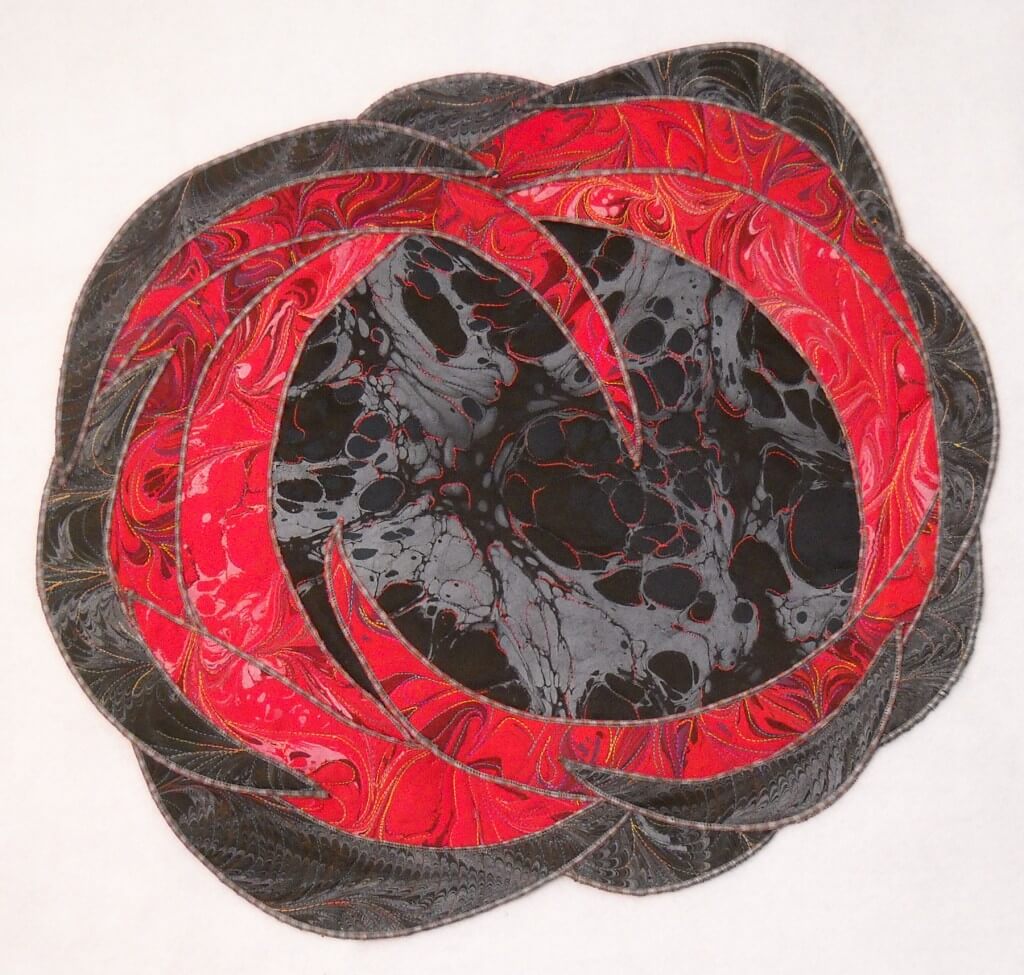 I left it nice and big for you so you could examine all the various parts of this.
17 by 20 inches, available for sale.
Comments?
2 Responses to "Sunday Stories – Misfiring Synapses"