Yesterday I started the "winter" quilt for the group of Seasons, and I made quite a bit of progress. It was an interesting day, as design decisions kept sneaking around as I was working. Now, a while ago I realized I had some "branch" left over from some silk flowers that I thought I could use on this piece. I got a bunch of pieces cut, and then I  realized that about 3 years ago I bought some snowflake glitter for just such a reason as this. And what follows is proof you need to be a little crazy to attempt mixed media….
After spreading some of the glitter on the quilt top itself, I liked it…and realized I had to do some massive clean-up of my "trial and error." Then I wondered if I could coat the small branches with the snow glitter. Once I was able to finally get the glue bottle open, the fun began. I put part of the branch in the glue bottle, tried to shake off excess (not successful), and then dunk the branch in the bottle of glitter. Messy, and lots of snowflake glitter that would shed constantly.
Time for a new plan…dip the top part of the branch in the glue, and then using fingers, distribute the glue down the rest of the branch, and then roll the branch on the pile of glitter on the paper. Shake well and let dry. Clean off very sticky fingers, covered with glitter, and repeat….
I did about nine branches and worried about them drying and sticking to the mat board. I did about 8 small branches, and I love the effect….but I still have to figure out how to attach them. this is certainly a first for me. I'm not one to mix these different media together, and I can see why people get hooked on mixed media collage. In the meantime my idea to add a small piece of blue fabric before the binding changed – I ended up wrapping it to be the binding itself – a lot more subdued that way. I also did some stippling in the gray area – it gave it more texture and lightened the gray slightly.
After a lot of pondering, I took some of my beading processes to attach the branches to the top and bottom of the quilt. The reveal will be next Wednesday.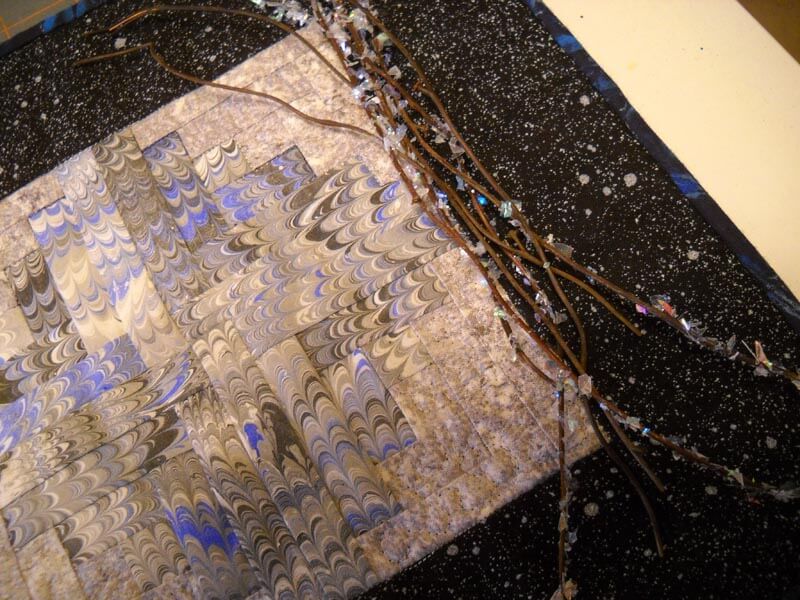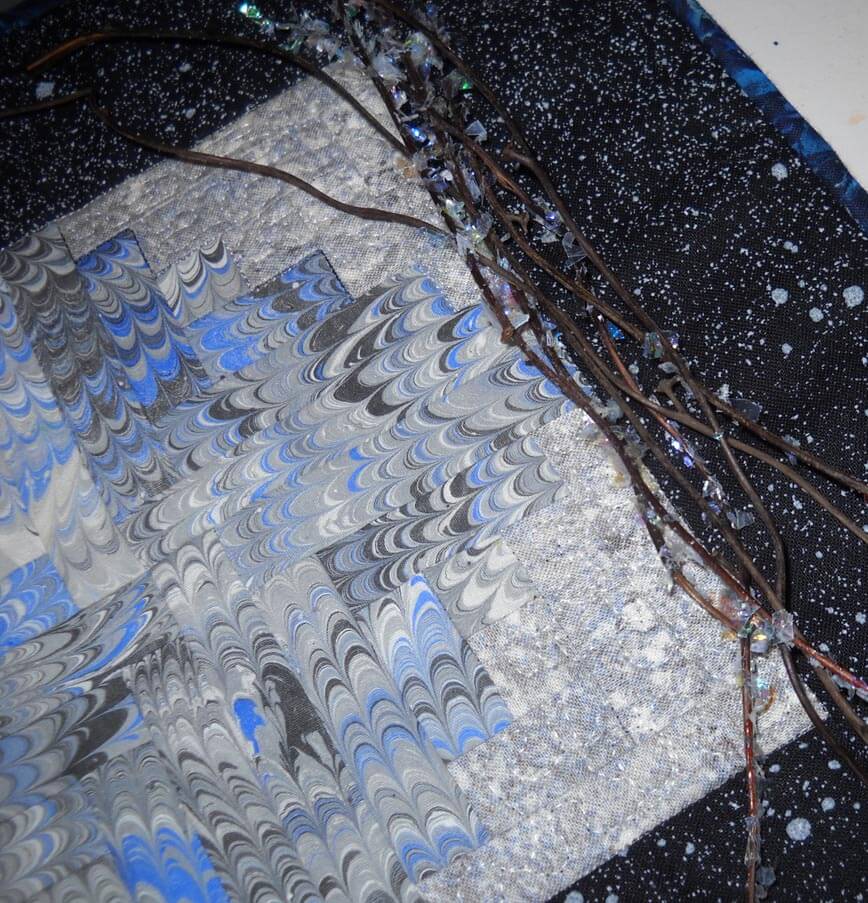 This last is the truer picture of colors – very icy, which is my complete intent.