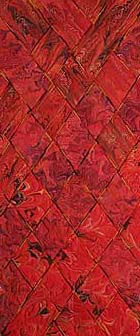 In keeping with my plan to actually write about what I did for marketing on Mondays, I made my list yesterday, as I had a lot of loose ends floating around in my head. Beside each heading is what I actually got accomplished today.
* marbling – 12 fat quarters, including some for the new set of Seasons patterns, plus more for the Etsy shop. I'm glad hubby is doing all the Etsy work of listing items. I then go in and promote them through Facebook, Twitter, and Pinterest. Got a really gorgeous new one that I'm trying for a quilted piece of driftwood. I'll post a pic when the fabric is ironed.
* update Facebook business page, go back through some previous likes, make comments – I had been doing pretty well about a month ago with posting regularly and commenting on other's art, but the month got away from me. So now I'm back.
* check on SAQA entry -read through the call to artists, and I decided this would not be right for me.
* email Anne about SOCAL Fiber Arts show and getting some appraisals done on recent quilts – done; need to know if I am qualified as legitimately disabled. I qualify, I'm making arrangements for appraisals in January for some of the newest art quilts, and now I can put together the packet for this show.
* Handmadeology blog – done and sent along the way. In researching a couple of blogs to boost holiday sales, I discovered a couple of venues I need to check on, so I'll be busy with Digg, SumbleUpon, and Kaboodle this week, finding out all about them. I'm not sure about StumbleUpon – I don't usually do that kind of surfing…..we'll have to see. Same for Kaboodle – don't know that it will be productive, and I have enough time-wasters as it is.
* TAFA request for community groups – sent out the request for information about the various communities we network with, as part of a blog post for Handmadeology.
* Craftsy class with Cindy Needham – the reality is that with the holidays coming up, and the number of unfinished projects, I really don't have time for this class. I do want to wait and take another Elizabeth Barton class in October, since I got so much from the first class – and I'm not done with that one yet…….
* Promotesy – did my month sign-up yesterday, and I've started using it. I can schedule ahead of time, and things automatically post to Facebook, LinkedIn, and Twitter. Looks to be easier to use than Hootsuite – which never did seem to publish my scheduled tweets.
* pin ebay – done…..it usually drives some traffic to the site, but it doesn't seem to be converting to sales. Maybe when October rolls around….
* AZ SAQA info – emailed two jpgs off to the group. These are the two quilts that have been chosen to be in Linda Seward's book The Complete Book of Art Quilt Techniques. We'll see what happens. At least there's no entry fee….
* Phoenix Public Library call for submissions – deadline October 10, $15.00, CD with 10 images. Images need to be from the last two years, but because of teaching full time, I am only now getting a lot more new work completed. Need to think this through.
* start newsletter for the month, at least outline what will be in it. I know what will be in the newsletter, I just need to get started on it, for it to go out a week from tomorrow.
* email stencil lady – go through website on stencils. I went through two sites that carry stencils, looking at ways of constructing some designs. I think I have a couple of really cool ideas, and I have emailed about pursuing this idea further. Over the next two weeks I want to see about doing actual designs for possible approval. This could be another source of passive income.
Okay, I was very productive getting all this stuff done today. This seems to be the way to go, rather than just writing about it and not necessarily doing it…..go figure……