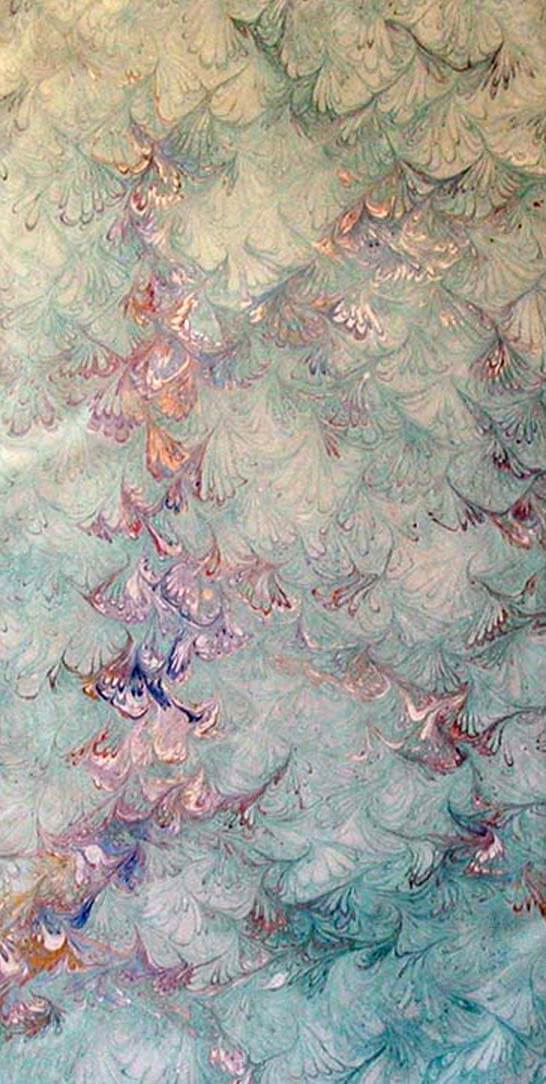 I was a history major in college (and yes, despite it all I ended up as a high school algebra teacher…), and I read LOADS of books on WWII. Still do – finished The Rising Tide by Jeff Shaara on the North African campaign, which is a great read (for some reason I have always admired Erwin Rommel, and now I know why…). I almost always read newspaper and magazine articles on anything about WWII. From Facebook comes a link to The Smithsonian Magazine with a wrenching and incredibly sad story – Lt. Minter Dial's Annapolis ring. When teaching American History, we don't have the time to get into these stories, which is what hiSTORY should be about.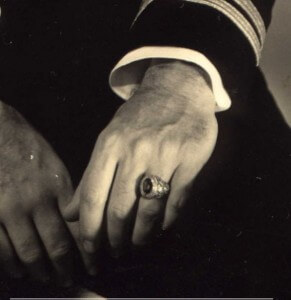 With the end of the space shuttle program and the decommissioning of Discovery comes a 360-degree virtual tour of the cockpit. If you have ever wondered about what the cockpit looks like, you can use your mouse to tour it. You can drag the cursor all over, but warning – you can very easily become disoriented….so many switches! Check out TheLastShuttle.com for great information.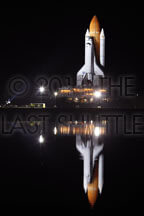 For my gluten-free readers comes this from Cool Hunting (they have the BEST STUFF!). Four gluten-free indulgences that look wonderfully yummy.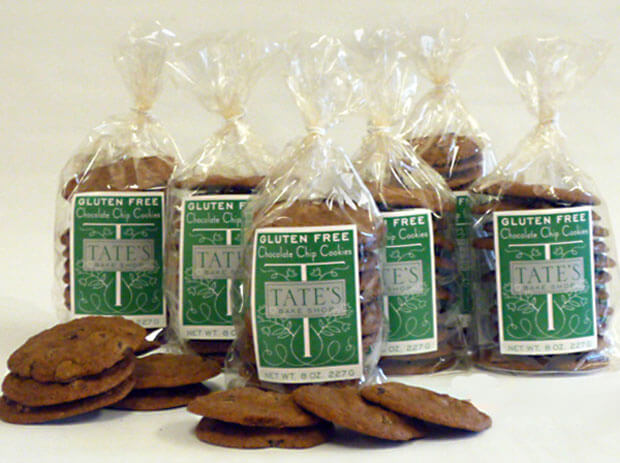 Here's an interesting Canadian artist who does a lot of embroidery and cross-stitch, Lindsay Joy. The link is to her "Anxiety Series," and I can certainly relate to many of them!
Joen Wolfrom is a master at color. Her new blog is looking at colors one at a time, and oh my, the photos she finds are amazing. This post is on using blue-green analagous colors,  and there is a photo there you HAVE to see.

Here's something I REALLY want to try – gelatin printing with Cynthia St. Charles from Montana. Her blog Living and Dyeing Under the Big Sky has some great ideas. Hey, I'm retired – I can try all sorts of things!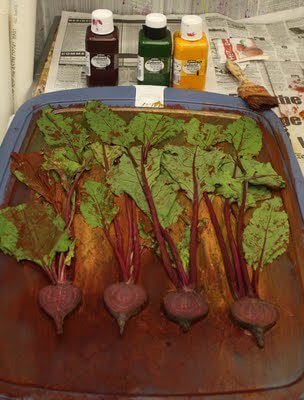 Goodness, how did MTV come to be 30? Seems like only yesterday we were saying it would never last…..so here's Mad Magazine's take on it – blast from the past!
If you're into zentangles, check out Rainbow Elephant – isn't that a great name for a blog? Not only directions for new and interesting tangles, but videos to accompany each of them. This is on zendoodle metal plates.



Designer Ann has a page of great videos, which has a couple of TED talks, and nighttime sewing, just to name a few. I could easily spend an hour watching them.
And finally, for your laughing enjoyment, 10 bizarre and obscure university courses from The Best Article Every Day, like the Simpsons and philosophy….and that's not the weirdest…..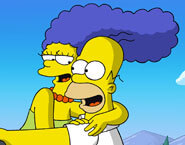 Wow. That's all I can say….wow wow wow. All the work from June and July really began to pay off at the end of the month. A finished commission, a major fabric order from England, Ebay and Etsy sales, and LOADS of inquires. And…….I got a lot of quilting done, and took two classes in the meantime. I am LOVING every minute!
This time last year I had spend 6 weeks doing a lot of work, and then school started and I lost all momentum – but NOT this year! I don't have to go back to work next Wednesday. Did I happen to mention I am THRILLED to be retired?!?!?!?
Here's the plan of attack that seems to be working, after a month of refinement. Each morning I take care of a lot of social media stuff, respond to comments, check out other business pages. Then I try to leave "thinking" time during the day for the long-range goals, and then it's off to actually create. I feel like the social media piece is no longer controlling the cart – I am, and it's taking way less time. Each evening I look at my folder – check off what got done for the day, what's coming up for the next day, and pieces of my various "action lists" for my goals that I want to attempt.
Probably the best thing I did for social media was do my Linked In profile and join a couple of art groups through Linked In. We have been doing round robin on Facebook business pages, and the traffic all around has increased tremendously. Plus – ya gotta admit opening FB comments each morning and seeing what people think of your work is quite the motivator.
I found this morning I had to actually make a list of upcoming shows. deadlines, and commission to be sure I didn't miss anything. The new newsletter is in the works, and I have actually set up a group for people who are collecting our art – that's a very cool feeling!
I have over 500 blog entries since I started, as well as over 100 Facebook "Likes," so it's time to be thinking about a give-away along with the blog makeover……stay tuned!
Below are a couple of fabric studies done as part of The Artist's Toolbox class through Quilt University. I am learning a lot about what is working and what isn't – and why. I recommend these classes – I have now done three, and I learn great stuff each time. In fact, I found myself with the camera out this weekend in Sedona, taking pictures of some incredible textures – 25 pictures of a grouping of sunflowers, because I kept seeing different things!
It's going to be an AWESOME August! What do you have planned for the month?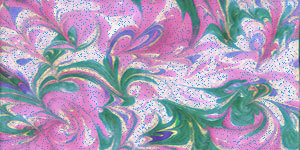 Linked In has been giving me lots of new connections and interesting articles and websites to follow. One of the articles was on ten online sites to sell your work. I'm planning on combing through each of them over the next month or so, but here is the list, with some preliminary thoughts. Also, cost is an issue – at this point almost everything we do is based on free stores, with commissions off sold pieces or listing fees.
Ebay – obviously. For many of us, it's the first place we started selling. You can see a sample of what we have for sale at the link. We've done very well selling remnants and some larger pieces of fabric – but definitely no larger fiber art pieces. I don't think Ebay is the place to sell fiber and textile artwork. That said, we do have a pretty good following of repeat customers. We've been selling since 2004 – the first time we listed two items it took us 2 hours…..there was a steep learning curve at the time, but once Paypal resolved its issues, and we figured out how to title the items, we began to build our base. It does take time.
Etsy – slow going here, but part of it is learning how to build up the shop. Three years ago I started a shop and it had maybe five things in it….and I did nothing to promote the shop. A year ago I revisited the shop, had ten things in it, and still had no idea what was going on. With still teaching full time, I wasn't able to get the marketing going to get it known. Along come the Textiles and Fiber Arts List with an emphasis on getting publicity for our Etsy shops. I started looking around, and besides art pieces, I am stocking more pieces of marbled art cloth, at a higher price than what goes on Ebay. That seems to be working, as our sales have started to pick up, and pieces from each week's marbling sessions are finding their way into the store.
TAFA – The Textiles and Fiber Arts List just completed their fund raising for a new marketplace site for all things fiber and textile. The goal is "markets for members," and the group is aiming to become a major hub on the web in this area. What I particularly like about TAFA is that all artists are juried in and pay  a membership fee (extremely reasonable). This keeps the quality high and the artwork definitely unusual. This site is also all about networking for artists, so there is definite community being built at this site. I joined nearly a year ago, and now that I have some time, I am becoming active in the site. If you are an artist working in fiber and/or some form of textiles, you need to be a member. Another plus – you don't lose anything in "commissions" – all dealings are between you and the buyer.
1000 Markets – looks like it has become Bonanza. Under the Art category was "art from the artist," which I should browse more. There are some possibilities under the Crafts section, but I don't like listing my work in a craft section (me, I guess….). Searching "fiber art" brought up mostly ATC's and fiber magazines…..at first glance doesn't look like something I will spend a lot of time on now.
Fine Art America – I have been really impressed with this site so far, even though it seems "too good to be true." I want a site to sell my digital work, and this looks to be it – print on demand, with framing and shipping included. I have been hearing some good things from folks in my increasing business network, so I will definitely pursue this one.
Three Sisters Marketplace – I've heard a couple of good things about this group, and it will be one I investigate further later this fall. It sounds much more like a community, and artists are juried into this site also. I think for me personally that is a plus to the sites I decide to join.
Artfire – I'm thinking this is in competition with Etsy, as it advertises "handmade," but for some reason I just can't get into the site – the home page just seems extremely jumbled, and it looks like a lot of work….
Made It Myself – looks like a lot of other sites, and this says it's geared to the hobbyist whose friends say "you can sell that." Don't think I'll pursue that further.
Cafe Press – slowly in the works – this is one where I need to have my artwork settled before I seriously work on marketing my (again) free store.
Now – let's hear from you as to your experiences. This is just a snapshot, I'm sure, of what's available to sell your work on line. But let's get some dialogue going with ideas, feedback, more sites – just leave a comment!
Since I updated my profile on Linked In, I have joined a couple of discussion groups through Linked In and have made some interesting contacts and done some very good networking.  As a result, here is a call for work that looks very intriguing, as well as meaningful. I'm planning to do a piece that looks at oil spills. Join in and become part of the group. Feel free to share this post – let's see if we can get a lot of artists involved. Let's get the fiber into this show.
TIKKUN OLAM: A Restoration Project
 Artists Respond to Earth's Crises Past & Present
Presented by Alta Contemporary Art, Tubac AZ in alliance with Industria Studios in Tucson.
The Jewish Community Center Tucson, Arizona
September 15 thru October 25, 2011
Opening Reception: Sunday, September 18th 1-4 PM
In the wake of recent natural and human-made crises artists often feel compelled to respond in a tangible and productive way. Here's your chance to be part of a group project raising money to replenish the earth. Alta Contemporary Art invites you to submit a 12 x 12 inch work of art for a collaborative grid presentation. All media welcome. Work must be exactly 12 x 12 inches, appropriate for the JCC venue and ready to hang on the wall.  Work must be received no later than September 10, 2011 (see art delivery details below). Participation is free, but artists must willingly donate 30% of sales to the non-profit charitable organization selected by the group as a whole.
TIKKUN OLAM Collaborative Grid Presentation
Entry Form
Name:
Address:
E-Mail:                                    Website:
Phone:
Title:                                       Price:
Media:
Artist's reflection on their submission and earth's crises past & present (250 words or less):
Nominate 1- 3 non-profit charitable organizations you would like TIKKUN OLAM to support.
E-mail completed entry form and a JPG of your work (1MB large) to mickeybond505@aol.com
Hand Deliver Your Work:
Tucson Artists: Deliver work to Marc Leviton at Industria Studios, Saturday, September 10, 2011 between 10 AM – 3 PM or contact Marc to make other arrangements 520- 235- 0797. INDUSTRIA STUDIOS, 1441 E. 17th Street Tucson, AZ 85719 industriastudios.org
Santa Fe Artists: Deliver work to Mickey Bond by Friday September 9, 2011.E-mail:
mickeybond505 or call 505-660-4085 to schedule delivery.
All Other Artists: Deliver  work to Rebecca O'Day at Alta Contemporary Art, Friday, September 9th between 3-8 PM  or contact Rebecca to make other arrangements 520-869-8626. Alta Contemporary Art, 8 Calle Inglesia (across from St. Anne's Church), Tubac, AZ.
Mail Your Work:
Mail work to Rebecca O'Day, PO Box 252, Tumacacori, AZ 85640
Work must arrive no later than September 10, 2011 to be included in the show.
Artwork shipped via mail carrier must be accompanied with a pre-paid return.
Unsold work will be available for pick up on October 29th &  30th.  in the location it was hand- delivered from 10 AM – 3 PM.  Shipped artwork will be returned if accompanied by a pre-paid return label.
Agreement of Entry & Liability:
Great care and respect will be given to all artwork submitted. The Tucson JCC, Alta Contemporary Art & Industria Studios and its agents do not assume liability for any loss or damage of any artwork submitted while in its possession. Your entry constitutes acceptance of all conditions and terms in this prospectus. Artists desiring coverage can do so privately through their agent or one offering short-term "show"  coverage such as Artists, Craftsman and Tradesmen Insurance Program: http://www.actinspro.com.
And so here it is, my "Sedona 1: Hiking." I am definitely going to do a series of the things I like about Sedona – and there are many! The new owner is a hiker and is constantly out on the trails all around Arizona. Sedona is special because of its gorgeous red rocks. From 360 Adventures comes this iconic image:
Sedona is one of the really special places, not just for scenery, but for those who believe in vortexes and all things New Age. I do have a piece of fabric that I'm going to call "Vortex." It's on the list at about number 4.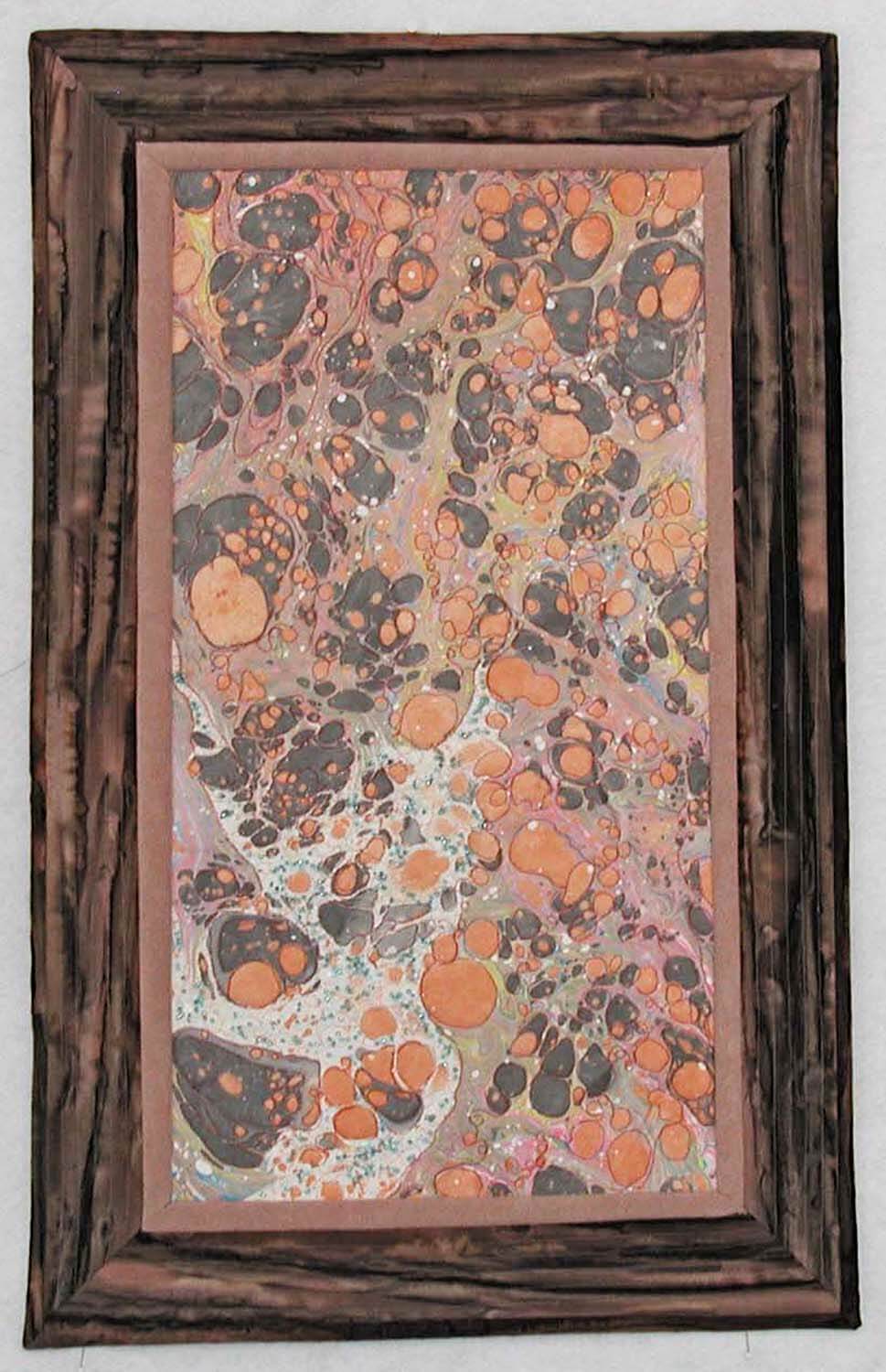 The coppers, browns, and reddish-oranges are very strong in this piece – no matter what I do with the light, I still seem to get hints of mauves, and there isn't any of that in here.  The piece is about 15 by 23 inches. At least I know I will be able to visit this piece on occasion!
Next up…."Spark" for the 3 Creative Studios challenge; a piece for Tikkun Olam due in September; an idea for Art Quilts Elements due end of September; and then there's four good pieces for the next Sedona pieces….I am SO glad I'm retired!

I so enjoy reading all my blogs in Google Reader – what a wide range of art that's out there, commentary, gorgeous eye candy….so much available through the net. Makes me glad I live at this time in history when I can sit at home and just explore. So enjoy this week's finds!
After years of dealing with No Child Left Behind comes Borowitz with this gem: No Politician Left Behind….seems only fair….
Talking about art fairs, this is an excellent post from Fine Art Studio Online about what NOT to do – and when I did the few shows, I was careful to not break any of these rules – because I HATE it when I'm ignored.
Joen Wolfrom is a major player in the art quilt world, and I own (and refer to) all her books. She has a blog, Playing with Color, and it's a treasure trove. Just recently it's all about blue – gorgeous! And to add to that, she gives us hmework to improve our own use of the color – and the pics are AMAZING!

Now here's an idea that reminds of work by Andy Goldsworthy: Sand Art by Jim Denevan. So fleeting….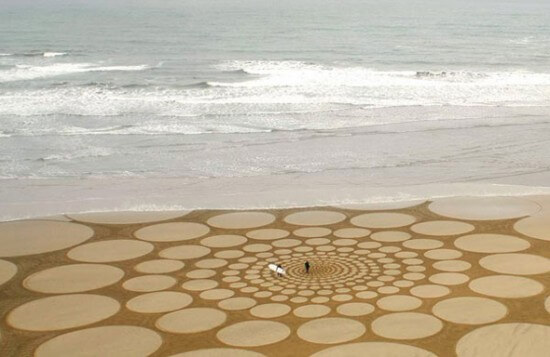 Speaking of Andy Goldsworthy, I was introduced to his work about 10 years ago, and I pine for a few of his books to own. I've been through everything the library has, and I've watched Rivers and Tides several times. The juxtaposition of art IN nature is beautiful. Google some images for him and you won't be disappointed. This is one of my favorites: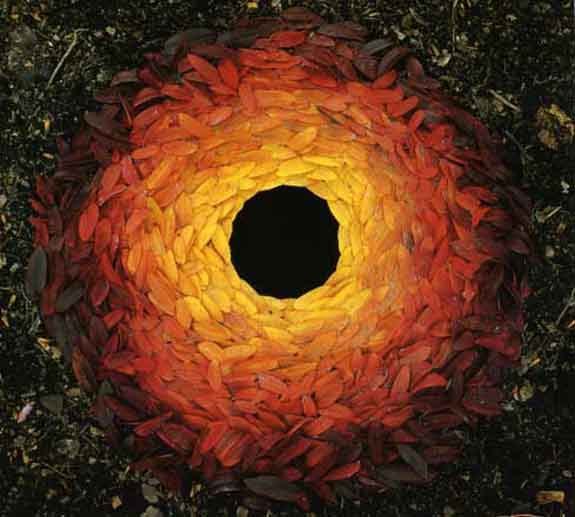 In case you are even more interested, here are some items from Amazon (and yes, in the interests of full disclosure, I make a couple of pennies if you follow the links…).
Since I've been working on improving my machine quilting, I loved finding this next site for P. Nosa – and you can see his solar-powered sewing machine….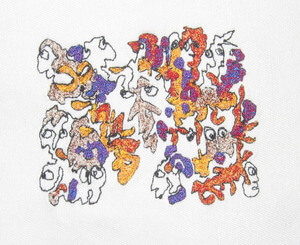 Now for somethng different – I'm looking for some good websites on the following:
* Basic yoga poses (needs to be for the overweight-can't-bend-down-person)…..
* Feedback from those of you who have used Fine Art America – how did you do and would you recommend it?
* A good water color class on line…..and
* Great places for sightseeing and food in Oregon – specifically the coast and Portland….
Any and all help greatly appreciated!

One of the things I promised myself with retirement is that I would take some classes, whether at the community college or on line. I found a new class at Quilt University by Lyric Kinard – The Artist's Toolbox. This is my third class at QU, and I have been very pleased with the courses – good instructions, lots of great ideas for projects, and really helpful instructors. I actually completed almost all of the small sewing projects that practice the various elements of art, and I am learning a good deal. Part of what I am seeing is why some of my work really comes together and what's missing in some other pieces. Very valuable, and I have a few studies left to complete.

Lyric Kinard, one of the instructors at QU, has a great website. Her fiber art demonstrates all of the principles she teaches in The Artist's Toolbox – I am hoping she offers a part 2 to this class. Plus, she keeps a running list of art shows to enter, so you can always check and see what's available.

I also just finished a class on Multiple Streams of Income, since I am focused on building my business. Laura Bray  did an excellent job in not only presenting resources, but also in having a lot of guest speakers who do on a daily basis what needs to be done to build additional sources of income. Sign up for her newsletter so you know when she offers classes, and sign up to read her blog. The "focusing" piece, as well as the "goals" piece were absolutely invaluable to me. I was getting bogged down in marketing, but it wasn't furthering what I actually wanted to accomplish. Until I did my 90-day goals, I didn't see this. Now I can be much more focused on my individual goals, rather than the hit-and-miss of before. Click here to visit katydid designs.

Online classes really work for me, especially since I am no longer driving myself. I can work at my speed, have access to all my materials, and can correspond with loads of people. I keep myself motivated easily, so this form of instruction works for me. Your mileage may vary. I also enjoy reading blogs that have tutorials, as I usually like trying out something new. I plan on doing lots of that during retirement!

We are getting quite active around the web and I thought it's time to spotlight some of the things available on line this week – you can only find them this week.
First up is Ebay this week – lots of great fabric pieces available – assorted colors and marbling patterns, perfect for piecing, applique – and don't forget – sometimes you can just make a small quiltlet with quilting the marbled pattern line. Two pieces of denim – really intriguing designs and effects.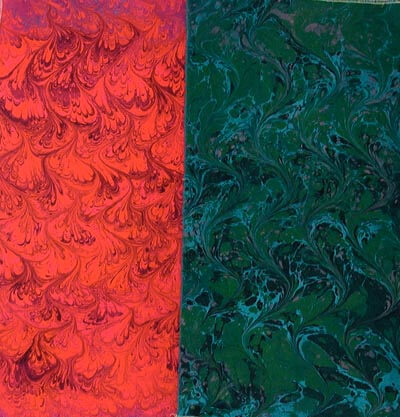 On Etsy this week is a piece of art cloth again with lots of possibilities. We were trying for a starburst effect, and I think we achieved it. I have a smaller piece that I'm going to quilt for a small hanging.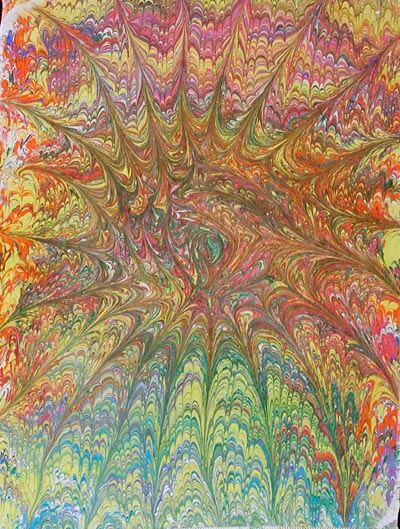 On Cafe Press, one of our most favorite digital prints from our Botanicals Series: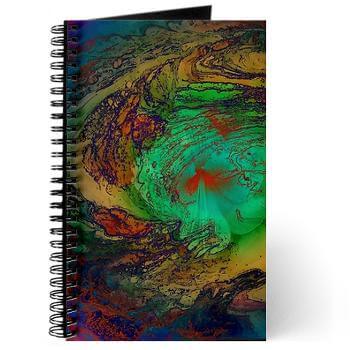 And also from Cafe Press, a cool totebag with a digital manipulation of a Southwest gecko: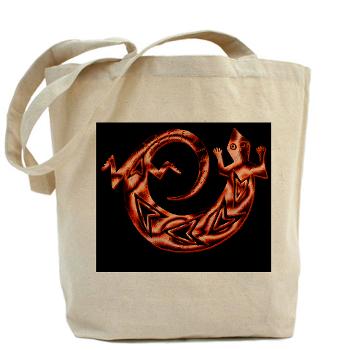 So enjoy exploring this week – we'll have some new goodies next week!

I've been lucky enough for nearly a year now to belong to what is rapidly becoming THE place to find textiles and fiber arts on line: TAFA, or the Textiles and Fiber Arts List. I joined last fall, and one immediate benefit was increased traffic to my blog, website, and Etsy store. Plus, lately I just go looking at the various designers – the artwork available through this site is absolutely amazing!
"TAFA's Mission:
TAFA: The Textile and Fiber Art List is a membership based organization that seeks to access larger markets for its members by using social media and other web based opportunities.  Members include working artists, textile businesses, galleries, suppliers and other fiber/textile people who have an established web presence. All artists are juried in to TAFA to maintain the quality of the work available.
Our common connection weaves us together: a love for textiles and fiber art. New and old, traditional and contemporary, TAFA embraces inclusiveness of the world market.  Members are selected based on quality of work, having a professional web presence and value added to the group.
It is a web site that brings together  fiber art and those interested in fiber art. The talent, the beautiful fiber art,  and the quality products of its members is quite extraordinary. Currently there is a  drive to raise money for a new web site, an improved site both for those browsing, shopping or connecting. Connect  those who work with handmade fiber arts and the artists and those who are selling handmade fiber art.  The  new site will provide  such an improved experience, convenient, easy to use and beautiful to look at. Want a mini preview?  Here's the link you'll want to read.
Also, now is the perfect time to join & become a TAFA member. The cost is minimal and benefits great. That info is also on TAFA's site. Beware – the cost of membership will go up once the new site is active.
Do this – you'll be glad you did!

So…..I did pretty well last week and then faded at the end of the week. Plus, I am taking two online classes, and I needed to leave myself time to work on activities. Pretty much I got the goals for the week done, and I'm ready to set the goals for this next week, but I know I need to make some adjustments.
Major problems with Tweetdeck, so I wasn't able to schedule the tweets that I wanted. I can only afford to take the time to read through the Twitter feed once a day, so I should probably change the time each day that I read it. I will keep to the schedule of reading tweets each day, with Sunday the day I schedule for the week.
One of the things I found was that I was busy trying to keep up with things and I didn't really accomplish much for my own personal business. I need to change that, especially in the light of the marketing class I am taking. I need to be sure I am accomplishing what I want for Marble-T Design. I was able to work on the weekly goals of sewing, marbling, and adding to the Etsy shop.
Weekly Goals for this coming week July 18 – 24:
* Finish the Sedona commission
* Marble fabric for Etsy and Ebay
* Finish Lessons 2 and 3 of The Artist's Toolbox with Lyric Kinard
* Do some goal-setting per the marketing class, primarily with Facebook and Cafe Press
* Get ready for gallery visit (inventory, etc) for Saturday
* Some work to do on the blog: more pages? widgets? other affiliates? blog giveaway? update current pages?
Daily:
* Read Twitter feed at a different time each day
* Google Reader – comment on at least three blogs
* AT LEAST 5 blog posts this week (only fot the three last week)
* Read newsletters from Linked in groups twice a week
* Facebook fan page each day…..
* At least one art activity each day
So I need to get back in gear, get back to being positive and feeling that anything is possible……..How many of you have found your energy levels with drop without any warning? And what do you do to get back to work? Inquiring minds…..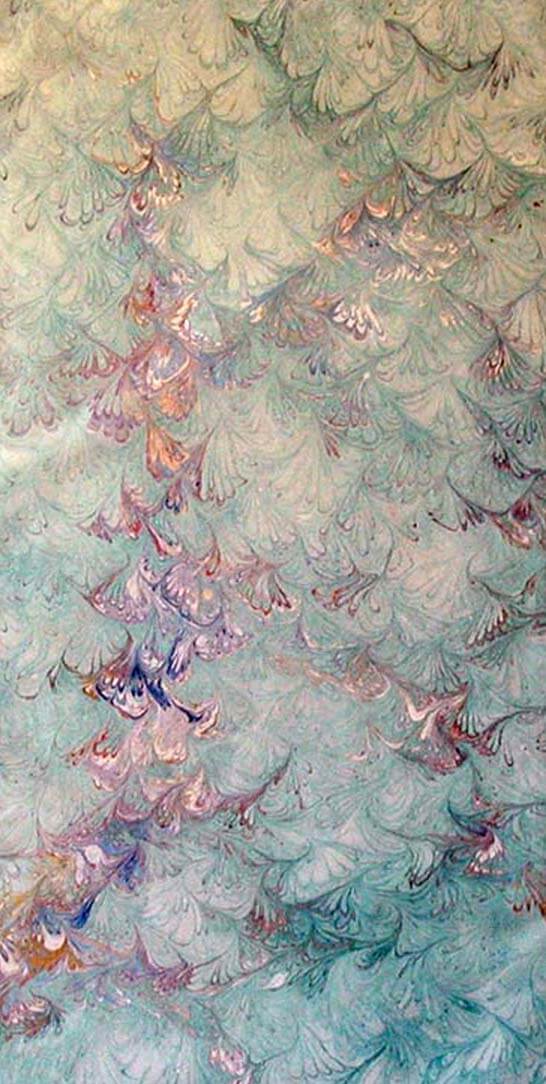 Two weeks ago I showed the start of a commission here, and I am almost to the end of it. Lots of interesting decisions to make along the way – I am really enjoying the decisions in the design process, especially as they relate to using marbled fabrics. My biggest problem is trying to photograph the colors so they are true.
The quilting of the marbled fabric went really well – I emphasized the white area with bubbles, as though it were a stream working its way through the rocks. Went through two different colors of threads before I decided which one I liked. That's different for me…in the past I would just let it go.
The first border is a very soft corduroy, and I left it a little "puffed," rather than pulled straight. I liked that it played off the roundness of the pebbles. I love the batik for the outer border, and I also used it for the backing. I realized again why I'm not fond of mitered corners (but that's what this piece needed), as I took two of them out several times. I still need to trim the outer border by an inch so that it seems better balanced, but I decided to quilt the outside first. Again, a struggle with what I wanted to use for thread, as well as how I quilted it. I wasn't happy with following the pattern of the batik, as it looked too crooked. So I opted to play off the idea of the frame, and I'm quite pleased. What faces me tomorrow is making sure the piece is completely square, which I need to worry about, as it is a commission. Thank heavens I know about the diagonal to check for a square.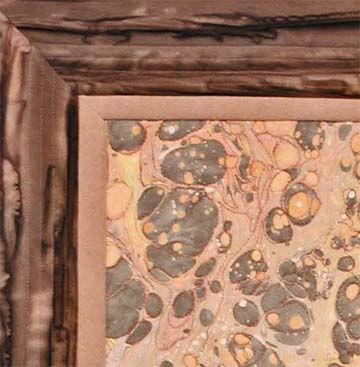 I'm going to use the Alzheimer Quilt hanging system – the little triangles in the corners, as I think this will help the quilt lay flat on the wall. I also plan a label for the back with all the information about the quilt, including care. I found a "certificate" on line to use for the new owner of the artwork with all the official details.
Here's the large shot, still untrimmed: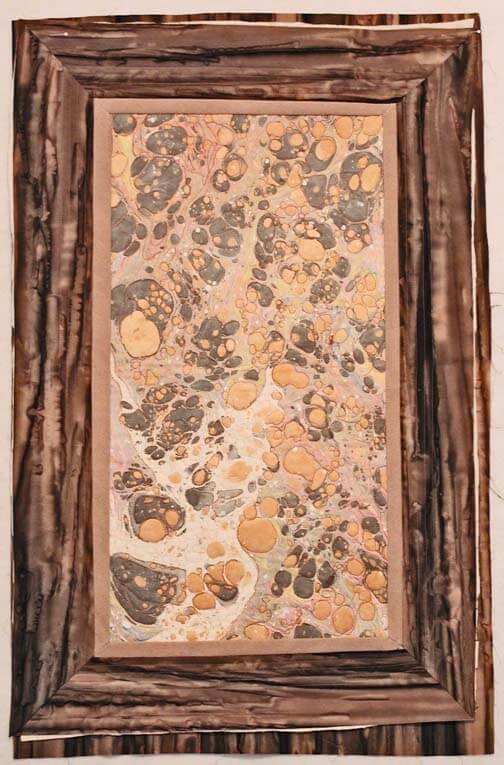 I am really loving this piece, which is actually more true brown and copper than in the picture. Still thinking about some seed beads……see what happens next week…..

I'm not so much of a tech geek as I thought, as it wasn't until about 4 months ago that I finally realized how Google Reader works. Now I love scrolling through to find new updates, and I've figured out how to start a draft of a blog post for Tuesday Top Ten. And there's more already bookmarked and waiting for new posts. Such an amazing wealth for an information junkie like me!
An update of the classic Elements of Style (to which I still own two copies…): From Cool Hunting, a site with loads of VERY cool stuff…..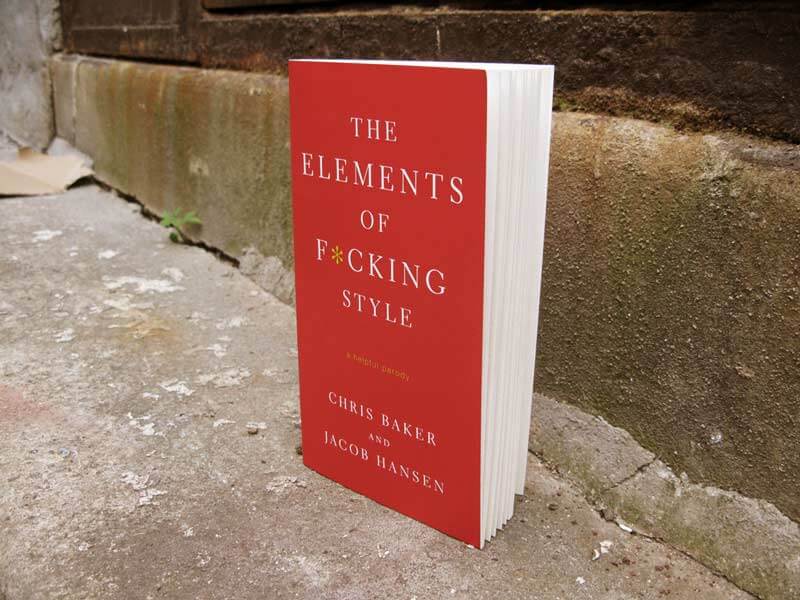 Some very beautiful art quilts made with Indian silk by Sue Reno, posted on her blog.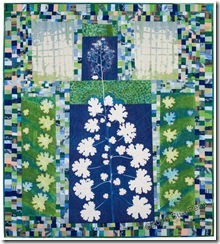 Great photos of women during war from Child of the Moon
Tose of us of a certain age will remember Mad magazine, and for some of us it was forbidden reading material. In case you didn't know, they have a blog, and today's artwork celebrates 3000 hits by Derek Jeter. I'll let you peek for yourself…..it's worth it…..
From Mamacita at Scheiss Weekly comes this great post on teaching. It really resonated with me, because these are all the things I've done over the years to relate to kids at all levels.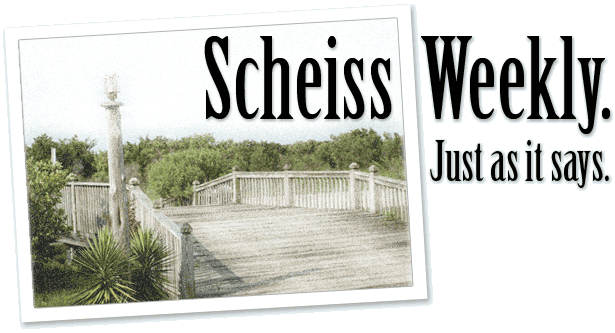 Here's a very cool giveaway from a very talented artist, Marie Segal at Art From My Heart. These little guys are great – unzipped hearts. Check it out and start following Marie – she has some great blog posts.

As artists, marketing is a large part of our life, as you can tell if you follow my Monday Marketing posts. Renee Phillips from Manhattan Arts is an "artrepeneur," a term I really like. Check out her blog for some really great tips and motivation.

Those of us who post lots of pics of our work on the web need to be aware of watermarking to protect our work. Creating the Hive had a great tutorial this past week on just that. It's on my list of things to do as I update my Flickr stream.

Interested in seeing what color does? There's this very cool Color Designer on line that lets you mix colors as primaries, complementaries, and so on. Very instructional…and fun! Visit it and play around – you'll find it very helpful.
On a more serious note – a video I first saw on the environmental blog A Note From Your Mother: gorgeous, scary, depressing, and amazing…you need to watch it.

It's Monday again….and it seems like all I did was read, look at emails, and set up buttons and the like. This is the "time-sucker." So my goal for this blog post is to try and identify what needs to be done each week for marketing and set up a kind of calendar to work with.
This is what I'm dealing with: Ebay, Etsy, LinkedIn, Facebook, Twitter, Cafe Press, Zazzle, newsletters, a website, lynda.com, flickr, and a blog. I am trying to avoid doing all of this every day, because nothing else seems to get done. I'm brainstorming as I write, with the hope that by the time this post is done, I will have a plan.
Ebay: hubby handles almost all of this, including postal trips. But…if we are going to increase sales, we need more product, and I would like to help with the actual marbling. So…..marbling weekly. I do need to update the About Me page…..
Etsy: the bulk of the organization is done. But…I need to be adding product on a regular basis, which means I need to keep making things. It would be nice to have one new product up each week, if not more often. One of the goals this week is to add some of the major artwork (even though I don't expect to sell it on Etsy, it is more exposure) on the site, as the pictures are redone. I want to continue with the circles marketing, which, if I have enough products, could be done every day – 15 minutes for this. Plus, I need to keep working…….
LinkedIn: profile is done, and I have registered for several groups for business. I have found already difficulty in keeping up with reading emails each day from the groups and have already deleted one group. This week I will determine which groups look to be the most advantageous. I also need to complete the setting up of a profile of artwork.
Facebook: I read this several times a day. I have a fan page which needs serious work, as well as Art From The Heart, which is to support healing art after the Tucson shootings in January. I have added FB buttons to my blog and this week to my website. I have read the Terms and looked at all the privacy settings. I also went through the photo stream stuff for FB and fixed photos for both the personal and fan page. I need to really think through what is going to happen with the Fan Page.
Twitter: I am finishing a class from lynda.com on using Facebook and Twitter for business, and I highly recommend the site. For #25 you can choose different trainings all available for a month at your schedule. I picked up all kinds of little tips, most of which have already been implemented. But….and this is a BIG but….the time for tweets and what to tweet. By syncing a lot of the programs, my blog appears on Twitter, FB, LinkedIn, my tweets appear in a couple of places. I don't think I can go further with this – the tweet button is on the blog and soon to be on the website. This is one area that needs some serious scheduling. Since I use TweetDeck (which is free…), I can schedule and keep track of who's following and what is getting retweeted. So…I'm going to use Sundays for scheduling business tweets for the week, and I will look through the twitter feed once a day to see if there's some good stuff to retweet.
Cafe Press: I have a site, a free one, so I am limited as to the number of products I can put up. I haven't looked at this in several months and it needs serious work. To have a store isn't much money each month, and I could have a lot more products available, but the issue is marketing and driving people to the site. I have some great digital stuff already to go, and I need to start planning around the holidays, reading about marketing through Cafe Press, and so on.
Zazzle: Ditto for Cafe Press……both are not a high priority right now.
Newsletters: oy, it's been months since a newsletter went out, and I have all these contacts where nothing is happening. I used Constant Contact last year for a few months, until I couldn't keep up with the demands and school at the same time. I was happy with it, but disappointed that not many people actually read it. I need to go back to a newsletter and offerings at least once every three weeks, and more during the holiday seasons. I need to check out Mail Chimp, which is free, and I have heard people have good luck with it. I'll try and make this a priority this week.
Website: Most of the changes to the website have been made by my wonderful web lady Suzan. I need to get a couple of buttons set up, and then do something about newsletters and contacts. I also have some pages to add on Digital Marbling (TN), and I need to evaluate "print on demand" for artwork. This is a "need to think about" topic…..
lynda.com: I have until Friday to finish my month of training. I still need to finish Twitter, and I want to get the html newsletter course done. I am not going to continue with Dreamweaver because it isn't a priority.
Flickr: I have photos up, not all of them with copyrights, and there is a class on lynda.com if I have time. I'm not really sure what I want to do here….
And finally, my blog, Marbled Musings. I went a bunch of months with no new writing, and I'm at maybe three times a week. I need to get back to at least four times a week, and eventually every day. I have plenty to write about…and I need to stay up with my Google reader – as well as comment more on some of the posts. This is probably the biggest area for marketing that I have to schedule.
Weekly:
* Marbling fabric
* Work on Etsy products
* Sewing and other design
Mondays:
* Add Etsy product
* Add Etsy circle information
* Read newsletters from LinkedIn groups
* Read Twitter feed
* Blog post Monday Marketing
* Google reader and at least three comments
Tuesdays:
* Add Etsy circle information
* Read Twitter feed
* Blog post Top Ten Tuesday
* Google reader and at least three comments
Wednesdays:
* Add Etsy circle information
* Read newsletters from LinkedIn groups
* Read Twitter feed
* Blog Work in progress Wednesday
* Google reader and at least three comments
Thursday:
* Add Etsy circle information
* Read Twitter feed
* Blog – Thursday Thoughts
* Google reader and at least three comments
Fridays:
* Add Etsy circle information
* Read newsletters from LinkedIn groups
* Read Twitter feed
* Blog Photoshop Friday
* Google reader and at least three comments
Saturdays:
* Read Twitter feed
* Blog posting on Specials
* Google reader and at least three comments
Sundays:
* Read Twitter feed
* Schedule Tweets for the week (i.e. Etsy, Ebay…)
* Blog Sunday Stories
* Google reader and at least three comments
Goals for next week:
* FINISH LYNDA.COM

*Update "About Me" page on Ebay
* Update Etsy products, especially note cards
* Evaluate how calendar is working
* See if buttons are added to the website
* Decisions on what will happen with the Facebook Fan page
* Long-term thoughts – what to do with CafePress and Zazzle
* Read and decide about Mail Chimp for a newsletter
* Spend some time thinking about what the website still needs….
Okay, I think I have a handle on this…we'll see next week as I evaluate how the week goes. And…I'm taking some online classes!
Thoughts??

Another good week for making progress with marketing. Again, though, the thought about what's enough, what's too much, and what is just a time-sucker. Last week's goals are here.
* I finished the LinkedIn course from lynda.com, and I got my LinkedIn profile set up, as well as joining a couple of groups to network. It was interesting developing the profile to work for both tutoring clients and building an art business. I still need to set up the visual portfolio for the site, but I joined a round robin of new people looking at each other's Facebook fan pages, and as a result received some more "Likes." Took time, but it's done, and now I think just some weekly maintenance.
* I am part-way through the course on Twitter and Facebook, again through lynda.com, and I learned some interesting things. I read the Terms of Agreement (interesting…), checked all my privacy settings, changed the Twitter background, made some lists to make it easier to let people know about happenings. I still need to figure out my strategies for both the Fan Page and Twitter, so that's on the list for this week.
One thing that is interesting in the way I work is that I can't seem to finish one complete thing at a time. Maybe it's the nature of the marketing process that you flit around, fixing/doing what you can at the time. I've gotten lots done on a bunch of things, but nothing really "completed." Maybe it's also because of the not-so-static nature of internet marketing.
* Defining my marketing goals: well, I have made progress on this, actually. I am carrying around a small notebook with the idea of jotting down some of the marketing ideas as they occur to me. I have about eight different headings at this point, and a bunch of ideas under them. But in keeping with trying to define what will be productive for me, a couple have "Goals?" as the only thing under the heading. I find I really do need to think through what I want to do, if I truly want to do it, and the best way to do it – something I've not done before.
* Figured out how to add Google Adsense to the WP blog…managed that okay – and I still have some money coming to me from Google……Now I gotta figure out why an ad is appearing in the middle of this blog post……
* Marketing the Etsy store through circles and additional contacts. And…sold some things on Etsy this week!
* I got new pictures taken for some of the items on the website. I need to work some Photoshop magic on them and then get them in place (which I think I can do on my own).
So it's time for my goals for this week:
*Finish Twitter class and implement any changes and decide on a schedule.
* Start the HTML newsletter class.
*Check out Mail Chimp for newsletters. I'm very happy with my experience with Constant Contact – the company doesn't have the money at this point to continue with their newsletters – but I LOVED the design they did.
* Set a plan and an update for the FB fan page, and start a schedule for it.
* Goals for the marketing plan in the following categories: newsletters, classes, and writing.
I also plan to finish the commission I wrote about on Saturday and do two table runners for my second mom – part of a larger commission I need to finish. I've got a list of projects to keep me busy through the summer!

This past April I was asked to do a commission for a friend of a friend, based on three things: 1) she loves our marbled fabrics; 2) she wants a fiber piece for a small area in her bathroom; and 3) she would like it to draw on the colors from the new granite counter tops. So for 6 weeks I've been mulling over possible designs, knowing that the final one would be based on what happened with the marbling session.
We marbled yesterday, and I worked with the colors I thought would go with the granite – gray, black, brown, russet, copper. I tried a couple of different patterns, and what follows are the pieces I came up with. Warming – they're pretty blah in the pictures….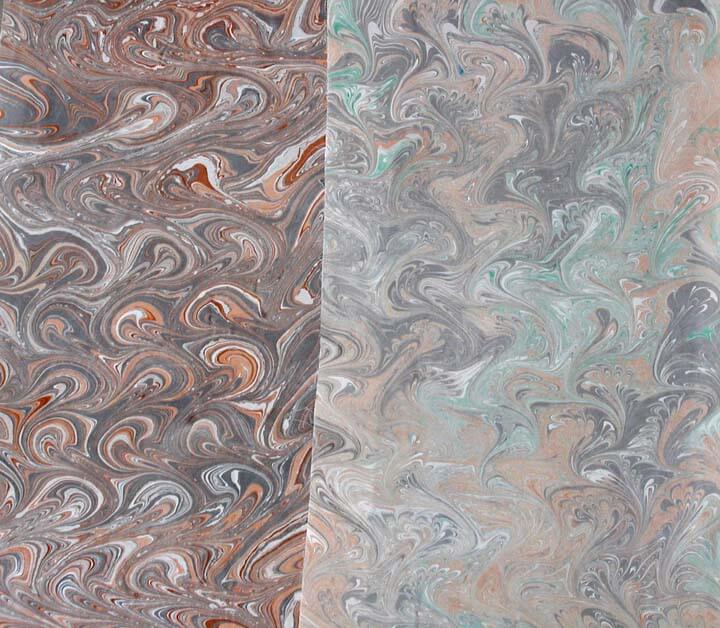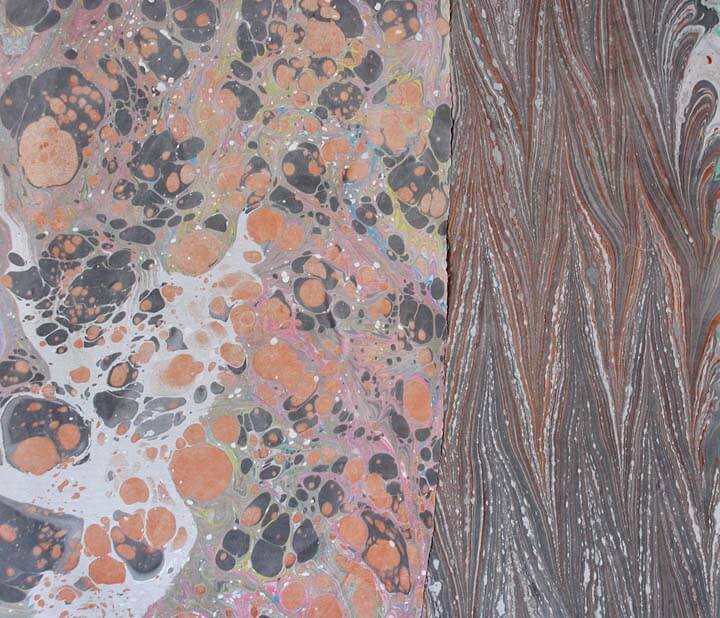 I chose the stone pattern to begin, for two reasons. One, I like quilting that pattern, and two, I figured this would give me some ideas. Well…..it sure did. I started snapping pictures as I was quilting. I used a Rainbow thread from Superior (of course) in a rust shade to bring out the rusts in the painting on the opposite wall of the bathroom. It was just what it needed.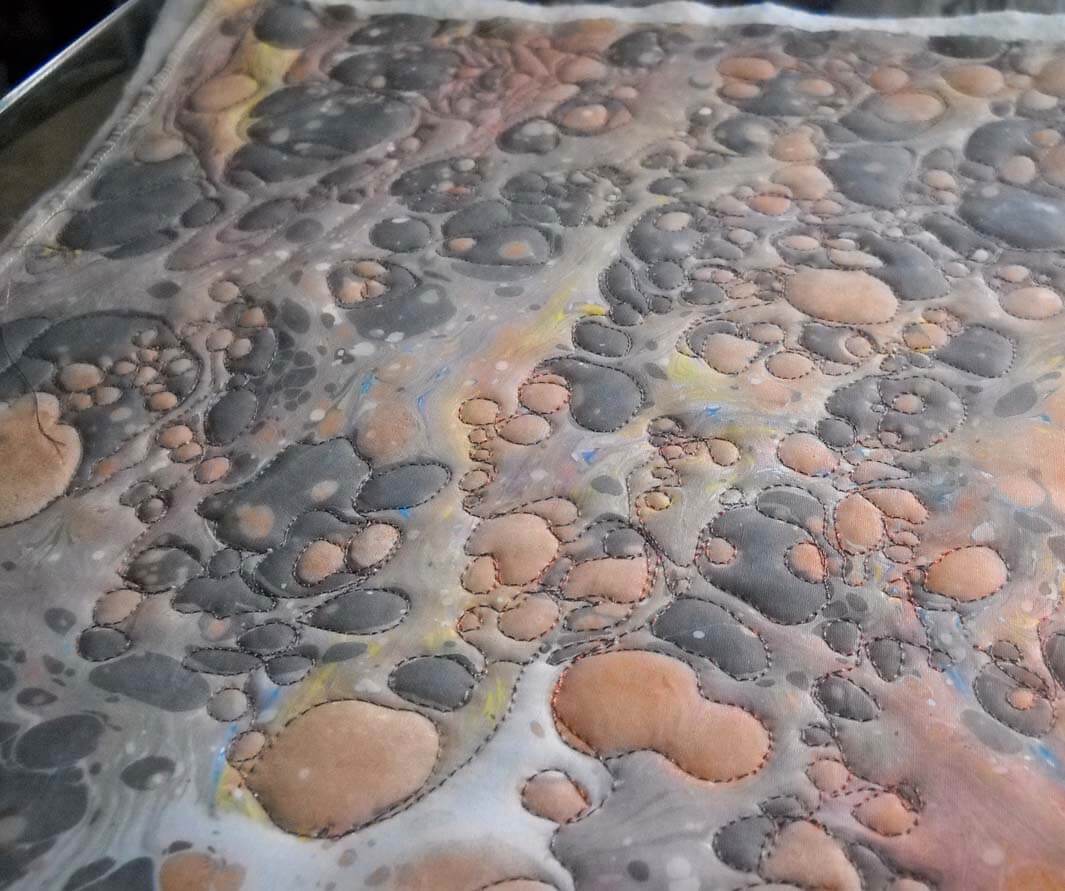 The texture is incredible and no longer flat. The piece also now has a title, "Hiking," as its future owner hikes the mountains and canyons of Arizona – and especially Sedona – often.
This is so totally different from what I had originally been thinking. I know that this will act as the center medallion of the piece, so I went looking for coordinating fabrics – in my newly organized studio, so selecting was a breeze.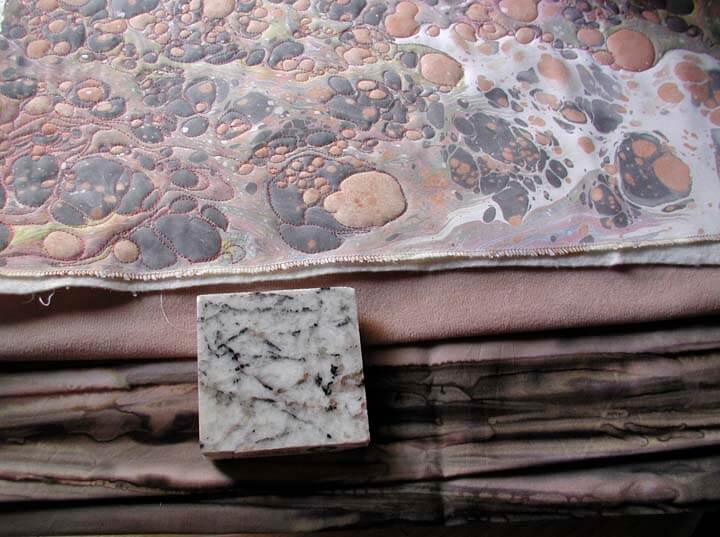 Lots more ideas, as the white area is probably going to become a small bubbly stream, and I pretty much know what's happening with the borders, but that's for another post.
Ideas???