I so enjoy reading all my blogs in Google Reader – what a wide range of art that's out there, commentary, gorgeous eye candy….so much available through the net. Makes me glad I live at this time in history when I can sit at home and just explore. So enjoy this week's finds!
After years of dealing with No Child Left Behind comes Borowitz with this gem: No Politician Left Behind….seems only fair….
Talking about art fairs, this is an excellent post from Fine Art Studio Online about what NOT to do – and when I did the few shows, I was careful to not break any of these rules – because I HATE it when I'm ignored.
Joen Wolfrom is a major player in the art quilt world, and I own (and refer to) all her books. She has a blog, Playing with Color, and it's a treasure trove. Just recently it's all about blue – gorgeous! And to add to that, she gives us hmework to improve our own use of the color – and the pics are AMAZING!

Now here's an idea that reminds of work by Andy Goldsworthy: Sand Art by Jim Denevan. So fleeting….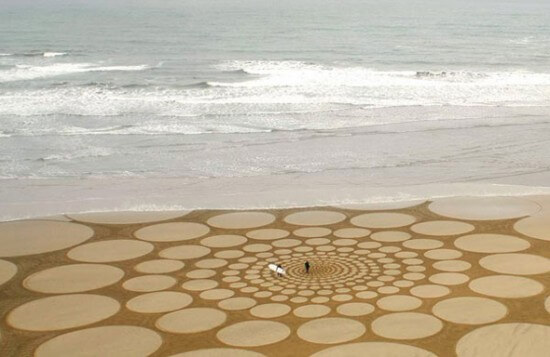 Speaking of Andy Goldsworthy, I was introduced to his work about 10 years ago, and I pine for a few of his books to own. I've been through everything the library has, and I've watched Rivers and Tides several times. The juxtaposition of art IN nature is beautiful. Google some images for him and you won't be disappointed. This is one of my favorites: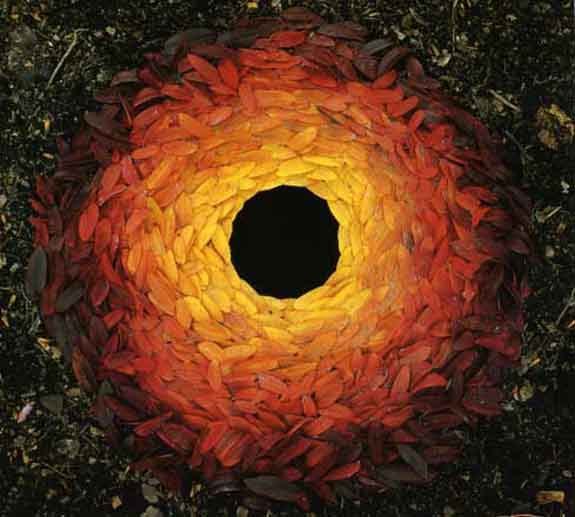 In case you are even more interested, here are some items from Amazon (and yes, in the interests of full disclosure, I make a couple of pennies if you follow the links…).
Since I've been working on improving my machine quilting, I loved finding this next site for P. Nosa – and you can see his solar-powered sewing machine….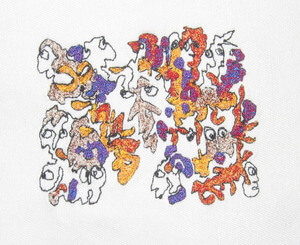 Now for somethng different – I'm looking for some good websites on the following:
* Basic yoga poses (needs to be for the overweight-can't-bend-down-person)…..
* Feedback from those of you who have used Fine Art America – how did you do and would you recommend it?
* A good water color class on line…..and
* Great places for sightseeing and food in Oregon – specifically the coast and Portland….
Any and all help greatly appreciated!