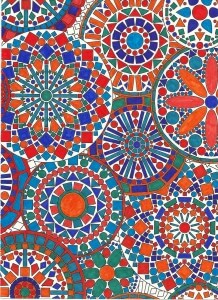 This image is from my time with adult coloring books last year – trying out colors, experimenting. I love symmetry, but then I also like something a little unusual….which is where I am right now as I approach a new project. I really need to develop  more sources for passive income. I'm taking a free class right now from Convertkit on Product Creation – great ideas, and after two weeks of reading the information (a daily lesson), I decided to start at the beginning and develop a series of products that are useful to others. Hence, Organizing for Marketing.
The title is going through some revisions – still not catchy enough for me. But I already have all this content – in an iBook that isn't selling  – and yes, I really haven't done much to market it in the three years it's been available (or is it four? Funny how time stretches out when you're not teaching….).
So this is my first brainstorming at trying to make sense of what I want in this ebook product. I am very good at marketing and creating and organizing, so it makes sense to focus right there. When I reviewed the book last night, there is enough information to make it into three or four smaller ebooks and develop a continuous stream of ideas and techniques for people.
The first key is targeting my market. I work in fiber and textiles – pretty much a niche market when looking at the art world, although we are slowly making progress into mainstream. Thus I want to focus this on those of us who do art that is generally out of the mainstream. What can we do to get our work looked at, sold, appreciated?
Here's my accountability checklist for this coming week, ending Tuesday, May 16, with my initial thoughts:
Determine revised structure of the ebook. I need to break up the information in the original book into smaller segments for action, and increase the information included in each of the segments.
Determine my ideal customer for this book. Who is my audience…artists without a lot of money to spend on marketing, artists with unique products, artists who have issues getting organized and accomplishing tasks.
Write two additional blogs this week – what questions do you want answered in a marketing book for those of us working in a niche market, and how would this be different from all the other marketing books out there? I need to make sure I start getting feedback from folks to help direct my work.
Evaluate ebook publishing sources and ease of use. CreateSpace seems mostly for print; research it more fully. Kindle seems easy and quick to do. IBooks seems too limiting, although I do have experience with that platform.
Plan for a "bonus" for people who buy this ebook. Already thinking about many of the blog posts I've already done in my Top Ten series. I think these could be manipulated into a bonus, once links are checked, and focus determined. Happened to just think about expanding ideas for Top Ten for other Bonus offerings.
Keep playing with title ideas. Suggestions certainly welcome! Organize, marketing, niche products…….
Determine launch date for the ebook – probably beginning of August.
Feel free to give me ideas and help keep me accountable to this project! You can be in the book with your website and product for helping out.
ORIGINAL BOOK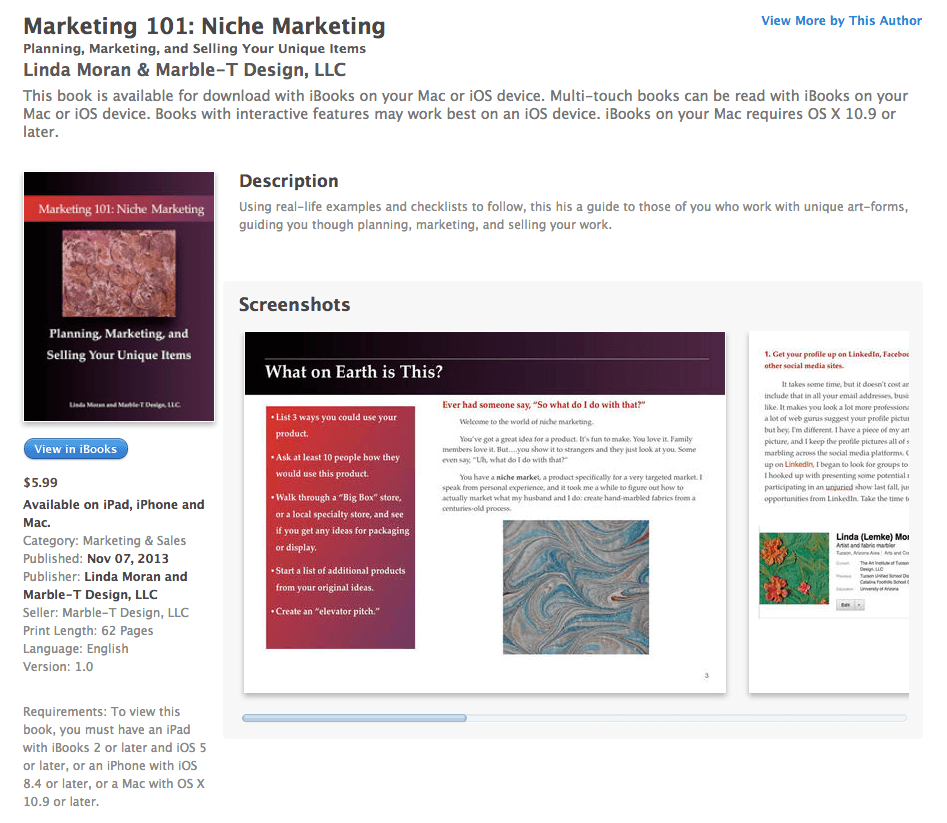 Ready, set, go – give me feedback!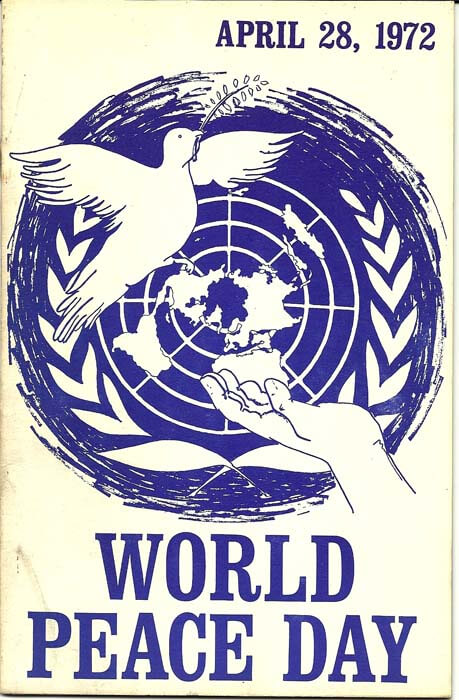 Yeah, it's been reflection time these past two weeks about a student project from 45 years ago. At the time I was teaching at Baldwin High School on Maui, and I was advisor to the Pacific and Asian Affairs Club. The beginning of my second year, Claudia Otsuka and her twin Dawn came to me with the idea for a World Peace Day that spring. It was my second year on Maui and my second year teaching, so why not? Little did I know how memorable the journey would be. I wrote about it here for the 40th anniversary, with all the news clippings.
In 1972 we were at war in Vietnam, cities were on fire with protests, marginalized groups were trying to speak up and have their voices heard. What bothered me this week – and as a history person, nearly every week – is that nothing has changed. We're marching for Climate Change tomorrow the 29th. We're in two wars, and the prospects of getting involved in North Korea scares me. I really thought I was done having to worry about where I lived and what part of the house would be the best place to hold out in case of a nuclear attack.
Minimal technology in this endeavor – mimeo machines, typewriters and carbon paper, phone calls to Washington, DC to our House Representative Sparky Matsunaga who was a keynote speaker…..arranging lodging, going to Honolulu to talk to the legislature about getting an official World Peace Day through the legislature, getting parade permits for our Walk for Peace to raise money for the event – and being consistently called a Communist for protesting for peace. I guess nowadays my label would be "libtard."
Sparky was the first person, aside from the high school support (which was mild) to believe in what we wanted to accomplish. From the webpage:

So here we are again…..still….searching for that elusive peace……My generation is a transitional one – from starting out believing life would be better for us to wondering in our older years if anything will be left for us. Back to the barricades…..
I spent a lot of time just coming up with an idea I felt would work, and then some of the time spent rehabbing my knee by walking the halls helped it come more into focus. Then once I started, ideas kept coming – what was a month's project stretched out into two months, with a lot of time writing what would become the messages on the piece. Women's Work s Never Done – the topic lef me in so many directions, starting with Susan B. Anthony and the Declaration of Sentiments in 1848 as a result of the women's congress. The complete document can be found in the right-hand pocket of the jeans. Using a Sharpie, I started to painstakingly write in the GRIEVANCES woman had against men at that time…and as I was writing, I realized not a lot had changed. The best part of this piece was traveling back in time to read in full this document and realize how far we still have to march.
Here are the jeans about two-thirds complete with the writing – each letter gone over two-three times to ensure legibility.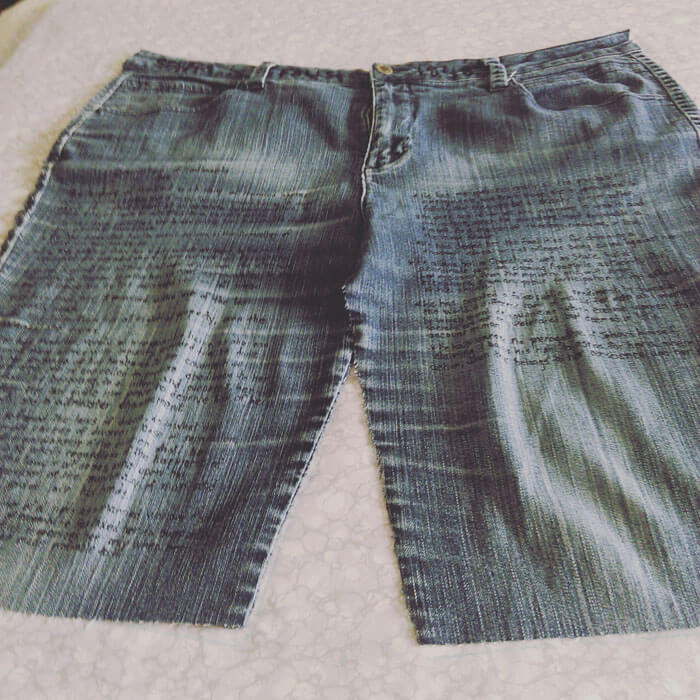 I worried about fading and having to re-do the writing – but isn't that what we women have had to do through the ages? Prove ourselves again and again? Rewrite or own accomplishments so they aren't forgotten? If the piece fades – any part of it – that's the story of us as women.
Next came a woman's required piece of clothing – the apron. I made it reversible – the front is traditional quilt design and somewhat traditional fabrics, and in each of the squares are messages to women – either from my own family or from society. I put a ruffled border on, and written on it is the litany of what women were expected to do: cooking, cleaning, babysitting, housework, laundry, cooking, etc. sex, birthday parties, planning dinners, sex, cooking…..you get the idea.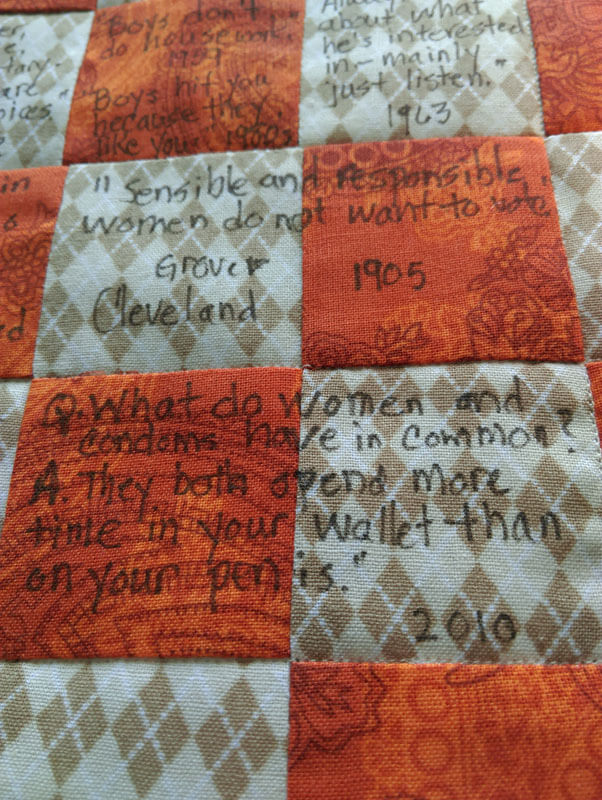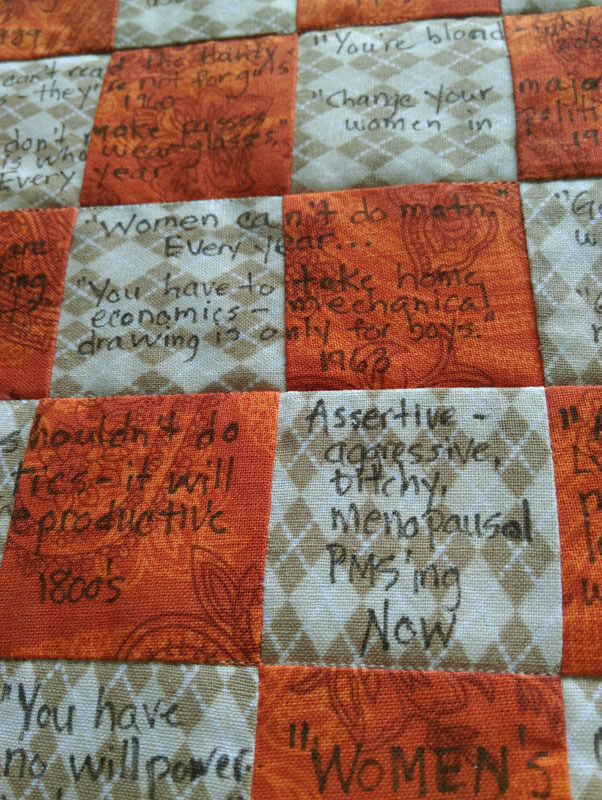 Click on the next picture – for some reason it isn't clear….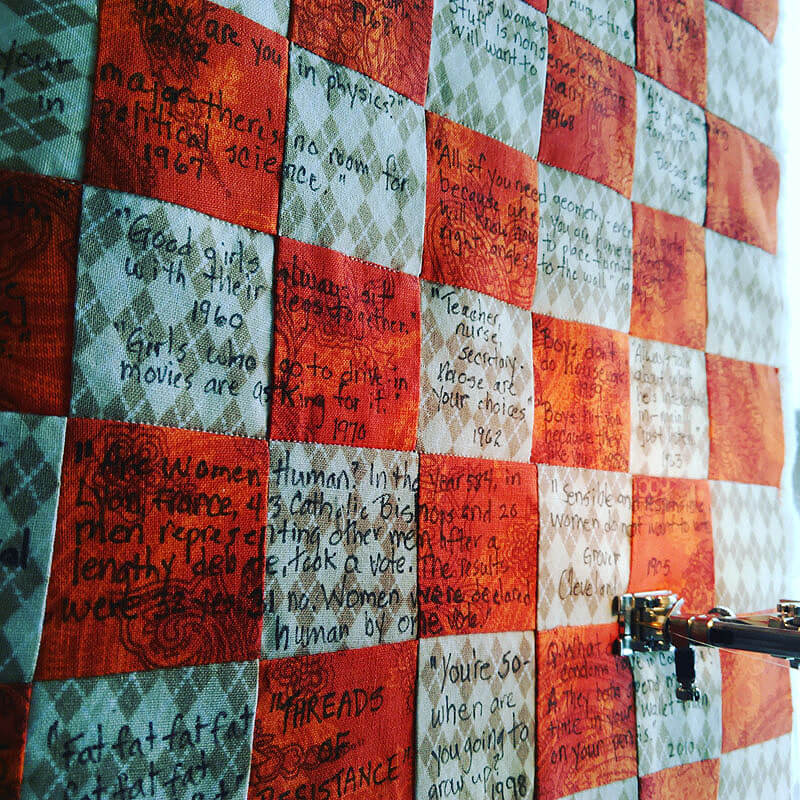 Then came the apron strings. Not completely happy with how they worked out…but I love the message (original copy is in the left pocket of the jeans: a manifesto by Joyce Stevens from International Women's Day in 1975.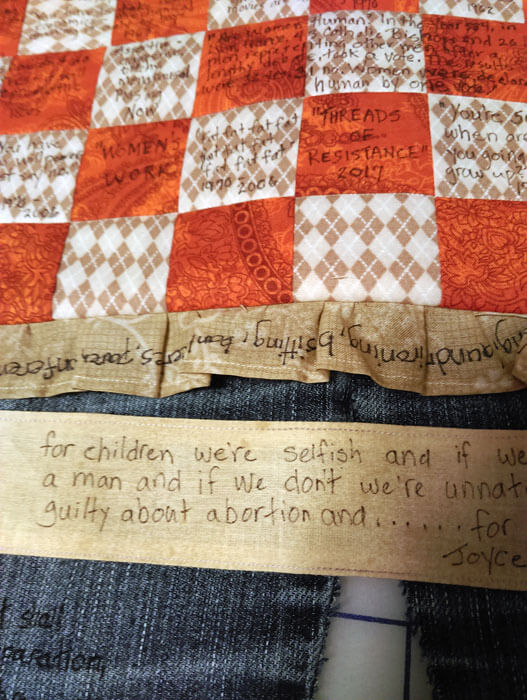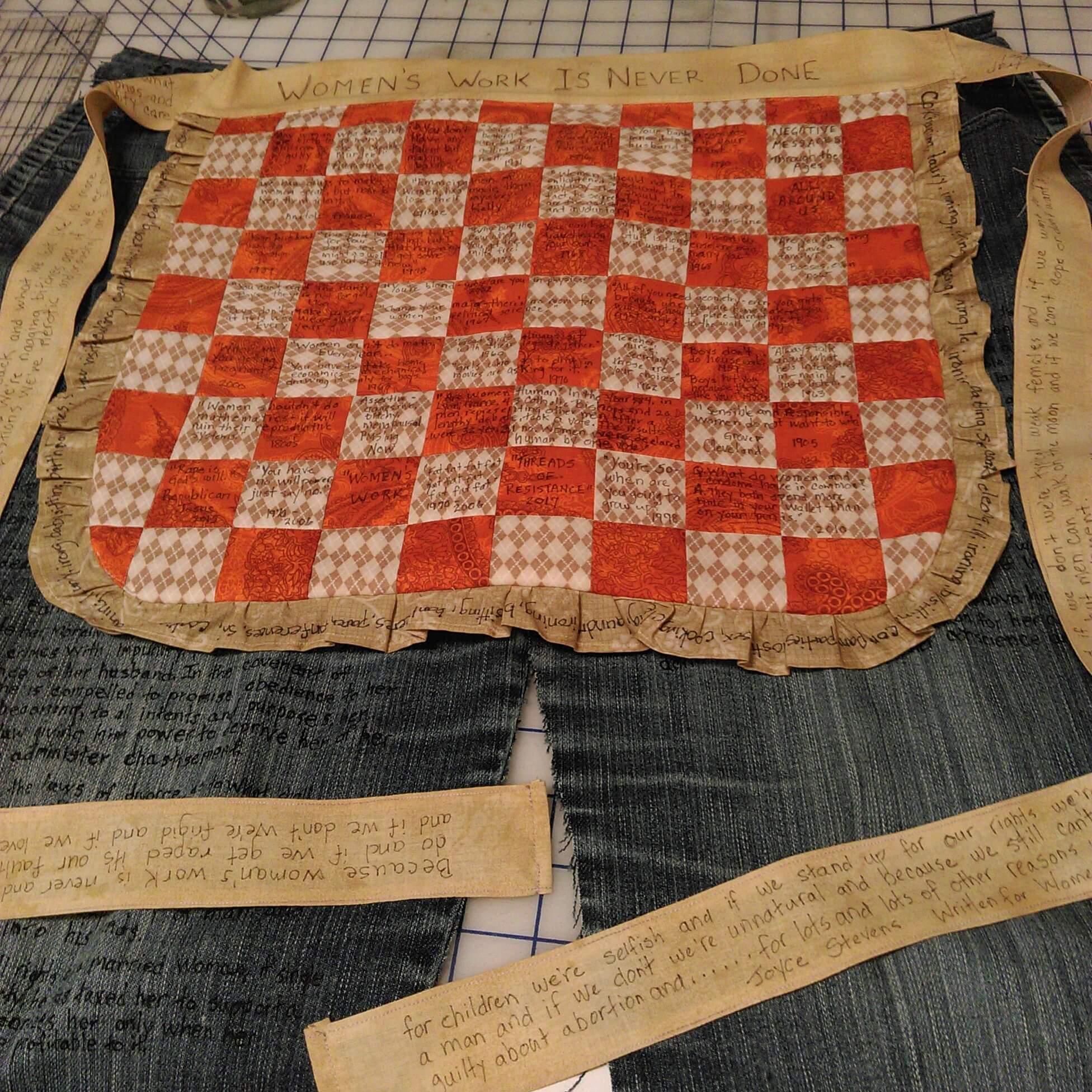 Now the reverse of the apron is more a modern design, with fabrics of the same hue but considerably brighter. On that is written positive messages I have given myself as a daughter of Women's Liberation.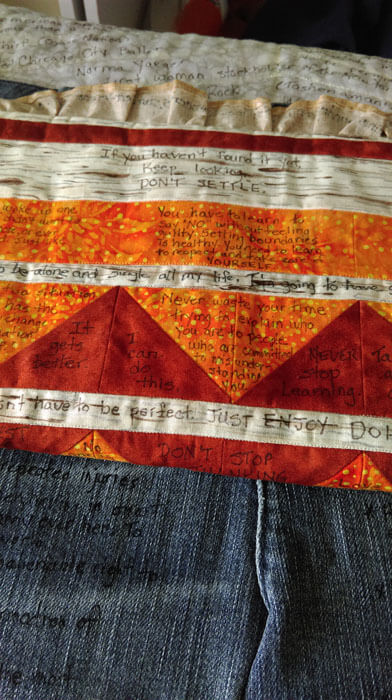 Next step was the background – actually background and backing – same fabric. I initially thought I would only quilt what would actually show before I began my writing on the front, but I realized why not continue on the back with more "hidden" women from history. So I ended up quilting the whole background. Then came the burying threads – which I don't normally do, but since the back suddenly became important, I went and did it…..there were a lot…….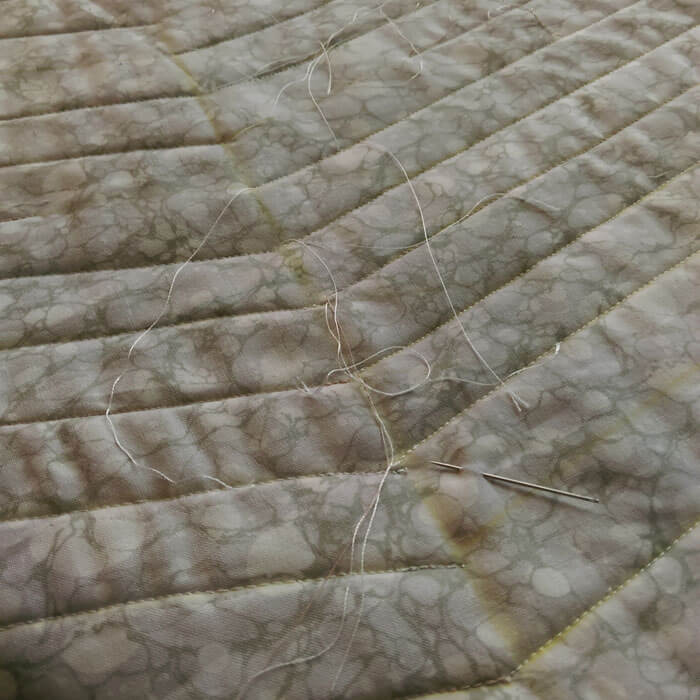 I spent a lot of time online looking for missing/unknown/hidden women and I found amazing stories – most I didn't know – even as a history major. I started out writing every other line, from the middle to top and bottom so everything would remain even.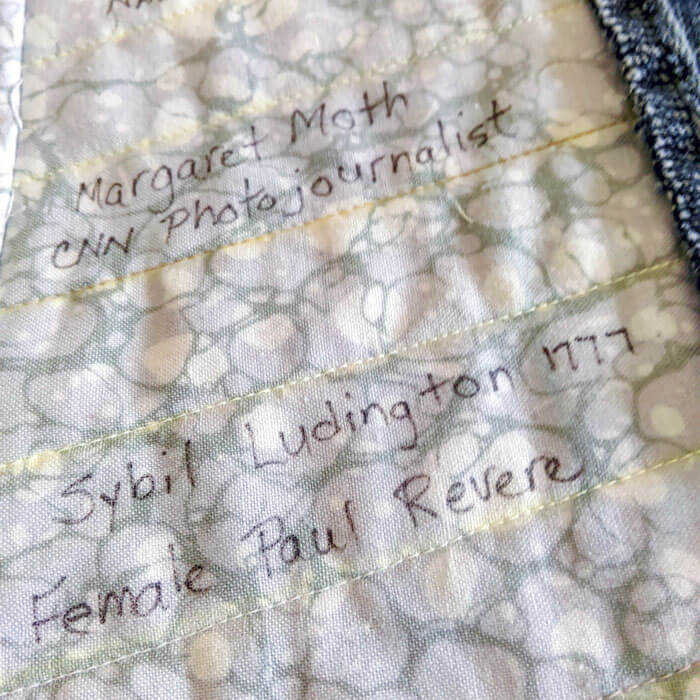 Then I filled in everything and started on the back.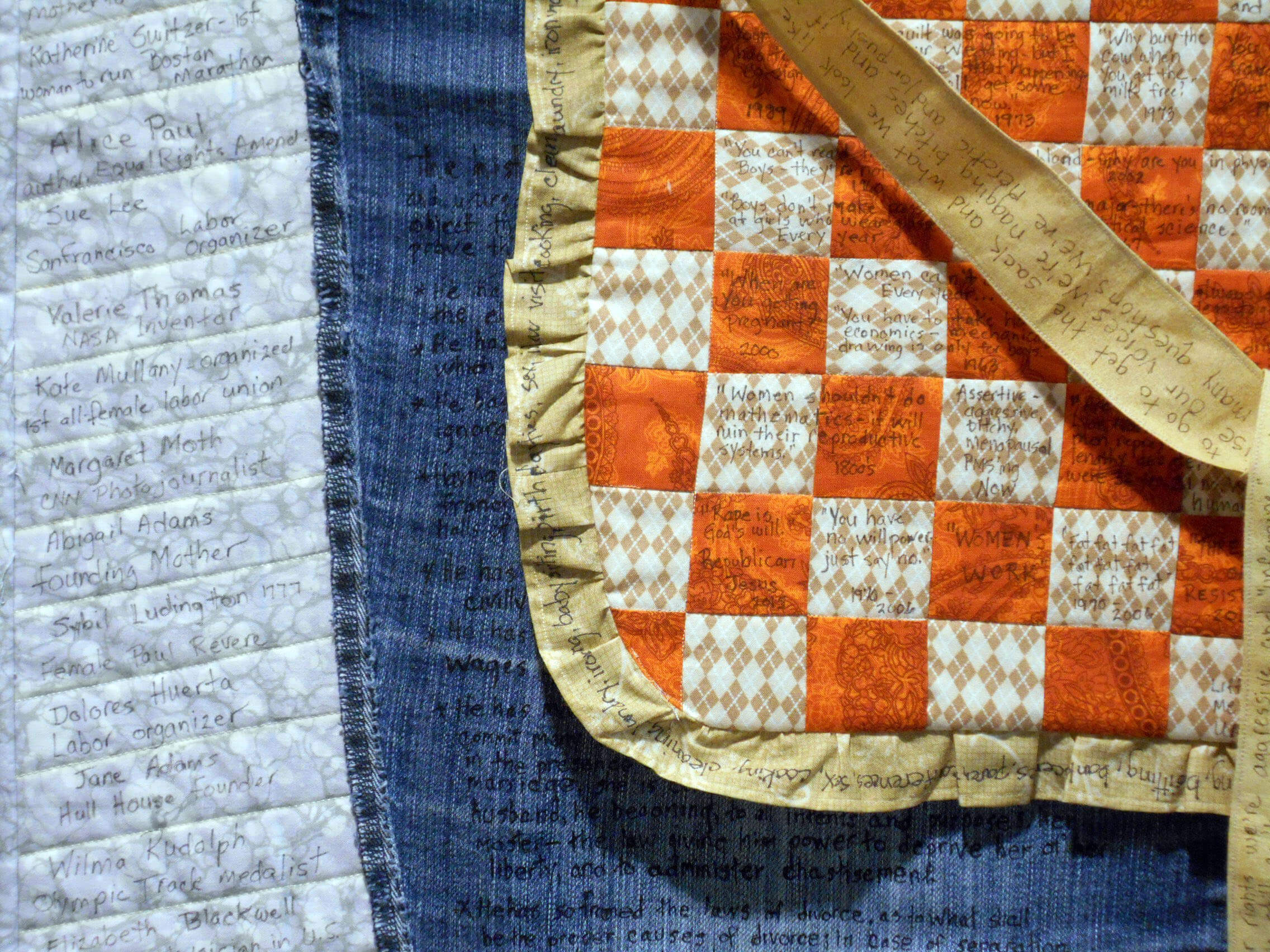 I am very pleased that it came together as I had envisioned – learned a lot (I usually do…), but very pleased.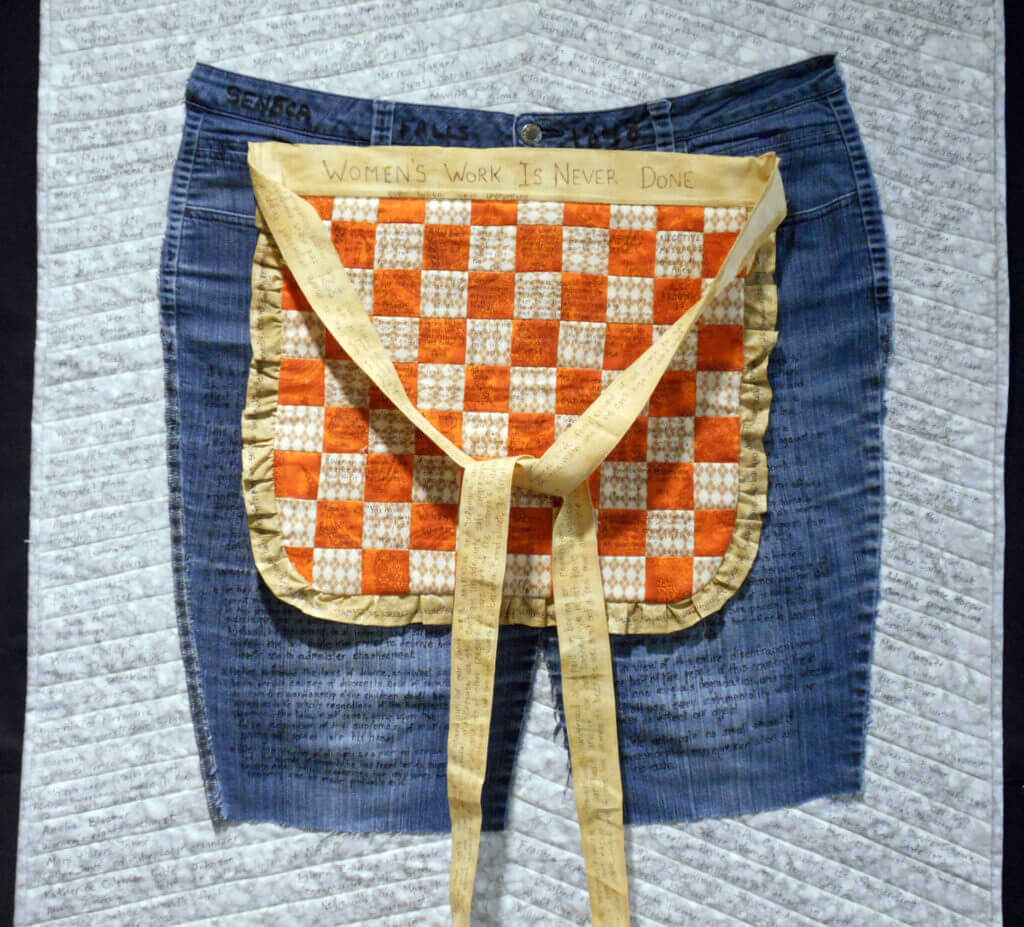 Comments? I'm taking names to continue the back of the quilt with other "hidden" women – send  'em along!
So it's a crazy time in the studio right now – 7 projects, five of which are big ones. Two deadlines coming up this next Monday for photography…see, Kathy Nida – I'm calling the photographer ahead of time to get myself to the deadline!
Here are the first two of the seven….I've been quilting baby quilts for a friend who works at the middle school we both did, me back in the mid-seventies. You can see the last baby quilt (before all the deadlines hit) here. I enjoy doing them, we usually get a free lunch together, and it gives me a chance to practice my free-motion skills – kind of like practicing free throws before you need them for the big game. You can see the children's literature theme – the books usually stay the same, and the colors change to the new mom's preference. ALL pictures copyright 2017, Linda A. Moran. PS – thank you, Superior Threads!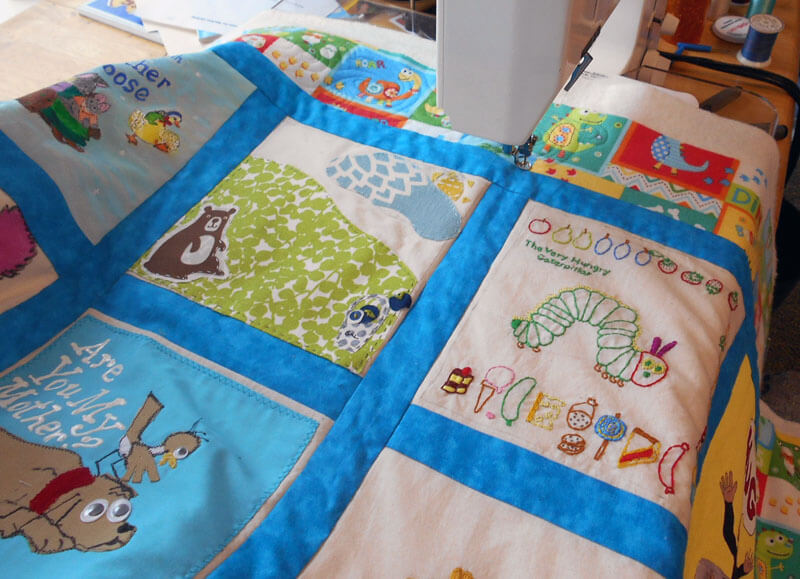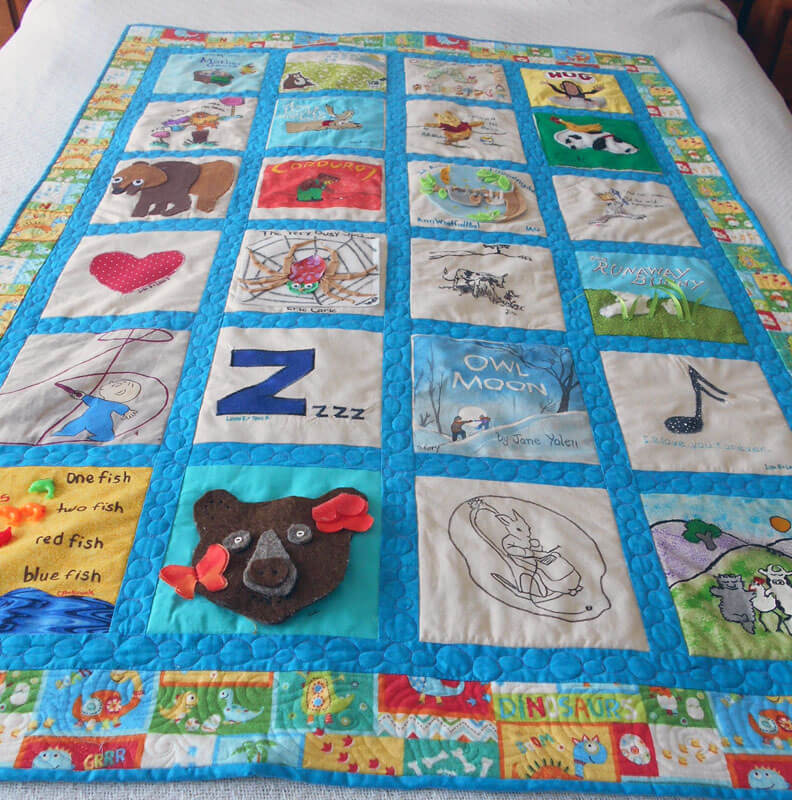 ALL pictures copyright 2017, Linda A. Moran.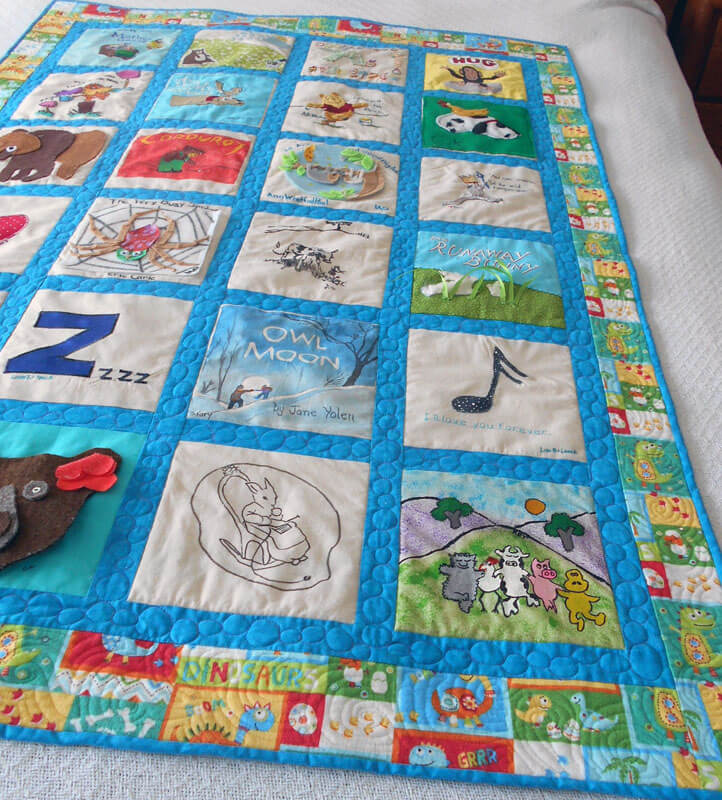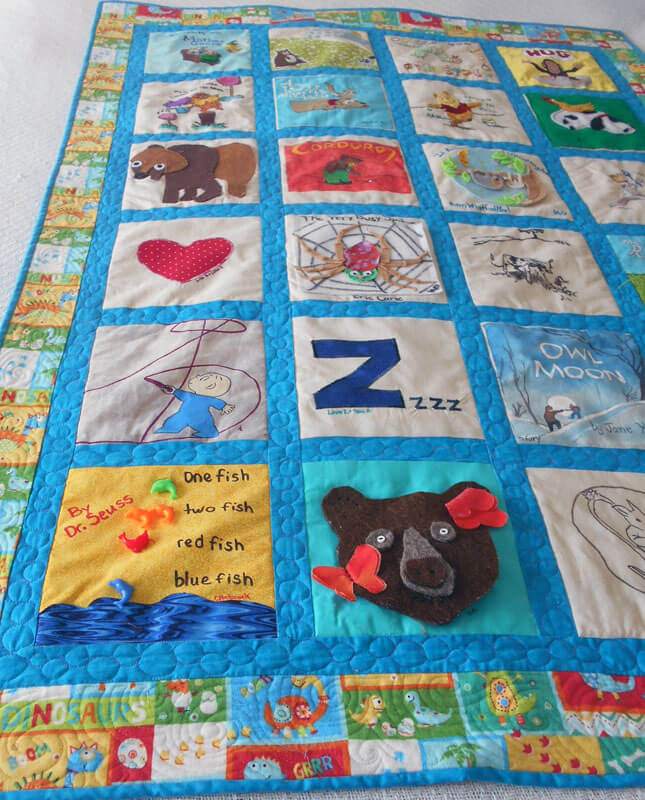 ALL pictures copyright 2017, Linda A. Moran.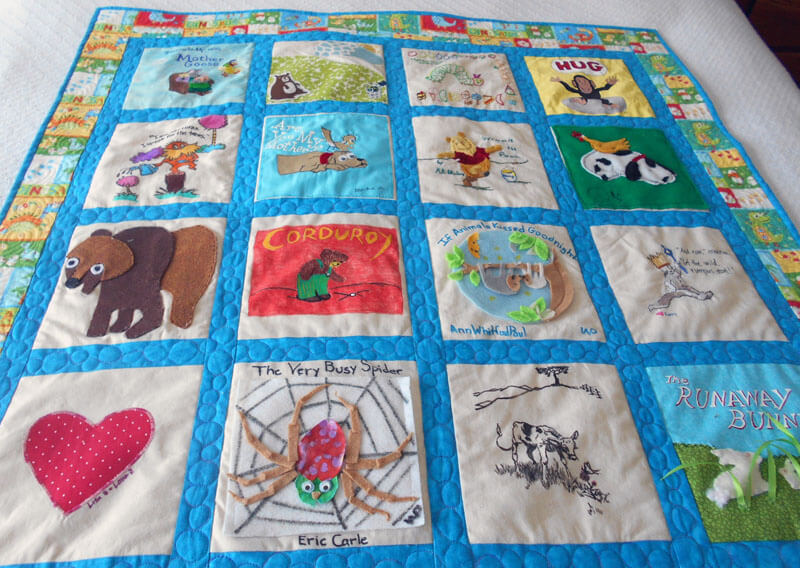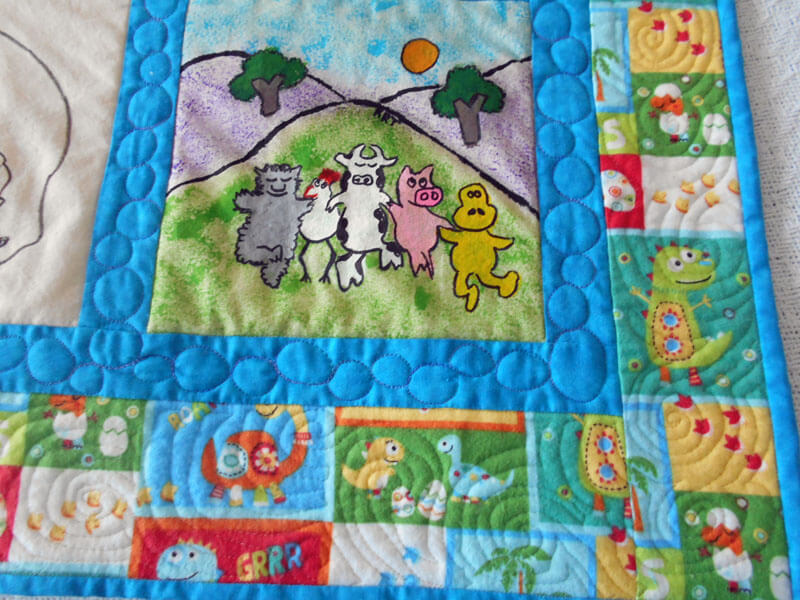 Now for the next project – I decided to make quilts for my great-nieces and great-nephews when they turned 13. You can see Gracie Mae's quilt from two years ago here. Now it's Gavin's turn, and I did another "modern" quilt with the colors he wanted. Again, a great chance to practice design and free motion quilting. In looking at the one two years ago, I can see the improvement in my skills. In two years I owe two new birthday quilts.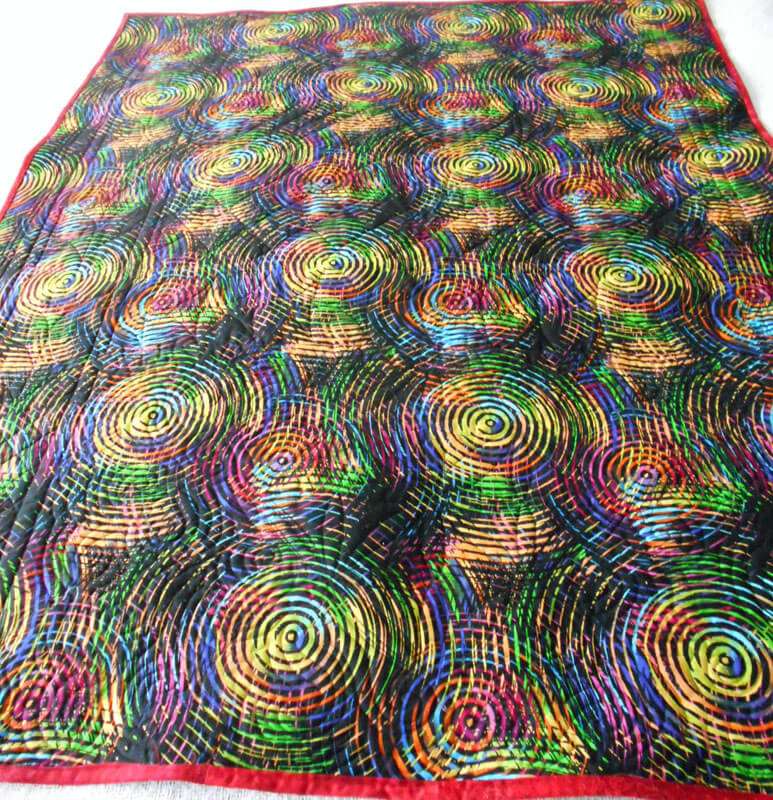 Love the backing – perfect for an adolescent boy!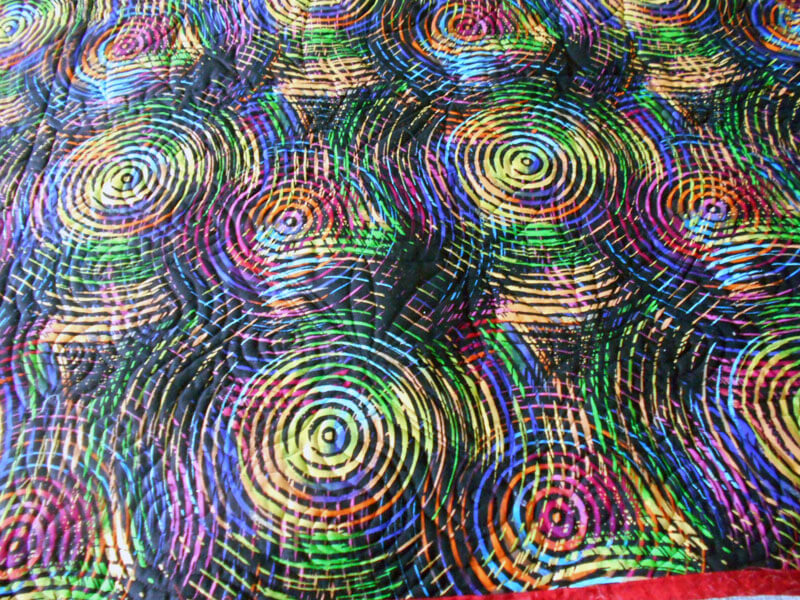 ALL pictures copyright 2017, Linda A. Moran.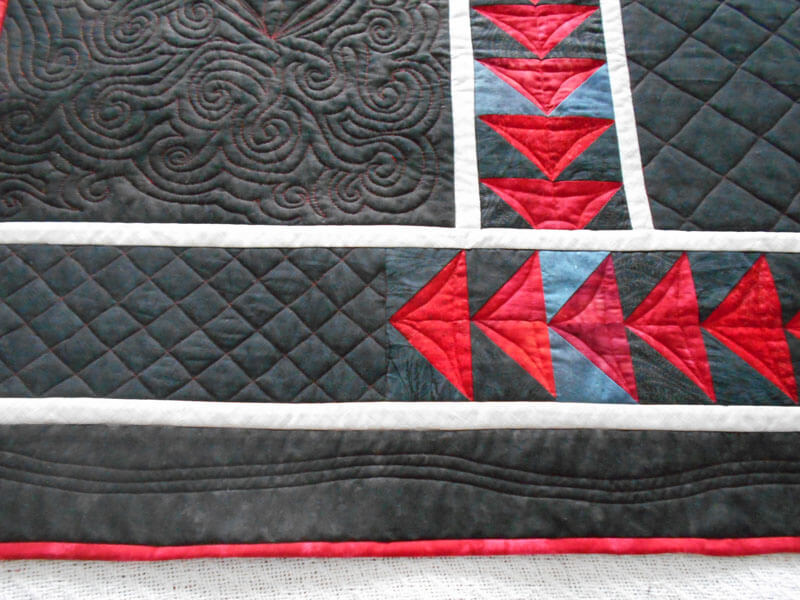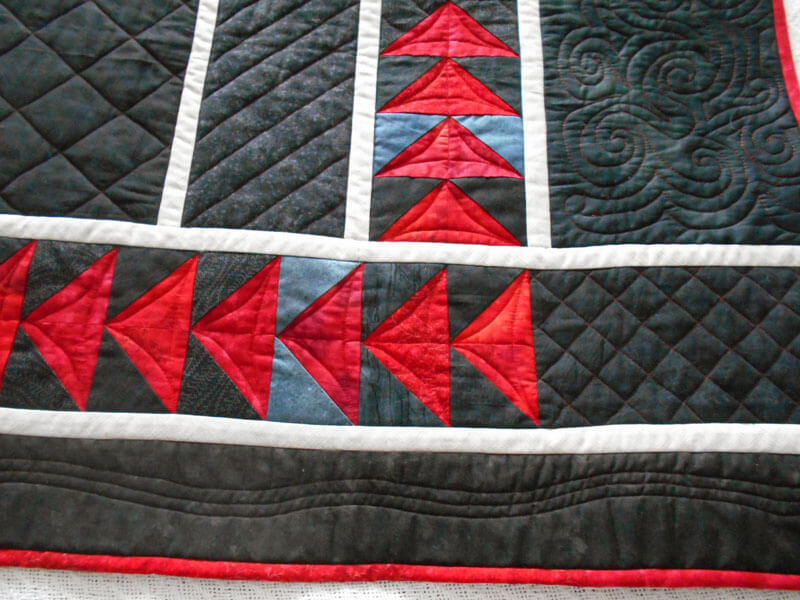 ALL pictures copyright 2017, Linda A. Moran.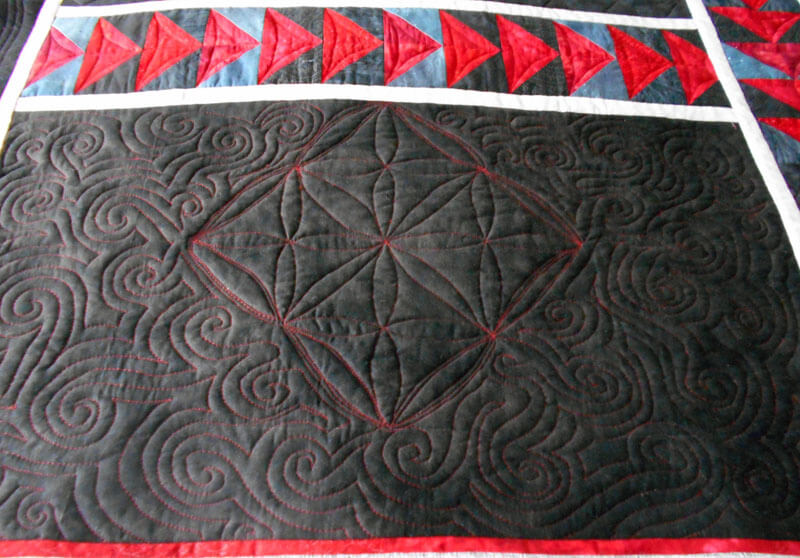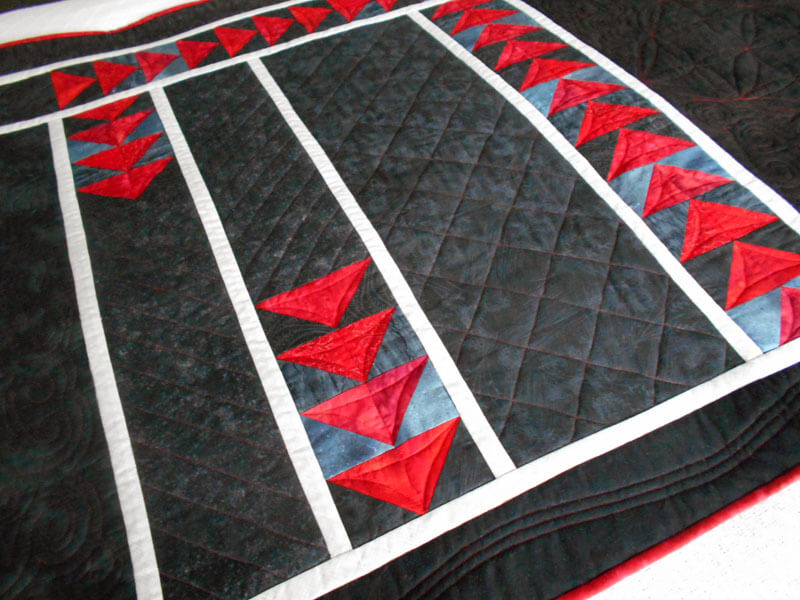 ALL pictures copyright 2017, Linda A. Moran.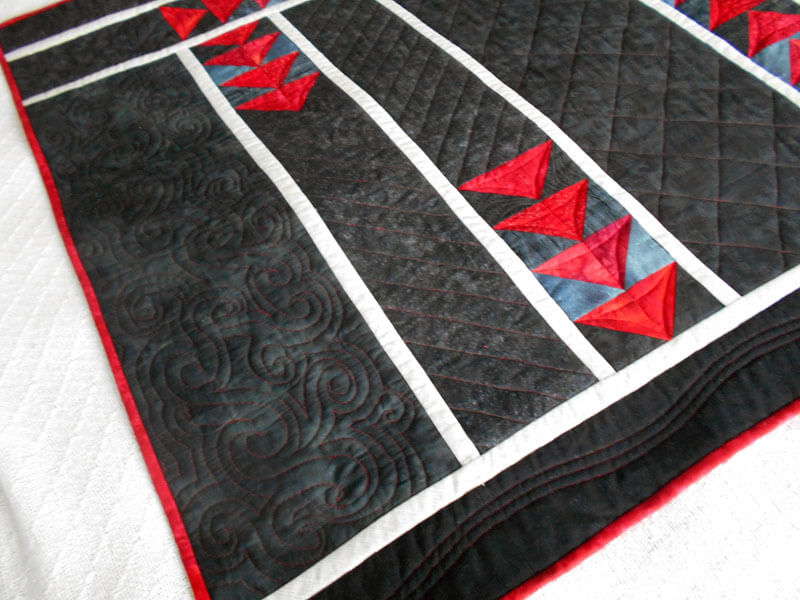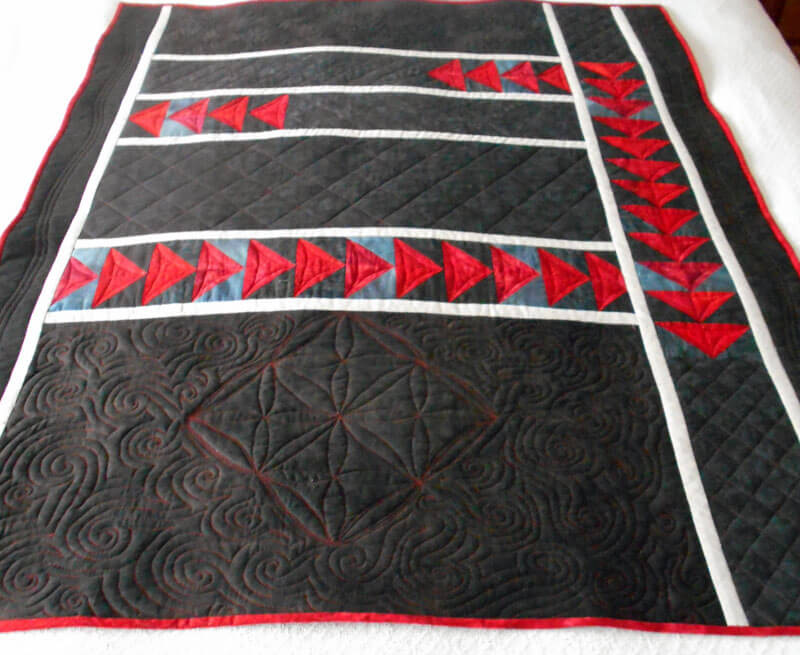 ALL pictures copyright 2017, Linda A. Moran.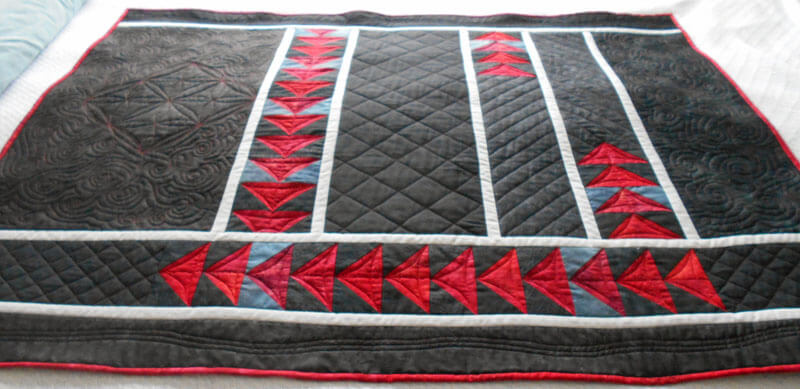 ALL pictures copyright 2017, Linda A. Moran.
I really wanna learn to use rulers like Judy Madsen…..
On to "Eruption" and the "Threads of Resistance" quilts…….
Been a while – SO many things going on, especially politically…and LOTS of sewing/quilting for deadlines and new artwork for an August solo show.
My friend Kathy gets the teachers to create squares for a faculty baby quilt, and then she puts the top together. After the last quilt, we decided the squares needed to be stabilized before the overall quilting – and I show Kathy the joys of spray-basting….this new quilt was a dream to work with. Big and little baby bubbles throughout the border strips and then following the pattern in the outside border fabric for a cross-hatching – which I love, but I will NEVER do it with a regular sewing foot – free motion all the way, otherwise I would still be working on it….Used a New Bryte in orange from Superior Quilts – love the effect and the color is perfect.
The theme is always children's literature, and the new mom gets a copy of the book that's in the quilt as a shower gift. Here goes: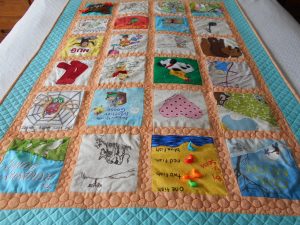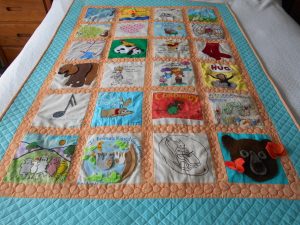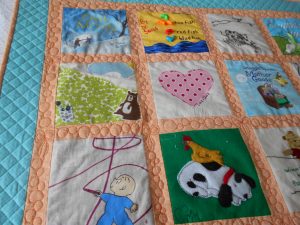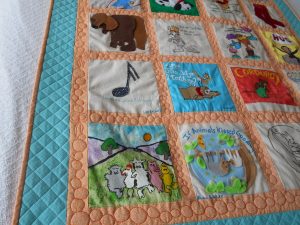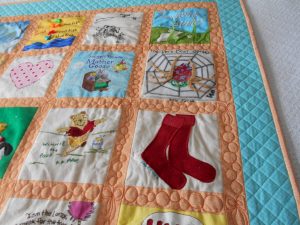 There's another one in the queue – along with a Threads of Resistance quilt, a birthday quilt (actually 2), a reconstructed artquilt, and a LOT of writing….its' good to be busy!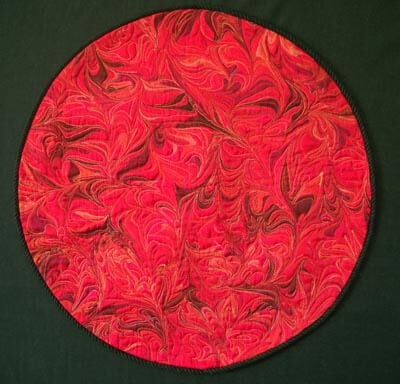 Can you tell I love me my unpolished red satin? This is "Mandala 1: Core," also published in Linda Seward's book Ultimate Guide to Art Quilting Techniques. It's free motion quilting, but the nice thing about using marbled patterns is that you have lines to follow!
I taught beginning free motion quilting this past Saturday and had a FABULOUS time!! When I did my lesson plan for the class, and then as I was going through it with my students, a few things became very clear to me.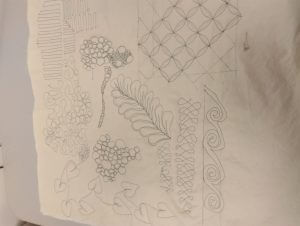 Everything starts with a straight line done with the free motion foot. It helps develop rhythm and hand placement. No longer will I start with a motif when teaching beginners.
It's easy to go from straight line to stippling (large, medium, and micro) as well as figure out how not to get in a corner and have to stop. My students found it very easy to move quickly and easily into curved lines.
At this point we stopped to talk about threads and tension. It seemed a good point, and there were questions cropping up. The biggest problem they (and probably most of us) have is silencing that Inner Critic and realizing we have to practice – most of us aren't willing to approach it that way at the beginning. (Ask me how I know that…). One person had bobbin issues, and the rest were concerned with moving that upper tension dial, as well as determining if their machine like same thread top and bottom, or another combination. I need to remember for future classes that "same thread top and bottom" may be more helpful to beginners. I'm so used to the quirks of my machine and how to work with different top and bottom
Next pattern was a basic heart-shaped leaf, first learned by me in the 2012 Free Motion Quilting Challenge by quilter Frances Moore.
Pebbles were next – large, medium, fill-ins, different sizes. This seemed a natural progression.
Then spirals, grid patterns, and feathers. No one really got frustrated, mainly because they could see how previous learning morphed into a new pattern pretty easily.
Lots of samples from me so students could see practical applications within actual quilts, as well as all my practice fat quarters that I now use to practice or check tension before beginning a new project.
Best part? Everyone signed up for Intermediate FMQ in March!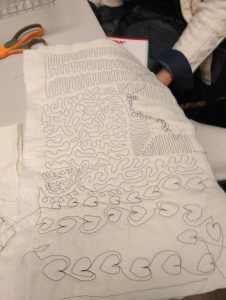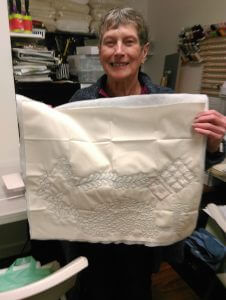 For over 13 years this piece has been known privately as "Ode to the Fire Goddess Pele" as a result of my time in Hawaii. It's official title is Gaia 2: Beginnings. Our biggest problem has been that it was meant to hang on it's own, but we were unable to figure out a simple – and not intrusive – hanging system. So for the last year, since we have been showing our work in Vermont, we've talked about mounting the piece – somehow. Here's the story of the creation of the original piece.
That led to me deciding to completely redo the piece – ev.er.y.thing. It took two weeks of night time by the television to get all the machine quilting pulled out. In the 13 years since this was finished my machine quilting skills are SO much better. I will say that my original tension was so bad that in many places all I had to do was pull a thread and I had many many inches come right out.
My new plan is to requilt it, change the edging, mount it on a large piece of black fabric, quilt the black fabric, and then add a sleeve. I need to have all this accomplished by May, as I plan to enter it into the "Abstraction" show in Saranac Lake this summer.
Right now I have 12 strips still with serged edges. I found a FABULOUS piece of red and gold fabric in my stash, and (hoping I have enough) I will put the binding on over the serged edges. It looks really good so far.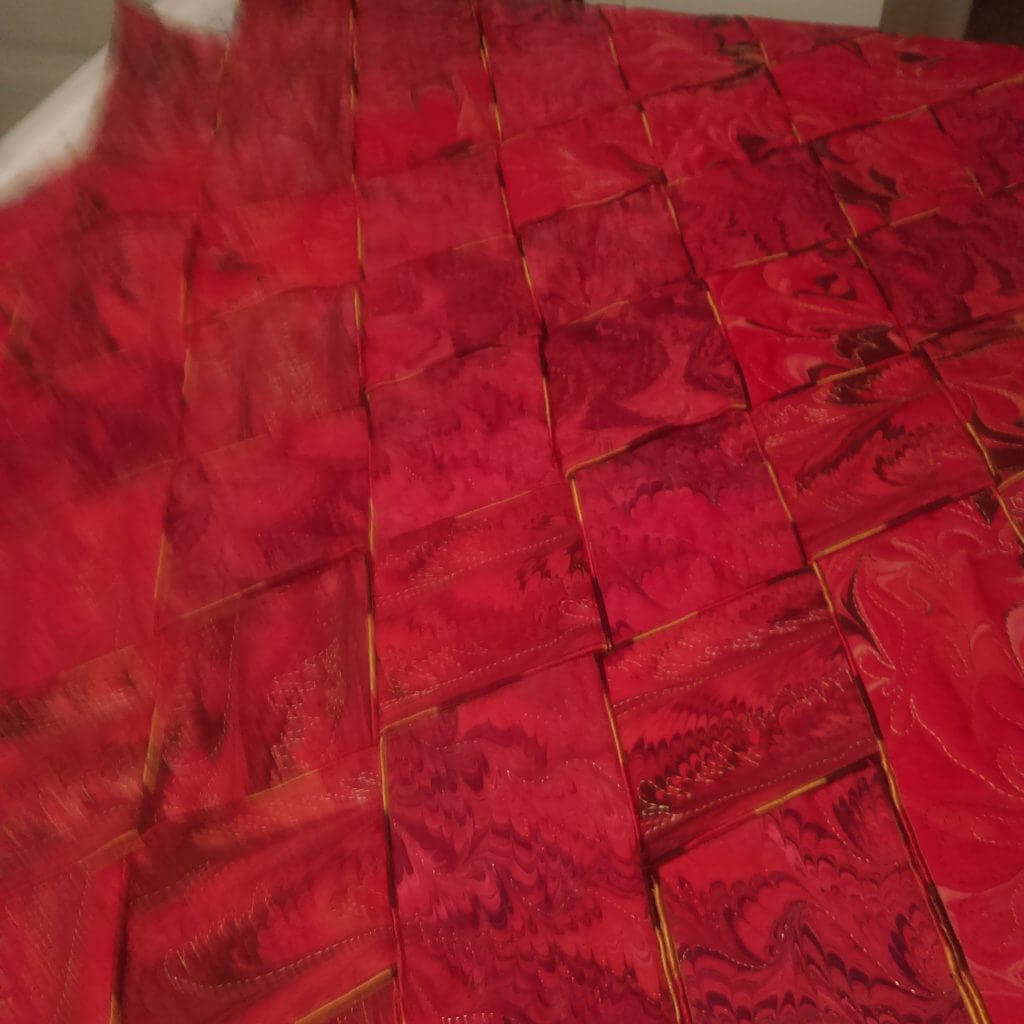 A close-up of the original weaving with the serged edges.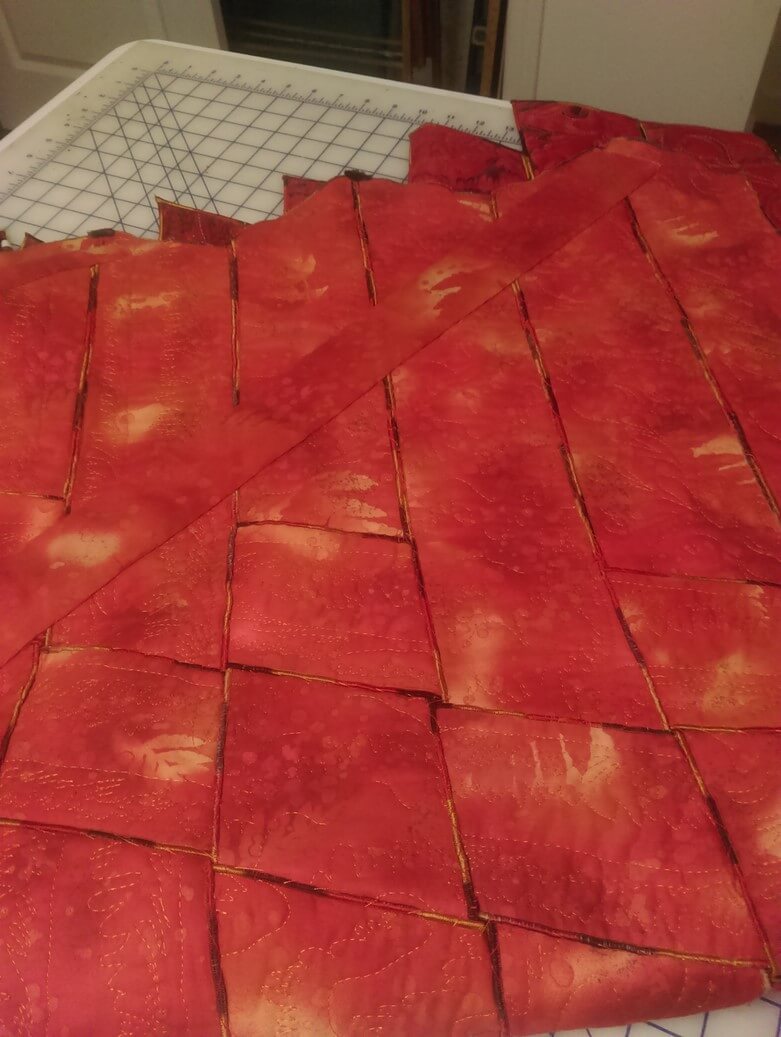 A close-up of the back with all the hand-stitching to hold all the pieces tight and together (oy, did that take a while….)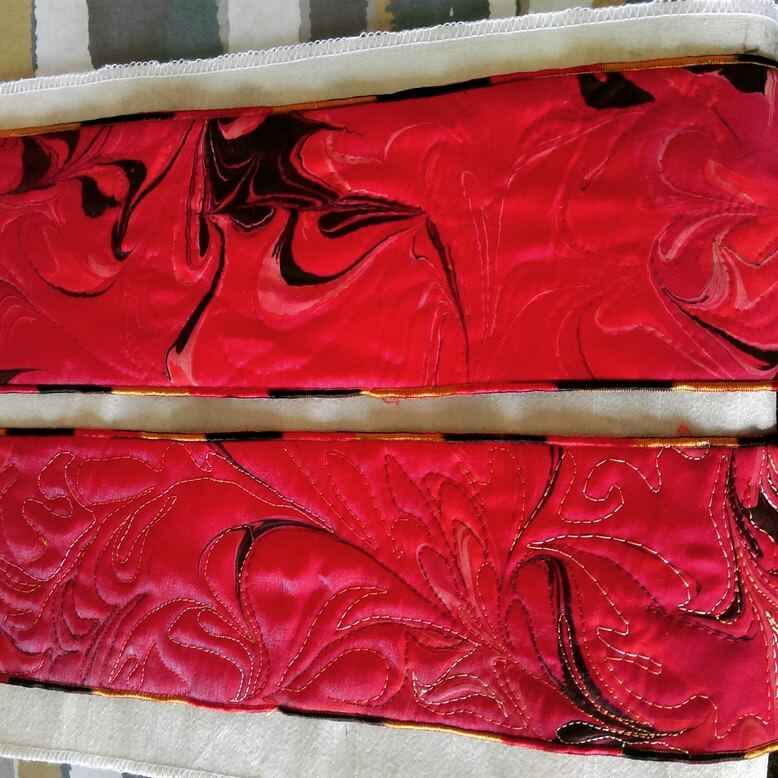 Before and after – original stitching, and after the frog stitch….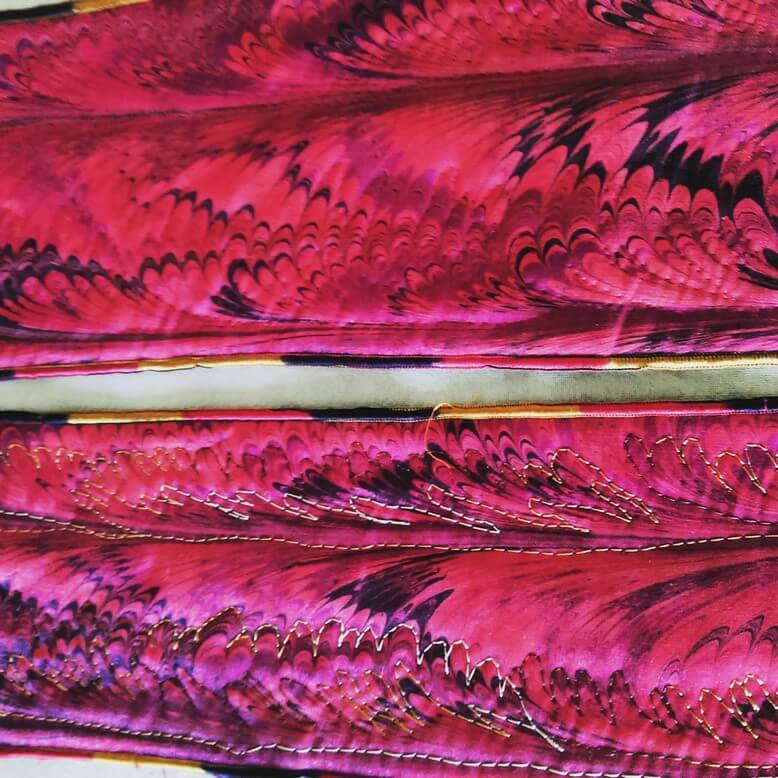 More before and after….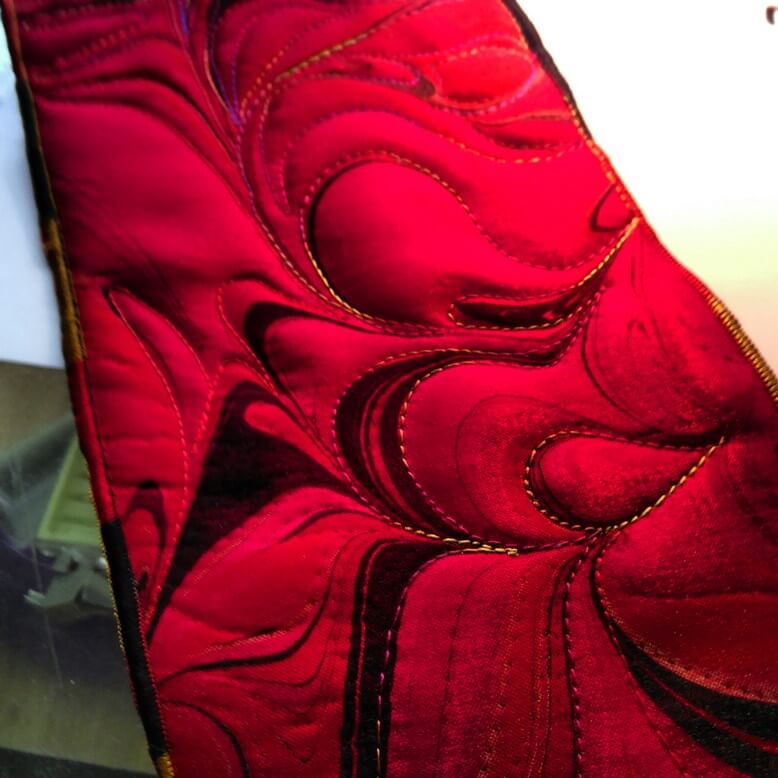 The beginning of new free motion quilting….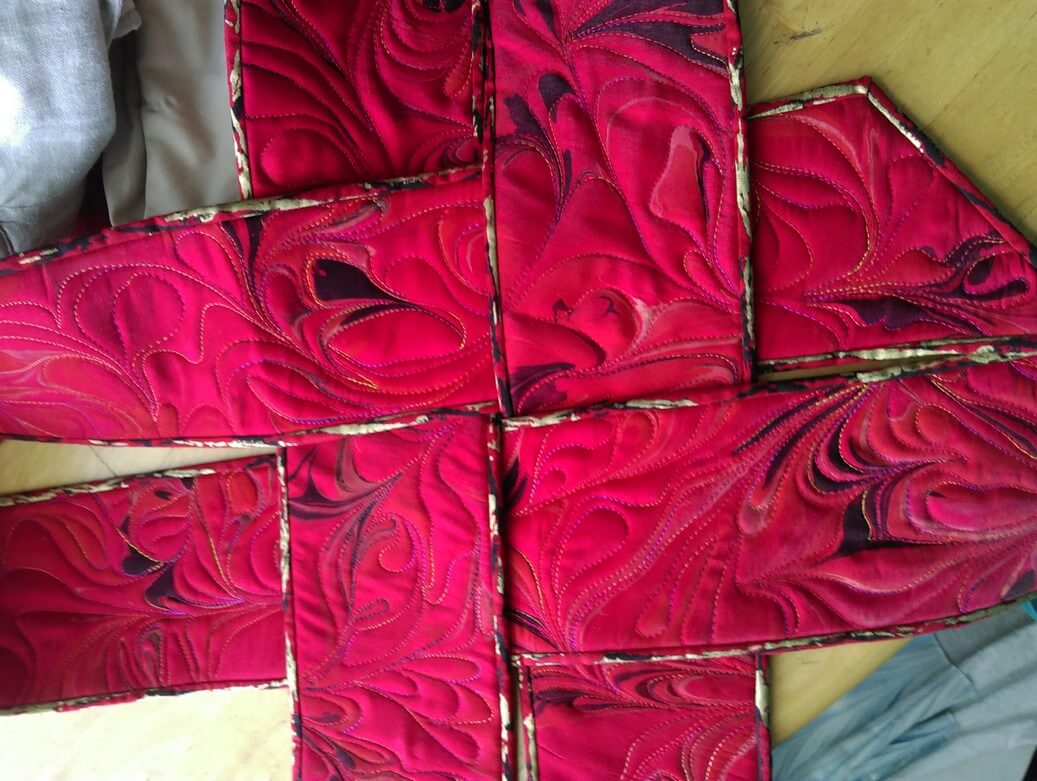 A look at the new binding and how it will work with the weavings.
This piece will also have a new name: Revolution. More on that as I get further along in the quilt.
Our photography has definitely improved over the years, but we still have issues. I reconnected with a friend from 25 years ago, and he came to photograph our pieces in the library show we had this past August. OMG – they are amazing. Bill Kneen, a Richmond, Vermont photographer, does pretty amazing work. (email me for his information) We're going to use him for our major pieces. So here goes –  a really good look at a few:
Wetlands 1 – the color is so true, and the texture really shows through.
This is green cotton lame, and it's been really hard to get the sheen that Bill achieved.
Glorious true colors! So excited that this shows so well.
This piece was really hard for us to photograph – looked washed out and not really a good sense of the desert – now it is!
Bamboo Jungle – again, very true colors – you can see the dimension in the leaves.
THANKS, BILL!!!!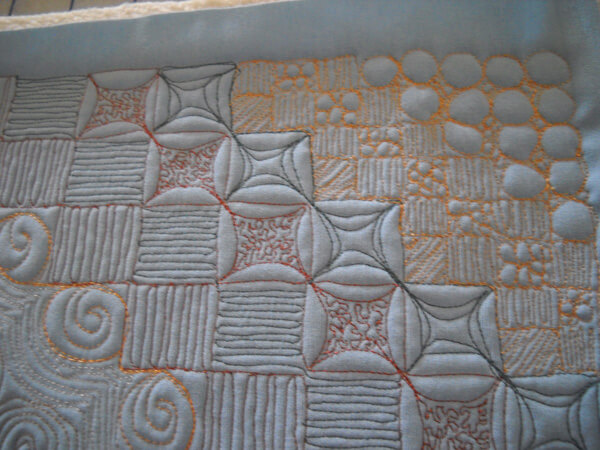 Beginning Free Motion Quilting – Yes, You Can!
4 hours, $40.00 (plus 1/2 hour working lunch) 10:00 – 2:30,
February 11, Saturday
Quilting With Color, Williston, Vermont  802-876-7135
Now what? Your quilt top is done…send it out or quilt it yourself? You can free-motion your own quilt top, no fancy domestic or long-arm machine needed! YOU CAN do it all yourself – it just takes practice! From thread choice, basic supplies, setting up your machine, to learning basic FMQ patterns to build other designs on, you will learn the happy sounds of your machine as you practice six basic patterns on fat-quarter sandwiches: straight lines (without a ruler or walking foot), various size stipples, pebbles, basic feather, grid work, and a leaf/vine shape.
You supply:
* sewing machine in working order, ability to lower feed dogs, instruction manual (I can't stress enough how you need familiarity with your machine and lowering the feed dogs)
* free motion (or darning) foot; NEW #80 0r #90 machine needles (#90 might be easier for you if you want to use fancy threads)
* a selection  of threads, from "old and cheap" to "fancy and expensive" (cotton and poly are welcome)
* low-loft cotton (or 80/20 cotton) batting in fat quarter size for two quilt sandwiches
* 4 fat quarters (18 x 22 inches), one for the top and one for the bottom of two quilt sandwiches (not fancy fabrics, just for practice, and muslin is fine – tone-on-tone or solid color is best for getting started
* scrap paper and pen or pencil
* scissors
* marking tools (fabric marker or chalk
* ruler for marking grid lines on the fat quarters
OPTIONAL:

small white board and marker for practicing designs; a machine extension table (you will be happier with one…), Machingers quilting gloves.
One of many samples looking at how you can add free motion quilting to your work….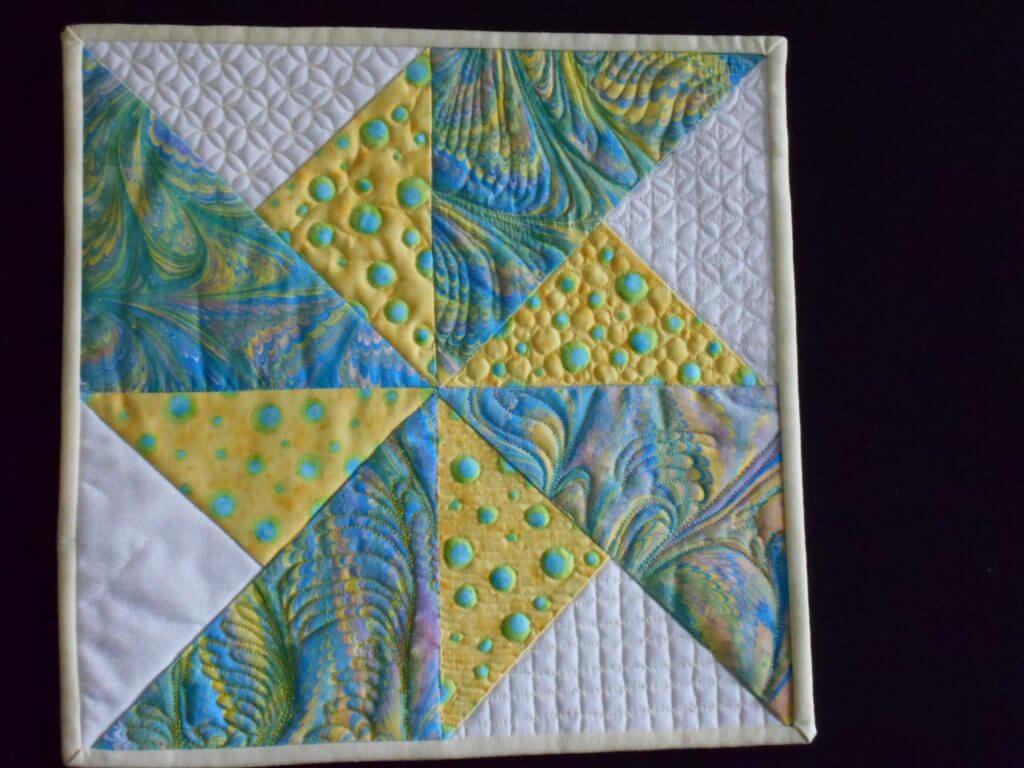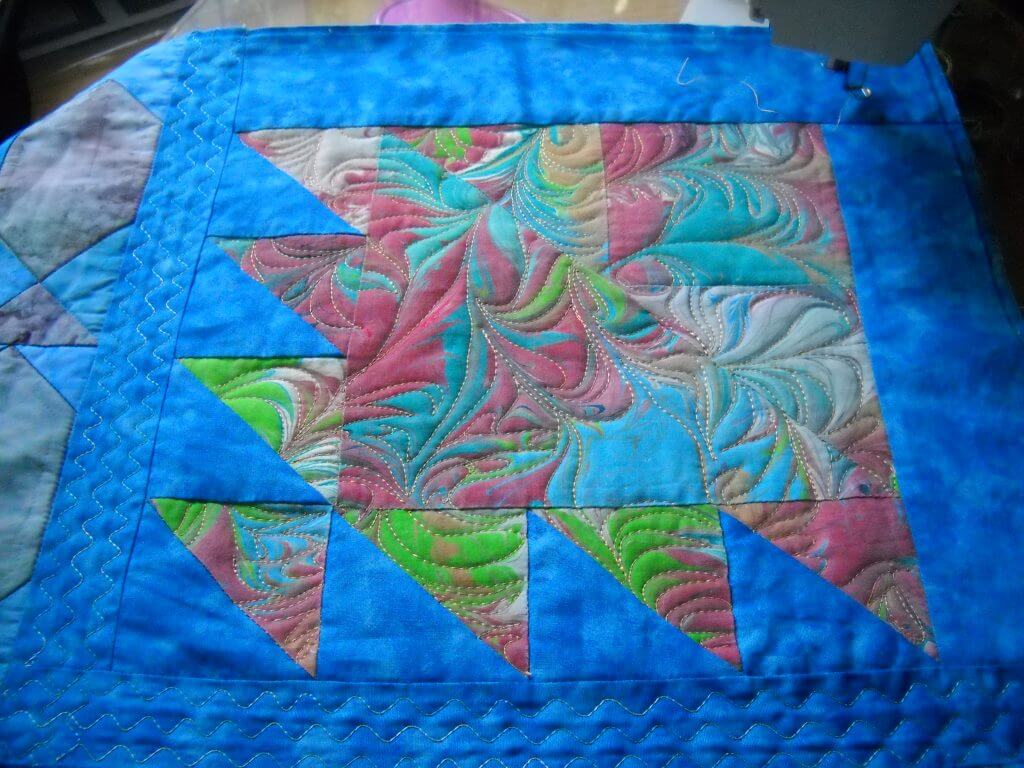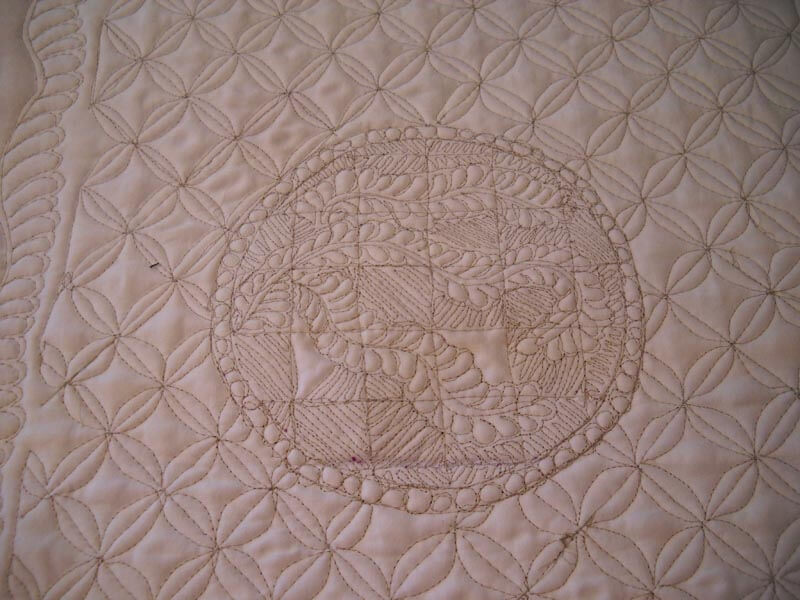 COME JOIN US!!
Been a while for this series, and today is slightly different – a great infographic to study – and lots of saved bookmarks in the queue for future blogs.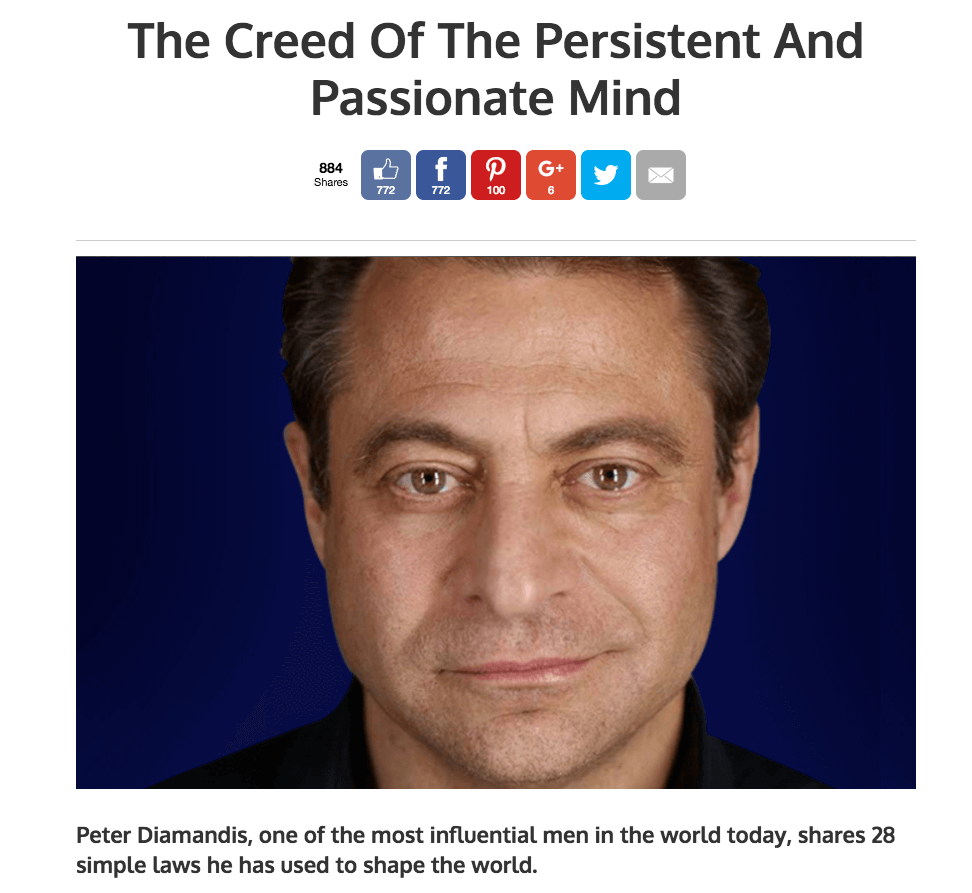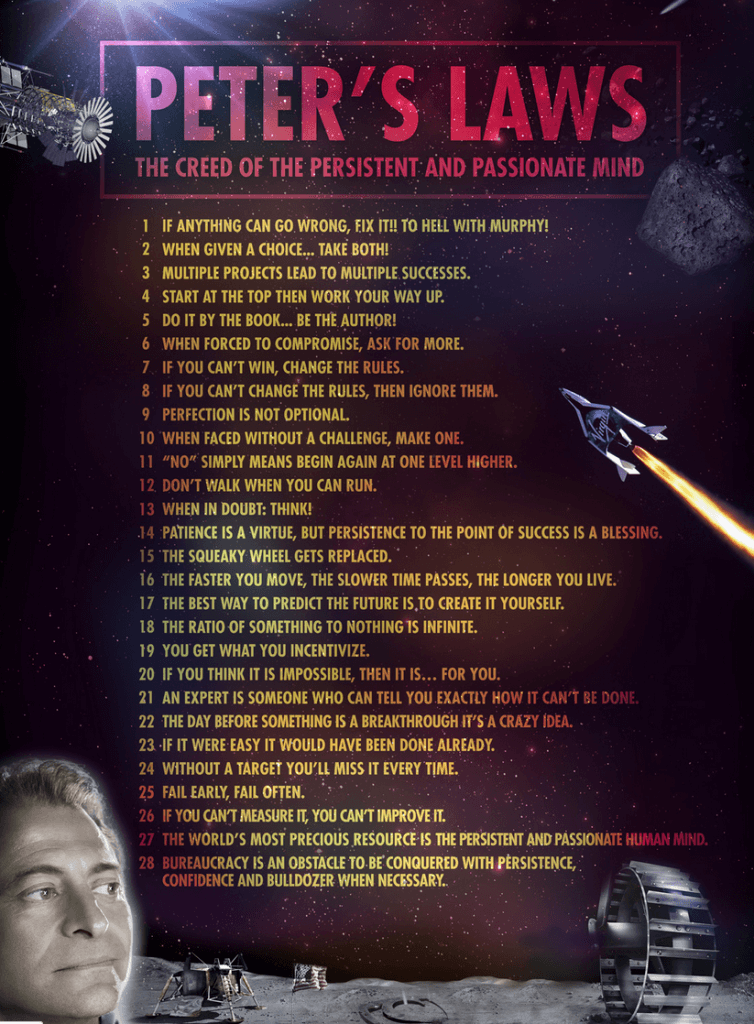 Which ones resonate with you?

The past couple of weeks have seen my activism rise. Phone calls, emails, petitions, talking to other folks to learn about their views, searching out reliable news outlets – and I'm walking in the Women's March in Montpelier, VT. just three months out of knee surgery – this is too important for me to miss.
But back to art. I am a strong believer in the power of art. On January 8, 2011, there was a mass shooting in the Safeway parking lot in Tucson. Six people died, including a 9-year-old girl, and 13 were wounded, including my Congresswoman, Gabby Giffords. The following week was very difficult; being a teacher means you are a "first responder" at times – Monday morning after the shooting, Wednesday when President Obama came to town for a memorial, and Friday when the Westboro Baptist Church threatened to boycott funerals. Try explaining to teenagers whose brains emotionally are not fully developed that responding to the hate of Westboro Baptist Church was not a healthy response. No time to process my own feelings, just to be there for kids who weren't sure what was happening – and especially since so many of them had already seen violence up close and personal in an urban city.
With that background, I had to create something, so I made a small piece of quiltart that spoke to my feelings. The piece made itself…from the choice of background (chicken-wire for fencing) to the words printed on cotton. The local newspaper did a brief story, and in Arizona (as in many places now) the trolls came out and said "If only I'd been around to give Hitler a quilt, everything would have been better." Others reacted to my premise: that words have power; a woman from Australia said the words weren't the cause, the man was mentally ill. Yes, no question the shooter was mentally ill, and no help from a broken system (thank you Ronald Reagan)….but words can push a person over the edge, even in the best of times.
My original post is here. I just reread it – raw writing for me. Here is the piece – 8.5 x 11 inches.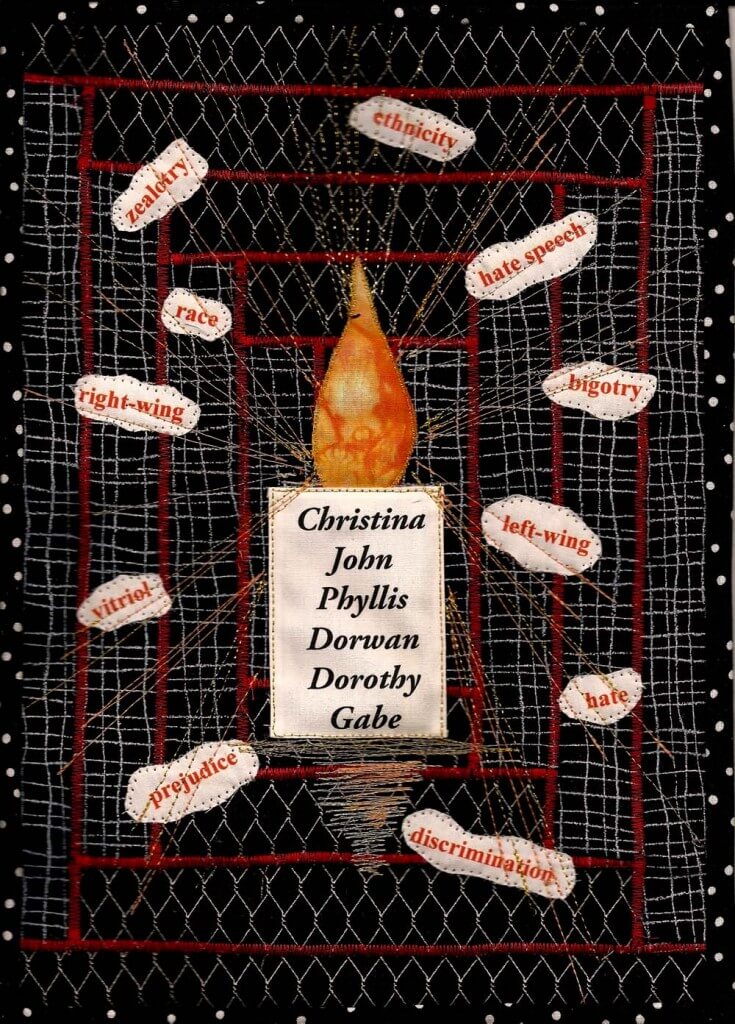 Binding looks like bullet holes, as does the stitching around the holes. People objected to the words, felt they were inflammatory for someone who was mentally ill. This was after Sarah Palin had a page on her website with a gun sight right over Arizona and Giffords' district. I believed then that words caused this man to lash out, that words triggered his mental illness to another step.
We see just how far we have come 5 years and 11 days later. We don't even talk about mental illness, nothing happens at the state or federal level, the body count keeps growing, and we are entering dark days. Hard to believe we are only now recognizing the words of the past months as hate speech, as power, as darkness.
I will keep speaking out through my art. Predominantly I am working with environmental statements concerning climate change. My Wetlands piece is the first attempt to look at a vanishing resource. there are so many issues and problems ahead for us. As artists we must be active.
I welcome comments.
We have decided to do our own videos and set up a YouTube channel with them. We want to show the creation of the various marbling patterns. The first video was more an overview of creating a design…and gave me a chance to play around with iMovie. The second one looks just at the very beginning pattern – the stone. Every piece of marbling starts with this pattern. I am using royalty-free music under Creative Commons. It's fun, labor-intensive, and when you have weeks between videos you forget all the things you figured out before…like getting the music to play. Plus, this time I cut out pauses where hubby was getting paint, so I learned to delete frames and add a connector. Now it's learning to use titles and such for additional information.
Here we go!
Cleaning out as part of getting into new ventures for the new year – resizing, sharpening, rephotographing fabrics – here are some sample fat quarters we have created over the years. We get tremendous joy out of creating – some look similar, but it seems like endless opportunities available to us to play with fabric and paint. Remember, we can customize for you! Let us know what you think….THESE ARE NOT FOR SALE – just pieces we have photos of from the past!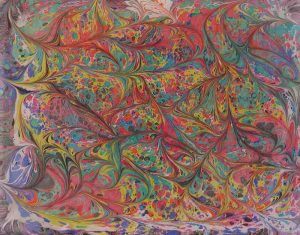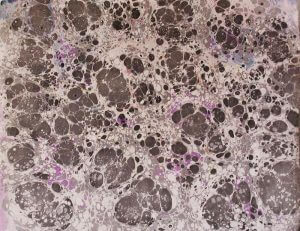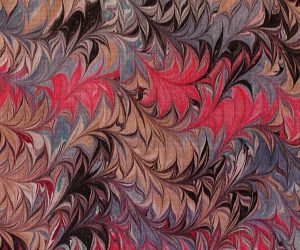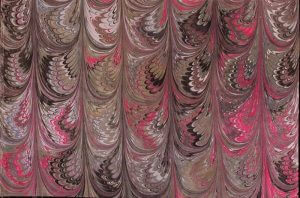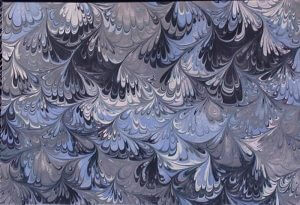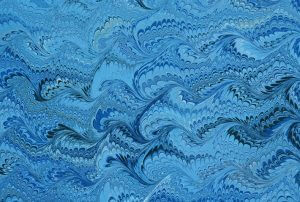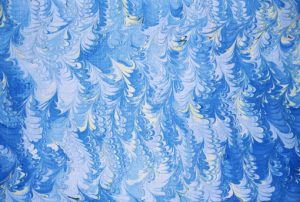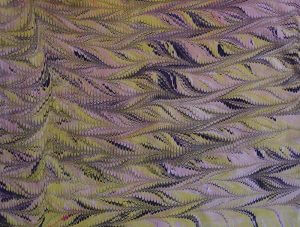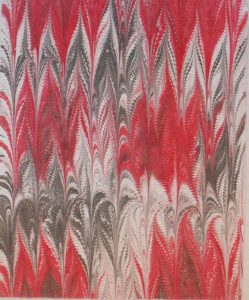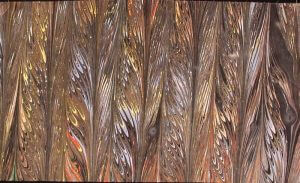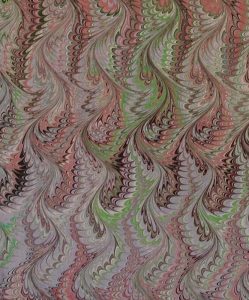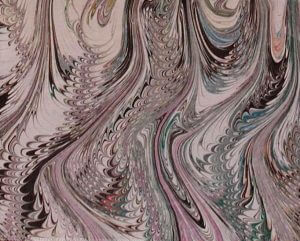 So many iterations of traditional patterns! All from toothpicks, Popsicle sticks, straight pins, t-pins, small hair pics – lots of balsa and a huge amount of time to make the combs and rakes. It's the prep that takes so long before you can have hours of fun!!
When we did Vermont Open Studios last May with artist Mary Hill, one of the great things about sharing the space was all the time we had to talk about our various art and marketing attempts. Mary had some GREAT ideas for us concerning packaging. We continue to process everything we thought about, with some definite changes in what we are doing. Thanks to Rachel of The Textile and Fiber Art List, we have also been improving photography – both how we shoot items and how we present the finished product.
First, the photography. Our pictures have a "muddy" cast to them, and we are basically rephotographing everything we have. The place we are living now doesn't allow for much flexibility for setting up good lighting. Hubby experimented with a lot of options – including moving to a rolled fabric presentation rather than each piece in a haphazard manner. Give an overall idea as opposed to every thing about each piece. In this manner we can still send the packages flat and save customers money (on international orders – domestic shipping is free). Some "before and after" ideas –
Getting the overall set-up of the product looking good –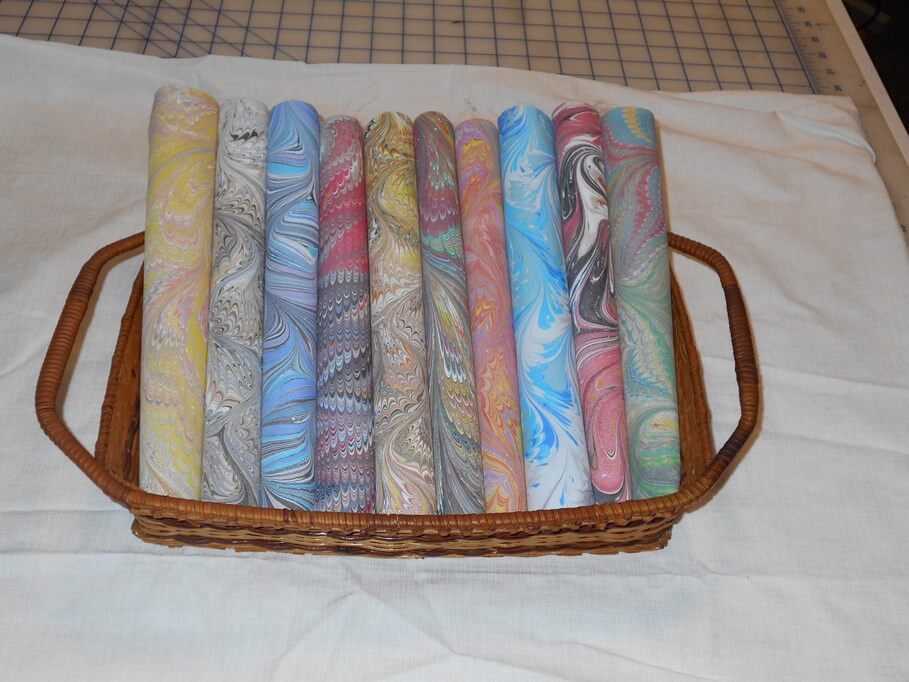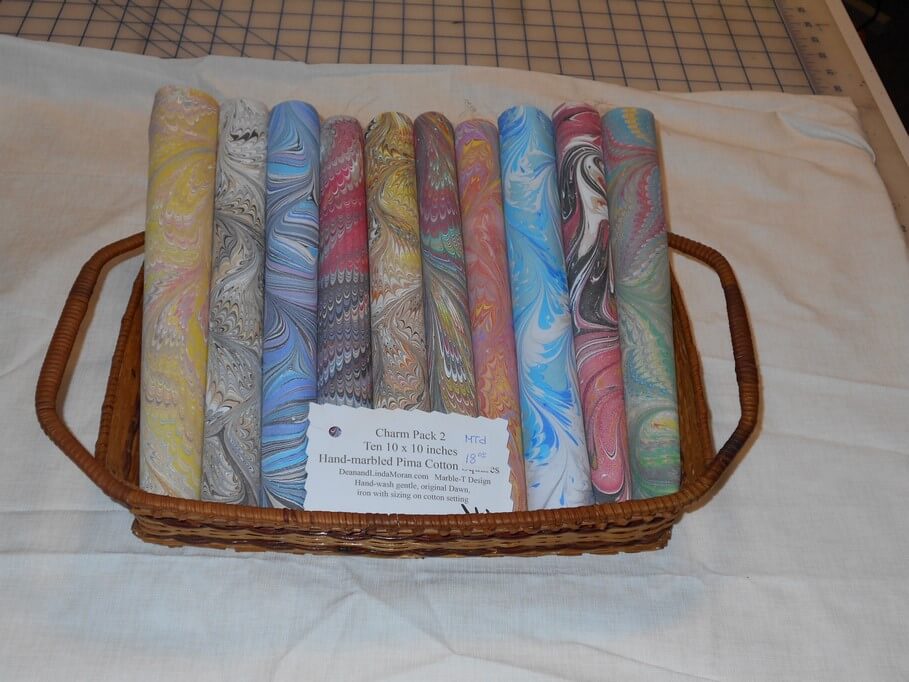 Lighting and color still issues….but against the white background looking better. Also, we discovered that we needed to save pictures at a larger size in order to get more detail in the pictures. Next is better with a good cropping and some adjustments in Photoshop to correct the lighting.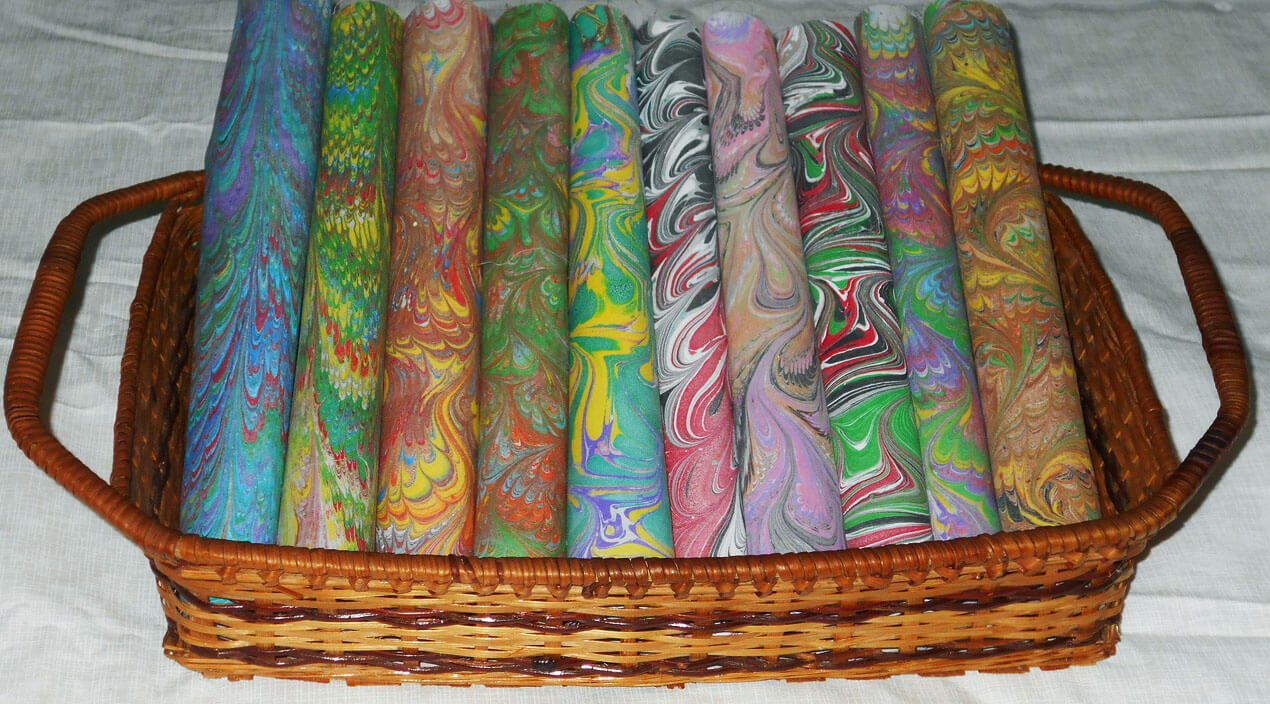 Definitely getting there –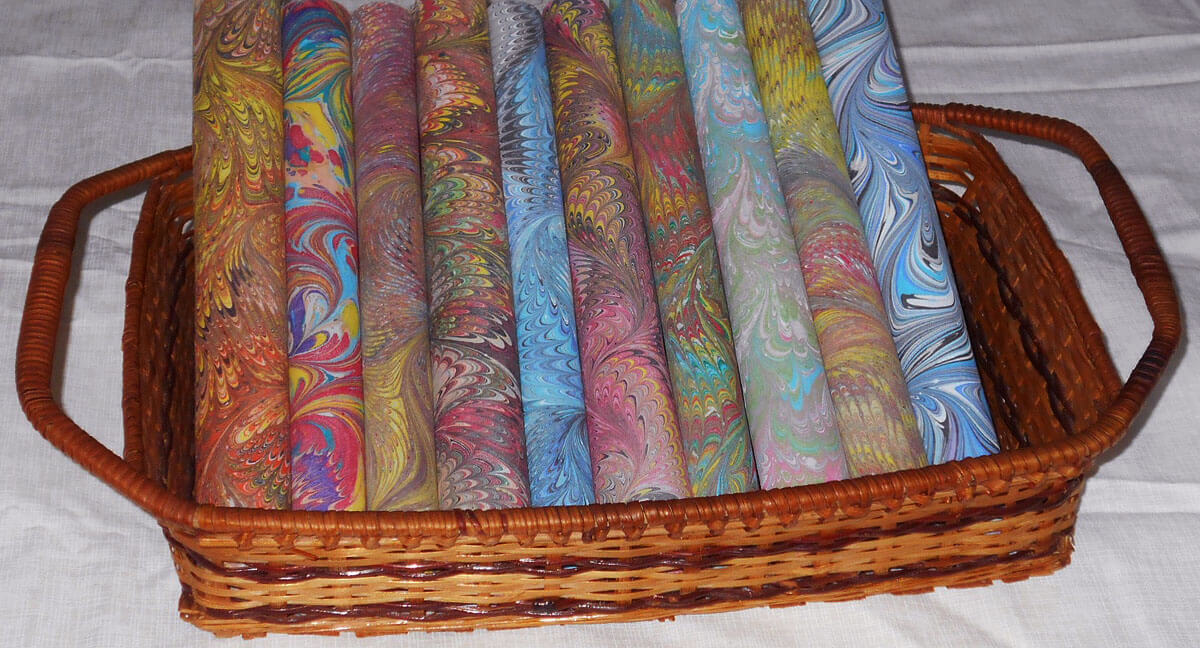 Uh-Huh…..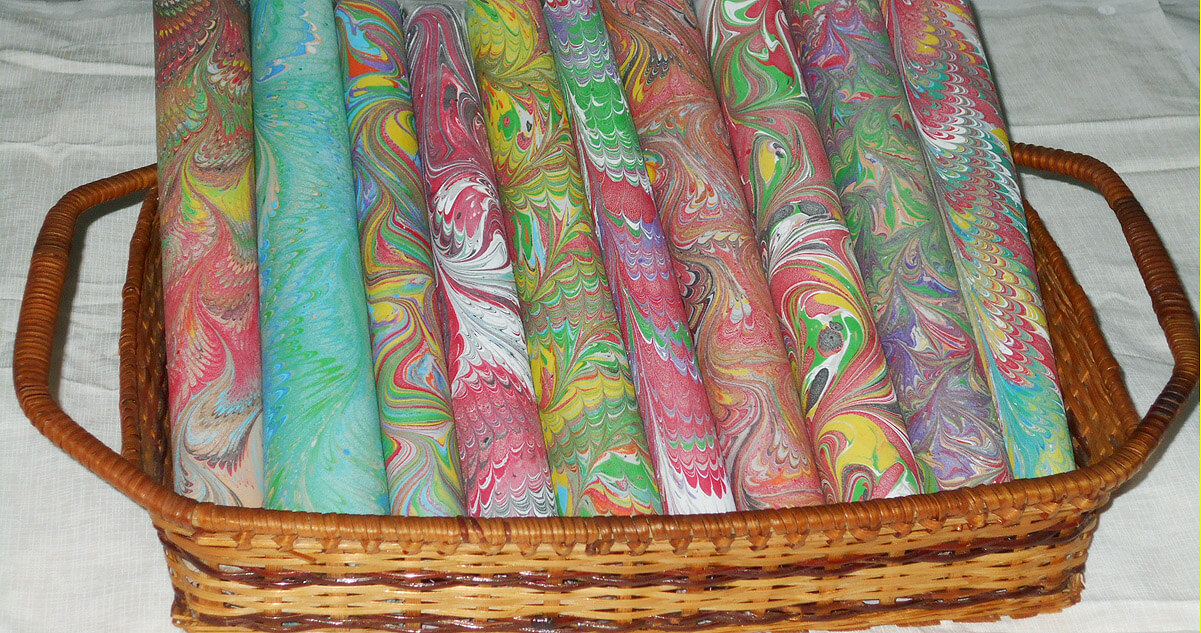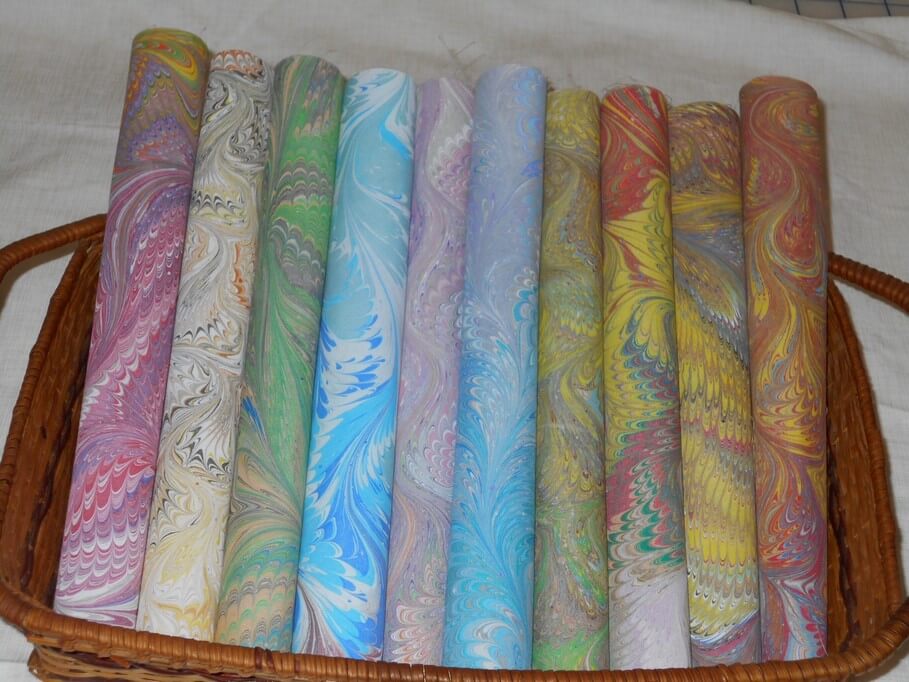 Definitely brighter –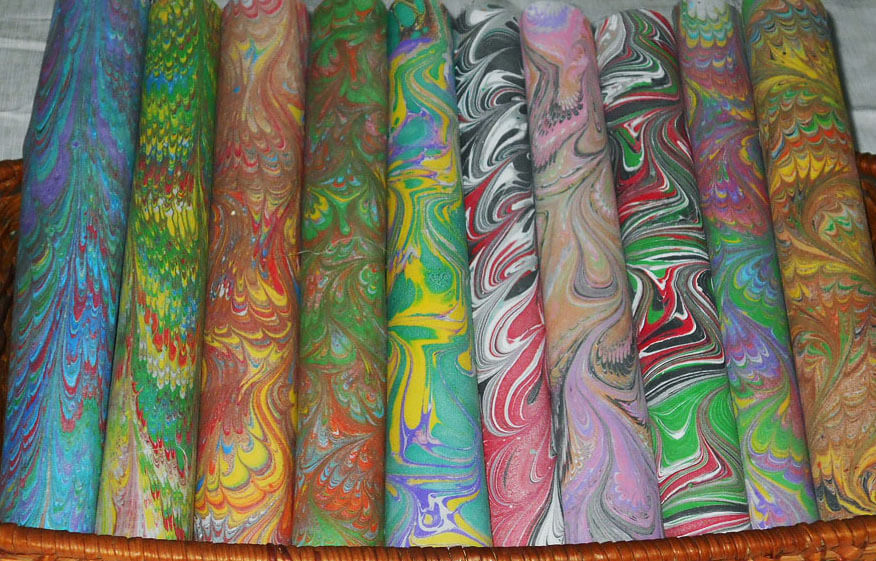 Close-up shot for the Twitter picture, which I am slowly getting back to using…..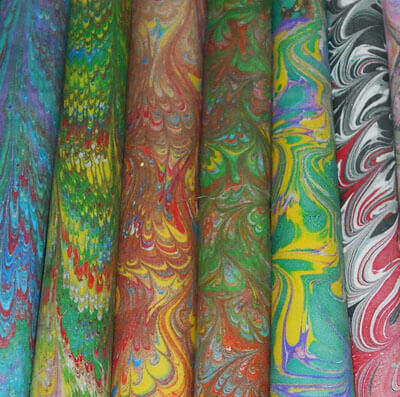 This is just for our Charm Pack 2 – ten pieces of hand-marbled pima cotton, assorted patterns and colors, 10 x 10 inches each. Slowly working on others. The pieces need to be appealing, hence all the work on presentation in the pictures. The mailing is easier than a rolled item, which costs more to ship and doesn't give customers a good look at the fabrics.
This looks better in person when displaying for a show – but not for online sales.

Much more ahead for us as we continue adding new items…let me know your thoughts and how you solved packaging problems.
I have a list………….
Don't we all? I start one every year – but this year seems to be somehow different. I have a small composition book (like we used to use in elementary school, back in the day, and I got myself organized very differently. I have a page for yearly goals, then a page for monthly goals. I have separate pages for each of the weeks of the month. Right now the notebook is set up though March.
I can at a glance see what I've accomplished, and I have a way of listing items ahead in the month they're due, and I can backtrack to begin working on them. This helps me see the bigger picture much better…..and I love crossing things off my lists.
I think the thing that is also different is that I am feeling so much better than probably the last five years. The weight is slowly rearranging itself, clothes are fitting, the knee doesn't hurt, I'm getting stuff accomplished (more than I thought), and I feel calm, centered, and productive. A great way to start the New Year!
We are concentrating on our Etsy shop,(small listing on the right side of the blog…) in preparation for moving to the market on Artizan Made.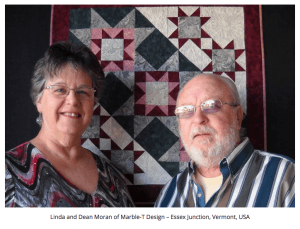 Lots of new pictures, revising items, getting ready to do a "retirement sale" of older items that have been around the country one or two times. We've lived in places where we could have better photography set-ups, but we are making do. Lots of great suggestions and tips from Rachel Biel of The Fiber and Textile List – she is amazing when it comes to set-up, marketing, and all-round general encouragement.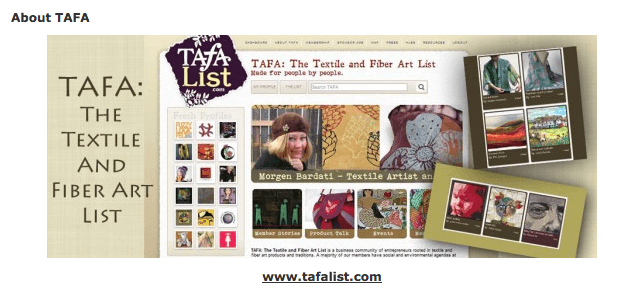 I am looking for a royalty-free piece of music for our second marbling video, finishing up pieces that have languished for years, taking apart a major piece from 2003 and modernizing it with my new skills, keeping up with blogging (I WILL hit 1000 blog posts this year…….) and constantly looking for new venues and ideas.
Here's to 2017! What are you doing to start your year out right?