Archive for the 'Threads of Resistance' Category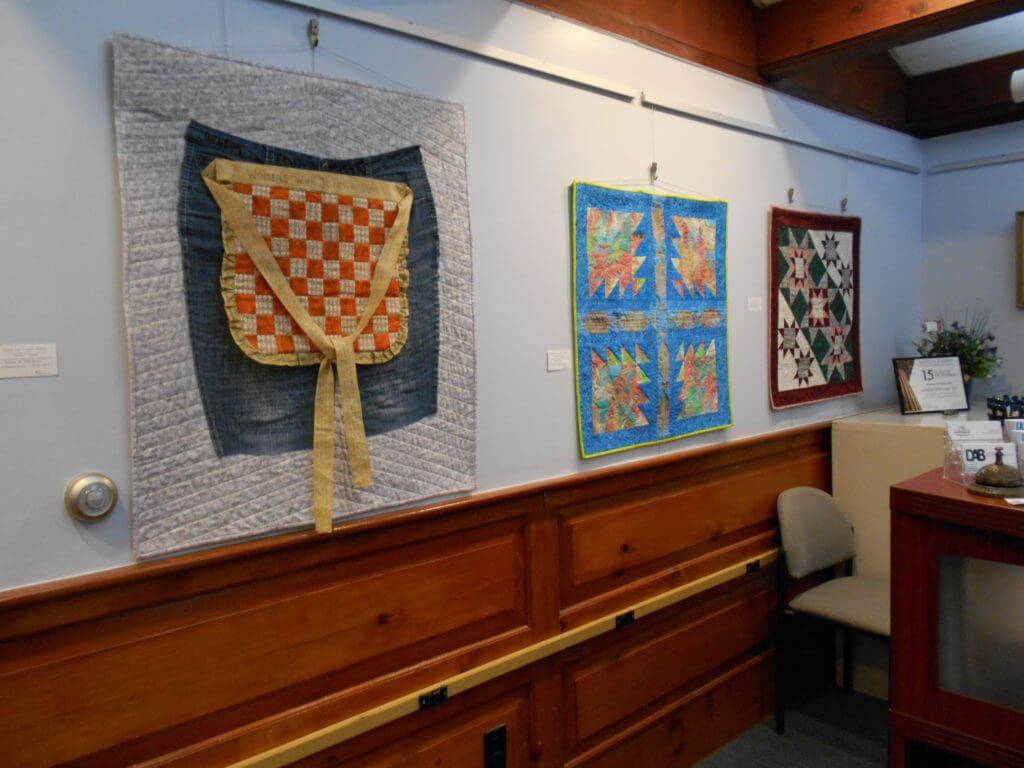 There is a law office in town where we have displayed our fiber work in the past. We were asked to add 3-4 larger pieces for one of the walls to go through mid-October. The three pieces we decided on are to the left. Given that we have a solo show and two other venues for our work over the next 6 weeks, we were careful as to what we chose.
We have two wall hangings that use traditional quilt blocks, but are made with marbled fabrics and heavily free motion quilted. The third piece is our "Women's Work," done as a call to the Threads of Resistance. It wasn't accepted for the national show, so we started thinking about where we could display the work (Vermont Quilt Show next June…).
Keep in mind there have never been any restrictions on what goes in the law office, but I'm sure they were expecting Vermont bridges, barns and landscapes. That's been their usual fare, but our fiber has been very well received there. We framed a small artists' statement about the design of the quilt and all the meaning. You can read about that here.
I know the quilt could be potentially controversial, but it certainly isn't "in your face" like so many of the quilts accepted in the Threads of Resistance show…and what better place than in a law office? First Amendment, women attorneys who no doubt had some struggle because of their gender in law school…seemed like a good fit.
Not the case…our wonderful organizer met us Friday to hang all the works, and then Monday morning called to say the work was taken down on Friday because the law office "felt it could offend some of their clients." Okay…. So Wednesday we went to retrieve our work, having decided to take all the work down and leave them with a blank wall. When we got there, the two quilt pieces were evenly spaced along the wall and looked really nice. The secretary/legal assistant greeted me and said she would get my quilt. In the meantime hubby took down the other two pieces. She was disappointed that we were taking those – "they're so pretty." At which point I said, "I'll leave those two pieces if you let me put a statement up in the blank spot that says the office was worried about offending clients."
"Oh, no," she replied. "That's not it at all. This office is apolitical."
To which I replied (one of the few times I was really on my game with a comeback…) "We can't afford to be apolitical in this climate. Are you familiar with the famous poem about the Holocaust?" I quoted several lines and then ended with the last line "…and then they came for me and there was no one left to speak for me." I added, "I thought you would be more supportive of the First Amendment."
So now I have officially welcomed the cachet of banned artist. I know this is but a ripple, but ripples lead to waves, and waves lead to tsunamis. Here's the Holocaust poem in its entirety.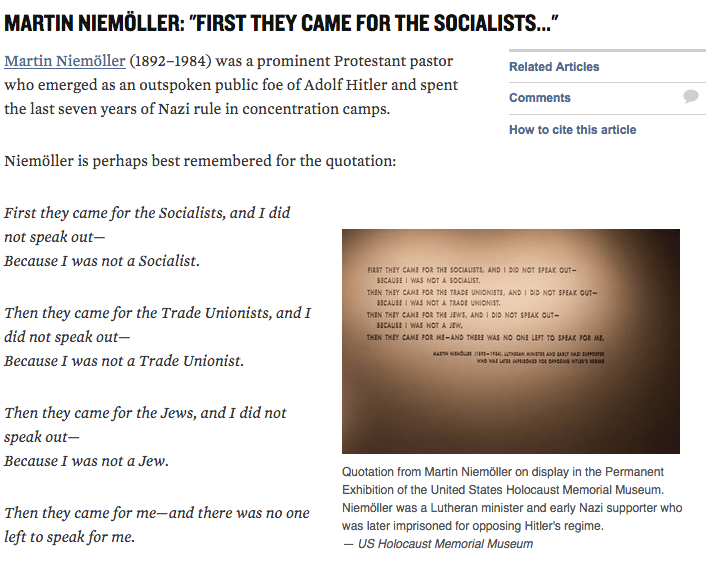 This should be a warning to us all…who will speak for us when we are the only ones left?