Archive for the 'political art' Category
I spent a lot of time just coming up with an idea I felt would work, and then some of the time spent rehabbing my knee by walking the halls helped it come more into focus. Then once I started, ideas kept coming – what was a month's project stretched out into two months, with a lot of time writing what would become the messages on the piece. Women's Work s Never Done – the topic lef me in so many directions, starting with Susan B. Anthony and the Declaration of Sentiments in 1848 as a result of the women's congress. The complete document can be found in the right-hand pocket of the jeans. Using a Sharpie, I started to painstakingly write in the GRIEVANCES woman had against men at that time…and as I was writing, I realized not a lot had changed. The best part of this piece was traveling back in time to read in full this document and realize how far we still have to march.
Here are the jeans about two-thirds complete with the writing – each letter gone over two-three times to ensure legibility.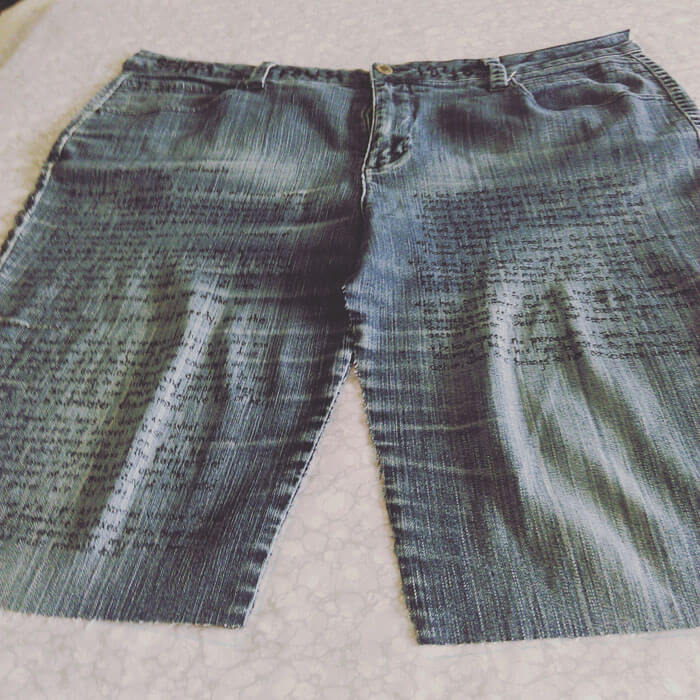 I worried about fading and having to re-do the writing – but isn't that what we women have had to do through the ages? Prove ourselves again and again? Rewrite or own accomplishments so they aren't forgotten? If the piece fades – any part of it – that's the story of us as women.
Next came a woman's required piece of clothing – the apron. I made it reversible – the front is traditional quilt design and somewhat traditional fabrics, and in each of the squares are messages to women – either from my own family or from society. I put a ruffled border on, and written on it is the litany of what women were expected to do: cooking, cleaning, babysitting, housework, laundry, cooking, etc. sex, birthday parties, planning dinners, sex, cooking…..you get the idea.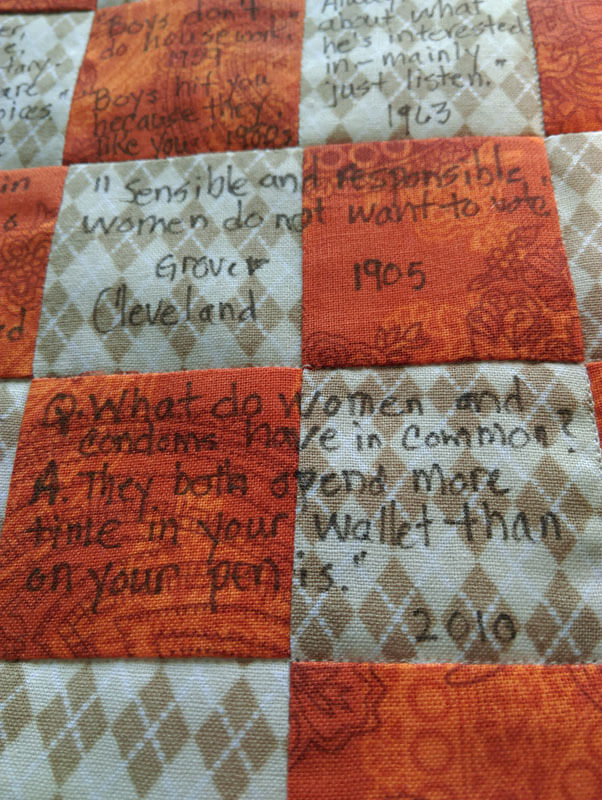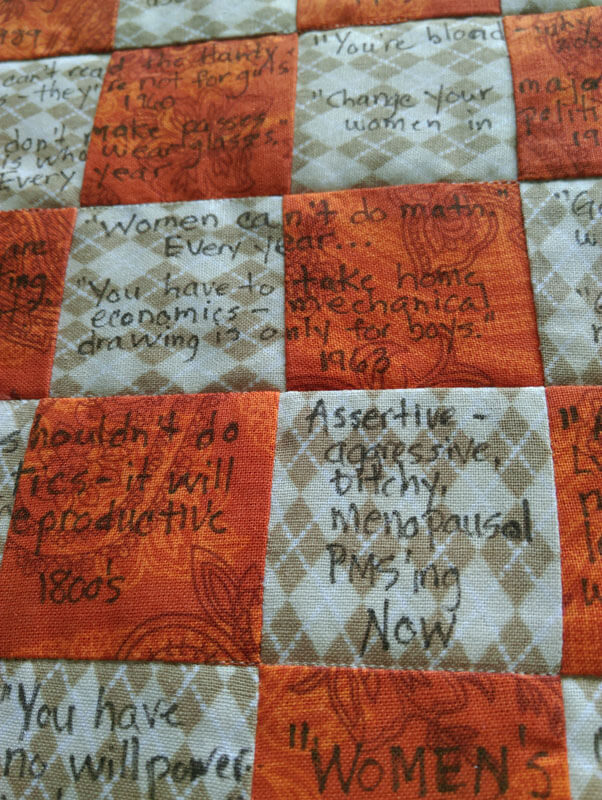 Click on the next picture – for some reason it isn't clear….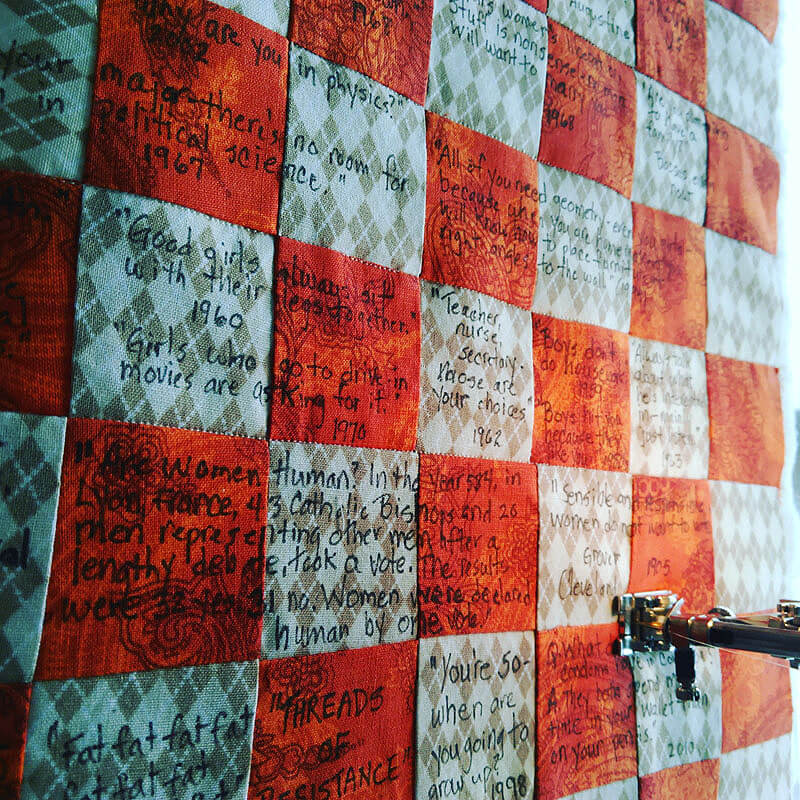 Then came the apron strings. Not completely happy with how they worked out…but I love the message (original copy is in the left pocket of the jeans: a manifesto by Joyce Stevens from International Women's Day in 1975.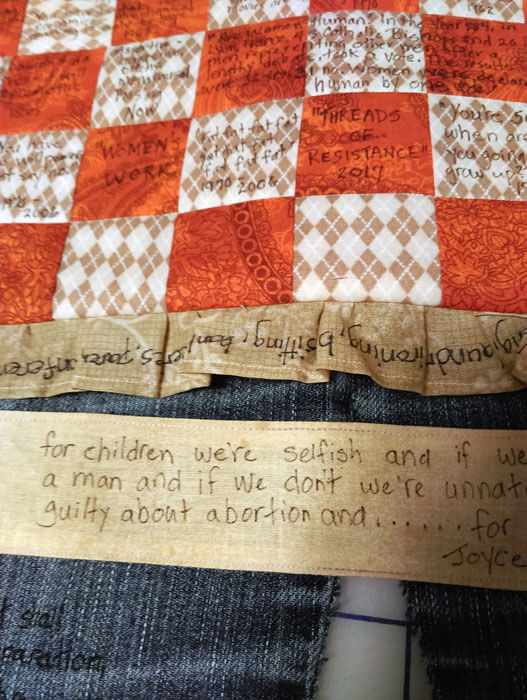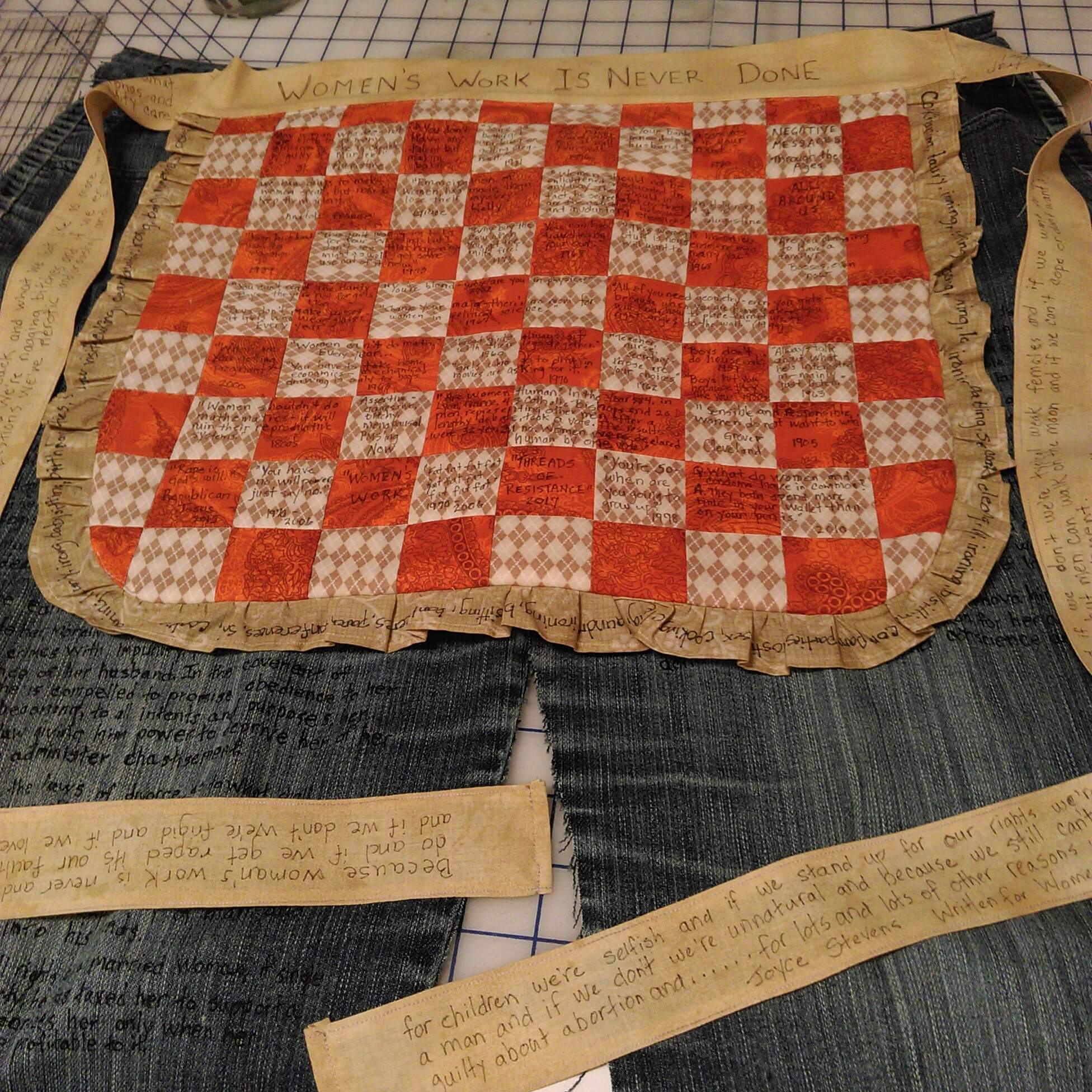 Now the reverse of the apron is more a modern design, with fabrics of the same hue but considerably brighter. On that is written positive messages I have given myself as a daughter of Women's Liberation.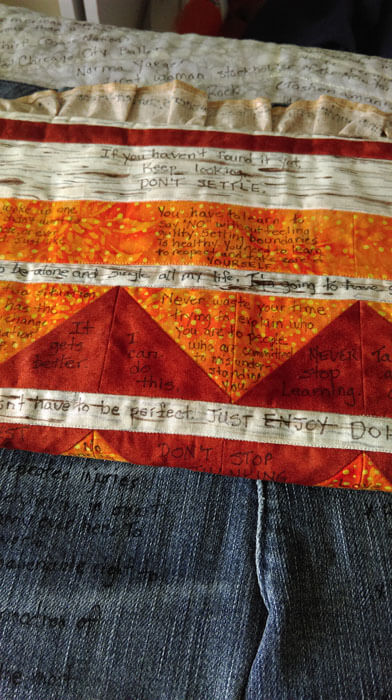 Next step was the background – actually background and backing – same fabric. I initially thought I would only quilt what would actually show before I began my writing on the front, but I realized why not continue on the back with more "hidden" women from history. So I ended up quilting the whole background. Then came the burying threads – which I don't normally do, but since the back suddenly became important, I went and did it…..there were a lot…….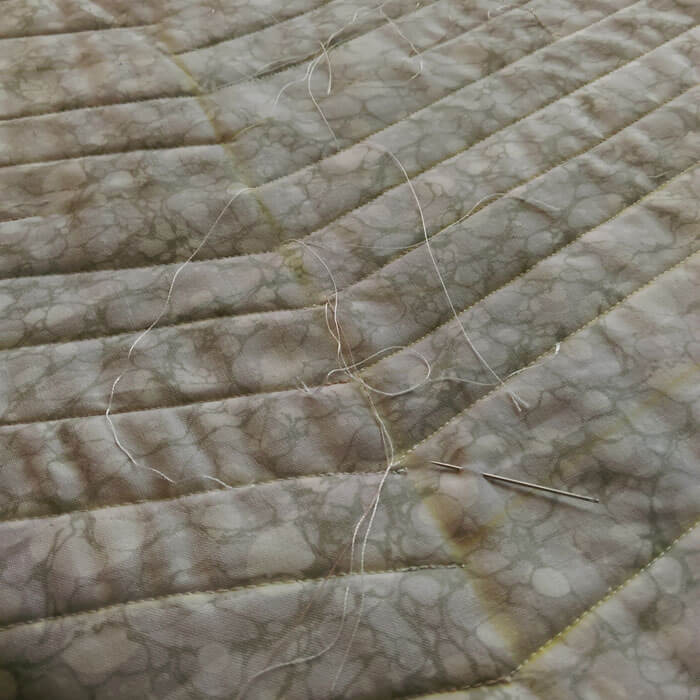 I spent a lot of time online looking for missing/unknown/hidden women and I found amazing stories – most I didn't know – even as a history major. I started out writing every other line, from the middle to top and bottom so everything would remain even.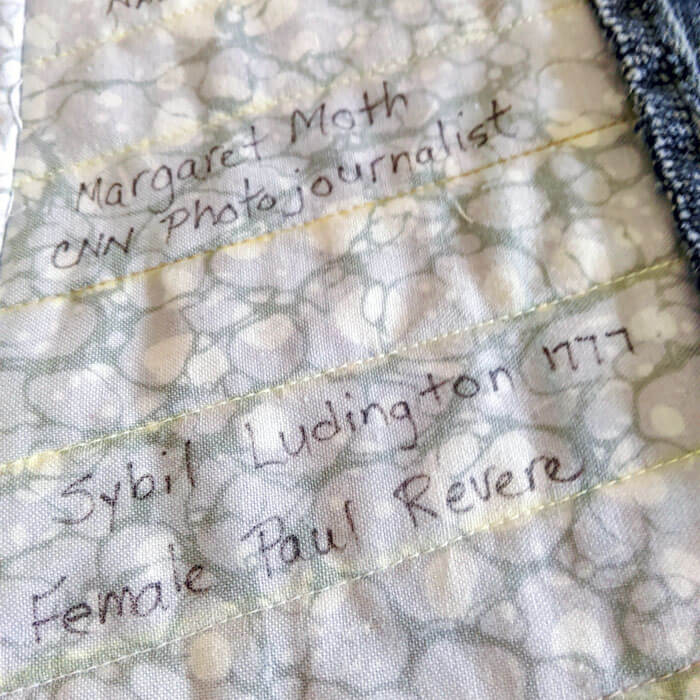 Then I filled in everything and started on the back.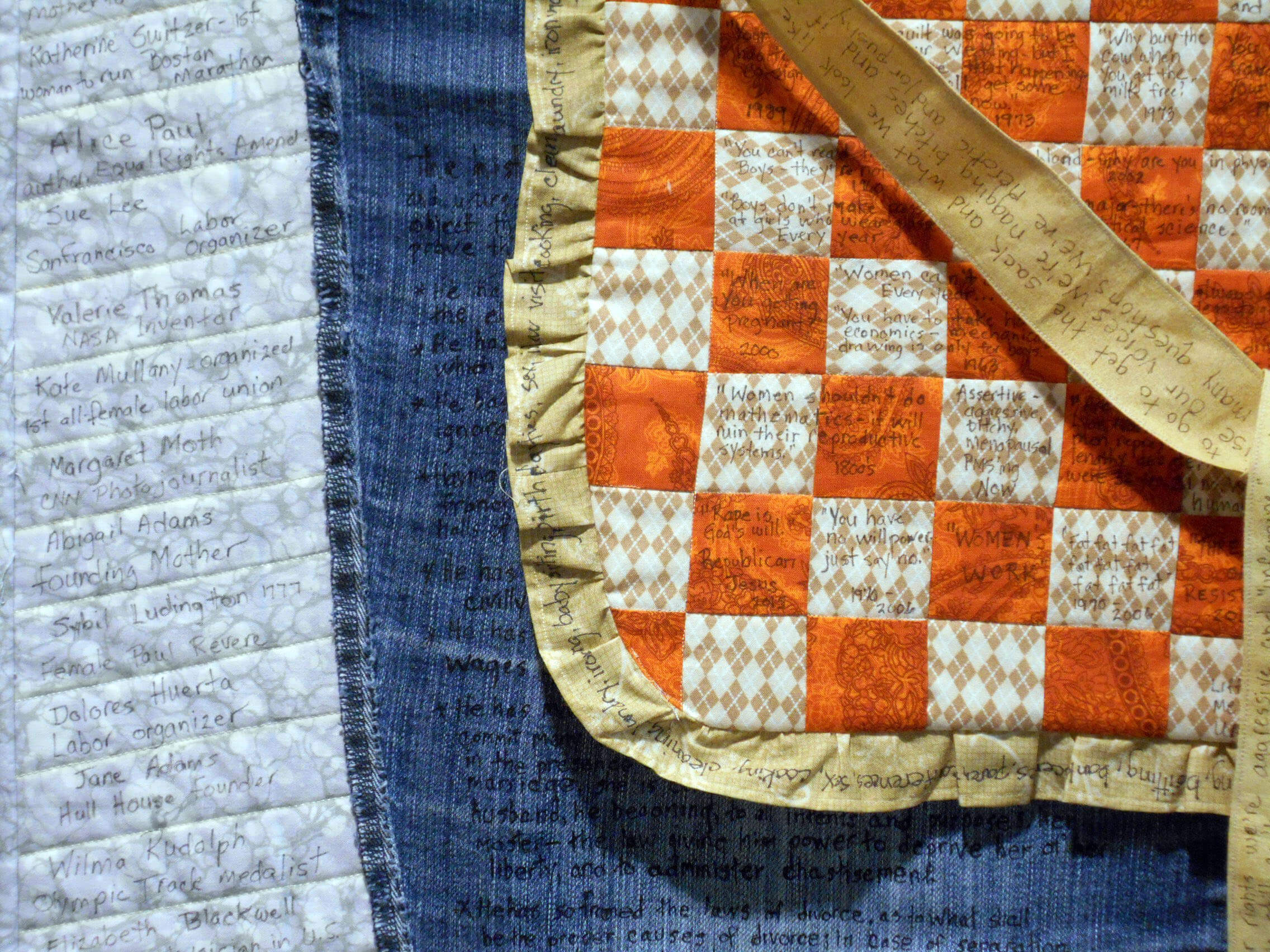 I am very pleased that it came together as I had envisioned – learned a lot (I usually do…), but very pleased.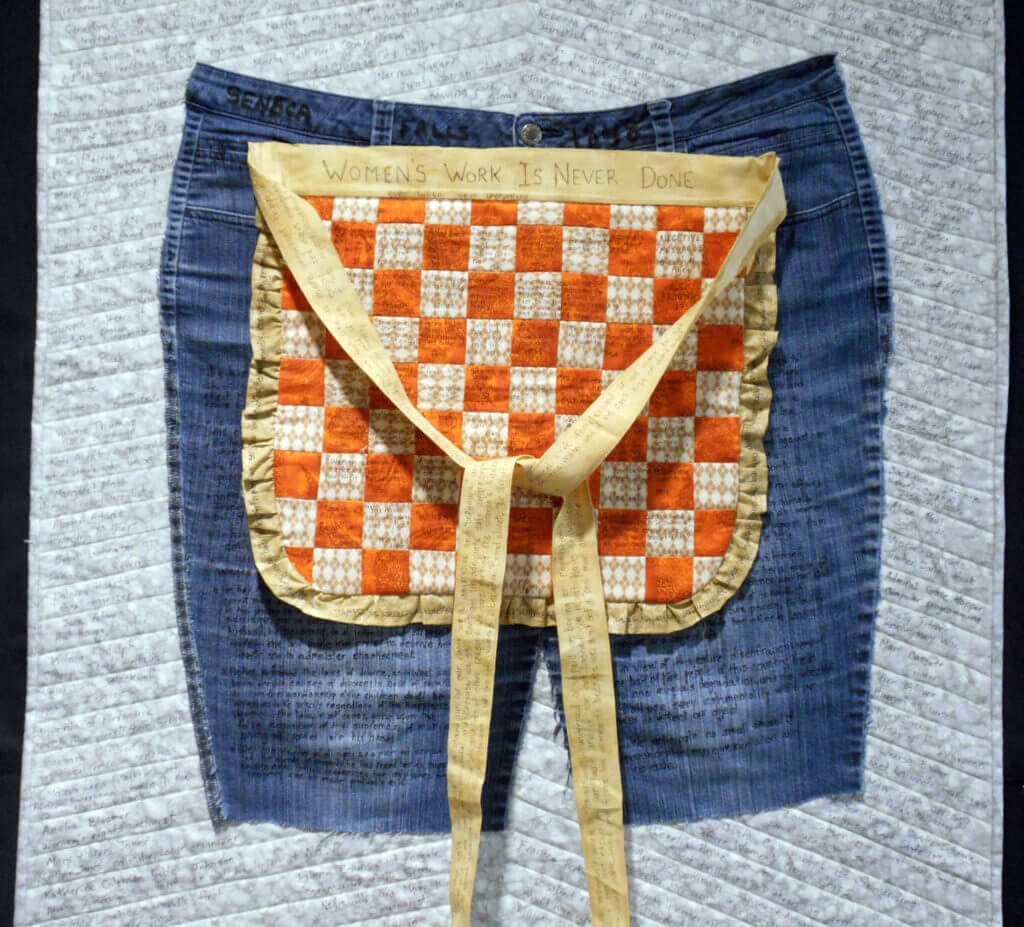 Comments? I'm taking names to continue the back of the quilt with other "hidden" women – send  'em along!
For over 13 years this piece has been known privately as "Ode to the Fire Goddess Pele" as a result of my time in Hawaii. It's official title is Gaia 2: Beginnings. Our biggest problem has been that it was meant to hang on it's own, but we were unable to figure out a simple – and not intrusive – hanging system. So for the last year, since we have been showing our work in Vermont, we've talked about mounting the piece – somehow. Here's the story of the creation of the original piece.
That led to me deciding to completely redo the piece – ev.er.y.thing. It took two weeks of night time by the television to get all the machine quilting pulled out. In the 13 years since this was finished my machine quilting skills are SO much better. I will say that my original tension was so bad that in many places all I had to do was pull a thread and I had many many inches come right out.
My new plan is to requilt it, change the edging, mount it on a large piece of black fabric, quilt the black fabric, and then add a sleeve. I need to have all this accomplished by May, as I plan to enter it into the "Abstraction" show in Saranac Lake this summer.
Right now I have 12 strips still with serged edges. I found a FABULOUS piece of red and gold fabric in my stash, and (hoping I have enough) I will put the binding on over the serged edges. It looks really good so far.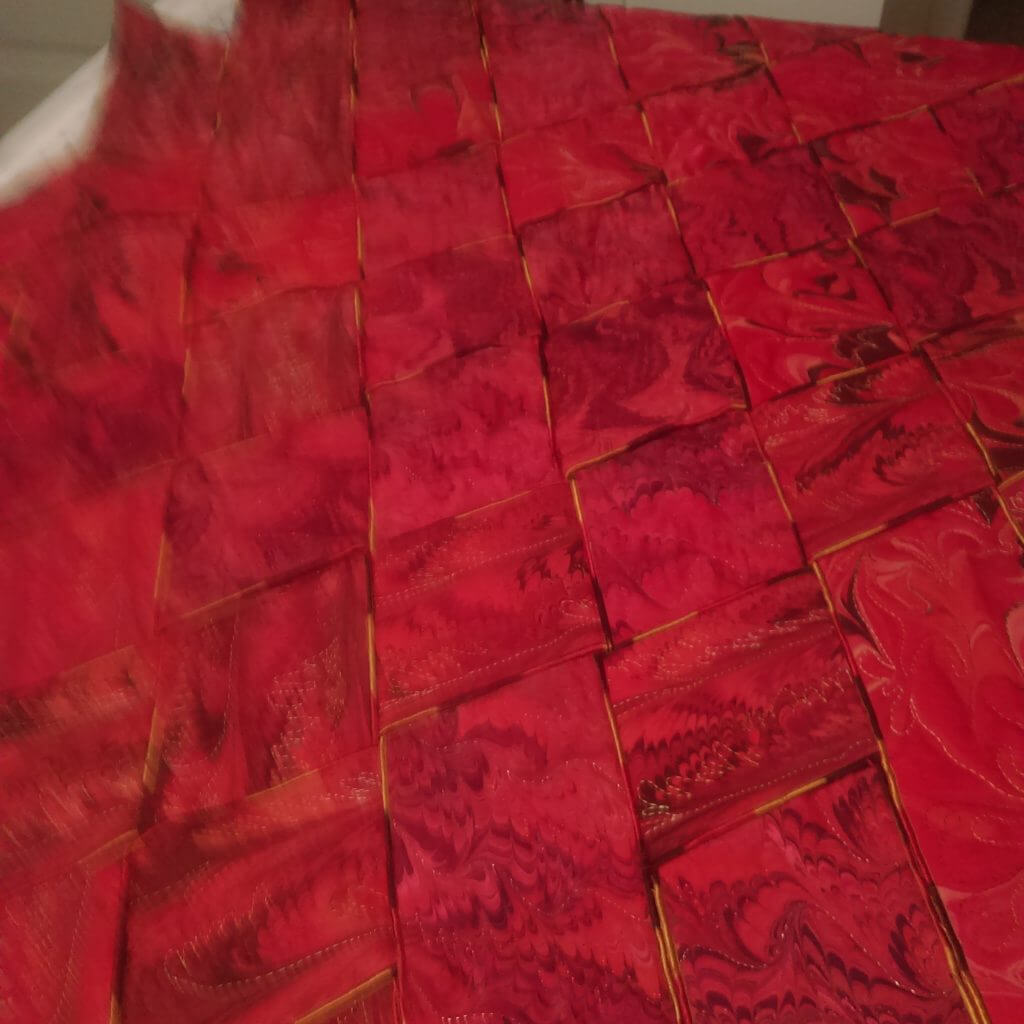 A close-up of the original weaving with the serged edges.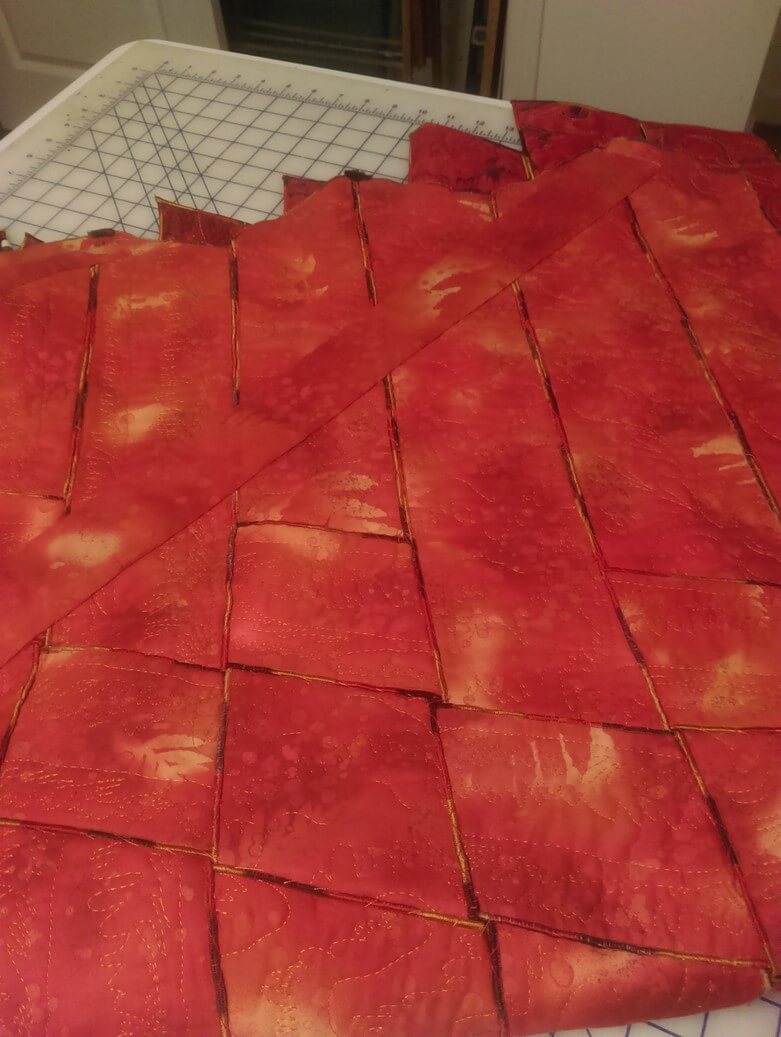 A close-up of the back with all the hand-stitching to hold all the pieces tight and together (oy, did that take a while….)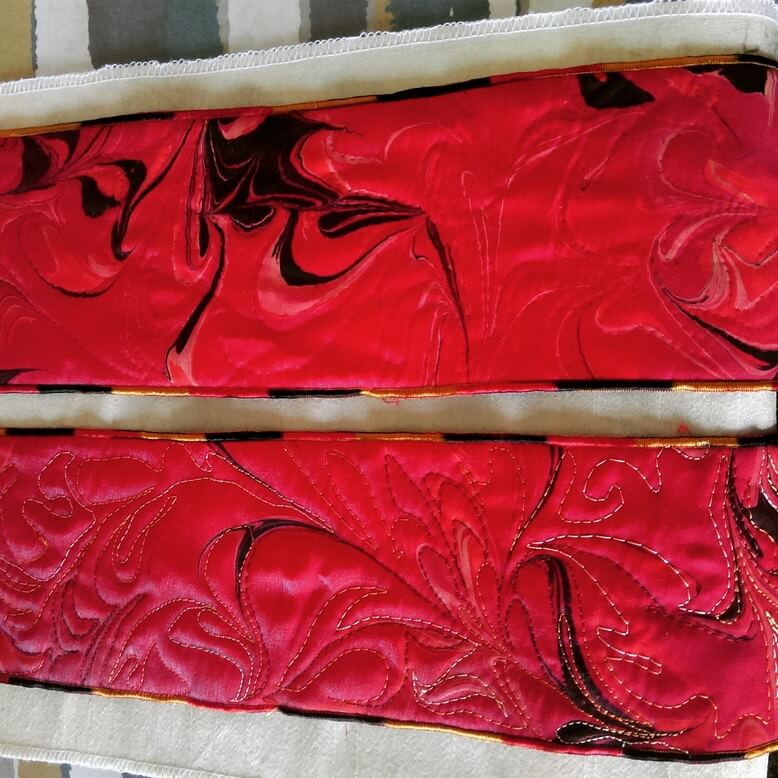 Before and after – original stitching, and after the frog stitch….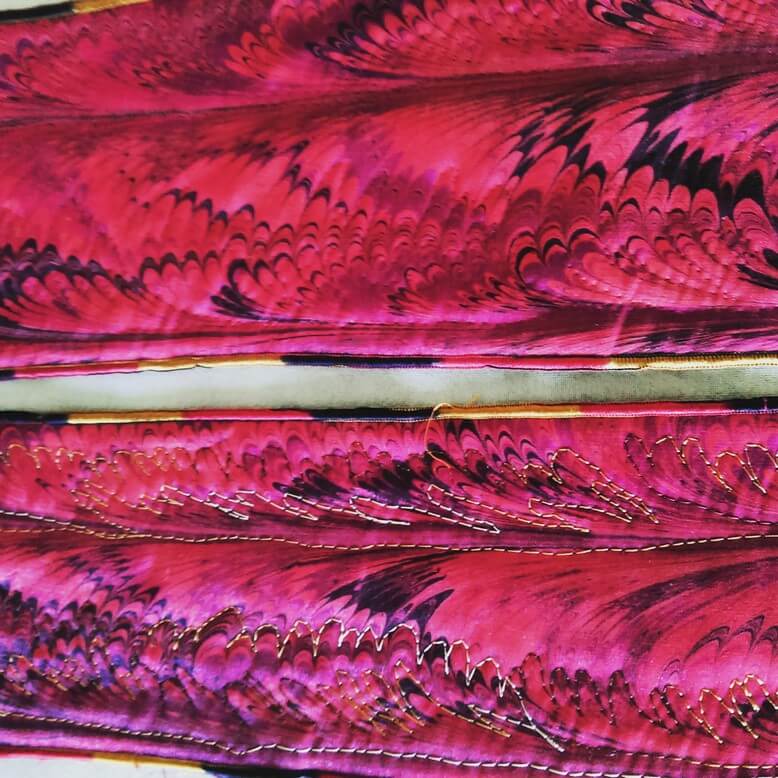 More before and after….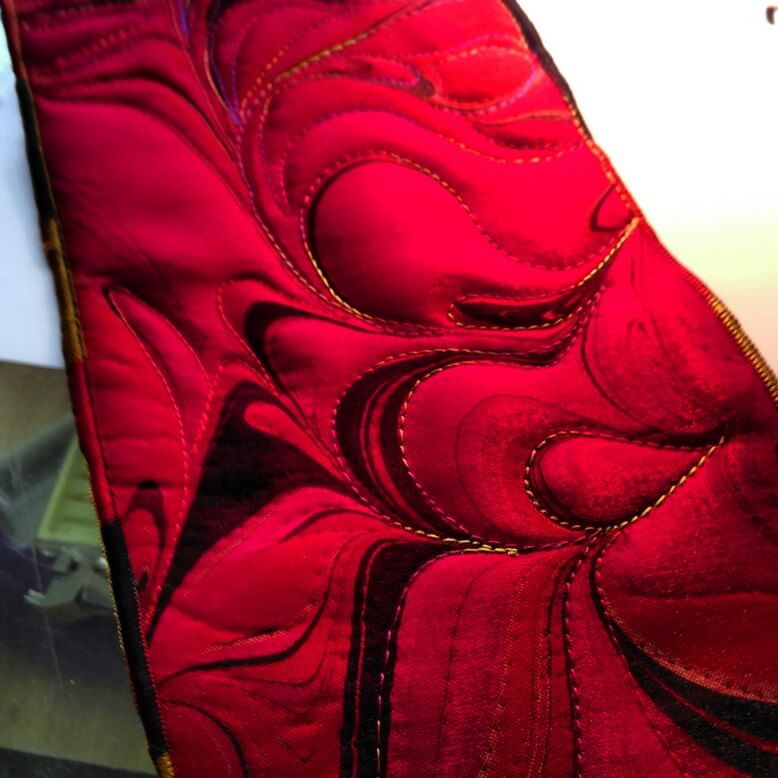 The beginning of new free motion quilting….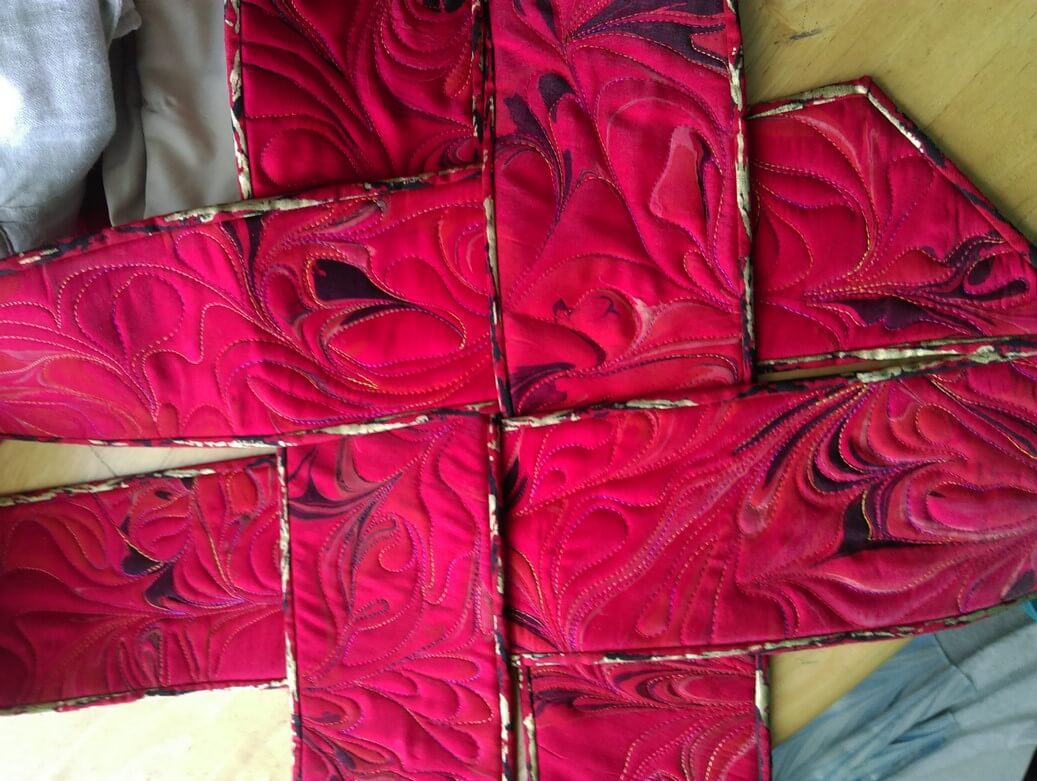 A look at the new binding and how it will work with the weavings.
This piece will also have a new name: Revolution. More on that as I get further along in the quilt.