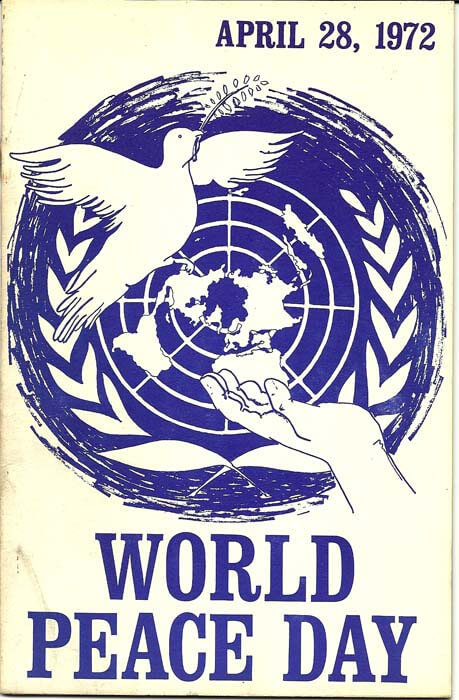 Yeah, it's been reflection time these past two weeks about a student project from 45 years ago. At the time I was teaching at Baldwin High School on Maui, and I was advisor to the Pacific and Asian Affairs Club. The beginning of my second year, Claudia Otsuka and her twin Dawn came to me with the idea for a World Peace Day that spring. It was my second year on Maui and my second year teaching, so why not? Little did I know how memorable the journey would be. I wrote about it here for the 40th anniversary, with all the news clippings.
In 1972 we were at war in Vietnam, cities were on fire with protests, marginalized groups were trying to speak up and have their voices heard. What bothered me this week – and as a history person, nearly every week – is that nothing has changed. We're marching for Climate Change tomorrow the 29th. We're in two wars, and the prospects of getting involved in North Korea scares me. I really thought I was done having to worry about where I lived and what part of the house would be the best place to hold out in case of a nuclear attack.
Minimal technology in this endeavor – mimeo machines, typewriters and carbon paper, phone calls to Washington, DC to our House Representative Sparky Matsunaga who was a keynote speaker…..arranging lodging, going to Honolulu to talk to the legislature about getting an official World Peace Day through the legislature, getting parade permits for our Walk for Peace to raise money for the event – and being consistently called a Communist for protesting for peace. I guess nowadays my label would be "libtard."
Sparky was the first person, aside from the high school support (which was mild) to believe in what we wanted to accomplish. From the webpage:

So here we are again…..still….searching for that elusive peace……My generation is a transitional one – from starting out believing life would be better for us to wondering in our older years if anything will be left for us. Back to the barricades…..