Lots of free motion quilting in my future. Finished another fmq sample for classes, and I have a cheater cloth I want to experiment with. It is good to be so busy! There is a list of projects, and it's not too detailed. I think I am done with the long-term lists. I want things that are do-able, along with increasing the commissions. Hubby is busy marbling – this quick tray will be silk flowers and leaves for upcoming gift baskets. End of the week will be more fats and new sampler sizes – will be introducing the new sampler in February's newsletter.
The days are broken up with reading, writing, hand-stitching, machine-stitching, designing, web work, yoga, and taking a couple of new classes from Coursera – on the Middle East (fascinating, will be good for research) and Big History -even more fascinating. I am also contemplating how I can do more writing to get people thinking about this coming election and preparing to vote.
Plus there is marketing, and we both have been busy. The reception to our art since we returned to New England has been amazing. We were at the Essex Art League meeting last Thursday, and folks couldn't believe the marbling. I still have leads from an earlier meeting to follow up on. That said, we made a list of what will go into the three-month show at an attorney's office starting in April. We need to know what needs sleeves and hanging rods. The second list is for the digital marbling display in August. There are a number of pieces that need work digitally, as well as planning for framing, so a data base is on my list for this week. There are updates coming for the website, in progress as we speak. The blog needs pages tweaked and updated – that will take a bit longer. I plan to join the Surface Design Association this week, so I can begin to analyze upcoming gallery shows and see where fiber might fit. I have two gift shops to visit, one of which will take our things, given that hubby's family settled the area. The other, who knows. We are budgeting for better frames for the digital work, as everything needs to be prepared for wire hanging. And I need to go through the smaller marbling pieces to see what can be finished for April.
It's good to be so productive! Reminder – need to check on industrial felt for some of the larger works in my mind, as we need to plan for hanging as these unusual ones are created. Hopefully pics will be coming of some of our newest completions.
I received two "adult" coloring books for Christmas and have been enjoying myself immensely. Once I got past the old bugaboo about what this would be, I realized I could learn a lot about color theory from these pieces. And learn I did….
First, I discovered why I thought coloring was boring when I was younger. Sheesh, crayons and a picture. No challenge there. Just like I found Barbies incredibly boring. Plus I didn't have great crayons – I lusted after big boxes – and I do have many colors of sharp pointed crayons now.
Second, I love symmetry and working with color within the symmetry. These pics have been perfect for that. I'm using markers – very unforgiving as a medium, but then so much of my earler work was pen and ink – even more unforgiving.
Third, I learned a lot about color. I like color. I like bright color. I need me my white space – a challenge on some of these designs. I need a variety of color items. Marker – yes, bought a bunch more. Also, love me my Pigma pens from my zentangle work.
Here are my discoveries – love being self-taught! The odd-numbered ones are from a book on zen coloring. The even-numbered ones from a book called Mendhi – very different in approach. I do them alternately – learning from each type and applying lessons learned from the one before it.
The amount of white space really through me. The colors are very saturated and I opted to leave nothing blank…but the two paths going through the design were way too white and off balance. So I took a few ideas from my zentangle work – aura and echoing, along with dots. Really like how it came out.
I opted to keep some spaces white for balance. I happened to see samples of the designs in the front of the book but didn't use any of the examples. I'm enjoying making my own decisions, which in most cases work out for the end result. You'll notice the same color families appearing in the designs. Added the dots to frame the design.
Left a lot of white space on this one. I have some solid sections separating the main designs, and this kind of threw me. I used a brown that was much darker than the surrounding colors, and it drew my eye immediately to it. Did not like that, and part could be my bias as the designer. So I attempted to spread out the brown throughout the whole design. Much happier with the overall effect.
Love this one! There were a lot of very skinny outlines throughout this, so I went for my black Pigma pen, which I discovered made everything very crisp. Yellow, purple, green, but I think the orange works well on the outside. Really like how this one developed.
Blues and oranges – shades of them. Have never really worked in this color family before and I like it. Depending on color placement, some of the oranges look red – interesting to me, although it shouldn't be because we deal with that all the time in marbling. Some of the blues looked green. Overall, I am planning on doing a mandala quilt using some of these designs, as I really like how it all worked out. Great balance, and I LOVE the geometry of it all.
A lot of red Pigma pen outlining – nicely enhances the design. Greens and oranges, and even with the red, doesn't look too holiday for me.
Again very saturated, primarily reds, yellows, and oranges. I didn't want to leave the white space of the outlining – wasn't sure I would like it. So I opted to go with a mosaic look, using black. I completed the center first and really thought I had made a mistake with that amount of black, but I am learning to make decisions as I go along and not worry about it partially done. I am very pleased with how it all came together.
Purples, yellows, and greens. Glad I had a variety of markers. I originally put an orange around the yellow center, and my eye kept getting drawn to it. Didn't like that, so I thought I would see if I could add green over it – turned brown, and I wasn't happy. However, the brown fades into the background and throws the eye outward in the design. Interesting lesson learned there.
Lots of new skills,lessons learned, and enjoyable hours – there are more coloring books in my future!
Most of my work on line these days seems to be research for book 2 of my Secession Wars series (website coming soon….). So the suggestions today might be a little more somber, but thought-provoking none-the-less.
An interesting look at the battle with Hasbro and Mattel over Disney princesses. I always found Barbie incredibly boring – she didn't do anything – I'd rather read the Hardy Boys (Nancy Drew was too predictable and safe). But I gather marketing in this day and age is all about the brand. Interesting look at Princesses and young girls.
I am a huge fan of the Zinn Education Project – all those stories and facts we never learned in US history, especially appropo in today's world. Today is yet another anniversary – of Wounded Knee – not one of the U.S.' finest moments. More resources here.
More on Wounded Knee from the Smithsonian….
A friend of a friend of a friend…don't ya just love those connections? When we visited Northern California, we stayed at a gorgeous cabin above Monterrey Bay and had a fabulous time with the guys overseeing the digs. Met Greg's sister Randi  in a round-about way, and she's just published a novel. The Story: Deviation.  As I look into self-publishing myself, it's great to hear someone else's story. Check her out!
Is it a fad or not? There's much to-do about gluten. I've discovered that I am sensitive to gluten, so I try to keep it out of my diet, not always successfully. Here's a take on famous paintings if the gluten were removed…….
Five Questions to Ask before Partnering with a Service Dog – interested in any readers who have had experience with service dogs for visually impaired.
Wonderful rant on Facebook today about making art. Seeing as I have just begun with my "adult" coloring book, I was interested in her thoughts about "correct" ways of making art, and how the various art police seem to rush in and take over. From Elizabeth Metz, via Tristan Robin Blakeman. LOVE her thoughts.
Yet another item I am checking out on the road to self-publishing – Smashwords. Anyone with experience with this?

 Beautiful Earth Porn – how can anyone object to the title? Gorgeous eye candy…..
Have a great week!
I'm unearthing a lot of unfinished projects and pieces of fabrics that can be turned into small art quilts for Etsy, and I also came across a couple of digital pieces (like the above) that need reworking for an upcoming show. It is just amazing to me how productive I have been at getting new – and old – projects completed since we set up the new studio. Here's pics of the new studio – taken right after we unpacked and stored, so things are cleaner than they are now after three weeks of solid work. Good north light, and lots of surface area.
Stored behind the door, along with mats and combs…..
This can be closed up for an air mattress on the floor for company.
Filled with fabrics and patterns and lots of other goodies….no longer used for clothes!
Sewing table for the last 15 years, lots of room to the left to support larger quilts….almost impossible to keep clean……
For the serger and decorative stitches on the Brother machine….
Happy as a clam, and now to the piece in progress….which is some leftover from another completed piece.
Thread choices –
Didn't use the blue – too much contrast, and not what I liked – ended up pulling out all the threads…one advantage of not checking the tension – easier to pull out.
 Finished project, available in Etsy. I needed to simplify the design – got caught up in following the patterns, so I ended up leaving the bottom corner free of stitching, so it looks like everything is approaching from the northwest.
Serged edges, mounted on wrapped canvas, 12 x 16 inches. Moving right along!!

So I have unearthed a bunch of UFOs in going through one of the containers in the studio. One is up on Facebook, free to a good home for the cost of postage. A couple of them, I need suggestions for what I can do for the quilting. Plus, if you recognize that you made the item, please let me know so I can credit you – it's been a long time since they were sent to us.
Here's the first.
This was done for us as a way to use marbled fabric in a traditional block. Now I need suggestions on the quilting. I want to use it as a sampler in my fmq classes. I was thinking of outlining the blue marbling for the waves and then doing something with partial circles around the sunrise/sunset….Ideas?
Here's number two.
This is reverse applique, and I can treat it as a Hawaiian block with outlining, but I'm wondering if there is something else. All suggestions welcome!!
So after looking at the last table runner, I decided last minute to do a small table-topper for the son of a good friend – the one who is getting the table runner. Since he is in a doctoral program in marine biology, I decided to finally use the small lighthouse batik squares I had gotten maybe 10 years ago. First thing I discovered – Keepsake Quilting, not your finest cutting…..all the "squares were different rectangular sizes, which made squaring them off a bit difficult (especially since I didn't do that first step – only the second step). And only a few of the nine lighthouses actually were straight……
I kept wondering how I would quilt this, since the focus would be the lighthouses. I chose a border fabric that reminded me of Cape Cod cottages, so them the focal point was the lighthouse and the "sea-side-y" shingles. All I did was quilt in the ditch – anything else would have detracted from the design. Three hours later I was done – from layout to quilting to binding. Part of me was feeling guilty for the lack of fancy quilting, but hey, the piece didn't need it, and I'm not sure the recipient would have appreciated the extra work. I like it and that's what matters – it can go on the wall in an office or across a desk or small table. So lesson here – not everything needs to be complex to look good (and…..check the "squares" before starting)…..
This last quilt commission (which Susan is no doubt getting plenty of use in chilly Tucson, and we have our quilt off the bed, as it's too warm here in Vermont….) was a challenge for me to fill space with quilting design. I LOVED how it came out, and as usual I learned a few things on it. So when I started this new table runner for a friend for Christmas (left-over pieces from a Judy Niemeyer pattern) I wanted to do an overall quilting pattern that was very organic and would unite all the blocks.
Big lesson – just because you can quilt it, doesn't mean you should….which harkens back to Road to California in 2012. First time at a big quilt show, and hubby and I kept commenting on the amount of free motion quilting showing up. Some quilts didn't seem to need that much quilting, and on some the quilting really enhanced the work. This was also when I began taking free  motion seriously, and in the last three years I am now teaching basic machine quilting.
But with this table runner, I realized to late (to   rip out half the runner) that I had too much quilting. Here's my table runner that was on the table when our friends came to dinner.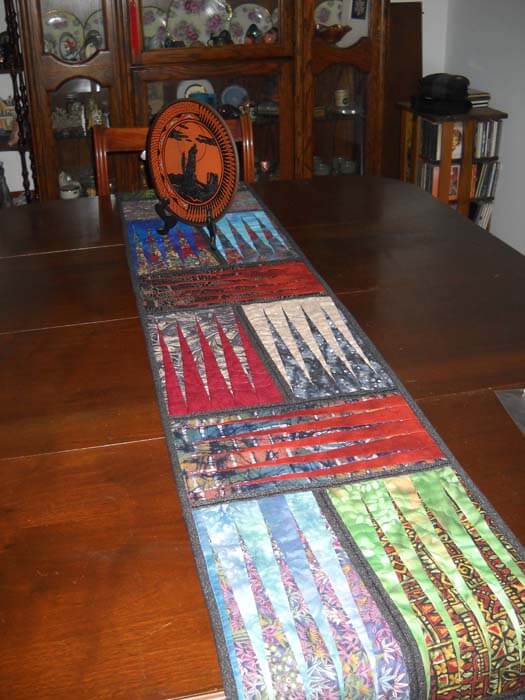 The block pattern is obvious, and at this point I was stumped as to how to quilt it – I ended up using invisible thread with wide circles. Ehh. So I wanted to do something different with this one.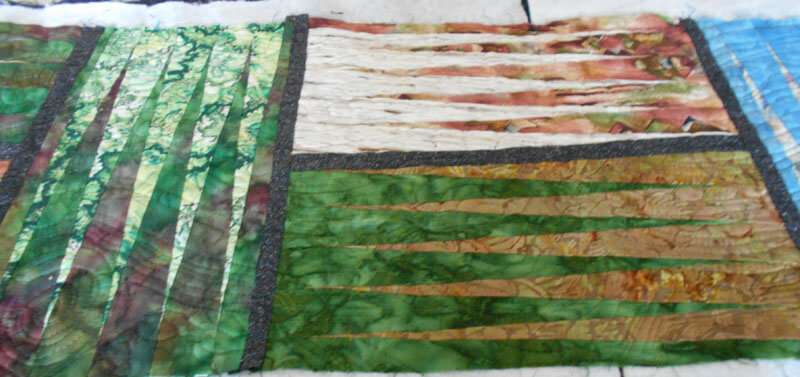 You can see the meandering quilting – I really just played with curved line to offset the sharpness of the design.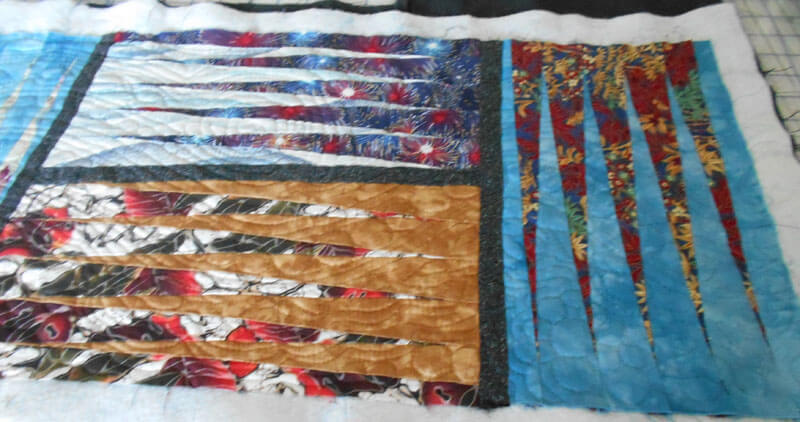 You can see here that the quilting design when up close takes over and dominates the pattern. This is where hubby quoted Tim Gunn (yes, too much Project Runway in our house,……): Edit, edit, edit. Yup – bigger curved lines and no leaves or stones.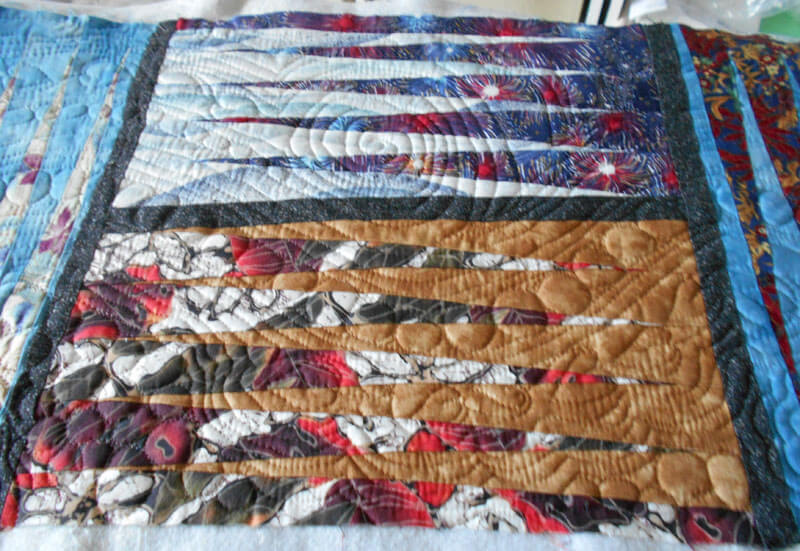 Like I said before, way too late to take all those stitches out. However……when looked at from certain angles, all you see is the pattern. At other angles the quilting is predominant. And, ultimately I like them both.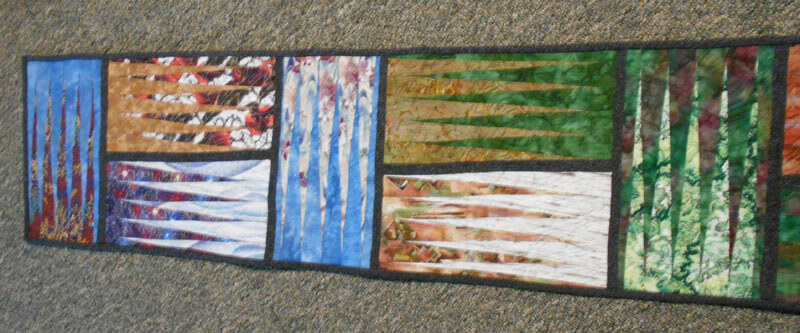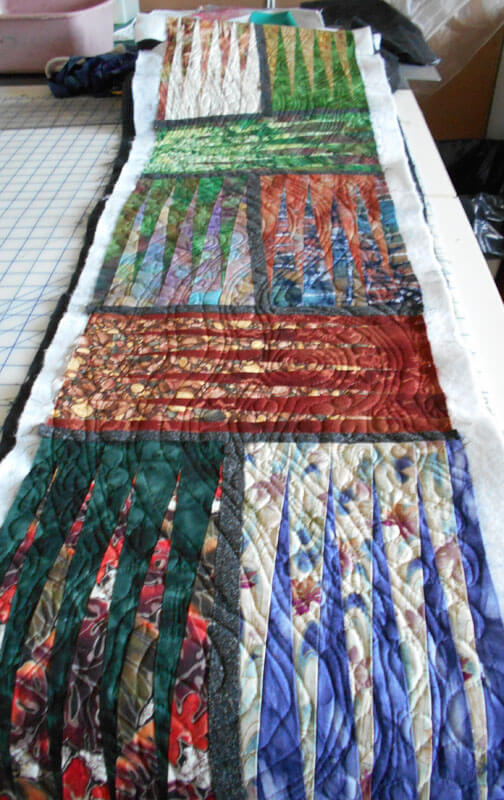 Before I actually started the quilting, I was subbing one day and had time on my hands, so I was watching one of my Craftsy classes on machine quilting big projects on a small machine (and my Bernina 108 doesn't get much smaller….). Spray-basting the WHOLE quilt. Nothing will move. I'm trying this, and lo and behold it worked WONDERFULLY.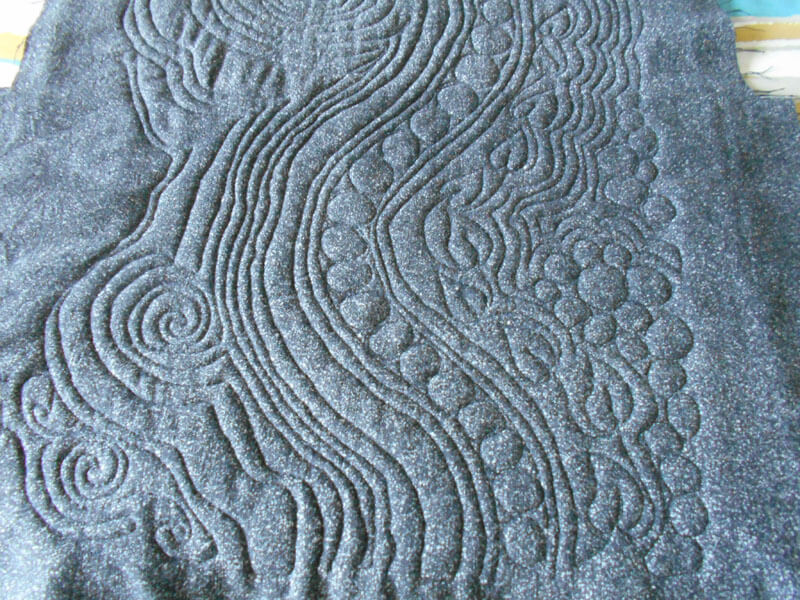 The spacing could be better, but NO TUCKS! Well, three little ones that actually ironed out. That's the way I'm going from now on. My fingers will appreciate no more safety pins – this time a year ago it took hubby and me four hours to pin-baste a queen quilt…..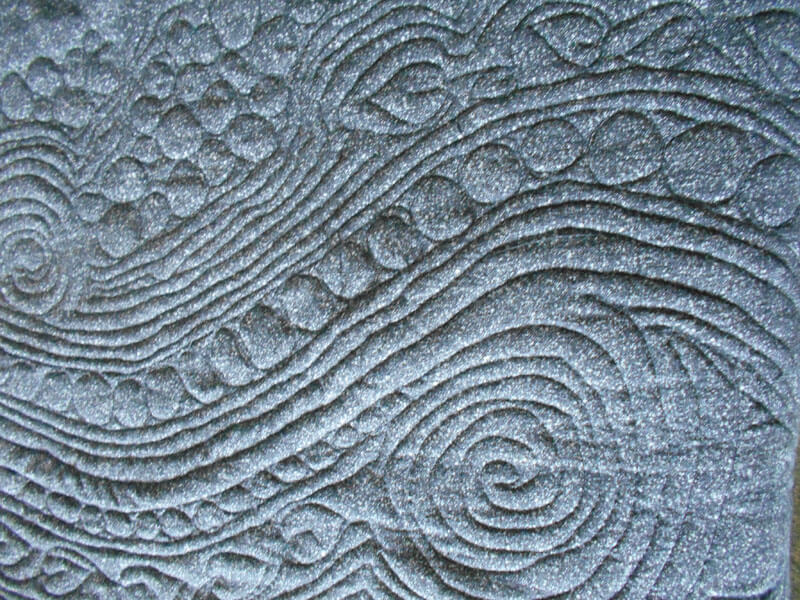 So more lessons learned, and another commission in the works for March. I am having SO MUCH FUN!!!
About two years ago I asked for some volunteers to make traditional blocks using marbled fabrics, as I wanted to show what can be done with traditional quilts besides the art quilts I do. Now that I am improving my machine quilting skills, I turned one of the blocks into a new teaching sample for both quilting marbled fabrics as well as using marbled fabric in traditional quilts. First up is the back of the block – a list of all the threads and needle sizes used, as well as any (and all) tension issues, so they could be discussed (and I wouldn't forget what I used where).
I quartered the block, and one section was left completely unquilted – because that is also an option. Here's the front of the block:
Far left – unquilted. The yellow pieces have three different designs. I'm partial to the one with pebbles quilted throughout the piece. I used Bottom Line in the bottom, size 80 Superior needle, and Bottom line in the top.
Each marbled piece is done in a different free-form design. Lower center uses a Superior Thread Brytes, heavier, so I used a #90 Superior needle. Upper right used Bottom Line on the top and followed most of the curves in the pattern. Right marbled fabric used a variegated Superior Rainbows thread and only did a few of the wide curves. Different looks in all three. One of my favorite stitches is just following basic curves, and you can see that in this quilt:
For the white – BIG lesson was don't use a distinct variegated thread unless your fmq stitches are VERY even. Spent three hours taking it all out. The white was patterned with circles and small crosses. For the bottom right I used yellow Bottom Line in the top for a hint of color and gridded the triangle,  using the fabric pattern as a guide. Upper left, also with white Bottom Line, I followed the circles in the white fabric pattern.  Right triangle I followed both patterns, also white Bottom Line, and found it too busy.
After the New Year, I want to experiment with more like this. Let me know if you have done something like this to determine different quilting ideas.
So November has come and gone…..I lasted much longer for this National Novel Writing Month than previous times. But….I accomplished what I wanted to, as well as learned quite a bit about this new book. I needed a jump-start on book two – I'd gotten about 4000 words written before we left Arizona for the move. Then I did a chapter the end of May that I loved, but then….nothing. So I figured this would be the jump-start I needed, and I was right. 32,000 words later I now know where the book is going. I discovered that while I am a "pantser" to a point – someone who just let's things happen – I really needed to plan this second book more carefully, especially in what I wanted it to specifically accomplish.
Consequently, when I wasn't writing, I was thinking – a lot of time spent in the chair with a notepad, following plot points and the like. I realized that this will be a tough book to write – I now know most of the story, but I do have a lot of research to do on various aspects: Native American tribes in Arizona, indigenous peoples/First Peoples information, more banking information, water issues (even though I did a lot of research on that during this past winter).
Now I am ready to set time aside each week – working out marbling and art with the writing and finding a publisher. I'm looking for a new blog – bought a domain name just now, and as things are set up, I will start writing regularly there and sharing process. I miss my writing group in Tucson – every Tuesday for two hours – just writing, no talking. Haven't been able to find a like-minded group in the area, so I will need to motivate myself.
Doing bartering with an editor/author in Las Vegas for her advice in exchange for a marbled gift basket she would like. I also have another contact who as self-published with Lulu.com, and I am looking at Northshire indie press, down in Manchester, VT. I finally feel like there is momentum, after 7 months of NOTHING – not even a no-thank-you from agents. This book will see the light of day!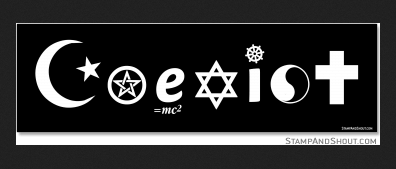 What a beautiful Monday morning! It's 10 AM and I've already accomplished photography of baskets, cutting fabric for the next project, and done all the Christmas cards. Plus – lots of great stuff accomplished over the last two weeks!
So….finally updated the Facebook business page with our gift baskets for sale – sold two, and I have another ready to go up. It's been a lot of fun making the baskets and choosing some of the "ugly" fabric in the stash, as that turns out pretty darn cool. The Etsy store is up and running again, as well as Ebay, so check them out.
I'm contemplating a new online platform – just need to do the research. One of the biggies was the first newsletter in just over a year. No sales or offers, just a welcome, we're still here, and it's good to be making art again. I have plans for the first of the year to get back to a regular newsletter. Redid framing on a small 9 x 12 piece ready to go on Etsy, and another piece that needs new serging and mounting. Have another show set for three months with two other artists, starting in April – law firm, so will probably do some fiber, and we'll save the digital work for the solo show in August. Had a great time at the Essex Art League holiday party this past week. We'll be doing a  demo for them, as well as a class or two, and we're looking at a couple of open studios within our new apartment complex. We are back to seriously looking at video, so who knows where or when….or who?
The big thing for me has been the decision to self-publish my novel, so Monday Marketing will also include my work there – need to set myself some deadlines. I've given agents and publishers seven months – time to move on and get this out there!
Let's see what the rest of today brings for momentum!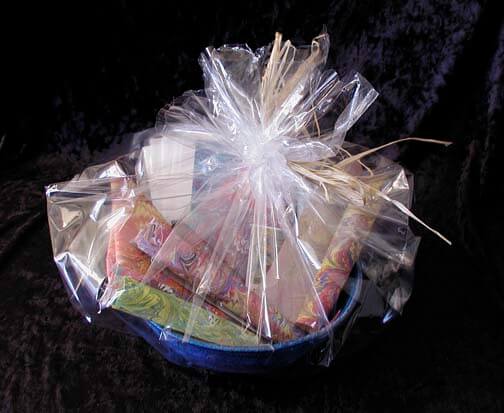 SOLD!
We've been almost missing the holiday season this year, but we finally have enough of our lives together again to offer gift baskets of marbled goodies. The top is a basket from a year ago; the new pics will follow. These baskets contain:
a hand-wrapped fabric bowl, good for all kinds of uses around the house (and perfect for regifting!);
a fat quarter of marbled fabric;
two 8 x 8  swatches of marbled fabric for piecing or applique;
six 6 x 9 swatches  of marbled fabric for piecing or applique;
five pieces of hand-marbled satin/nylon ribbon in two lengths;
4 note cards with digital marbled designs;
a coupon for a FREE table-runner pattern for the fat quarter or other material (sent to you as a PDF);
a coupon for 10% off any sampler package from the website;
two notions of our choice; and
hand-marbled leaves and flowers.
For your viewing pleasure –
So you want one……email me. Baskets are $50.00 – a $75.oo retail value, shipping is USPS Priority, $16.00. We can custom, but our time is short…..If you want to order one beside this one (they are all one-of-a-kind)- and want it by Christmas, December 10th is the LATEST!! Domestic orders only. OR….plan now for birthdays and Mother's Day!
It is SO GOOD to be back at the sewing machine! In order to get the groove back, I have been working on this really adorable baby quilt that my friend always coordinates for pregnant teachers at her former middle school. In this one, people completed blocks to represent a piece of children's literature, and then for the baby shower, the folks bring the actual books to start the child's library. Great idea!!
Here's some pics of the finished quilt……learned a lot, as I always seem to do. Next time I am doing squares, I will back them with a stabilizer. The last quilt I did like this I was able to quilt in each of the squares to get them to lay flatter. Next time….but look at the textures in these squares!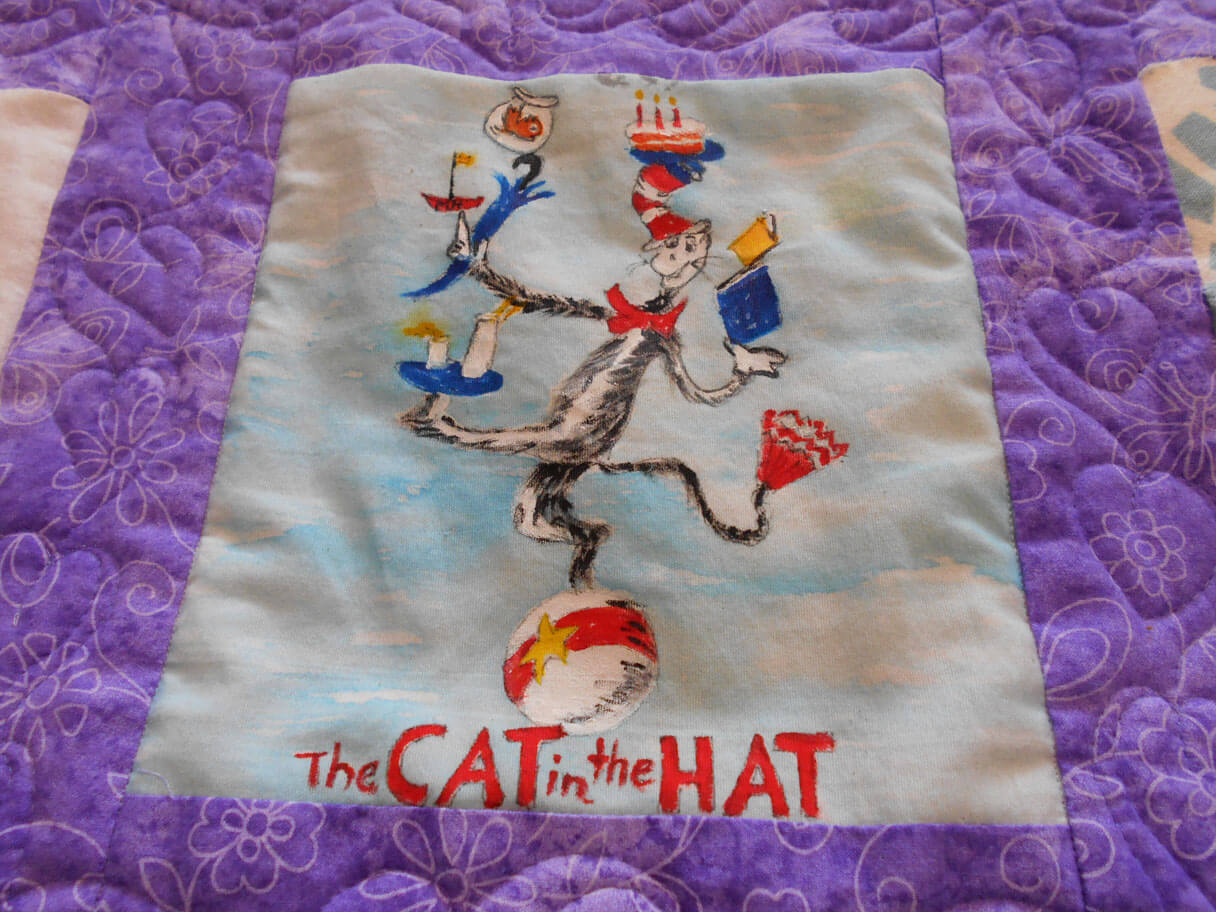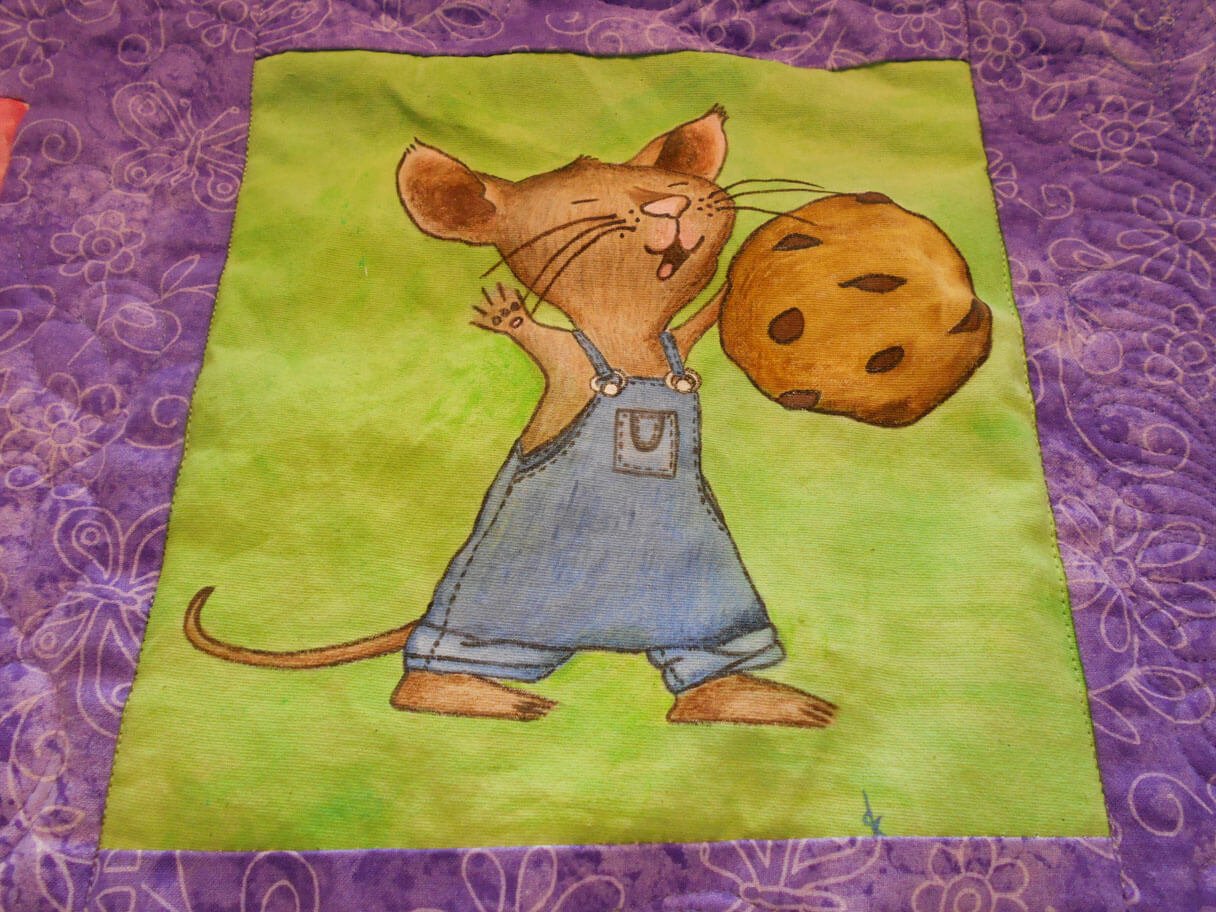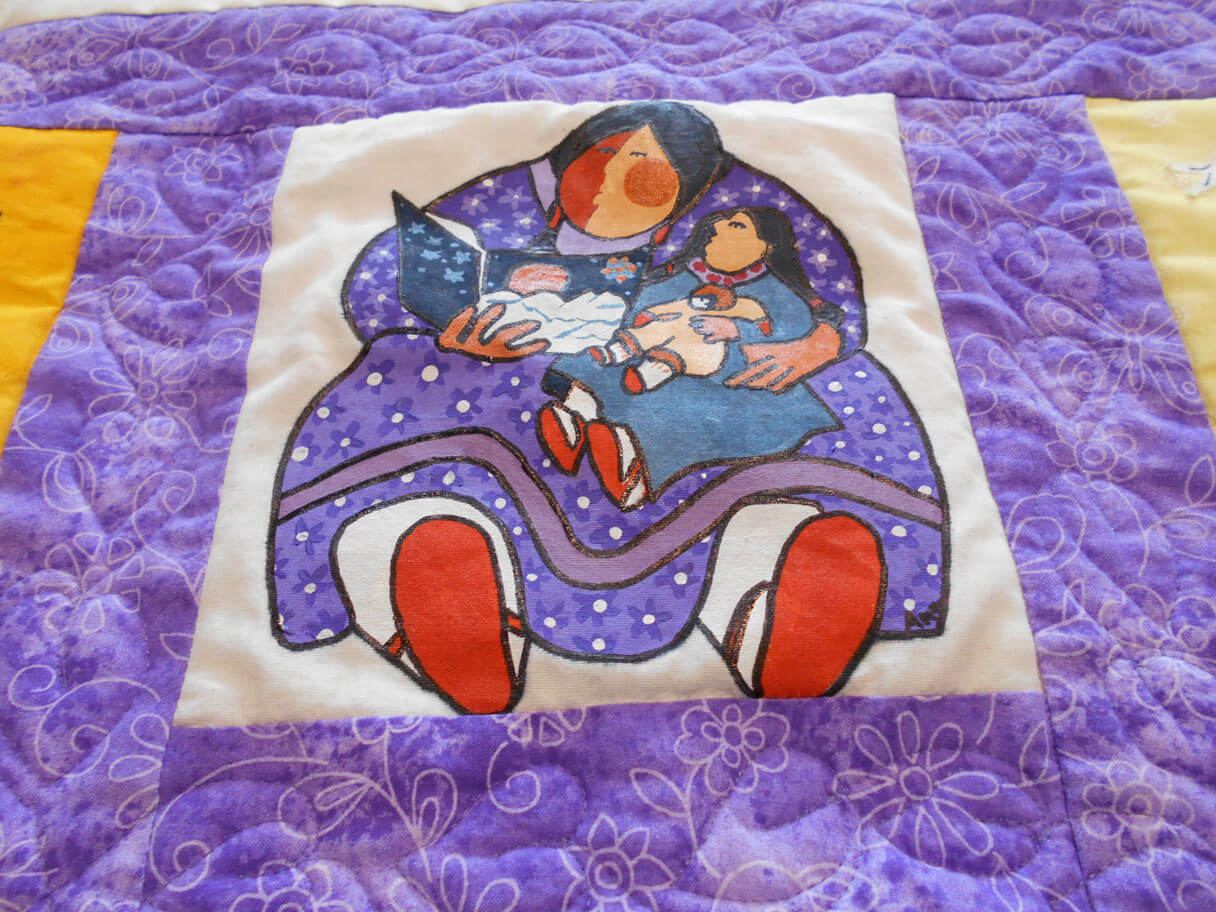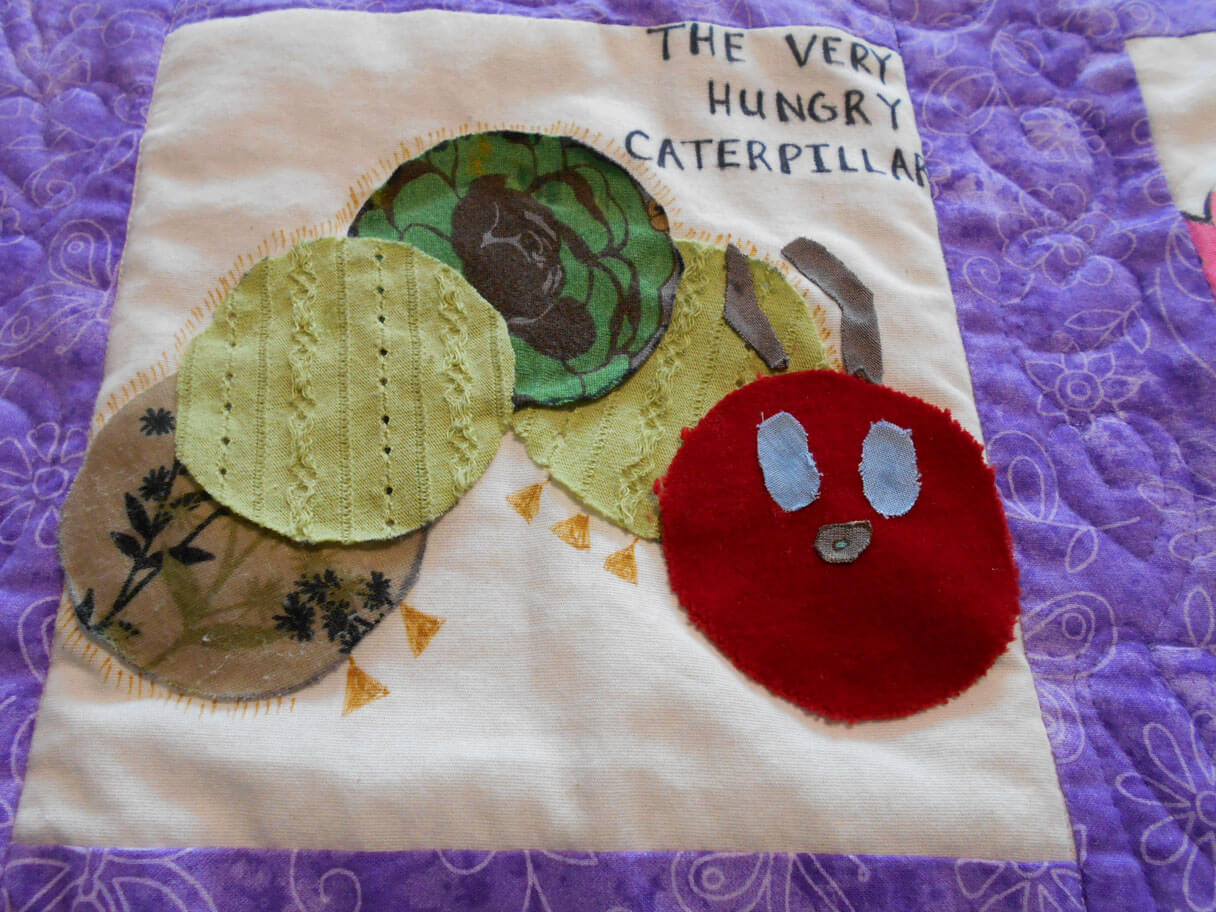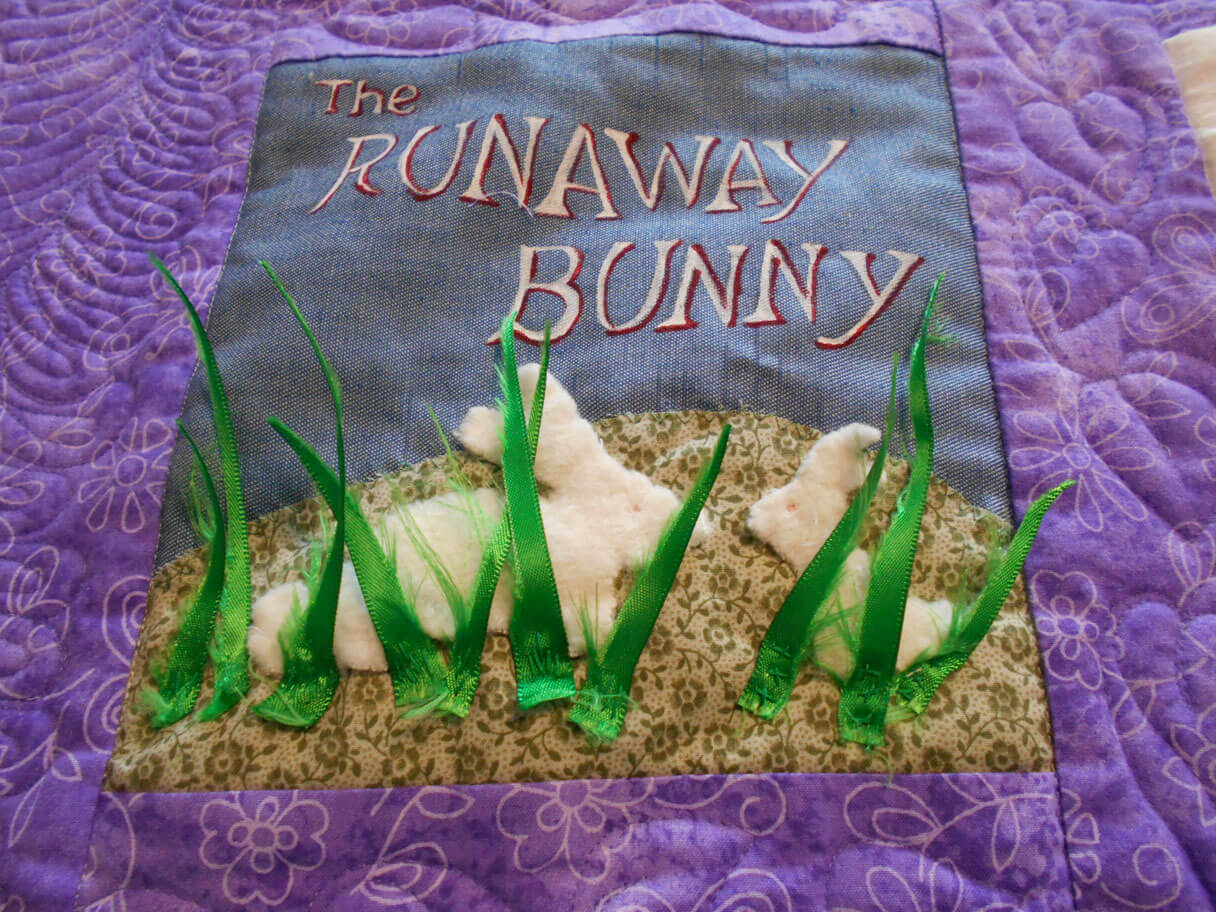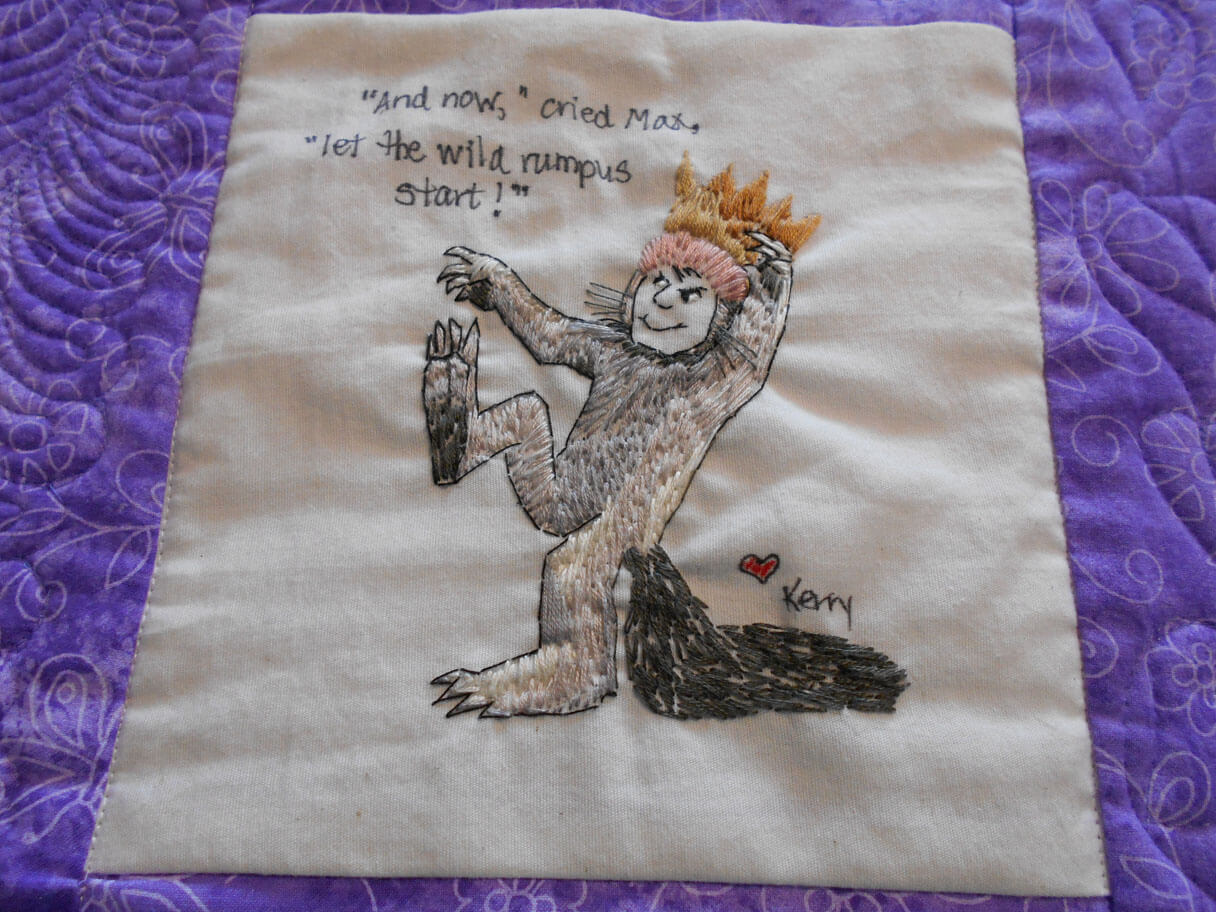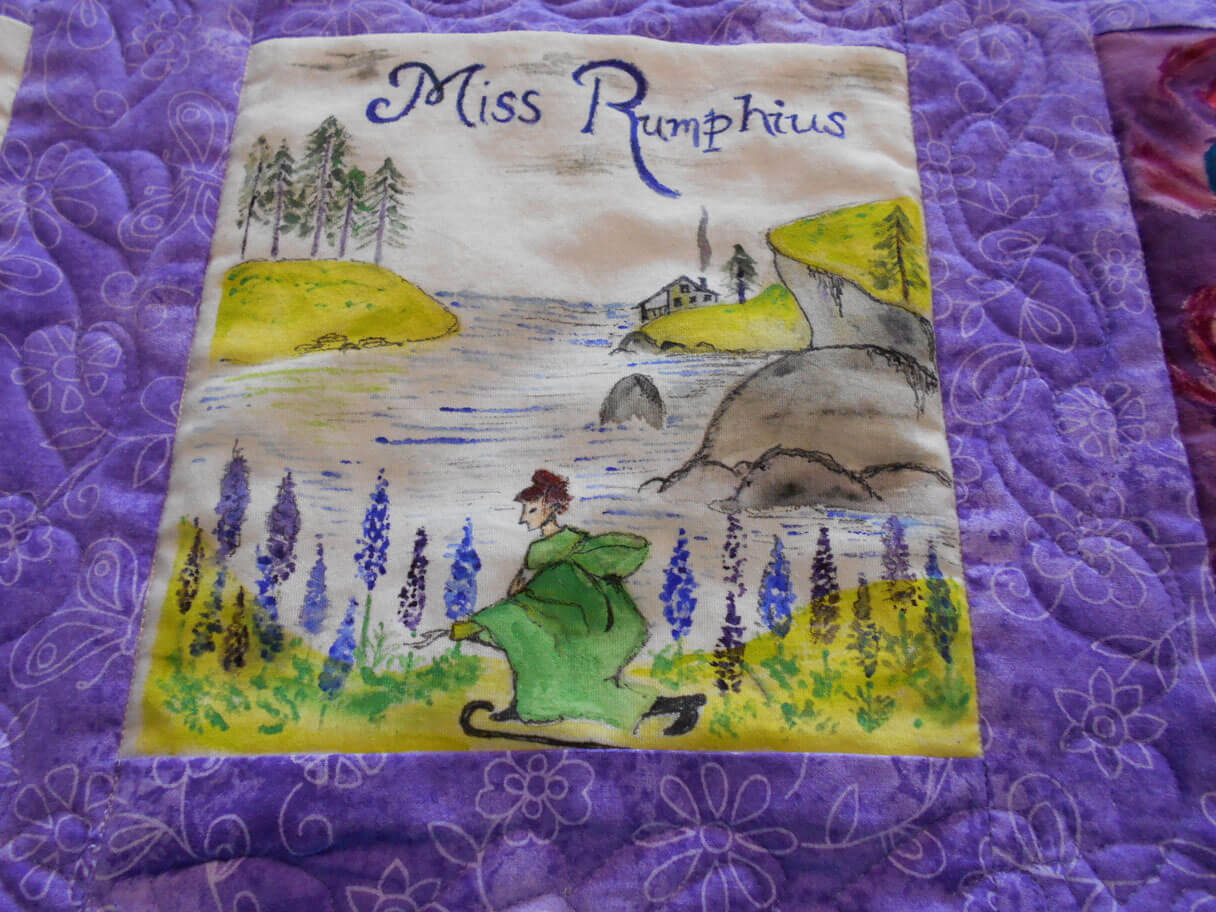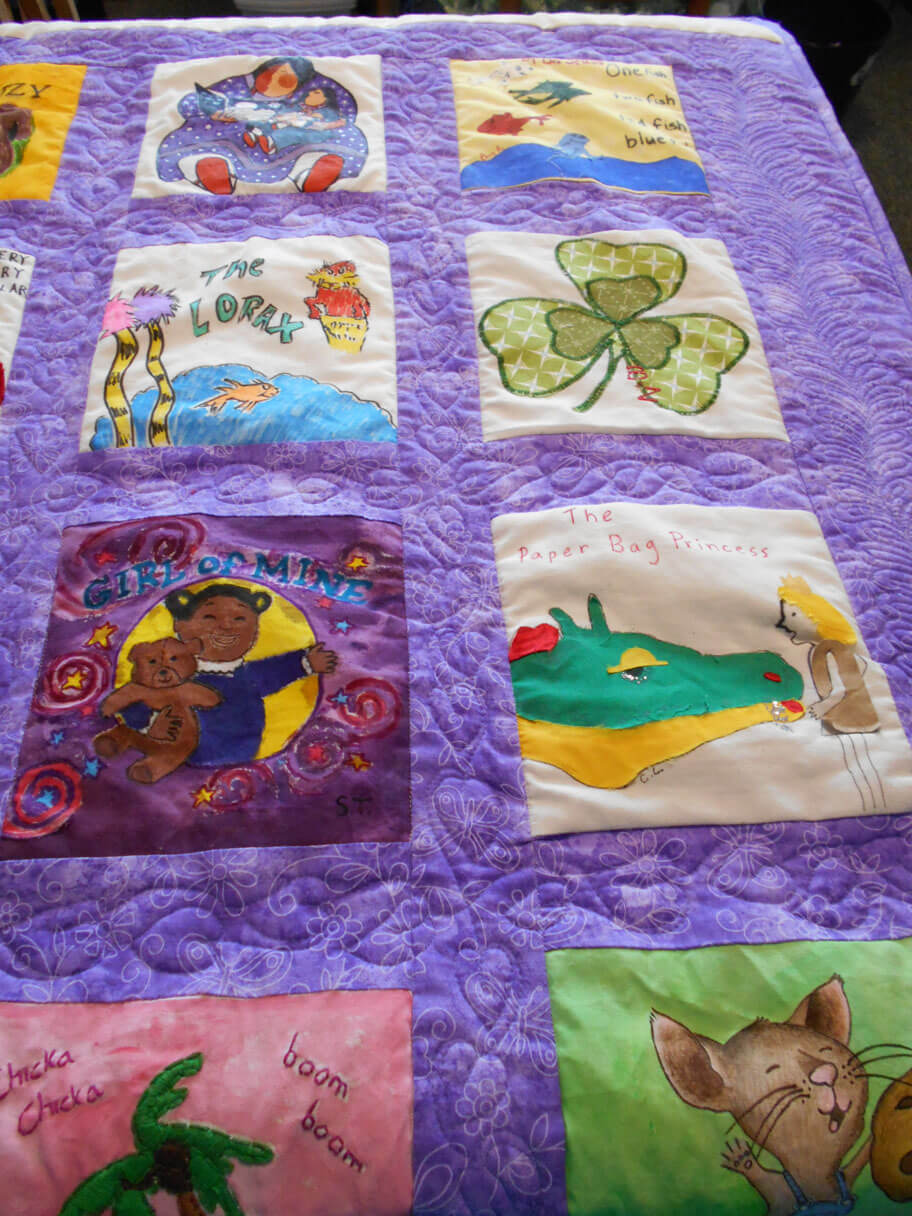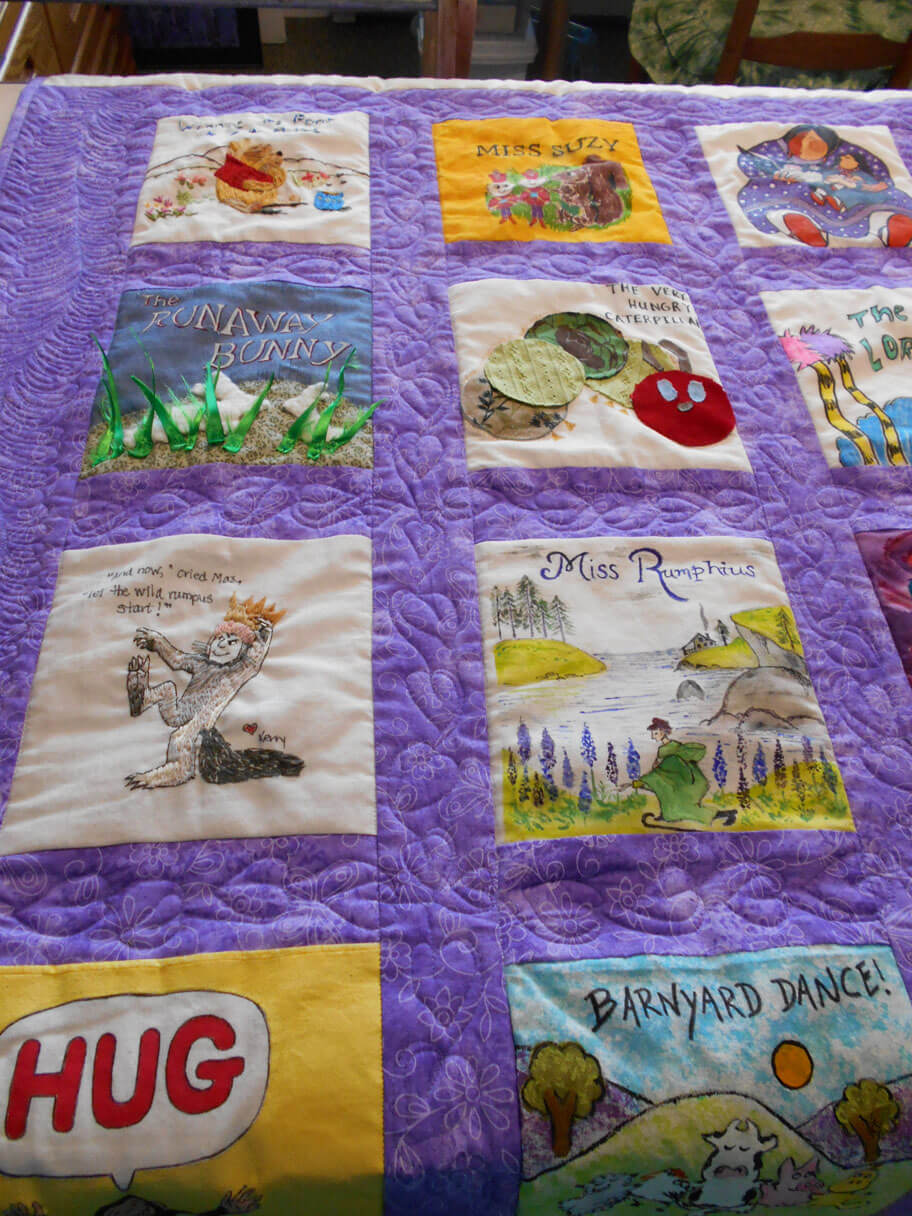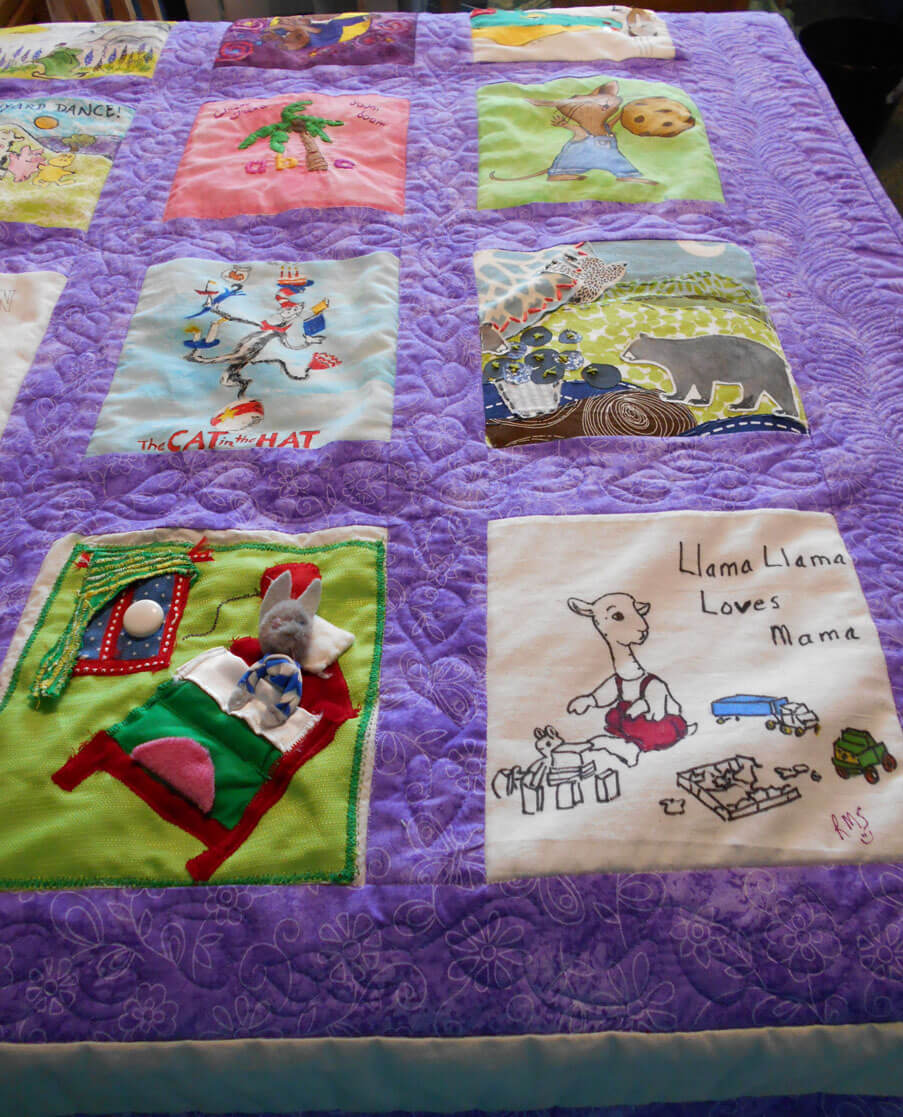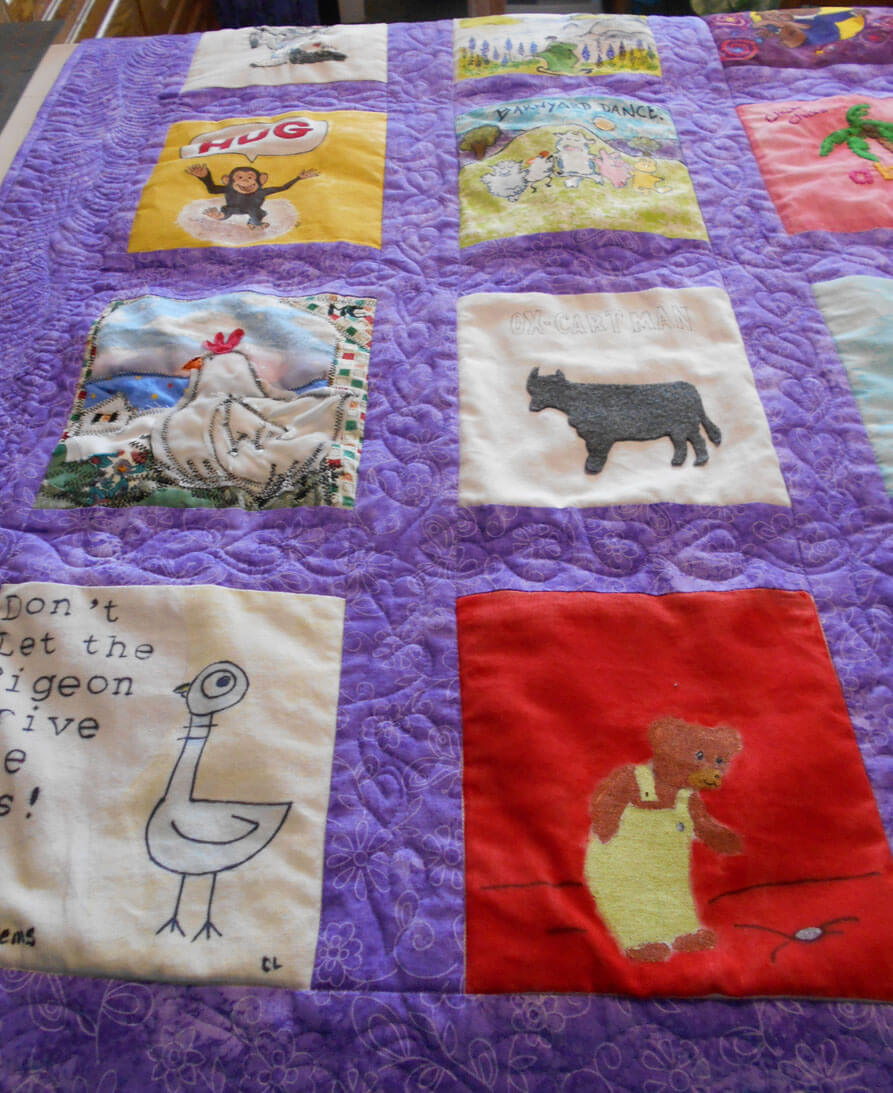 …there's a LOOONNNGGG list of bookmarks of stuff I've found over the past 6 months of being with friends. So here goes:
Found the RCP blog – really interesting look at having phots and such scanned as large images, rather than blowing up a photo….love the look and can see lots of possibilities!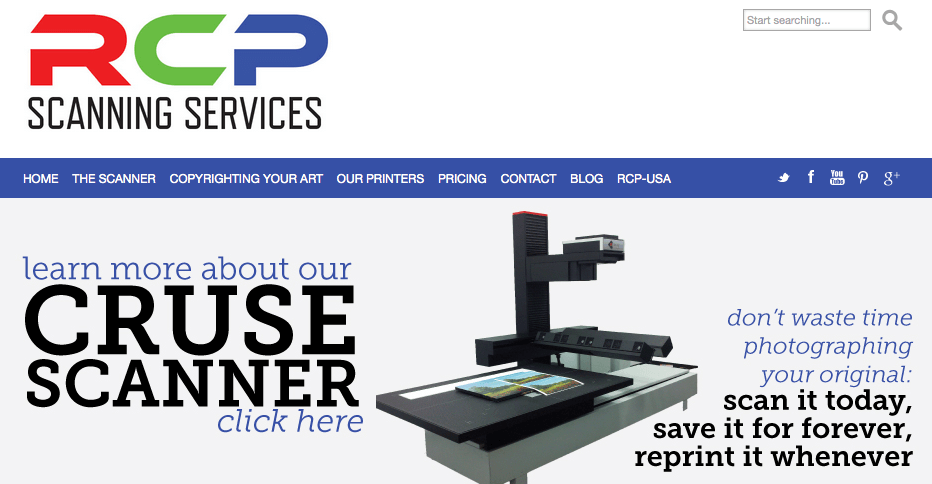 If you follow this blog, you know I am a passionate follower of TED talks . Here's another great one, especially in light of trying to educate girls and women across the world.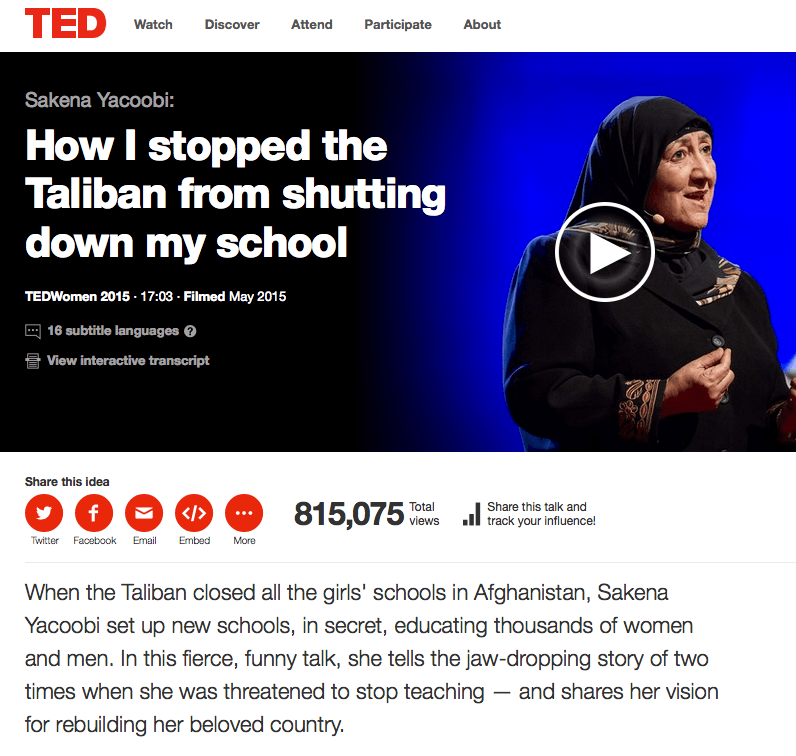 Also from TED – world problems attached to laughter – 10 Funniest TED talks. Provocative and funny at the same time.

You know I love creating zentangles. Now here comes the next best thing – coloring books for adults, using zentangles as a base. I've asked Santa…..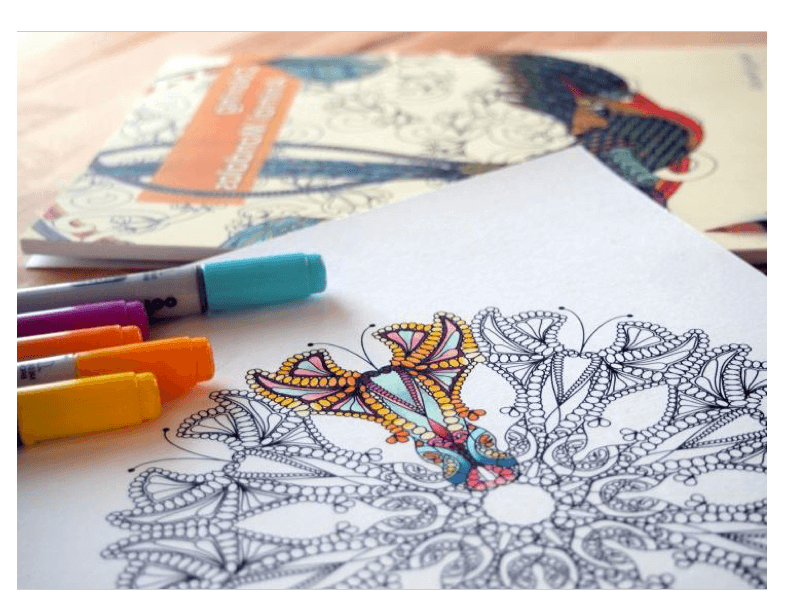 Rumor has it you can get a deal on markers from Amazon….or your local craft store……
LOVE what Judi can do with a sewing machine! Her quilting designs are absolutely amazing. I can dream……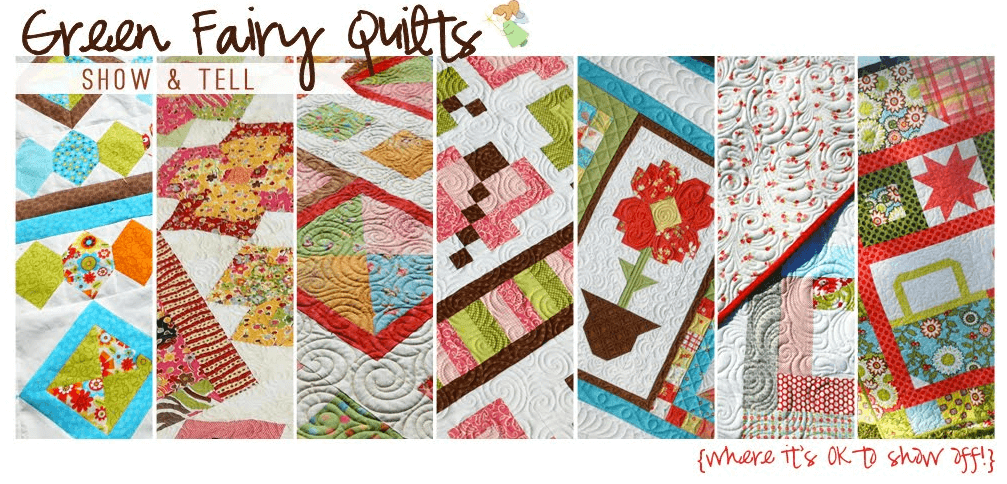 I think most people have seen the mashup of Hitler taking on current problems…..some funny ones that have been done. Here's one dealing with Burlington, VT, our new home.
from Atlas Obscura, more amazing pictures, this time of root bridges.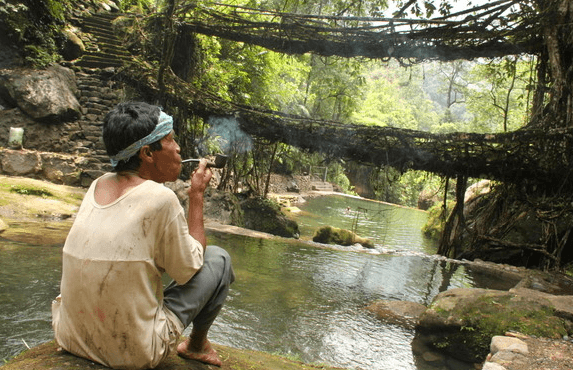 If Jurassic Park had been set in different geologic ages (would be great for the middle school science classroom)……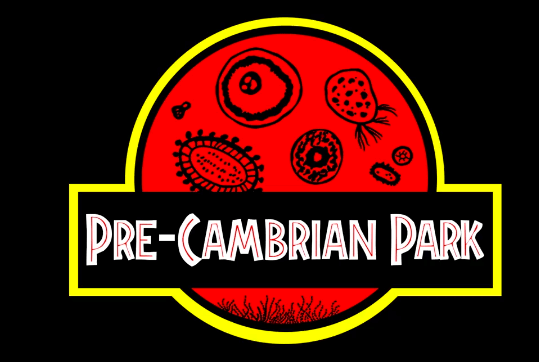 Yosemite was ( and is) magical…
120 Hours In Yosemite Valley from Tahoe Media Collective on Vimeo.
And finally, some nerd humor…..love anything that is a play on Latin!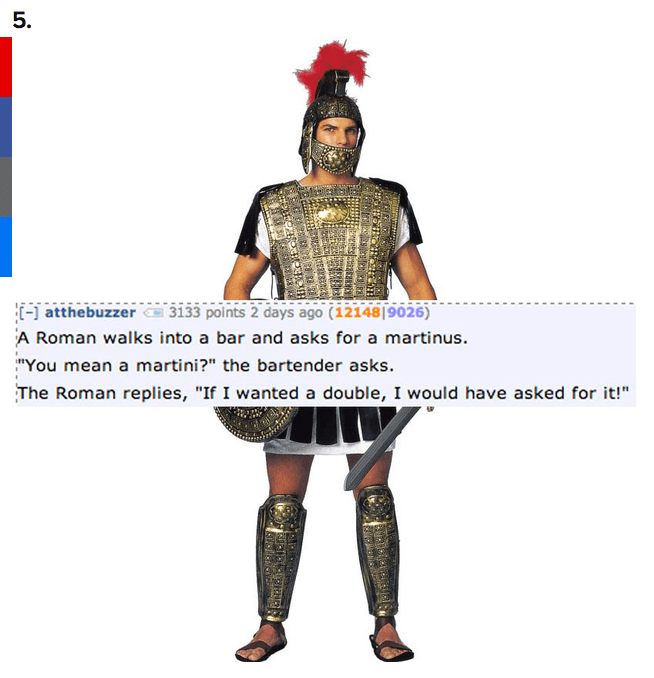 I It only took me 21 years to get to the Vermont Quilt Show. When I was set to go before leaving Vermont in 1994, it was way over the 90s, and the person who was going to drive couldn't handle the humidity. So I had to pass, but I finally went in June….to find out me camera took virtually no decent – in focus – pictures. Time for a new one, this time two or three steps up from my point and shoot – which has gotten me great pictures over the eight years I've used it. So here's a few good ones: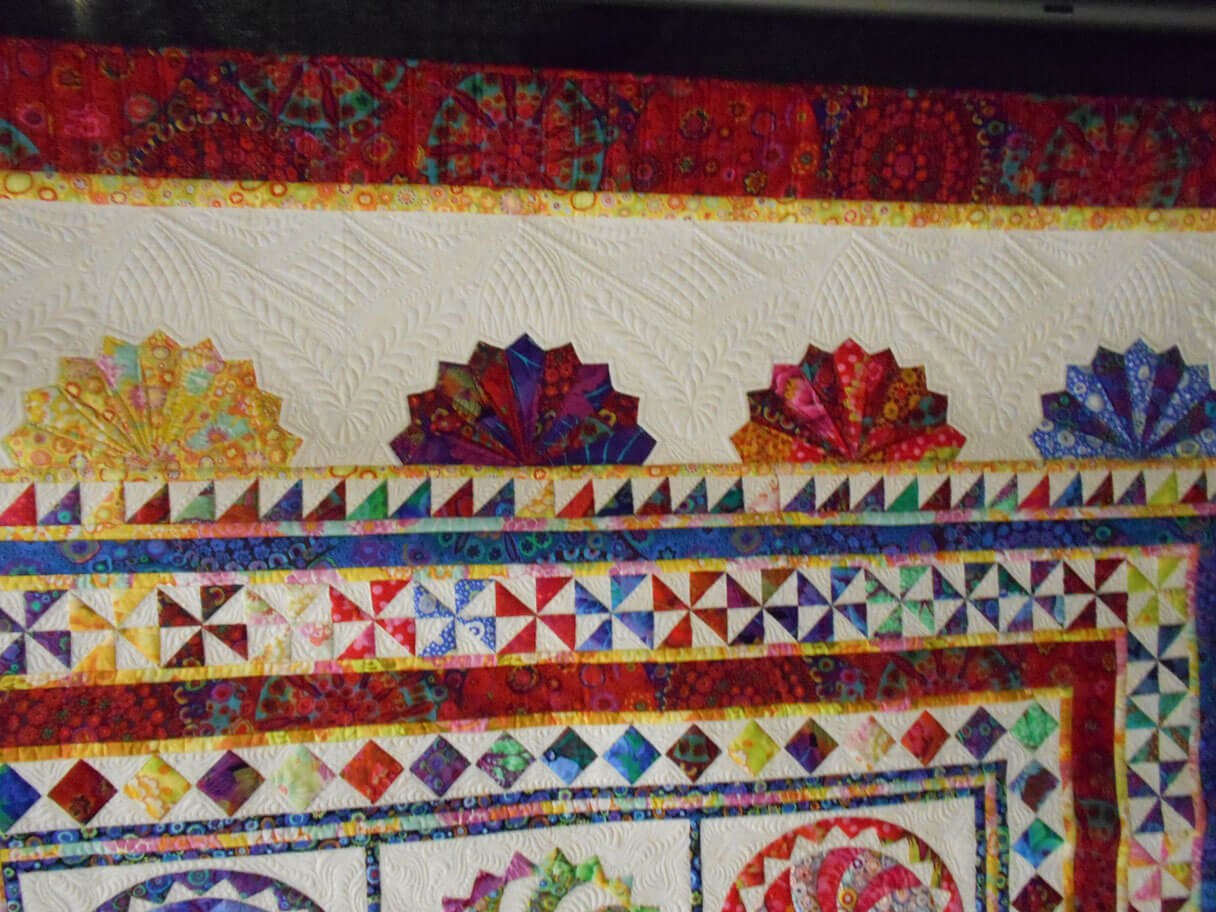 A number of zentangles made their appearance at the show:
Loved the colors in this next one:
And finally…..I am back to my own work!
We received another print of our photos, this of a piece of driftwood taken 4 years ago on Vashon Island, on a gorgeous sunny day on Puget Sound. The quality is superb through Shutterfly, and you can't beat "free" when it comes to getting prints. Plus, a fantastic craft store in the area – A.C. Moore – loads of sales, great prices on canvases and frames. It's becoming a regular stop for us!
Went by Phoenix Books, an incredible independent bookstore (of which Vermont is loaded) to see our artwork on display – need to bring by an artist biography for their notebook, which never occurred to us. The work looks good on the wall, and we'll have another great addition in January.

I am working on a commissioned quilting for a baby quilt – great way to get back into the swing of things – had a problem with the thread breaking, to discover no more Schmetz needles for me – ONLY my Superior needles will do. Changed the needle and no problems at all!
Hubby is working on his second marbling session – getting new fabric made, looking at projects, thinking about marketing plans. Momentum seems to be picking up. NOt much done on the list from last week, so will keep those goals for this coming week. Want to get the baby quilt done so I can move on to other projects. Next up is two traditional blocks made for us for demo purposes – want to finish machine quilting them so they can do double duty. Maybe pics next week….