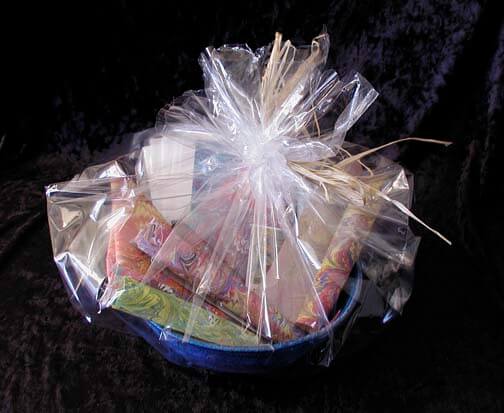 SOLD!
We've been almost missing the holiday season this year, but we finally have enough of our lives together again to offer gift baskets of marbled goodies. The top is a basket from a year ago; the new pics will follow. These baskets contain:
a hand-wrapped fabric bowl, good for all kinds of uses around the house (and perfect for regifting!);
a fat quarter of marbled fabric;
two 8 x 8  swatches of marbled fabric for piecing or applique;
six 6 x 9 swatches  of marbled fabric for piecing or applique;
five pieces of hand-marbled satin/nylon ribbon in two lengths;
4 note cards with digital marbled designs;
a coupon for a FREE table-runner pattern for the fat quarter or other material (sent to you as a PDF);
a coupon for 10% off any sampler package from the website;
two notions of our choice; and
hand-marbled leaves and flowers.
For your viewing pleasure –
So you want one……email me. Baskets are $50.00 – a $75.oo retail value, shipping is USPS Priority, $16.00. We can custom, but our time is short…..If you want to order one beside this one (they are all one-of-a-kind)- and want it by Christmas, December 10th is the LATEST!! Domestic orders only. OR….plan now for birthdays and Mother's Day!