Posts Tagged 'Bernina 1008'
This last quilt commission (which Susan is no doubt getting plenty of use in chilly Tucson, and we have our quilt off the bed, as it's too warm here in Vermont….) was a challenge for me to fill space with quilting design. I LOVED how it came out, and as usual I learned a few things on it. So when I started this new table runner for a friend for Christmas (left-over pieces from a Judy Niemeyer pattern) I wanted to do an overall quilting pattern that was very organic and would unite all the blocks.
Big lesson – just because you can quilt it, doesn't mean you should….which harkens back to Road to California in 2012. First time at a big quilt show, and hubby and I kept commenting on the amount of free motion quilting showing up. Some quilts didn't seem to need that much quilting, and on some the quilting really enhanced the work. This was also when I began taking free  motion seriously, and in the last three years I am now teaching basic machine quilting.
But with this table runner, I realized to late (to   rip out half the runner) that I had too much quilting. Here's my table runner that was on the table when our friends came to dinner.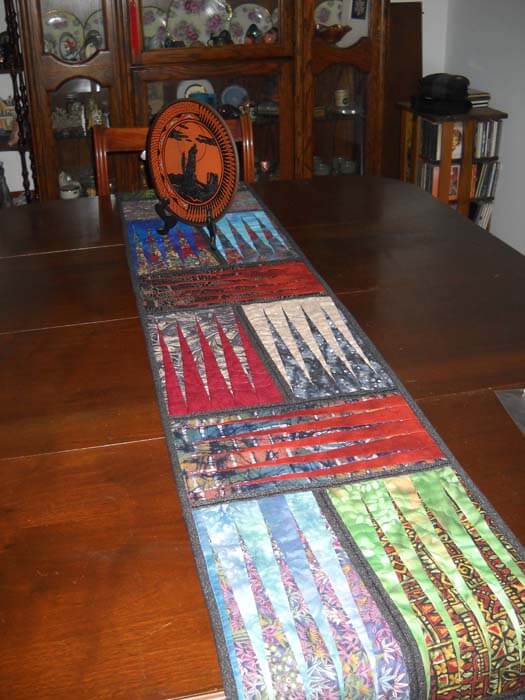 The block pattern is obvious, and at this point I was stumped as to how to quilt it – I ended up using invisible thread with wide circles. Ehh. So I wanted to do something different with this one.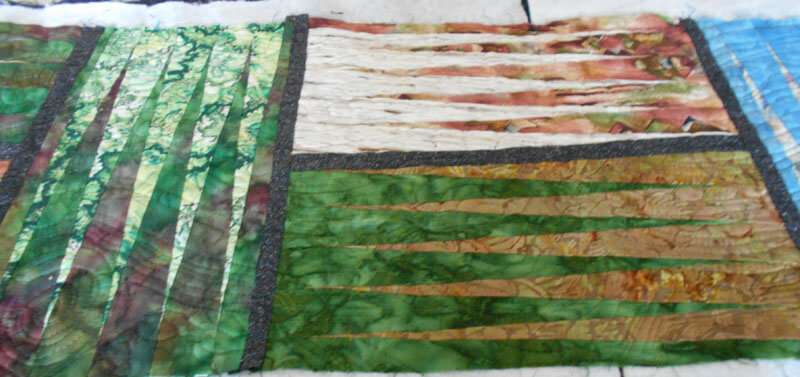 You can see the meandering quilting – I really just played with curved line to offset the sharpness of the design.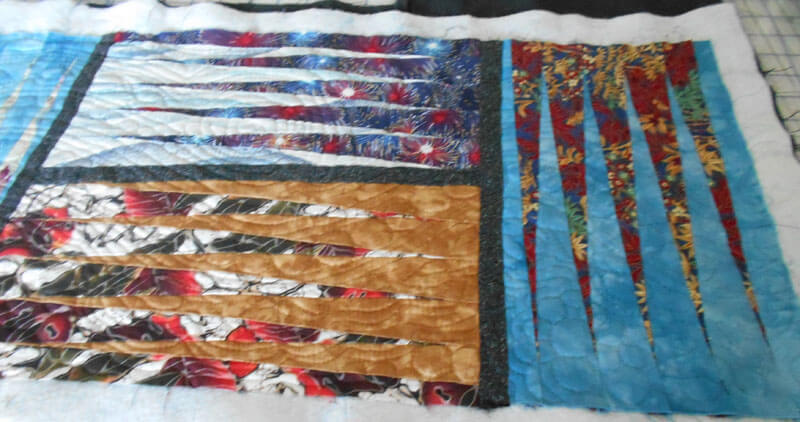 You can see here that the quilting design when up close takes over and dominates the pattern. This is where hubby quoted Tim Gunn (yes, too much Project Runway in our house,……): Edit, edit, edit. Yup – bigger curved lines and no leaves or stones.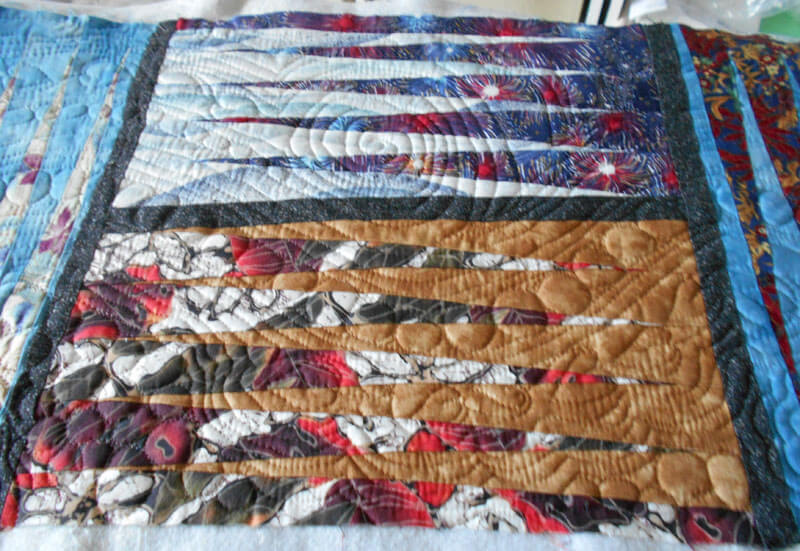 Like I said before, way too late to take all those stitches out. However……when looked at from certain angles, all you see is the pattern. At other angles the quilting is predominant. And, ultimately I like them both.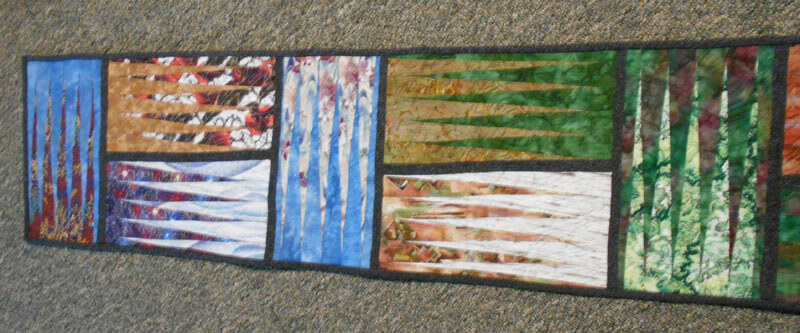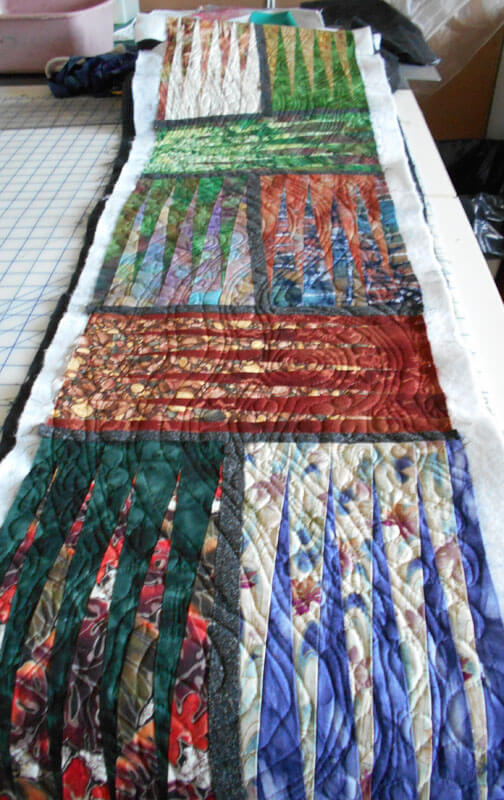 Before I actually started the quilting, I was subbing one day and had time on my hands, so I was watching one of my Craftsy classes on machine quilting big projects on a small machine (and my Bernina 108 doesn't get much smaller….). Spray-basting the WHOLE quilt. Nothing will move. I'm trying this, and lo and behold it worked WONDERFULLY.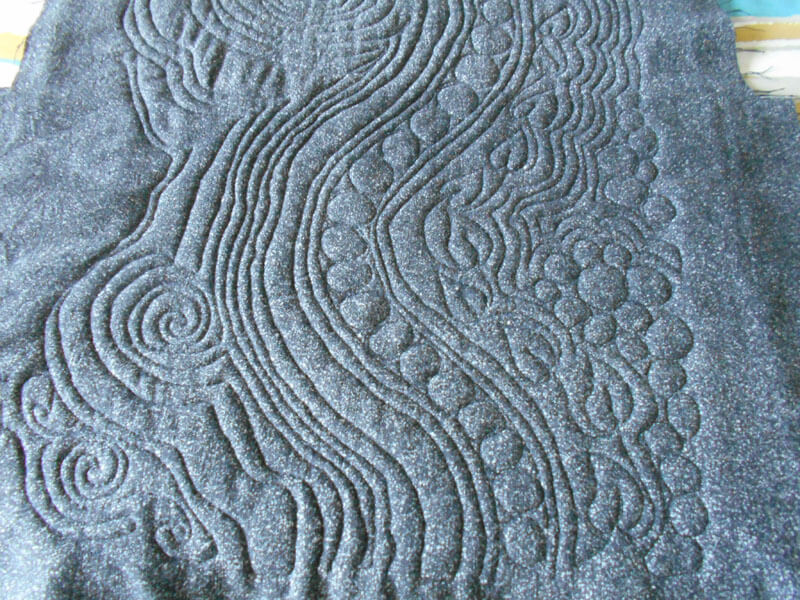 The spacing could be better, but NO TUCKS! Well, three little ones that actually ironed out. That's the way I'm going from now on. My fingers will appreciate no more safety pins – this time a year ago it took hubby and me four hours to pin-baste a queen quilt…..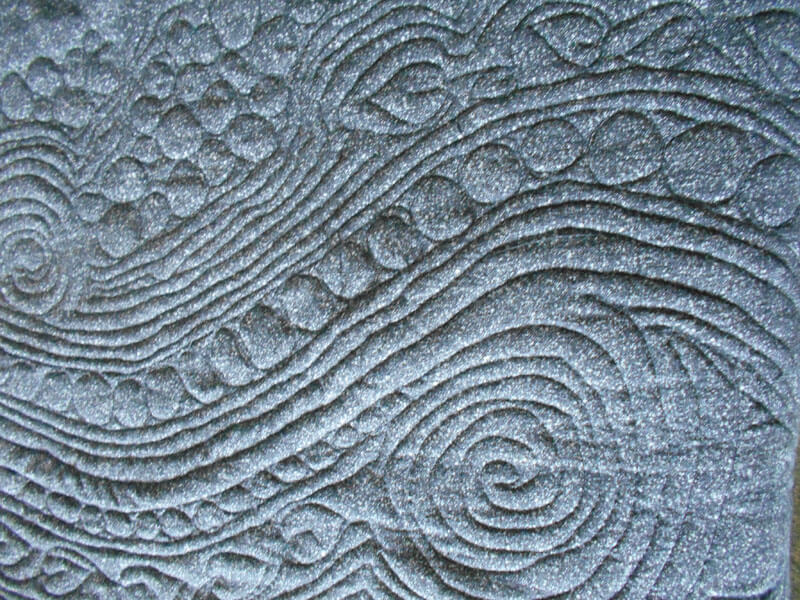 So more lessons learned, and another commission in the works for March. I am having SO MUCH FUN!!!