This was a big year for showing our work – many more options and acceptances than most of our time in Arizona. We taught a beginning marbling class at BluSeed Studios in Saranac Lake, NY, and in the process of chatting, we became part of their arts curriculum grant project. I'm really looking forward to this activity; I miss the days of working with The Kennedy Center to bring integrated arts into the classrooms in the Chittenden East School District in Vermont.A lot of great memories from the conferences, and then great memories from arts work within the district (need to do a blog post and reflect on the work we did….)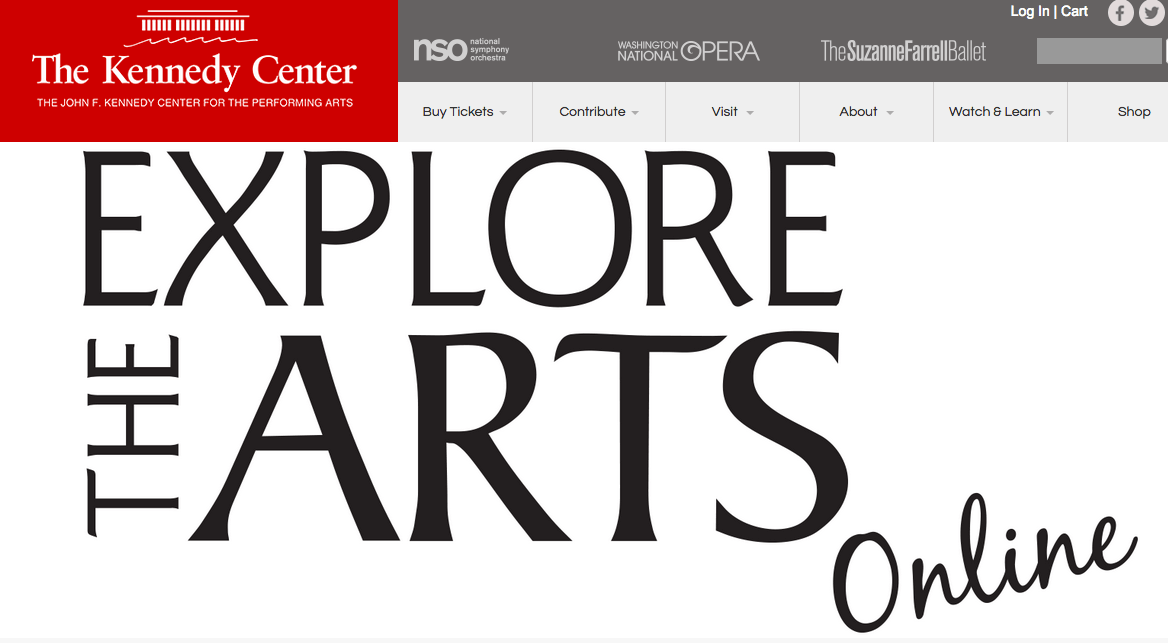 A couple of pictures from our Saranac Lake class, followed by an individual machine quilting class I did for a fellow artist who wanted to expand her techniques. Mary Hill is a mixed media artist, with vibrant work.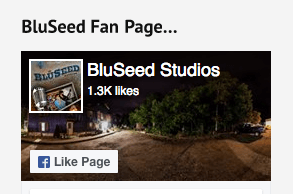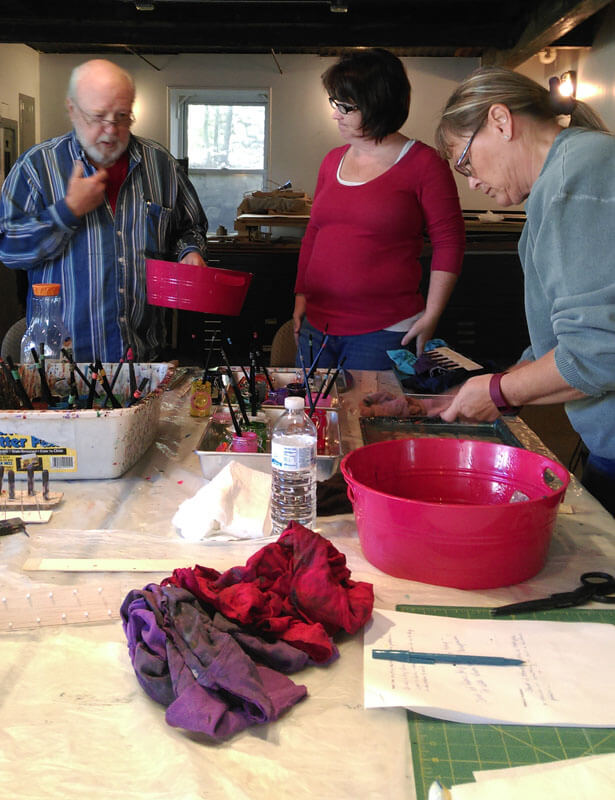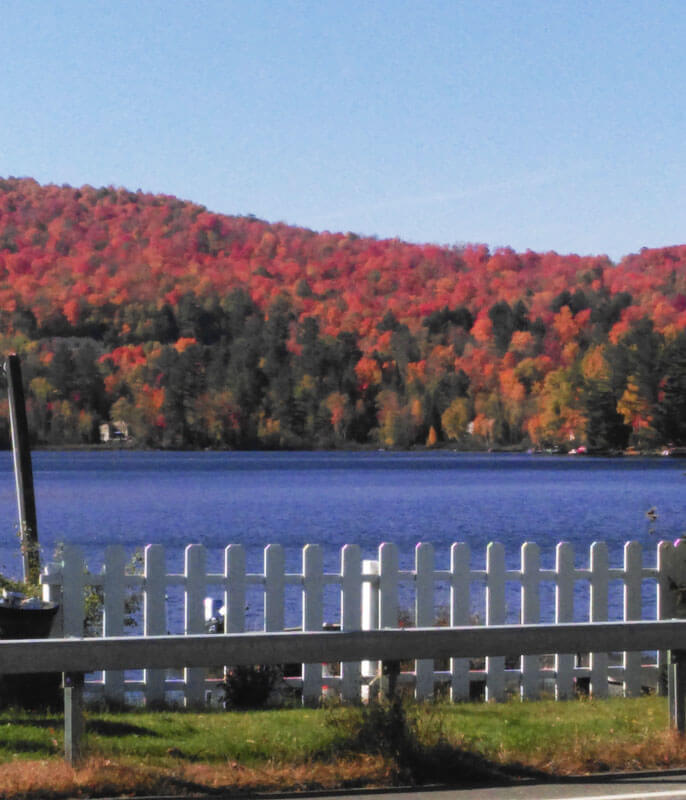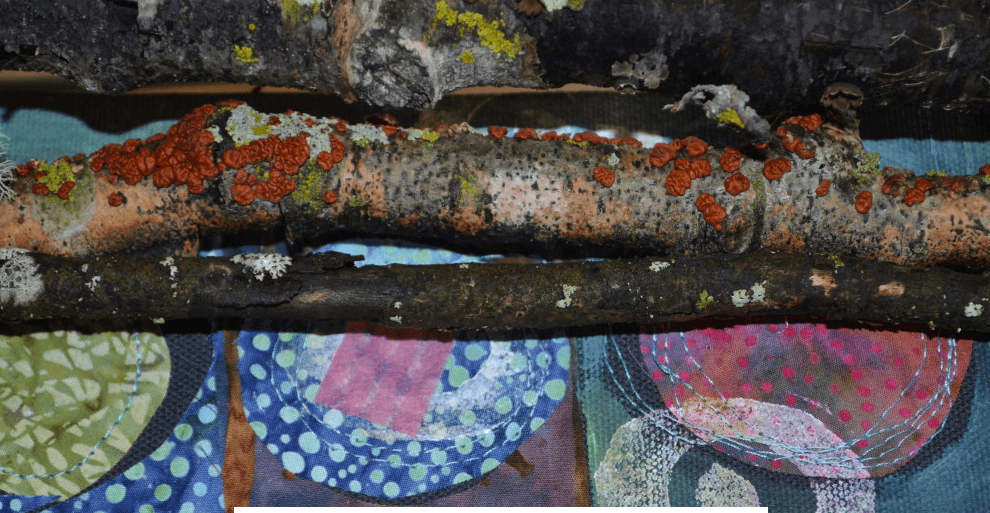 We spent Vermont Open Studios sharing space with Mary over Memorial Day Weekend. LOTSSof great discussions on marketing!!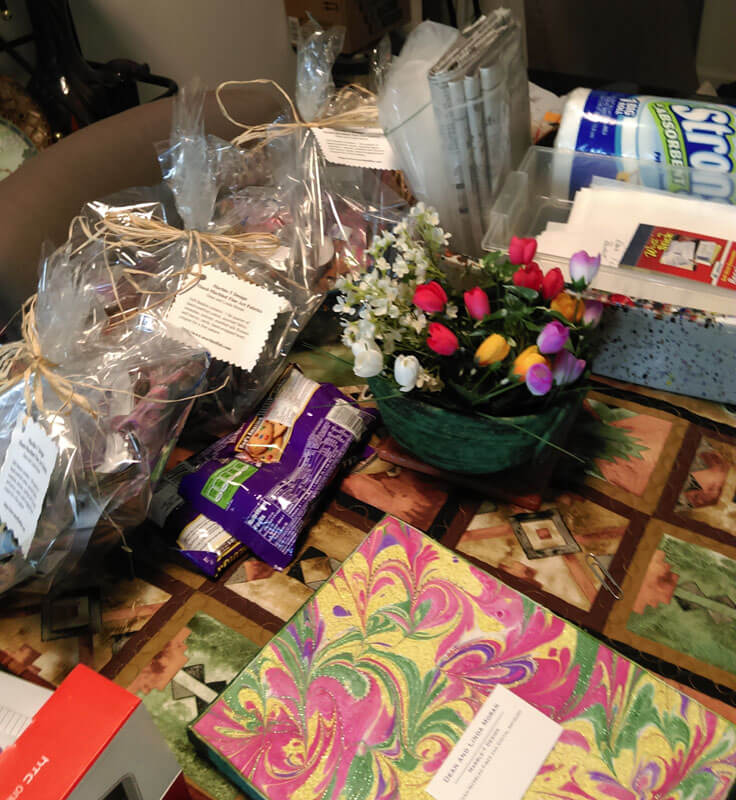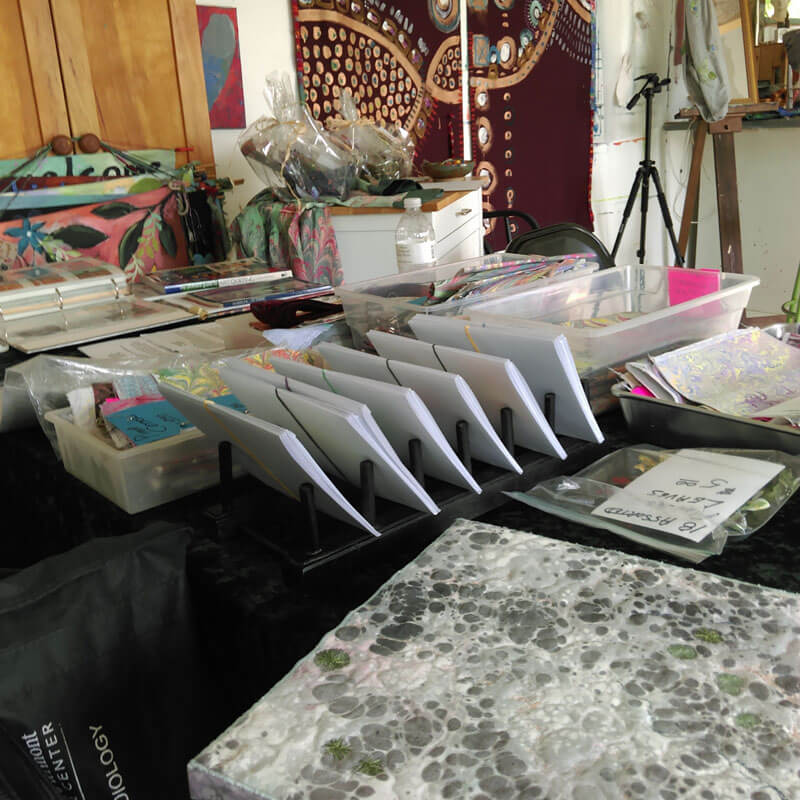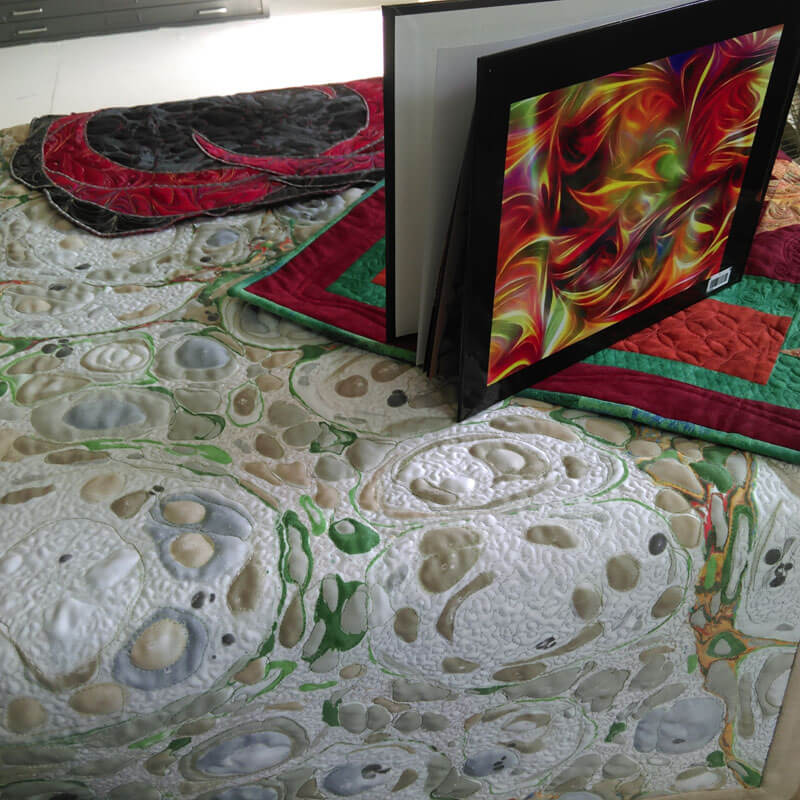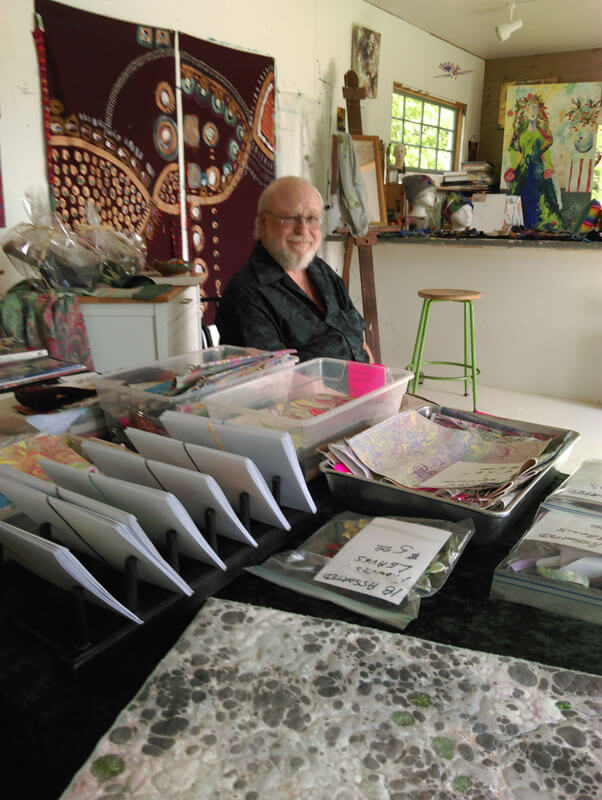 It was a challenge to plan for what could take Mary's already wonderful art to the next level.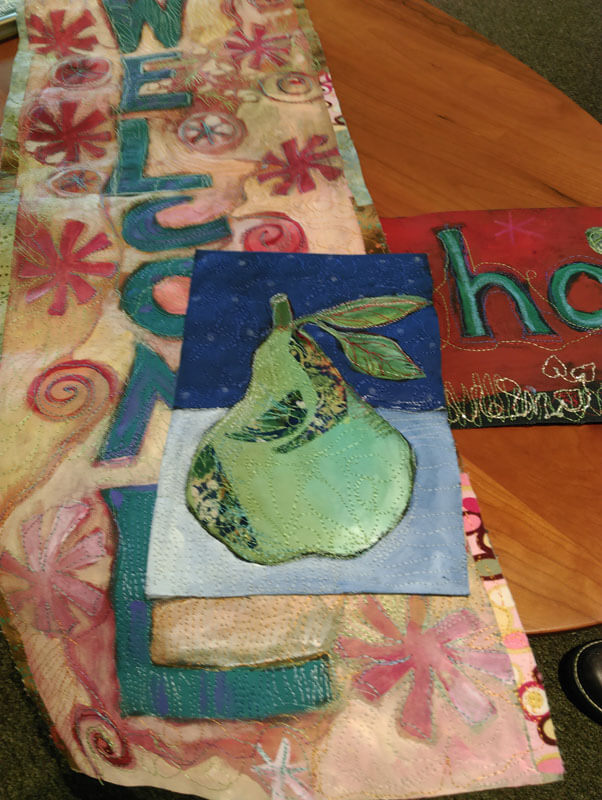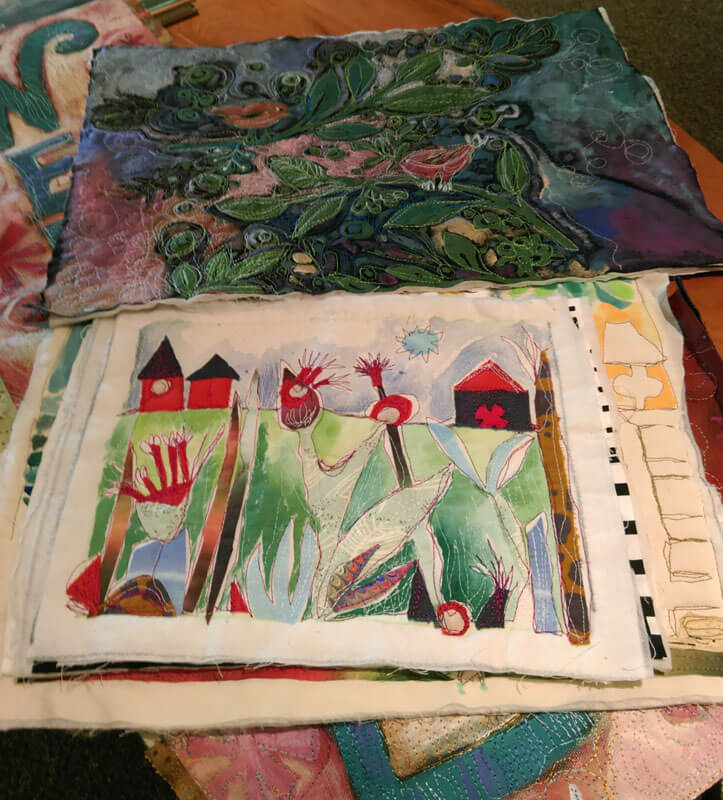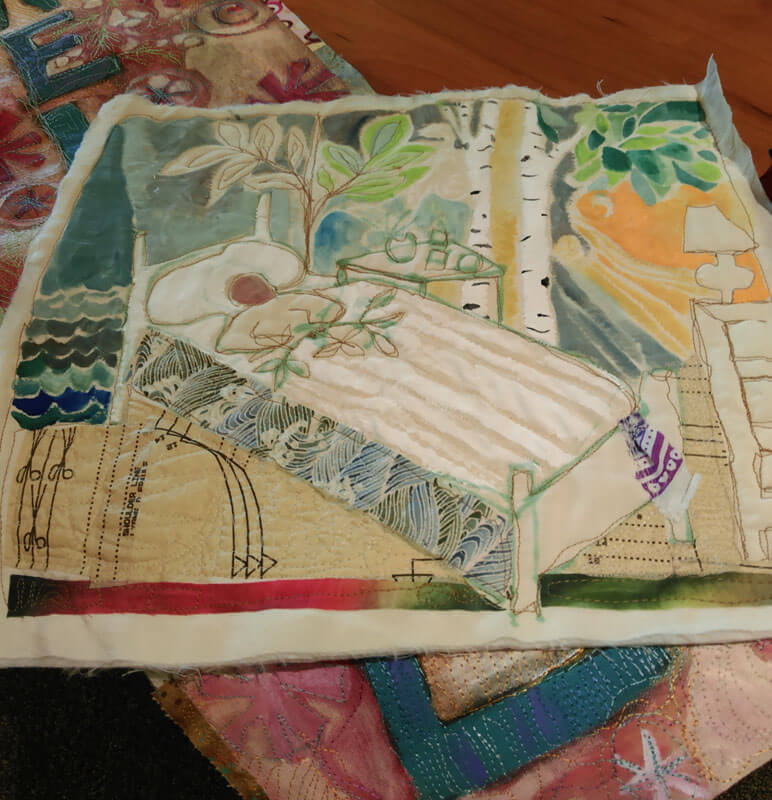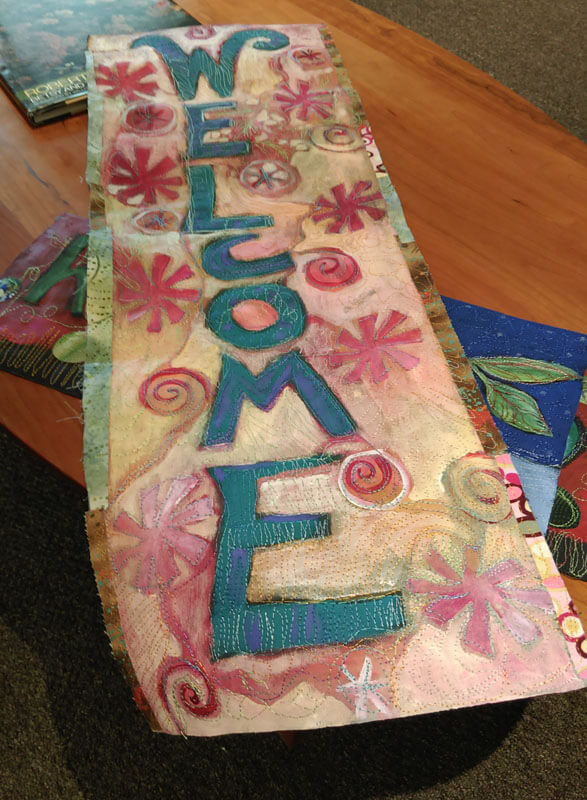 Mary Hill's "experimenting as a result of our machine quilting class:
Plus, since May I have been working on an interactive teaching manual for the ebook Interactive Edge of the Sea. This takes all I have worked on in curriculum in 40 years of teaching and brings it together for teachers, with a modern update on using all forms of new assessment and social media within the classroom. My hope is that this manual becomes a template for other disciplines, as there are a lot of useful interactive teaching techniques – and everything is correlated to current educational standards. A labor of love with my second mom, Betty Hupp. Here's the cover: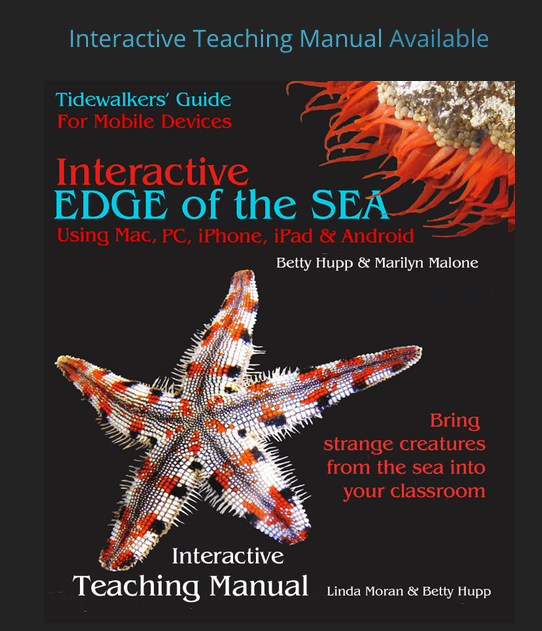 A snippet of the lesson plan section….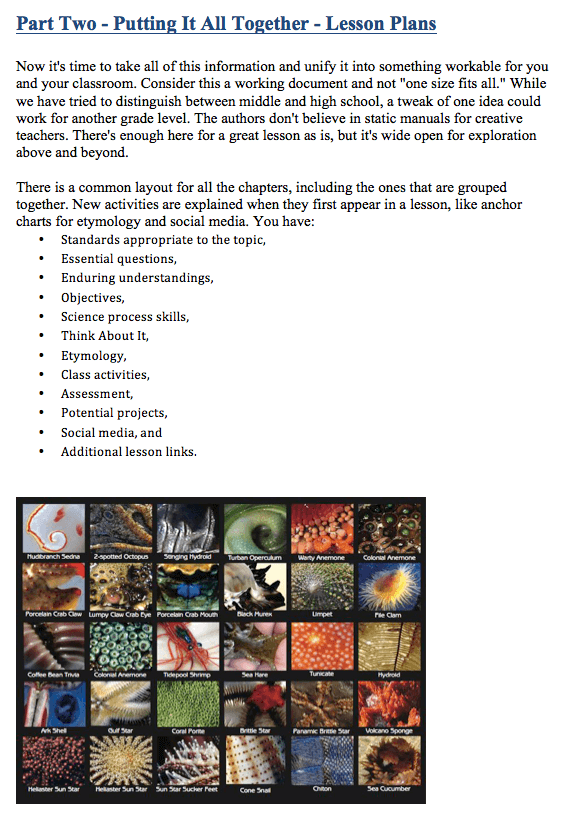 We are just about done with final edits, and after the first of the year it heads off to coding. I have a lot of links to check to be sure they all work!
Bunches of shows…..here are pictures of our small pieces at Sweet Grass Gallery in Williston, VT for the month of November.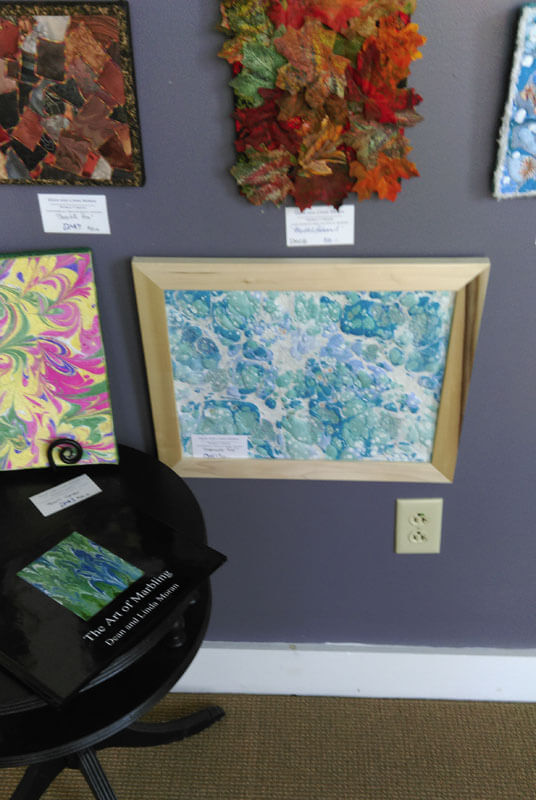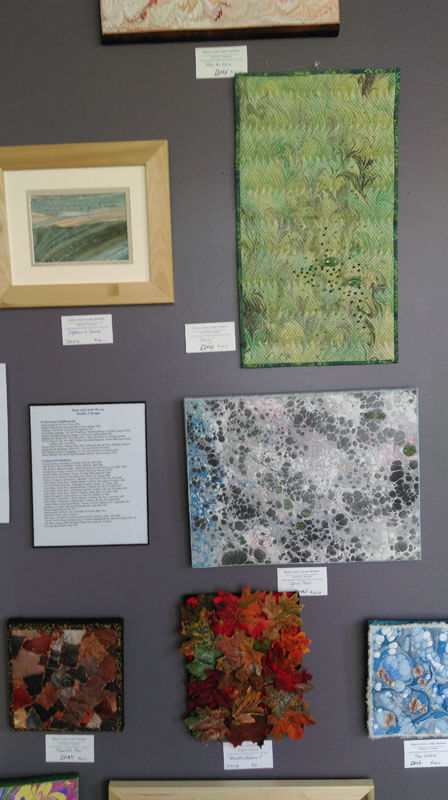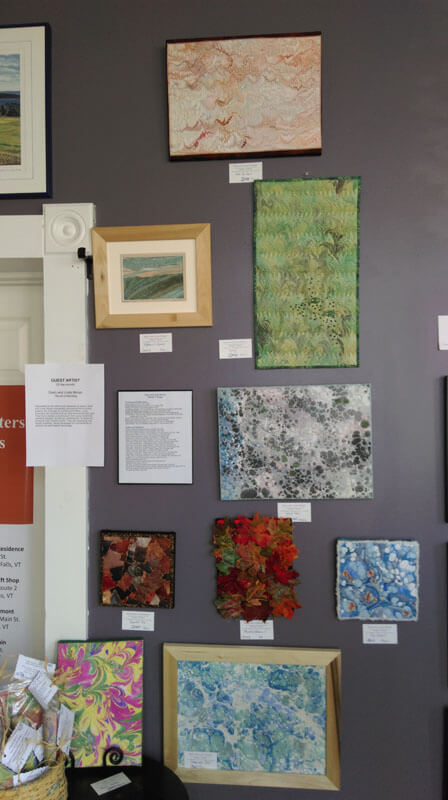 There's still more…..stay tuned!
I was very involved this year in helping others create some wonderful fiber art. First up was a baby quilt for a teacher at a former school of mine. The teachers all created blocks based on children's books, and then along with the baby quilt, gave the books to the new mom. It came out so cute!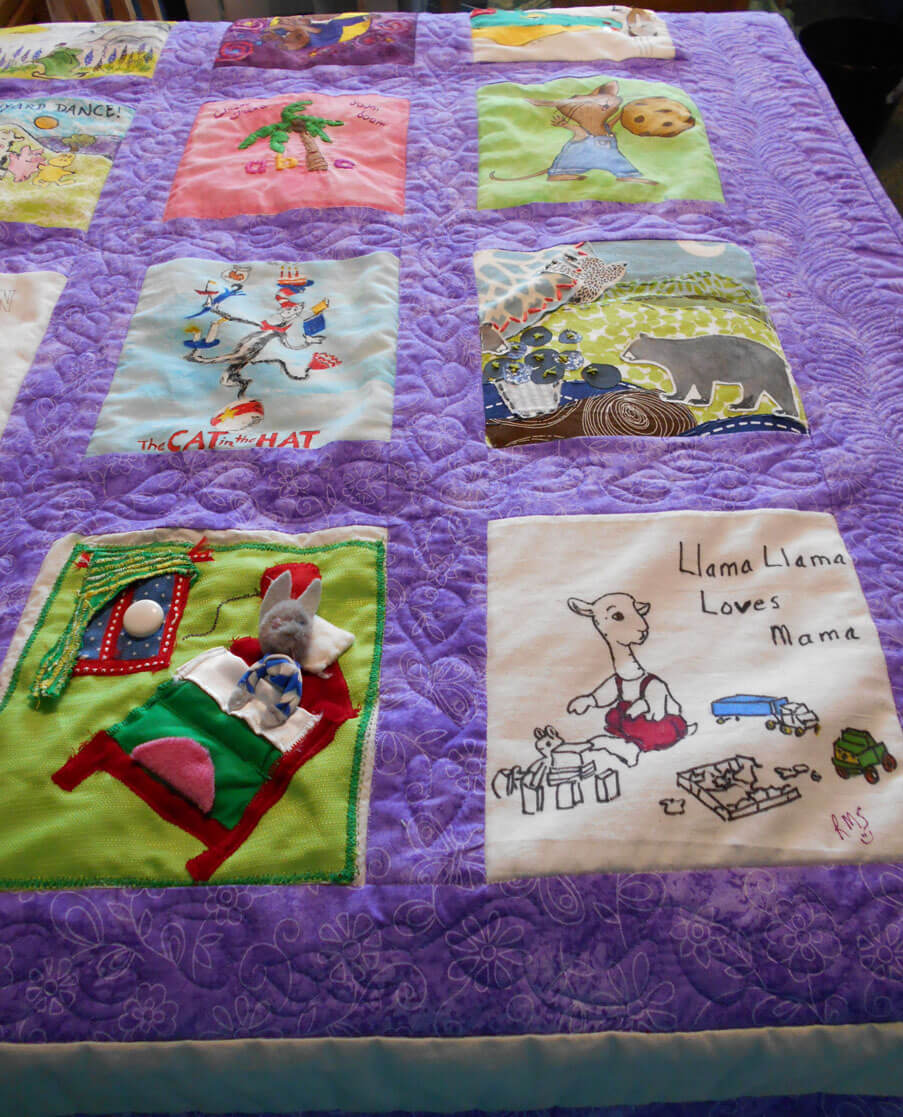 You can see the machine quilting – "leaves" for the pages of books – the leave of a book……a lot of fun to quilt. Next time….stabilize the pieces before they are sewn into blocks….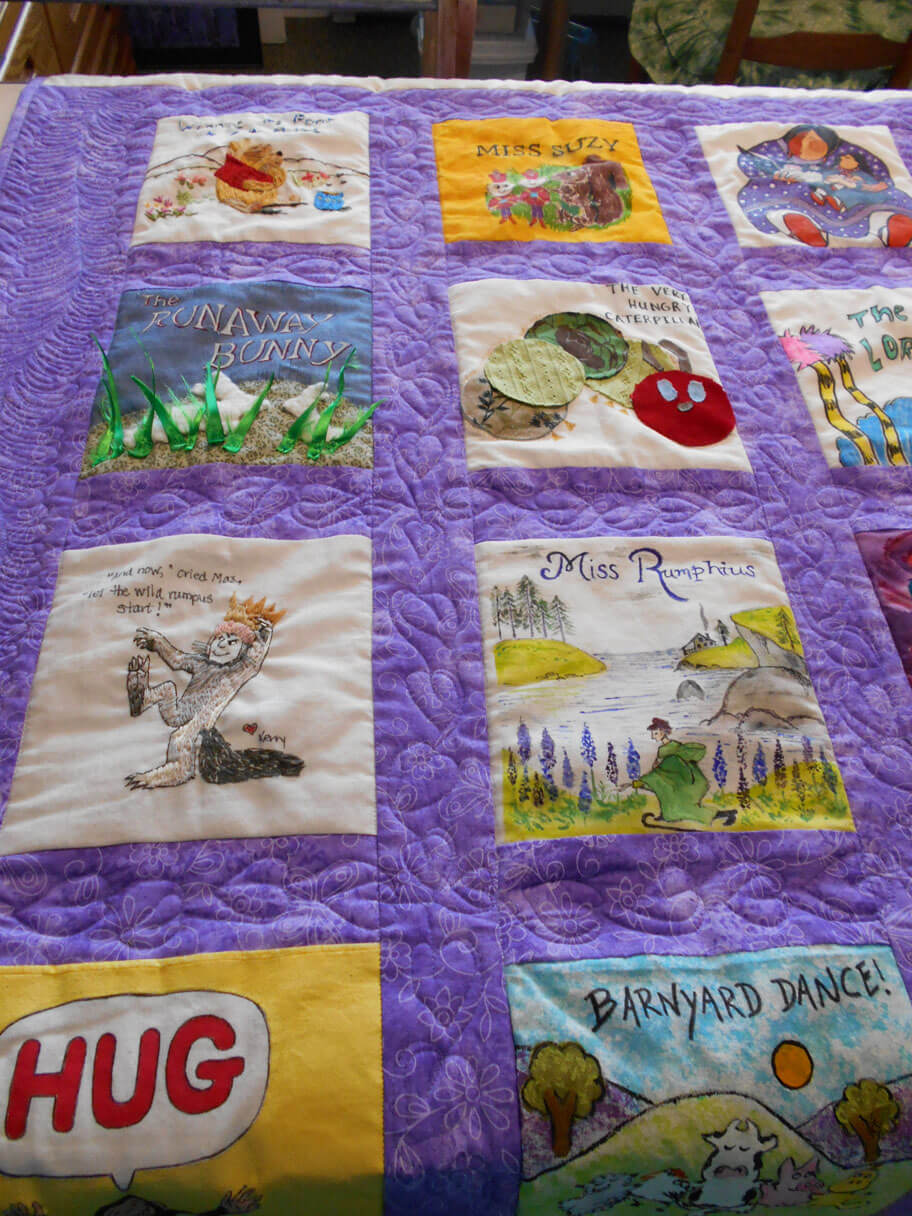 How many books can you identify?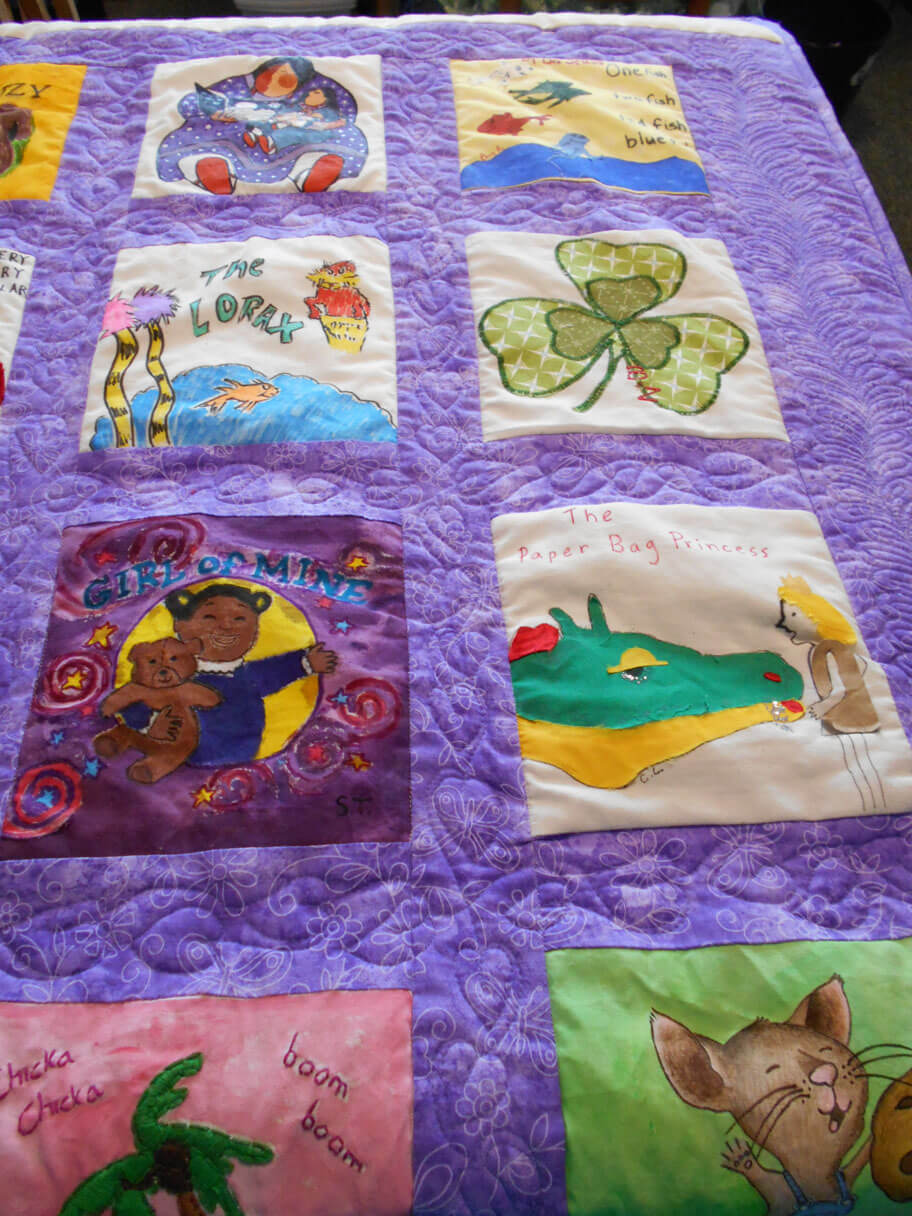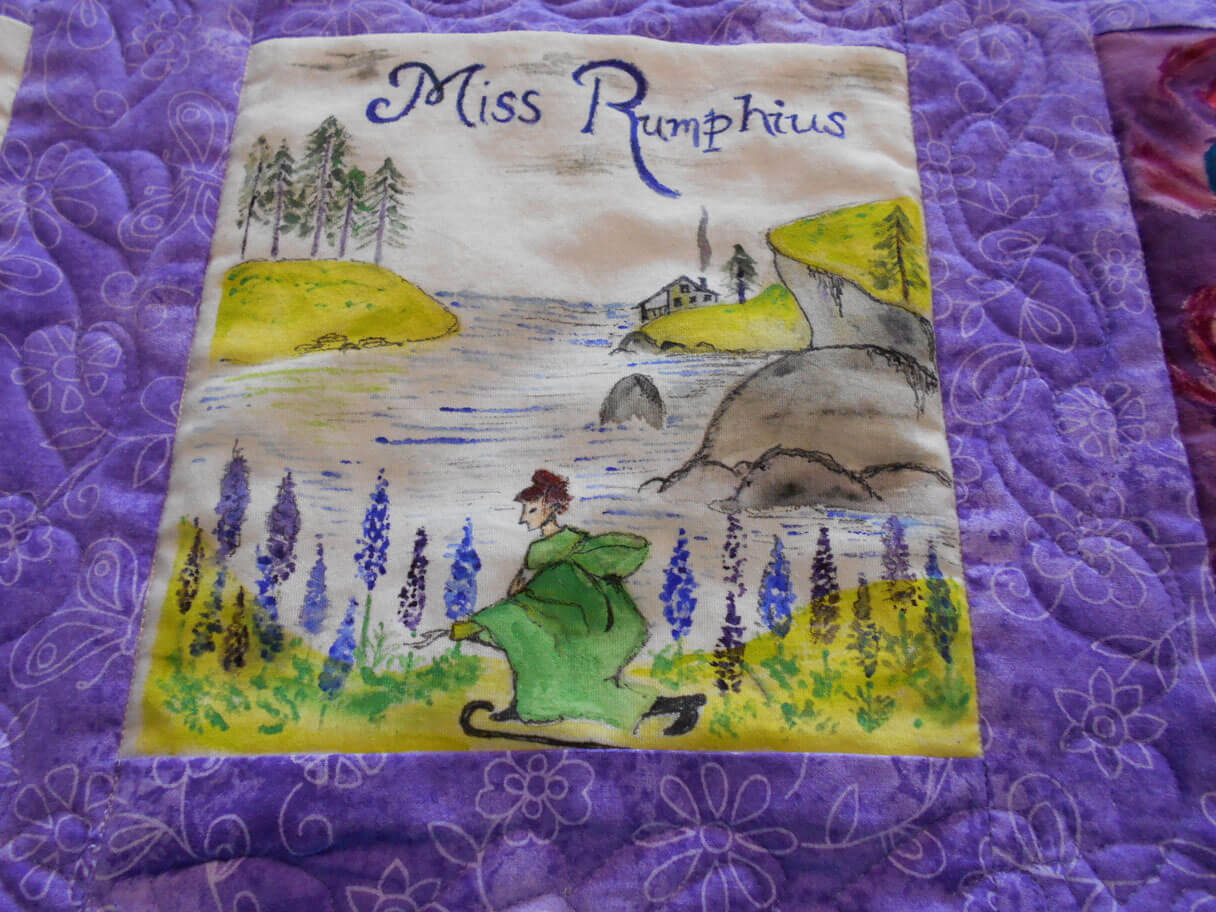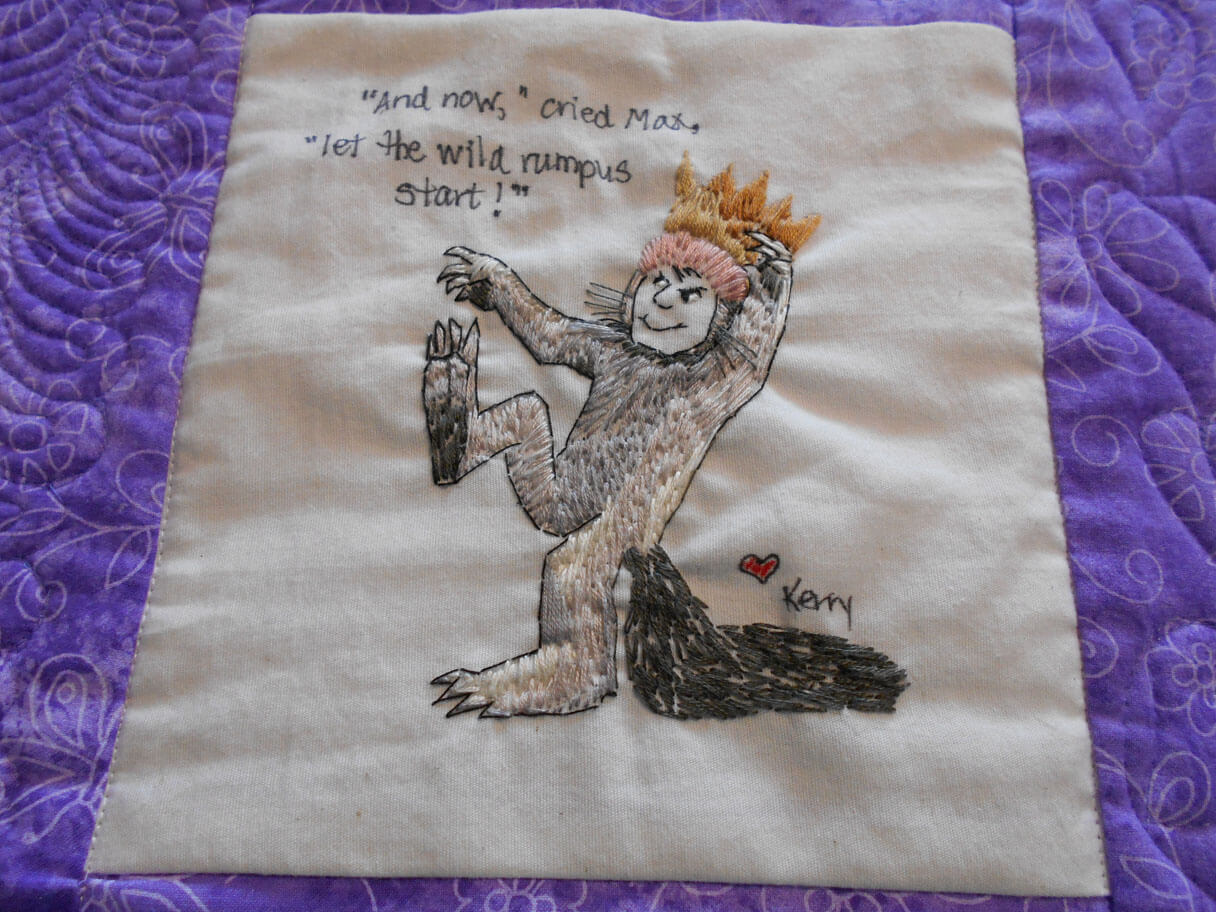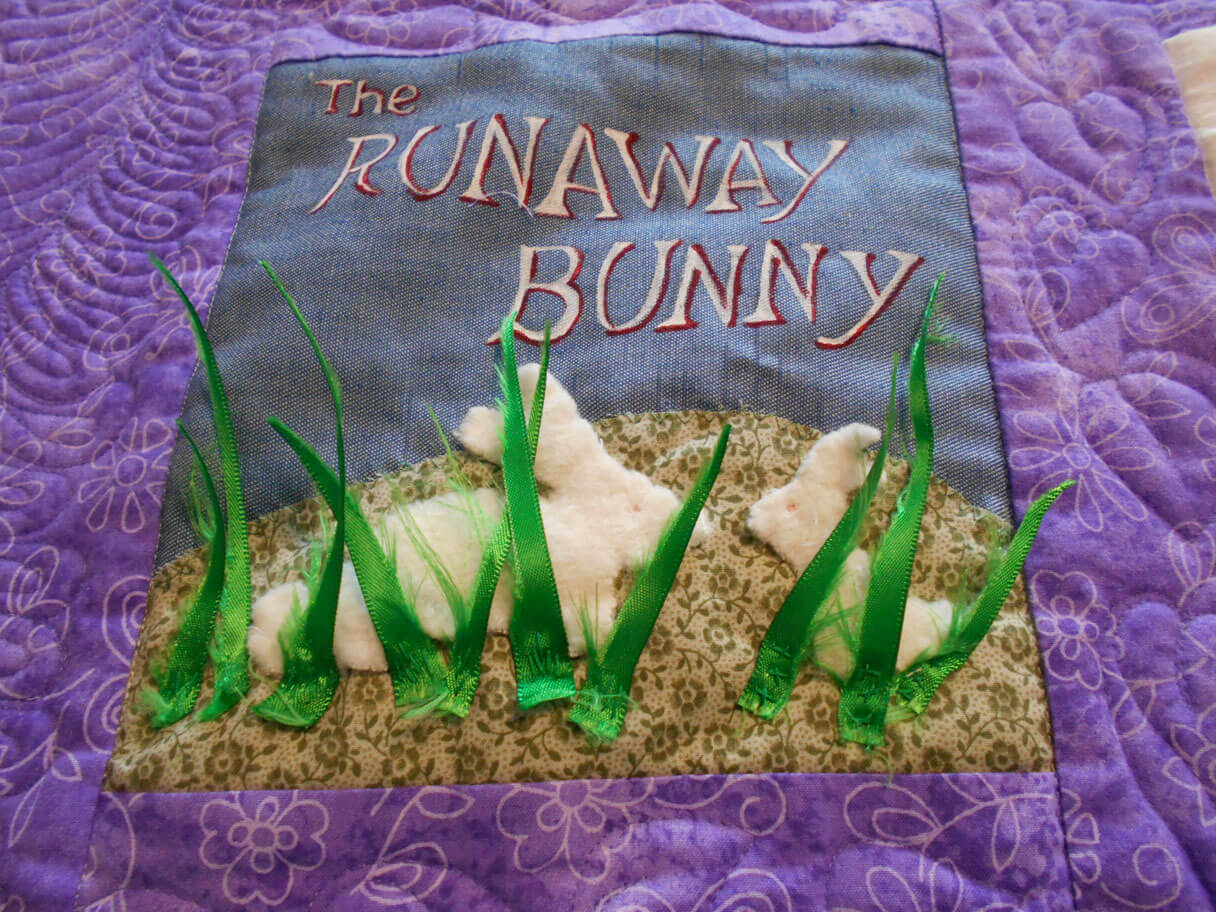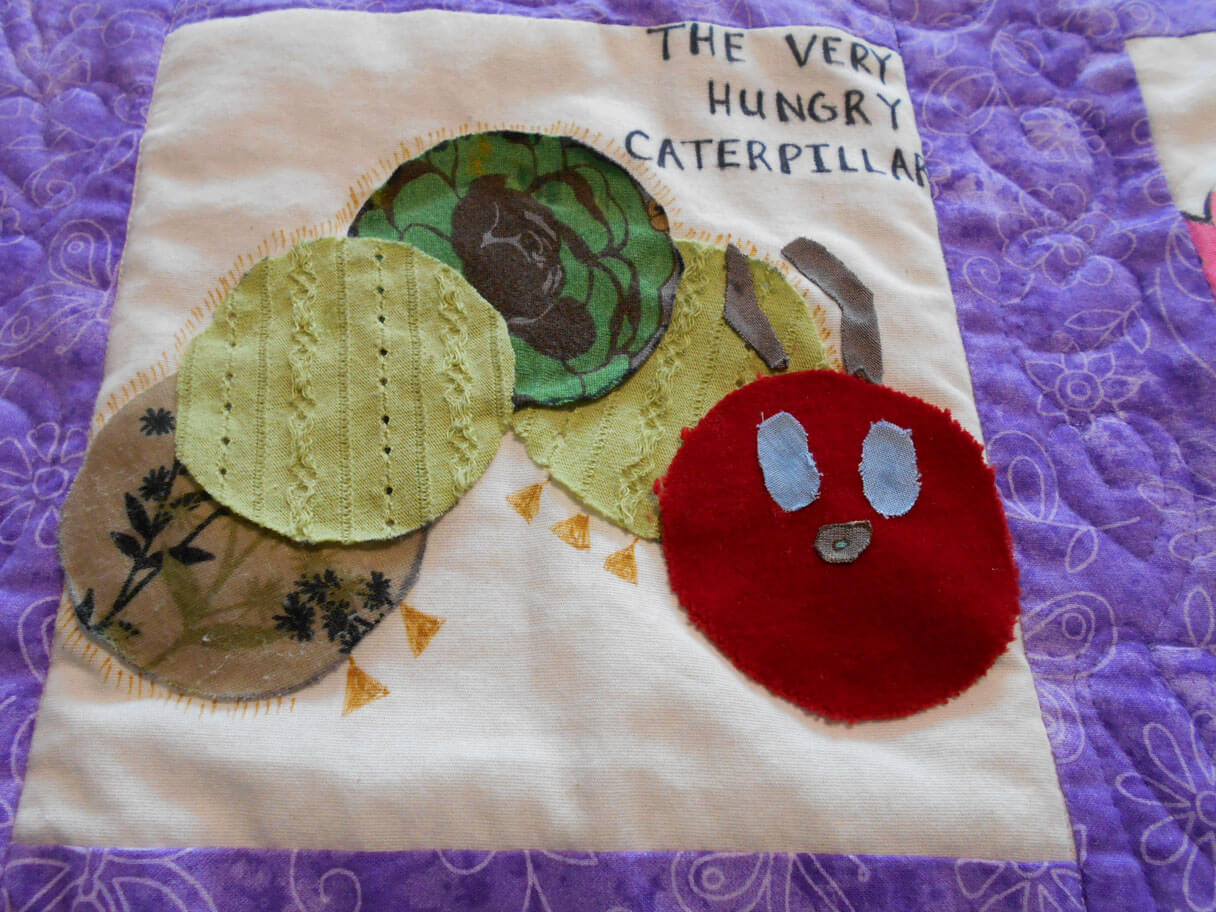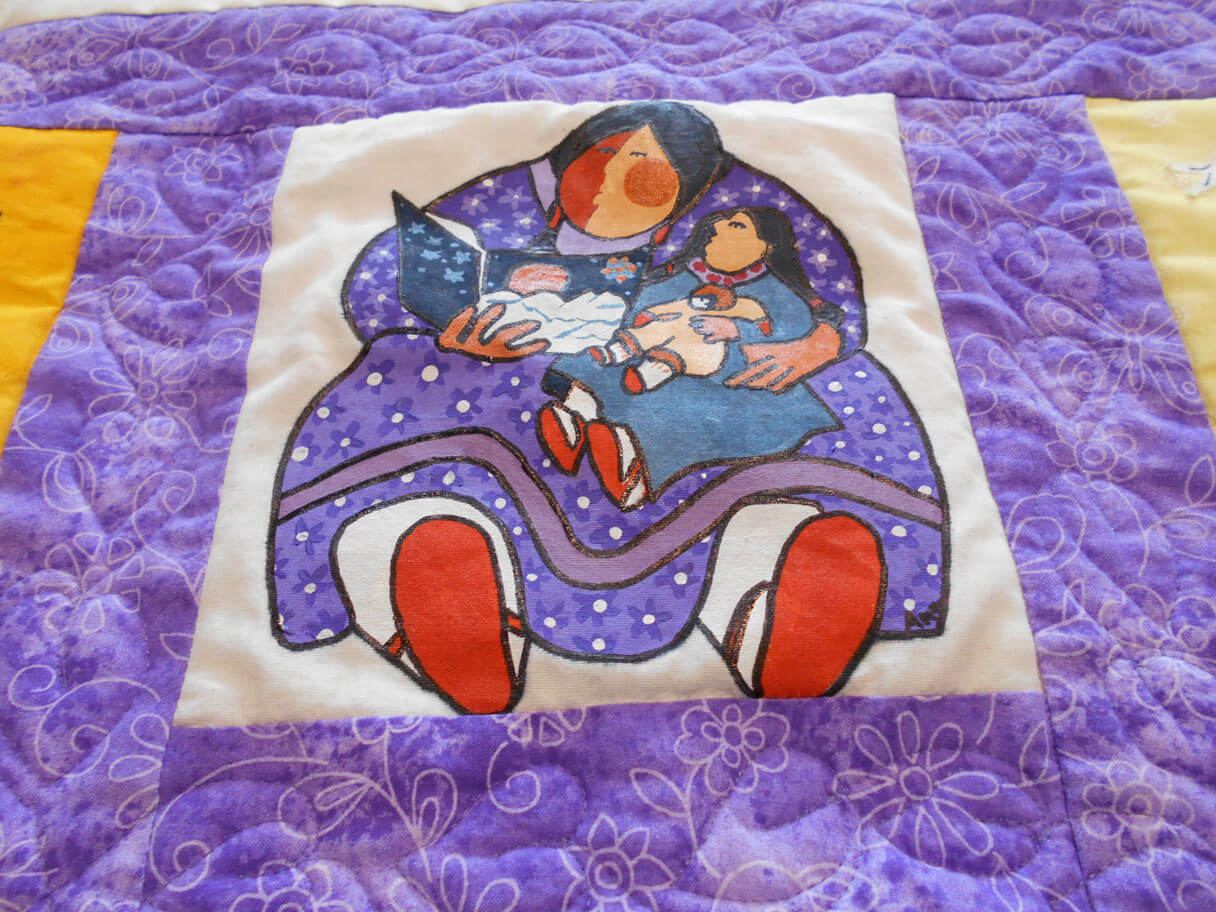 LOVE Patricia Pallaco!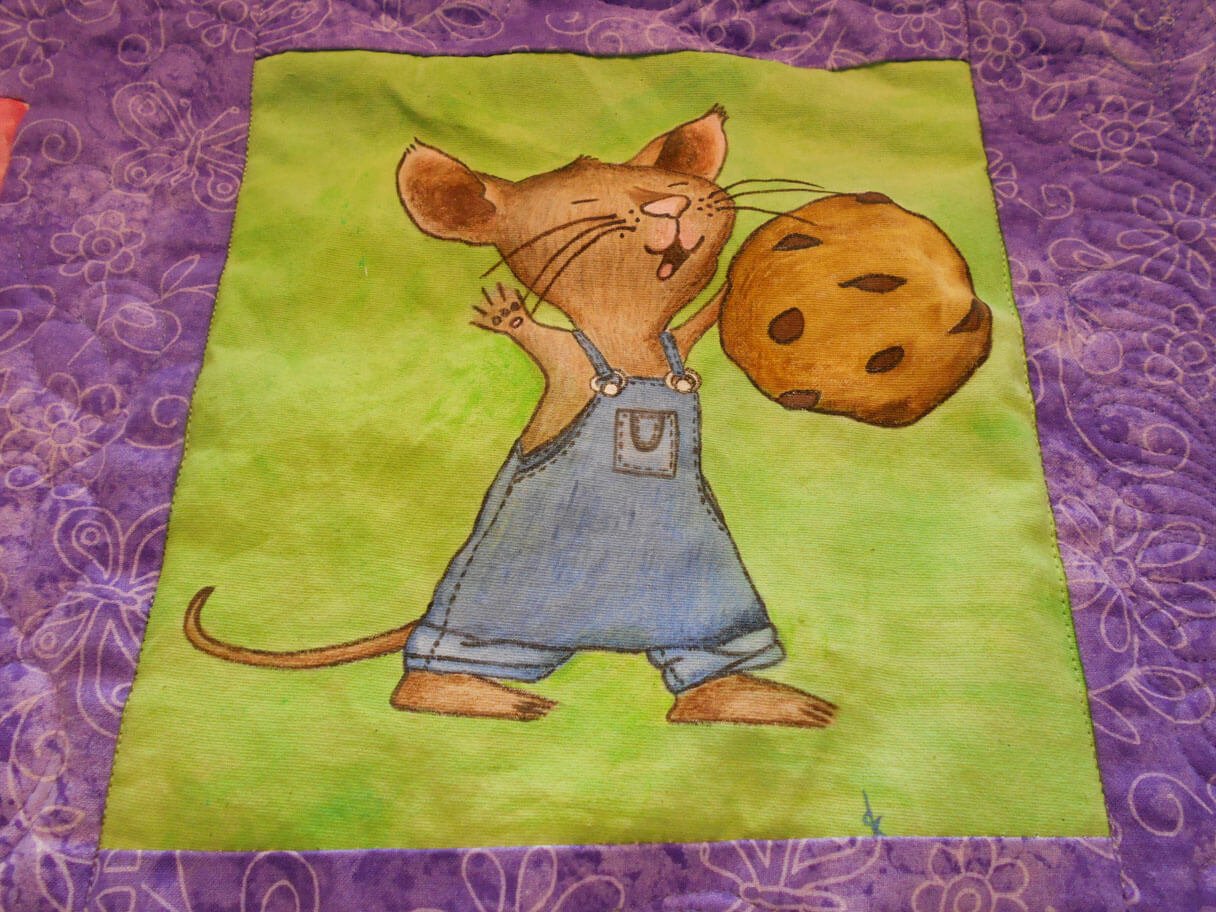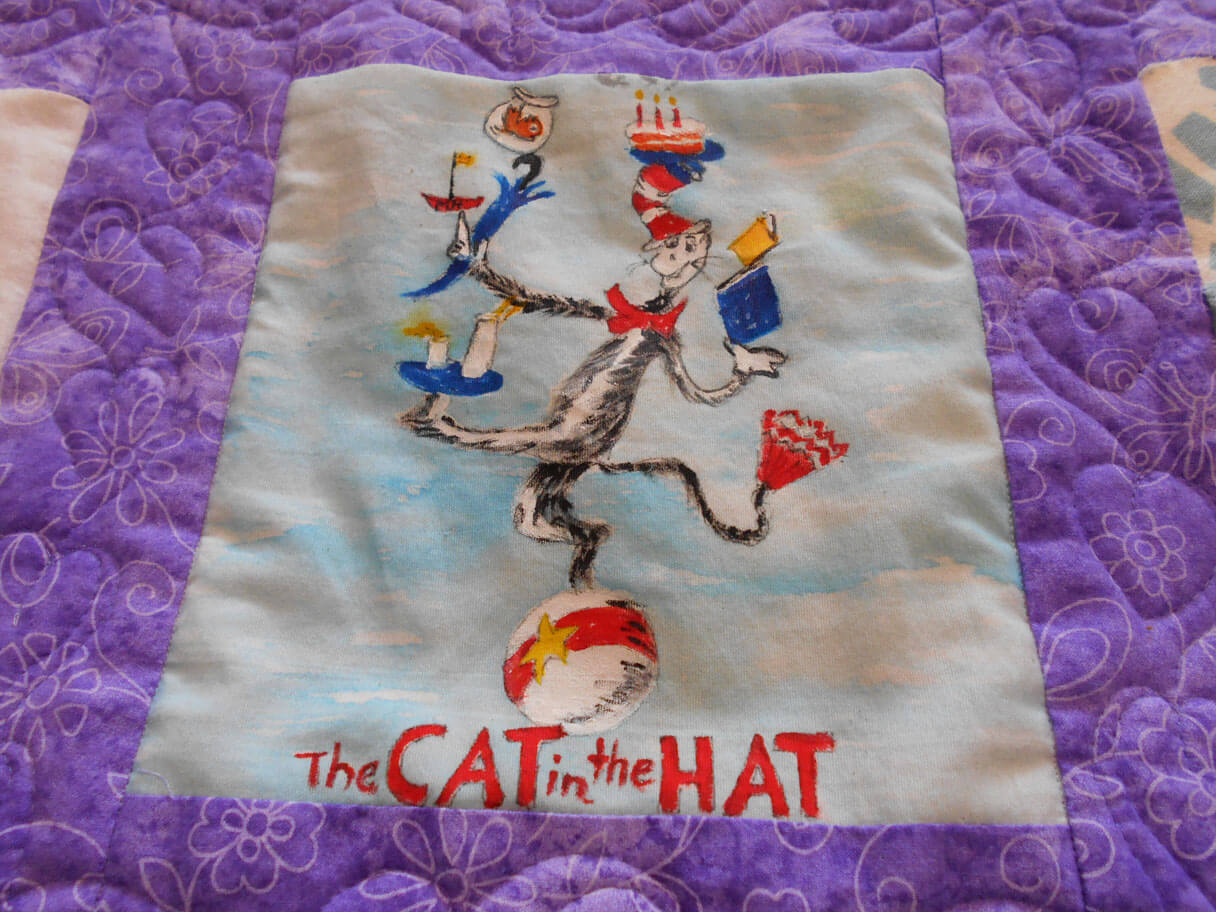 Two more baby quilts scheduled for the new year….prolific bunch at Camels Hump Middle School!
A good friend made a "science fiction" quilt for her son – a gamer, doctoral student, and avid reader. It was SO MUCH fun helping in the process, from using spray basting, to zigzagging quotes, to creating the dragon (a "must-have in this quilt). It hangs from a curtain rod that is very "Lord of the Rings" in design. I was responsible for the machine quilting of dozens of galaxies within the quilt. The dragon has a lot of marbled fabric within it, and it works so well! Kathy did an amazing job. Teeth, flame, wings, and horns all crafted from marbled fabrics. Hubby Dave did the design for the pattern, Kathy did the contruction with vinyl and a few other fabrics.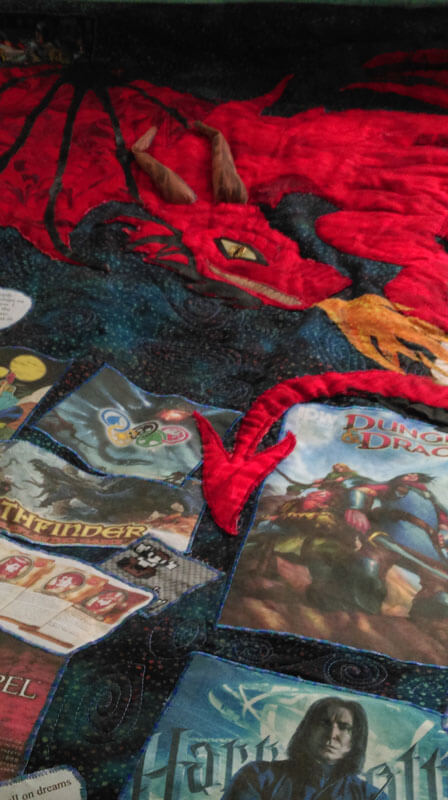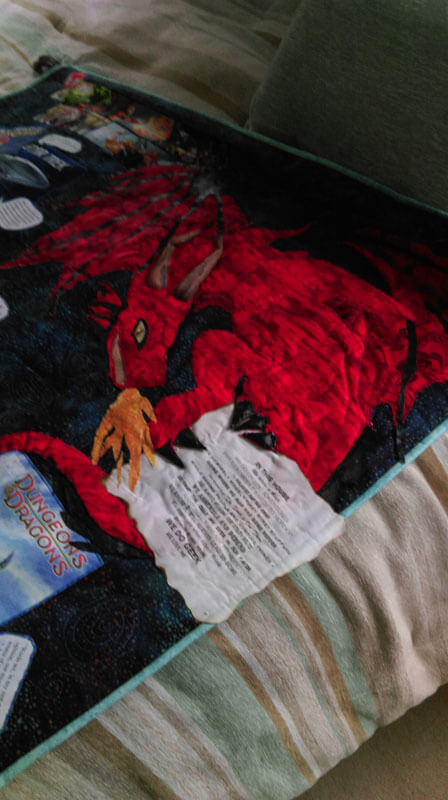 The last heavy sewing/quilting happened when my friend Kathy wanted to recreate a marbled wall hanging of ours that one of her daughters loved. Sure…..to find she wanted it reversible…and a few other changes….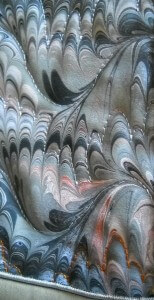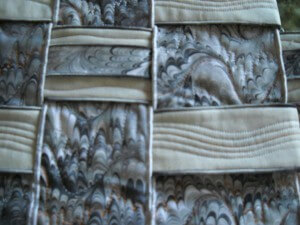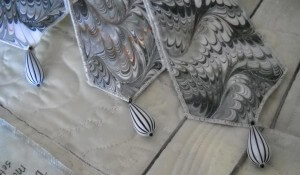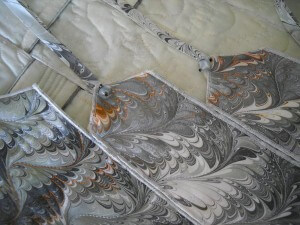 The story of the original piece is here.
I don't have any finished pics at this point – just an in-progress. Oh, did I forget to mention she wanted one for each daughter? Different colors for reversible? Different quilting patterns? It really was a lot of fun, and it challenged me to revisit a reversible binding….but I made Kathy do all the hand-stitching……
A close-up of in-progress……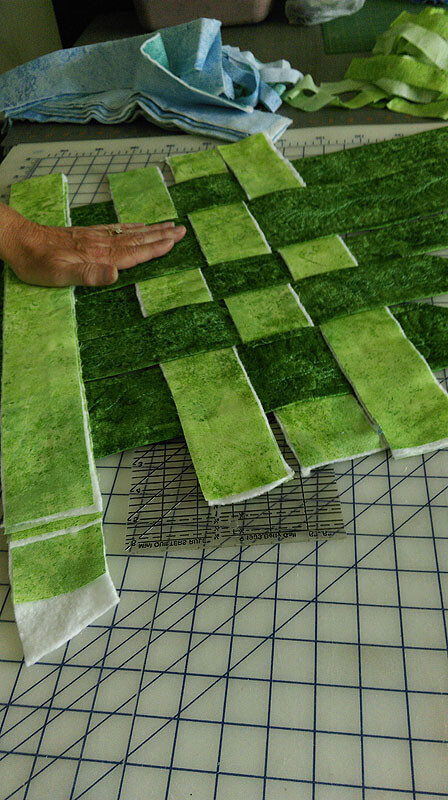 Can't wait for pictures of both the blues and the greens!
The year started with this commission: The Arroyo –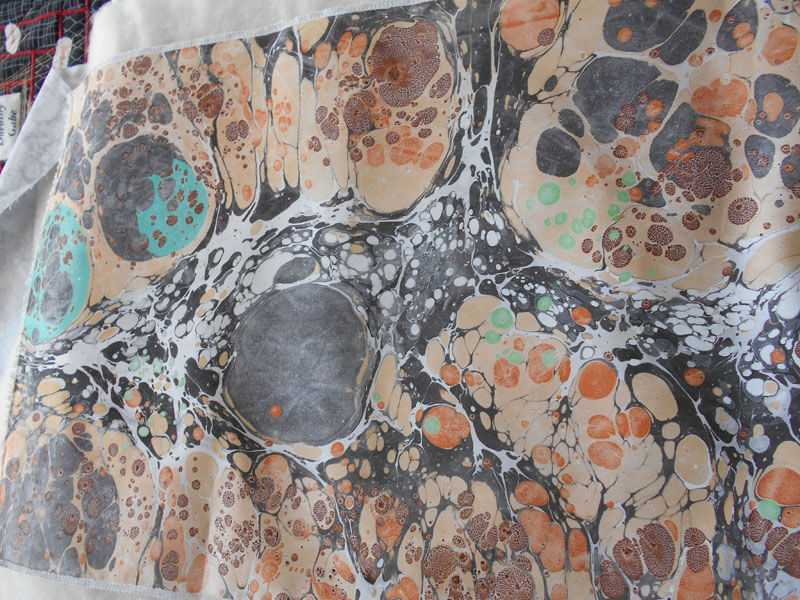 …and we're not done for the year!!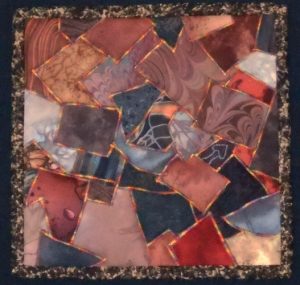 A lot of smaller work was started, finished, and revised this year – part of the need to create more pieces, and part to experiment with new ideas. We also tried more framing (pretty successful) and mounting on canvas (very successful, and not that all expensive). The biggest issue seemed to be people didn't know what to do with small wall hangings or table-toppers. By framing them we are leading our customers to see the piece on a wall, looking like artwork. This is also working well for galleries and stores with small spaces.
The "Chocolate Box" piece on the left was done some 18 years ago as part of a challenge on the QuiltArt list to create an 8 x 8 piece with the theme of "brown." I pulled all kinds of browns from my stash, including some marbled fabrics, and then I zigzagged them together with the idea of creating a "Whitman's Sampler." I have always thought it looked very cute. I rediscovered it this summer, adding batting and backing, variegated thread in a more prominent zigzag, put on a binding, and mounted it on fabric. Lots of good feedback on the piece.
Another piece that saw framing was a small piece of marbled poly-satin that a friend (Suzan Drury of Saltwater Systems) added glitter to at least 10 years ago. Loved it, but it didn't translate into something someone would want to buy – so on a whim I added batting and backing and then quilted it – thus "Pond 3" – a favorite topic. I learned to do sand dollars as part of a tutorial from Lori Kennedy (theinboxjaunt.com), so you will see clam shells, sea urchins, and sand dollars throughout the small piece. It looks quite striking. One thing I learned in the framing process was to move to lighter-colored frames to keep a piece from feeling constrained.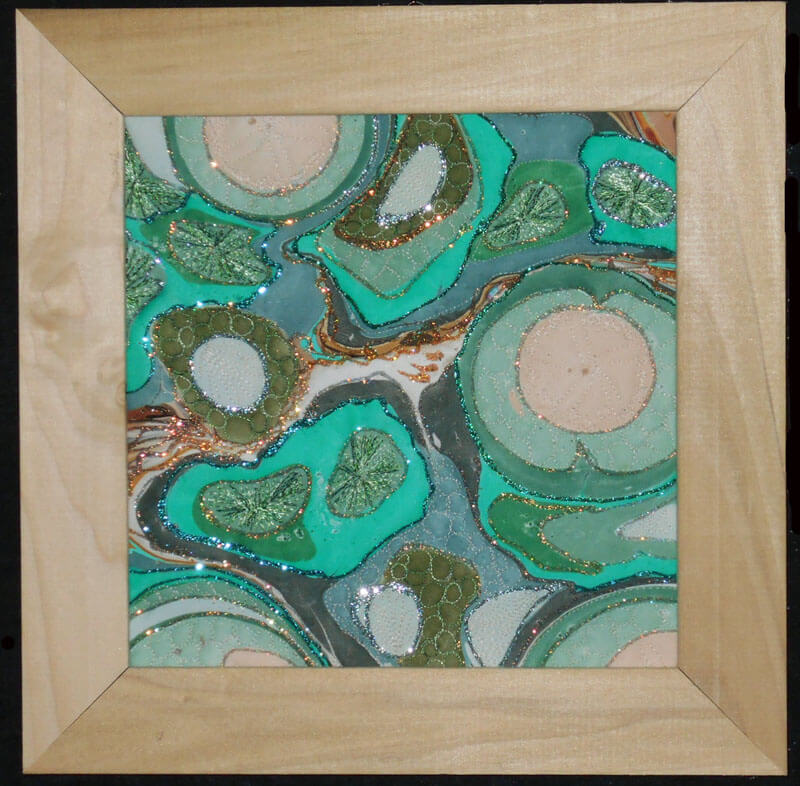 this year saw the debut of a new series – "Leftovers." The idea for this came about when we would clean the marbling tray after a session. There were wonderful designs of leftover paint as we emptied the carrageenan. We started saving some small pieces to capture to designs – all of which are very organic and "earth strata." Two pieces made their debut at Phoenix Books in Essex as part of a rotating display of work by the Essex Art League. There are LOTS more to come – all of which need me to stare at a piece for a while to determine how it wants to be stitched. They are all simply framed and look almost like photographs.
Before stitching on From Above: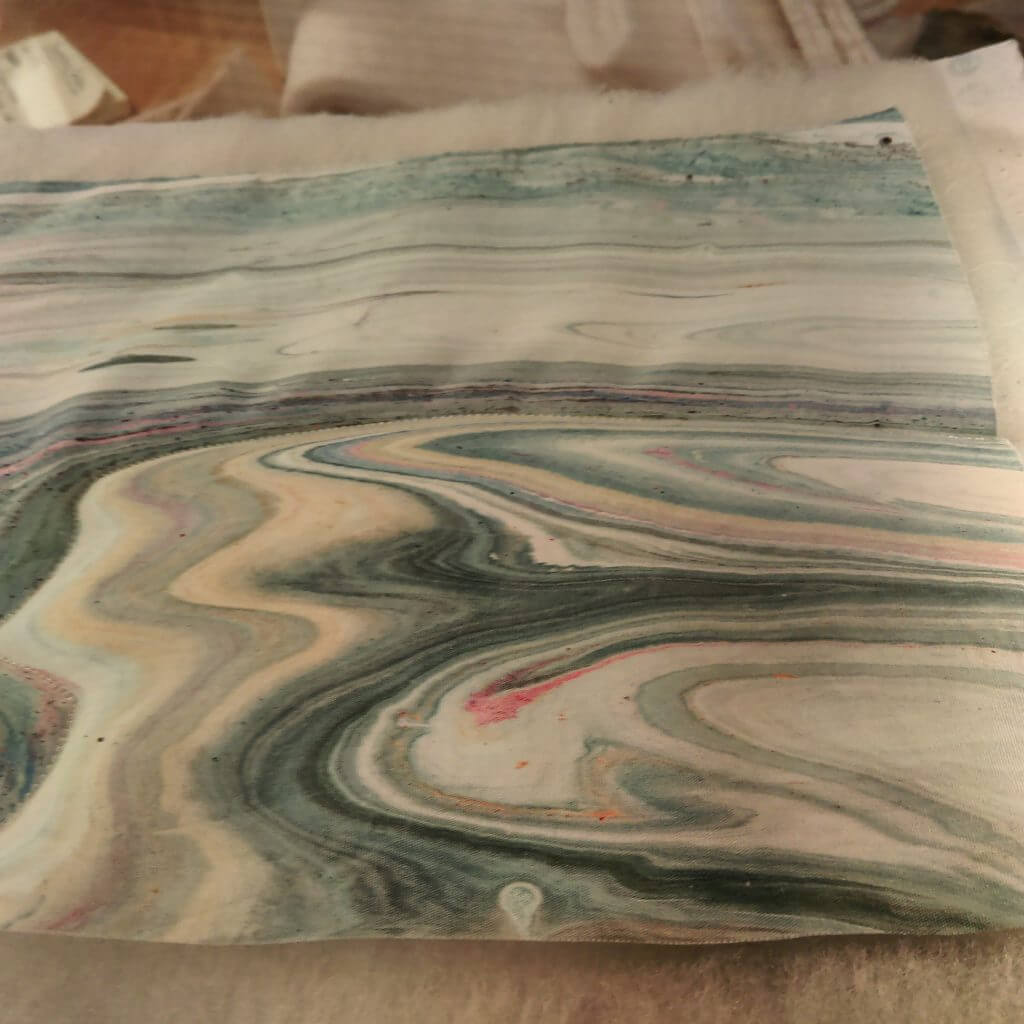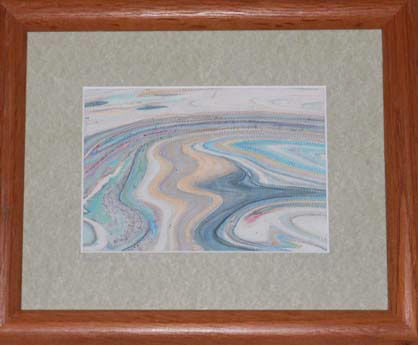 Ultrasuede marbles wonderfully. Over the past couple of years we have been doing yards of this for Bead My Love to sell at the various bead and gem shows. We get to keep a few pieces for ourselves, and this year I finally attacked quilting one – with some interesting lessons….the fabric feels like suede, but it doesn't translate to a puffiness when quilting (note to self: use extra batting for the next piece). Also, the various colors didn't show well, which is why I went with Superior Threads New Brytes yellow – a thicker thread. this is a 12 x 12 piece of ultrasuede. Introducing "Partly Sunny, Chance of Storms."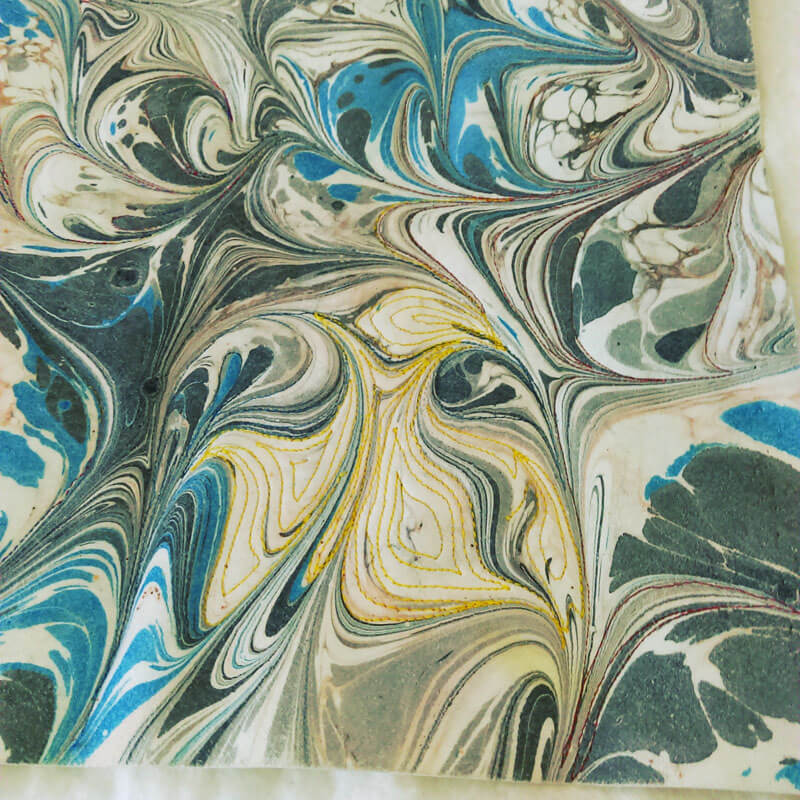 One more piece – we also started marbling flowers and leaves from the silk flower sections of the craft stores – another way to use up left-over paint in the marbling tray. Here's "Autumn," a collage of some marbled silk leaves. Covered canvas, 8 x 10 inches.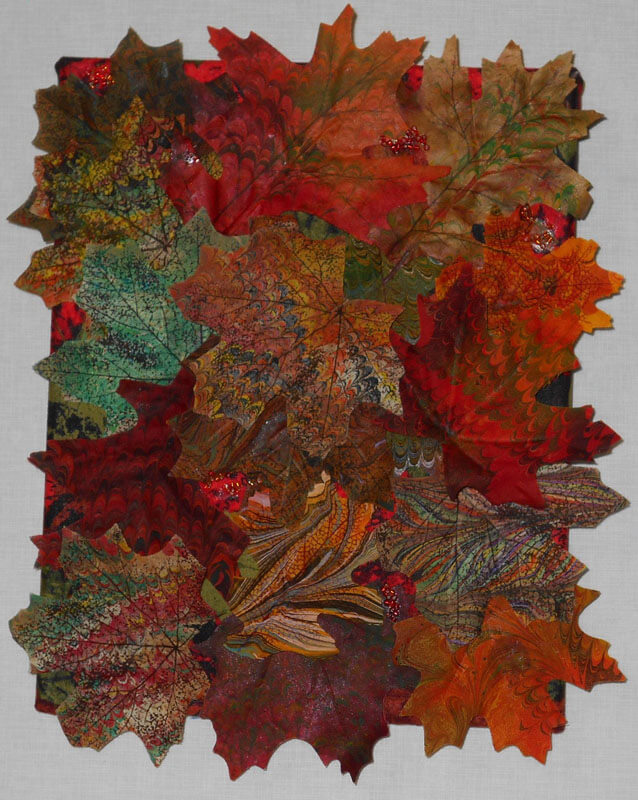 More next time as I continue to review the year. Comments welcome!
It has been a banner year for art – especially in the making of art. When I stopped to reflect, I realized we created more this year than any other year – some big, many small, and all taught us something! I'm doing several blog posts, since I don't have pics for a bunch of gifts – awaiting the jpgs in the email….
Yesterday was the presentation of a commission for dear friends of ours. It was supposed to be for their anniversary in September, but just didn't happen….Once knee surgery was over and I could move around fairly easily, I set to work. The marbled fabric had been done since April, and I had been mulling designs since then. It was time….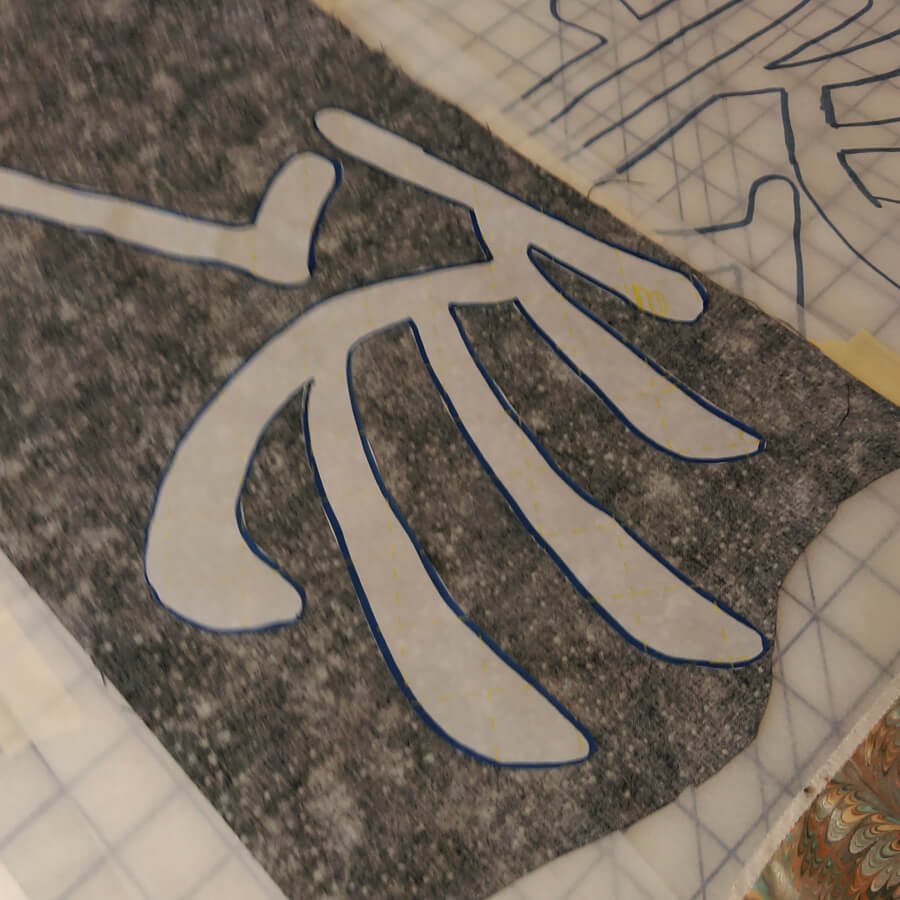 I started working with the Chinese symbol for "family," and after just this first littyle bit, I have even more appreciation for the art quilts of Kathy Nida. This involved tracing the symbol, determining which side would be "up" when ironing onto the front of the fabric, adding WonderUnder, and then making sure it actually worked – especially since I had a limited amount of the fabric choice for the symbol. First success.
Next was creating the pattern for the side panels, loosely based on a table runner by Lonnie Rossi and definitely made my own. Same issues with being sure of right and wrong side, since there would be two panels, and the designs would mirror each other. Much angst – especially on the choice of the background – I had a peach silk that worked with the overall colors, but looked terrible with the small pieces actually on it. The fabrics were extra marbled fat quarters that didn't make the cut in terms of main color, but they were all complementary.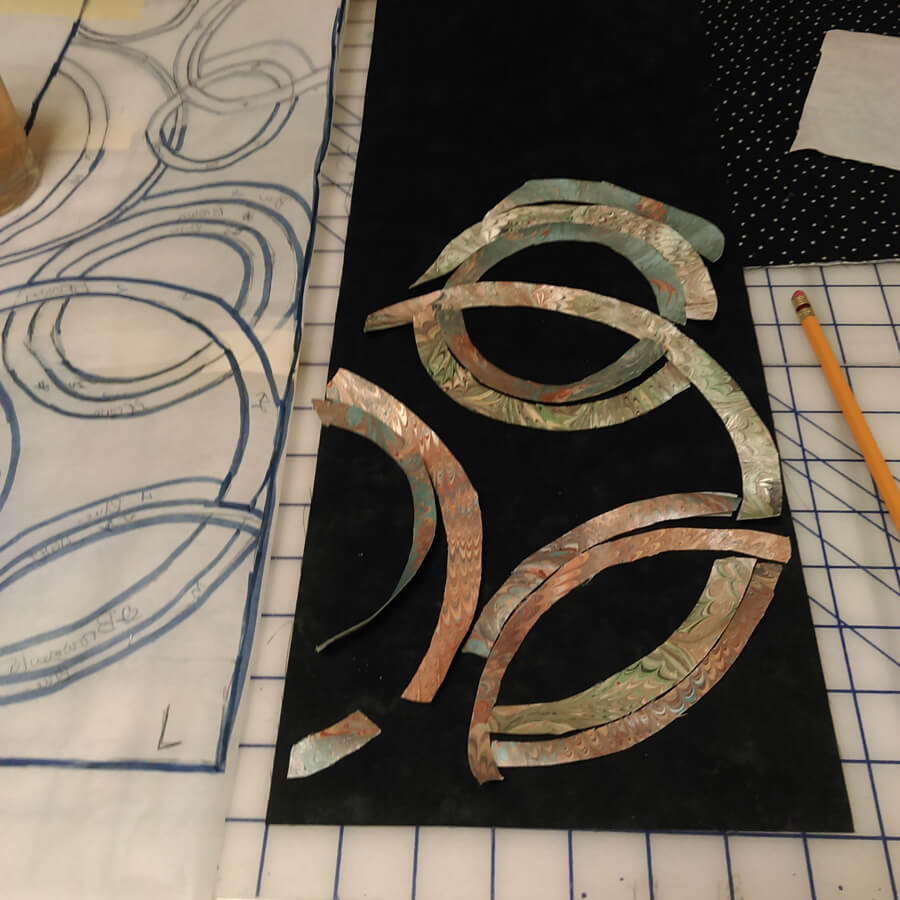 I put off for the longest time doing the zigzag satin stitch and then discovered that the fabric frayed very easily. A lot of adjustment, sharp pointy scissors, and FrayCheck got me through this section.
I had one panel completed and then started on the second panel. It probably would have been easier doing them both at the same time, but I wanted to be sure the idea could be executed before I was completely committer.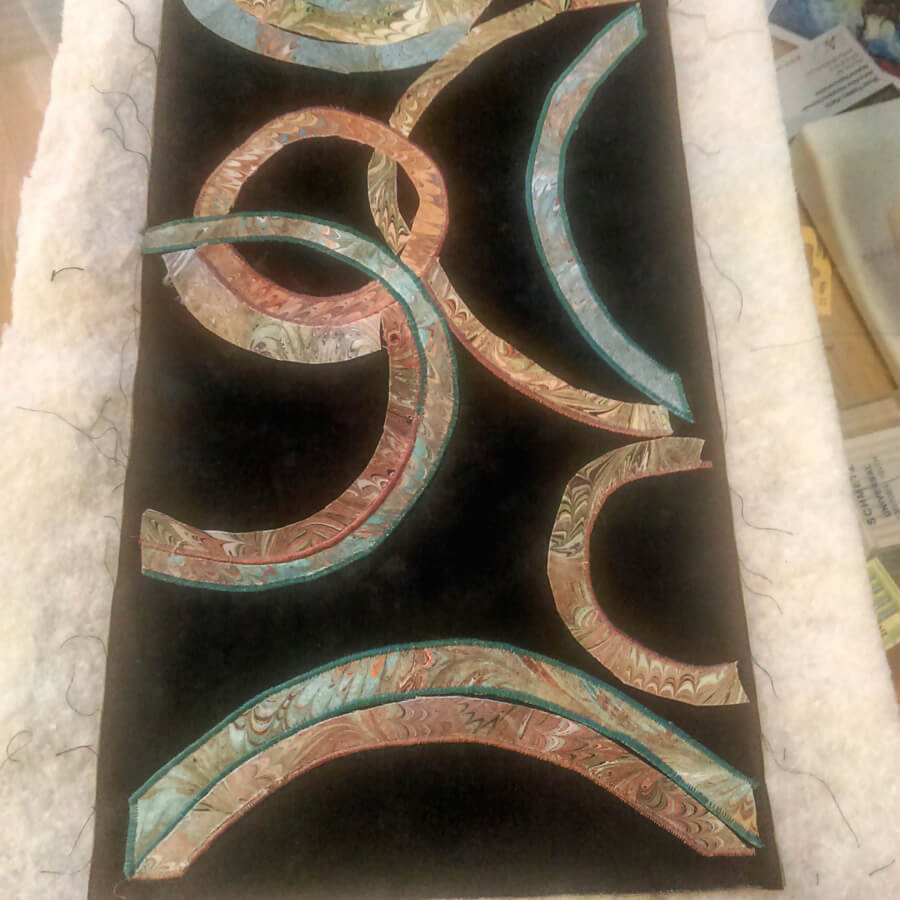 The request was for some apple blossoms quilted into the design – originally to be on the border….but it worked out differently. I Googled images of apple blossoms and determined a free motion pattern, and then began. As long as the petals had ragged edges, the pattern worked.
Lots of flowers over both panels – really liked how subtle the patterns are.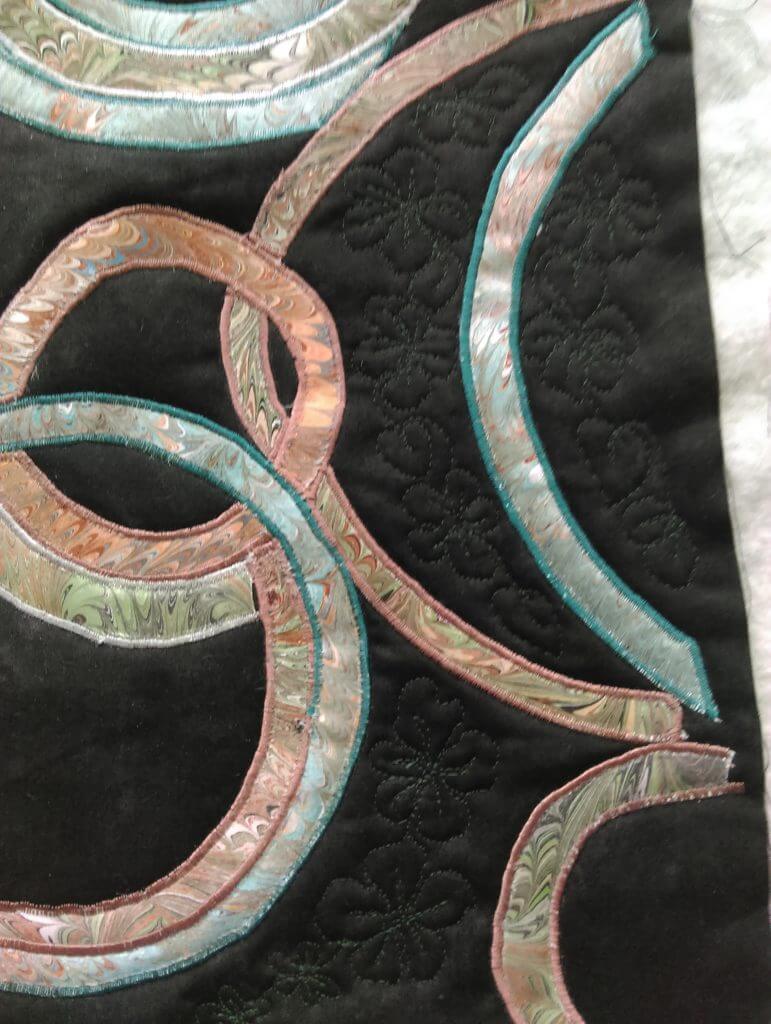 Checking to see if the three panels really do work together….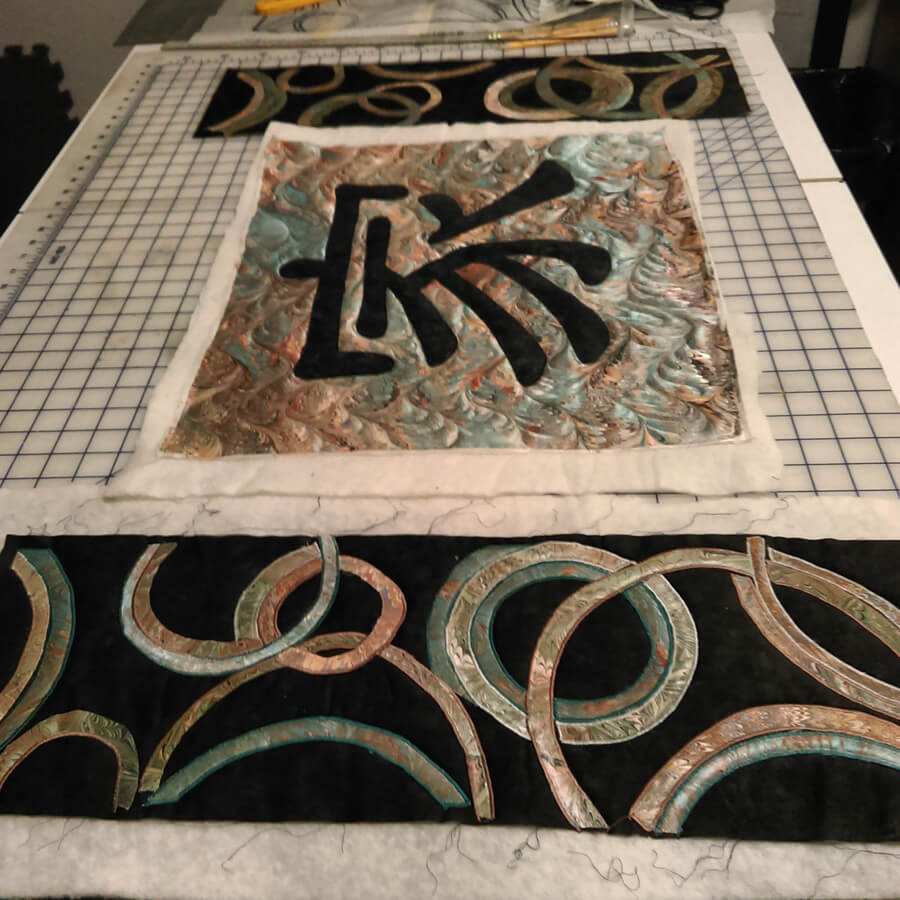 Time to square off and do the binding – the side panels had a LOT of ironing as they were becoming distorted. Note to self – allow more edging next time around…..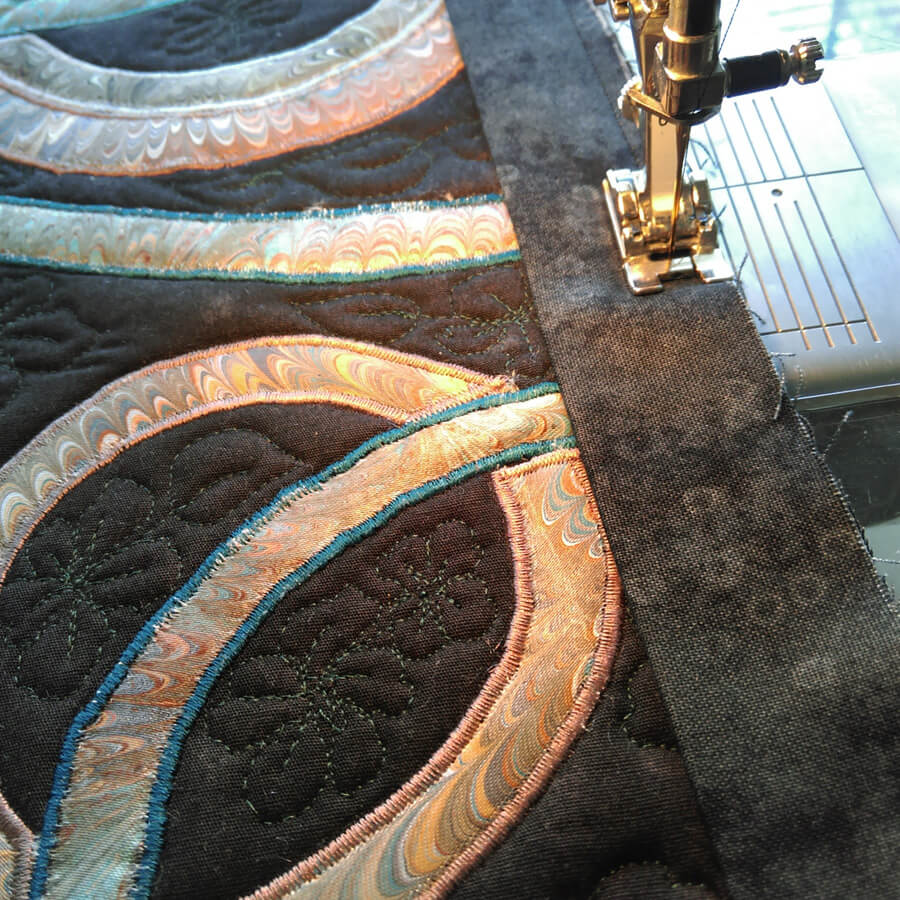 Preparing the canvas for mounting the panels. We have started mounting much of our work on canvas frames covered with a complementary fabric. Much sturdier, easier to hang, and people seem to view them more as "art."
Thinking it's going to work…….each side panel is three 8 x 8-inch  canvases, mounted together and covered.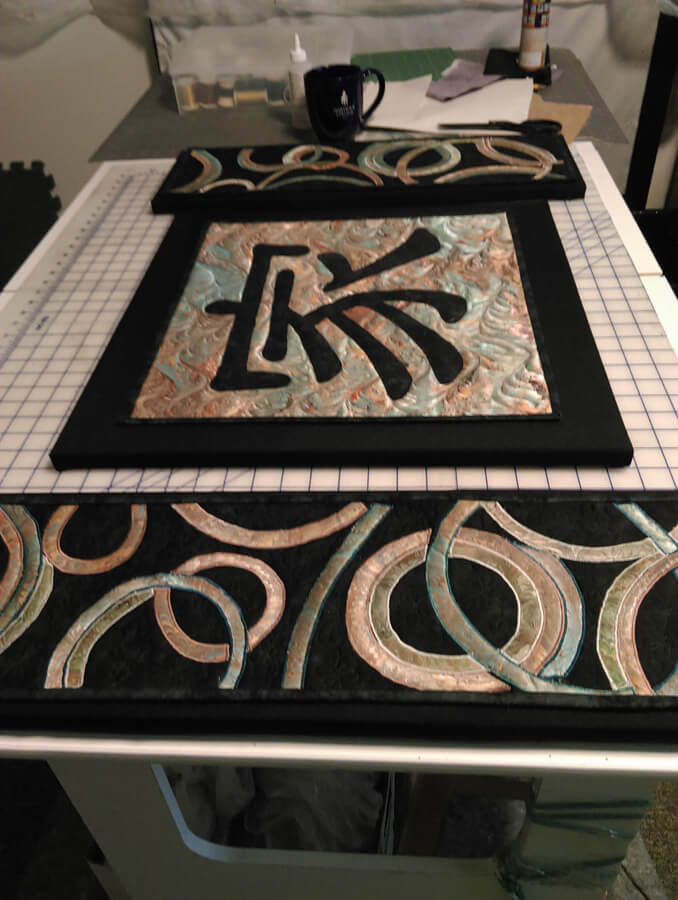 The final product – "Family."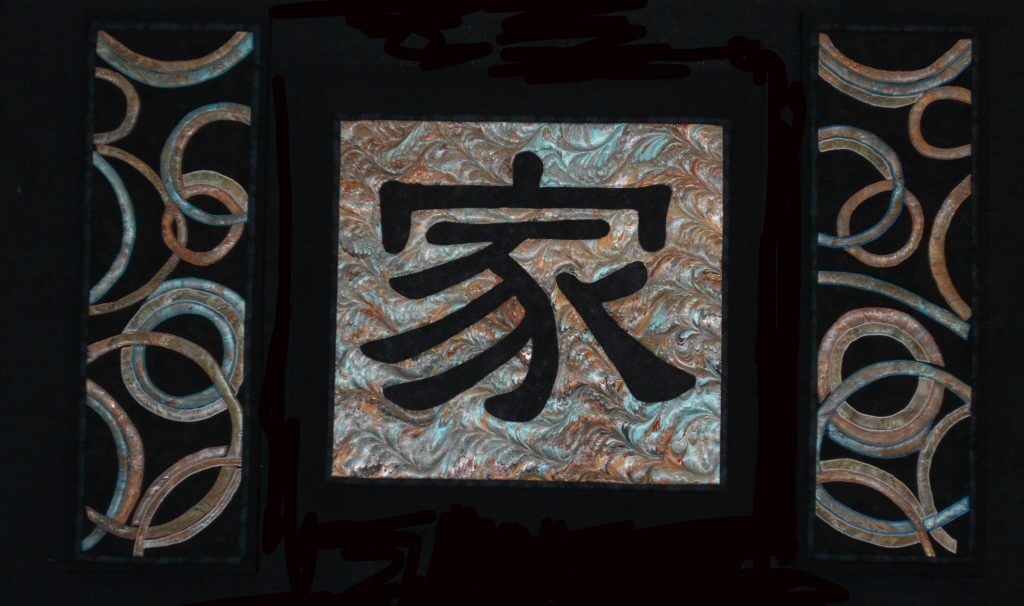 So I have finished reorganizing my Bridge folders for all the digital work and storage of all things art. About 6 hours total, but it feels good to have it done – serious loose end. Now I need to go through iPhoto and get some folders made to organize photos there – hopefully won't take as long. Slowly setting up the to-do list for all things business.
The fist item over the next 12 days is to get every piece ready for a major display for Burlington City Arts. We will have 10-12 of our medium and large pieces on display in the Maltex Building on Pine Street for six months. Quite a nice venue, and our first major exposure in a contemporary gallery in the state. Lots to do – Ocean's Bounty needs some work with the connecting beads and Gaia 2 (Pele) will be making its debut also, and I need to get it on its new hanging system.
LOVE this piece and have since it was completed many years ago. Will post when I have the new hanging system….hopefully cholla wood and braiding to hang each of the points.
Heavy piece with all the beading and layers and stones – but it will be good for it to see the light of a gallery.
(Wow – I just took less than two minutes to get those pictures from the digital folder – nice organization, Linda!)
Hubby is marbling a lot, as we have new ways of marketing our fabrics. We are selling marbled fabrics in the Red Mill in Jericho, which is "coming home" again – his family settled this area and now he's helping to support the non-profit mill craft and art gallery.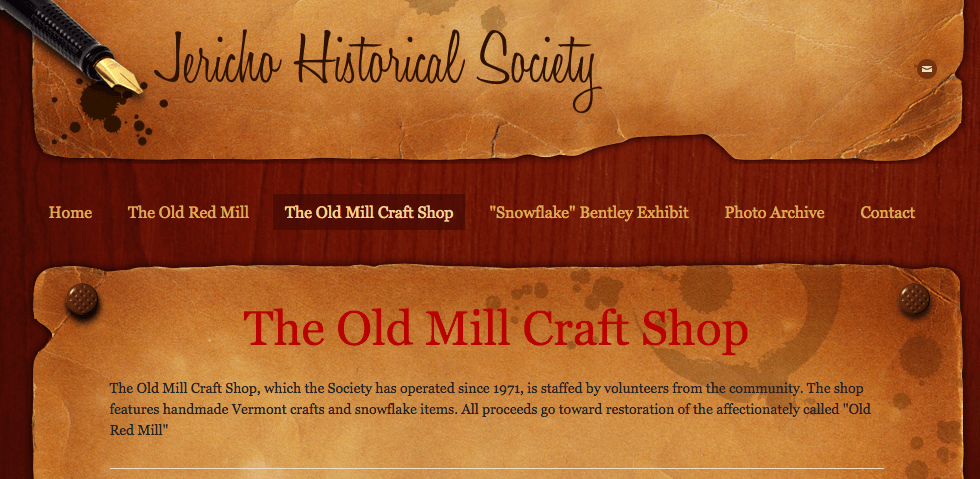 Four weeks today is knee surgery, with a three-six month recovery…I want to be back at the sewing machine within two weeks – too much to do!! I am finding guided meditations that will help prep for before and after surgery. My yoga practice is reviving itself as a way of strengthening the  knee and thigh muscles for surgery. I found an integrative medicine doctor through the medical center, and I LOVE her. Looking forward to working with her over the coming year.
On to attaching a piece to a covered canvas with fabric glue….will post when it's finished and dry…..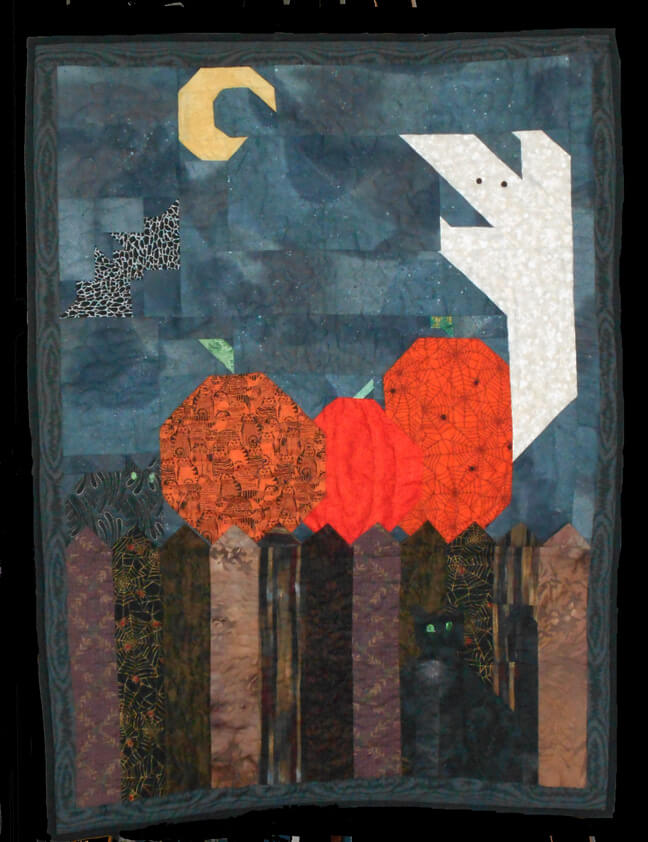 A piece I started about 15 years ago and finally finished this summer – will be adding loops to the back to hang on our door for Halloween.  I still have plenty more to work on, and slowly,over the winter during knee recovery I plan to work on them – plus lots of new ones.
Speaking of new ones, in organizing Bridge yesterday (some 7000 photos and a lot of saved duplicates, I think I can make sense of some of the new process pictures. This first piece, Chocolate Box, was done YEARS ago, as part of an 8 x 8 challenge from the old QuiltArt list. I think the theme was "brown," but who knows? Originally I just sewed pieces with a zigzag stitch – and then I realized I needed stabilizer on the back – like I said, a long time ago. This summer I came across it, added backing, re-quilted it in a variegated thread, and added a border. Still love the piece!
This piece was done for us years ago as part of a challenge to use marbled fabric in a traditional pattern. I made a sandwich, added waves to the bottom of each boat, and quilted semi-circles around the sails to represent the sun. If you made this for us, please let me know so I can credit you.
This next was also part of a challenge, and I use it as a sampler for using free motion quilting on a traditional block. One of the sections is plain, the others have a variety of patterns, some following the the pattern, and some walking around. I love how the marbled fabric quilts up.
I like to use my backs to show errors- and then in the blank area I added details about threads and needles.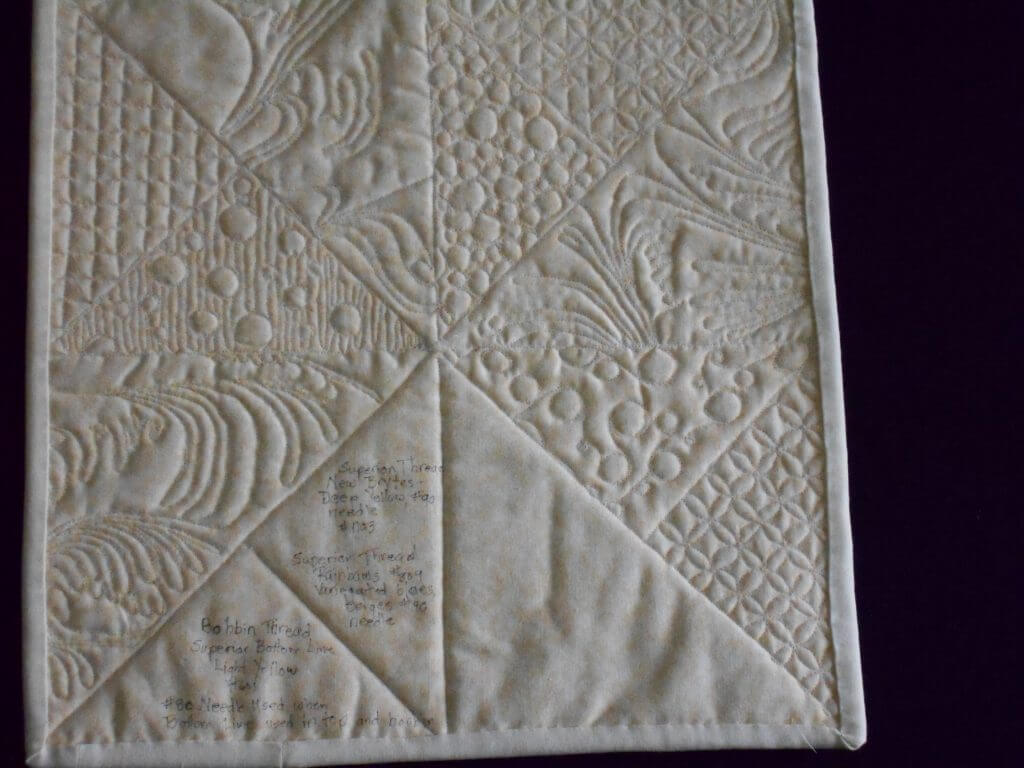 So I continue with cleaning and organizing, and hubby is busy marbling every fabric we seem to have in the house. He's having a ball!
So the studio has had quite the workout these last few months since I posted. It certainly doesn't look this neat right now – and probably won't for another couple of months. Lots to do before knee surgery on October 20th. In a nutshell, we have done more marketing/business/sales/creating in 8 months than in a decade in Tucson. We have been busy.
So far, we are in a small gallery in the Phoenix Book Store in Essex, a fabulous independent bookstore. Haven't sold anything, be we are getting recognition as fiber artists. On the wall these two months: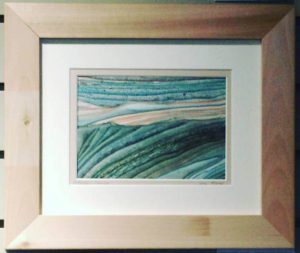 This is Leftovers 1: Sunrise. This is a new series, made of marbled fabric was was dropped on the paint as we were cleaning the tray at the end of a marbling session. Adding thread tells a story.
We had a solo show at the Brownell Library in Essex Junction, Vermont, for the month of August. The fiber looked great on the brick walls. We sold a piece, had 30-plus folks come by, and had a great time.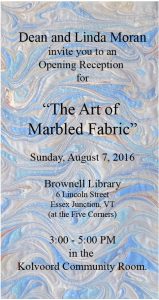 More to follow on this once I find the pictures…..
We spent the month on the wall at Frog Hollow Art and Craft Gallery, as step two of the jurying process – we are awaiting notification if we have been accepted as members. An invitation from Burlington City Arts for 6 months in their city gallery, the month of November in a small gallery in Williston, Vt, and new revisions to packaging and items for sale, as well as joining ArtizanMade. I just can't find all my pictures, so that becomes a major item for the to-do list. That….and the seriously overdue newsletter……. You'll find a bunch of pictures on our Facebook page, facebook.com/MarbleTDesign.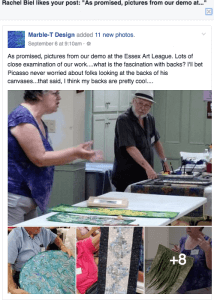 It's going to be frustrating catching up on all the marketing….bottom line – get out and do it – it pays off if you are patient and stay with it!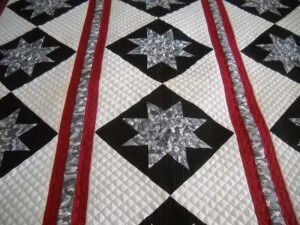 I am attending a writing salon a couple of times a month to work more on my craft, as well as new work on book two. Here's my reflection on the prompt "All in a Day's Work."
My days have an interesting new rhythm to them as I pass my fifth year of retirement from teaching. With hubby's surgery this winter, art was put on hold in favor of surviving each day of recovery. Now, though, every waking hour is filled with planning, creating, discussing, making, ironing, marketing. The hats change by the hour. I will admit, however, I do not miss the multitude of Sundays filled with grading papers and  planning lessons over the 40 years of teaching.
Division of labor is taking a new turn. More of the online work of sales, mailings, and organization is going to hubby so I have time for significant creating and sewing. He is also creating on a more regular basis, as that is something in our partnership that he can do on his own – I get to do the clean-up while he admires the fabulous fabric he has created.
There are a lot of venues I need to handle, from pattern design to new website opportunities to all the sewing and finishing of art pieces. It can get very frustrating at times – at least once a day – as I want to take a break, but then I feel guilty that I'm not dealing with the myriad number of things. Actually I brought this on myself. Since we moved back to Vermont in May last year, we have been searching for marketing opportunities. Despite the time off for medical issues, we have been very successful at creating new opportunities for ourselves, and now we have a new problem – not enough artwork for all the opportunities.
I think the "day's work" has an additional new meaning, aside from rhythm, as I am even more aware of a fixed income and the need to make funds last four to five weeks, depending on the fluctuating Social Security days. The "second Wednesday" can be anywhere from the 8th to the 14the of the month. This month is a perfect example – today is the 8th…SSI has to go 5 weeks.
Positivity seems to be my key to keeping anxiety attacks at bay. I send positive thoughts to the universe, write my monthly abundance checks, and plug away at the work. I understand art as a driving force, now that I have significant time unencumbered by the demands of the classroom. I create now because I want to, I have to….these pictures arrive in my mind and they need to be born and nurtured. I look at my calendar and smile at the blocks of unstructured time awaiting me and my machine.
What's interesting is that I still feel guilty about taking time off to relax. When school was in session, I would be too exhausted to do anything for art, except in the summer months. Then it was two weeks to recover, a few weeks on vacation, and by the time I was in creative mode it was three weeks till school started again. I did some of my best work the first summer I didn't have to work during the vacation, and I often think if I could have continued to create at that pace, I'd be further along in my art-making. It's hard for me to take time to sit in a chair, enjoy the breezes, and read…or listen to music…or just be quietly by the water.
A friend went to teach in Vienna and at one of the professional development meetings the presenter gave everyone a 100 centimeter strip of paper. Take off the years on the lower end you have been alive. Tear off the years at the other end that represent average life expectancy. What you have remaining are your productive years. She wasn't happy, as she was the oldest person in the group, and her strip of paper was pretty short. While it seems at times that 40 years of teaching has been forever, at the same time it seems like just yesterday I boarded a plane from Vermont to Maui and my first teaching job. Now I feel like I am just under 20 years to my goal, and I want to be as productive – as guilt-free with no regrets – as I can.
The other piece I'm seeing is that as the years dwindle down and the desire to create gets stronger and more unrelenting, the vision issues become major in my mind – and in reality. Not a day goes by that I don't think about the 'what-ifs', regardless of how hard I ry to stay occupied. When honest with myself, this is probably why I started writing again – the technology has improved so much that I will be able to do what I want with fiction without being able to see a keyboard.
I need every day to be productive…and I accept that that can mean I spent several hours enjoying a good book…or putting a computer jigsaw puzzle together…or walking the Charlotte Town Beach with my hubby – after sewing a fiber piece to canvas and adding a hanging system. My day's work is enjoyable, exciting, and enviable.
This next piece I started when I lived on Nastar, which has to be 18 years ago – it was part of a Block of the Month project for our online customers. This was September/October, but when I finished it, it had a VERY noticeable bulge from bad ironing – in two separate places.
Took both borders off, made a new sandwich, and then sewed the borders back into place to hold the top for quilting. I did a lot of work with new patterns from Lori Kennedy and her Craftsy classes.
There are amazing motifs, and Lori's technique of doodling them first works like a charm. Here are some pics of patterns: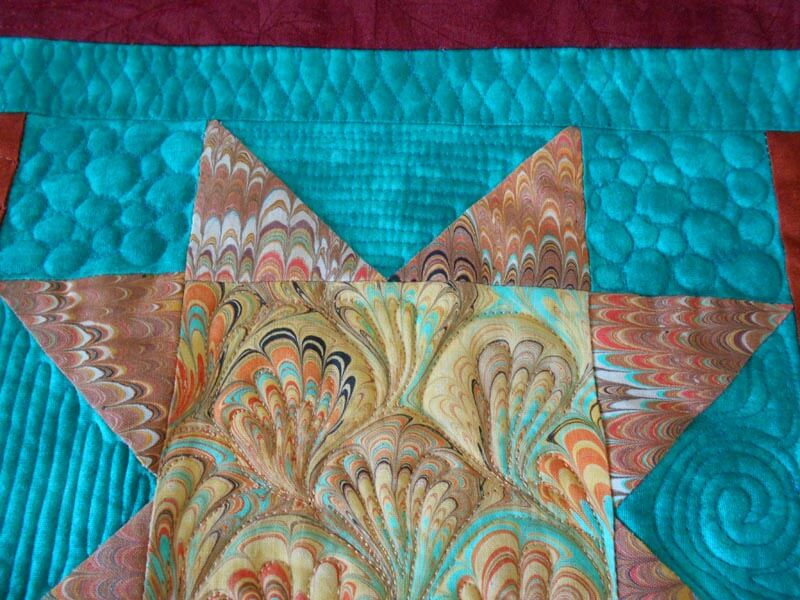 Lori's Twist, which I can finally understand how it's done – parallel lines up and down and everything looks perfect. My bubbles and straight-line quilting. An example of quilting the marbled fabrics.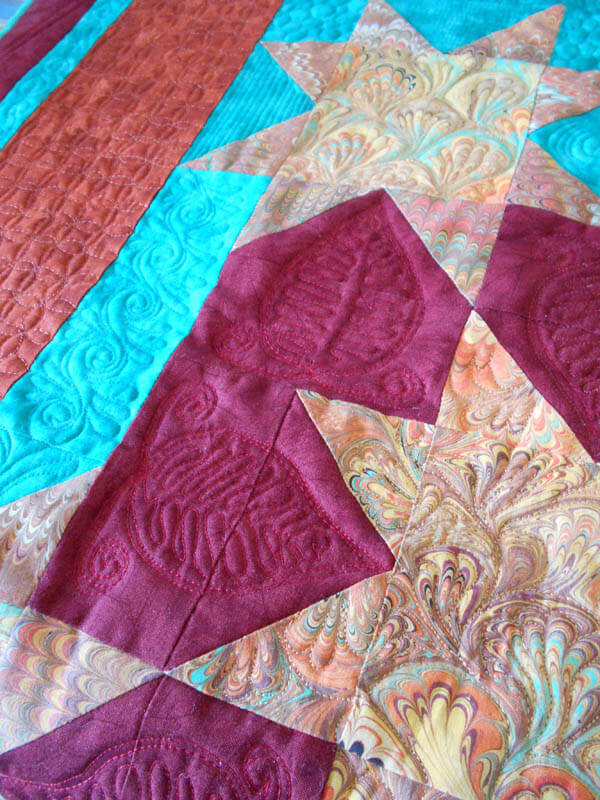 LOVE the leaf motif – now I have several in my bag of tricks – way easier than it looks! New motif in the turquoise – an exaggerated swirl.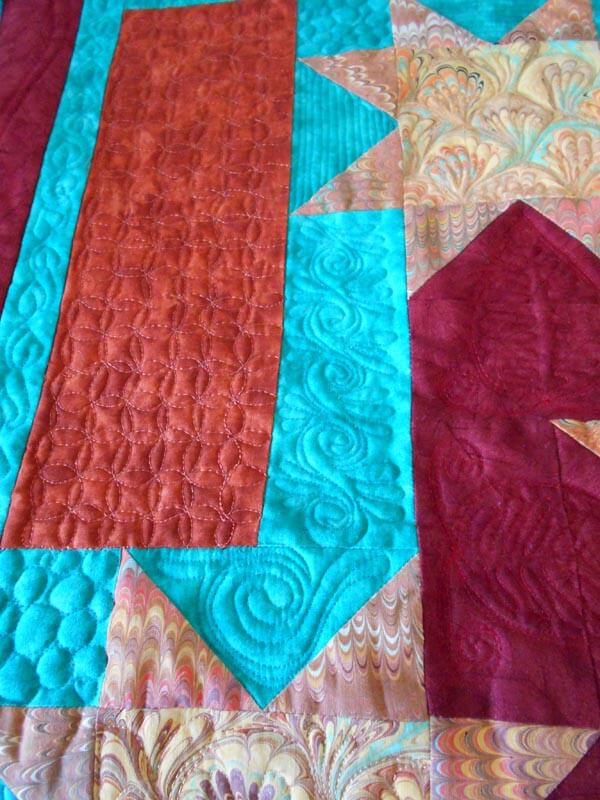 A better look at the orange peel (I know it as a cathedral windows variation) and the swirl.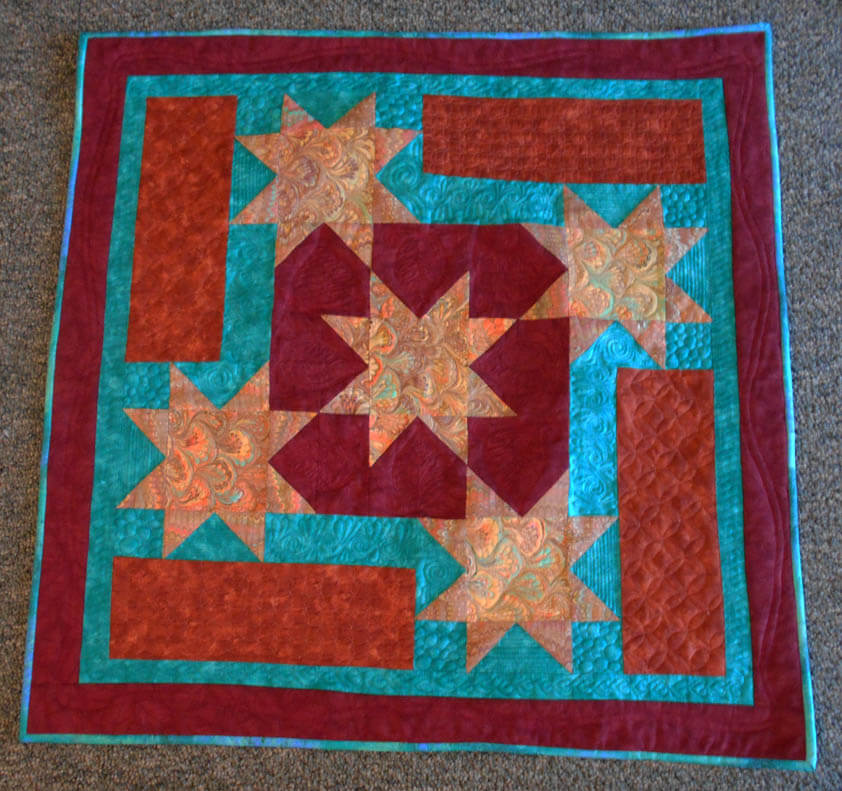 Lessons learned –
I want to be able to do what Judi Madsen does with the negative space and have one pattern rather than several, depending on the space.
STILL love the colors in this quilt!
Markers help cover up tension issues from a different color bobbin thread.
The back doesn't have to be all one color, especially if you're having tension issues from two different weights of thread.
Outside (final border) can be very simple.

Yup, two more pieces around for forever…..both needed complete revisions, as my skills have grown quite considerably. The first is a "cheater" cloth, very Southwest, which is why I bought it. Originally it had been quilted in the ditch, and while I loved the co.ors, the piece really didn't speak to me……so I took it all apart.
And in the process I discovered a ,lot of stuff – pros and cons – about cheater cloth.
One, they are great for practicing free motion quilting. You can get right to the designs without having to worry about putting the whole thing together. I re-sandwiched the top and then studied it for quite a while for ideas.
Two, they can really tax your ability to work with fmq designs. In some of the smaller blocks, I used the same basic quilting motif and changed it up a bit in other blocks of the same design. Great way to practice!
Three, the store doesn't always do a great job of cutting the panels. On closer examination, you can see where some borders show and some don't. I really had to work the binding carefully so the piece would look even all around. Plus, the fraying from new usage, poor quality fabric, and age didn't help at all.
Four, nice decisions about which type of thread to use. I stayed with Superior Art Studios and Rainbows – because I like the sparkle. I did use cotton King Tut because I wanted to experiment with thread painting for shadows, and I didn't want it really obvious.
Five, I need to get a better photography set-up in our new place…….
Six, discovered I could cover a few binding mistakes with some markers….liking that!
So…..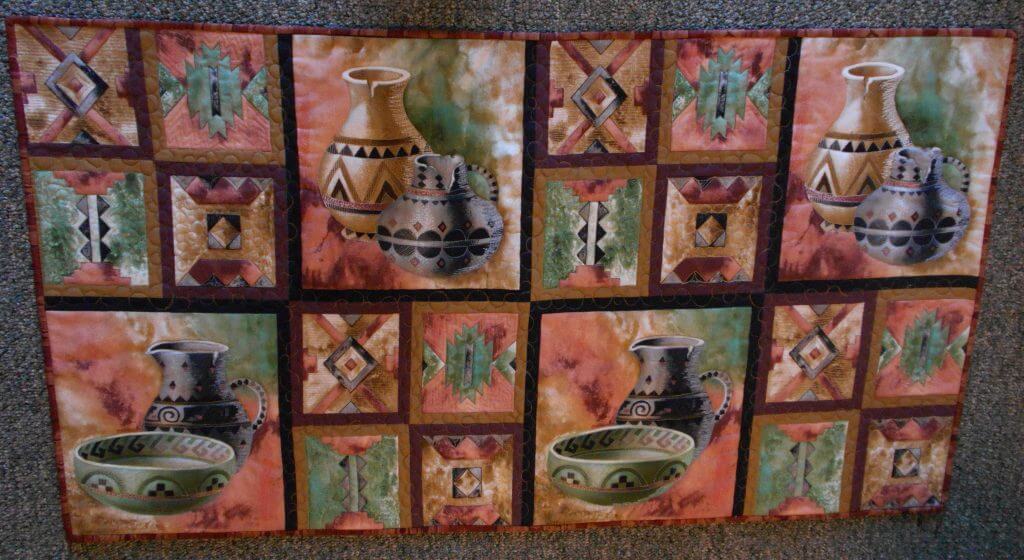 View from the top – couldn't adjust light like I wanted (really missing the garage set-up at this point). Look at the binding – see what I mean about borders?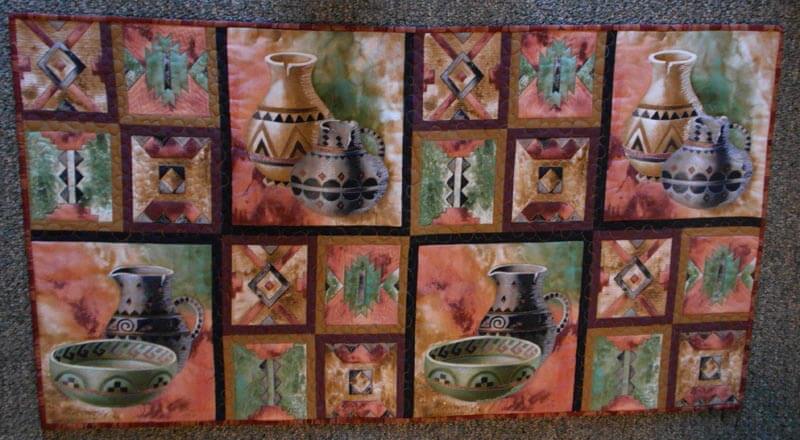 Another view – the backgrounds of the actual pots are left unquilted….I was tempted, but I keep remembering Tim Gunn and "edit." I didn't want to detract from the "shading" I did on the pots…I was really happy with how that turned out.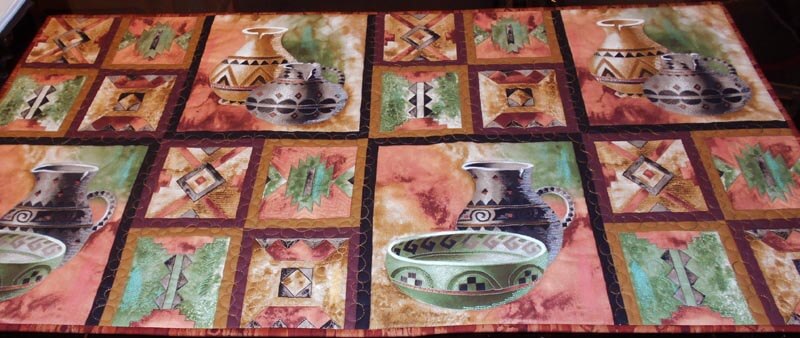 Seven – straight-line outlining isn't as easy with a free-motion foot…but it is great practice….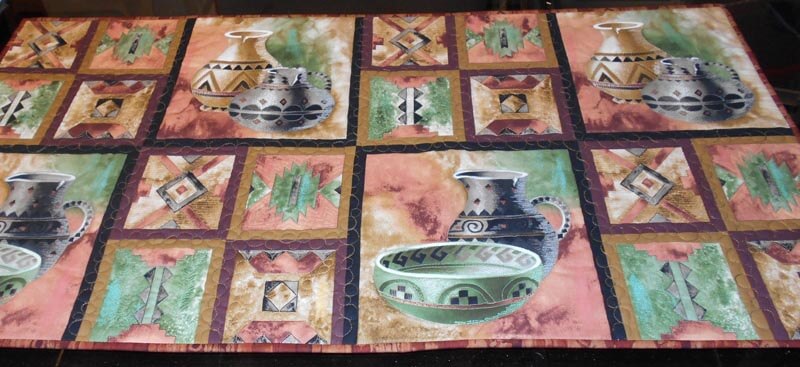 Lots of finishes going on of projects that have been around for a VERY long time! I had a productive weekend of finishing three, and next blog post should be about two more, as well as a new project undertaken.
First up – a Halloween quilt I pieced probably 15 years ago, when I was using McCalls Quilting and piecing lots of quilt tops. It didn't really need much – cats' eyes (variegated thread) and eyes for the ghost (small pieces of lava). I examined the machine quilting, back from when all I did was stippling – I was very happy with how it looked. I added free-motion words in the sky and then added binding. Really happy –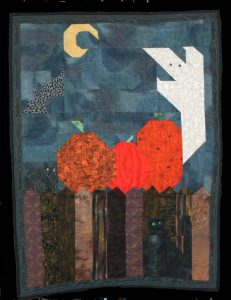 This small 8 x 8 was done YEARS ago in response to a challenge on the QuiltArt list. The theme was "brown," and this was way back when I was still pretty literal and linear in putting work together. This is "Candy Box," and I used a zigzag in variegated thread like you would see in the wrappers in a fancy candy box. Added the binding and much pleased with the finished table-topper.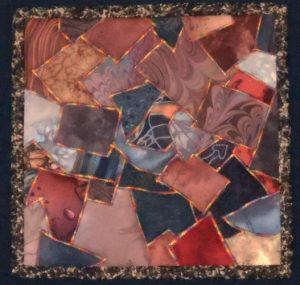 This last piece was a remnant from about 10 years ago. I quilted the bubbles, but it still needed a focal point – so I quilted in some sea urchins…hence the name "Sea Urchins." Another 8 x 8 stitched to canvas after quilting was finished.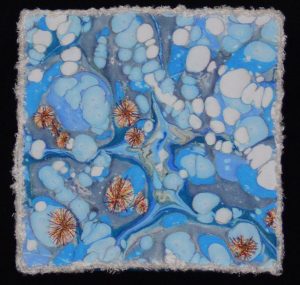 For Sale: $125.00
A great weekend, more happening in the studio…..lots of upcoming opportunities!
Throughout all the stress of medical issues this winter and early spring, I resorted a lot to coloring at night – one BIG take-away from the coloring is that it controls my appetite….no small thing. But I'm learning something almost every piece I do. You can catch up with what I learned so far here.
So here are some pics – and lessons learned.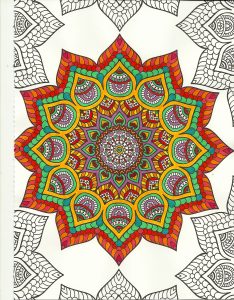 One of the things I've been playing with is amount of white space. You can see in the above that not everything is colored. Pus, I was trying to play around with oranges and color combinations, like mixing colors that are close together. I love the way the turquoise is accented. No point in doing the edges – I was concentrating on the center – which is an interesting move for me – to just let things "be" without having to "finish" everything.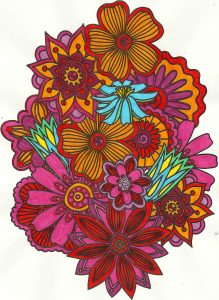 Again with the reds, oranges, purples, but I decided to add an unexpected color – my fiber work tends to lack strong focal points – so I added the blue – makes the piece. I also rotated the scan because the "bottom" was too heavy when on the "top."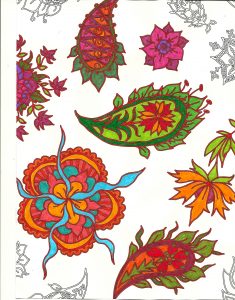 Here's where I figured I really need to spend some time with colored pencils, especially when I can do shading – which I love doing with regular pencil. And again the oranges and reds.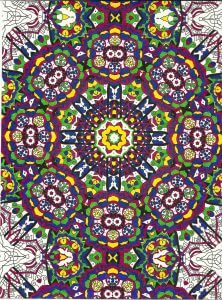 I left white space with this, and I discontinued finishing the design – it was getting too busy. Here's where I kept hearing Tim Gunn's voice to "edit." The yellow in here really glows.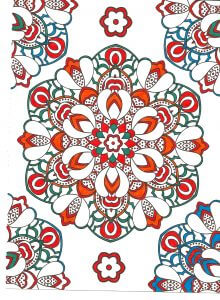 This was playing around with oranges and blues – a combination I am starting to like a lot. Lots of white space, and I used the designs on the edges to play with color combinations. The lower right looked too much like a super-hero costume for me……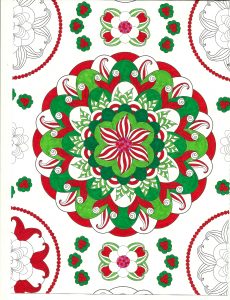 Christmas colors – meh. These were better than some I tried. The colors – for me – need to be true, but I am happier with mottled shades of reds and greens.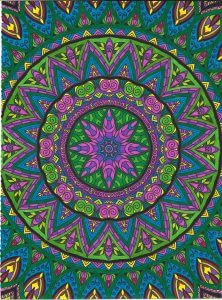 Interesting as I was working with what colors glowed – the yellows, but especially the purples in the center. I also discovered differences in black – flat and shiny, which I should know because of all the black fabrics out there. Overall a fun design, but it bugs me that the books consistently cut off complete designs.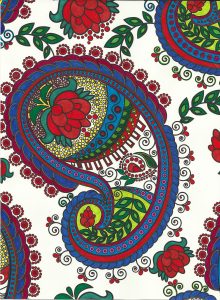 Blues, reds, greens and white space. I am finding not everything needs to be colored. I find this quite pleasing.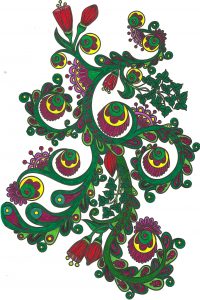 Love the delicacy of this one. Even though the design is completely filled in, there is an airiness to it.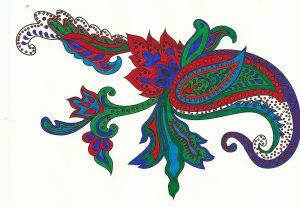 Same for this design – and I really like the colors – very vibrant.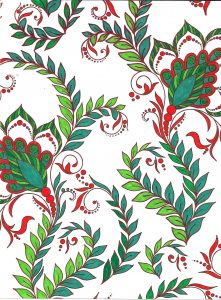 Again oranges and greens – would make a great wall paper.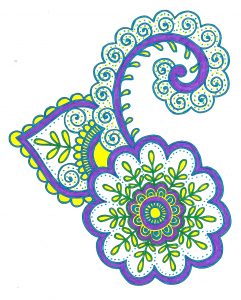 Nice and lacy – I like incorporating some of the zentangle motifs when I feel there is too much white space.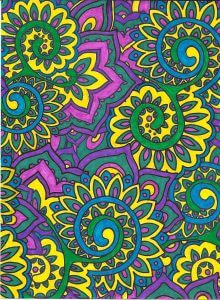 The original dominant color here was going to be the pink-purple, but yellow won out. Interesting to me how that happens.
Really need to spend some time with colored pencils, but I SO like the intense color of markers. Like I said before, surprising for me, since they are so unforgiving.
I definitely can see some of the effects of the coloring in the most recent fiber work – more on that to follow.
This was a wonderful collaboration with dear friends. Dave wanted a present for his wife (our maid of honor many moons ago), and he came by to watch the marbling process. He had in mind something similar to one of our "stone" pattern pieces, so he went and bought about a half-yard of an unpolished white satin for us to experiment on. The top picture is the very beginning – good colors, a focal point, but oh, my, was it flat! This would be my chance to use wool batting, and the piece started to pop after only outlining three of the "rocks."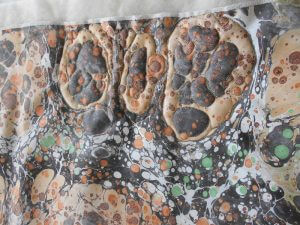 If you look at the center right top of the next picture, you will notice some darker brown that is very lacy-looking – not a good marbled stone. However, the more I studied it, the more it looked like moss and lichen – I couldn't have asked for something better. Serendipity.
Lots of little green specks throughout the piece, so that was more moss and lichen, and I used my "lichen" stitch, as I call it, to accent them.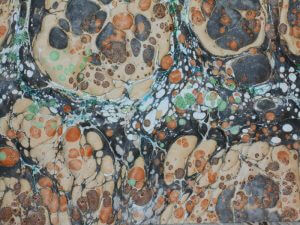 By this point, I had a bird's eye view of a southwest canyon, reminding me of Sedona and Oak Creek, so I knew I wanted to accent the creek throughout the piece. After lots of variegated threads I added seed beads in four shades of blues to pick up sparkles.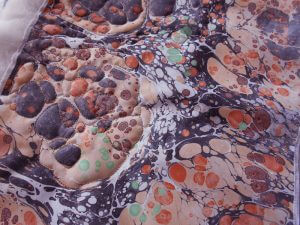 I played with a variety of fabrics for a border, and this is where Dave's color sense really helped. He picked two fabrics I never would have thought of, and they worked perfectly. The only change I made was to thin the first border a little bit. And then the final reveal……
Yowza – we had such a great time hanging this show – first one in Vermont, and first we've hung on our own. Lots of great decisions – hubby and I are so in sync with our thoughts. In and out in an hour so as not to disturb the folks working there. A lot of moving around of items to balance the show. We're discovering that wainscotting is common in New England, so many of our really long pieces don't work as well. But – the whole office looks much softer with the fiber on the wall. We'll adapt!
I was glad to see the Four Seasons played well together, since I was worried one was a different size. Not to worry, so I'm hoping I can go ahead and finish the pattern for the website. Ah, so many things to do!! Open studio is now the next item, end of May, so planning lots of marbling sessions for goodies. A couple new gift baskets if my wrist allows it – too much at Christmas and the ligament is still repairing itself.
Without further ado – some pics of "on the wall" at Unsworth Law Firm, Essex Junction, Vermont.
Since we've been back in Vermont I've been telling everyone I run into about our work, and we've had great response to everything. So much so we realized about 10 days ago nearly all our work either was committed to a show or would be by September, and we needed to get busy making new pieces – which has been an issue for hubby, as he is still recovering from major surgery and can't stand for very long periods (guess who will be doing all the set-up and clean-up?).
Here's our schedule – and people laugh when I say I'm always at the ready….
April – June small art show Double Vision at the Jericho Town Hall, Jericho, Vermont. Words and inspiration in art – we're submitting "Pond."
March-April Essex Art League at Phoenix Books independent bookstore in Essex, Vermont. "Bloomin'."
April – June about 15 works of fiber and digital marbling on display at Unsworth Law in Essex Junction, Vermont.
May 27-28 Vermont Open Studios, sharing the home of artist Mary Jo Hill in Underhill, Vermont.
August solo show at Brownell Library in Essex Junction, Vermont of fiber and digital marbling.
Tomorrow we talk to an old friend about a show in the gallery she runs in Jericho, Vermont. We're ordering cards to mark titles and prices, completing the inventory, researching insurance, getting hanging systems on every piece, getting new quotes on framing, and other loose ends. There are still two places I am waiting to hear back from – the Old Red Mill in Jericho for their gift shop, and Stitched, a quilt store in Shelburne for teaching classes – and more on my list to touch base about show.
Slow and steady definitely pays off – that, and having an area receptive to new and original art work.