In May, as spring was in full bloom, we headed south to visit Crown Point and its new bridge. We had watched the video a bunch of years ago about the destruction of the old bridge, and now we had a brand new one. Most of Crown Point hubby hadn't seen for years, and I hadn't been to the fort and the lighthouse. The colonies had both British and French forts at this location, active during the French and Indian War – nicely done job on a small museum.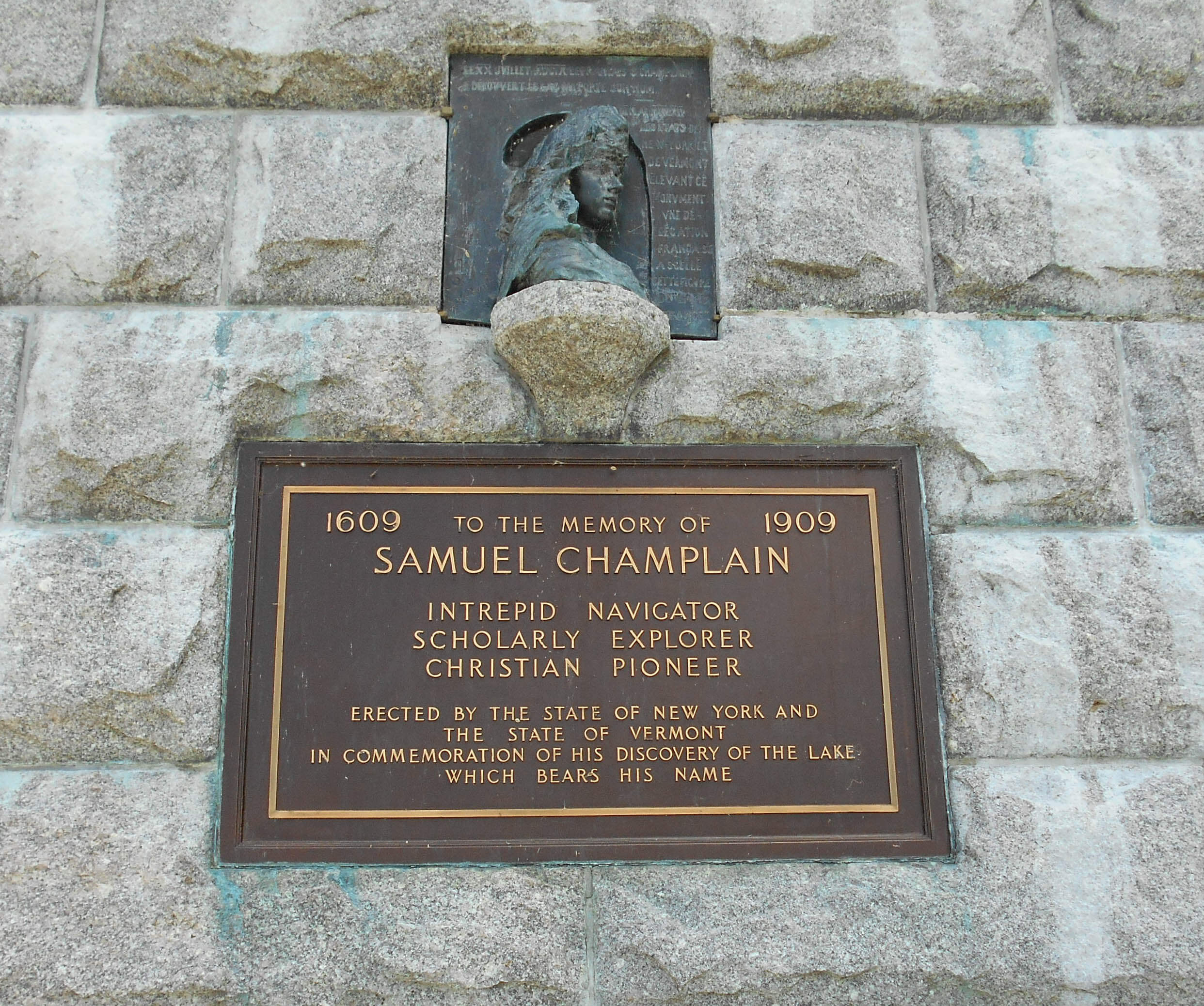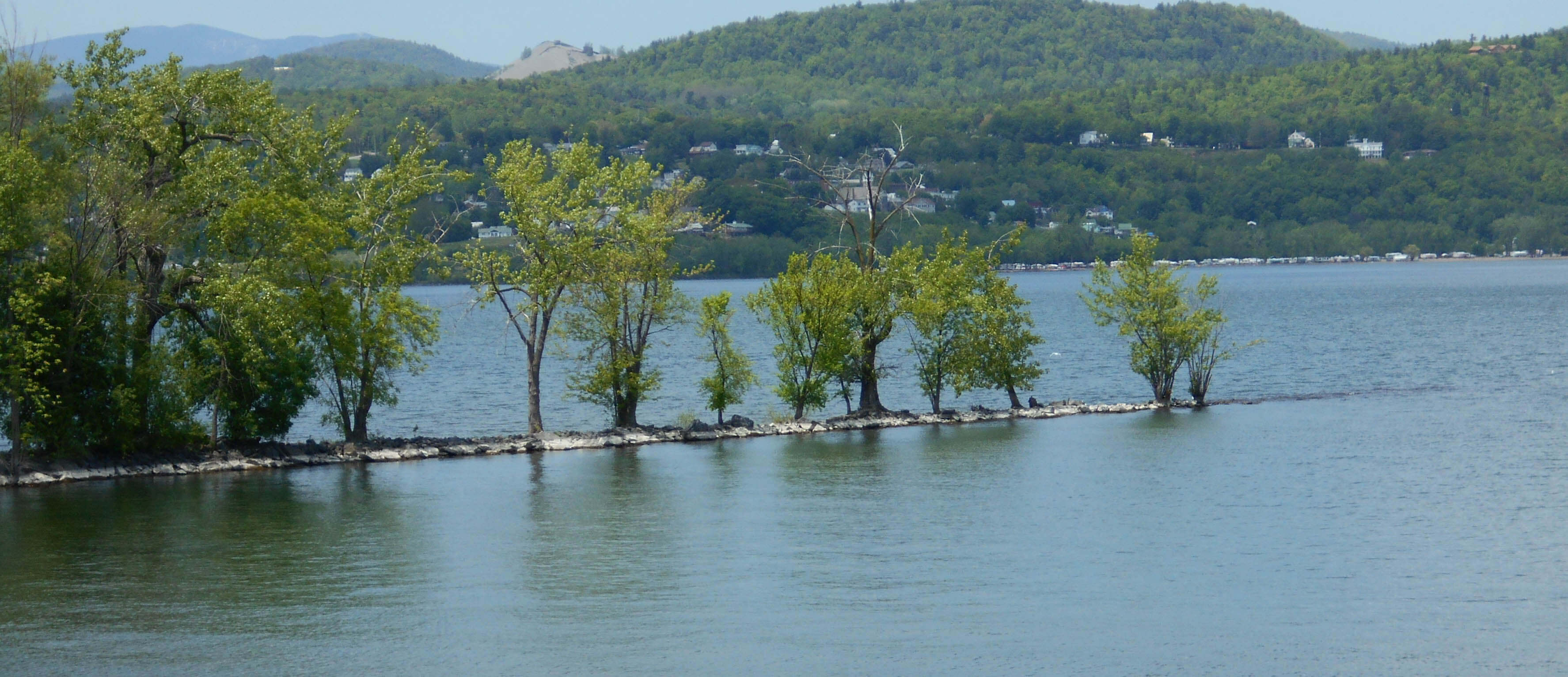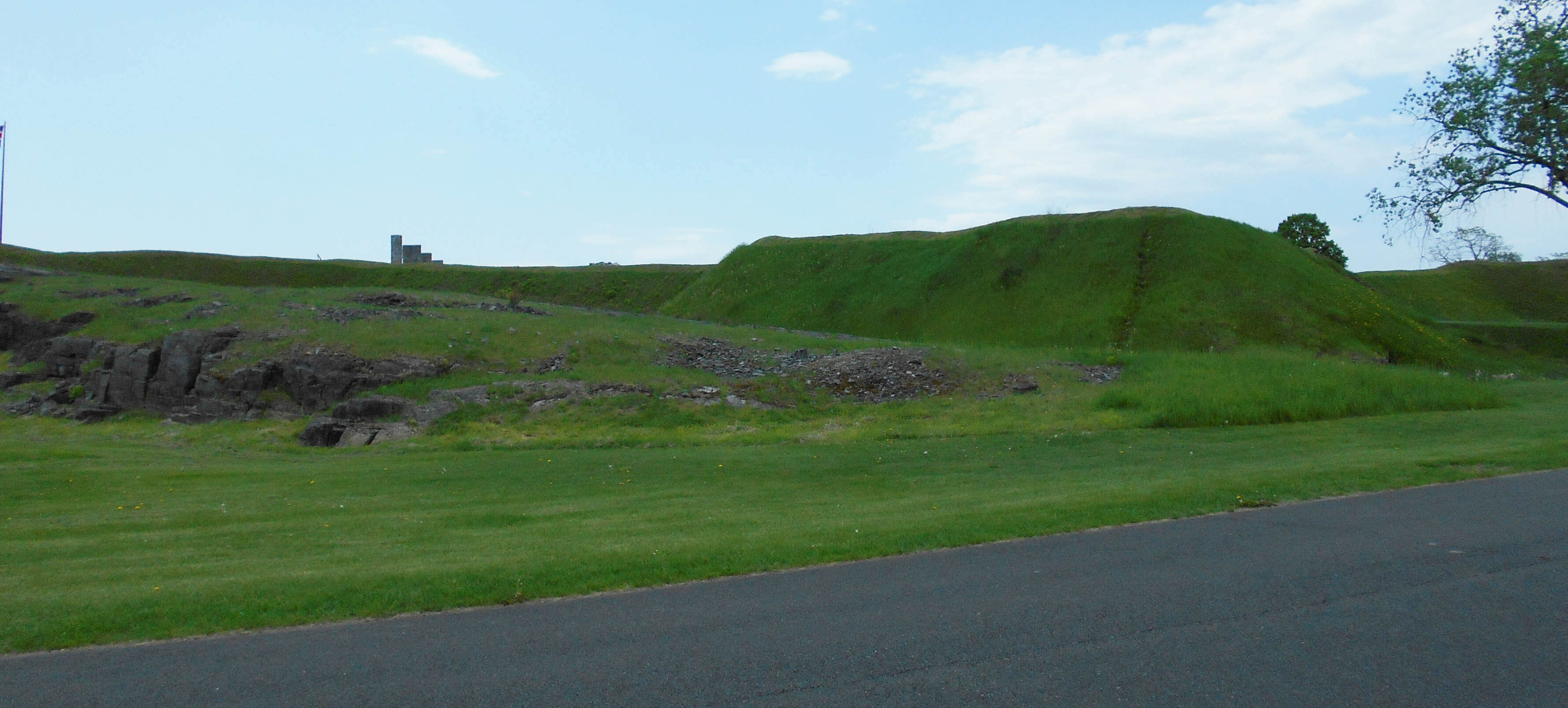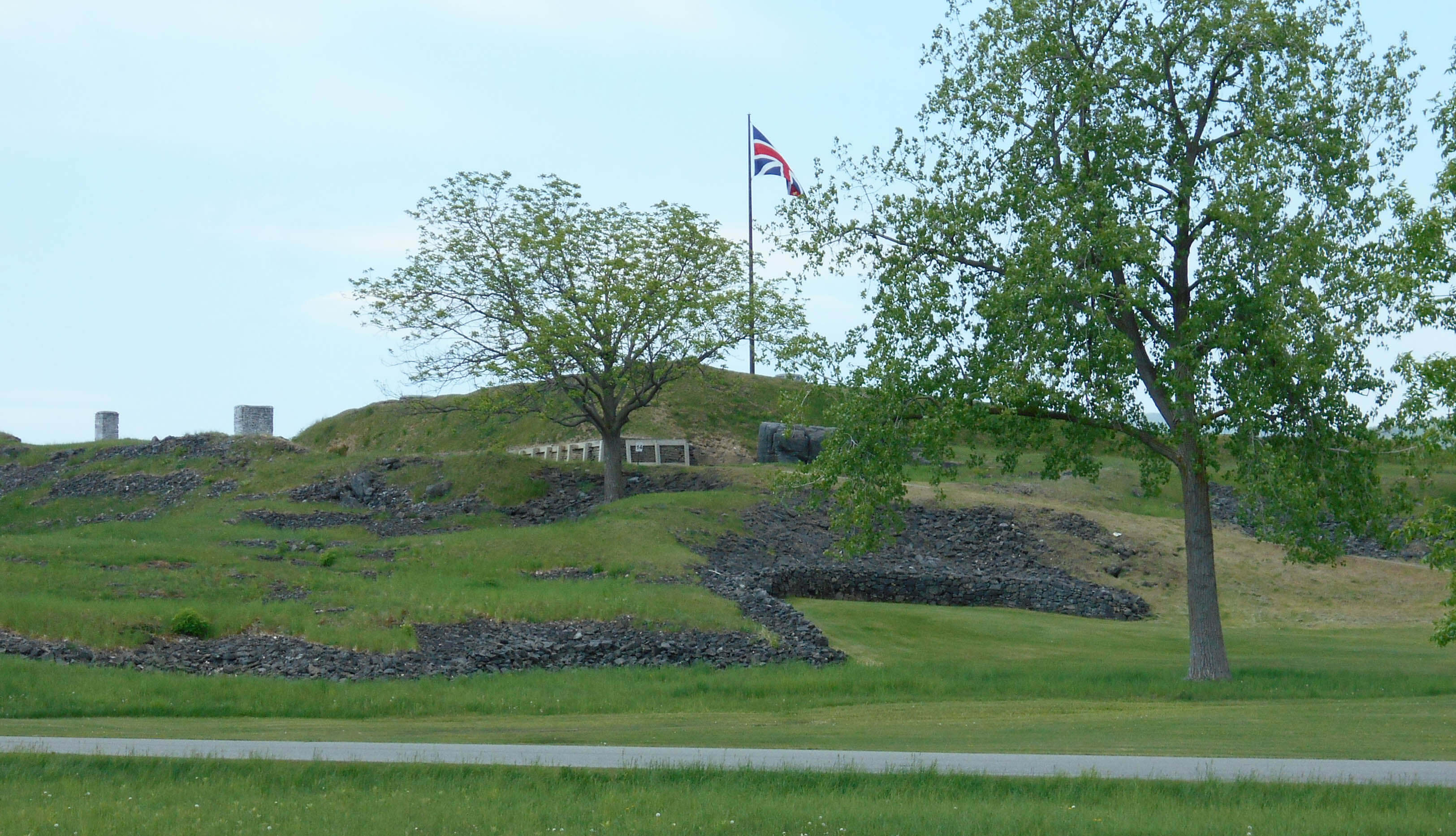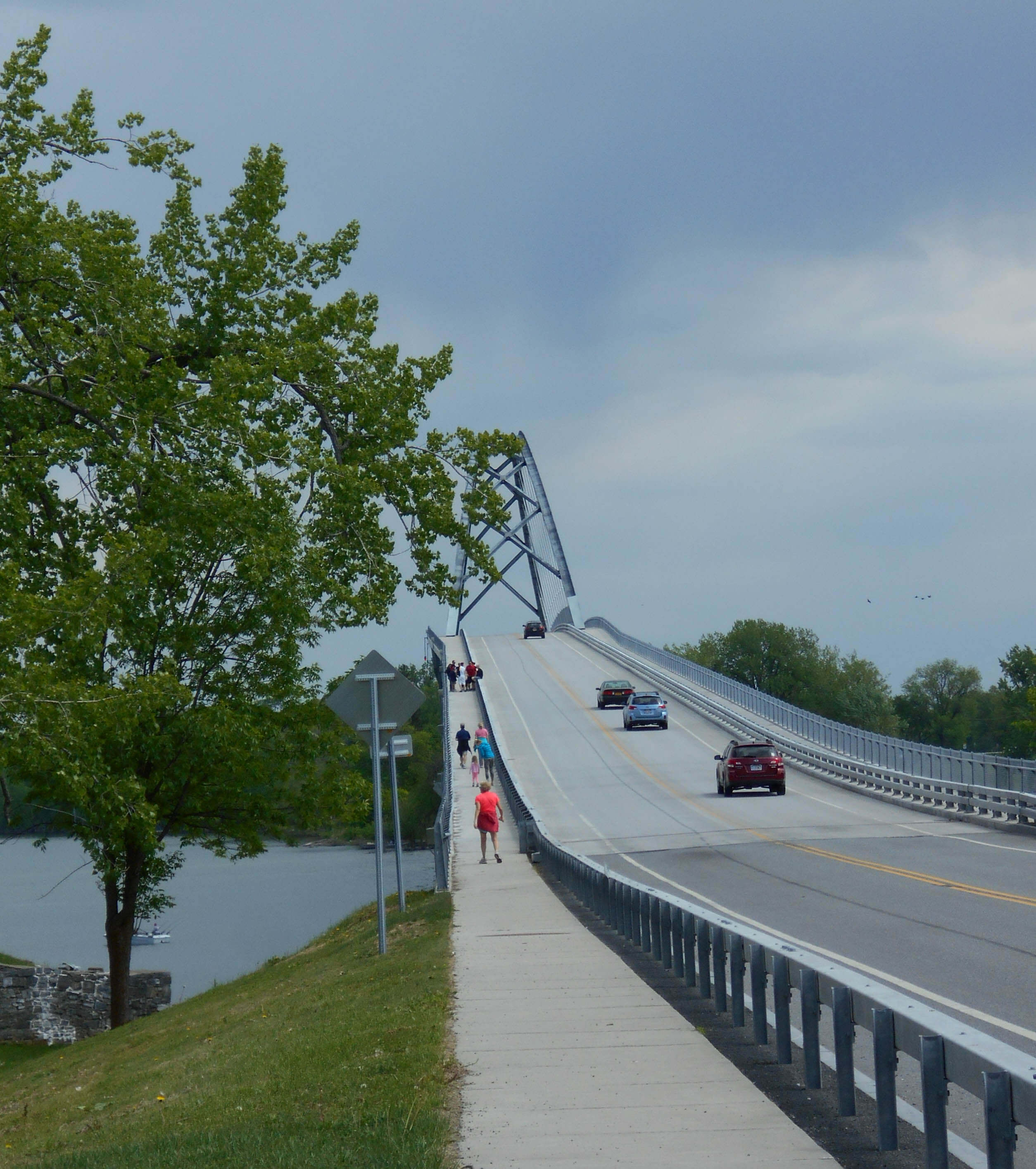 Yes, rivers in Vermont have WATER in them! This is the Browns River, names for my husband's family who settled this area in the late 1600's, Indian raid and all to Montreal. Lots of history here, as well as all of New England.  In all of our travels this summer we passed this sign: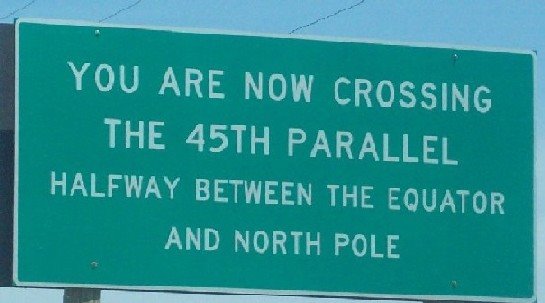 …which as I looked for other pictures realized we have crossed it many times in our 40-plus years of travel and never realized. More here.
So after 6 months some observations about our new home on the other coast…..
Local news – we arrived right at the end of the legislative session….for a week we had complete coverage of the major bills, pros and cons, what all the provisions were, and when they would take effect. Very different from Tucvson/Arizona. reminds me of living in Maryland where bhe national news WAS the local news.
GREEN……watched a full-blown spring develop, which was so incredibly gorgeous and reminded me of how much I have missed the seasons. Had to wear my heavy raincoat once, otherwise my jacket was fine. Weather was wonderful, and on days when the humidity is down, it is glorious. So far we are handling the humidity!
Over heard a discussion of several adults at a show we had gone to, lamenting the fact that a "big box" store was coming to the area – small town idea of a big box store coming in to town – Dollar General. But hey, Big Lots is huge!
No Target store anywhere in the state, and only two Walmarts in the state. I do miss Target, but if I have severe withdrawals, I can go across the lake to Plattsburgh,
Very few chain stores/fast food places – CVS for pharmacy, 1 Walgreens in the county, mostly mom-and-pop stores – bookstores, restaurants, really nice for a change to support locally.
Yellow traffic lights mean to "speed up," and since there are not a lot of center turn lanes, you wait for your chance and GO.
Everyone loves Bernie – Feel the Bern! – including a barn painted to support our senator and presidential candidate.
There is water all around. WE'VE HAD A WET SUMMER SO FAR, so the corn crop has suffered, as well as early fruits. Very interesting to be back in solid rural farm country, with farmers' markets all over.
What was once solid rural now still looks rural, but as you go off the main streets, you can see the new development. The commercial development has roads leading off the main drag, and then everything for parking lots and inner roads are well-developed. Easy to get around.
It is so easy to get somewhere else – trip to the Hudson River Valley was only about 200 miles away –  easy to see a lot of things.
Really friendly people, even at DMV! In order for hubby to qualify for his handicap sticker, by state law he had to do a driver's test to prove with a disability he could still be a safe driver.
Because of humidity, odors tend to hang in the air more….like skunk and manure……
Lots of mom-and-pop motels – very few of the motel/hotel chains until you hit the bigger cities. Tree bark is completely different, and nearly every gas station has a full-service deli….
Dress Barn – fantastic colors, very bright, as opposed to many of the softer southwest colors. Road grades are interesting – we thought out west 7% was steep – highest we've come to here has been 15%.
I've got to get to all of my pictures……November is turning out to be pretty warm (high low 502 today), so I'm sure soon we'll be staying in a lot! A couple of quick shots of autumn, looking west over Lake Champlain to the Adirondacks.
Oh my, things are beginning to pick up momentum! The studio is finished, ready to go, and I just pin-basted a commissioned baby quilt to machine-quilt by Thanksgiving, starting this afternoon, and I also have a list of projects by the years they are due (13th and 40th birthdays) in 2017.  I even visited the new quilt shop nearby (yay!) and left information about teaching machine quilting classes.Lots of great ideas percolating. Love our morning north light – but I will say I can't get used to it being dark by 4:30……just too far north now!
When I looked at last week's goals, I accomplished everything except updating Facebook and other websites. Plus, I need to get the marketing book out again, making the rounds, especially since there is information on a marketing plan for holidays.
Goals for this coming week:
update ebook on price, where to send money, etc.;
read about ebooks on other platforms besides iBooks;
half-way through the machine quilting on this baby quilt;
update Etsy listings with new information;
continue listing definite and potential projects (add solo show to the calendar!); and
anything else that happens to occur to us!
NEWSLETTER! Let people know we are still around!
Ya, dis ist goot….been a productive week and today started off fabulously with coffee with another artist in fiber who LOVED out work and will pass on a bunch of connections to galleries within the New England area. Joining Surface Design Association, as they seem to be making inroads in getting fiber shown in NE. Plus a new quilt shop in town, so I have already been by to show a sample of free-motion quilting to see about teaching some classes. And….lots to do this week.
Also, and probably most important, the studio is about ready…well, we've already started doing work, even though there are still a lot of loose ends and things to get put away. I am almost through ironing the rest of my fabric stash, which is each of our moves has always been our wrapping. But this time, after so long….I was caressing each piece and apologizing for it being in the dark for so long. NO MORE MOVES! They will carry us out of here! Now for this week I need to start a list of fiber projects, with a couple of deadlines coming up this year. Then I can prioritize and get started.
Thanks to Shutterfly I'm been getting prints of our digital work for great prices, and A.C. Moore (our Ben Franklin's and alternative to Michaels) for frames. Plus, it occurred to us as we were sorting through artwork that we can reuse some of the frames for work we no longer hang on our walls.
Also this past week, two digital marbling pieces hanging in a local bookstore as part of Essex Art League outreach, framing photos for solo show next August, and attended Williston Craft Fair – small but extremely well-attended, and folks were buying. We're interested in partnering with someone next year and putting in our fabric bowls filled with marbling fabrics and sewing notions. to that end, Hancock Fabrics had a dynamite sale on sewing notions, so we did an order in preparation for next season. Hubby stocked the Etsy store again, so take a look.
A good week all around. Now for this week:
list of projects for sewing, etc.;
finish organizing studio;
check deadlines for quilts for birthdays (Whip, Gavin);
review fiber art calls from Feedly;
start on quilting commissioned baby quilt; and
update the Facebook page, as well as other online sites.
Good to go this week.
This coming Friday it will be six months since we arrived in Vermont. We certainly didn't expect that long to be staying with friends and traveling, but our living arrangements are worth the wait, esp. since the studio is LARGE! We can both easily work together in the space. Now it means getting all those ideas and projects down on paper and prioritized.
Interesting that I have put off lists for the six months – thinking about what I wanted to do and couldn't would have made me even more nuts had I been writing everything down. Now I can list things by due dates and so on….lots of juices are flowing again.
One of the toughest things was missing a lot of marketing opportunities, starting with Open Studios the end of May. Lots of good connections and really no way to follow-through – all the art work and samples were packed, and once we found out we would be 5 months  before move-in, we didn't want to commit to anything.
However, that doesn't mean I haven't gotten anything done for marketing just recently. This week:
reconnected with an artist friend from 20 years ago who runs a small gallery and we exhibited with her in the past and hope to do so again;

joined Essex Art League in September and have a solo show scheduled for August 2016 in one of the main libraries;

reconnected with another friend and mother of students who also has a gallery and wants to chat;

hanging work in the Phoenix Books independent bookstore here in Essex Center from November 5 through beginning of January – just in time for the holidays; going to do a couple of our digital pieces;

ordered a bunch of "freebies" from Shutterfly (just paid postage) of some of our other photographic/digital work to see the job they do, and now we will see about getting them framed; and

actually updated the FACEBOOK page for Marble-T Design – have nearly 500 followers after no activity this summer – go figure…..
There's a lot I want to get done this coming week:
finish organizing studio;

get list of projects with deadlines;

make list of "playing around" items;

complete cards for artwork hanging this week; and

newsletter to MTD customers – mentioning holiday shopping
I am retired, and these six months taught me it's okay to relax, but oh, did I miss my art! I hugged my machine several times since it has been unpacked. * did accomplish handwork over the months – 7 long crocheted scarves plus3 complete sets of scarf/mittens/hat for a charity in the Ukraine. That felt very good – and I'm looking forward to doing more on the long winter nights to come.
With all the traveling, I missed a significant anniversary – the end of World War 2 in Europe. As a history person, I read up on lots of events, and for this I found an absolutely incredible video showing the human cost of war. I consider this a "must watch," especially for those of us who advocate for peace.
This Video Illustration Showing the Scale of Human Loss From World War II Is Devastating
Other posts on World War II: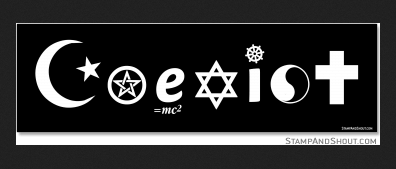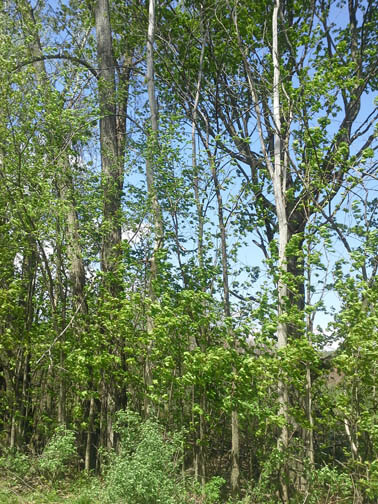 We are here, finally, after two years in the planning. We are finally at home in hubby's native state of Vermont, as well as the area his ancestors settled: Jericho, Vermont. Yup, he's a Brown. And the operative word is GREEN!!! Once we got into Arkansas, the greens of spring were really soothing, and as we headed further north, greens were sprouting, until finally in Vermont there were just a few sprinklings of beautiful spring. But two days of rain changed all that to glorious colors spreading very rapidly. We literally watched the lilacs sneak into bloom. It was a hard trip across country, and not the first time we've done this trek. I counted up and this is our fourth time back and forth across the interstates.
But we are older, and the amount of sitting really took a toll. First night from Tucson to Santa Rosa, NM east of Albuquerque. These first two days were long ones because we wanted to make it before more storms hit tornado alley. Second day to Ft. Smith, AR, and third to Nashville, TN. Then to Roanoke, VA and the fifth day to my niece in northern Virginia. That was an easier day – a wonderful glass workshop in Staunton, VA that we had been to five years ago, and then a tour of Manassas Battlefield. My great nieces and nephews are adorable, and my oldest – Gracie – is a firecracker.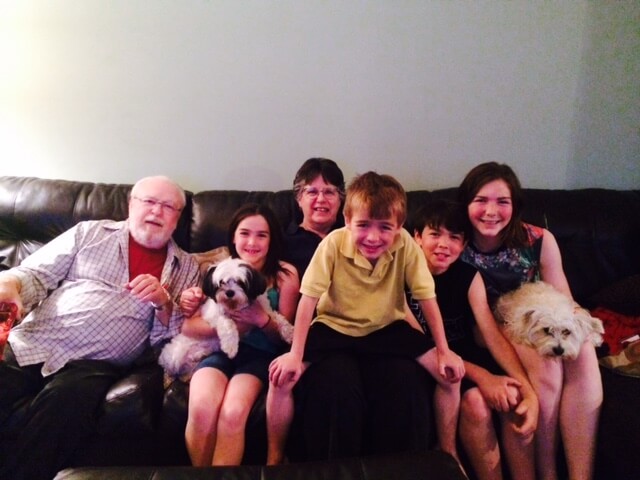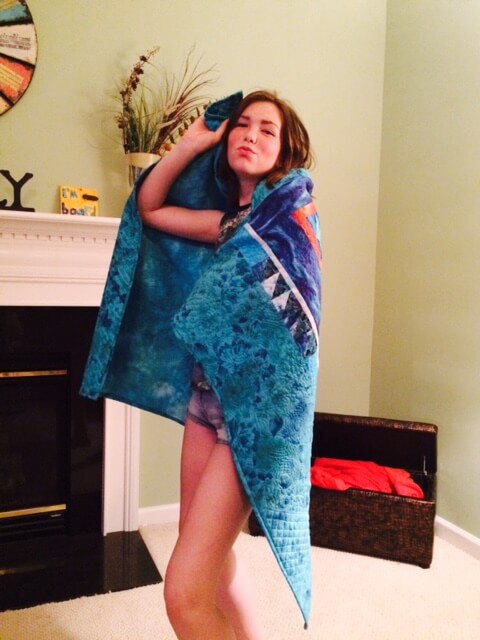 No mater how many times we stopped to stretch and do some simple yoga moves, my legs still cramped badly. A week after arriving they are finally back where they were and the aches have started to subside. But oh my, the traffic!! This country definitely runs on trucks. Arkansas infrastructure really needs work on the interstates, so I can only imagine what the state roads are like. Tennessee was better, but Pennsylvania was exactly like we remembered – cold patching flopping in the breeze.
The amazing thing about all this move is that everything has been falling so easily into place.The last two months before the move I had a lot of anxiety about whether or not we were doing the right thing…but NOTHING was a problem. Everything happened as it should, from the delivery of the truck to the packing to the unloading and storage here in Burlington. Everything was so smooth – and if you've moved any time at all, you know how stressful it can get if something goes wrong. Our only problem was a night in southern New York with the Sheraton saying it wasn't a CHOICE hotel, and the Choice saying it wasn't a Sheraton. How did they solve the really lousy night and service? By offering us a voucher for a free stay at that hotel when they were done with construction…..like we're headed back to Newburgh, NY just to stay there……..Not thinking highly of Sheraton at all.
So last Wednesday we crossed into Vermont and headed up Route 7 (after missing the turn, which we have used for some 39 years). Green Mountain state, how gorgeous. The photo at the top is by the small park in Underhill on the Browns River, and it looks like spring is in full swing, but not so – it's just started up here. There is still forsythia in bloom – which I remember from springs in Maryland was the first color to pop. There are so many blooming trees – I had forgotten just how many trees come out in color this time of year. I love birch trees, so I had to snap that. I have other pics but they're on the main camera.
The only wrinkle is our actual new home. We had been on the waiting list for some senior housing for the last nine months, but when we checked in with them, we were not at all happy at attitude – not willing to show us floor plans, talk about costs, nothing until we were at the top of the list. Well, that doesn't help us much at all. So our first day out and about was discouraging. Couldn't get a new bank account because we had nothing to show with a new address – thank you, Patriot Act. Well, Friday I left for the day with no expectations at all for what we would find. The best thing about Friday morning was the fog – we have fog in Tucson maybe twice a year. It was gorgeous.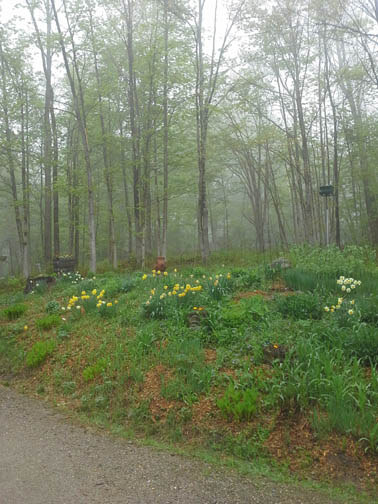 We had an appointment to look at a senior complex Friday at noon (this after I spent about 3 hours on Craigslist the night before trying to see what was available). We had talked about what we wanted in a place so we wouldn't have to move again, and we finally settled on the most important criteria – second bedroom studio space, decent light, covered parking, no stairs. This complex we looked at had all that and more: still being built, third floor, good light, spacious, new appliances, emergency pull that hooks into the local rescue, good community, and everything nearby – pharmacy next door, great bagel shop across the street, credit union within walking distance – and……UTILITIES INCLUDED! Absolutely perfect, so we signed on the dotted line. The wrinkle is we can't move in until September, so we will be doing some traveling in the meantime. No pics yet, as everything is under construction.
So – the adventure continues!
So we are a week away from being on the road….and lots of thoughts to process. This is different from many of the other moves (22 since we've been married – and we're not even military!). Social media didn't exist 21 years ago when we left Vermont, so it wasn't easy to keep track of people. That has changed, and I'm glad of it. Now I can stay in touch with teachers, students, family friends – keep up-to-date with people I may not see again. Plus it's the longest either of us have lived in any one place (state, that is….). Twenty-one years here and we've seen much of the southwest we didn't the first time around. Still a few places we missed Canyon de Chelly, Acoma Pueblo – have to save something for another trip!
Yes, winter will be hard, but at least this time neither of us has to go out for work. We can hibernate throughout the winter months – but we must buy a natural light lamp to mimic daylight to help with SAD. And there's nothing to say we can't hop Amtrak and head west – or south, for that matter – people to visit along the Atlantic coast.
We did have a bit of a good-bye celebration last weekend – teacher friends, students, our second family – lots of laughter and very few tears. The world is so much closer together.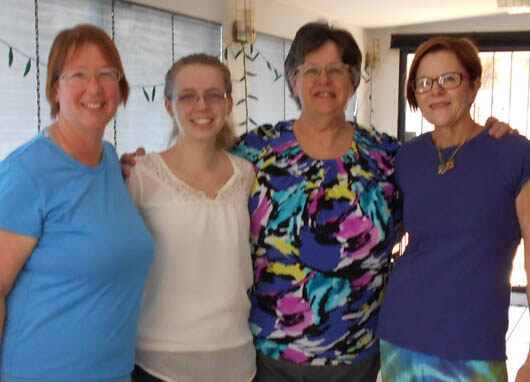 Raquel and her teachers…..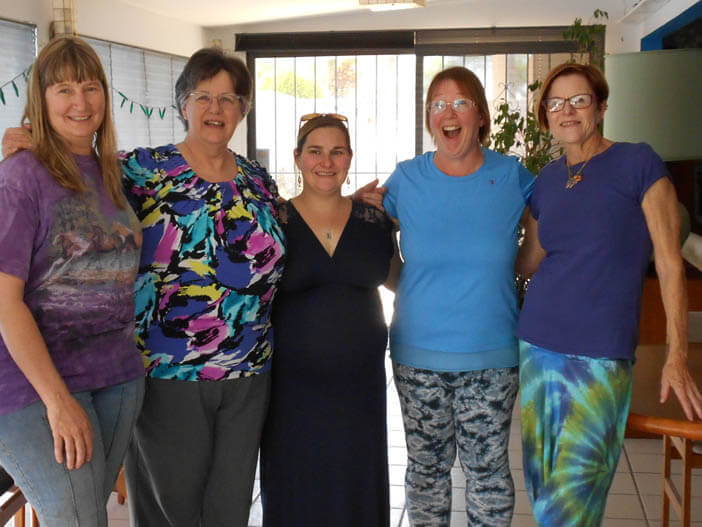 The Utterback crew……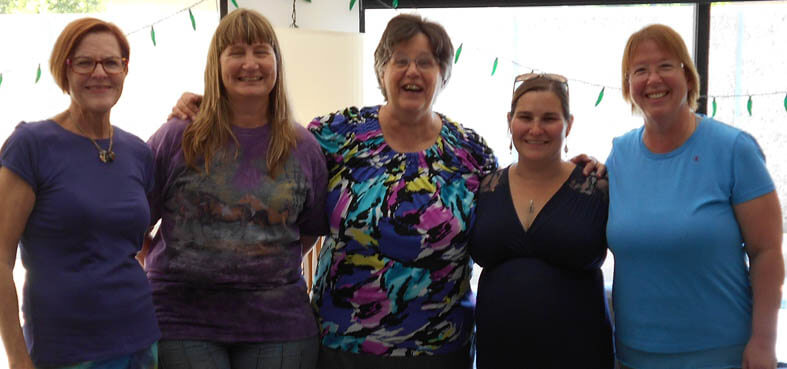 "Little brother" George – the most gentle man….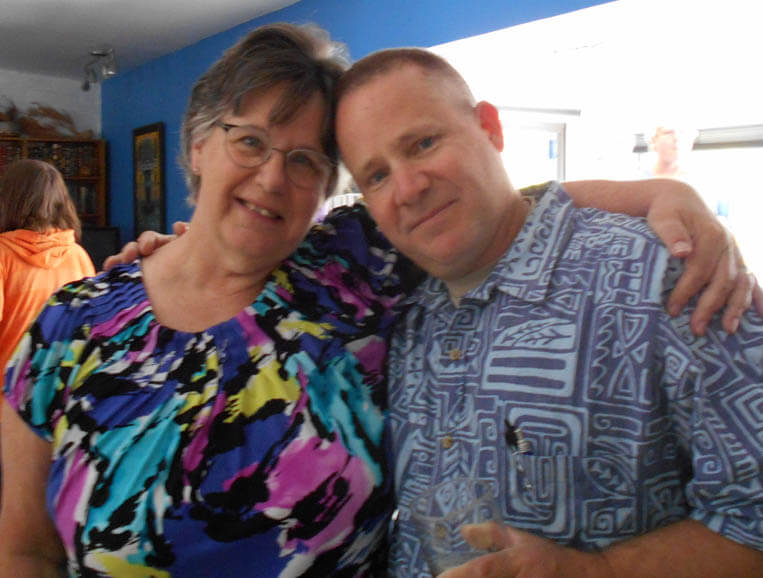 Always leave the hilarity to my sarcasm twin Michelle….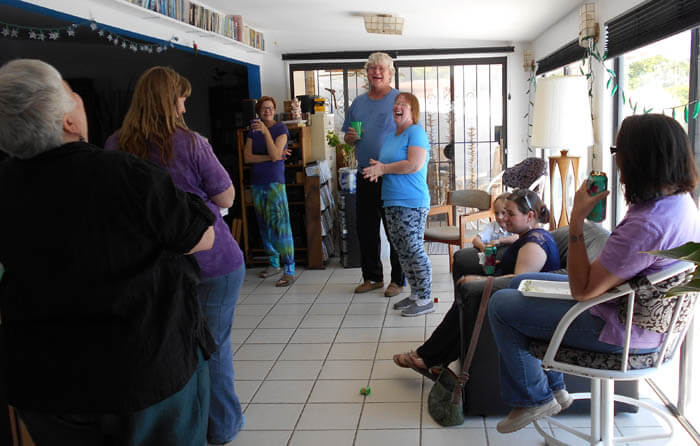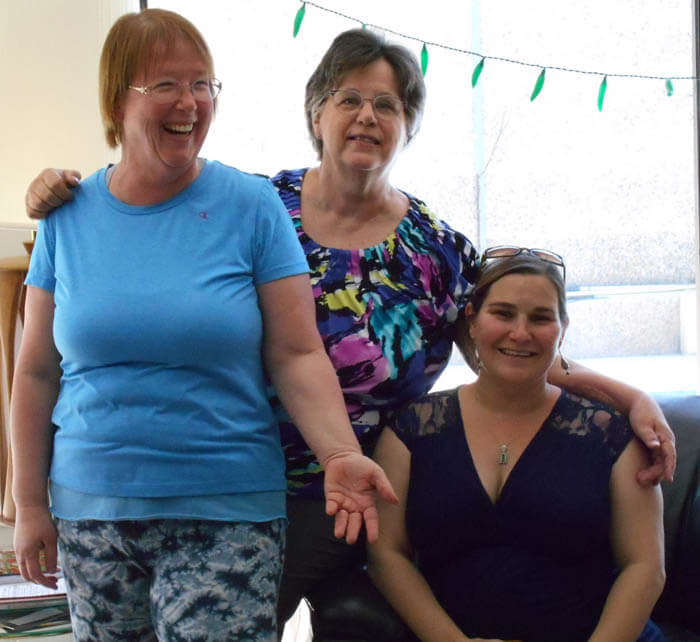 Strawberry daiquiris….. blurry then and blurry now…..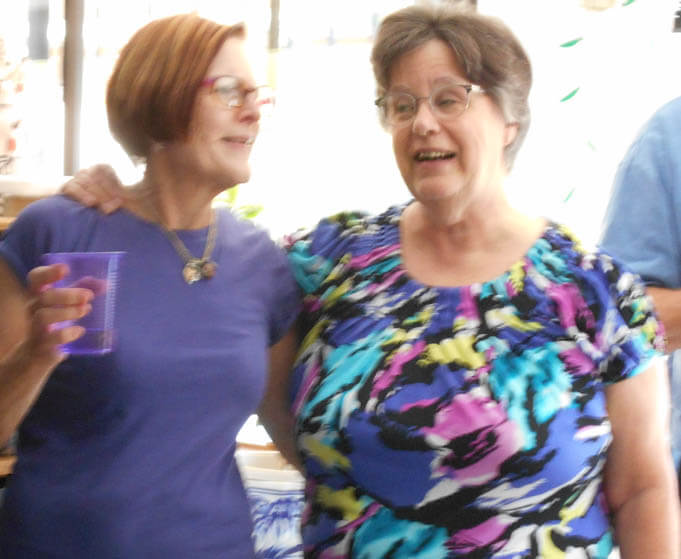 Some heroes you might not know about……..in honor of this year's Holocaust Remembrance Day – click on the articles to read the whole piece.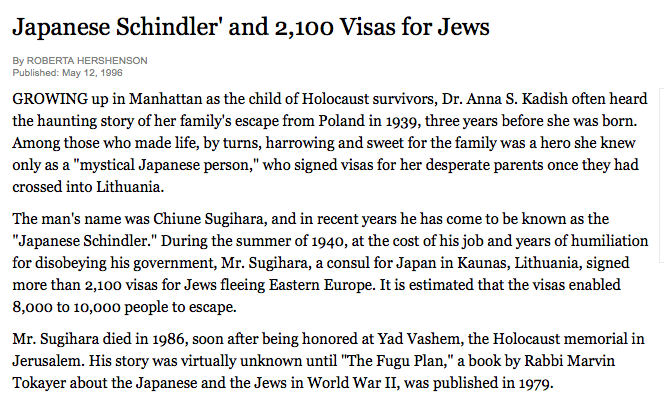 (continue reading by clicking the picture)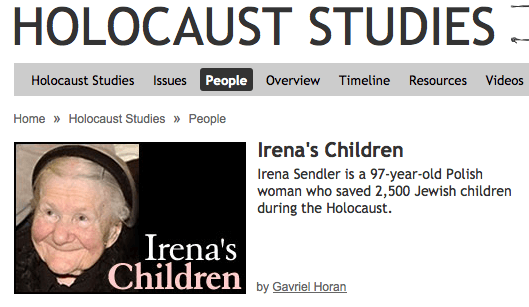 (continue reading by clicking the picture)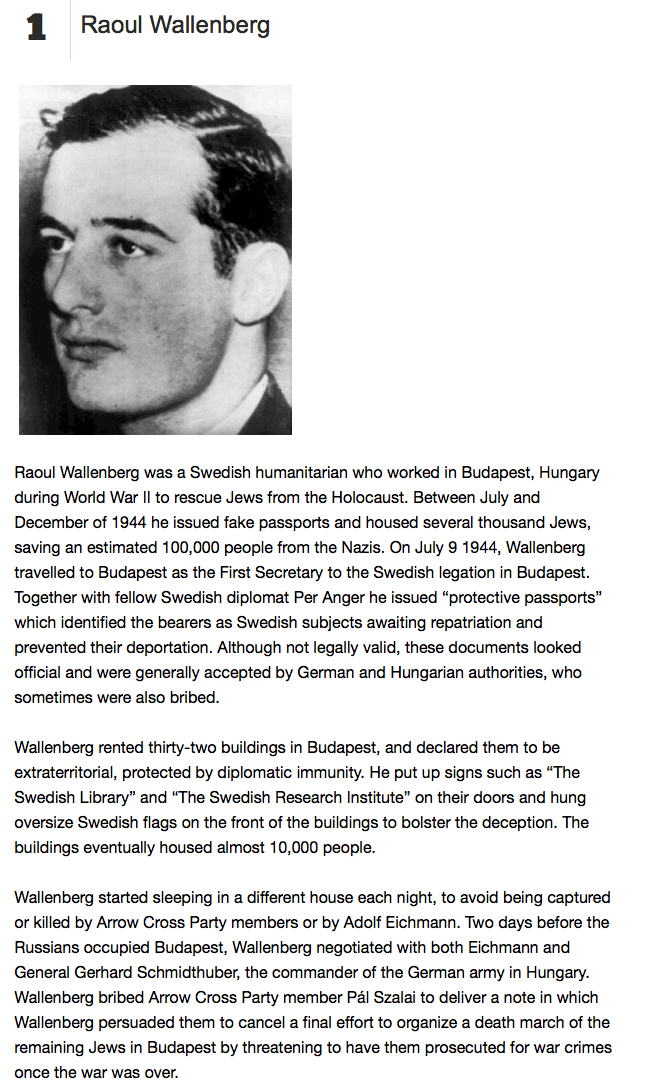 (continue reading by clicking the article)
My last finished project before packing the studio for the big move to Vermont. I made a modern quilt – it didn't start out that way. I was going to do a log cabin, but then I decided I just wanted to sew half-square triangles using the paper triangles. After about 150 triangles, I realized there was no way I wanted to sew three times as many more for the whole quilt. So I made the center panel. (Needless to say, I have lots left over for another project….)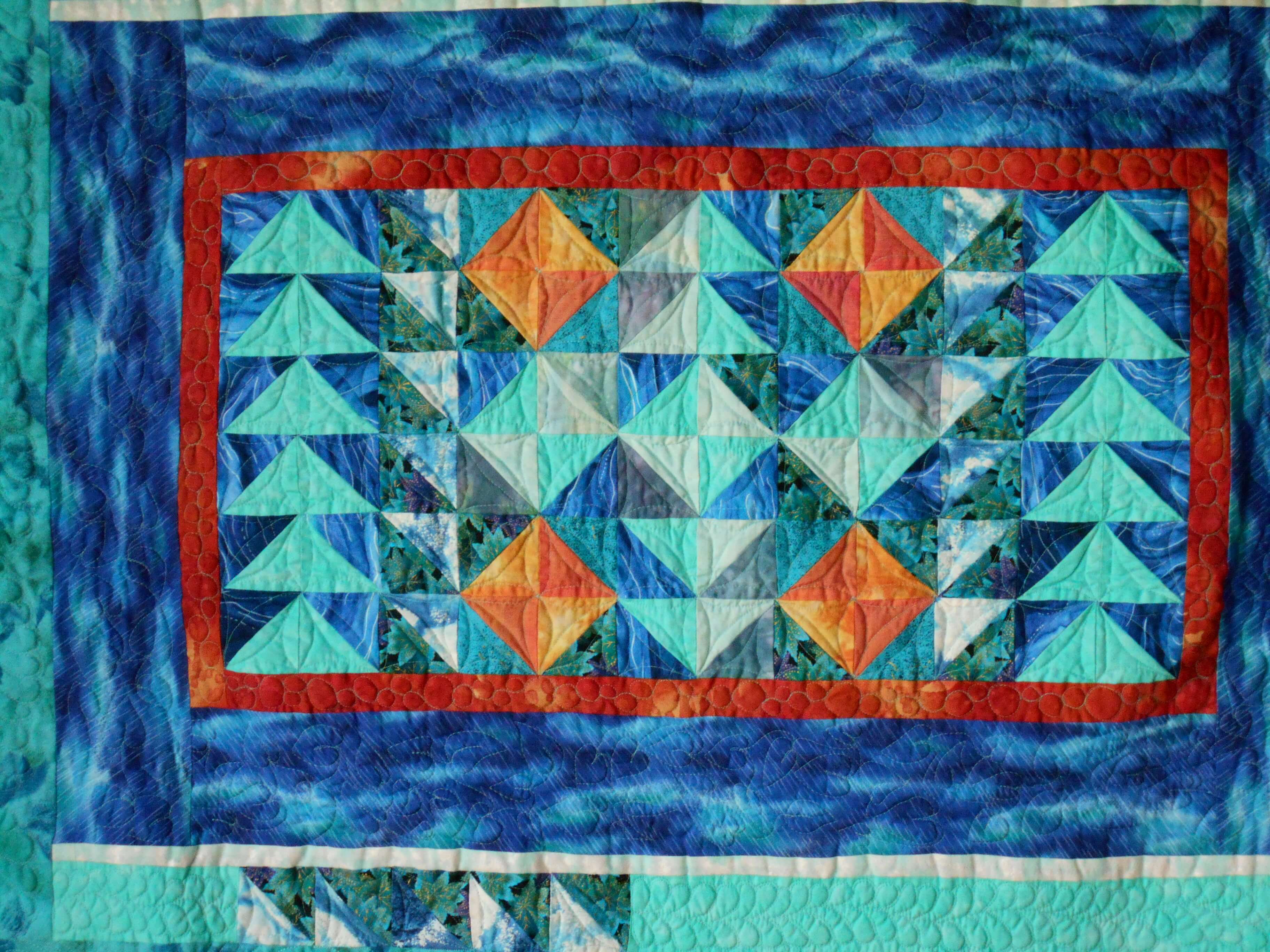 All of the colors were chosen as to whether they would play nice with the blue fleece I'd bought in November for the backing – this color is my great-niece's favorite – forgetting the fact that I've never used fleece for a backing…..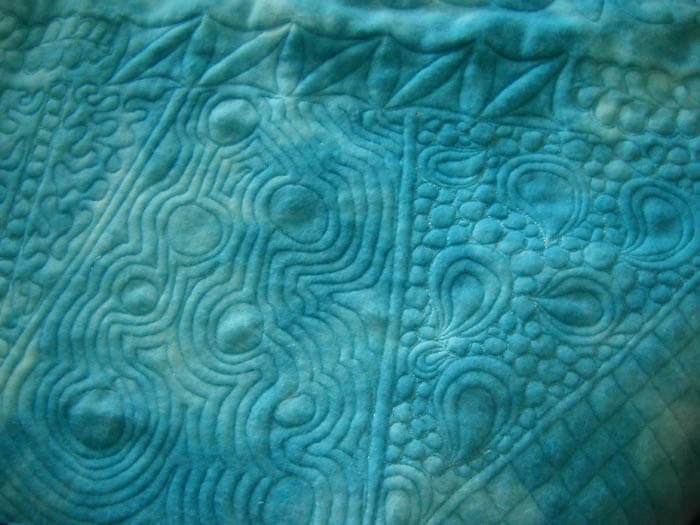 Then I started playing around with borders to the center design, trying to get it into lap-quilt size. I had plenty of triangles left, so did borders with just a few on each end – I've seen something like that in a lot of the modern quilts I've looked at. At this point things became pretty freeing – I knew I wanted lots of space for free-motion quilting, and Maria from Quilter's Market helped me pick out another fabric – she has an amazing eye.
The worst part of the whole quilt was sewing together all those triangles, lumpy intersections, and trying to quilt over them. But I LOVED how it came out. I was having serious rippling problems because of the stretch of the fleece, and Maria suggested using 505 to spray and corral it into place for the rest of the quilting – wonderful, with only a few ripples and they are not really noticeable. I ran out of my Silk Kimono blue I was using, which I loved….and if I hadn't had several rippit sessions, I might have had enough to finish the quilt. But I had to go to the Big Local Fabric Store and once again I realized HOW MUCH I LOVE Superior Threads – the stuff I bought kept shredding constantly. I used Magnifico in the bobbin and LOVED it.
So here are some shots of the free-motion on the front: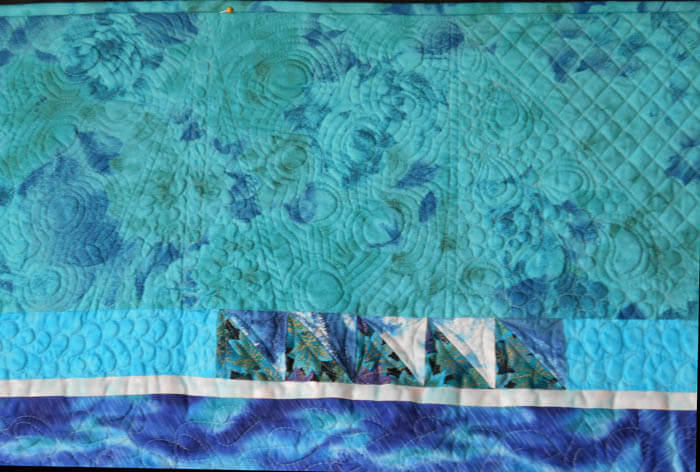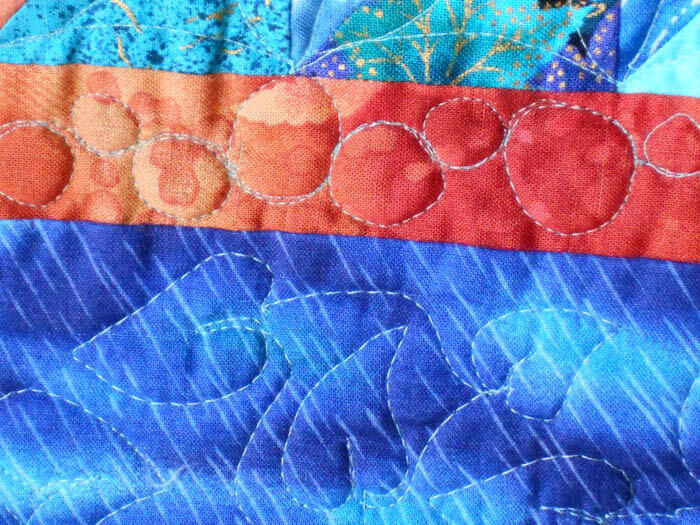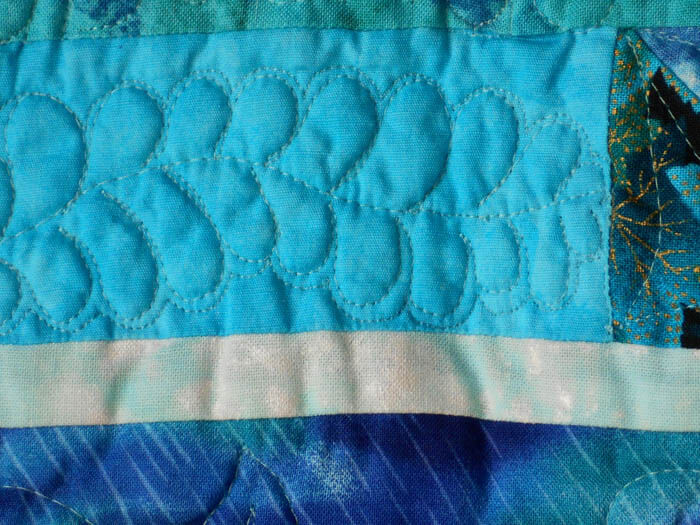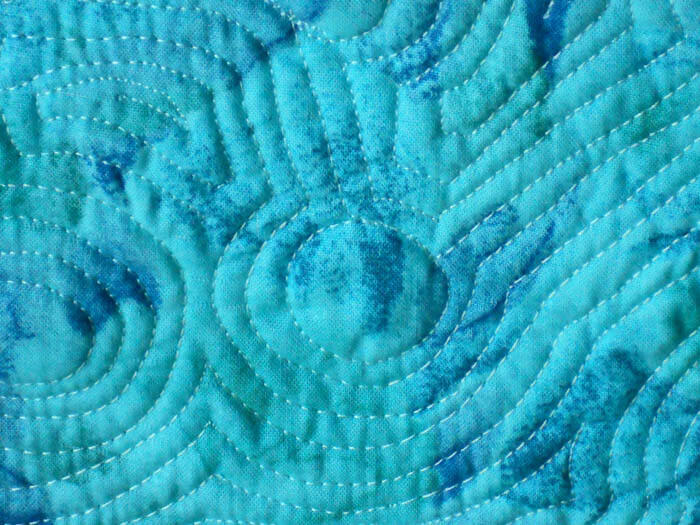 And finally, the completed lap quilt for my great-niece Gracie-Mae on turning 13. (Seven more lap quilts for the other great-nieces and nephews over the next 10 years as they turn 13…….)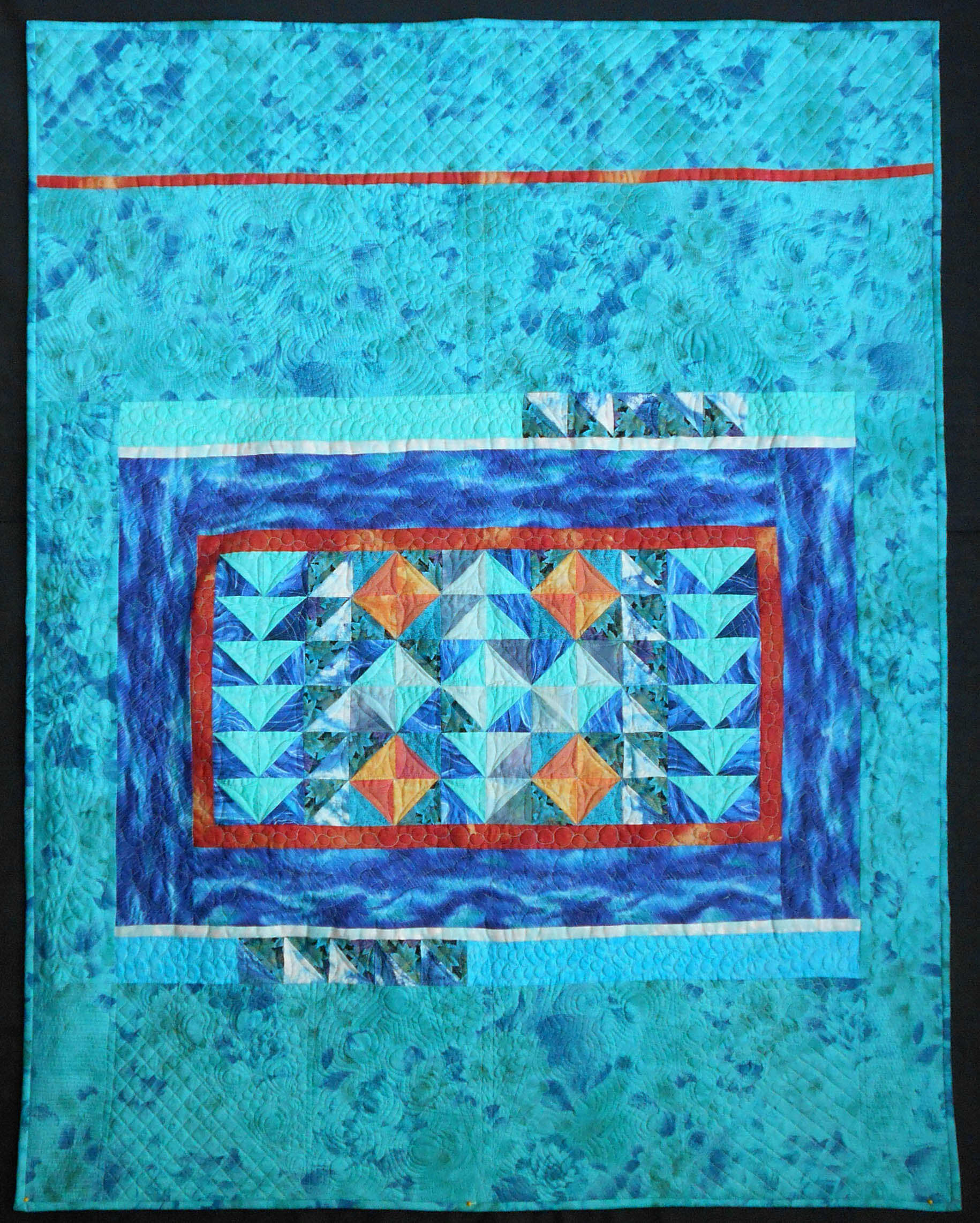 Or if you prefer this orientation….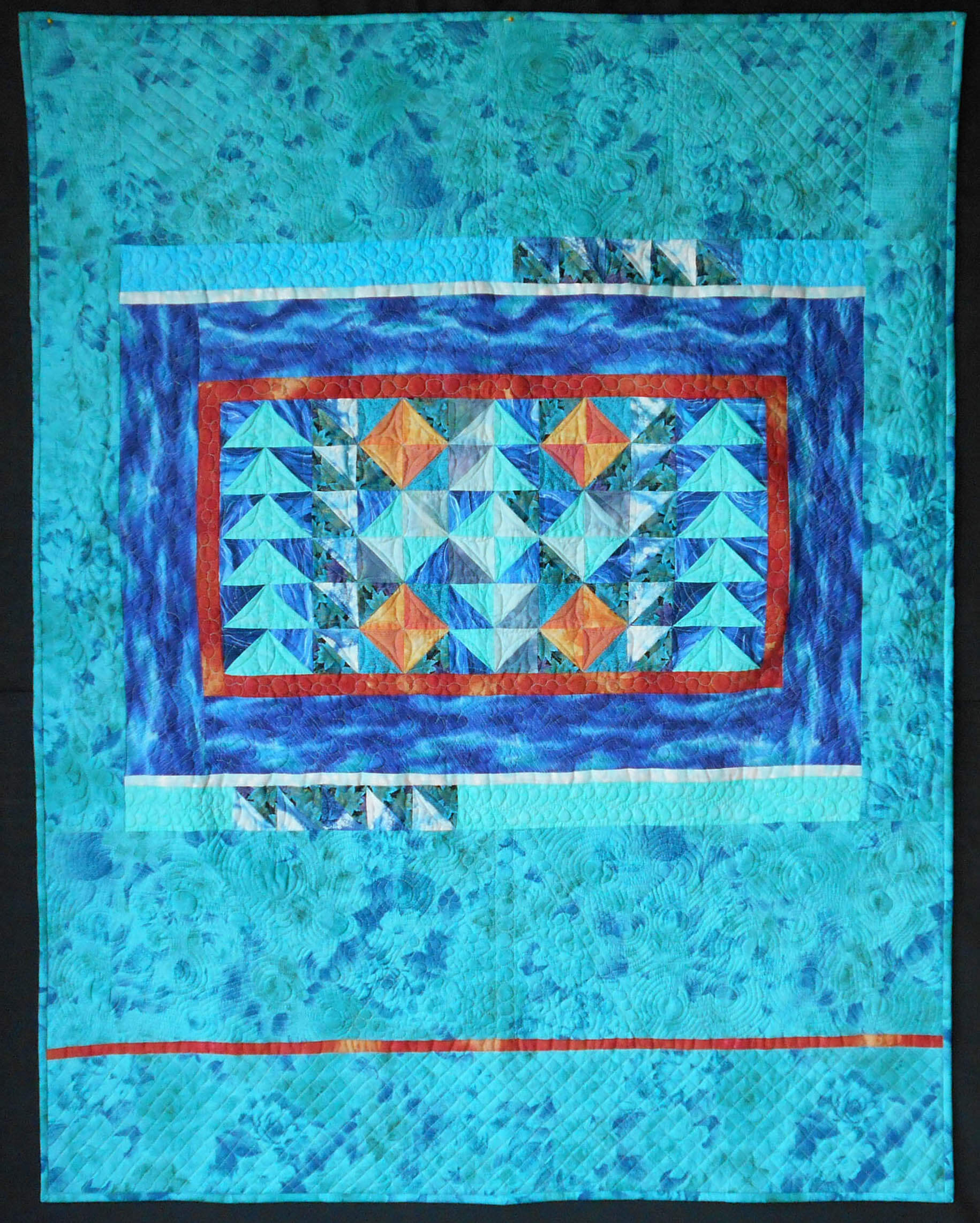 I can now understand the freedom of modern quilts. I have a lot more ideas on how to use the marbled fabrics in some new smaller wall hangings, but that will need to wait until I set up my new studio in Vermont – maybe by July!

I love me my technology, but I think I am reaching a saturation point. I say this as I am hooked on my Mahjong app and spend way more time than I should. So much has changed since I bought my first computer (Apple GS2) in 1989 – minus a hard drive because I didn't need one. Years of carrying floppy discs and then their smaller brothers. But I think I am at my limit of devices. I  don't use all the capability of a smartphone – I still want it to be a phone. I did have to get a new external drive to back up everything on the iMac. Last time I did that was three years ago on a different computer, so I had to buy a new one – a terabyte, which I'm sure 3 years ago wasn't planned.
Because of the novel and the digital work, I can't afford to lose stuff. I still don't completely understand the cloud, but I know if there's a fire, I grab the external hard drive and I have my computer files. This has led me to try and understand more about managing files and the cloud and storage and disaster preparation. Once again I can turn to the internet to see what's available and inform myself.
I'm the IT gal – I still find it interesting sales people talk to hubby when I'm the one with the questions. The Apple store Genius Bar can usually answer all my questions. So I'm not sure I need a company for IT….but I've been investigating disaster recovery, like with Calisto (http://calitso.com/).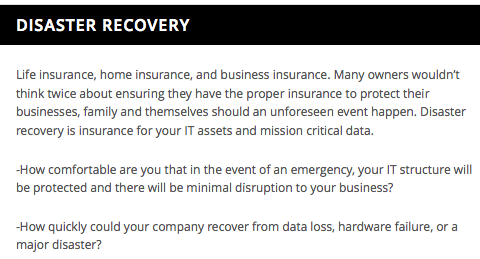 This intrigues me, because I'm of the generation that has most of those forms in paper and in a metal lock-box. But it's worth thinking about a different storage system.
Now I will never be a big player online, even though we've been selling through the internet since 1998 (makes us ancient). But that doesn't mean I can't be knowledgeable. FileCloud (http://filecloud.pro/) brought up an interesting point…..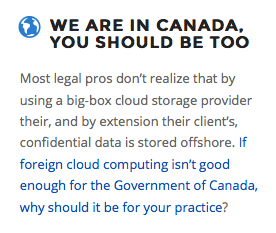 Why would I want to store information offshore? Canadian readers, you're all set. I need to do more research on storing within the US….now to pack the chargers and assorted cords for the devices as we go on the road to visit friends and family in northern Arizona….and batteries, too…..
Oy, we are in the midst of serious boxes…and packing. A little each day, sort and clean and plan ahead. Lots going into the recycling can! We do not know what we will have for accommodations on the other end, but we anticipate it will be considerably smaller space. We are looking into some of the senior living communities in Chittenden County, of which there are many,. We are on the waiting list for several – the one we would like has a two-year waiting list, and we've been on the list since this past September. Trust the universe – it worked out perfectly for our last move!
Once again I can turn to the internet to check out what accommodations are like for senior living around the country – and Canada, should we decide to go even further north and east. If nothing else, we get great ideas on possible amenities and questions to ask. For example: Wallace Living  (http://wallaceliving.ca/)– a place in Nova Scotia – an area we are seriously contemplating. Since it will be COLD next winter, it's nice to see that a lot of complexes are including all utilities.

AND NOW –  for the SALE!!
For sale: A gorgeous hutch (you can tell we are collectors, but we are getting tired of moving this large piece. 4 glass shelves with plate grooves, lighted top and bottom. Asking $200.00
Baker's Rack – 4 plexiglass shelves, great for indoors or out – asking $35  SOLD!!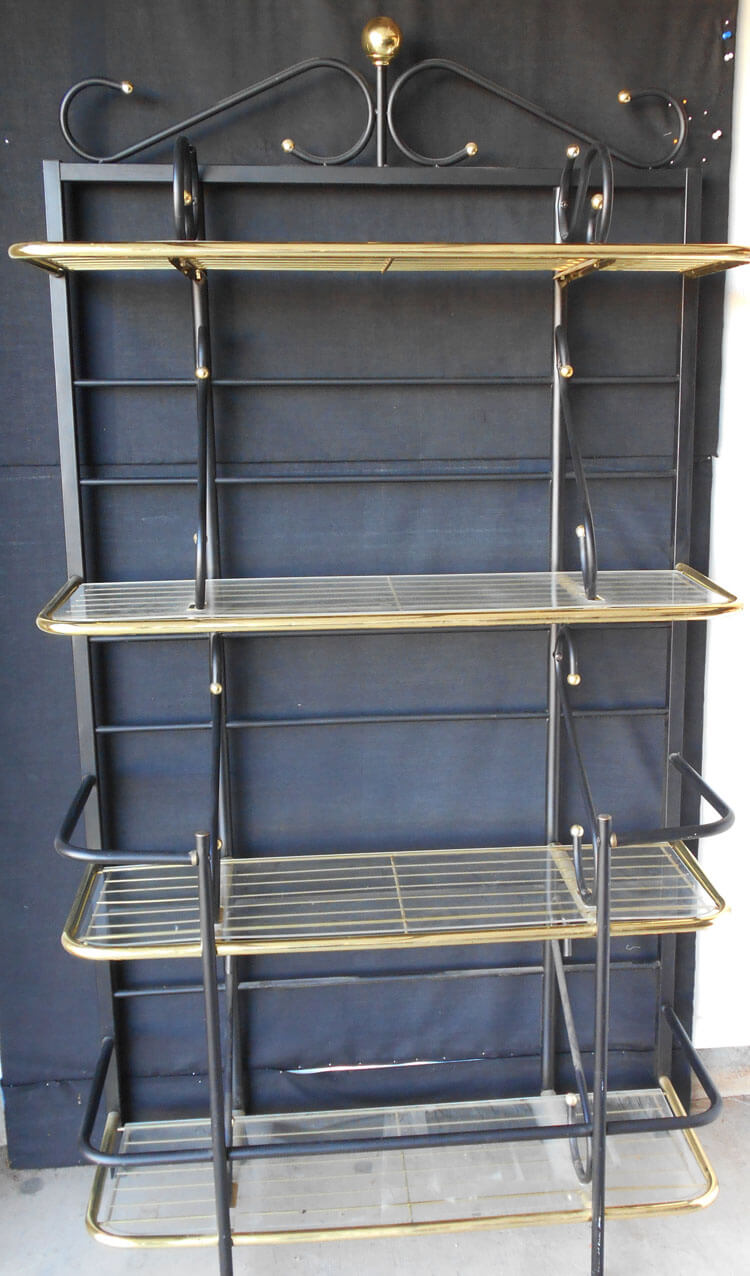 Hoover vacuum cleaner – with bags – asking $35 – SOLD!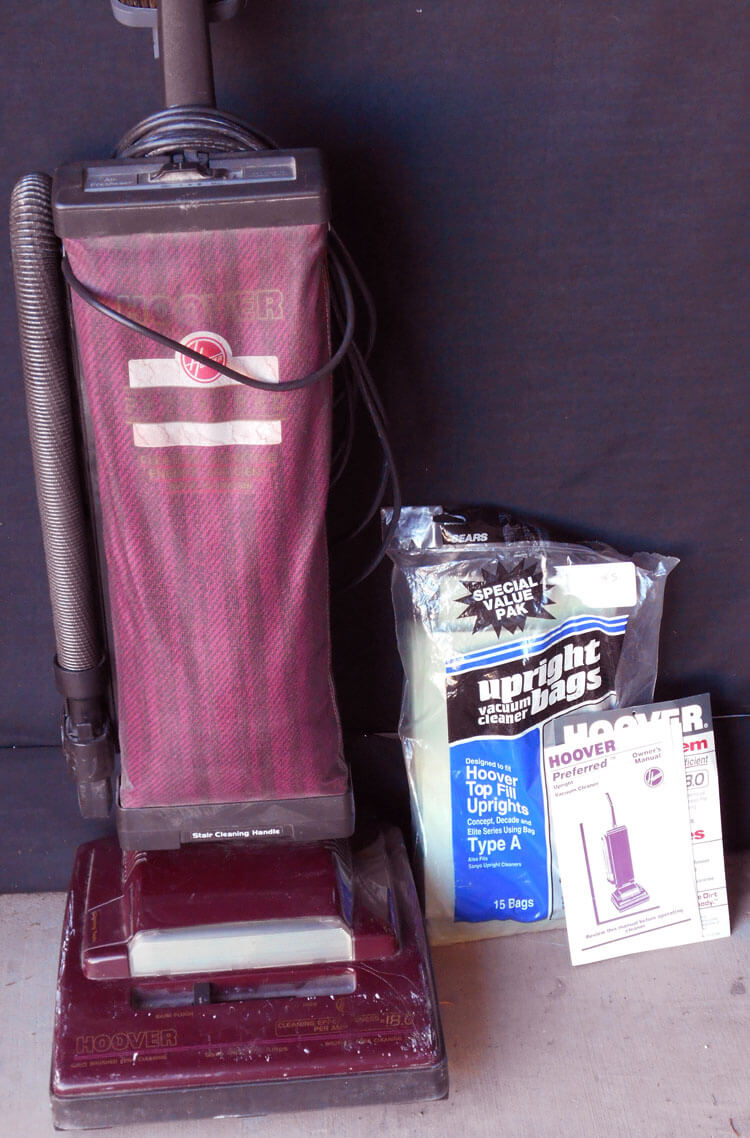 Two desks that can be re-purposed for craft tables, asking $5 for the small one and $10 for the large one.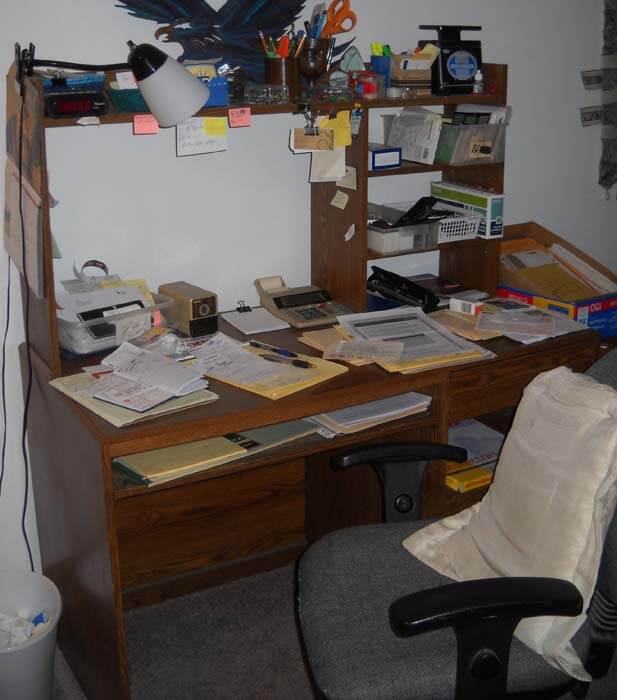 Large one SOLD!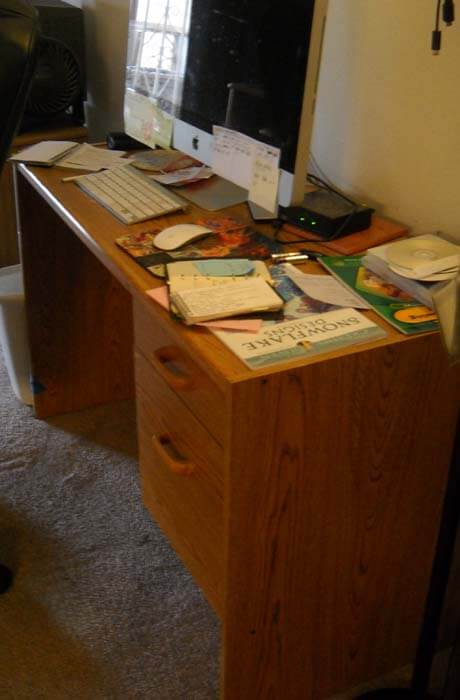 Lamps – two hand-turned wooden lamps with shades (which could stand to be replaced), asking $25 for both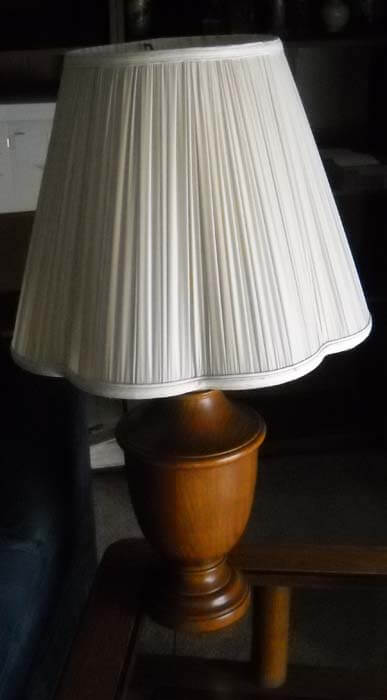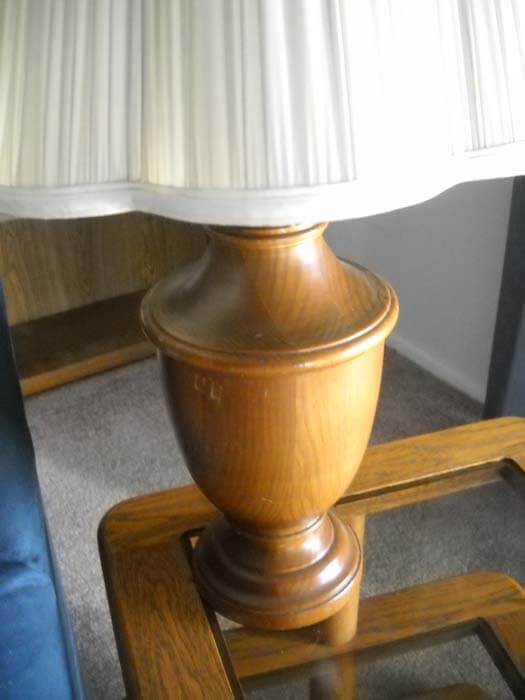 Lamps – two smaller bedstand lamps in a coral shell motif – asking $15 for both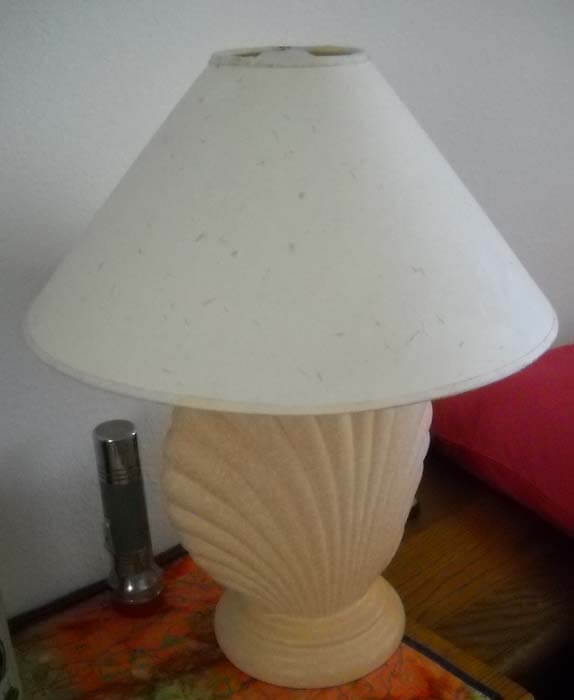 One blue loveseat, microfiber, sits two easily – comfy – asking $50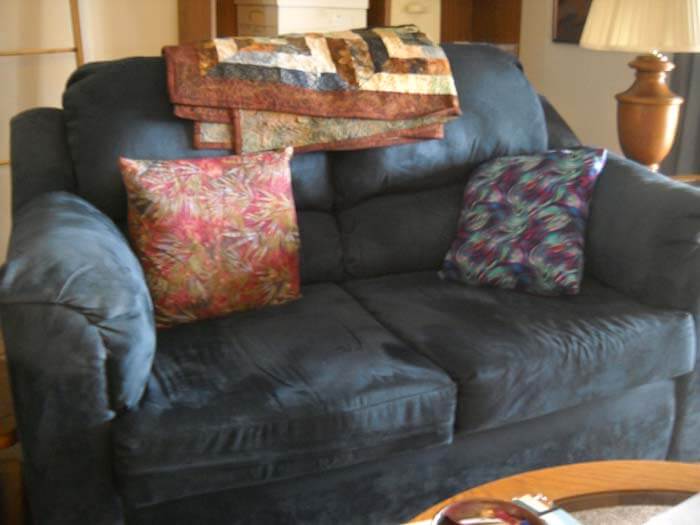 One filing cabinet – asking $5 SOLD!!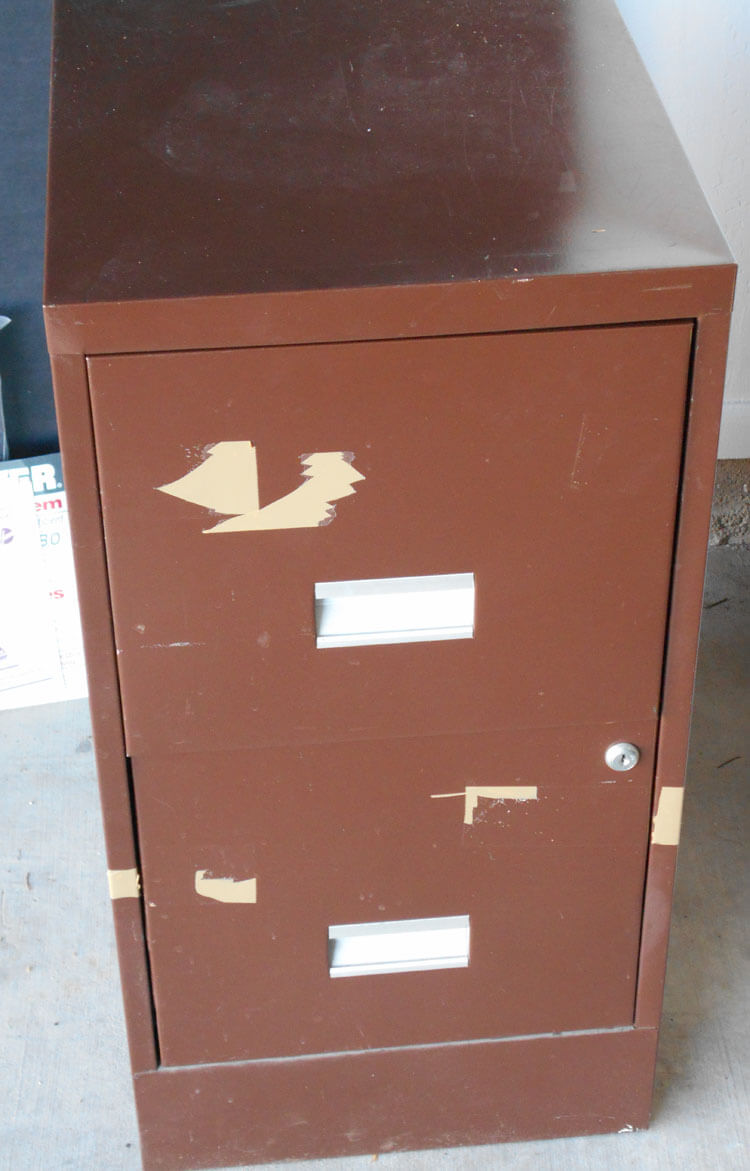 One white dresser, 4 drawers – old, painted, (would be great refinished) – asking $25.00 SOLD!!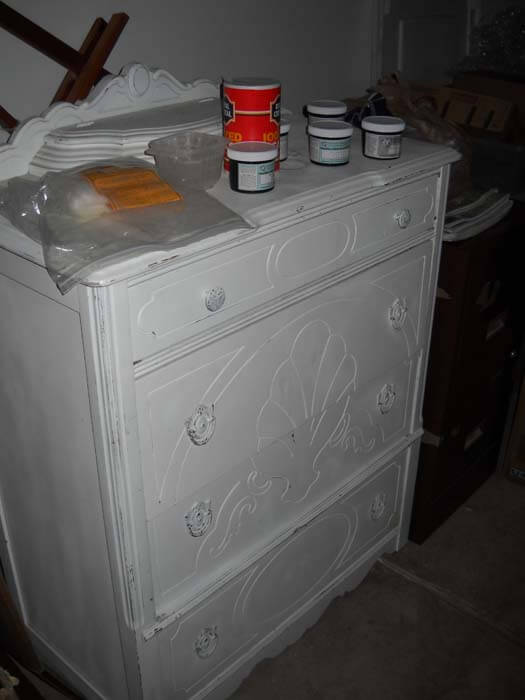 2 dining chairs, roll on the floor, lean back in them – asking $20.00 for the pair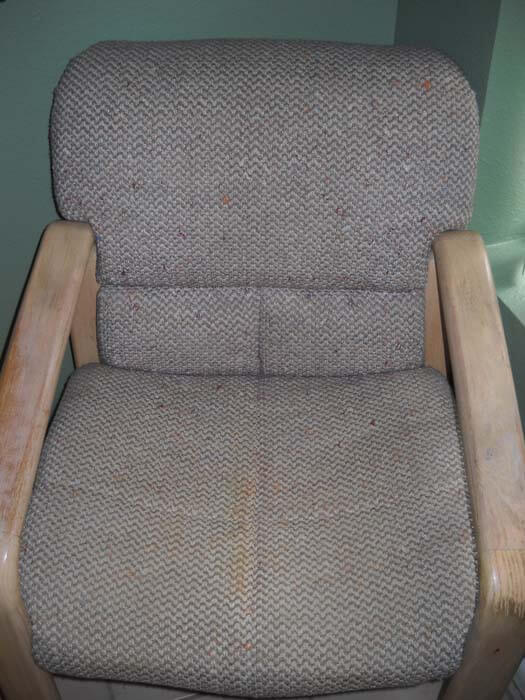 2 desk chairs – larger black chair is free, small one is $5 (see picture of large desk)
television (needs a speaker repaired) – free (Phillips model, "old-style)
2 ladderback chairs with woven seats – asking $20 for both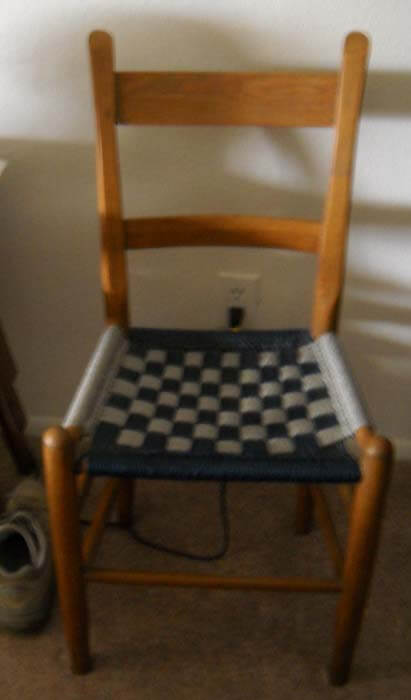 Send a message via the blog or email us at deanm at marbledfab.com.
Brief note: a time-out from art-related items to post an assignment for a Coursera class for assessment by peers.
Unit: Exponential Relationships
9th grade, but 8th graders are welcome!
Investigation 1: Exponential Growth
Welcome to our new unit in Connected Math, Exponential Relationships! We have five different investigations, and you will find yourself doing a lot of comparisons of exponential relationships with linear relationships. (Told you linear would never go away!) You can see an overview of the unit by clicking on the link above to see the parent information letter. DO NOT WAIT TO GET YOUR NEW UNIT BOOK from your district office – you don't want to get behind!!
Here are two key pieces we will focus on:
UNIT GOALS (Specific Arizona Standards for this unit at the end of this investigation):

You…have previously studied linear growth, in which a fixed amount is repeatedly added to a beginning quantity to produce a sequence of values.
Exponential growth involves patterns that are based on multiplication rather than addition. For example, in the sequence 3, 9, 27, 81, 243, …, each term is 3 times the previous term. The basic goal in Growing, Growing, Growing is for…you…to learn to recognize situations, data patterns, and graphs that are modeled by exponential expressions, and to use tables, graphs, and equations to answer questions about exponential patterns.
You will ask yourself the following questions as we go through the unit:
* Is the relationship between variables an example of exponential growth or decay? Why?
• How can this relationship be detected in a table, graph, or equation? What is the growth factor?
• What table, graph, or equation would model the data or the pattern in a graph relating the variables?
• How could I answer questions about an exponential situation by studying a table, a graph, or an equation of the exponential relationship?
• How does this exponential relationship compare to other relationships between variables I have studied?
Stuck? Email: ***************@***************
Now to the fun stuff: Investigation 1
You will need: scissors and a sheet of paper (regular paper is fine, and you might be happier with a blank sheet)
Your journal for record-keeping, notes, and solving problems
A new anchor chart for vocabulary on a separate page in your journal – use a stickie tab on the page for easy reference to it.
[Reference for peer readers on anchor charts – http://www.julieballew.com/A_Literate_Life/Photos/Pages/Anchor_Charts.html. Students will have other samples, since what I use I cannot share publicly (only in a classroom/online teaching setting) because of proprietary agreement with past employer)].
(Students have experience with anchor charts, and throughout the online lessons, I will have links to the unit anchor charts.)
1. Read on page 5, 1.1 Making Ballots and complete the short experiment.
2. Answer questions in your journal from page 6. Remember to indicate the investigation, number of the problem, and use complete sentences!
3. Upload your problem to the dropbox by ____________ for feedback from Mrs. Moran. (This should take no more than 1 day.)
4. Begin working on homework problems for this investigation: Practice problems on page 11 – 18: Everyone do #1-14, and then 3 others of your choice. Everyone do #33 – 38. (Due at the end of the week.)
Stuck? Email: ***************@***************
5. Read on page 6, 1.2 Requesting a Reward and add the new vocabulary to your anchor chart for this unit.
6. Complete the "Getting Ready" on page 6 in your journal.
7. Complete problem 1.2 on page 7 in your journal. Remember to indicate the investigation, number of the problem, and use complete sentences!
8. Upload your problem to the dropbox by ____________ for feedback from Mrs. Moran. (This should take no more than 1 day.)
9. Continue working on homework problems for this investigation: Practice problems on page 11 – 18: Everyone do #1-14, and then 3 others of your choice. Everyone do #33 – 38. (Due at the end of the week.)
Stuck? Email: ***************@***************
10. Read on page 8, 1.3 Making a New Offer and add the new vocabulary to your anchor chart for this unit.
11. Answer questions from page 9 in your journal.  Remember to indicate the investigation, number of the problem, and use complete sentences!
12. Upload your problem to the dropbox by ____________ for feedback from Mrs. Moran. (This should take no more than o1 day.)
13. Check out this
video
and try experimenting with values. Think about what you notice and try and make a connection between the video and the investigation.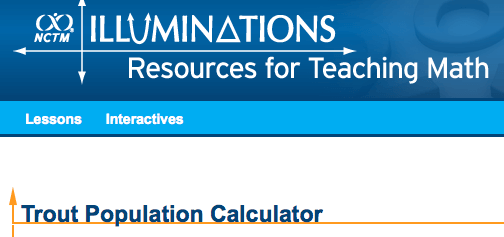 Stuck? Email: ***************@***************
14. Continue working on homework problems for this investigation: Practice problems on page 11 – 18: Everyone do #1-14, and then 3 others of your choice. Everyone do #33 – 38. (Due at the end of the week.)
15. Log onto the class discussion forum (*******************address) and complete two responses. a) What are you discovering so far about exponential growth? and b) what differences do you notice between linear and exponential growth? (Due by the end of the week.) (Rubric http://www.mtsu.edu/ltanditc/docs/Discussion_Board_Rubrics.pdf)
16. Check out this
video
and see about exponential growth in real-world examples. You might get a few ideas for your Mathematical Reflection.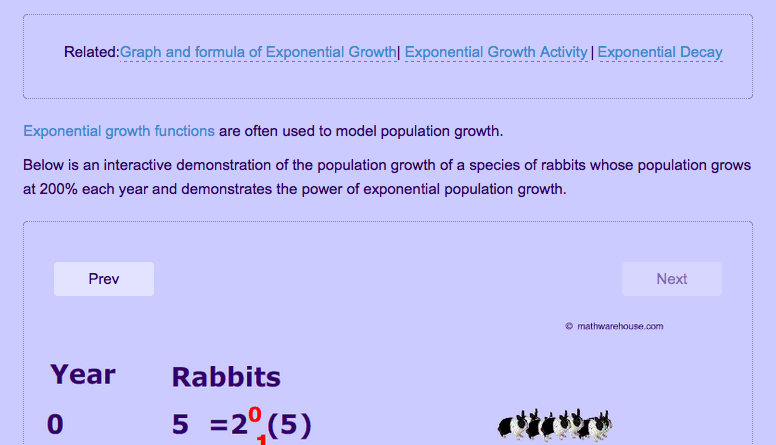 17. Start your draft of your mathematical reflection on page 19.
18. Read page 10, 1.4 Getting Costs in Line.
19. Answer questions from page 10 in your journal.  Remember to indicate the investigation, number of the problem, and use complete sentences!
20. Upload your problem to the dropbox by ____________ for feedback from Mrs. Moran. (This should take no more than 1 day.)
21. Upload your homework problems to the dropbox by ___________ for feedback from Mrs. Moran. (Due end of the week.)
Extra
video
– if you want to dig a little deeper and are interested in growth in businesses –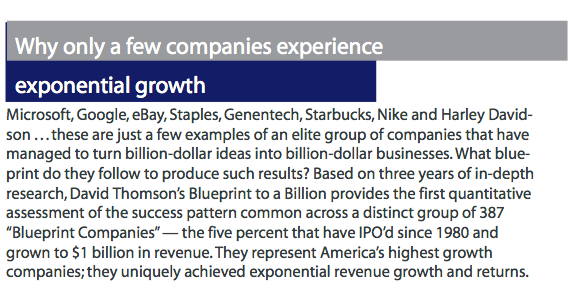 22. Complete your mathematical reflection on page 19. Use your word processor to complete the assignment. Use complete sentences – FOLLOW THE RUBRIC you already use for these! This is due by the end of the week – allow yourself two days for draft and final copy.
23. Breath Deeply and congratulations! You've made a major start in understanding a very practical application of algebra!!!!
Deadlines:
Investigation 1.1 should be completed within a day.
Investigation 1.2 should be completed within a day
Investigation 1.3 should be completed within a day.
Investigation 1.4 should be completed within a day.
Homework Problems due  end of the first week.
Discussion forum responses due the end of the first week.
Mathematical Reflection due the end of the first week.
STATE STANDARDS:
HS.F-LE.A.1a. Distinguish between situations that can be modeled with linear functions and with exponential functions.
HS.F-LE.A.1b. Prove that linear functions grow by equal differences over equal intervals, and that exponential functions grow by equal factors over equal intervals.
Mathematical Practice Standards:
1. Make sense of problems and persevere in solving them.
2. Reason abstractly and quantitatively.
3. Construct viable arguments and critique the reasoning of others.
4.Model with mathematics.
5.Use appropriate tools strategically.
6.Attend to precision.
7.Look for and make use of structure.
8.Look for and express regularity in repeated reasoning.
Copyright notice: all links are public domain and links are included by clicking on pictures. This unit is directly from Connected Math 2, published by Pearson. The conversion to an online format is the work of the instructor, Linda Moran, and cannot be reproduced without permission of the instructor.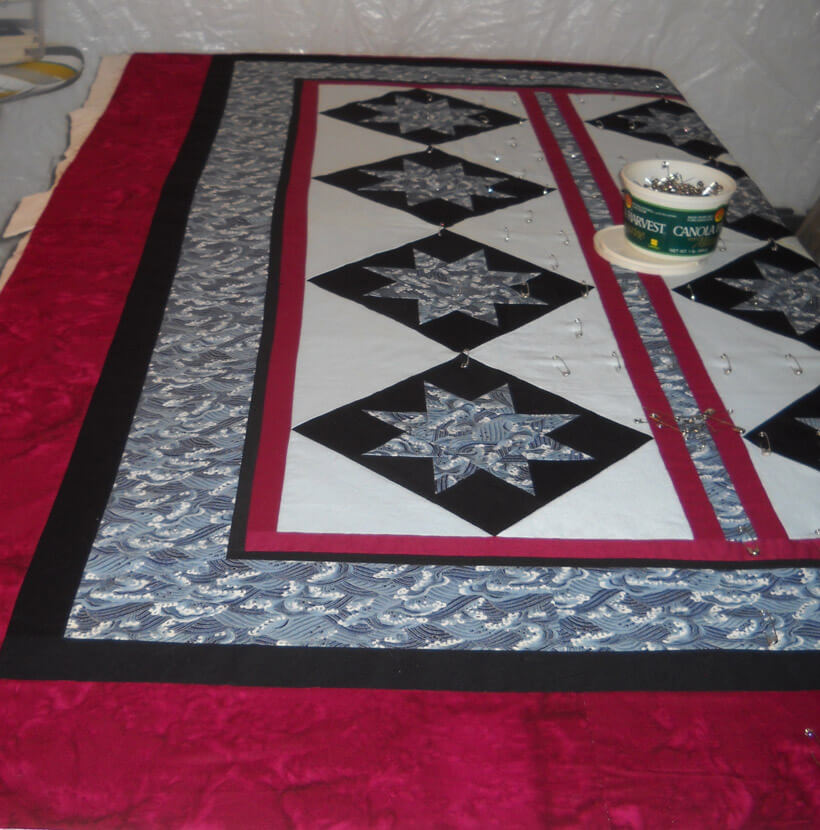 This is the "before." Nice and flat, virtually no texture. I remember when I went to Road to California a couple of years, I noticed everything was machine-quilted within an inch of itself. Both hubby and I thought, just because you can doesn't mean you should fill it up with machine quilting.
That was before I started with the 2012 free motion quilting challenge with SewCalGal and got hooked…..I'm talking seriously hooked. Now it's not about the quilt top for me, it's about the quilting. There are seven different quilted motifs in this quilt, and I LOVE IT! It is so much more interesting than if I had just done quilting in the ditch and stippling. Yes, at least 10 hours of fmq in the quilt, and a lot of bobbin thread, but did I say I LOVE IT?
So here are some of the "after" pictures. For some reason the blue wave fabric looks to be black and white, and it isn't. I used Superior Silk Kimono thread in the triangle backgrounds, the outside black border, and the final border. Magnifico by Superior for the bubbled in the corner triangles, Rainbows by Superior in the border of blue waves, and Bottom Line by Superior in the bobbin and in the black backgrounds of the stars. I guess you could say I really like Superior Threads….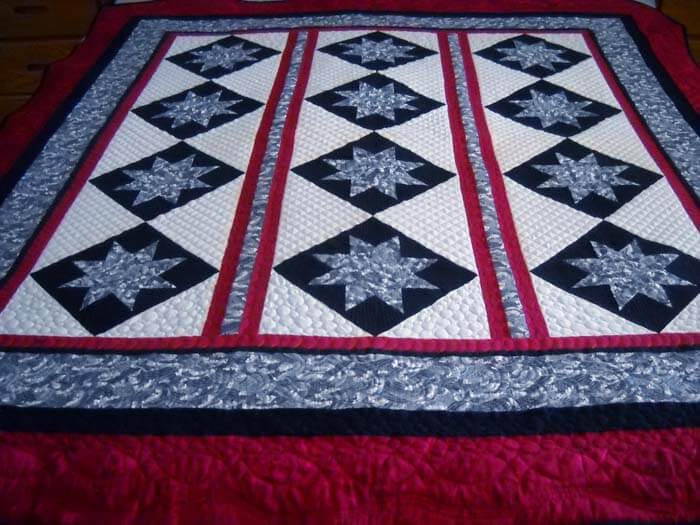 I LOVE THIS! I used the color adjustments in Photoshop to try and bring back the blues – this is pretty true to the actual colors. The maroon strips in the center are done in a cathedral square pattern. I gridded all the light blue triangles for the texture – I was only going to do the center panel but I fell in love with the effect. The bottom light blue triangles are done with a MAgnifico blue thread in bubbles – I was aiming for a stars at night over the ocean effect.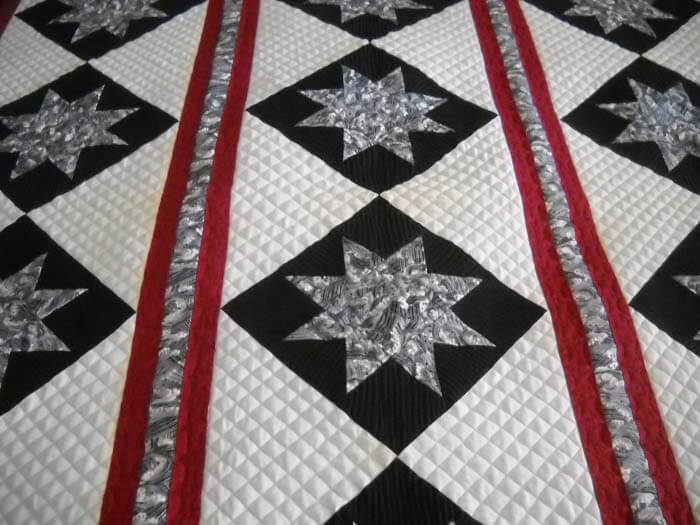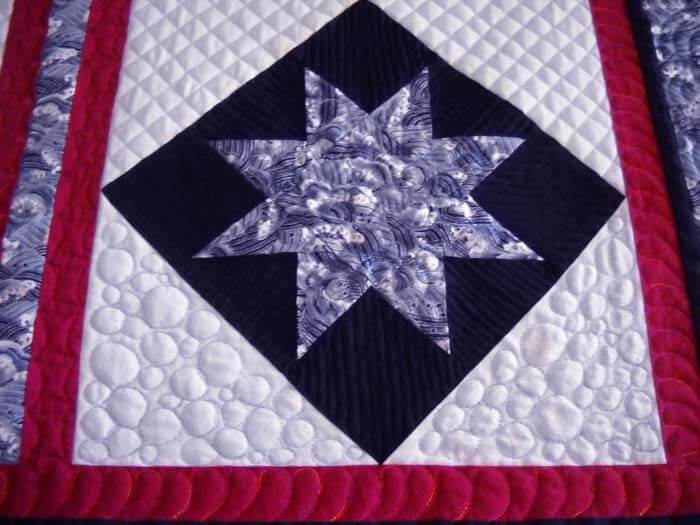 The ironic thing here in this picture is the bottom right corner is the one I picked out all the thread on – what I call the "war-zone" corner. The blue stars themselves have bubbles quilted into the with a Rainbows blue.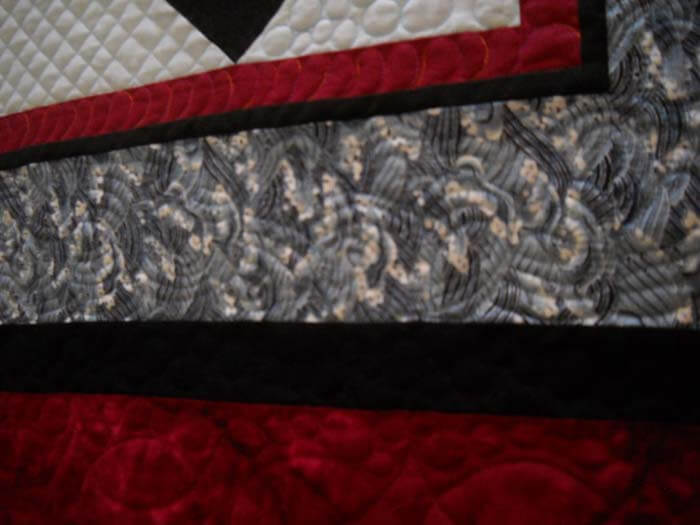 The wave fabric here has one of Leah Day's fillers in it called Ocean Currents. I happened to be on her blog one day and said yup, that's the one.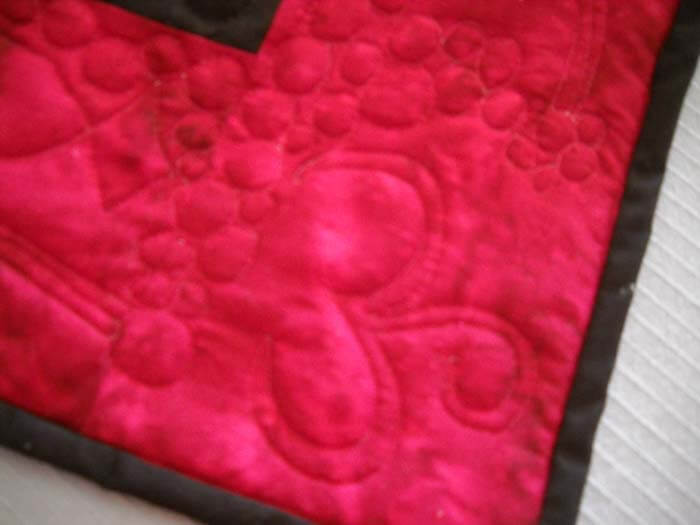 This quilt is for my yoga instructor, and so in one corner I did a free-motion "third eye" chakra symbol.
Now for the back….WHICH I LOVE LOVE LOVE – the texture is amazing!!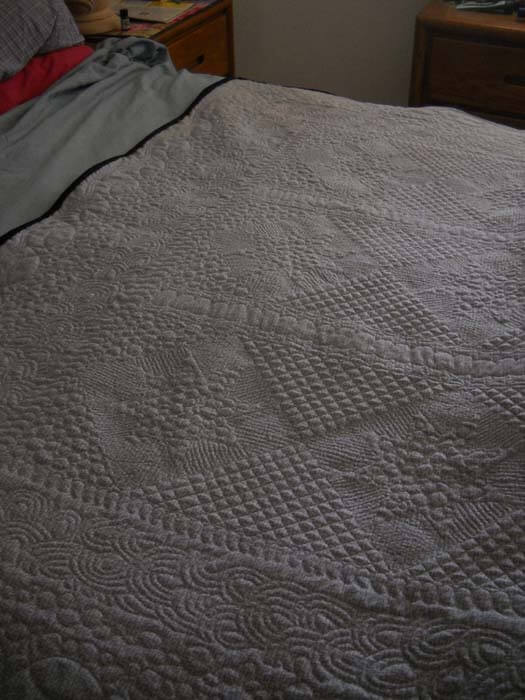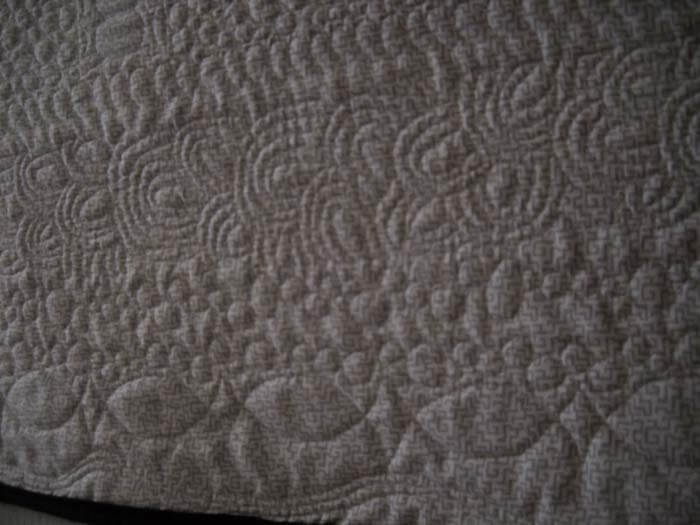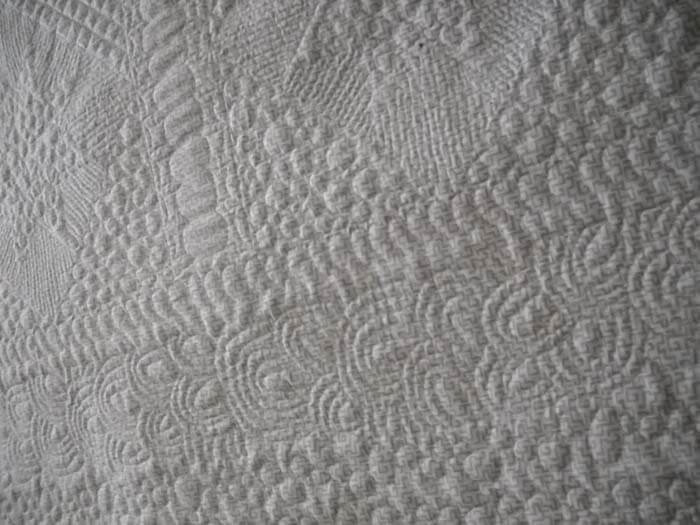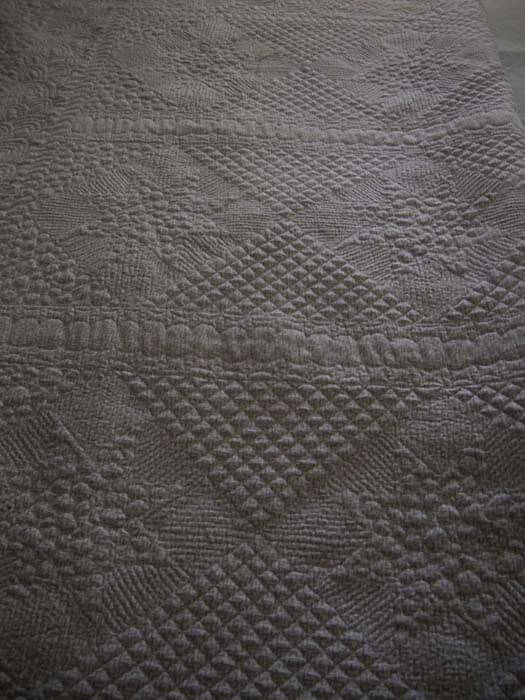 Note to self – time for some smaller quilts……….
Yes, I am anxiously awaiting spring – not so much here in the desert southwest, but as we travel back to New England in May, I'll be seeing lots of what is "spring" to me. Color and lush greens – can't wait!
In the meantime, I've been busy packing, doing photography of quilts, lots of loose ends, visiting the Saguaro National Monument to partake of cactus spring, working on some online classes about teaching online, and planning new art projects. As usual I'm finding lots of things on line for enjoyment or research.
The first is a glass artist, Jack Storms…..work is absolutely AMAZING!
Speaking of photography, because the work in that video is amazing, I peruse a lot of sites of phtographers. One I have enjoyed over the years and have come back to as a result of our trip to Yosemite, is that of Galen Rowell and Mountain Light. I bought a collection of postcards of his images during one visit to the Smithsonian and have loved his work. Enjoy!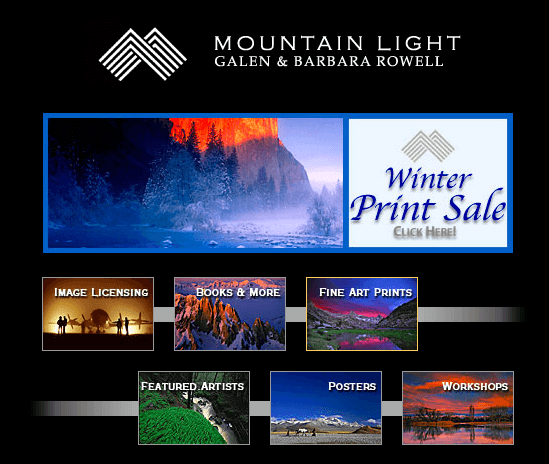 Perusing photography sites gives me lots of ideas as I do more with my little camera. After the move, one of the items on my list is a new camera, a SLR so I can get really serious, but I will say my little point and shoot has given lots of material to play with digital manipulation. So when I see a site belonging to a photographer, I tend to check it out. On The Wright House Photography site,  www.thewrighthousephotography.com/, I love that she bought her childhood home and now uses it as a studio. I am amazed at how photography sessions have taken on a specialized feel: engagements, maternity…….I'm used to someone just snapping pictures, and now I love getting new ideas!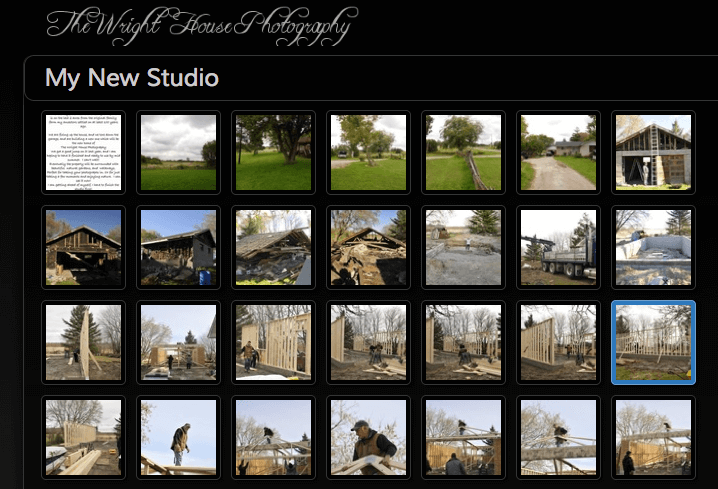 there's another photography site I found with a "digital evangelist." Interesting term……She's with Adobe, so I'm guessing she's quite skilled….

From The Millions comes a timely article for those of you who write fiction – sketching out plot lines and characters, which I had to  do with this first novel in the trilogy. I was glad to see that I intuited what had to be done.

I am a sucker when it comes to motivational education messages. Here's one from a teacher who wants his students to hear what he has to say. Powerful.

Those of you who have been following this blog for a long time know I'm interested in licensing, and I read a lot about it, more so now that I can steer people in the right direction who are thinking about licensing. As with photography, I tend to surf a lot of sites dealing with licensing. Innovative Licensing and Promotion  (http://2innovative.net/) had some ideas I hadn't thought of, and I like to think I go outside the box. This is a sample of what they offer. I'm intrigued and plan to study more.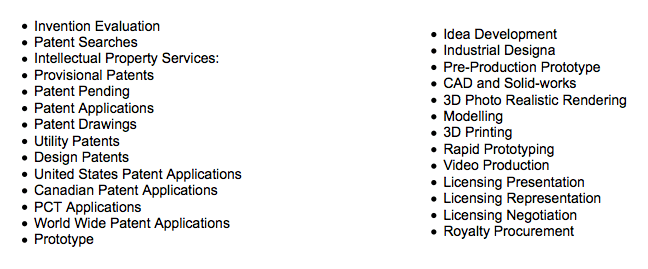 I haven't done any posting of great unusual pics in a while, so here are some from BrainJet.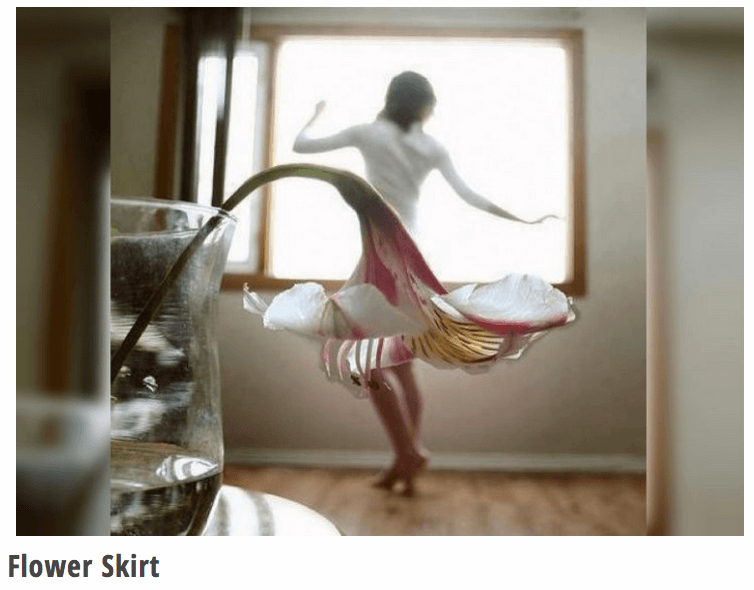 Because a move is imminent, and we don't know where we will be living, we are looking at places in the Burlington/Chittenden County are of Vermont. Hubby is hooked on Rehab Addict, and we've often thought if we were younger and had the money, we'd like to rehab a place. We've lived in a couple that would have been great for This Old House. But when we were young we didn't have the money…now we're older and still don't have the money, but now the knees are bad! Still, it's fun to consider rehabbing a place. He's surfing one day and discovers a business that does renovations. I Love Renovations  (http://iloverenovations.ca/) has a whole slew of articles on what to look for if you are undertaking renovations on your own. Found a great article from their blog on getting your place ready for fall and winter…..which we may have to do again!