Lots of finishes going on of projects that have been around for a VERY long time! I had a productive weekend of finishing three, and next blog post should be about two more, as well as a new project undertaken.
First up – a Halloween quilt I pieced probably 15 years ago, when I was using McCalls Quilting and piecing lots of quilt tops. It didn't really need much – cats' eyes (variegated thread) and eyes for the ghost (small pieces of lava). I examined the machine quilting, back from when all I did was stippling – I was very happy with how it looked. I added free-motion words in the sky and then added binding. Really happy –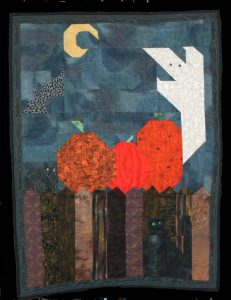 This small 8 x 8 was done YEARS ago in response to a challenge on the QuiltArt list. The theme was "brown," and this was way back when I was still pretty literal and linear in putting work together. This is "Candy Box," and I used a zigzag in variegated thread like you would see in the wrappers in a fancy candy box. Added the binding and much pleased with the finished table-topper.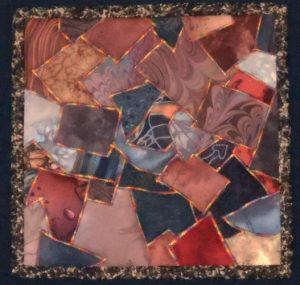 This last piece was a remnant from about 10 years ago. I quilted the bubbles, but it still needed a focal point – so I quilted in some sea urchins…hence the name "Sea Urchins." Another 8 x 8 stitched to canvas after quilting was finished.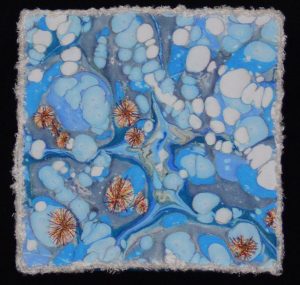 For Sale: $125.00
A great weekend, more happening in the studio…..lots of upcoming opportunities!