So the studio has had quite the workout these last few months since I posted. It certainly doesn't look this neat right now – and probably won't for another couple of months. Lots to do before knee surgery on October 20th. In a nutshell, we have done more marketing/business/sales/creating in 8 months than in a decade in Tucson. We have been busy.
So far, we are in a small gallery in the Phoenix Book Store in Essex, a fabulous independent bookstore. Haven't sold anything, be we are getting recognition as fiber artists. On the wall these two months: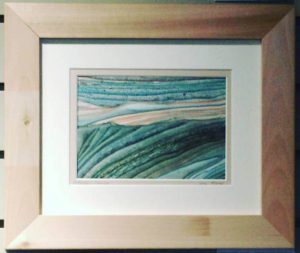 This is Leftovers 1: Sunrise. This is a new series, made of marbled fabric was was dropped on the paint as we were cleaning the tray at the end of a marbling session. Adding thread tells a story.
We had a solo show at the Brownell Library in Essex Junction, Vermont, for the month of August. The fiber looked great on the brick walls. We sold a piece, had 30-plus folks come by, and had a great time.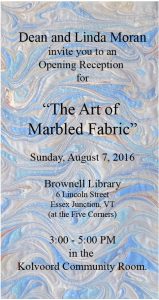 More to follow on this once I find the pictures…..
We spent the month on the wall at Frog Hollow Art and Craft Gallery, as step two of the jurying process – we are awaiting notification if we have been accepted as members. An invitation from Burlington City Arts for 6 months in their city gallery, the month of November in a small gallery in Williston, Vt, and new revisions to packaging and items for sale, as well as joining ArtizanMade. I just can't find all my pictures, so that becomes a major item for the to-do list. That….and the seriously overdue newsletter……. You'll find a bunch of pictures on our Facebook page, facebook.com/MarbleTDesign.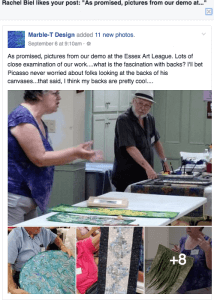 It's going to be frustrating catching up on all the marketing….bottom line – get out and do it – it pays off if you are patient and stay with it!