Posts Tagged 'cheater cloth'

Yup, two more pieces around for forever…..both needed complete revisions, as my skills have grown quite considerably. The first is a "cheater" cloth, very Southwest, which is why I bought it. Originally it had been quilted in the ditch, and while I loved the co.ors, the piece really didn't speak to me……so I took it all apart.
And in the process I discovered a ,lot of stuff – pros and cons – about cheater cloth.
One, they are great for practicing free motion quilting. You can get right to the designs without having to worry about putting the whole thing together. I re-sandwiched the top and then studied it for quite a while for ideas.
Two, they can really tax your ability to work with fmq designs. In some of the smaller blocks, I used the same basic quilting motif and changed it up a bit in other blocks of the same design. Great way to practice!
Three, the store doesn't always do a great job of cutting the panels. On closer examination, you can see where some borders show and some don't. I really had to work the binding carefully so the piece would look even all around. Plus, the fraying from new usage, poor quality fabric, and age didn't help at all.
Four, nice decisions about which type of thread to use. I stayed with Superior Art Studios and Rainbows – because I like the sparkle. I did use cotton King Tut because I wanted to experiment with thread painting for shadows, and I didn't want it really obvious.
Five, I need to get a better photography set-up in our new place…….
Six, discovered I could cover a few binding mistakes with some markers….liking that!
So…..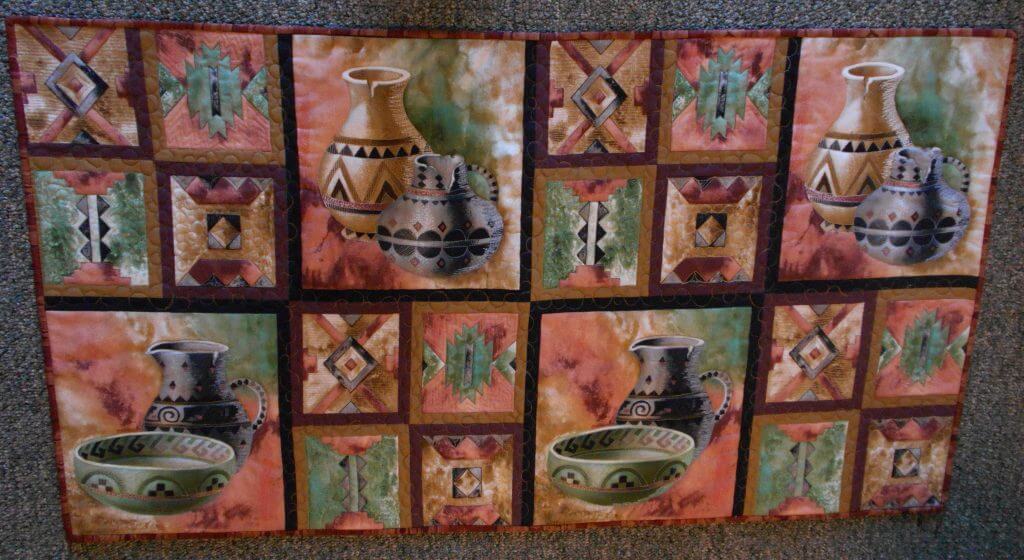 View from the top – couldn't adjust light like I wanted (really missing the garage set-up at this point). Look at the binding – see what I mean about borders?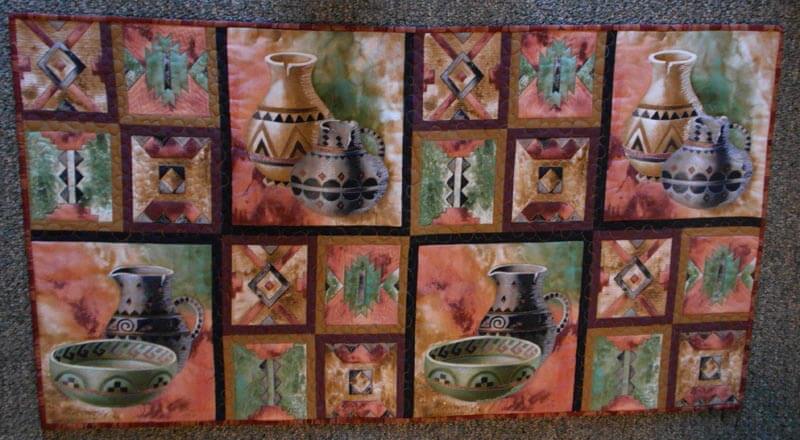 Another view – the backgrounds of the actual pots are left unquilted….I was tempted, but I keep remembering Tim Gunn and "edit." I didn't want to detract from the "shading" I did on the pots…I was really happy with how that turned out.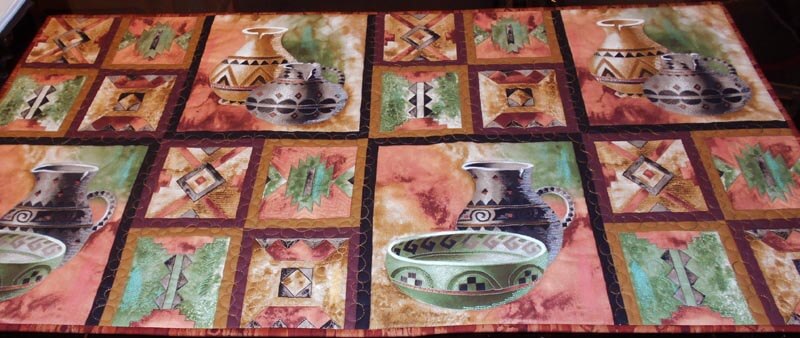 Seven – straight-line outlining isn't as easy with a free-motion foot…but it is great practice….