Busy week – lots of marbling going on today as we start to gear up for the holiday season. The last two years we just weren't organized enough to deal with the holidays, and we let them get completely by us. Not. This. Year. We will have fabric!! And…you can always email us for orders or go to the website and see what's available.
Speaking of the website, the question we get a lot is why no pictures of the Sampler Packages. Good question, and we have a good answer. Marbling creates unique pieces, and for us to put a picture up of each package, each piece, would be time consuming, very expensive, and probably lead to unhappy customers because you wouldn't be getting "exactly" what's in the picture. So we've given you a basic description. You can be pleasantly surprised! Or, if you want to know exactly what you're getting, you can browse the Eaby auctions. We have a liberal return policy if you're not happy, but we've gotten two packages back in the last 10 years…..and we've been on line since 1998…….almost the beginning of e-commerce!
Sampler Package 1: assorted colors and patterns. Eight 6 x 9 inch hand-marbled swatches on 100% white pima cotton. Perfect for piecing, appliqué, patchwork, scrapbooking, wearable art. You get a variety of marbled colors and patterns so you get a "taste" of this wonderful art form. $10.00
Sampler Package 2: assorted colors and patterns. Four 18 x 22 inch hand-marbled fat quarters on 100% white pima cotton for a great stash builder. Available in the following color ways: volcano reds/oranges; underwater blues and greens; deep woods browns and greens, and pinks/purples. Perfect for some serious quilting. $25.00
Sampler Package 3: assorted colors and patterns. Eight 10 x 10 inch hand-marbled squares on 100% pima cotton, for those larger block patterns you want to create. Perfect for piecing, appliqué, patchwork, scrapbooking, wearable art. $15.00
Now for Ebay this week:
A REALLY gorgeous piece of silk art cloth, in greens and blues, 17 by 23 inches. All preshrunk and heat-set and ready to go. Some nice movement to the piece!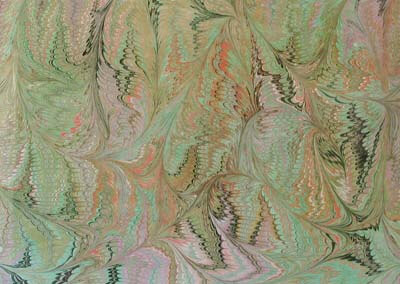 The Etsy shop is a little bare this week – we've been selling lots of fabric, but we do have a few small art quilts that would make good presents – and they are reasonably priced. Here's "On the Rocks" – a small 8.5 by 12 inch fiber art piece, perfect for a small table or a small wall area that needs just the right bit of color.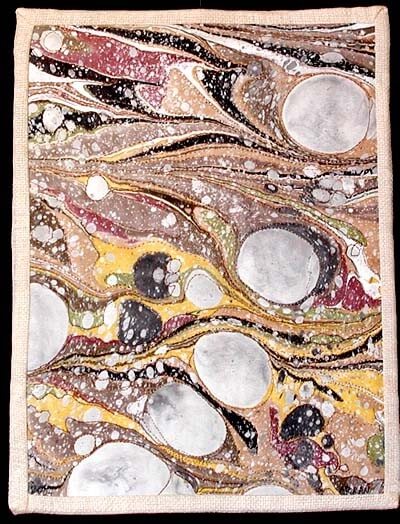 More coming next week! We're surrounded by fabric around here!