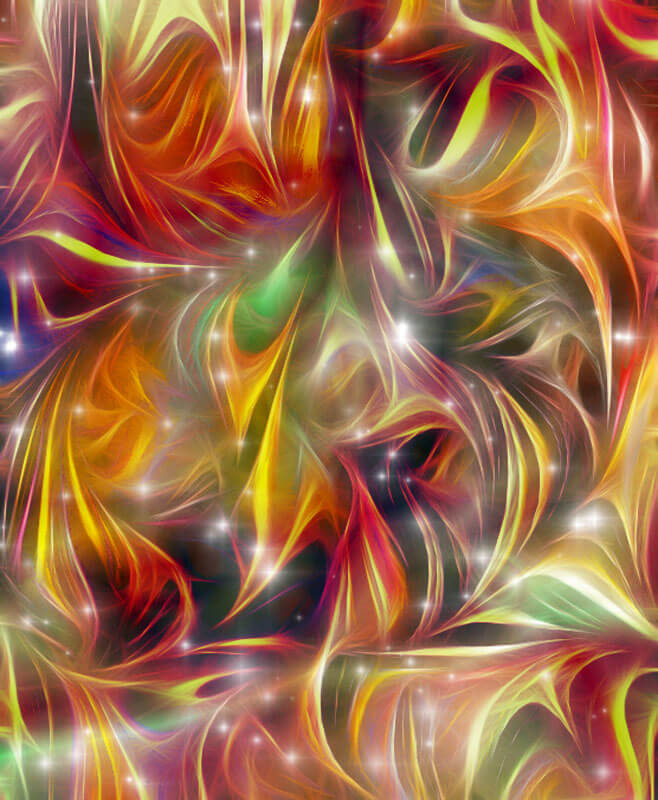 Well, lots of loose ends going round in my head. There are a lot of WIPs, from marketing to fiber projects. First up is my attempt to make some progress with Fine Art America. It occurred to me that rather than wait to get collections completed, I should start putting up a print at a time. Good thought. Turns out the program is not as intuitive as I figured it would be, based on all the great comments. One conclusion I have come to is that it looks like so many of my pieces that I thought were ready to go probably need to be redone, and I'm not sure I remember how I got to each and every layer.
I need to resize a lot of images, and I need to save them at a higher resolution. I am having trouble, for some reason, getting my sizing right for the program. This one to the left, for example, has been resized to an eight by eight, at 250 dpi, and it still doesn't seem to want to show correctly on line. I also need to look at what I want for costs. The site isn't completely clear about setting mark-ups.
There are also plug-ins to have your prints and a shopping cart on your Facebook page, as well as your website, which I would definitely like to do, but I think I need to wait until I can figure out how to get work consistently up on the site. After nearly two hours today and about the same amount of time yesterday, I put out a request for assistance on Twitter and Facebook. The site is classy, the work looks good, lots of people have given good feedback about the site, but I can't seem to get a handle on it. This from the person who has pretty much taught herself everything she can do on the computer. So, yes, I'm frustrated……
I am nearly done zentangling my fake, flammable, plastic pumpkin from China. It looks spectacular. One more section of the pumpkin and then I will spray a fixative and enjoy.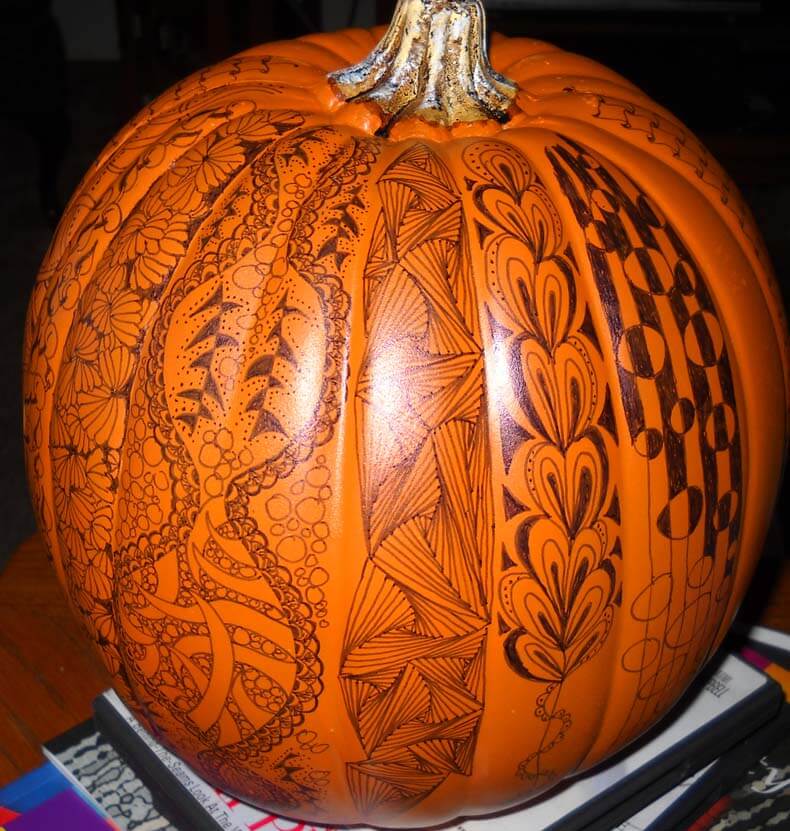 I'm working on the fish quilt, as I want to have it done by the end of the weekend. And we are getting materials ready for the guild presentation next week. Earlier today we created an order form, made a list of everything we will be taking, did the handout for members of the guild, and sketched out what a class would cost, as it looks like we might be moving in that direction again. I also packed up the quilts we will be taking – mostly traditional patterns using marbled fabric, since this is a fairly new and traditional group of quilters. I want to show them my progression with using marbled fabric – from only putting it with blacks to mixing lots of colors. Makes me realize I need a picture of my purple quilt, which is quite colorful, with lots of marbled blocks.
It is so ironic that 10 years ago we used to do a lot of presentations but never looked at "selling" during them. Left a lot of money on the table, as one marketer said. This time we are going with lots of fat quarters and an order form. Maximizing our potential, I think it's called….
Alum fabric tomorrow, marble on Friday, see what we still might need for gift baskets, and schedule marbling for next week if needed.
Wrote my abundance check today after the new moon. Being positive and thinking about lots of good things developing has really been awesome. The Laws of Abundance and Attraction really work!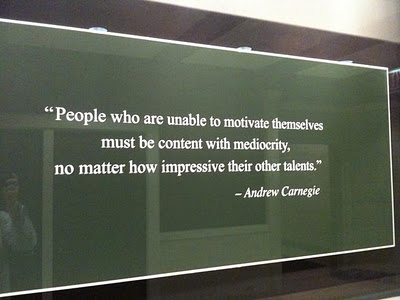 Yeah, this week was not really motivational…..I keep reminding myself I am retired, and I don't have to do anything I don't want to….but I still feel the need to accomplish things…and I didn't do much this week…….including getting caught up with Google Reader. So the above quote is taken from an article on Dumb Little Man about motivating yourself. Good way to start out the day!
From Alyson Stanfield's blog Art Biz comes Ten Tips for Pricing Your Art. Pretty timely for me, as I am looking at some print venues. It was interesting, being told at one art show that I was in that I was WAY underpriced. This should be good food for thought – and planning.

Maybe I am so used to having a web presence that it seems like second nature to me. After all, we've been on line since 1998 – ancient, almost….So I have a hard time when I find a new artist (or an old one) and can't find a web presence. Such is the case with some artists from our last weekend in Sedona/Cornville. Arlene Walsh is a "local" lady – Payson, AZ. I've seen her patterns for years, and actually bought a few to make "sometime in the future." Scroll down on this site to see a selection – some fine Southwestern images.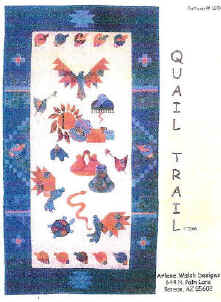 From C&T Publishing comes a giveaway – Mickey Lawler's Skyquilts. First of all, C&T books are class all the way. Secondly, this is a gorgeous book!!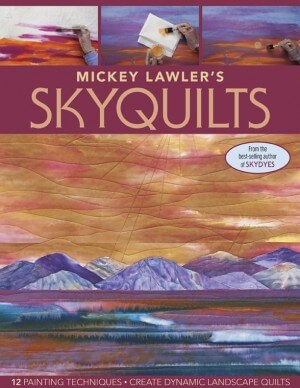 Along the lines of "what were they thinking" comes the National Costumes for the Miss Universe Pageant…..Here's Miss Ecuador….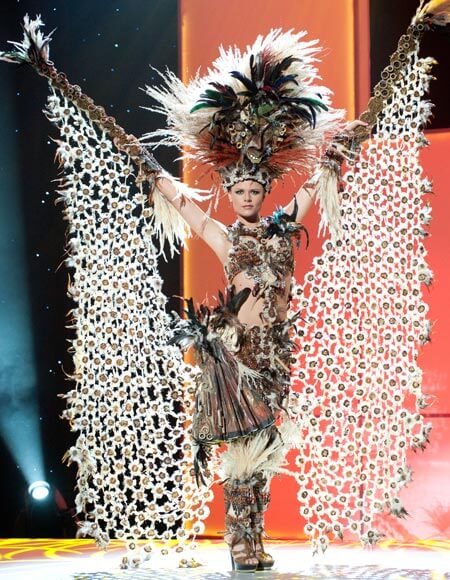 Some very interesting ideas for wearables….check out Miss USA – a little ridiculous, if you ask me!
X-ray photography as art – some cool stuff here….be sure to get to all the sections.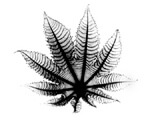 If you're a regular reader of this blog, then you know I am scanning and putting all my slides of China from 30 years ago to digital. The Best Article Every Day has a section on 21st Century China – you need to scroll to the article. Some amazing photos of a changing country. Be sure to check out the photo that comes after this one.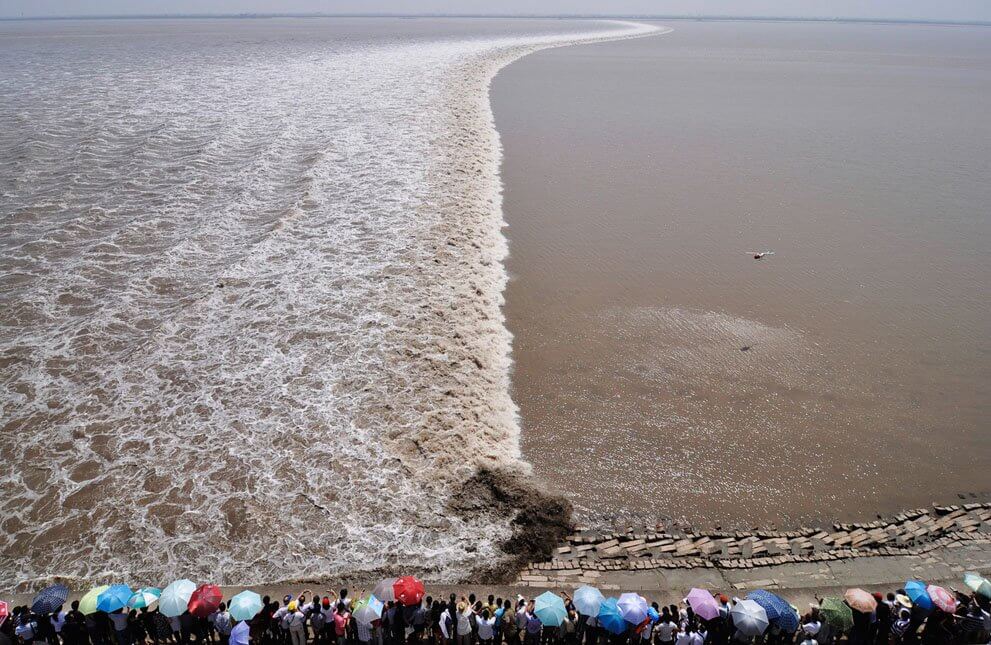 And I just love the juxtaposition of the bagpipes and china on this next one…..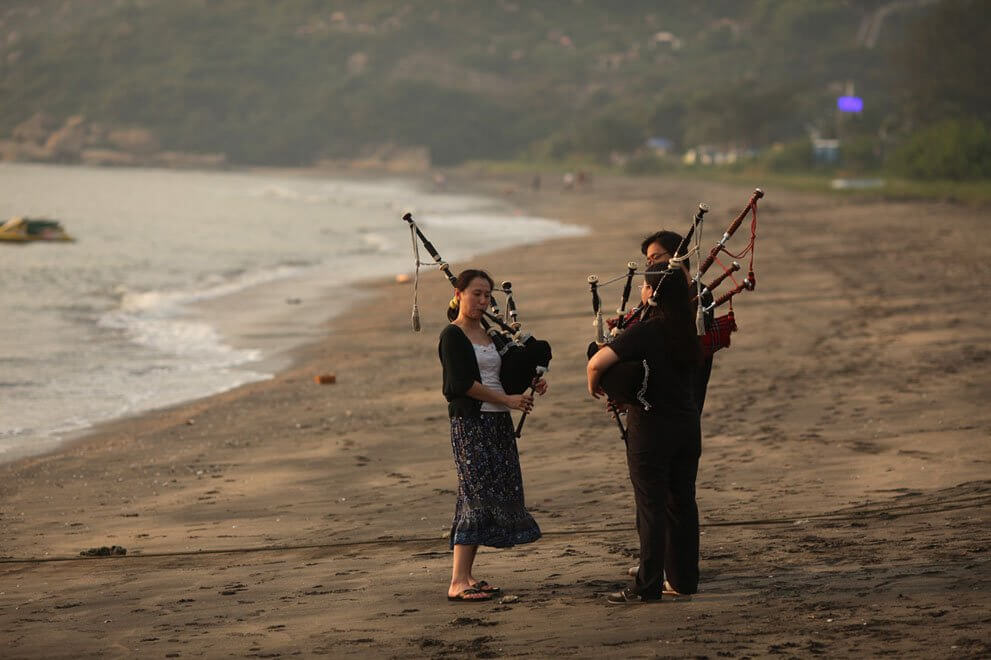 "Women play the bagpipes as they stand on a beach in Hong Kong, on October 9, 2011. Finding practice areas in the densely populated city is notoriously difficult for practitioners of the instrument traditionally associated with Scotland and Ireland. However, the pipes enjoy a loyal following throughout much of Asia and are a regular feature of military and police bands across the region.(Ed Jones/AFP/Getty Images)" (From the website)
And one more…."The Miao ethnic minority dancers perform during the Opening Ceremony for the 9th National Traditional Games of Ethnic Minorities of the People's Republic of China, on September 10, 2011 in Guiyang, China. (Feng Li/Getty Images)" (from the website)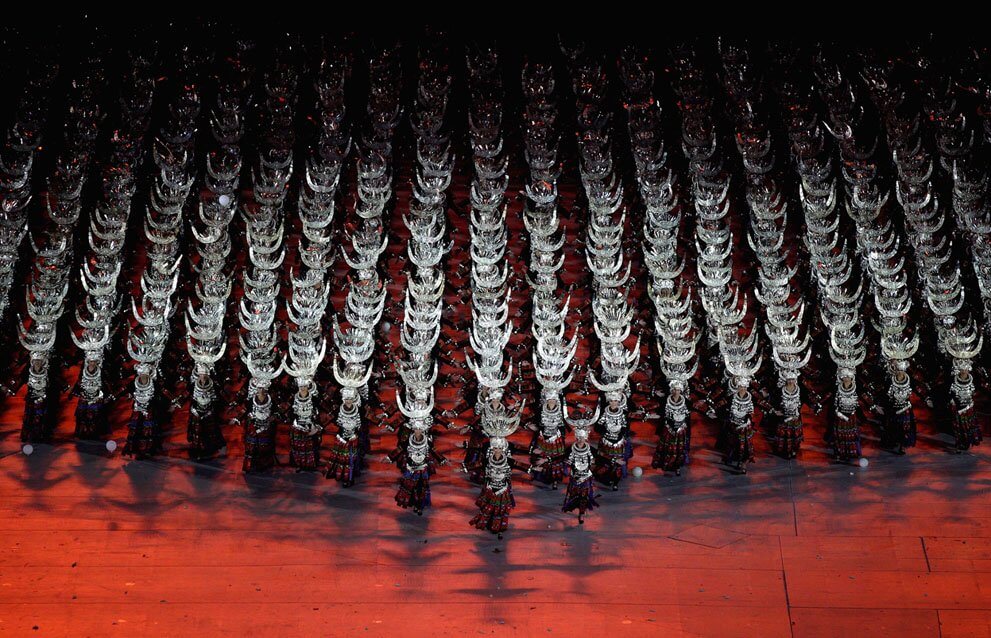 Thieving penguins…..who knew….

Have a good week – let me know what you find online!

On our latest retirement jaunt to our friends in Cornville with The Cabin at Grace Hollow, we attended the Cootonwood, AZ quilters' show on that Saturday. Held at a local school, the show was hung well, had a couple of cool, fairly local vendors, and had some stunning quilts. I realized, as I worried about giving recognition to each of the quilters, that I would have trouble writing down the names and matching them with the quilts. It FINALLY occurred to me to take a pic of the quilt, and then a pic of the name tag. Voila! Now I easily had both. So enjoy the quilt show.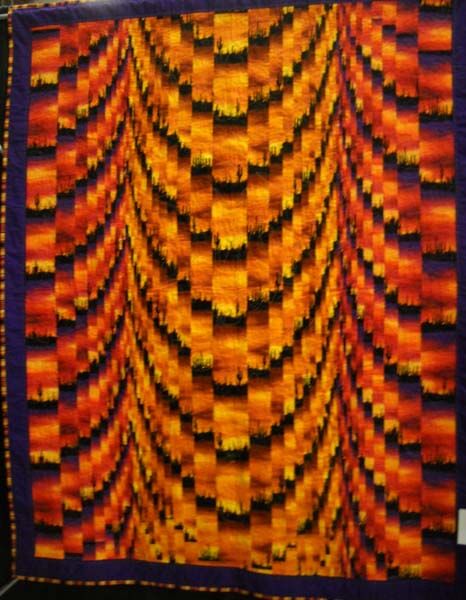 By Barbara Benson, a closer look at the fabrics revealed a print of desert saguaro that added extra texture to the design.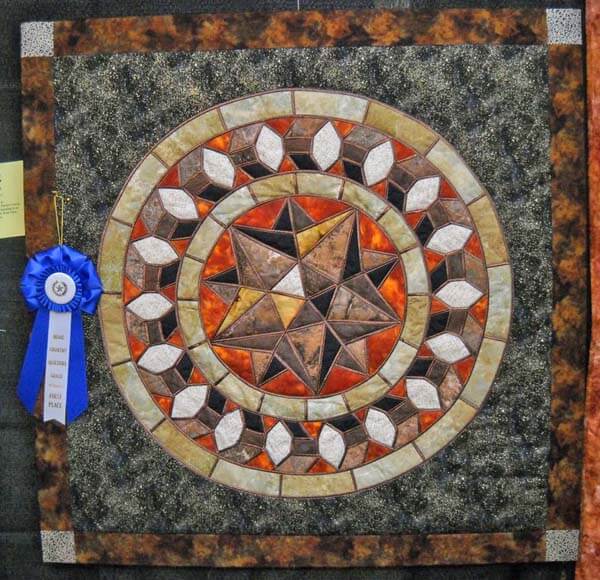 My favorite, by Pam Pawlek. I loved the stained glass effect, and I kept wondering what she used for the "leading."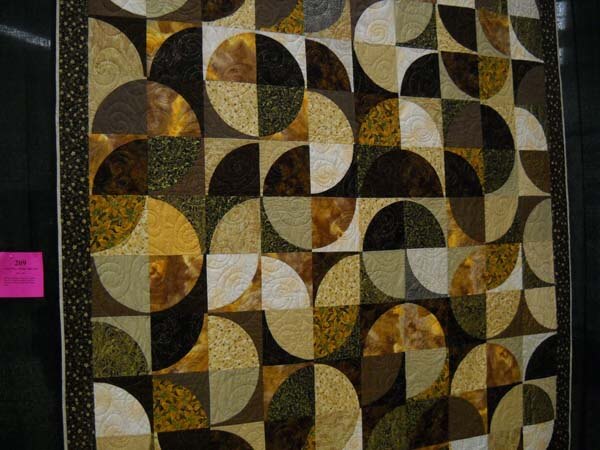 Also by Pam Pawlek. I LOVED the design, as well as all the earth tones.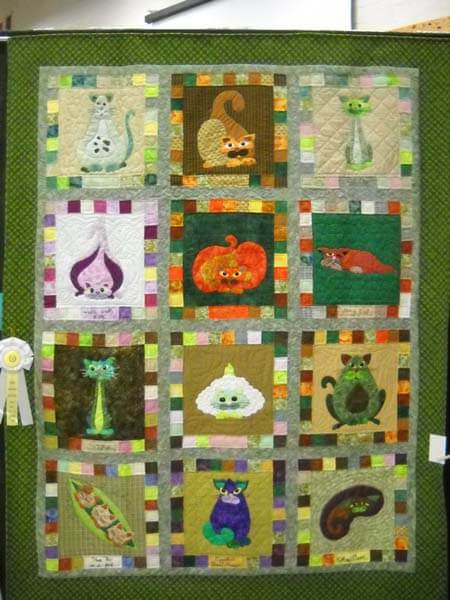 I am not a cat person, but these guys were really cute, and I thought the quilting was very well done. This is by Mona Crum.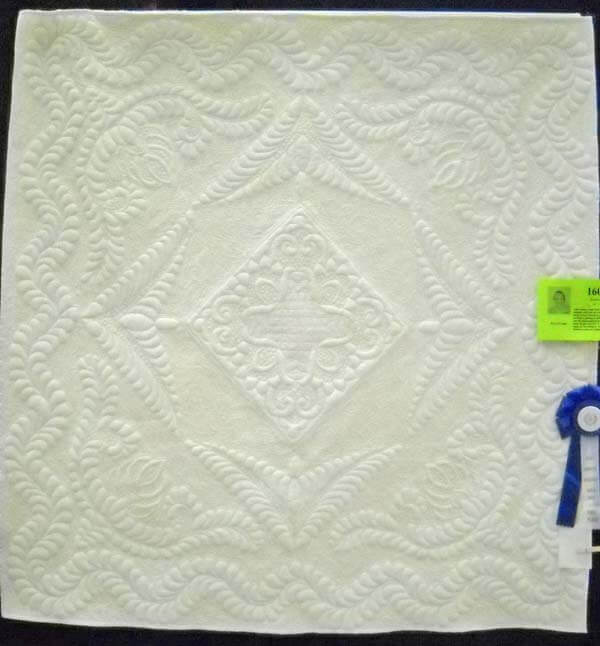 Whole cloth quilt by Joyce Cook, with some really nice trapunto, as well a yummy quilting.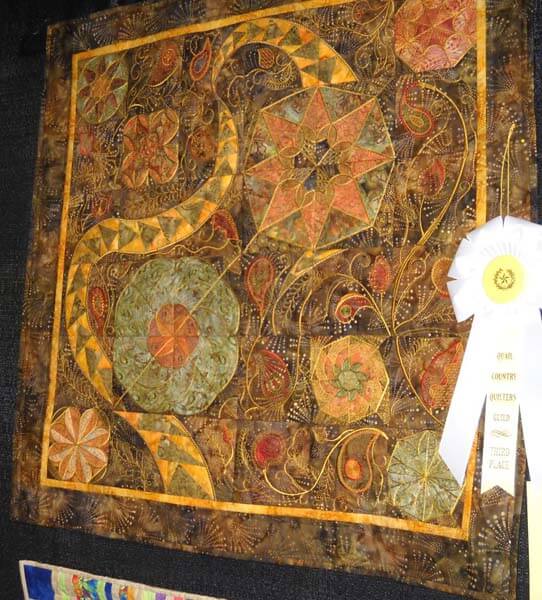 Lovely small quilt by Janet Kersh. Very interesting details.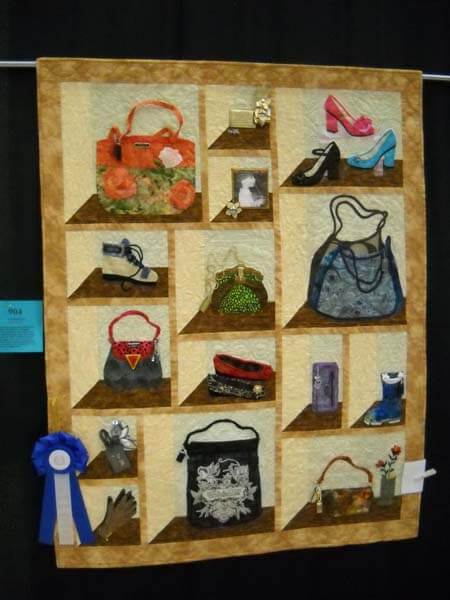 Lots of fun materials used in this quilt – pieces of clothes and heirlooms – nice design and great quilting. By Janet Berry.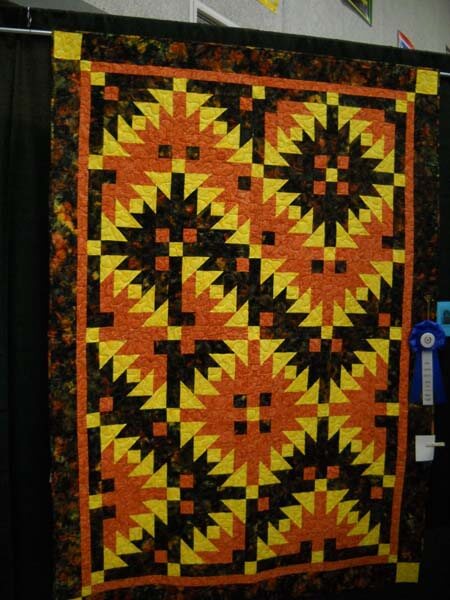 Another quilt by Janet Berry, very bright and geometric.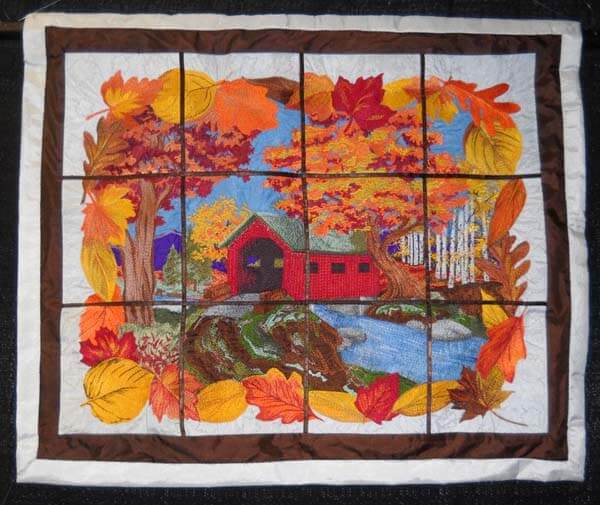 Amazing thread work by Faye Celmer.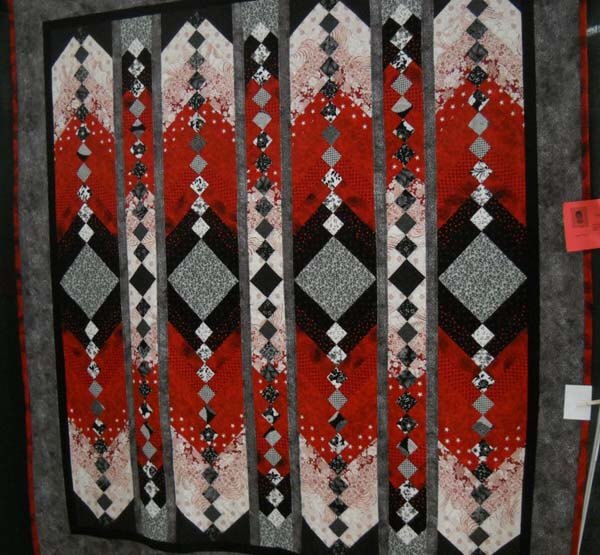 I've seen the pattern for this braid quilt before, but each time I see it done in reds and blacks, I am drawn to it. By Connie Myers.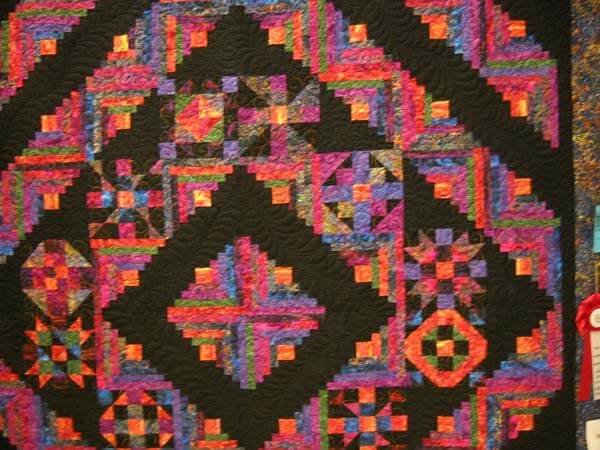 Another quilt by Connie Myers – lots of Bali Pops with a black background.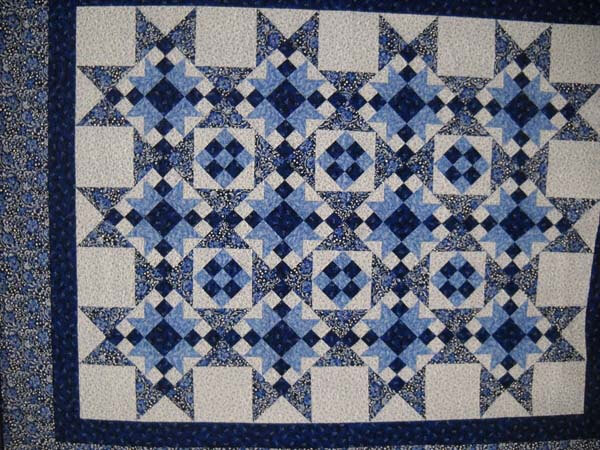 Soothing blue and white by Charlene Dockray, again with very nice quilting.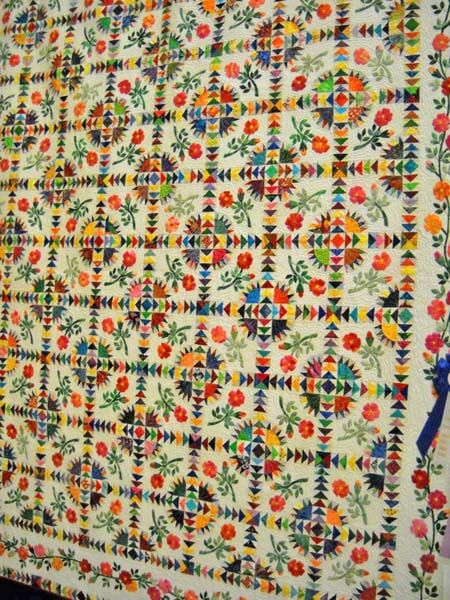 A great pieced and applique'd quilt, very colorful, by Bev Lawrence.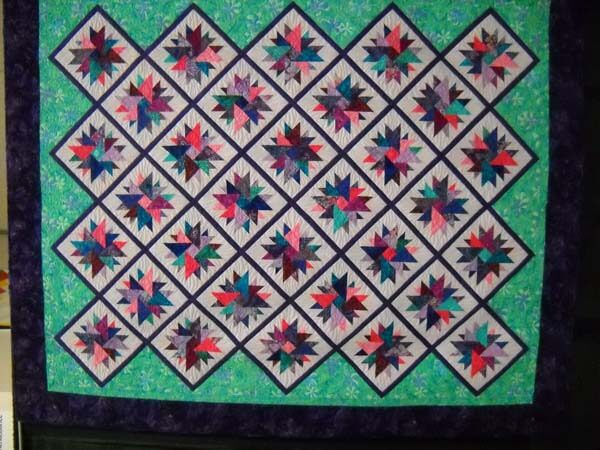 Another quilt by Bev Lawrence. Interesting use of color.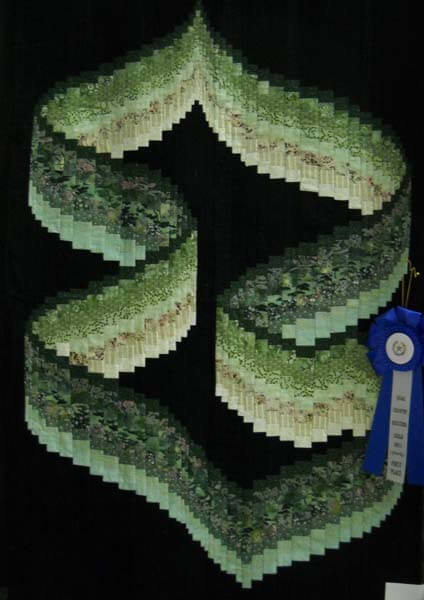 I've seen this pattern the last couple of shows I have been to, and I really like it, especially done in some "quieter" colors. This is by Barbara Chronister.
Thank you Cottonwood quilters for an enjoyable two hours!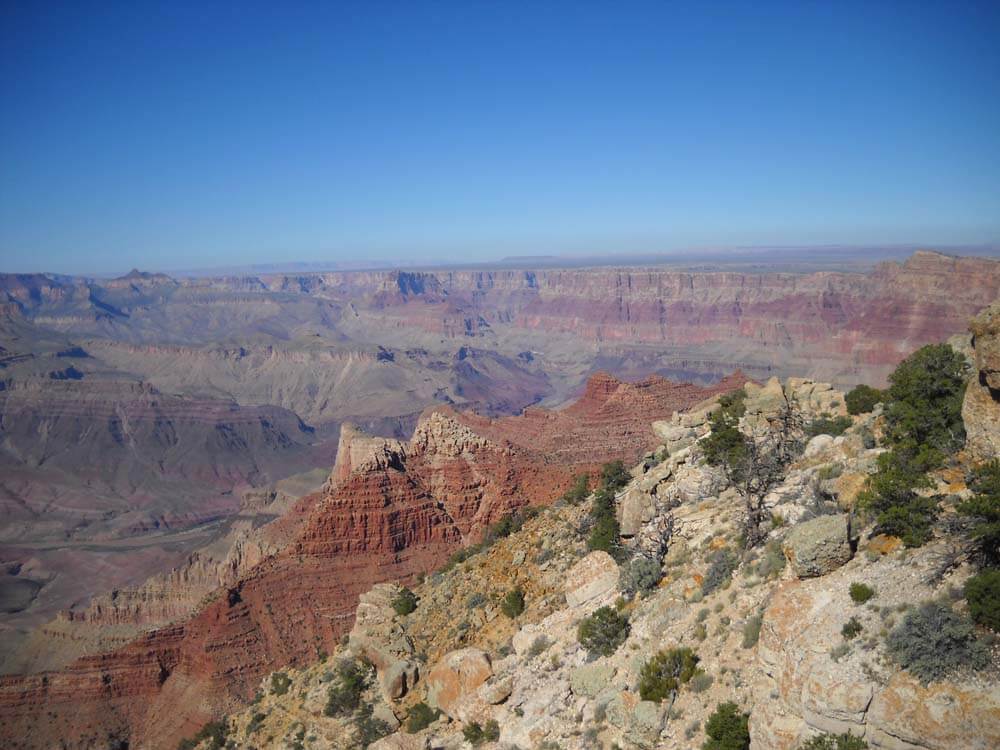 It was a glorious day last week at the Grand Canyon. This wonder of the world is basically in our backyard, and we were overdue for a trip. We first saw the Canyon in 1977. We had bought our first house in Phoenix, we were poor and didn't know how much our electric bills would be for the summer, so we took off on a trip where it would be cooler. Didn't realize we were headed up to 8000 feet elevation, no jackets, and no reservations for the North Rim. We were SO lucky…one cabin left at the Rim after a seven-hour drive, mostly on two lanes, to get there.
The thing about driving in Arizona is that you know you're headed somewhere, the signs all point you in the right direction, but it isn't until you're actually THERE that you realize you're there. You round a bend and there's the lake. You drive through miles of high desert, park the car, walk a few steps, and bam, there it is.
Nothing can really prepare you for the site of the Grand Canyon. Pictures don't even begin to do it justice. We left Cornville for a three-hour drive up through Flagstaff and the high desert country beyond. It was one of the beautiful perfectly blue sky days, very little breeze. We arrived a the Canyon in time for a leisurely lunch at El Tovar, one of the old lodges on the South Rim. We had never done this, for financial reasons, but something about this trip said "Do it." Stop waiting for the right time with the budget. So we did – great service, wonderful food – and an amazing view. We were early enough to get a set by the main window, where we could see a hint of the Canyon. (Picture from their website)

After lunch it was strolling time. There's a wonderful adobe brick building with such character right next to El Tovar. Love the colors and textures. (Except for the above picture, all these are mine, with NO adjustments from Photoshop….just a gorgeous subject to work with….)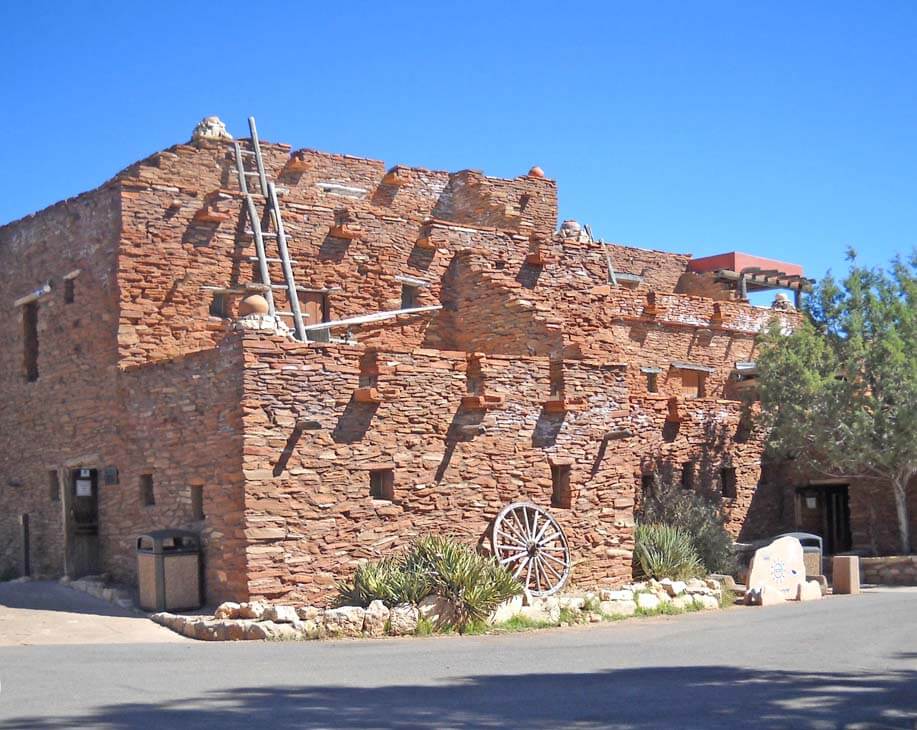 This is the Hopi Building. From Wikipedia:  is part of the Grand Canyon Village Historic District, and is part of the Mary Jane Colter Buildings National Historic Landmark. Colter planned Hopi House as a sort of living museum, in which Hopi Indians could live while making and selling traditional crafts. The structure was based on Colter's interpretation of the Hopi dwelling at Oraibi, Arizona. A variety of interior spaces provided museum, sales and demonstration space. [3] It is one of six buildings at the Grand Canyon that were designed by architect Mary Colter, along with Bright Angel Lodge, Hermit's Rest, Lookout Studio, Phantom Ranch, and Desert View Watchtower.
According to the park map, there was an interpretive trail along the south rim. Now, I had had a bad experience with depth perception in Taos, trying to walk out on the Rio Grande Gorge bridge. So I figured I would try the trail and see. We started snapping pictures and just breathing in the awesome beauty of the Canyon.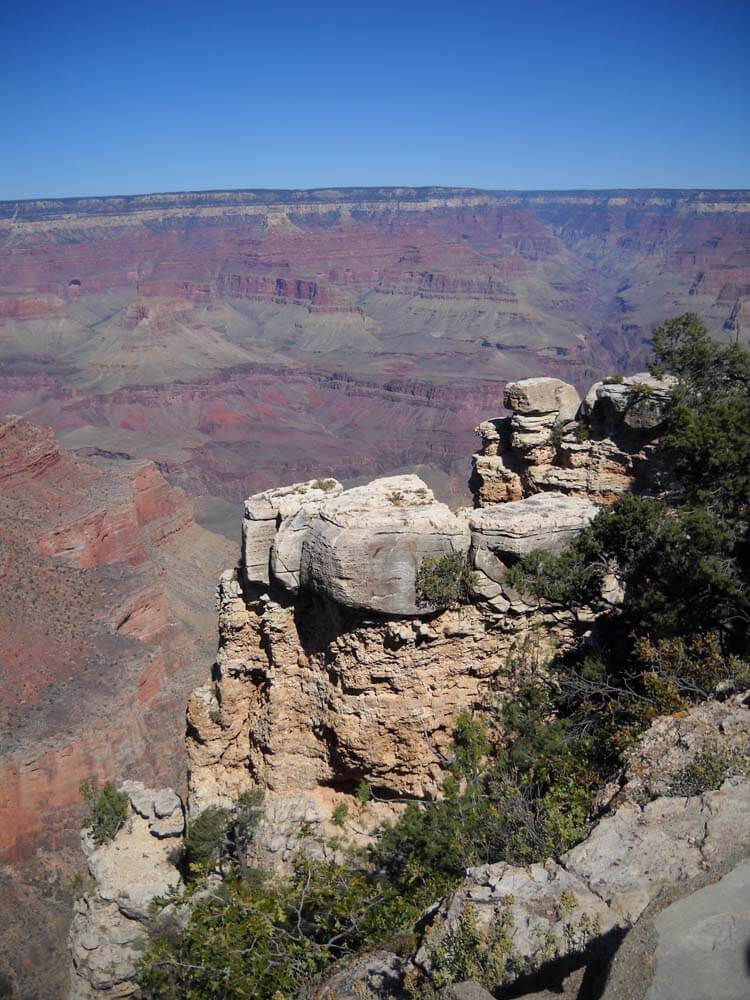 I tried to keep some foreground for a better sense of the depth of the Canyon.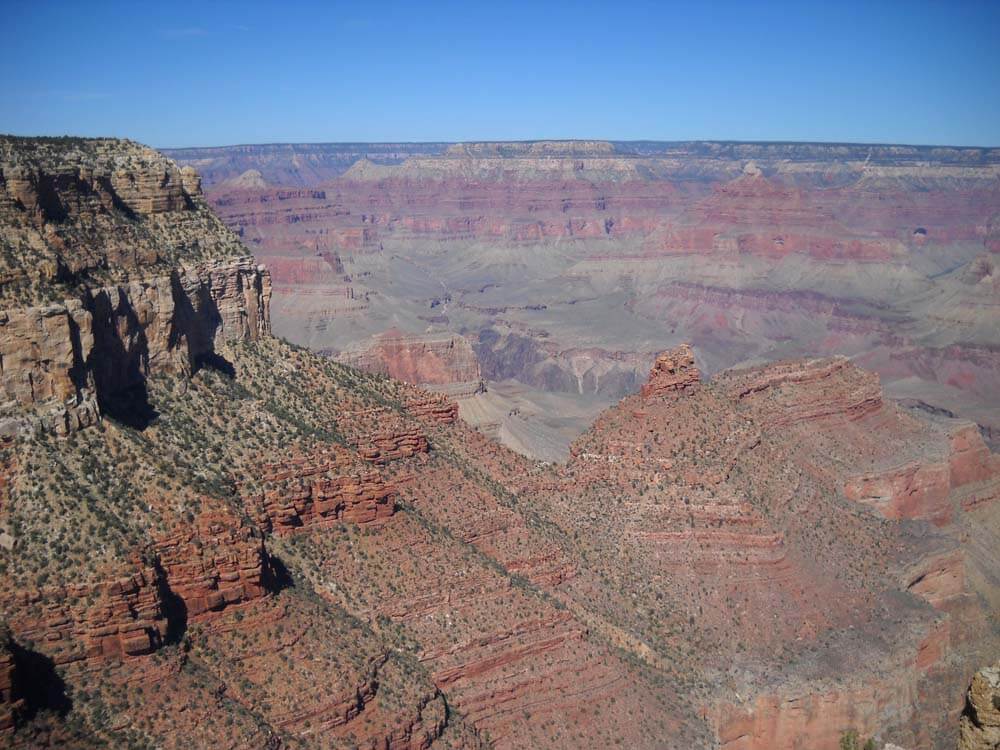 Looking in the opposite direction from the previous picture. Nothing like geology in the palm of your hand.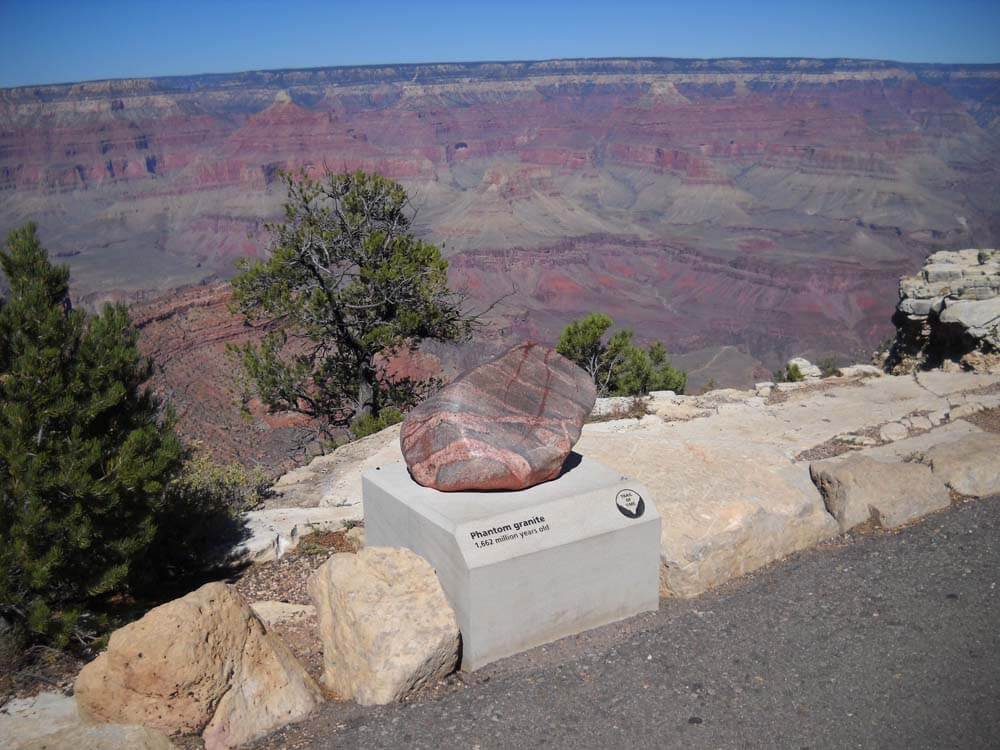 For a portion of this trail, you have an interpretive exhibit of the geology of the Canyon, starting with the oldest rocks and moving forward in geologic time. It's pretty impressive to realize you are standing next to a rock that is 1725 million years old….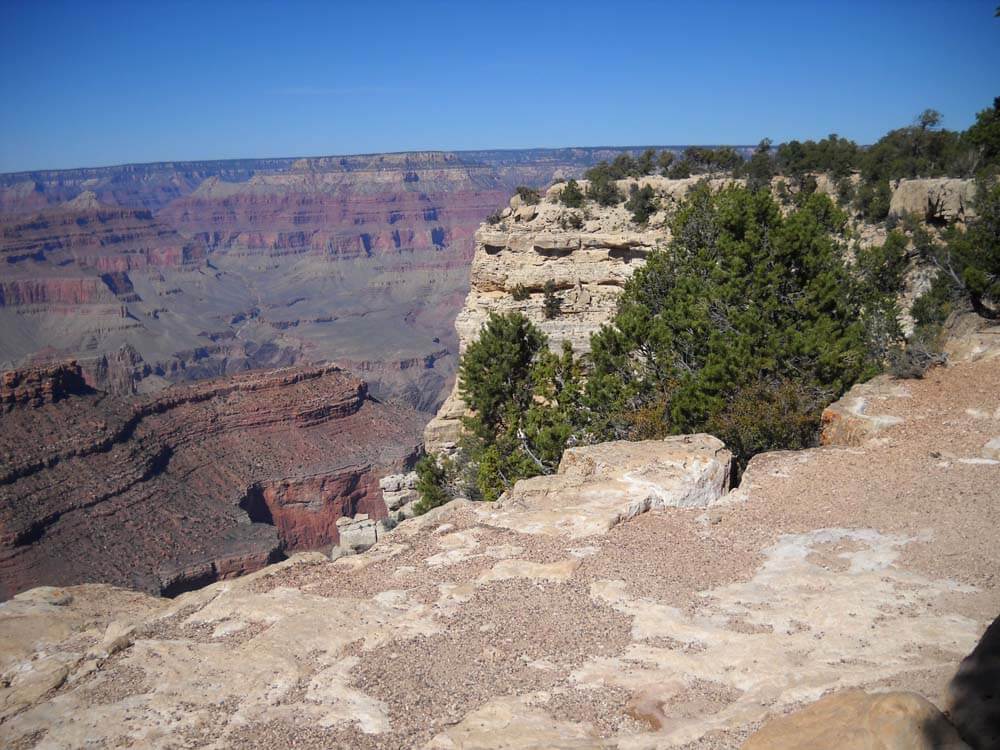 At this point in my walk I am half-way from El Tovar to the point you see. What I thought (because I misread the map) was a 2/3 mile walk was really 1.5 miles. But it was gorgeous. The trail is smooth, and where it got too close to the Rim for me, I took the handicapped detour a little back – the trail could handle a small car, so I didn't have to hug much of the "curb."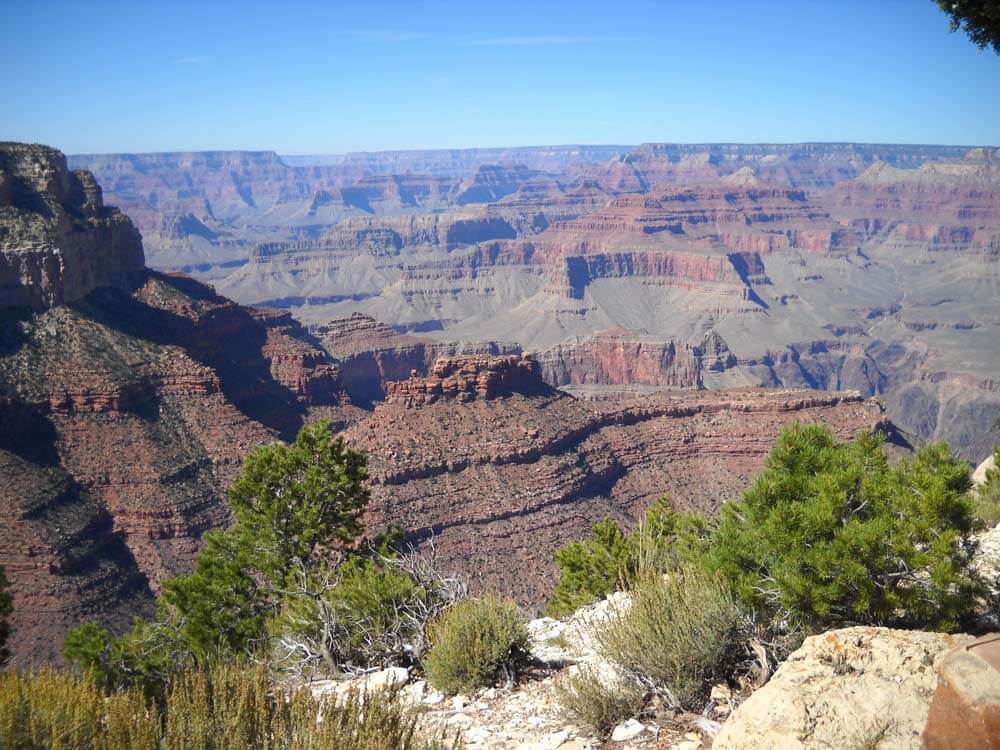 The light is beginning to change to afternoon, so the canyon is starting to increase its reddish hues. The whole visit was an interestisng look at the color wheel, and the changes from cool blue to warm red as the day went on.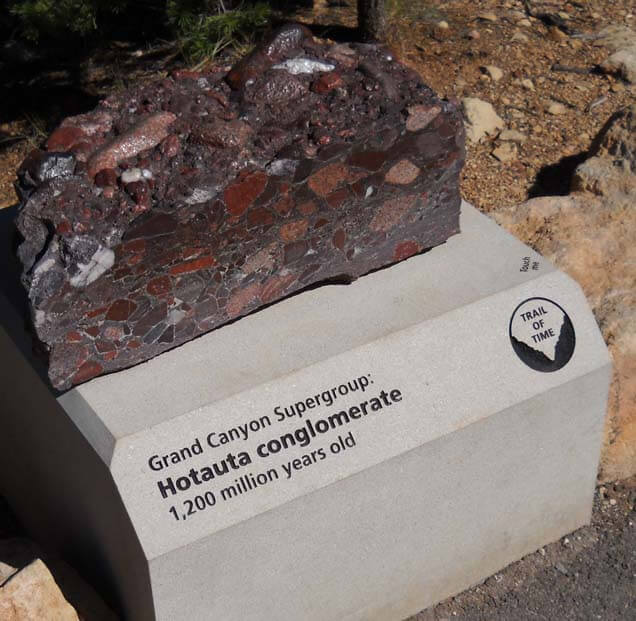 Doesn't this example look amazing? Think of all the fossils….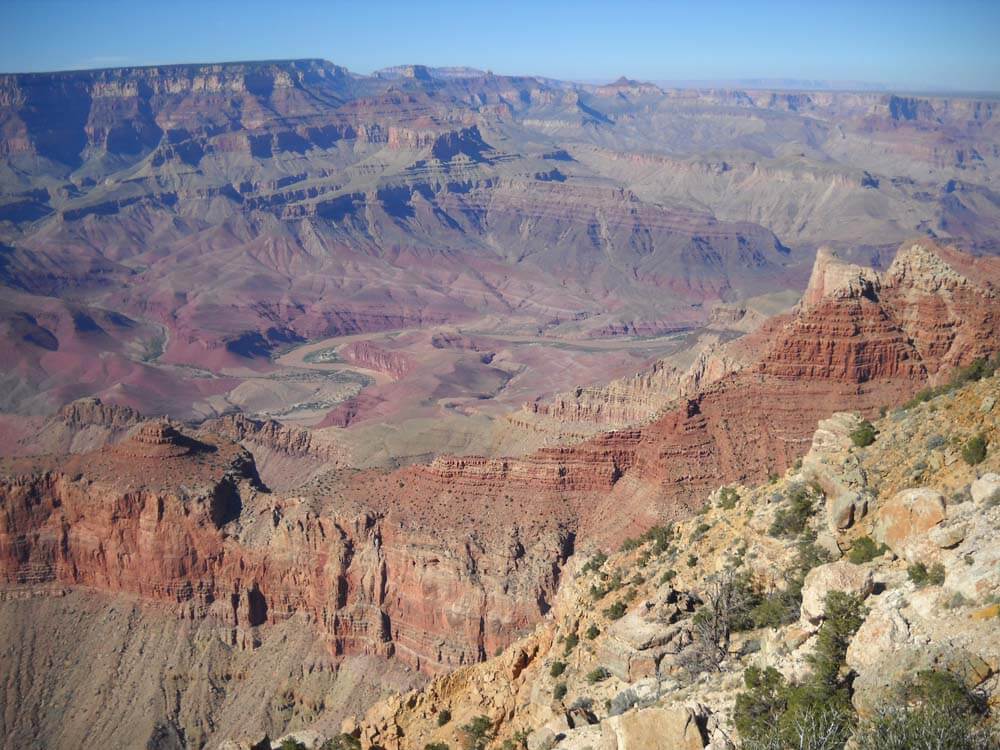 This is as you head out of the park through the eastern entrance. You can see the Colorado River in the center, nice and winding. You get glimpses of the river along the rim. At Yavapai Point you can look through binoculars and actually see the river rafters pull their rafts to shore.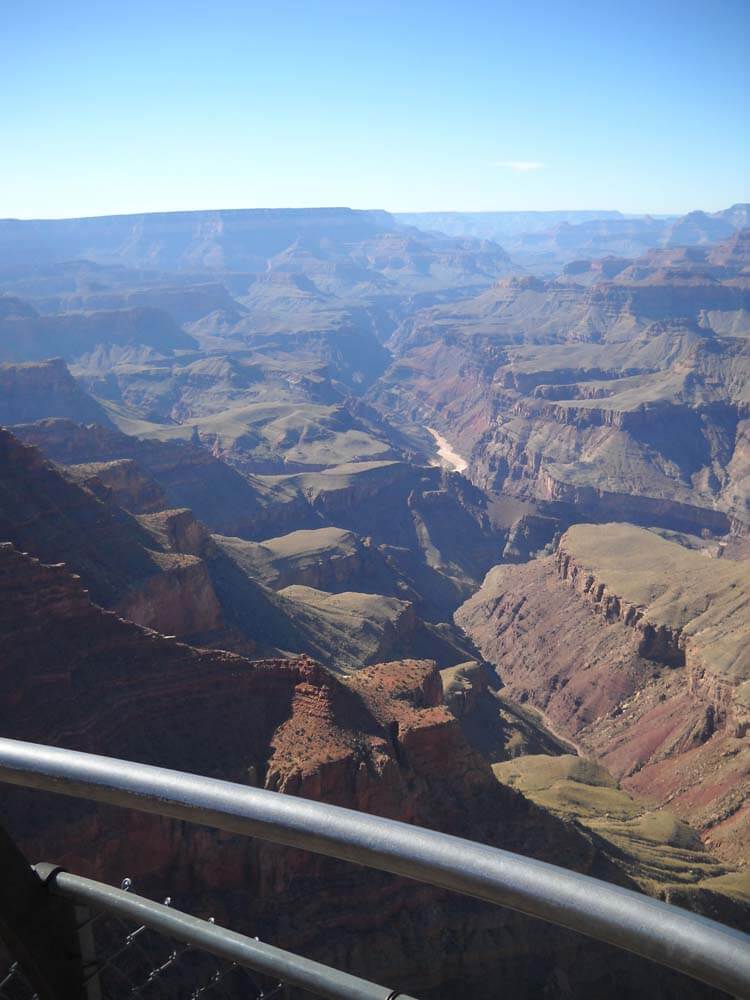 Looking in the opposite direction from the previous picture. Again you can see the changes in the light – as well as a little hint of the river.
Since the depth perception has gone completely, I don't think I'll be hiking the Canyon – it's off the bucket list….I might be able to handle the mules. I might not….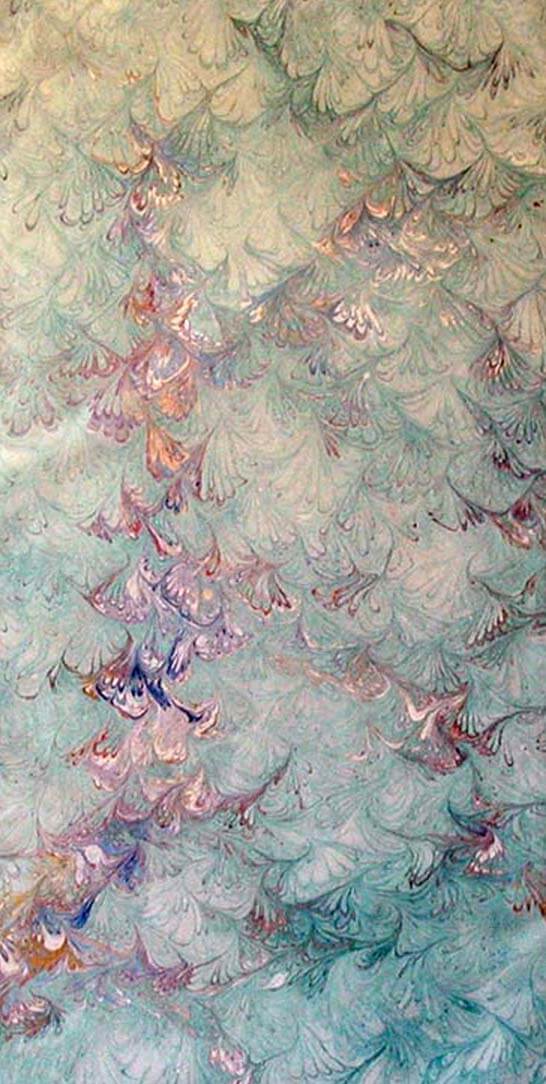 It's Tuesday morning, and I'm doing my marketing column, which usually happens on a Monday. But…today is the 18th, exactly 90 days since I made my first set of goals with the Multiple Streams of Income class with Laura Bray. Click here to visit katydid designs. This was only the second time I actually set written goals and kept referring to them throughout the 90 days. The first was with season one of Co-creating Our Reality. I'm going to be setting goals from now on for the 100-day seasons and keep everything together. That way I can review personal and professional all at the same time, as one really affects the other.
So how did I do?
Here are the original goals:
* By October 18 I will have plans for 10 different collections for licensing, with 5 of them ready to show. I broke this further into a series of steps: analyze current work (completed in August); read through licensing materials (still working on this); work on repeats (working on it); identify ten collections (completed in August); identify three more collections (done in September). Nothing is ready to show…yet… but I feel like I am making progress in that direction.
* By October 18 I will sell $50 in product from my Cafe Press store. Series of steps: look at shops; determine products; look at existing artwork; set up products; develop a marketing plan. So…not a lot. Cafe Press also has changed some of their policies, and it looks like Basic shops are changing. I need to investigate that more. I have, however, managed to get an item up on the blog on Thursdays on a somewhat regular basis – more than I've done in the past….
* By October 18 I will have added a minimum of 10 new items to my Etsy store. I will also have the rest of the artwork on Etsy. I will sell a minimum of $50 on Etsy. I will have a marketing plan for Etsy. Lots there…and I've gotten each one completed. We are now looking at some regular income each month from Etsy. Now to increase the amounts.
* By October 18 I will have sent at least one newsletter. My bad. Didn't happen…and this is really an important piece. But the reality of what's coming up in November makes me think this won't happen until the new year.
* By October 18 I will have placed artwork in at least one gallery. Well, yes and no……..the gallery north of here is on hold because of the distance. I did enter a piece into an installation show here in Tucson, so I made that deadline. I have two pieces in a gallery in Tubac, but they will be coming home in a few days, as the owner is not sure he will continue in business. I had enough interesting experiences with these processes, so I am re-evaluating just how badly I want gallery representation.
All that said, it's been a very valuable 90 days. I have learned a lot, especially when it comes to gallery representation. I have done a HUGE amount of sewing on projects and commissions, and I definitely want to continue creating pieces. Maybe the gallery/show route isn't how I want to go. But at least now I have some experiences behind me to make those kinds of decisions.
Now – when my second season of 100 days ends in mid-November, I have another whole set of goals to look at, and at that time I will develop new ones. By then I'm going to have a lot more experience in this area, so the goals should be more focused. The Multiple Streams of Income class really helped me focus on the kinds of goals I needed to create – up until then, everything was geared around marketing – getting the word out – but it was pretty hit-and-miss. The class gave me focus, as well as a better idea of how to set up some goals. I really recommend Laura's class if you need focus.
Click here to visit katydid designs.

Sunday we went to the University of Arizona for one of their World Music concerts – the Yamato Drummers of Japan. Normally this is not something we would buy tickets for, but once I saw the Beijing acrobats many yeas ago, I knew that all things Asian would be wonderful, so I convinced hubby to get the tickets. Nosebleed seats, but it was the music….theatricality, athleticism, and amazing drumming!
We sat entranced for 9o minutes, and the applause was thunderous at the end – a demand for a curtain call from the audience, and we were treated to more amazing drumming – all sizes, all shapes, with wrist movements you have to see to believe!
So enjoy!
This was the encore they did.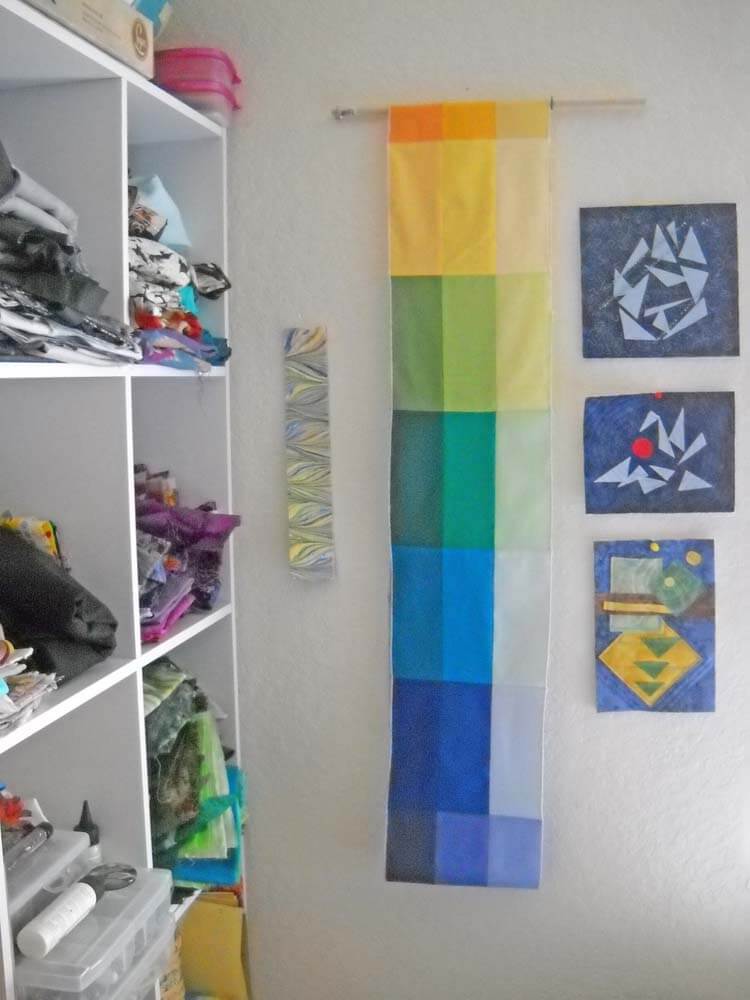 Busy week in the studio! I've been slowly adding little goodies to the wall, as I want to feel like this is a real working studio every time I walk in to it. This wall is some samples, my color wheel, and some of the fabric cubbies. This is of the poster for the Tikkun Olam show, and other goodies, like the holiday gift list….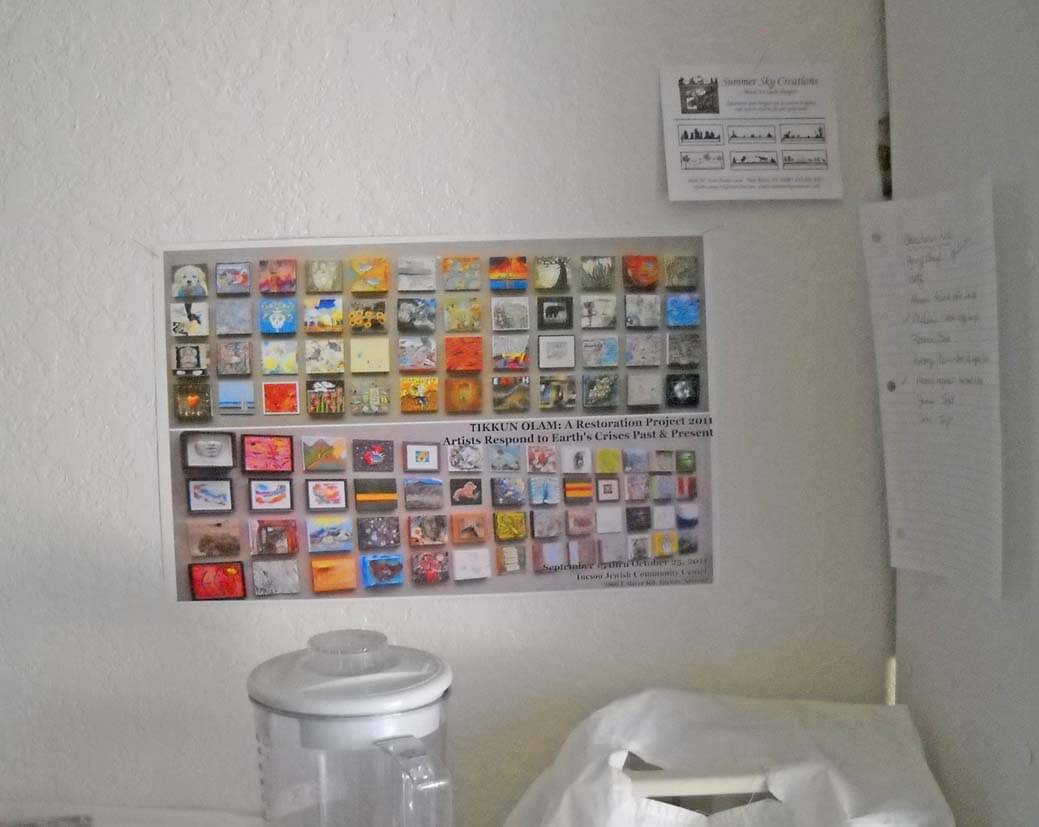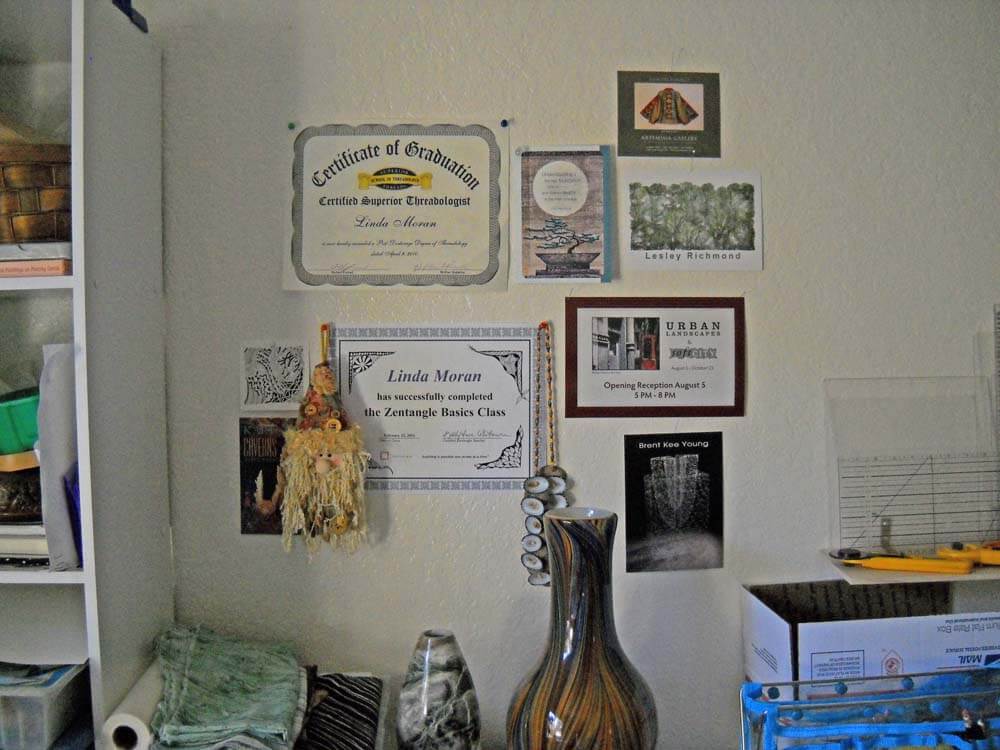 Some of the certificates and exhibits we've attended. I really enjoy looking at all of them. In the past we usually just tuck things away and never have a chance to revisit them often enough. That is definitely changing.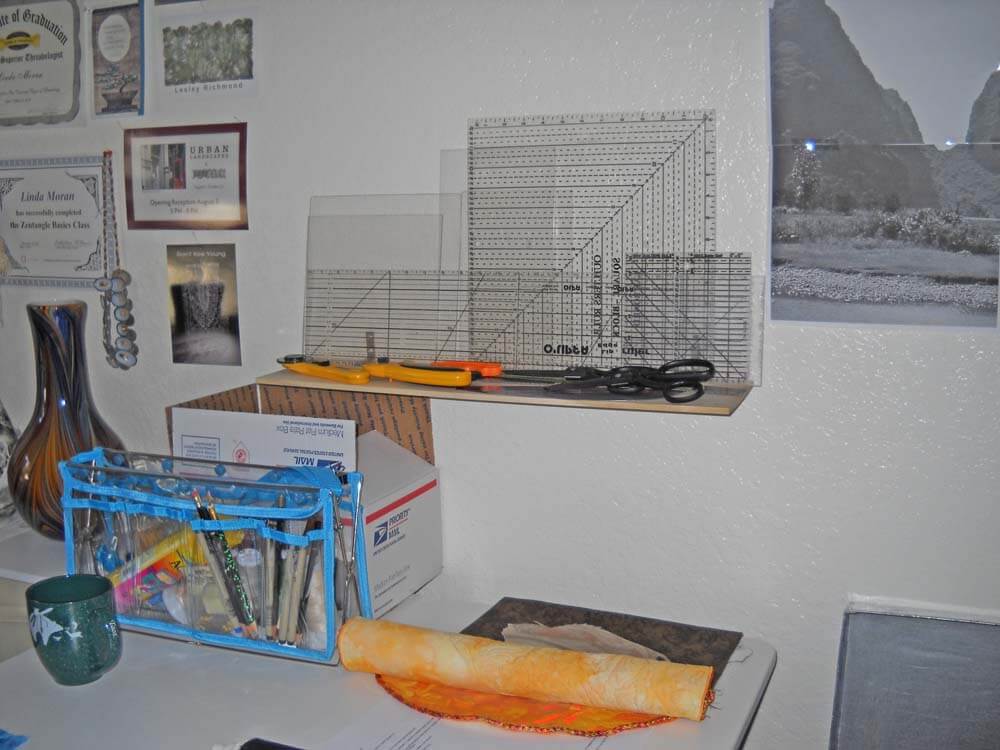 New shelf hubby put up to keep all the notions from getting in the way and having to be moved each time we marble – or I lay out a quilt to sandwich. Don't know why we didn't think of that sooner….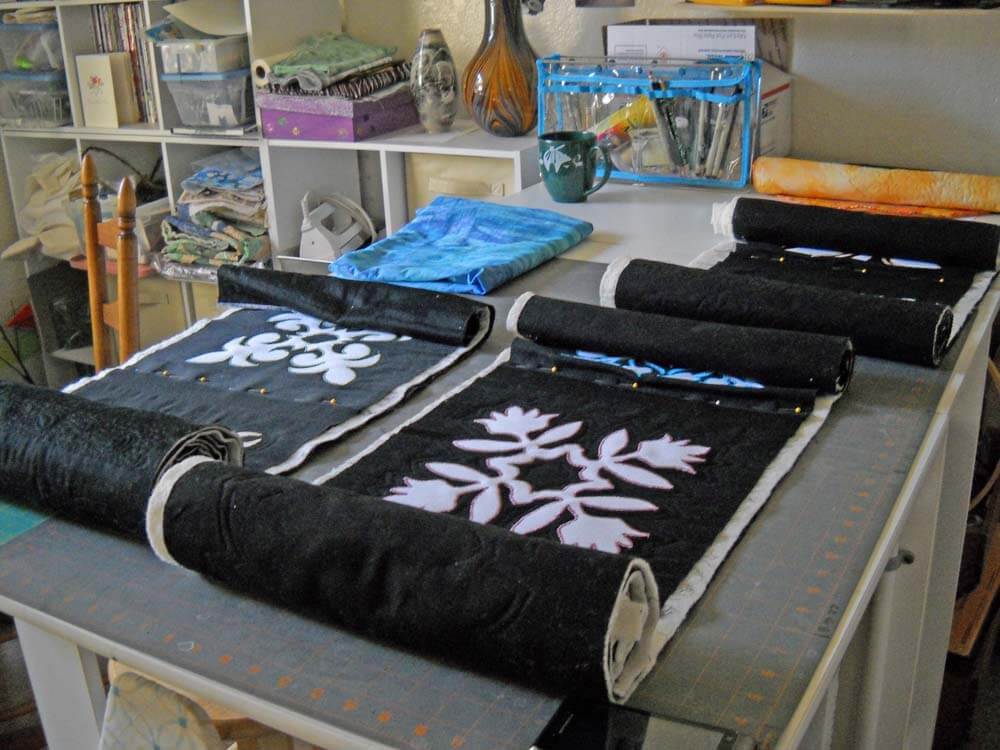 The three large table runners in progress. There is a HUGE amount of work in finishing these up. First, I have 17 Hawaiian motifs, all of which have had satin stitch done around them. The black and white is the predominant color, with just hints of color in the satin stitching. I am now in the process of echo-quilting each motif around the outside, like is traditional in Hawaiian quilting. This is a lot of start, stop, raise the presser foot, lift and turn, and repeat. I'm having to take a lot of breaks because it's rough on the shoulders.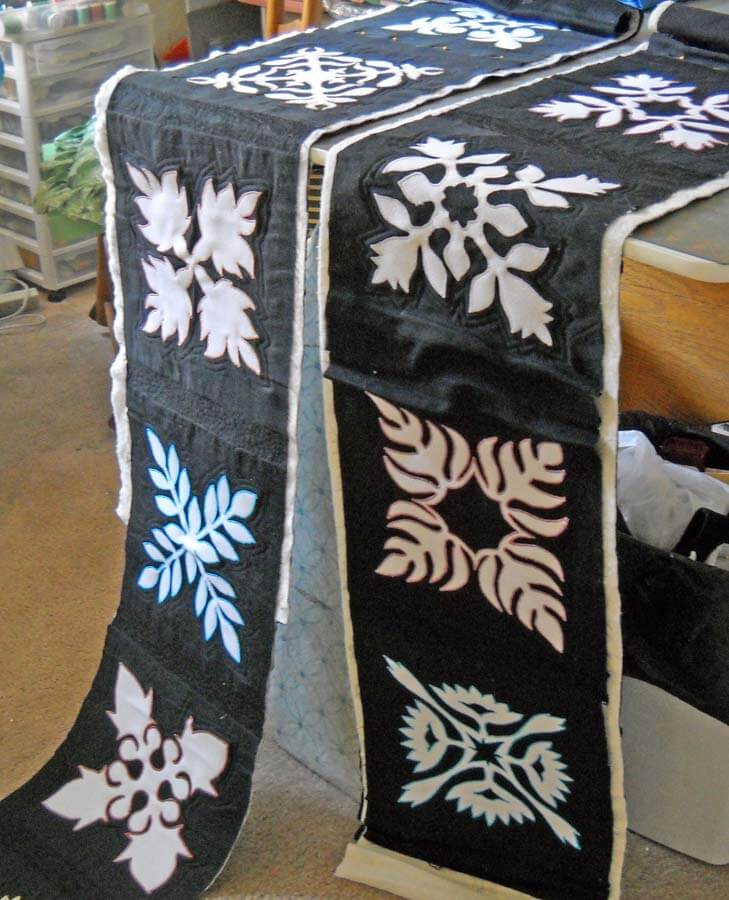 Each of the joining pieces has free motion quilting, black on black. I'm trying out some new motifs on each of those two-inch strips.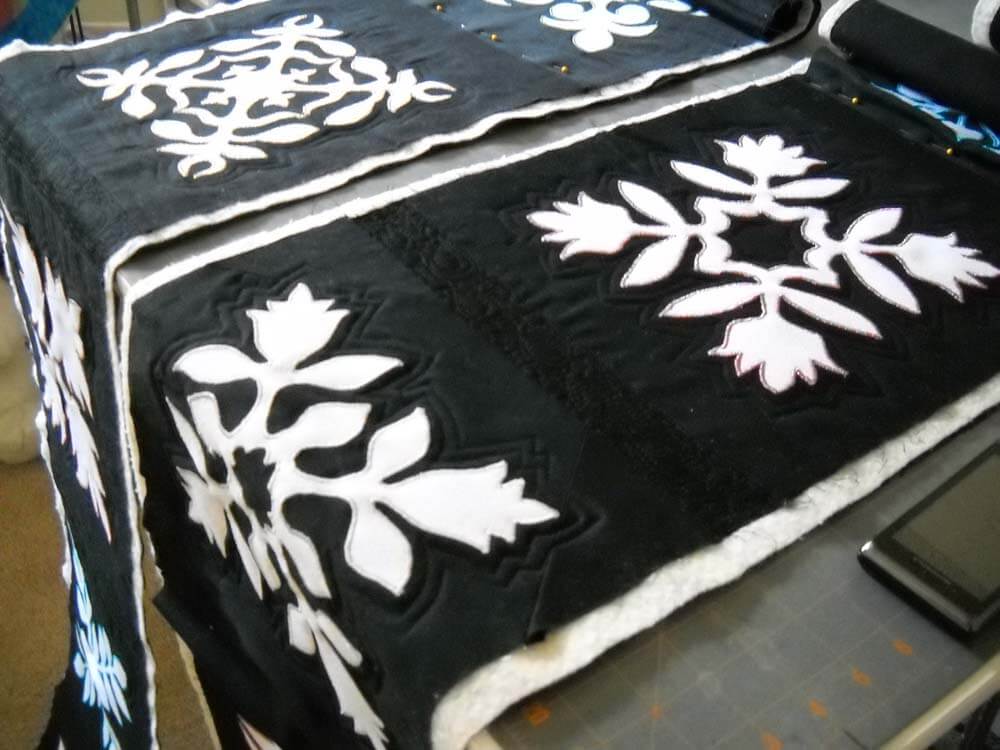 Now about a year ago I asked for suggestions for changing the quilting on a "fish quilt" I had done MANY years ago. I took all the quilting out, and there it sat, along with other "needing to be finished" projects. Well, I'm at a point where I need a serious break from the table runners, plus I want to have a couple of "basic" quilts ready for the guild presentation the beginning of November. It seems that all this time I have been percolating possible quilting ideas.
The thing about this quilt that is so great is the marbled fabric that makes up each of the "fish." This is a case of when the fabric came out of the tray, it said "fish" to me. I always knew I would like something that accented the fish. I started with the borders of fish, and I ended up using one of the decorative stitches on my workhorse Bernina. Then I used another decorative stitch for the first of the waves, and I added some "bubbles" in free motion to the center block.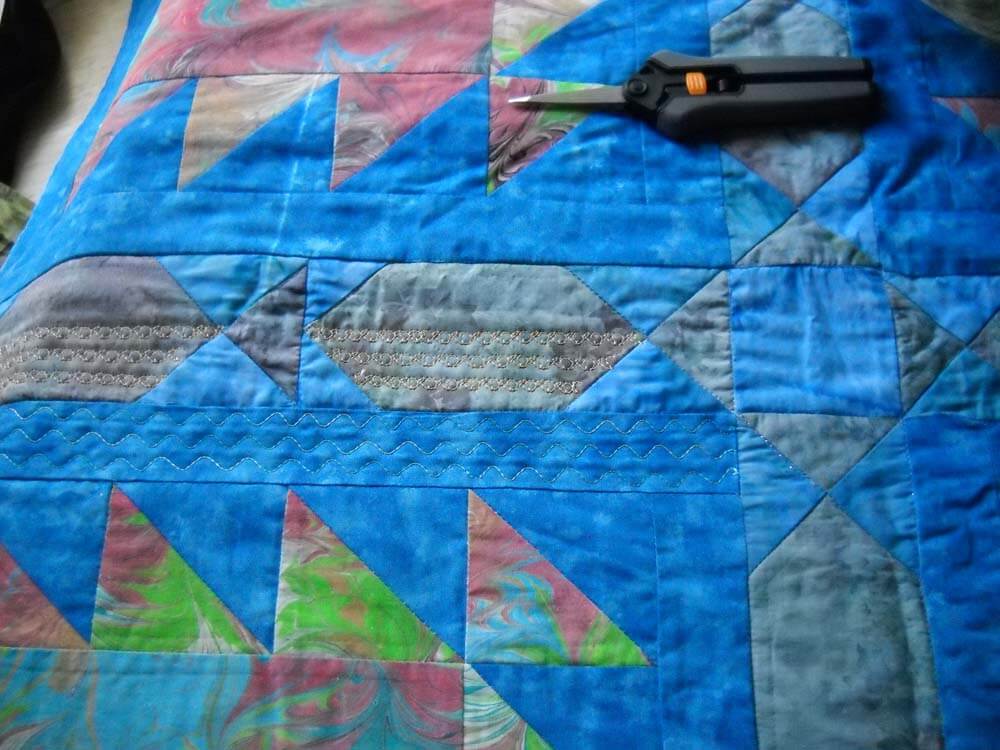 Then it was change the foot, change the thread, and start in on the fish.
It's perfect. It is exactly as I wanted and what I had envisioned before I even knew I could do it.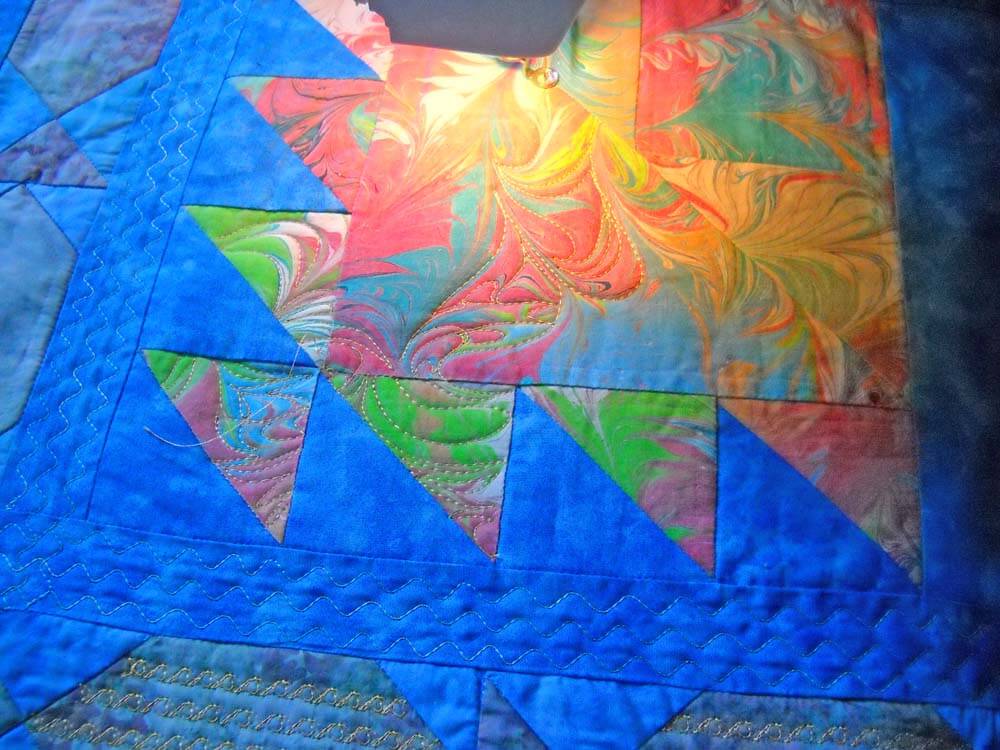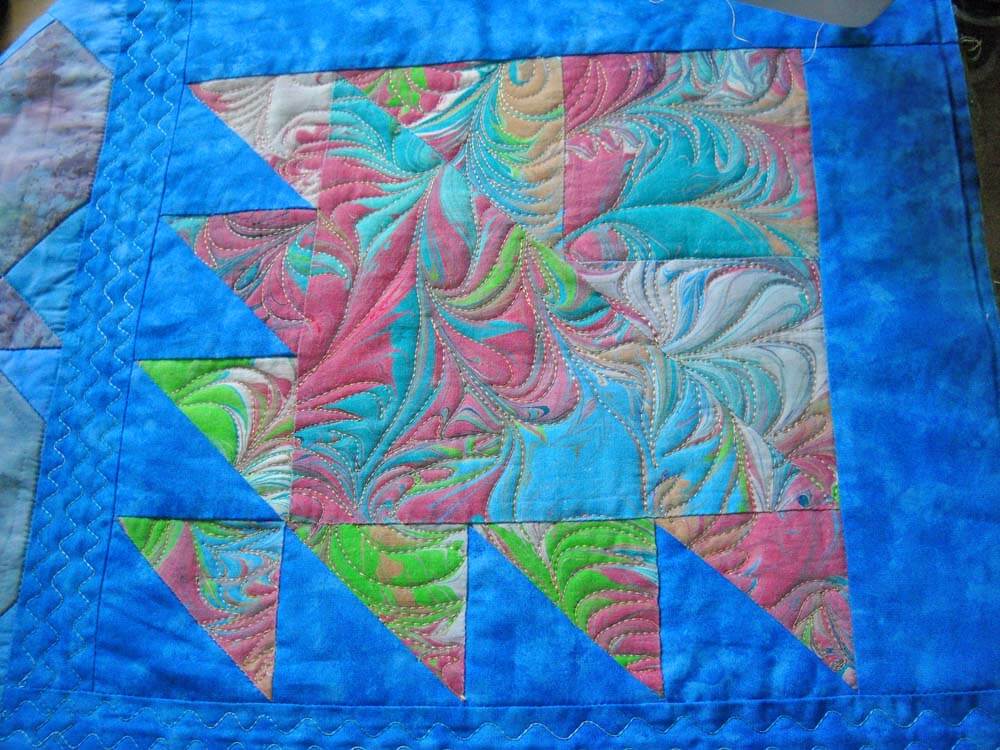 Oh yeah,that's what I'm talkin' about! And my quilting stitch is getting MUCH better!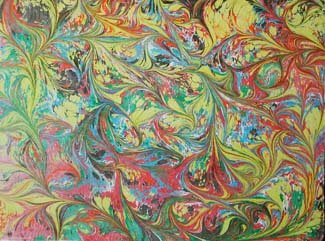 I wanted to look at something different this week, and I find I've been spending a lot of time looking at YouTube – it constantly amazes me what one can find there. I followed a link to an artist who creates creatures powered by the wind. This was my inspiration for everything else I've found this week. Theo Jansen's Strandbeests.
Ao this video led me to check out a couple others from BBC. I admit to watching Graham Norton – he is so funny, and he has great guests. Well, I love Helen Mirren. Here's a great bit about being naked in film.

Then I decided to go and check out one of my favorite artists, Andy Goldsworthy. This video starts with a look at some of his work, and then it movesto a sixth grade project – kids making similar work out of natural elements found in their own school yard. (Kids and art – so close to my heart.)

Then I went searching for some Broadway stuff, and I found this great parody of Chicago, "Glossy Fosse."

And a little more from Forbidden Broadway: Chicago…..

If you've ever done auditions of any kind….or if you just know horror stories, this is a riot…

Now this one is just downright feel-good – especially if you're of a certain age-bracket that used to jitterbug…or so I've heard (snort…).

Some very cool science and math in this water droplet…..

I LOVE Vi Hart and her math doodles……watch the cool patterns that happen in this doodle….

And to finish this post off: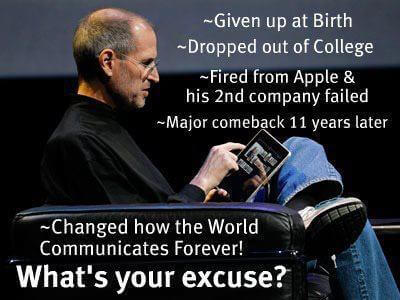 Have a great week exploring the web!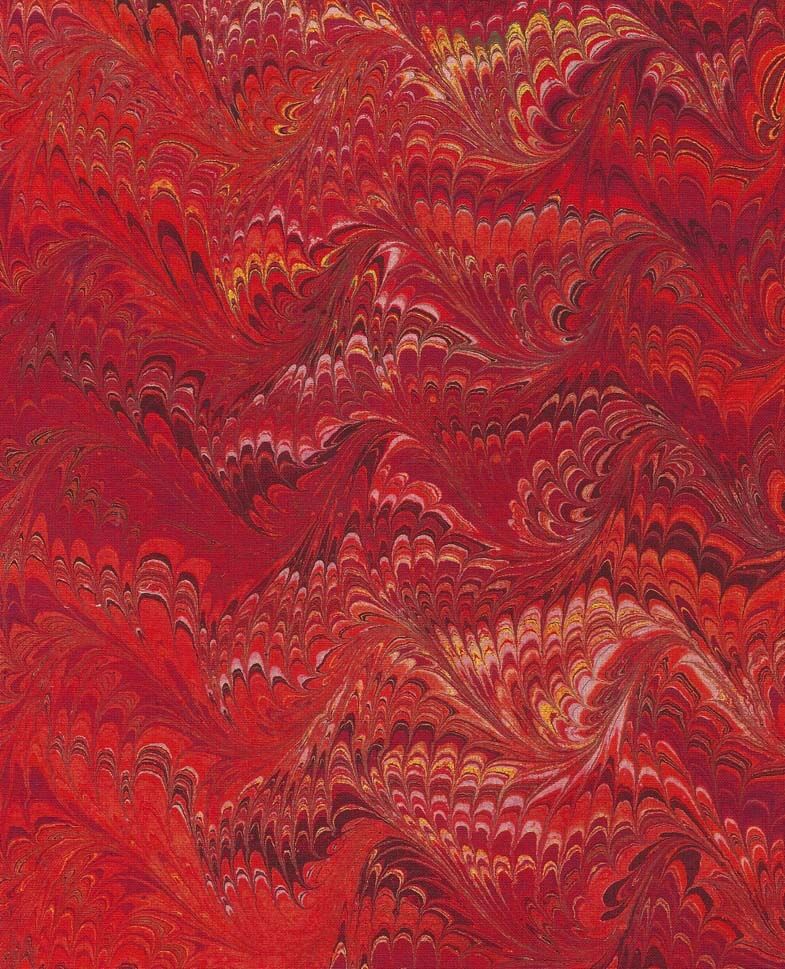 I'm going to just think as I write for this post. After four full months of almost non-stop marketing – and a whole lot of sewing in there also – the business is very busy. We have some things coming up, some things we've dropped, and it's time to evaluate where we have come and where we need to go.
We have dropped a potential art show for a variety of reasons, none of which are really positive in the long run for both us and the business. That was a hard decision to make, and I learned a couple of things. One, we don't have to jump at everything and say yes to a possibility if it doesn't feel right. When we were first starting out, I wanted to go after every possibility, even if it was unrealistic. Two, if we have to "push" to make it work, then chances are it isn't for us. Three, I really like being able to take things at our speed. Even though we have limited years to build our art business, it is more important for us to enjoy each other, take opportunities to be together, and be able to actually create art when we want to. Those were some good lessons on which to ponder (for my English-language friends, no "ending with a preposition"….).
I have started working again on publicizing Art from the Heart, something I really want to do. I am behind on it, but I am slowly seeing progress. I am working on a major commission and learning lots, and I'm nearly half-way through. We are marbling a lot, which we are enjoying, and it seems like we are back to where we were before water and paint and so on became issues. And….we have a guild workshop to do the beginning of November.
Now, we used to do a lot of workshops, and we – not realizing it at the time – blew lots of opportunities to sell fabric. We would go and demonstrate, but never have fabric for folks to buy. Nothing like violating one of the basic rules of marketing – always have product because you never know when someone will want to buy. When I went to the School of Threadology  at Superior Threads a year this past April, I took some fabric and sold out in 10 minutes – I could have sold a LOT more. Lesson learned.
So for this workshop we are doing things very differently. We will go with fat quarters and a couple of gift baskets. We will have hand-out of all our contact information, supplies connections, order forms, and class sign-ups. We need to get back to dealing with all the guilds (and there are a lot more in the city since we were doing this), especially since we have more to offer than when we were originally doing this. And….since we are talking about going east again next year, I need to put the word out and see if we can book a few gigs.
We will do a demonstration in our cookie sheet, so we can create a lot of small pieces to demonstrate patterns, and everything will be easy to transport. Then I have a lot of quilts (as opposed to art pieces) to show a group of beginners. The first quilt I show is my small Attic Window, where I felt the only color I could use with the marbled fabric was black. We'll come forward to the fish quilt, which I am in the process of re-quilting, since those skills have tremendously improved. Hopefully people will feel inspired to buy/order fabric, and we'll be busy for the bulk of November.
I need to take pictures of those quilts and get them online to document the journey. October and November hopefully will be extremely busy making and selling fabric!!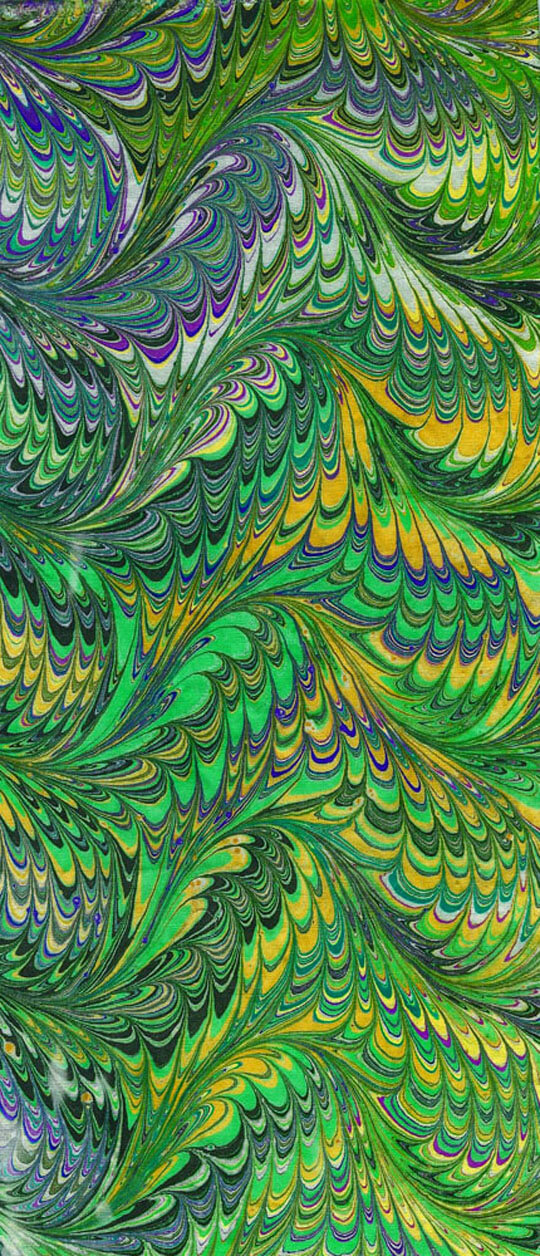 It's Sunday, and I am taking a break from machine quilting this particular commission…..which is coming to an end….on about one-third of it. I have the three long table runners almost set for the binding….and I'm thinking I'm not hand-stitching these down – they're going to get a "stitch in the ditch" approach to attach the binding. I still will have four smaller table runners – another sixteen sating stitch appliques, which I am finally getting to look pretty good – only took me 22 so far to get to this point!
More than an hour wrestling the long pieces around the machine makes my shoulders ache, so it is definitely break time for now – plus we are going to see the Japanese drummers tonight at Centennial Hall, and I have to finish a quiz for my class tomorrow.
Which brings me to my list….I had trouble sleeping on Thursday night – too many things running through my mind. When that happens, I know it's time to make a list and clear the clutter from my head. Now I already have lists – marketing, goals, sewing projects. But this one is different…..
…hair appointment; eCompanion for lesson plans; call on email for a new student; call a gallery for a follow-up; drummers concert; blogs for Friday, Saturday, Sunday, Monday and Tuesday (before we leave for a few days up north with friends); schedule blogs for Wednesday, Thursday, Friday and Saturday (while away); lesson plans for Monday's class; clean out email; list for packing and trip; finish first table runner so stitch down binding; thread order called in; one of the banks for their screw-up; take care of questions on the new lease for next year; pay COBRA insurance; clean the bathroom; review goals to see how on track I am; newsletter addresses; Art From the Heart updates; schedule holiday gift baskets on Etsy; call cousin; work on affiliate ad for blog; revise artist statement; clean the patio; drop some FQs off at the LQS in preparation for a guild presentation; confirm shipping address for an order; order some black zentangles for a birthday present; hem hubby's pants; cut fabric strips for at least three new fabric bowls to take with me on our trip; and create a quiz for Monday's class.
This is everything that was swimming around in my head, and now it's down on paper and i don't have to worry about remembering any of it. It's on paper…and I am keeping track of the paper – I have been known to lose a master list. How far am I? (I get to use the "strike-out feature for the first time….).
…hair appointment; eCompanion for lesson plans; call on email for a new student; call a gallery for a follow-up; drummers concert; blogs for Friday, Saturday, Sunday, Monday and Tuesday (before we leave for a few days up north with friends); schedule blogs for Wednesday, Thursday, Friday and Saturday (while away); lesson plans for Monday's class; clean out email; list for packing and trip; finish first table runner so I can stitch down binding; thread order called in; one of the banks for their screw-up; take care of questions on the new lease for next year; pay COBRA insurance; clean the bathroom; review goals to see how on track I am; newsletter addresses; Art From the Heart updates; schedule holiday gift baskets on Etsy; call cousin; work on affiliate ad for blog; revise artist statement; clean the patio; drop some FQs off at the LQS in preparation for a guild presentation; confirm shipping address for an order; order some black zentangles for a birthday present; hem hubby's pants; cut fabric strips for at least three new fabric bowls to take with me on our trip; and create a quiz for Monday's class.
There are a couple more things that will get crossed off by the end of today. Usually once a month I need to do what I call this "master list" so I can clear my head. My day-to-day lists usually only have about 5 critical things on them. But I will say I have slept better these last two nights.
Well, actually….they're fabric bowls, but somehow "introducing fabric bowls" doesn't have the same ring. So this has got all the goodies of a holiday basket, but it comes in a fabric bowl that you can use throughout the year, rather than trying to figure out what to do with another straw basket. Which I must admit I thought was waaayyyy better.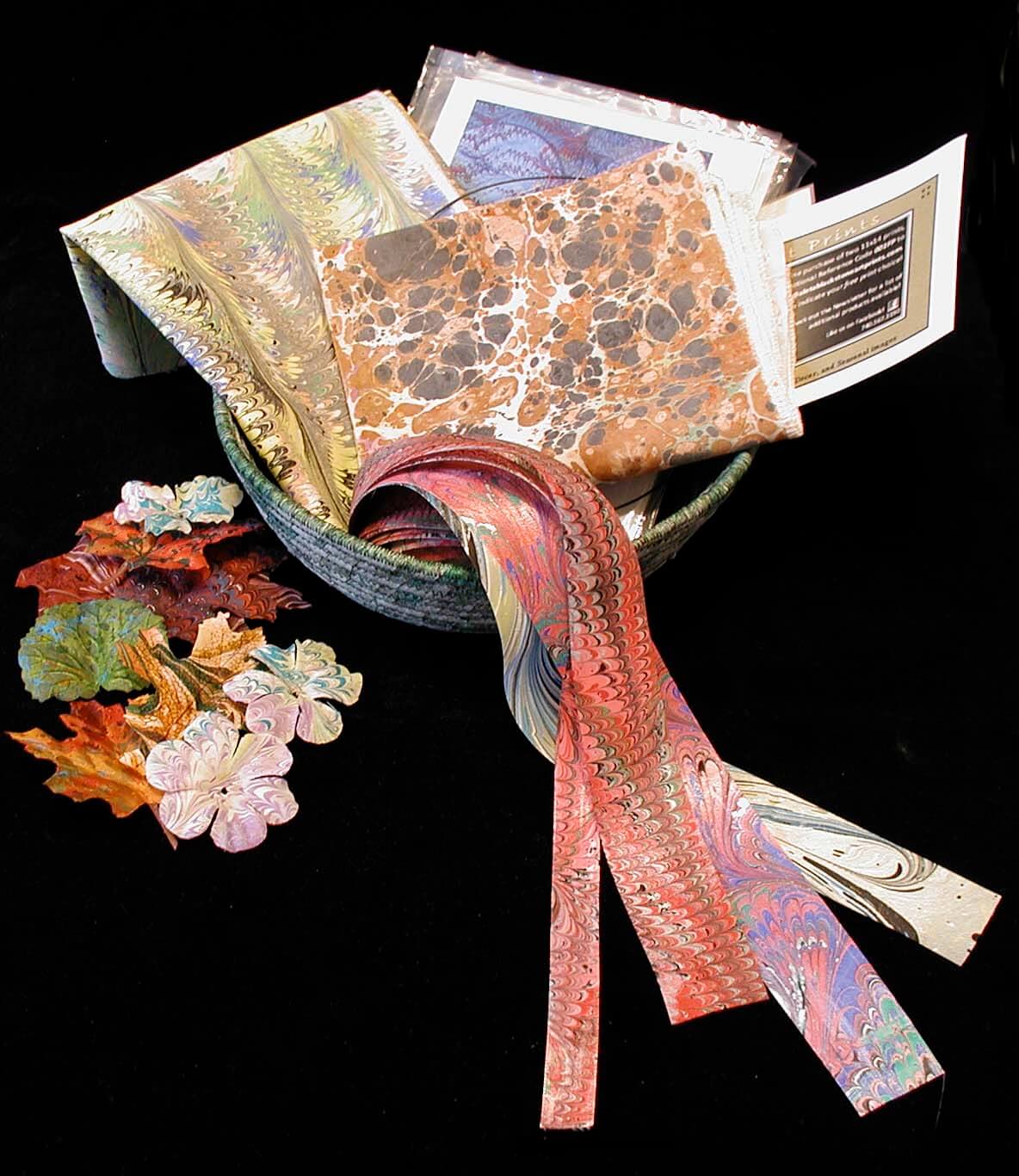 Here she is! This holiday treat starts with a hand-crafted fabric bowl, in a subdued color that makes the bowl perfect for year-round use. Then it's filled with goodies from the marbling tray: a fat quarter (18 by 22 inches) of 100% hand-marbled cotton; 4 pieces of hand-marbled Offray ribbon, in assorted sizes and width, all 18 inches in length; a 10% off coupon for our Etsy store (fabrics and small art quilts and table runners); coupons from other artists with offers for their websites; a Smapler Package of eight 6 by 9 inch hand-marbled pieces; a selection of hand-marbled silk leaves and flowers, perfect for embellishments; a set of four Digital Marbling (TN) note cards; and…a small mystery gift.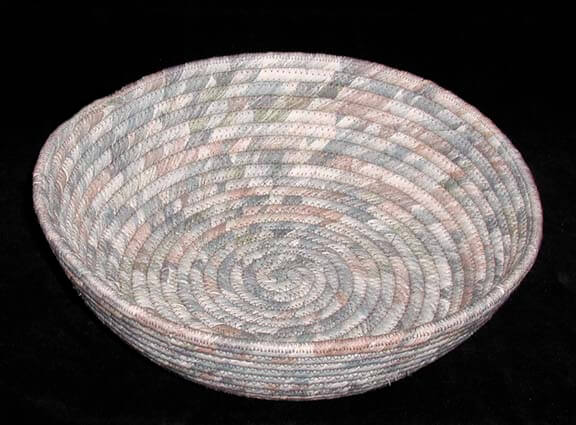 I want the fabric bowls to be in a rather subdued set of colors, as I want them to 1) fit just about any decor, and 2) be useful all year round. A "red" bowl tends to limit use. The actual bowl in this package is a nice mellow green.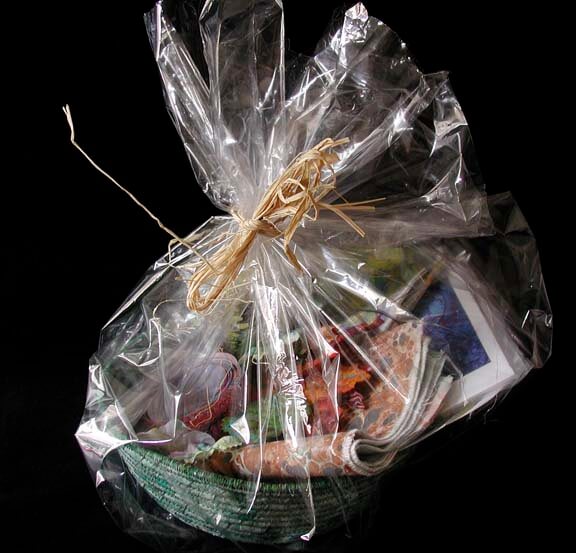 The "basket" comes wrapped in plastic and fits in a priority box, surrounded by shipping peanuts. You can have it sent to yourself, o4 let us know the address and we will ship it.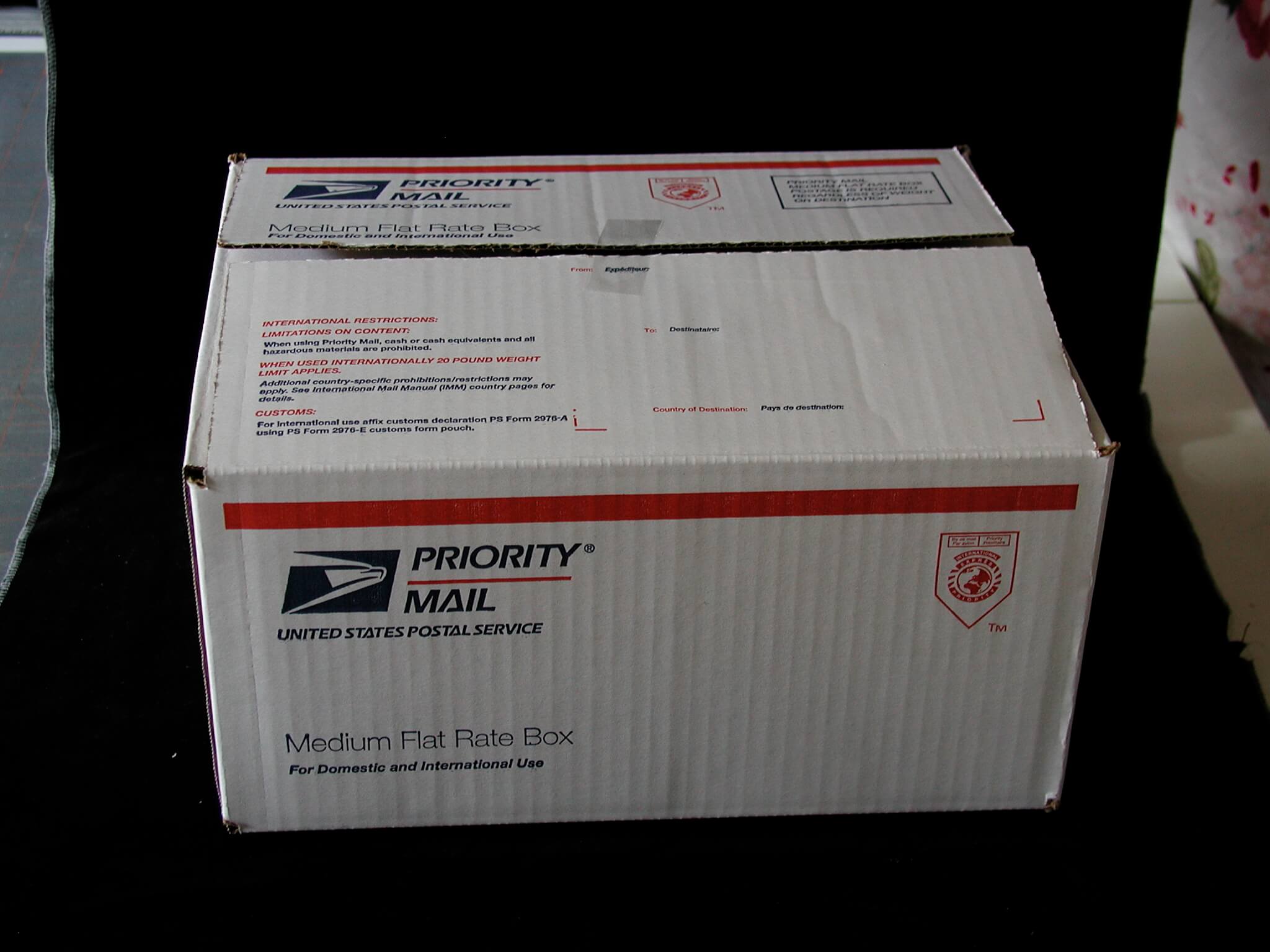 This is a $50 retail value, special available for the holidays for $35.00. Want one? Head to our Etsy store and buy the one there. We'll add additional ones as they sell, so you can see exactly what you will be getting for colors and fabrics.
These have been really fun to put together, especially choosing fabrics for the bowls. And if you haven't tried making these fabric bowls, they are incredibly soothing….wrapping fabric while you're watching television, or in the car, or waiting in the doctor's office…..There are a couple of good books available if your LQS doesn't offer a class:
We are affiliates for Amazon, so if you order through our blog, we do receive a commission (keeping the FTC happy….).

I never win anything, even those hope springs eternal (and yes, lottery ticket is bought for this Saturday night…). And I am fairly compulsive about entering give-aways on line, even though I never see my name as a winner. So imagine my absolute delight at an email from Tristan at C&T Publishing that I won a copy of Cindy Walter's book, Fabric Painting with Cindy Walter. Aside from the fact that I won, this is an area I really want to try. I've watched videos and done some reading, but I have been seriously intimidated in getting started.
So on Wednesday, with a balmy 81 on the porch, I read the book cover to cover – something I don't usually do with an art process book. But I gotta say, this was very different. From the beginning I was hooked. This is billed as a Beginner's Guide, with 11 techniques. I was dubious, as many of the previous books had left me in the dust by the second page. Not so with this one. By the time I had finished the book, I knew I would be able to do every single technique without a problem. Cindy's writing is clear, the diagrams are excellent, and the instructions are top-notch. And this is from a writer herself, who always struggles with pattern instructions to be sure they are crystal clear.
For example, I have struggled with what kind of paints to buy. I had no clue about transparent and opaque, and in between. I no doubt would have bought the wrong ones and gotten discouraged with the whole process (much like my adventures trying to follow dye recipes in a "beginner's" book).  Same thing with brushes. After all these years of working on my marbling and quilting, I know the importance of top-notch supplies, and I appreciated the recommendations. I really liked the lists of supplies, the do's and don'ts, and all the helpful tips spread throughout the book.
Dry or Wet? is the first technique – and I like that it gives you a feel for the process. I'm pretty certain I will like the wet process more, especially since I wanna do scrunching and salt – I love those effects – I've always admired them in fabrics, and I want to be able to do it myself. I am especially interested in seeing how marbling works after the fabric has been painted – my ultimate goal.
At dinner last night, rather than throw away the mushroom container, my little artistic voice said "NO – this will be a water container." Hubby is now under strict instructions to save all the styrofoam for me now.
It's a good thing I picked up another set of storage for the studio, since I was running out of space (I just needed a few "empty" cubbies for ongoing projects…), because now I have a place to store styrofoam, my soon-to-be-purchased brushes and paints, and salt….and anything else I could use (and as artists we know just how long that list can be).
PS. In the interests of FTC regulations, should you order this book from the Amazon link above, I receive some small change. Or you cna click on the other link in the first paragraph and go right to the C&T Publishing site to order.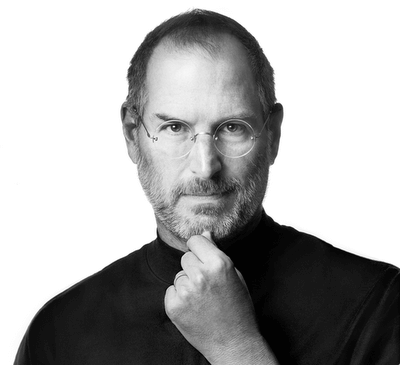 Wow. I've been around longer than Steve Jobs. I've read and seen the deaths of people I've grown up with: family members; famous people like Bob Hope, whom I adored for his USO work; Carl Sagan. And I know the reality is that many more people I know and know of will make the obituary pages. I watched the Emmys and was astounded at how many had passed this year that I've grown up with.
But Steve Jobs……that was a punch in the gut. For one thing, he was cut down in the prime of his life, and I can say that, since I now am aware with age that 56 is YOUNG. Secondly, though I never met the man, he is someone who has influenced me in amazing ways through my teaching. And through me he has influenced even more people. I have said for a number of years, probably since I learned he had pancreatic cancer, that here was a man whose influence on the world will still be measured decades from now. Sure, we've still got Bill Gates. But we mostly know him as one of the world's richest men and the butt of a lot of Microsoft jokes. Gates is a visionary in his own right, a contemporary of Jobs.
But it's Steve Jobs I think of every time I sit at my Mac, every time I think about what new technology I can incorporate in the classroom to help make a lesson better, and every time I take away an iPod from a student for listening to it in class. I bought my first Mac, an Apple II G, without a hard drive (who needed one of those when you could carry your floppies with you?) in 1989. All of a sudden I was able to create a lot more interesting material for students. Of course I could have done that on a PC, but from the beginning, a Mac always seemed like my friend. Would Photoshop even have developed with only a PC base as its beginning? Not sure, but, IMHO, I don't think so…..
I learned Appleworks as my first word processing program. I used Pagemill for my first website. We've been in e-commerce since 1997 – we're "oldies" when it comes to having a business on line. I worked every one of my Macs ( my Performa, my first iMac -the cube, my second all-in-one iMac, and now my 27-inch iMac – never a crash, never a problem I couldn't solve) way past their normal life span . And never a replacement for anything. I discovered iTunes and have not bought another CD since then. Hubby has enjoyed many hours searching the iTunes store and downloading music. Need a song to demonstrate an idea in class? Head to iTunes and buy it for 99 cents. I think of what using music used to entail – reel-to-reel tape recorders (which used to be state of the art technology), ordering an album, hoping the needle on the record player wouldn't scratch the vinyl. Take music with you? Remember boom boxes? Cassettes? Eight-tracks? Every kid seems to have some form of music player.
The iPhone? All of a sudden a phone wasn't just for calling to say you would be late or stuck in traffic. When AT&T broke up, in a small way it was the beginning that led to the iPhone. Steve Jobs probably saw that as just the beginning.
The iPad? Bottom line, I want one. I can carry books with me, have my music, check my banking – in general, enjoy retirement a whole lot easier.
A week or so ago I was talking with a friend about Jobs' stepping down from Apple. We wondered if the company would continue to innovate. Her take was yes, it probably would for a couple of years, because there are no doubt a lot of new things in the pipeline. But after that? She didn't think so. And I'm not sure I think so….too often programs and companies are the people themselves, and when the guiding light goes, for whatever reason, so goes the true spirit.
Several years ago I watched the YouTube video of his commencement address, and so many things he said I had been feeling. These are the quotes you will be seeing on a Facebook status. But what stayed with me was the fact that I did what he was talking about. I followed my heart, even when the family thought I was nuts.
"That's been one of my mantras — focus and simplicity. Simple can be harder than complex: You have to work hard to get your thinking clean to make it simple. But it's worth it in the end because once you get there, you can move mountains."
— BusinessWeek interview, May 1998 – this is how I approach the teaching of algebra to students who think they can't do math.
"[Y]ou can't connect the dots looking forward; you can only connect them looking backwards. So you have to trust that the dots will somehow connect in your future. You have to trust in something — your gut, destiny, life, karma, whatever. This approach has never let me down, and it has made all the difference in my life."
— Stanford University commencement address, June 2005. – I had to trust that teaching was what I was meant to do, and one day I realized I wouldn't have it any other way.
"Your time is limited," Jobs warns. "So don't waste it living someone else's life….Don't let the noise of others' opinions drown out your own inner voice." Commencement, 2005
"Here's to the crazy ones, the misfits, the rebels, the troublemakers, the round pegs in the square holes…the ones who see things differently…they push the human race forward, and while some may see them as the crazy ones, we see genius, because the ones who are crazy enough to think that they can change the world, are the ones who do."
RIP, Steve Jobs. 1955 – 2011
And as one final thought, here's a post from Lyric Kinard with a different tribute to Steve Jobs.
Work in progress Wednesday was marbling, so it makes sense to show pictures of the process….I never seem to get my camera ready to capture the creativity! Hubby sets up the day before, alums all the fabric, and covers the studio (AKA the second room) with sheets to protect all the sewing projects), and then all the fun happens the next day. He also has cut, serged, and pretreated the fabric, in addition to all of the above. So there's a lot that goes into the process before we can have any "fun."
Here's our new metal tray, which allows us to do fat quarters a whole lot easier than having to set up the big plexiglass tray. Who knew we just needed to visit a feed store and could get what we wanted? There for the longest time I was trying restaurant supply stores, looking for the largest cookie tray I could find…….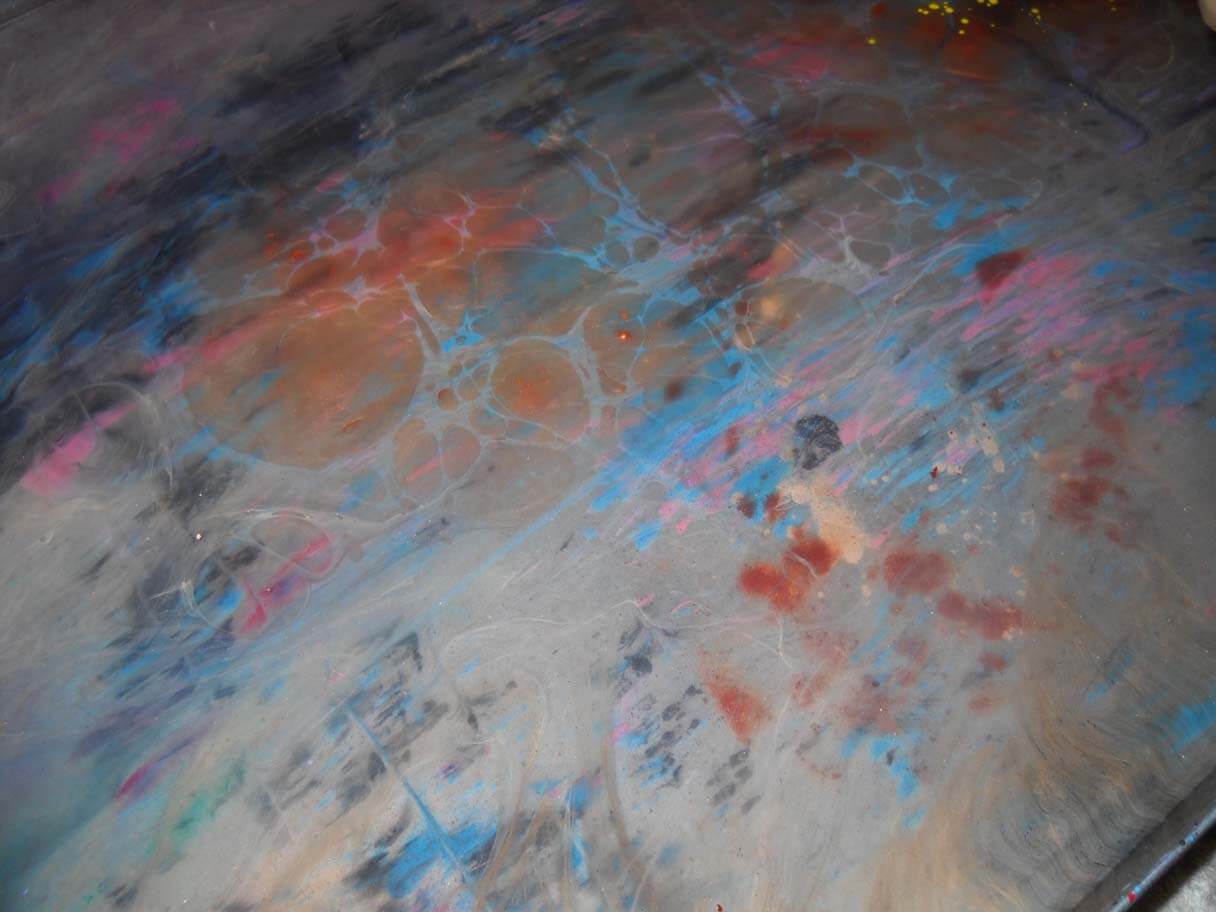 We've already marbled two pieces, and hubby is just starting to lay the paint for the next piece. The paint you see is on the bottom of th e tray and won't affect the new pieces.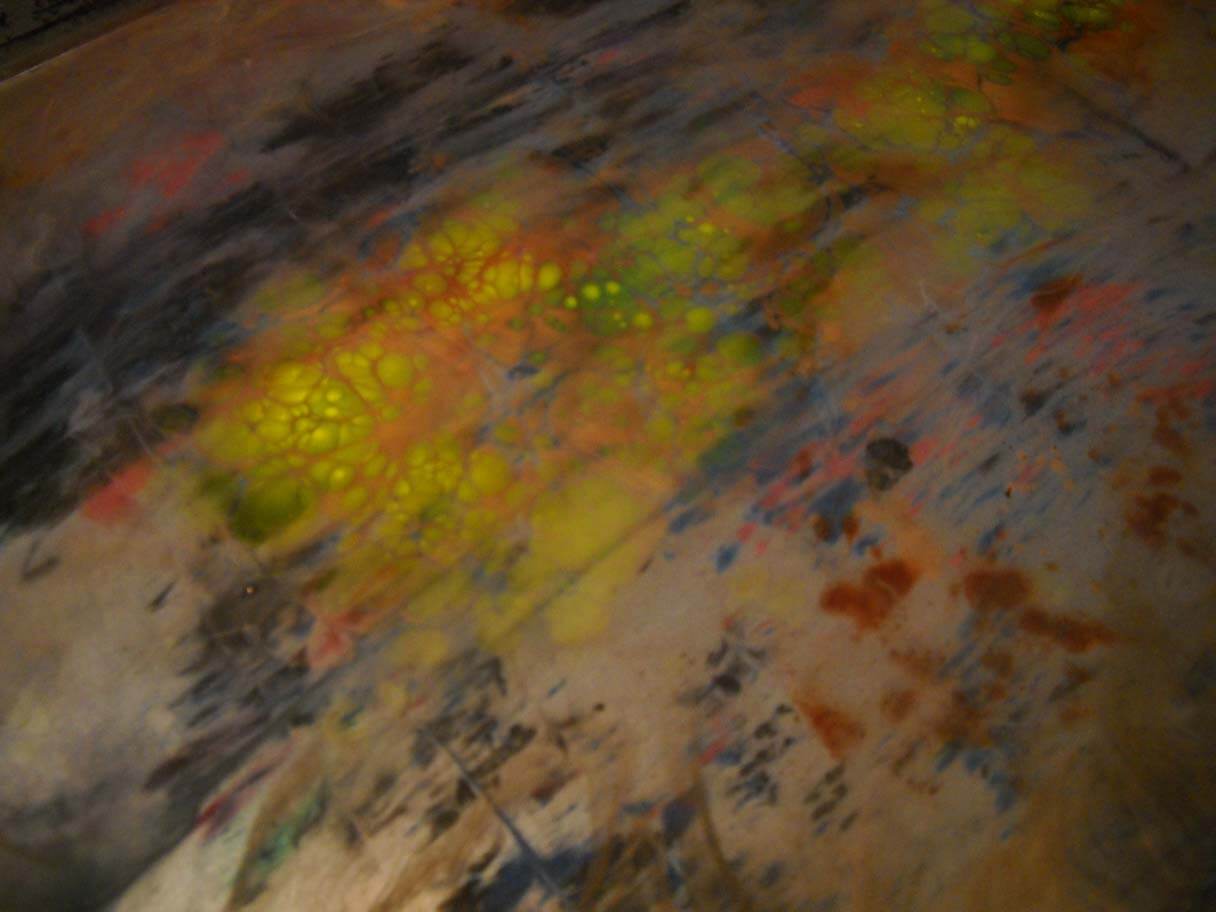 More paint – you can see the initial concentration of the drops and then how it spreads.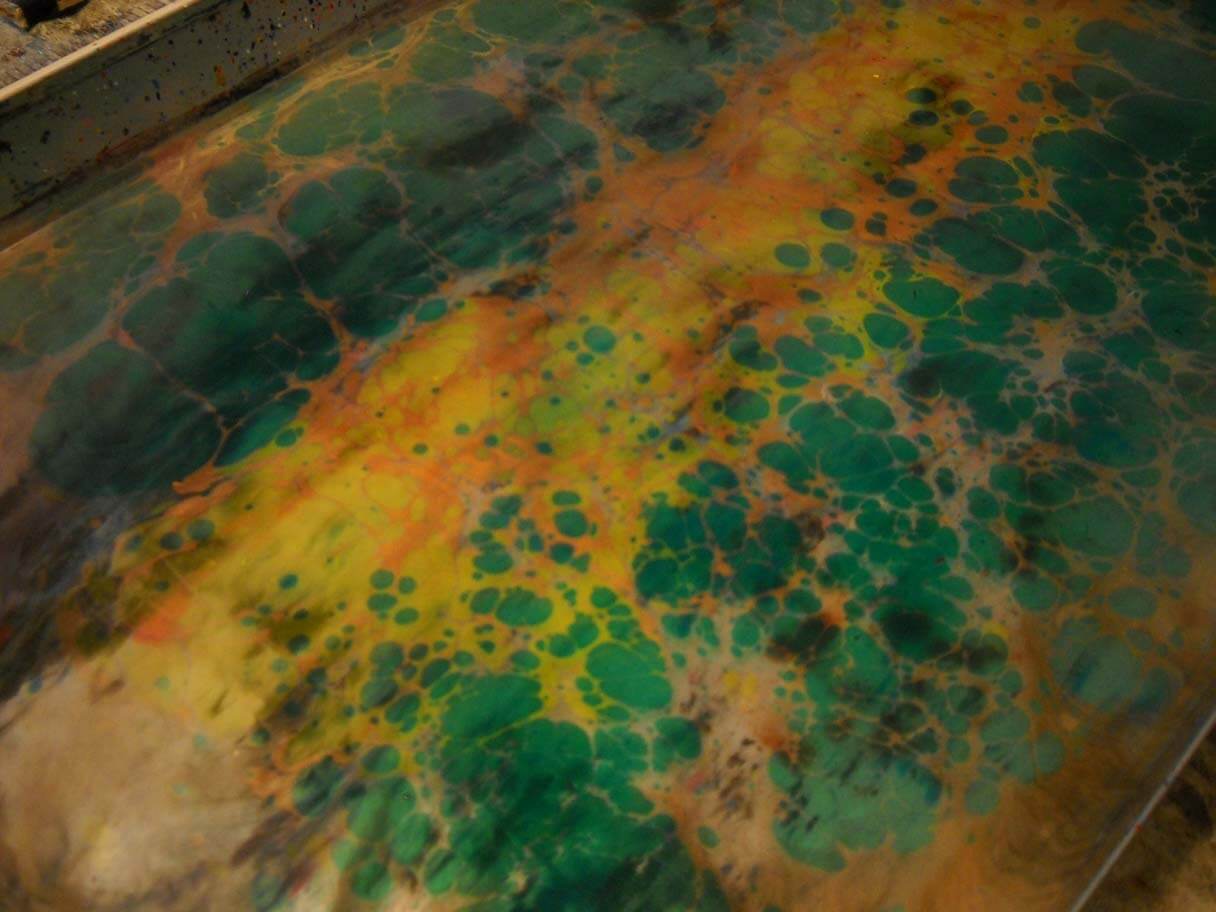 The green is going on either side of the yellow and copper – hubby is experimenting with some new ideas.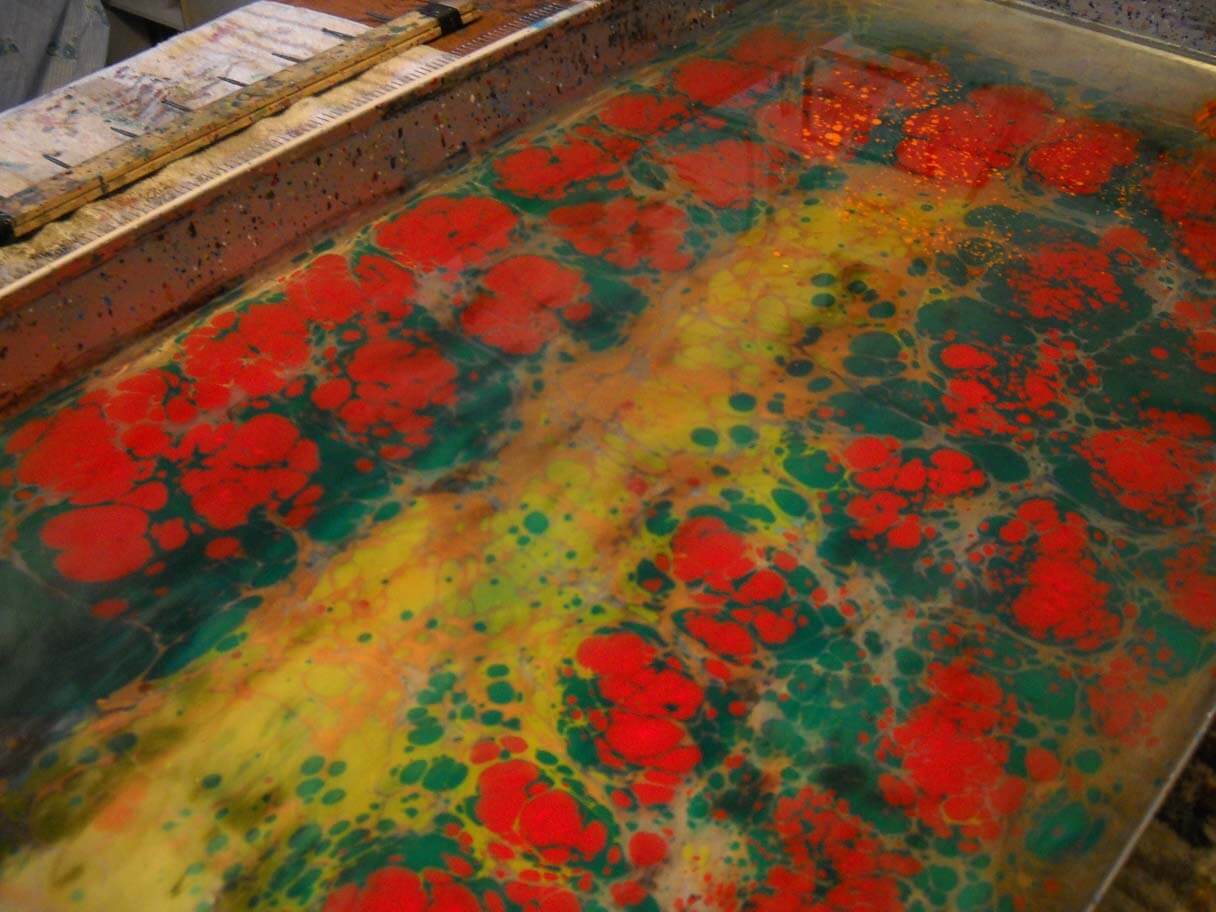 More layers of color. Notice how the new colors are making the initial paint "condense" as it spreads and moves closer together. Hubby has what I call an "innate color sense." He just picks colors and goes ahead. I'm the "planner," and my stuff always comes out looking "muddy."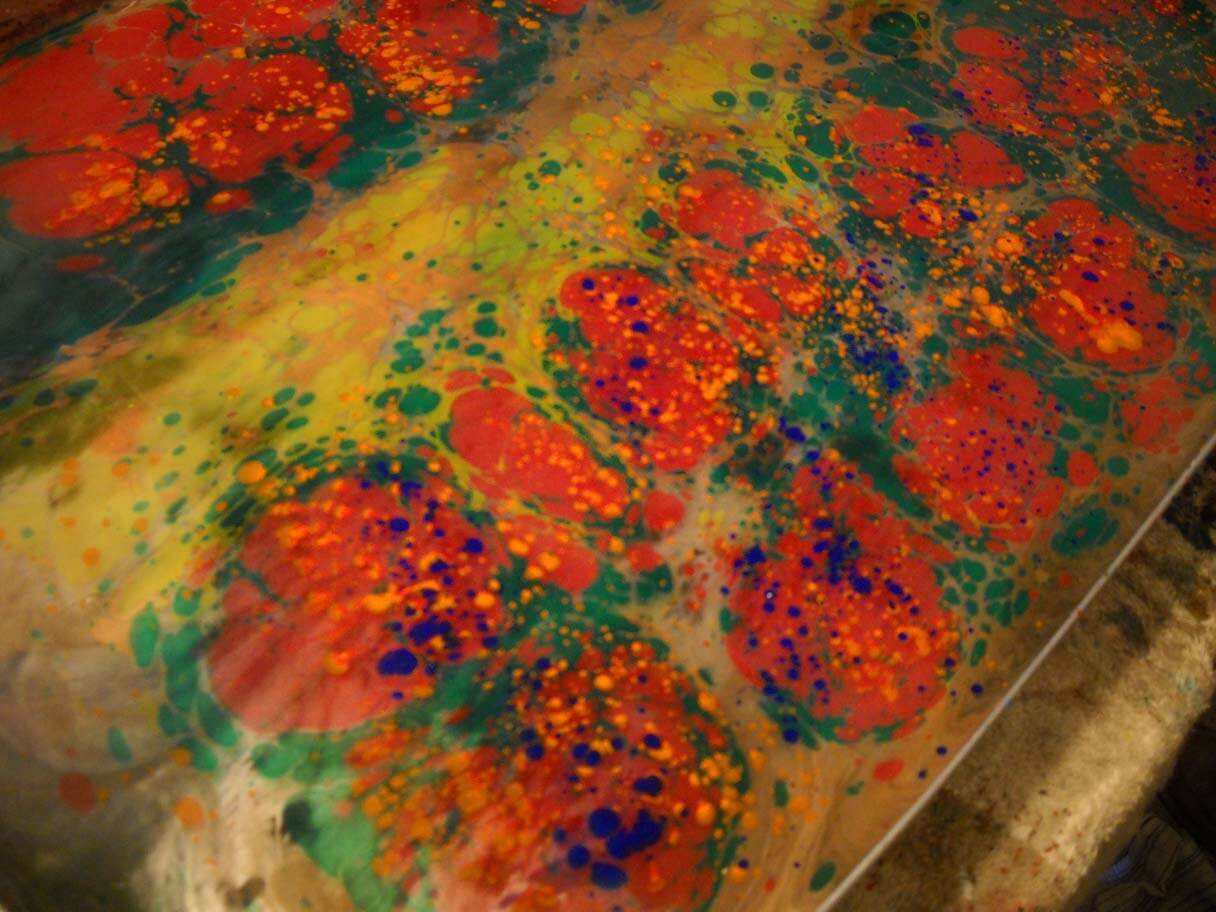 A few more drops of new colors.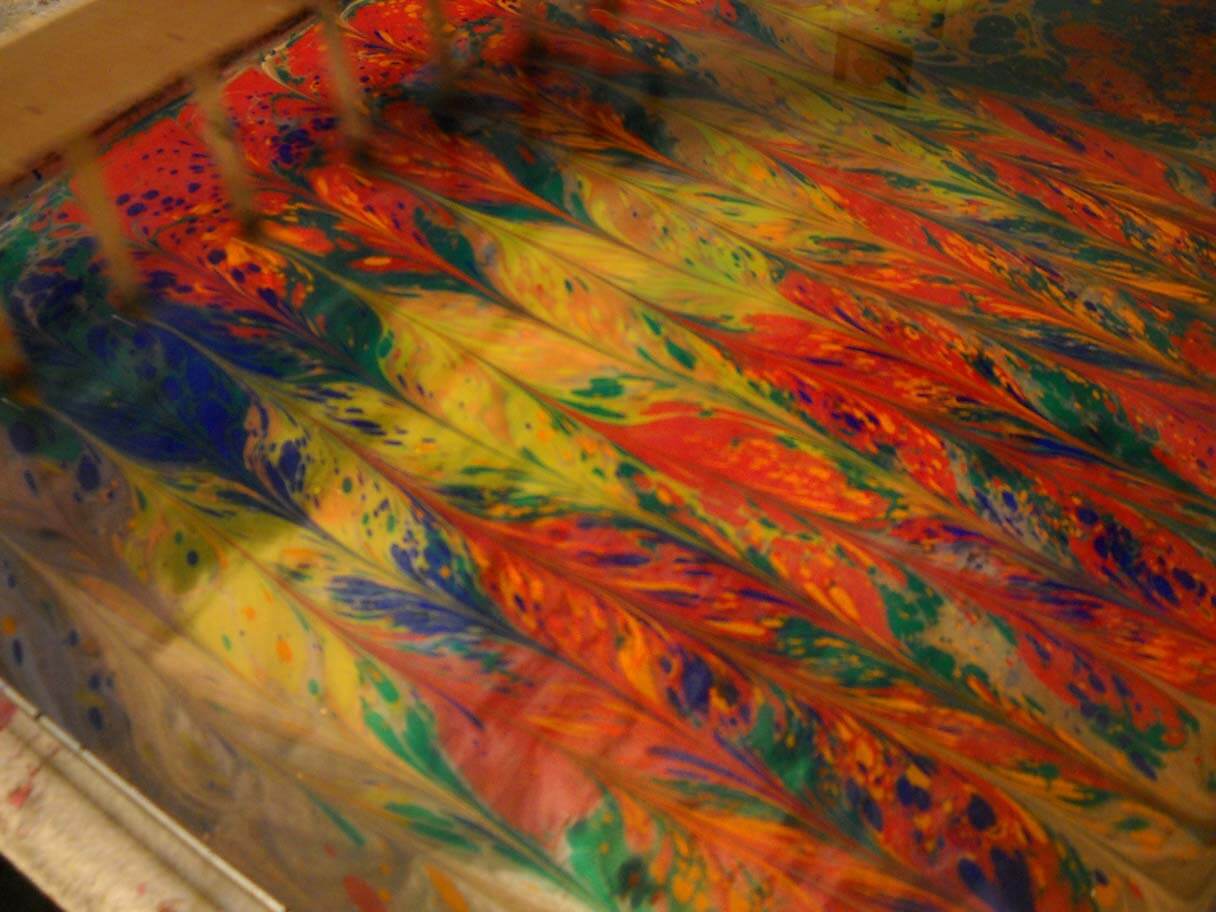 Starting the combing. This is the first "comb through" with the popsicle rake we use. You can see how the pattern is beginning to take shape over the next few process pictures.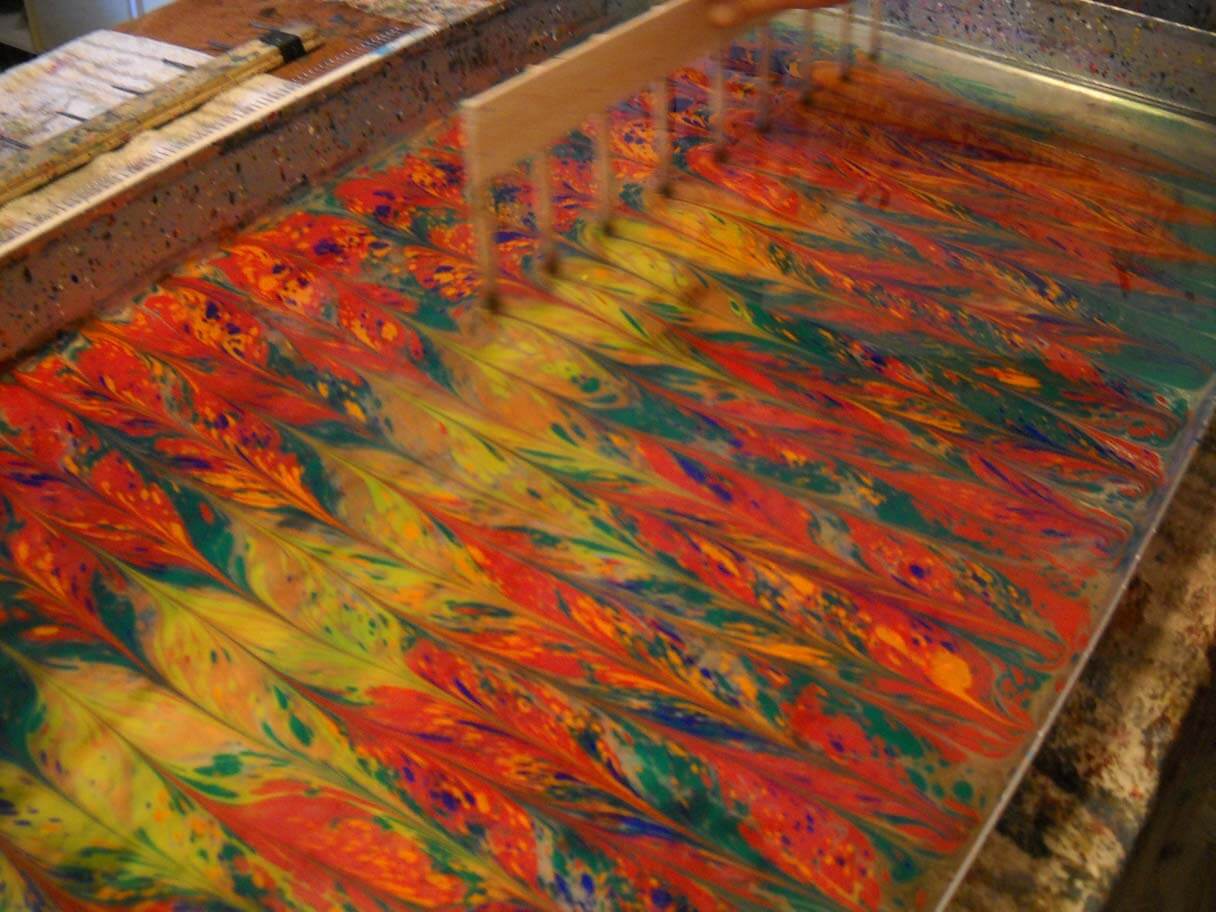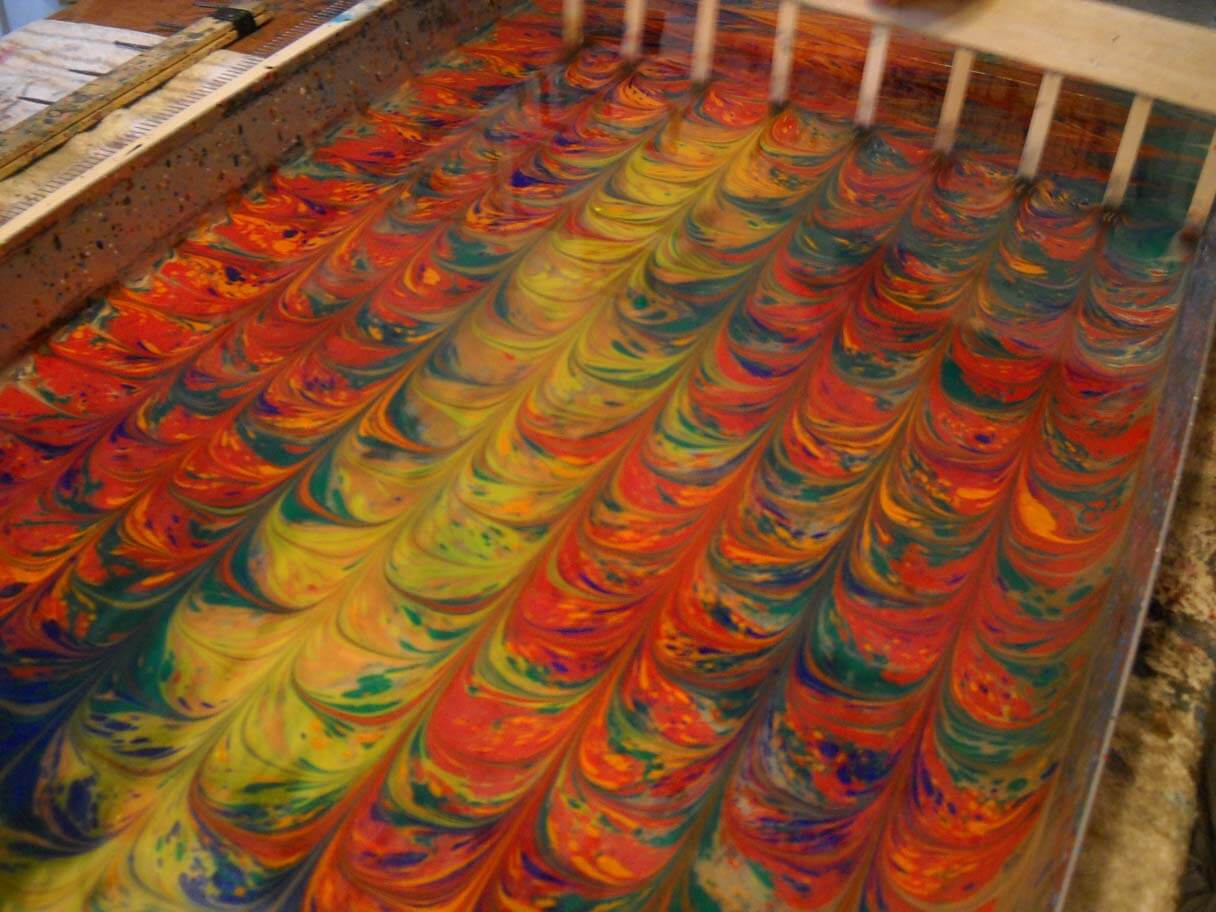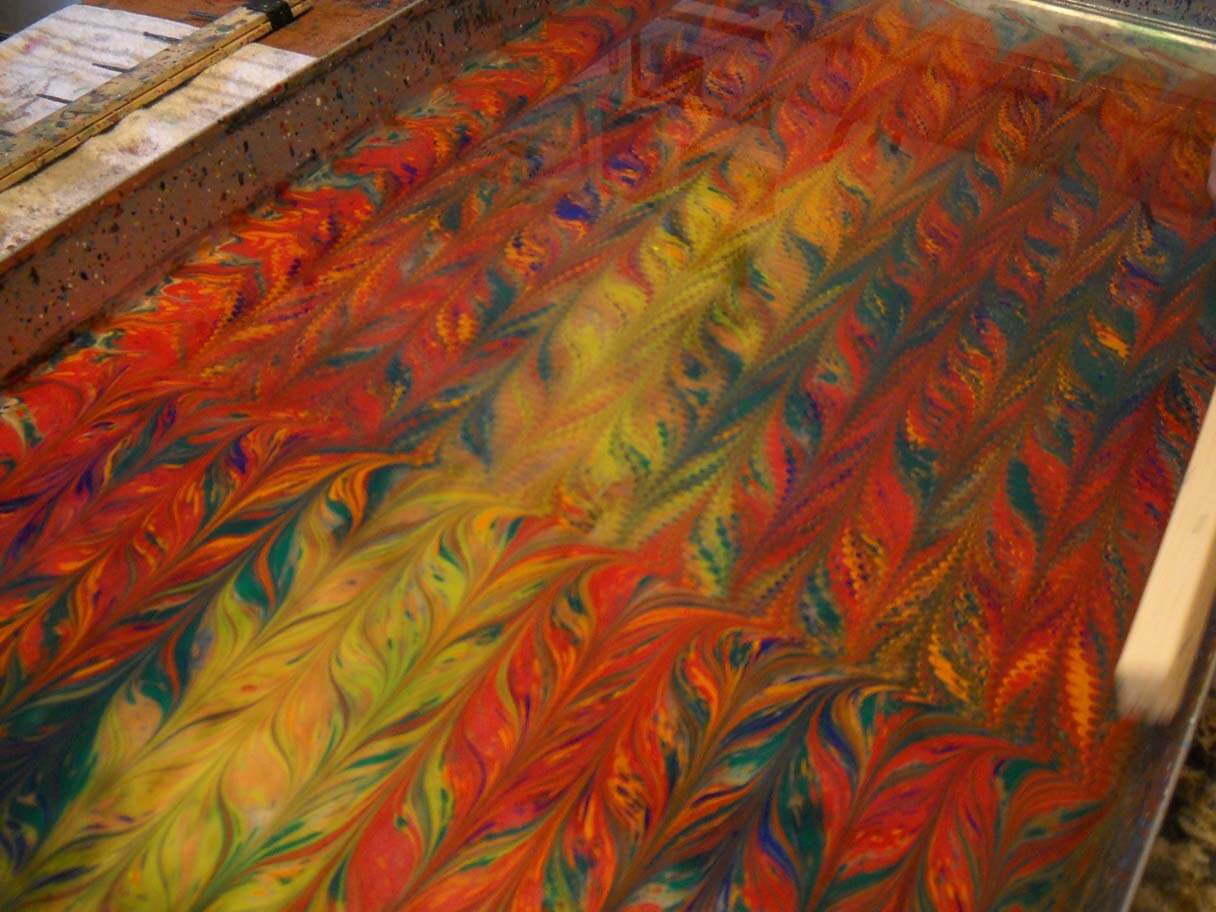 Notice the pattern moving from "chevron" to a "nonpareil," one of the most traditional patterns in marbling.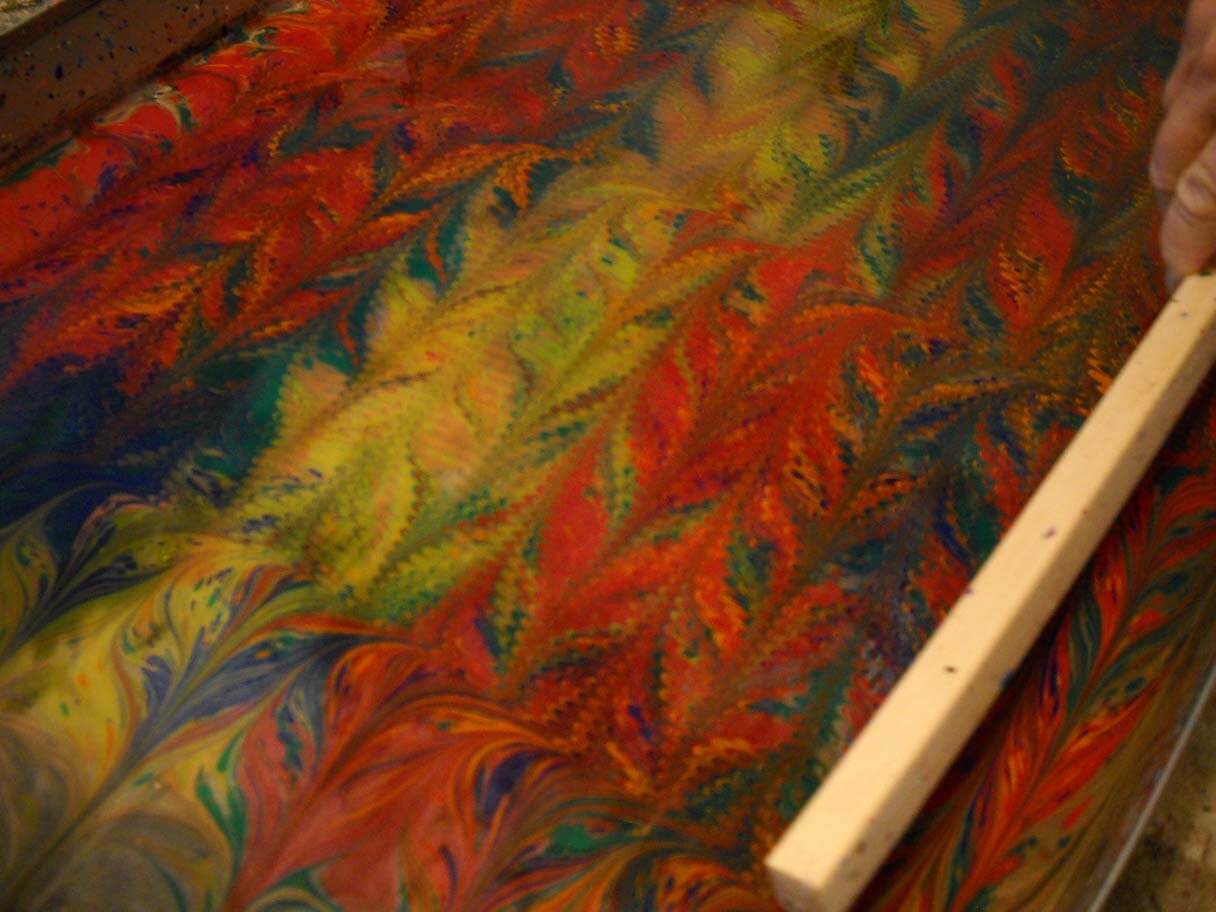 Sorry for the fuzzies….movement got in the way.
And now….some of the new creations drying in the wind before heat-setting and packaging….expect to see some of these babies up on eBay this week! This time's session was just Kaufman cotton – silk and chiffon and broadcloth coming in the next session early next week.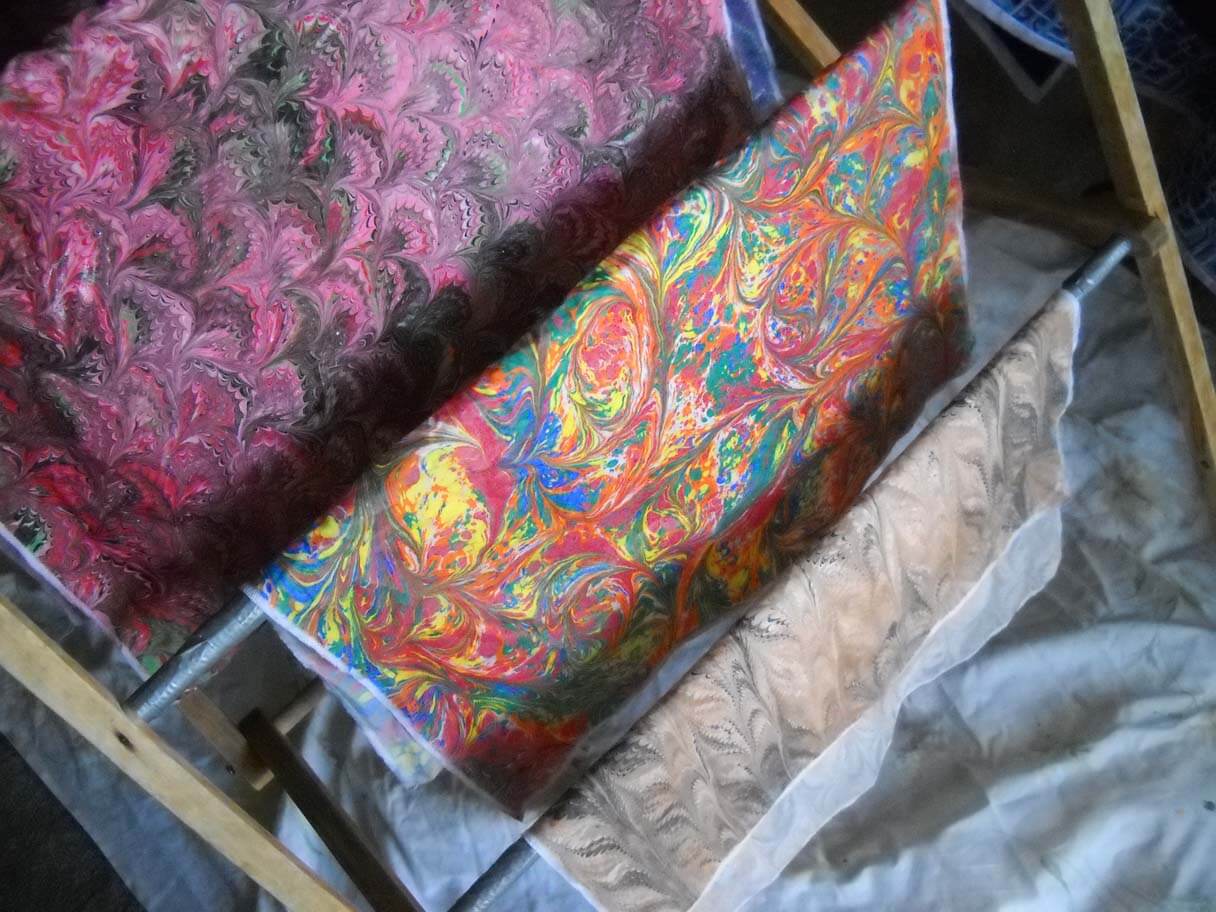 I SO LOVE this art form! It's a lot of "what you see isn't necessarily what you get," but the results are always gorgeous! Who among you has tried this, and what have you noticed?

It's Tuesday, and that means our Top Ten….but I'm cheating this week – only seven – I think I'm kinda under the weather – not really sure. I do know that when I don't eat properly or not drink enough water, I feel like a slug. I'm not sure that's it or not, but anyways…here's some cool stuff for this week.
From Artsy Shark comes an interview from the authors of Starting Your Career as an Artist. Both authors worked at Parsons School for Design and have a nice take on the role of your alma mater in helping you start your career.
From Catalog Living comes a smart, sarcastic, funny look at the "people" – Gary and Elaine – who live in the catalogs. Alert – you will spend a LOT of time looking at the "pages" from Gary and Elaine's life….
From Elizabeth Barton's blog comes a look at an extraordinary woman and her patchwork "paintings." Remarkable work, and one of the pioneers in fiber as art, I'm sure. Here's just a snippet: "Edrica Huws is one of the most inspiring makers of fibre collage pieces, or patchwork or quilts (whatever you like to call the work). For people who feel that realism of any kind in this medium is to be avoided at all cost, Huws' work should be an eye opener." Be sure to watch the video of this remarkable woman.
From Cool Hunting comes this vacation spot on Maui (where I first started teaching…and I SURE couldn't afford anything like this!): The Four Seasons Maui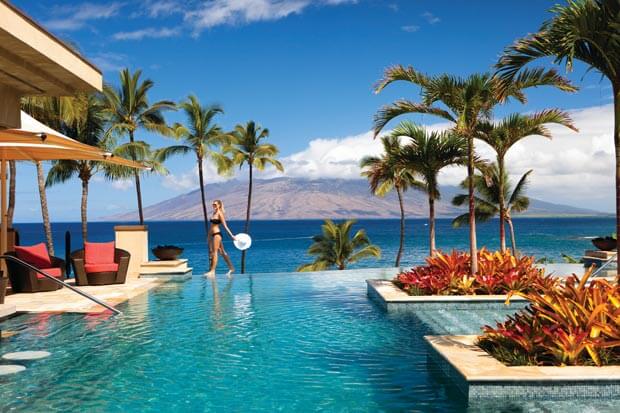 From Marie Segal's blog comes nail art – and I have to agree with her – it's come a VERY long way!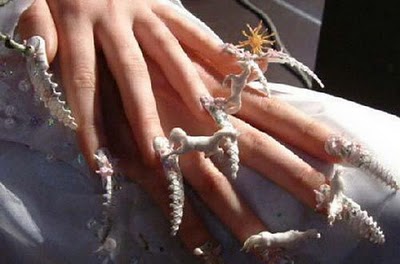 On Etsy this week, I'm part of a Treasury! Don't Be Square by Sally Manke, made up of items from the Textile and Fiber Arts List.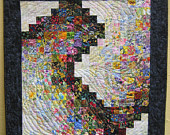 From JPG Magazine comes images from a new photo shoot. I'm particularly drawn to the "yellow lines' in the road…..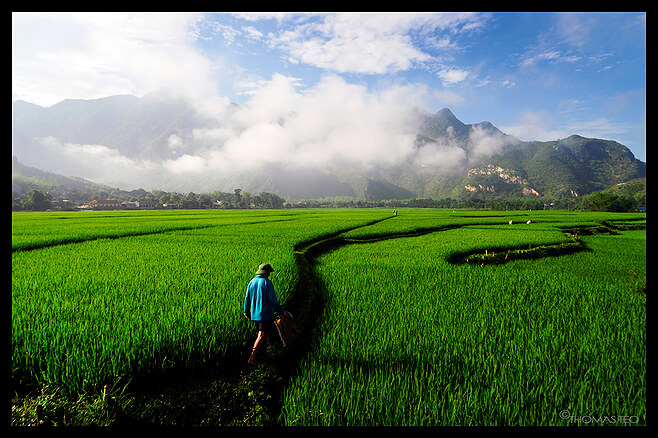 Hopefully more good stuff next week! Enjoy!