I've been working on improving my free motion quilting since June, when I took apart an old quilt and redid all the quilting. I am doing a HUGE amount of quilting right now on a piece I'm working on, but with the start of Sew Cal gal's free-motion challenge for the year, I am plunging right in. We got our first lesson on Sunday, and I started on Tuesday with some practicing. This is a lot of fun. Here's my first attempt: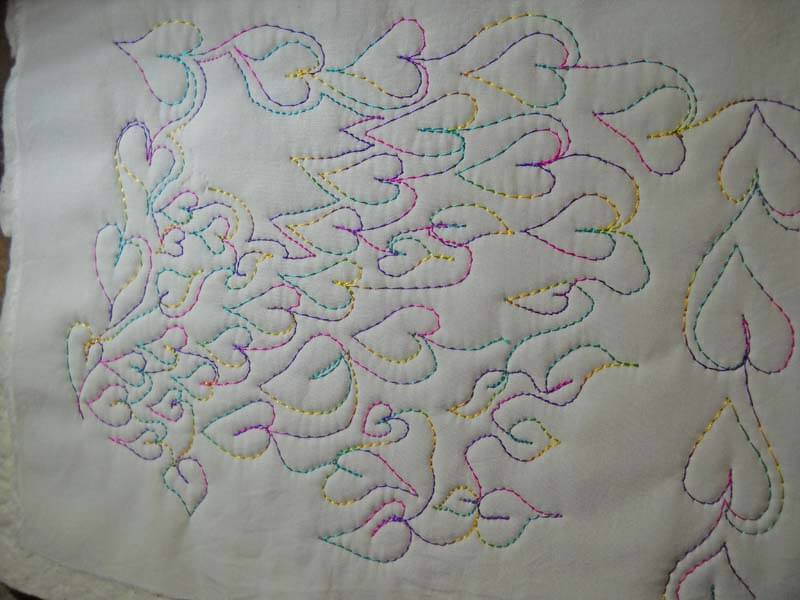 Bottom Line by Superior Threads in the bottom, with a Superior Rainbow in the top, feed dogs down. Overall pleased with the stitch length, as it seems pretty even. However, I keep feeling like my stitches need to be smaller. But the pattern is easy to follow, and I like the effect.
Along with this challenge, Leah Day is continuing her pattern-a-day with a Wednesday Quilt-along. Several of her blog posts have talked about getting ready to free motion, and she posted her "wiggle" practice.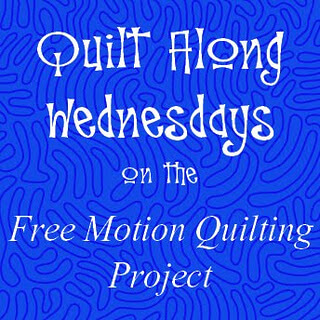 So here's the word on the additional practice. I used Superior LAVA Thread, with some Bottom Line in the bobbin. I was pleased with the design. I even tried a variation on the left side – leaves next to each other.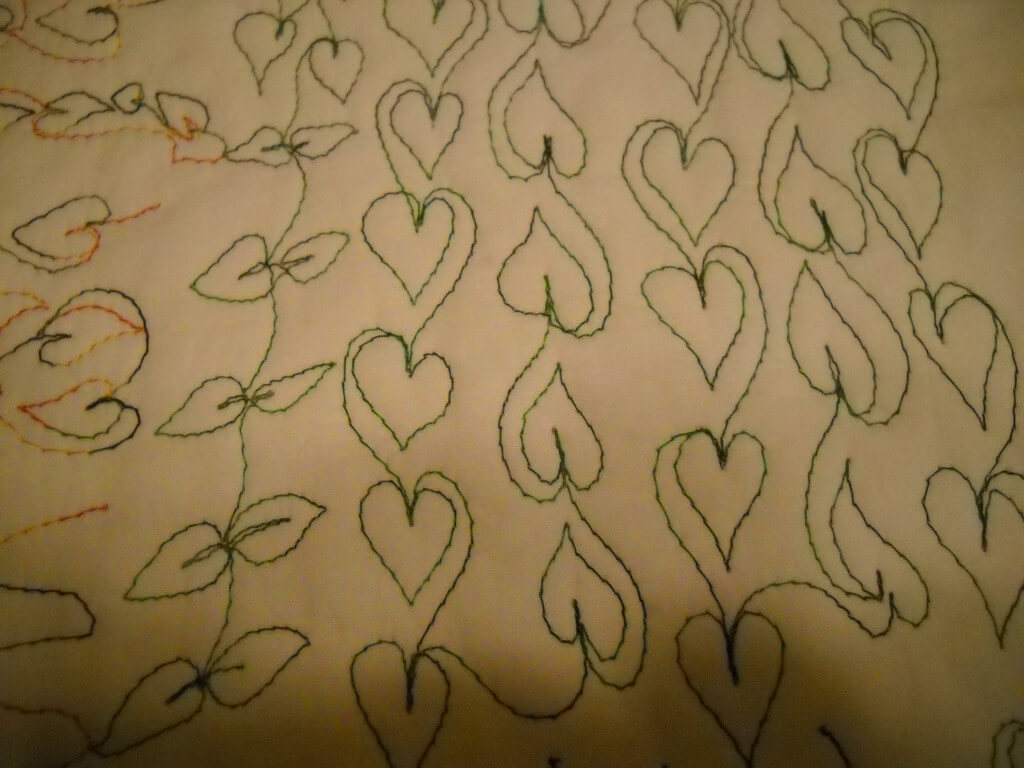 This was intriguing for me. Normally with something like this, I try to be exact in the practice, but I found I really wanted to take off and try a few variations. The only reason I think I did this is that I've been doing some practice since June, so I felt more confident.
Someone suggested trying to quilt with leaving the feed dogs up. So I tried that today as I was practicing Leah's wiggle. If you look closely you can see where I removed stitches because the tension on the back was off badly. In fact I removed stitches three times.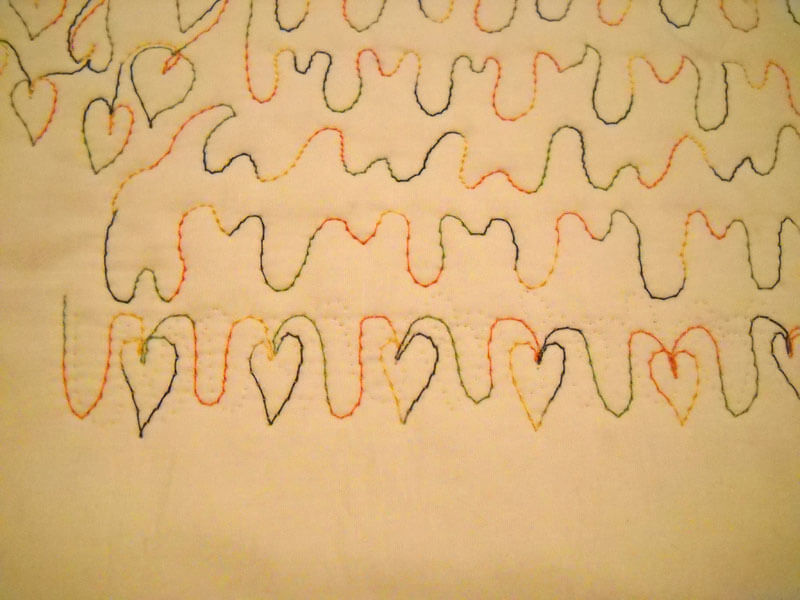 Now I wasn't having any problems moving the sandwich around with the feed dogs down, and I adjusted tension on the top. Bottom Line in the bobbin, King Tut in the top. It finally occurred to me that maybe for my machine I needed to have the feed dogs down. Yup, that was it. Fixed the feed dogs and everything was fine. You can see that once again I was trying a variation of the two patterns.
I also tried to see how small I could get the leaves.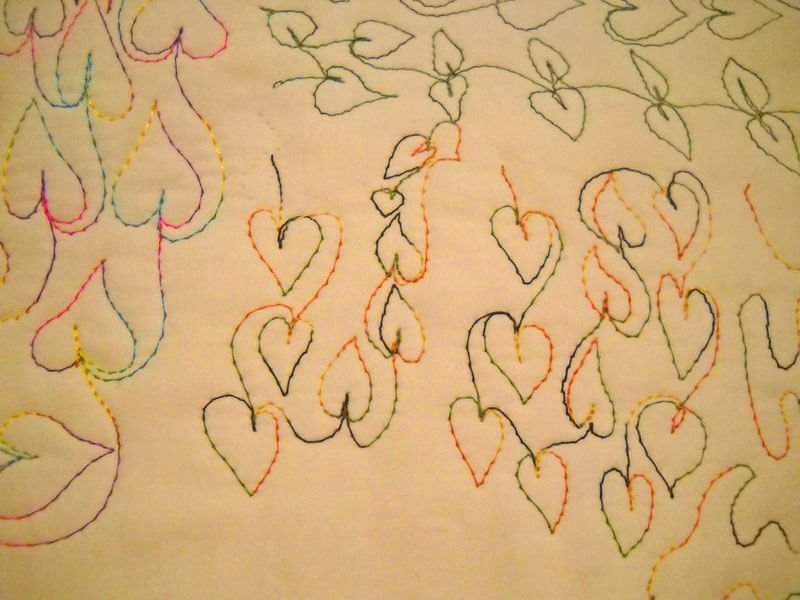 Again, overall pleased. I do need to practice going backwards. I like changing the direction of the vines with each leaf. That's something I will probably keep. One other thing I tried was speeding up the machine, and keeping the hand speed the same. The stitches were smaller and fairly consistent, but I must say I like the somewhat longer stitch length. I think it shows the thread more.
I think this is going to be an excellent way to practice. A lot of my previous free motion practice has been on marbled fabric, where the line of the pattern helps guide you. Some marbled patterns lend themselves to a regular foot (like the chevron), and some need a free motion foot (like the nonpareil and its variations).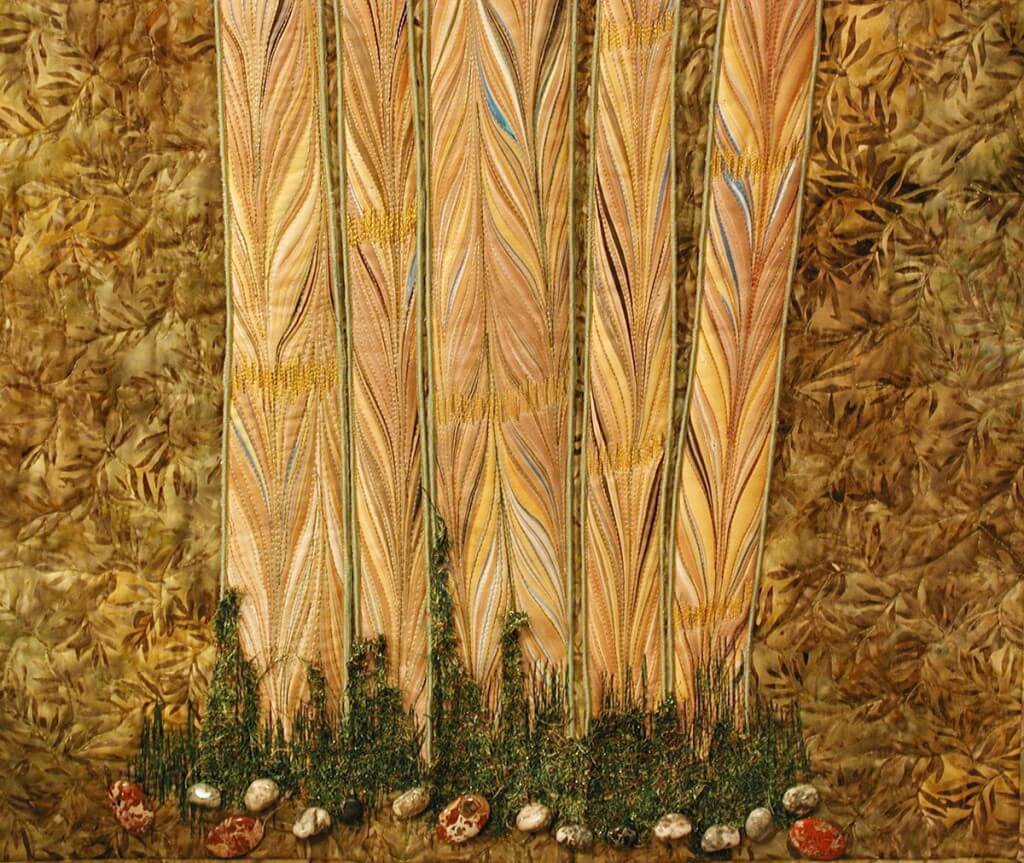 The bamboo stalks are quilted using a regular foot, just following the line of the pattern. The quilting really adds dimension.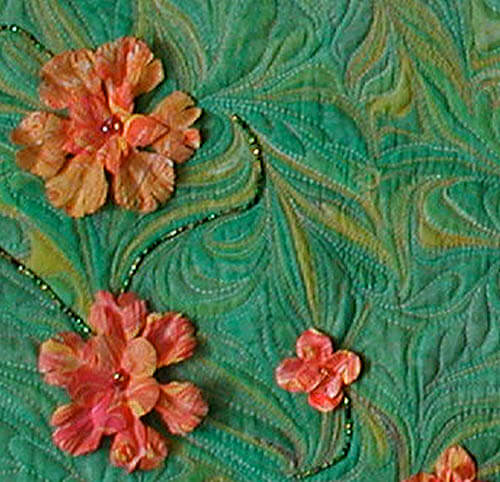 In the avatar I use on line, Rainforest, I used the free motion foot and just followed the line of the pattern This particular pattern, which we call free form, is a lot of fun to quilt. You get in a kind of zen-like mode when quilting this.
In this closeup of "Ocean's Bounty," the traditional stone pattern lends itself really well to free motion quilting. You can see the whole piece with all the free motion quilting after this small shot.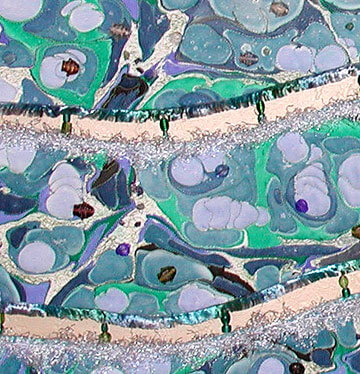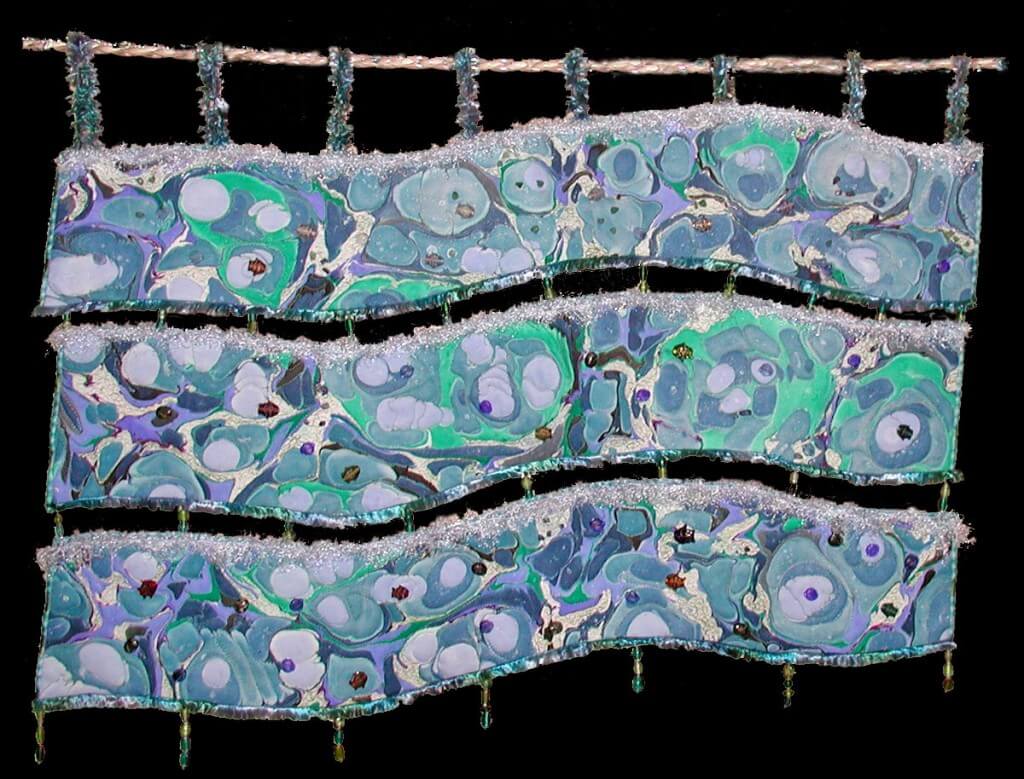 This is a small piece of turquoise silk that has free motion quilting along the pattern to accent it. Complex pattern to quilt in free motion, but it gives some great effects.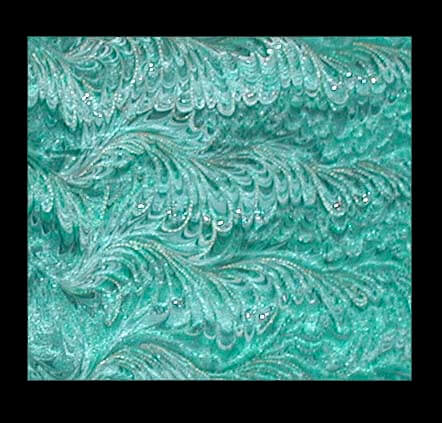 Here's a closeup of "salmon Run," accepted into an art show in Alaska. The free motion quilting follows the nonpareil wave pattern.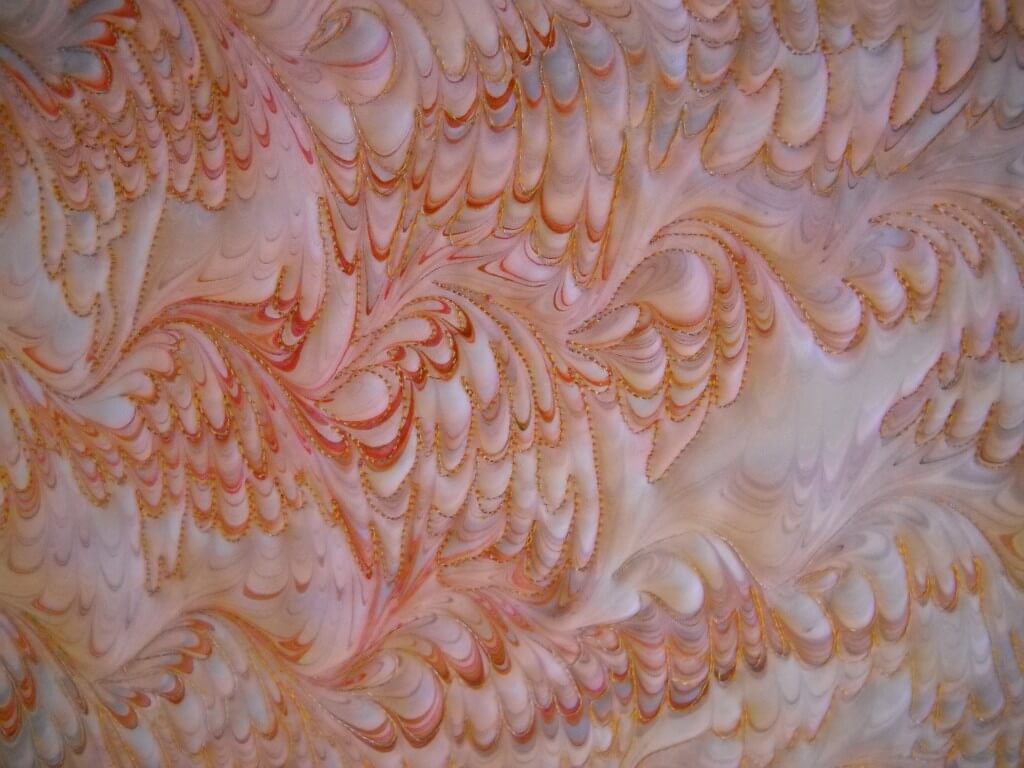 You can see more of the art quilts at our website.
And….along with everything else today, we marbled 20 fat quarters in preparation for a show in Seattle in March. They are gorgeous. Here they are, folded and ready for packing.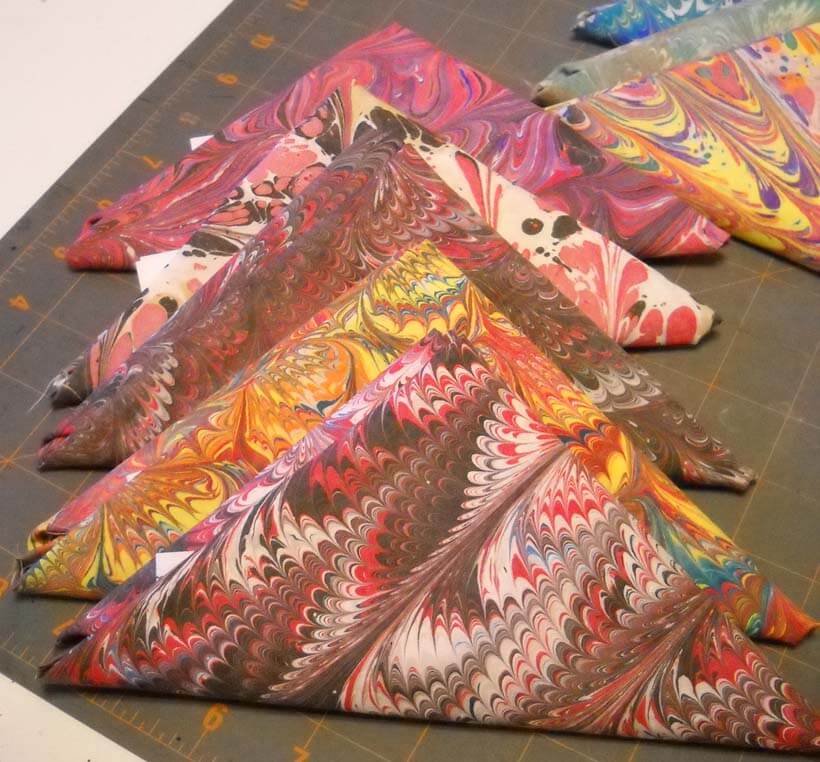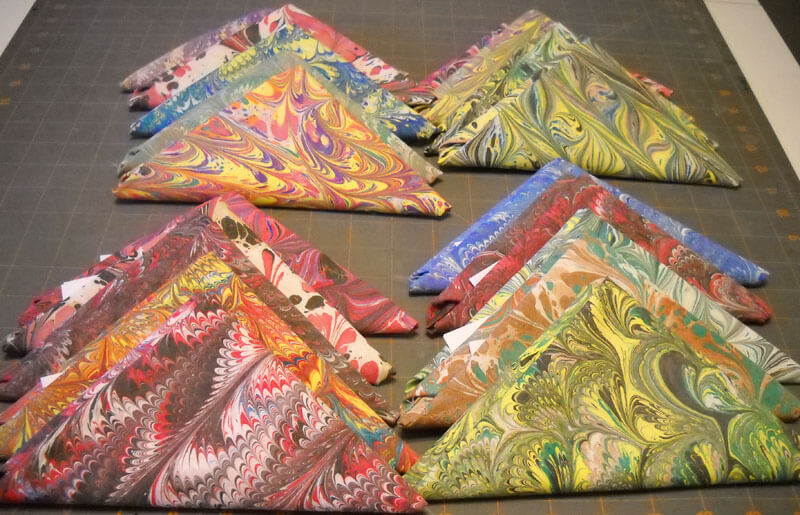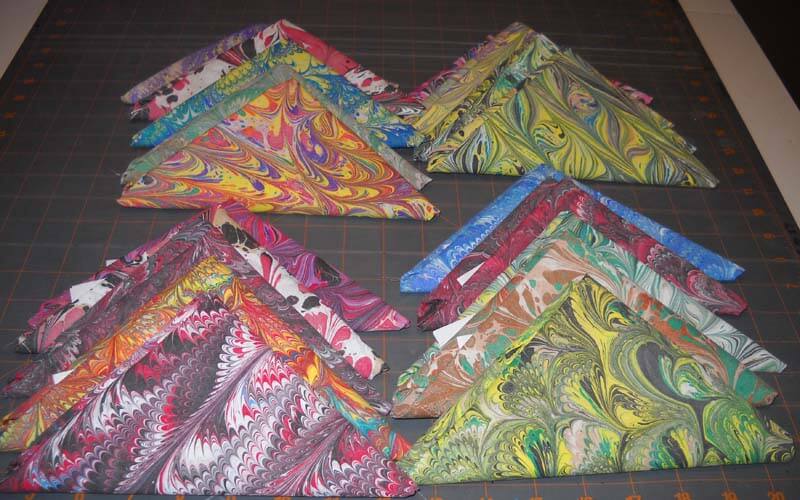 And then this afternoon, we cut another 10 yards for another 40 fat quarters, along with the 15 we still have, for the next three marbling sessions. Pretreat one day, alum the next, and then marble the next. It's going to be a busy two months, but oh, are we having a good time!

Not a whole lot of pictures today, but a whole lotta work going on.  We are in the process of marbling 400 fat quarters for StashFest the end of March. This is a fund raiser for the La Conner Quilt Museum, and we have been invited to participate and sell our marbled fabric. Yay! So needless to day, there are a LOT of marbling sessions ahead of us. With hubby's health, we are being very careful about scheduling the sessions. And…we are planning ahead. Counted the number of weeks we have, allowed for vacations, and started ordering LOTS of pima cotton. Hubby is really in the groove, and the fats are looking fabulous. We pulled out one of the marbling books and are going to try some new patterns as we work. Pretreat, alum one day, then marble the next….all our mornings are set aside for this. Plus, I can't wait to get to the Northwest. It's been on our bucket list for a number of years. and now it's actually going to happen. So send me suggestions for things to see and do – and eat – in the Seattle and Portland areas. We're going to save the ocean spots for another trip. We'll be happy, us desert rats, with rain and fog and humidity!
Those of you in the Seattle area, mark your calendars for March 31 and April 1. There should be publicity hitting any time now in your area. You can check the Stashfest website for more information. Also, we are taking small quilts with us for display purposes at StashFest, so if any of you in guilds would like us to give a talk (and perhaps a demo), please let us know.
Now, along with that are several shows I have decided to enter. Some I have recent work for, but most of them will require the creation of new work. And I am so up to the challenge. The piece I am working on now, for a show deadline in February, is teaching me – and speaking to me – a great deal. I am thrilled with how it is turning out, and even if it doesn't get accepted to this show, I know I have created something different, meaningful, and beautiful
Here's what I'm looking at:
Visions – 2/13 (If I'm going back out there, go big….last acceptance for a major show – Expressions in Fiber – was in 2004. And if accepted, I'll let you in on what prompted me to go for this.).
Art Pin-Up – 3/2 (12 x 12, very do-able, and no jurying….)
Fish Follies – 4/20 (?) (great acceptance rate over the last 6 years for fiber. This year I have a really wacky fiber idea…..it is Follies, after all….)
Tactile Architecture, Hands All Around – 4/27 (one piece is already completed….)
I'm Not Crazy – 5/5 (idea is sketched)
Pushing the Limits – 5/16
Pattern Base – book inclusion, June 12
And this is just the first 6 months. So I guess a goal for this year is to get out there and enter my work! Along with trying to set up two individual shows.
It is going to be an awesome year of taking chances!

I found a bunch of new, interesting art sites this week, plus the Free Motion Quilting Challenge started – you can see the badge on the right side, and it's not too late to sign up. I'm looking forward to practicing a new pattern each month.
A new blog – The Creativity Post – looks to be very interesting, and I love the stuff on brain research.
" The Creativity Post is a non-profit web platform committed to sharing the very best content on creativity, in all of its forms: from scientific discovery to philosophical debate, from entrepreneurial ventures to educational reform, from artistic expression to technological innovation – in short, to all the varieties of the human experience that creativity brings to life."
Here's a screen shot of some of their most popular entries:
From DesignBoom comes a spray-painted-skate-boarded-swimming-pool-design, complete with video…..really cool!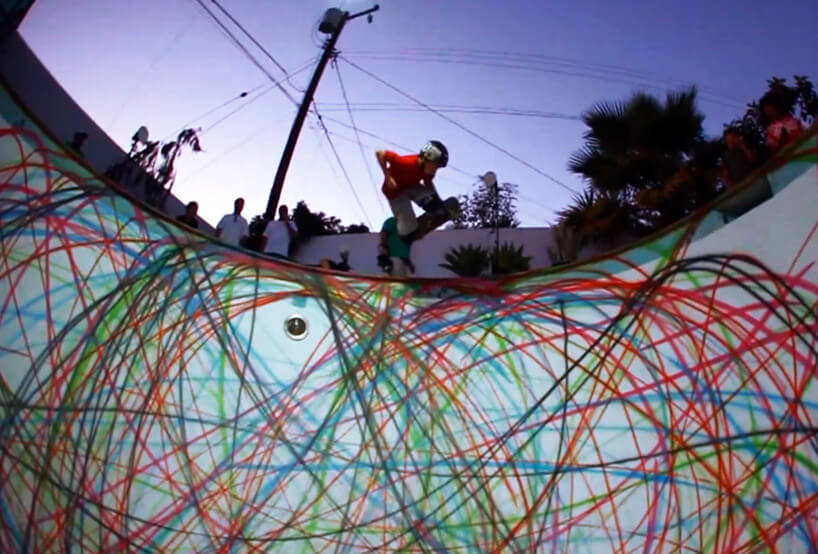 From PSD FanExtra comes a tutorial on designing t-shirts. This is very step-by-step – I think even I could do it (but maybe with a dog instead….).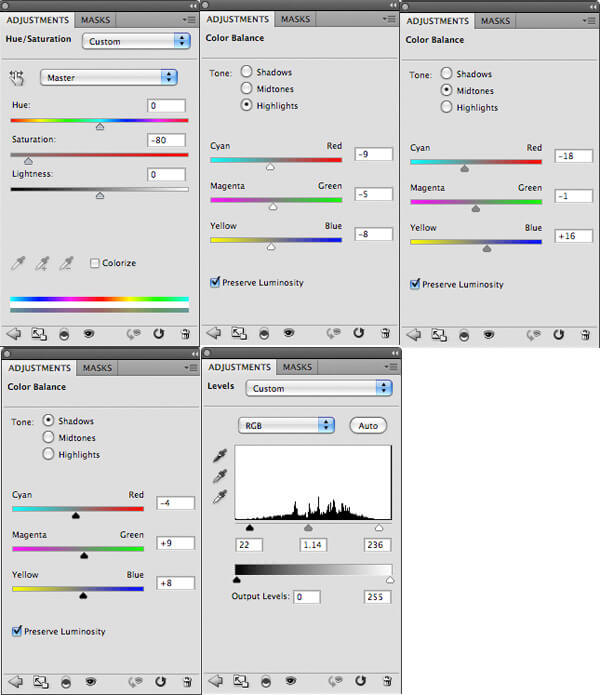 Another MAD Magazine countdown of great blog covers…..Jerry and Joe and their new gig….
If you love dogs….well, even if you don't, this is an adorable video of two dogs in a "restaurant," waiting to order…..
And…MAD Magazine's #1 blog cover – has been my favorite since I first saw it. Boehner vs. Obama and the DEBT…….Think Harry Potter……
A new blog I discovered by an Australian quilter, Emma at Sampaguita Quilts, with her finished quilts for 2011 – some luscious ones for eye candy! I love this one –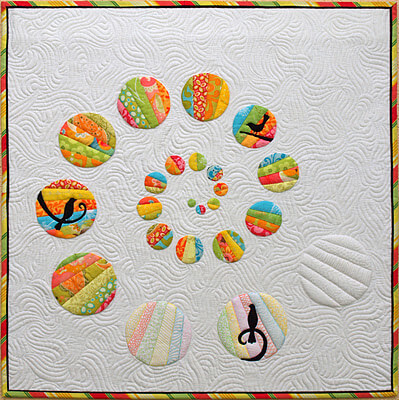 Another new blog – 365 Project – amazing photography! This is their official Top 20 post.

And from Alyson Stanfield and the Art Biz Blog comes some interesting resolutions for the new year: 12 Artist Resolutions to Steal for 2012.

Love this one: RESOLVE to stop fiddle-farting around on the Internet or with the TV remote control and start dedicating myself 100% to my life's work.
And finally, a selection of Happy New Year's from The Best Article Every Day.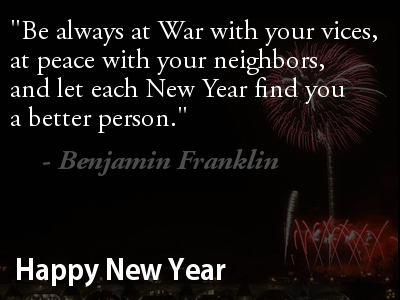 Let me know what you find that's really cool!

You know I am a fan of Tara Reed and her Art Licensing Blog. I own several of her ebooks, and she creates and delivers quality. She is having a DYNAMITE sale on her ebook "Goal Wheel for Artists." It's normally $57 and Tara is offering it for $27 until January 13.
View the video. If you need help with goal setting, this could be exactly what you need!

Learn more about "The Goal Wheel for Artists"
(FTC disclosure: I am an affiliate of Tara Reed Art Licensing Blog and receive a commission if you purchase an item.)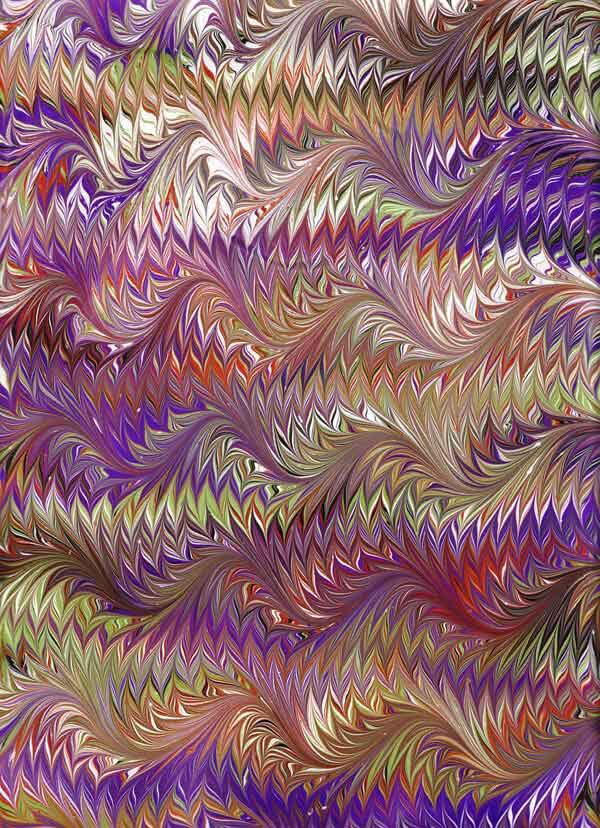 This is one of my most favorite marbling patterns, and I need to practice doing this one on fabric. It's a great pattern, lots of movement, and I SO want to quilt some fabric with this pattern! And it seems appropriate to start out a new year of marketing with a favorite pattern. We spent New Year's Day, hubby and I, working on our schedule for the next few months. We are participating in StashFest in La Conner, Washington, the end of March, so we have to gear up production. That plus building the business.
Normally I would have started out working on all my goals, and then we would have looked at this major opportunity. But….this time was different. And it was good it worked this way. I need to work my business goals around out production schedule, and around finishing my piece for a show deadline on February 13. I need a new portfolio prepared for the March show, additional business cards and postcards – way lots to do for that show. Newsletters – preferred customers as well as collectors – NEED to be addressed – a number 1 priority for this year. Plus maintaining Ebay and Etsy, Fine Art America, and maybe more emphasis with Cafe Press. Given the production schedule for the next 12 weeks, I'm not sure I can do much more.
I do want to get the seasons pattern written, as well as Spring and Summer created. So I am anticipating a very busy first quarter. I hope to have my specific goals set by next Monday. In the meantime, lots of sewing on my one piece, plus practicing from the Free Motion Quilting Project.
In the meantime, here's a post from Tara Reed's Art Licensing Blog: 4 Things to Do to Make 2012 Your Best Year Yet.

I love number four: don't forget what makes you unique!
Also, here's a post from Dumb Little Man: Trying to Improve Your Willpower….an interesting take on our struggles with willpower. Here's a quick nugget:
"The problem is, willpower is a limited resource. You can't stick to a diet by sheer willpower, day after day after day. And you've probably noticed that on days when you've been trying really hard to be patient or to stick with a tough task, you're more likely to crack and fail in a difference area. So, if you try to improve your willpower – forcing yourself to rely on it, or even putting yourself in situations where you'll be tested – then you're just setting yourself up to fail."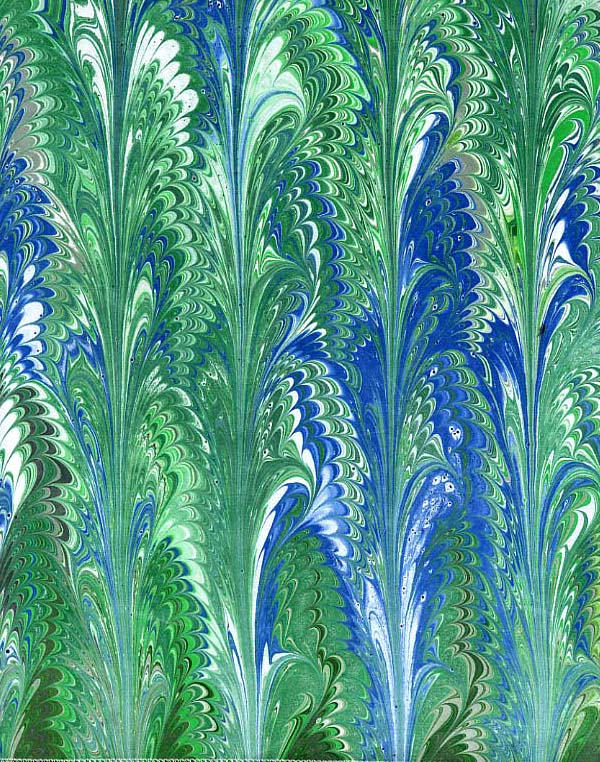 It's been an interesting time for reflection this last month, as it's been an emotional roller coaster of a year. This time last year I was excited because I had decided to retire a year early, in May of 2012. Three semesters left felt do-able. However, I was also still stuck doing lesson plans every Sunday for most of the day. Yet I told myself it was better than the previous year, because I wasn't spending as much time week nights marking papers, since I had an additional prep period each week.
Then came January 8 and the Tucson shootings. I had almost convinced hubby to go to the Congress on Your Corner, but by the time we were finished with his chiropractic appointment, it was too late to head over. There but for the grace of God…..Like most Tucsonans, we were glued to the television all day, through the NPR reports that Gabrielle Giffords had died to all the aftermath.
By Sunday afternoon I was working on the Art From the Heart website as a way of dealing with this tragedy. To date we've had artwork from 14 states, and some amazing artwork it is. President Obama came on Wednesday, and hubby and I sat transfixed in our living room, listening to his speech. On Friday I faced another challenge as a teacher – the Westboro Baptist Church had said it would boycott Christina Taylor-Green's funeral, and then decided to boycott my high school instead for their ethnic studies program.
Here's where I realized how much teachers are also first responders. It had been a hellish week, trying to get teenagers to understand what was going on, and how to respond in a nonviolent manner to a group like WBC. You can read about it here, here, here, and here.
Events like this make you really question so much about your life, especially when it appears to you to be a close call. The depression began to sneak up, slowly, and everything at school just became more intense. I began to think about leaving the classroom in May. After all, it had been 40 years. The end of February we attended some meetings with state retirement and made the decision that May 27 would be my last day as a teacher. That made me smile.
March and April are blurs pretty much, just existing and coping with the depression. I was reading on a blog by Dale Anne Potter about how positive she was and how many great things were happening to her. I emailed and got the information about Cocreating Our Reality and practicing the Law of Attraction. On May 1 I was determined to enter my first 100 days of this challenge being positive. You can read about that here. This really was the beginning of the turn-around for me. I finished school grinning from ear to ear during that last month, driving teachers I worked with crazy.
I wrote my Abundance checks with faith that everything would work. And it did. These seven months of retirement have been wonderful. Some health challenges, but hey, who hasn't? The marbling business has picked up, great things are happening, and I've been able to create some new art. Two successful seasons of 100 days and working on the business – doing things – and creating art  that I hadn't been able to do while teaching full time.
But December was a melancholy month for me, which was a change after the past six months. Some things weren't right. The vision had gone in one eye, I had started a new set of 100-days, but the motivation wasn't there. The weight issues got me down almost immediately. In retrospect I think it was the consumerism and blatant conspicuous consumption (yes, I know….redundancy….) that weighed on me. This led to some decisions to go a very different route next year with gifts – making donations in family's names to nonprofits they support. Giving back, rather than giving to.
Along with that, the continued violence around us….it seemed like no matter where you turned or what you watched, there was violence all around. I can't watch the news anymore, as I just get too upset. Movies and television shows are full of gratuitous violence. People are unkind, peace seems so far away, and our politicians – and those who are supposed to lead us – aren't doing their jobs. I find everything about this country – and the world – to be so topsy-turvy. Nothing is right, we can't seem to learn from our mistakes, and our country is lost in its original path. Part of me wishes to withdraw completely, and the other part of me wants to make the changes. I look ahead and see no hope…and 10 months of a VERY LONG election season.
So now it's New Year's Eve. I need to look ahead, as we are having some great things happen for us. We are making fabric like crazy, heading for an overnight at a king suite in a local hotel so we can do planning for the first quarter of 2012. Tutoring clients are coming in, finances seem to be assured, and we're both feeling positive. I know there will be decisions ahead, as I think 2012 is going to be a pivotal year. But right now all I can do is all I can do.
Here's wishing you and yours peace, happiness, and prosperity for this coming year – and whatever else you would like. Life is good, and we need to embrace it!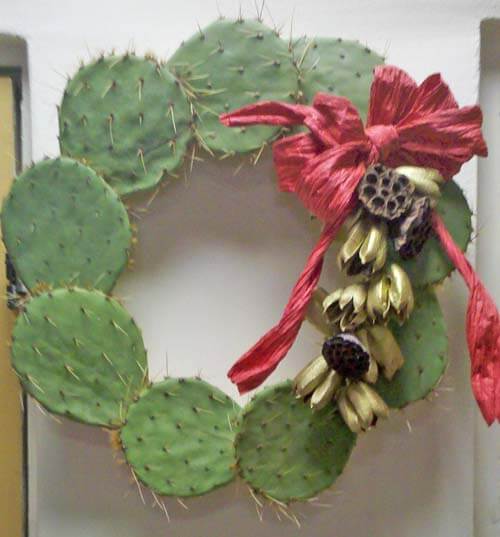 Yup, we do things differently in the desert, especially in the winter. I remember my first teaching job on the island of Hawaii – after living in Vermont and going to college in upstate New York. I am used to snow…and Christmas in Hawaii was definitely different! The desert carries its own beauty – beyond the warm weather that makes January and February so wonderful.
We went to our favorite spot, the Tucson Botanical Gardens, last week on one of our warmer days – been a really cold (unusually so for so early). I had about 40 pictures on my phone, and I sent them to myself this morning, only to find that about half of them never came through as attachments….and of course I had deleted them already, so I guess I will just have to go back and take more…..But I missed the picture of the broken mosaic piece wreath – really quite unusual and different.
The Gardens suffered a huge freeze last November, as did the rest of Tucson. Last spring we began to see the effects of the freeze, but it was very obvious on this visit – I hadn't been since the irises were in bloom last year. There are wide expanses of open area, as all the dead plants have been cleared, and replanting is underway. Also being added is a lot of rock from around southern Arizona, which is adding some additional texture to the gardens.
We stopped at the little cafe to see about coffee and hot cocoa, and to my delight one of my algebra students from The Art Institute was running the cafe – she's a culinary student, and the soup was amazing!
Towards the back of the gardens is a nice restful little spot, with this wonderful fountain. It's been cleared of a lot of cactus growth, so it's looking kind of sparse – and you can see the neighbors.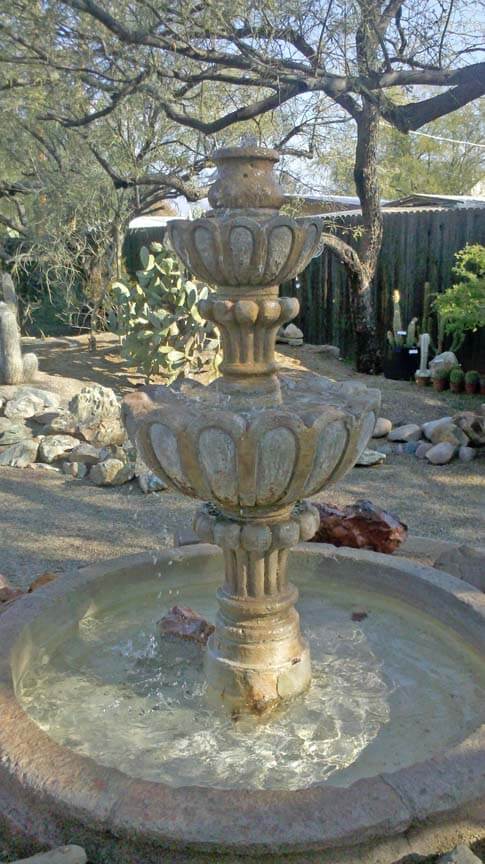 This is the first we had seen this cactus – and believe me, the Gardens have many species. This is Texas Sunset – love the banding on the cactus.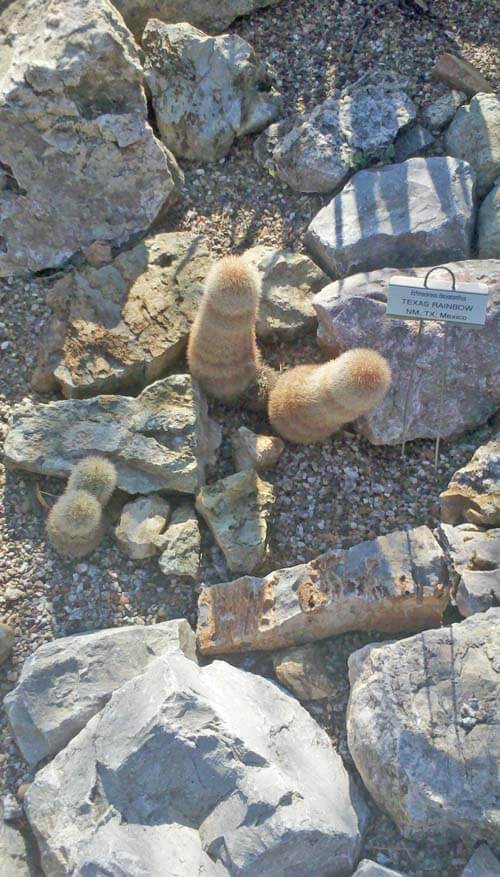 Either the yucca or aloe family, love the color and texture –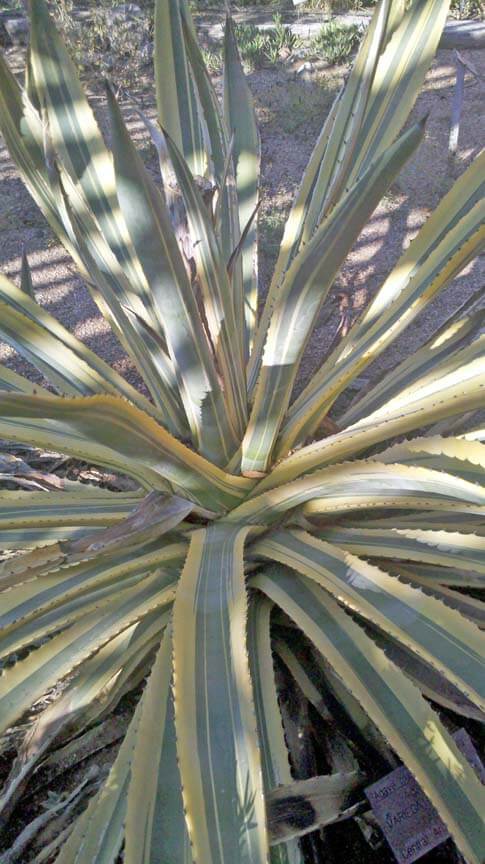 Lots of cleared area, and yet still so serene. Notice the decorated tree.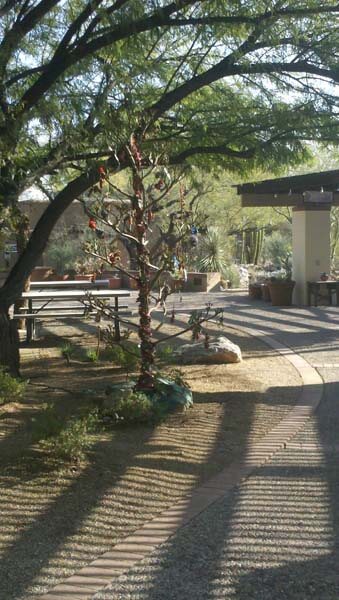 Look at the naturala shine on the leaves, plus the glorious sunlight.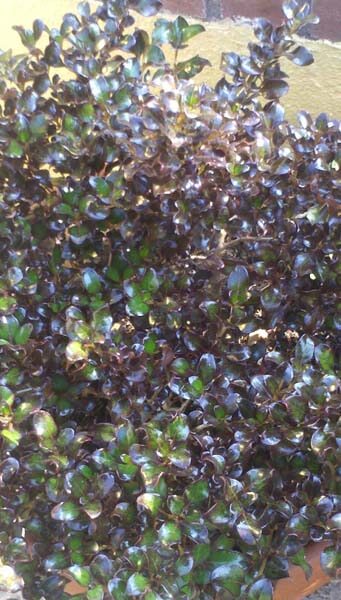 My most favorite fountain in the gardens.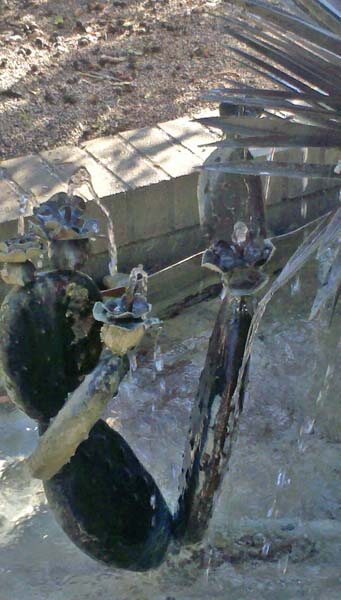 Nad my favorite bench, the subject of a lot of digital images I've created.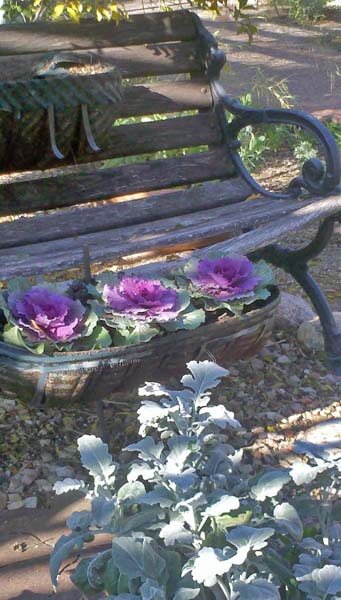 An uncropped picture of my bench, with the remaining pomegranates left on the tree.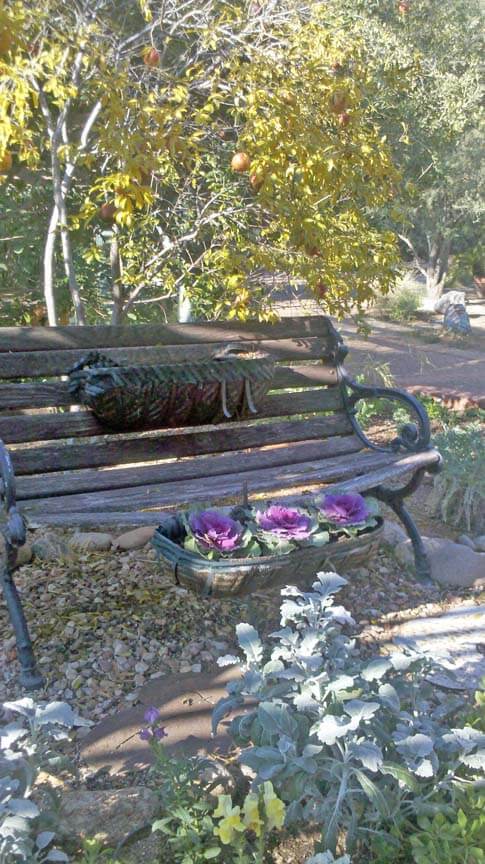 Love the little sprouts on the main trunk.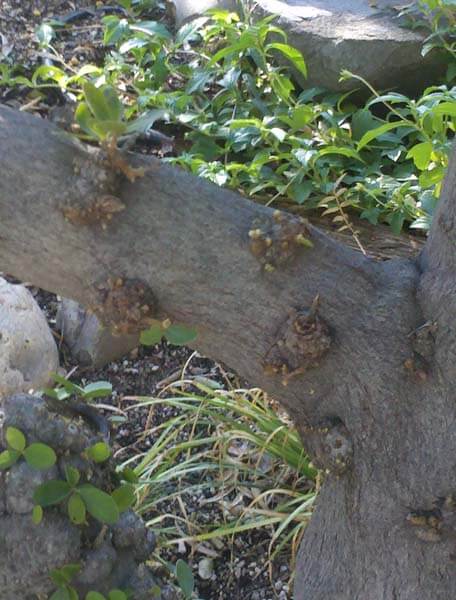 A lot of color in containers throughout the gardens.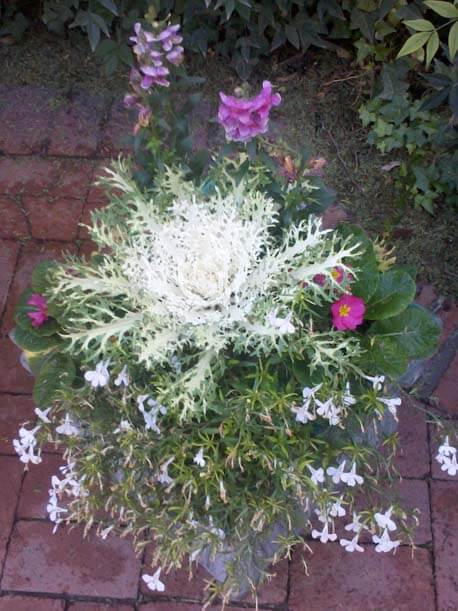 Hand-painted tiles around the remaining cattle pool. The bench is of horseshoes.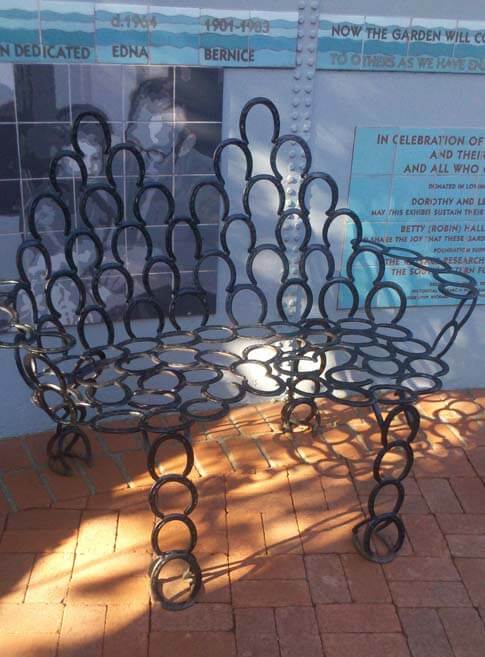 No idea what it is, but I love it.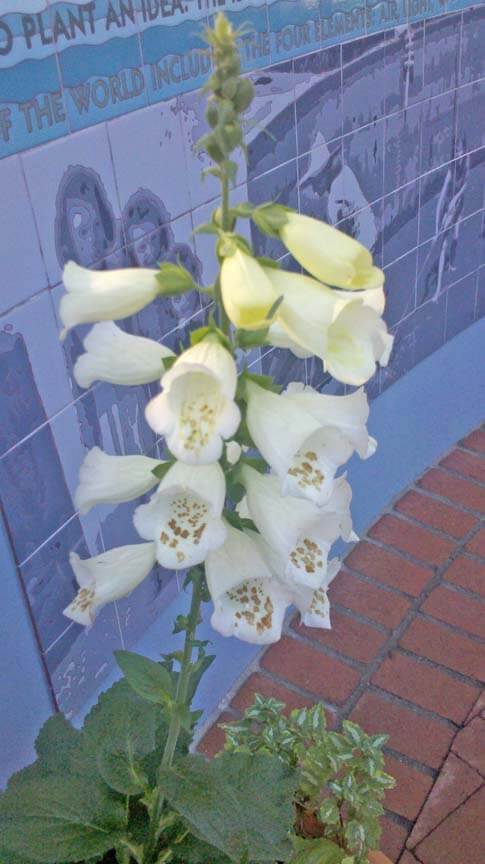 Another great example of color and texture in the containers.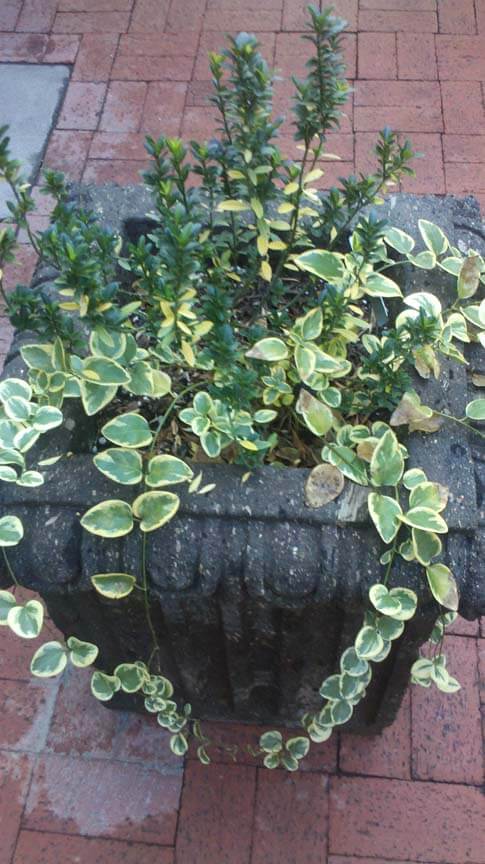 I love this "living frame," succulents all around.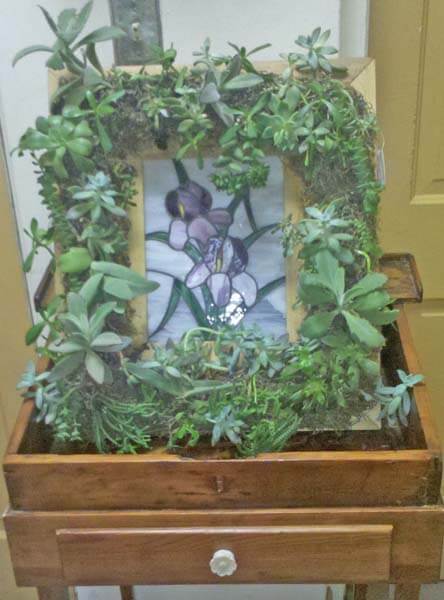 Another Tuesday, and more goodies on the web – although it has been slower than normal, due to the holiday. Enjoy!
Here's a great list from The Best Article Every Day – places to learn on line – for anything!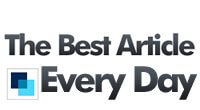 I found this interesting block design from Generation Q magazine, by way of Scott Hansen and Blue Nickel Studios. It celebrates Kwanzaa, and it's a striking block. Take a good look at the setting – lots of interesting design possibilities.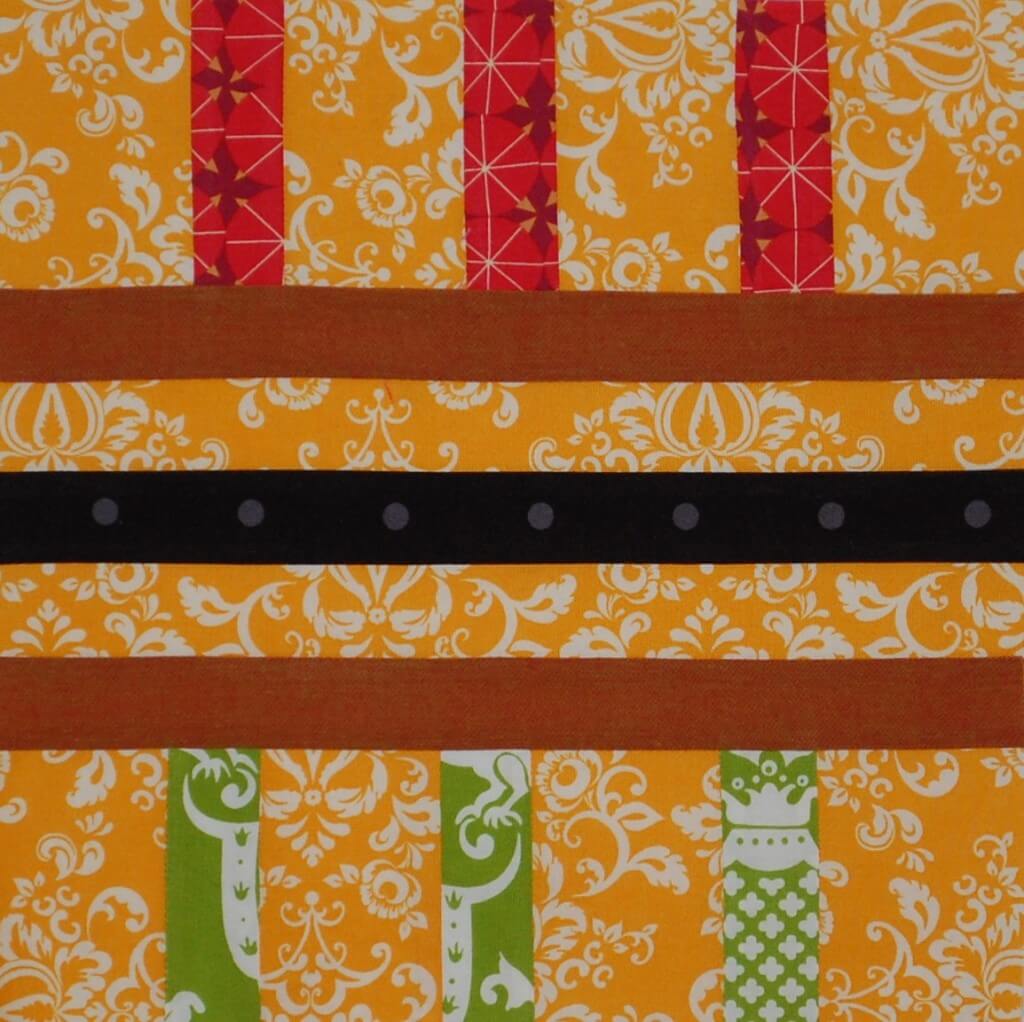 I'm taking part in the Free Motion Quilting Challenge this coming year – I really want to learn to do more with my machine. I want to learn how to do feathers….take a look at this example from Ivory Spring's Thread Talk. She gives step-by-step instructions – I can wish……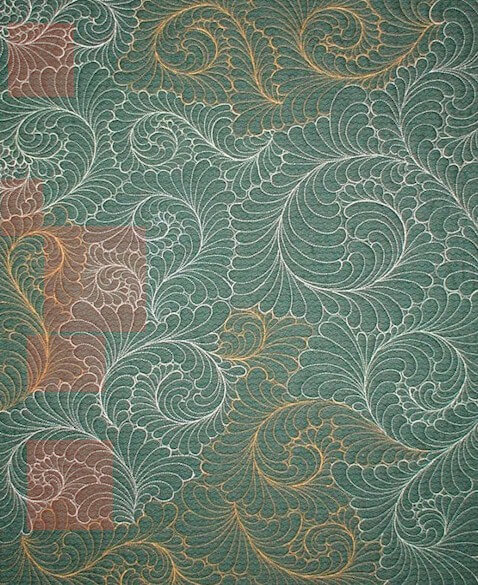 MAD Magazine rings in the New Year with its Top Ten posts…..
"The Disturbing Similarities Between New Al-Qaeda Leader Ayman Al-Zawahiri and New Today Host Ann Curry"
From SewCalGal comes insights on free motion quilting, with a year-long challenge coming up. She says in this blog post that after a year of practicing FMQ, she's much more capable of doing cool designs – and I concur…my FMQ has increased just from the practice. If you're interested, go ahead and sign up for the monthly challenge – should be fun!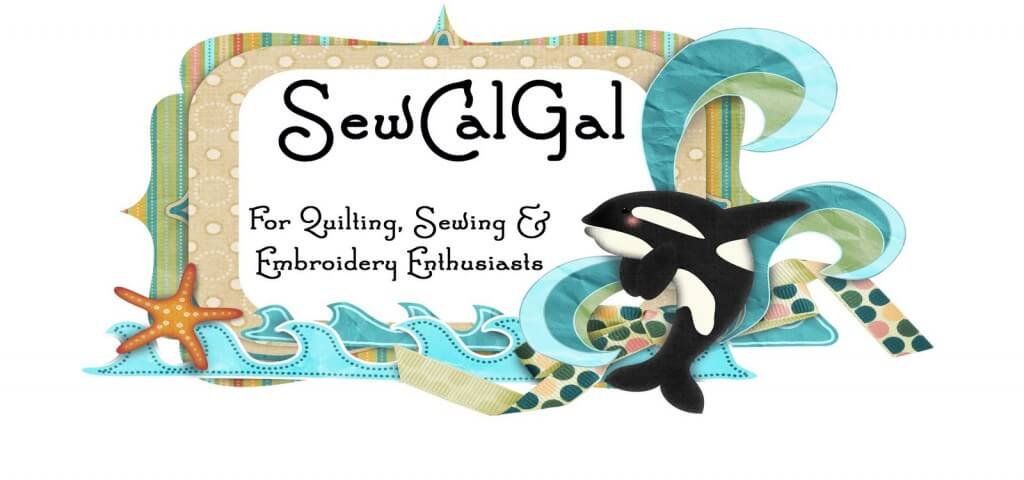 From Generation Q magazine comes some creative pushes for 2012, if you like to spend this time before the new year making plans and setting goals.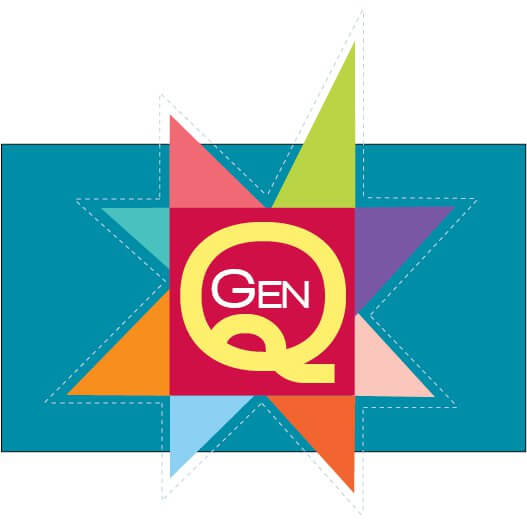 You know I love Cool Hunting – here's some of their year-end best, in conceptual design.
"From ICFF to Art Basel, 2011 delivered a flurry of design objects for the home that while highly creative and concept-driven, didn't compromise their utilitarian duties. From recycled plastic chairs to roman numeral inspired book shelves, the following are five of our favorite pieces of sculptural design that could just as easily pass as pure art objects."
from Art Biz Blog, a collection of top posts from the year for your marketing pleasure!
Most Commented On
You Promise Exposure, We Want to See Results
Artists' Day Jobs – What's Yours?
Is There a Downside to Teaching Your Art?
…and lots more!
From Fine Art Views, an interesting challenge: Add an Art Challenge to your New Year's Resolution List: for Smokers…..I'm thinking of adapting this for dieting….

I haven't posted anything lately on zentangles, but I keep looking at blogs. Here's one from The Rainbow Elephant that I think would translate really well into a quilting pattern, especially since I want to incorporate some snowflakes on a winter quilt.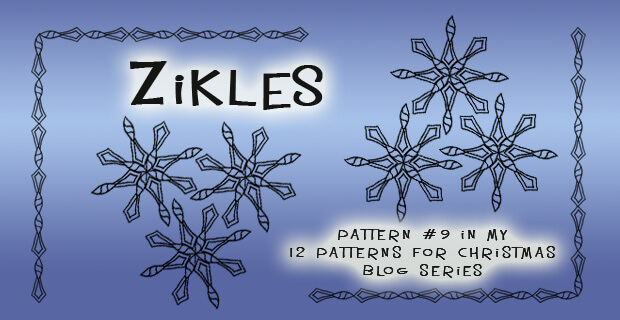 Have a great week – send me cool stuff you find!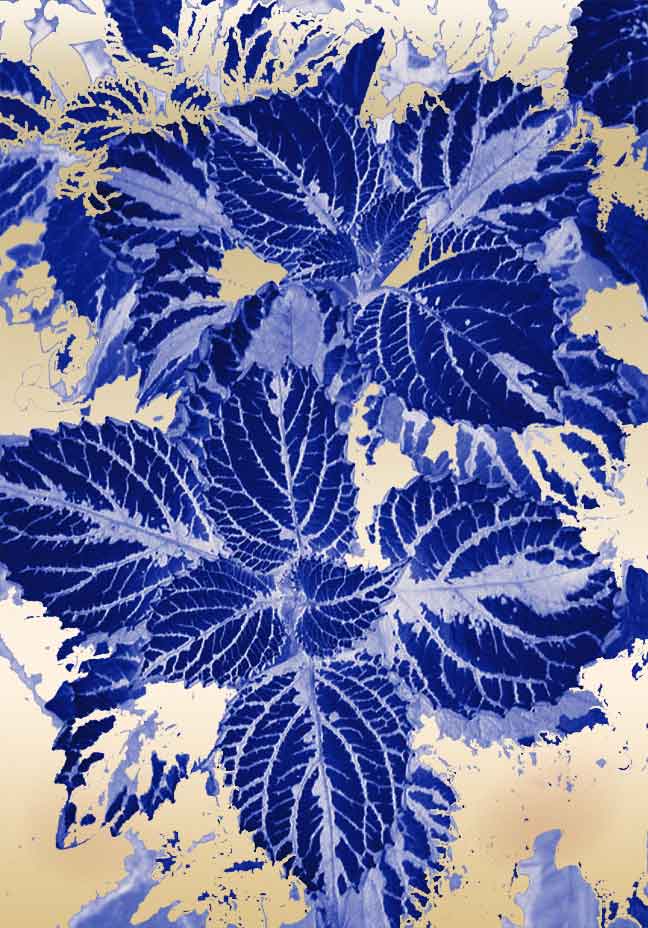 I'm looking at this coleus, which is from a picture I took several years ago at the Tucson Botanical Gardens, and I wish I could remember how I did it…..I need to find the original psd file and see if I can backtrack on it. I am enjoying getting back into playing with Photoshop at least once a week. And I have loads more pics, as we spent yesterday morning strolling the gardens. I have a show in mind called Digital Desert, where I use all local pictures of the desert that have been manipulated in Photoshop. I think that will become a "work in Progress" for the new year. I even have the name of the person to contact about a possible show. As I think about it now, I could put a small pic of the original shot on the intro card, and then display the newly manipulated image. Hmmmm……
There's been lots happening here. The major work in progress is a business piece – we have been invited to participate in Stash Fest, a fund raiser for the La Conner Quilt Museum in La Conner, Washington, on March 31 and April 1. We will be bring a LOT of marbled cotton and silk with us, so we have started already to make fabric…and run into a couple of road blocks. One, the BOLT of fabric we bought at a wholesale price, after trying a sample to see if it would work – doesn't. Between getting the sample, trying it, ordering and waiting for the bolt, and then trying two marbling sessions, we've ended up with a lot of remnants and nothing for the northwest. So we kind of lost December for production. We have ordered our usual pima cotton and are awaiting its arrival. We will probably get one marbling session in this month to finish off a custom order and hopefully begin to create what we are going to need for La Conner. In the meantime, lists are made, labels done and ready to go, folding organized, bins for storage and traveling set up. So we are slowly getting ready.
I promised a reveal of the small log cabin winter quilt. Really enjoyed making this one, and I'm looking for what I can do for the spring quilt – need to get the fabric made, and I need to get at least one of the two big art projects completed and ready for photography. So here's the little wall hanging: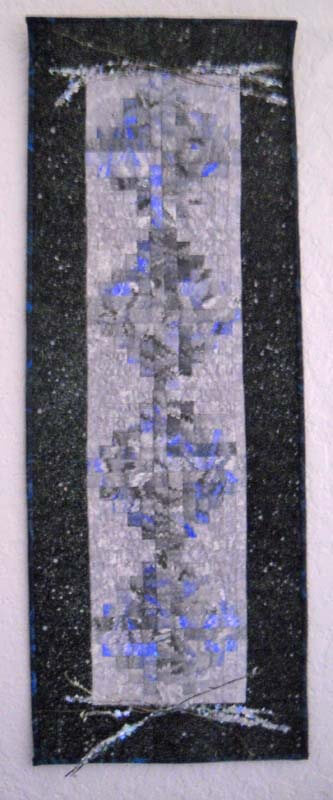 The other big stuff I've been working on are two entries to a major art show. I am progressing, and I'm pleased with what's happening. I just started a new shading on the bigger rocks yesterday, after trying some ideas. No question that the shading has really added to the depth of the piece, as well as add needed dark values. I noticed that I was being too controlled in doing the shadowing, and nature isn't perfectly symmetrical. I need to "rough up" those shadows, as well as bring in some additional other "shadow" colors. I also realized I want to get a foot with a larger plastic opening, so it's easier for me to see where I'm going. I went to the local Bernina dealer (there are several in town), and once again this particular store just manages to make me feel so stupid when I go in. I was told "that's not how you thread paint." Well, that's how I'm doing it, and I like the effect, so spplttttt……(how do you show a raspberry emoticon?)
There is still a long way to go, and I have another piece ready to go, so I have to get busy!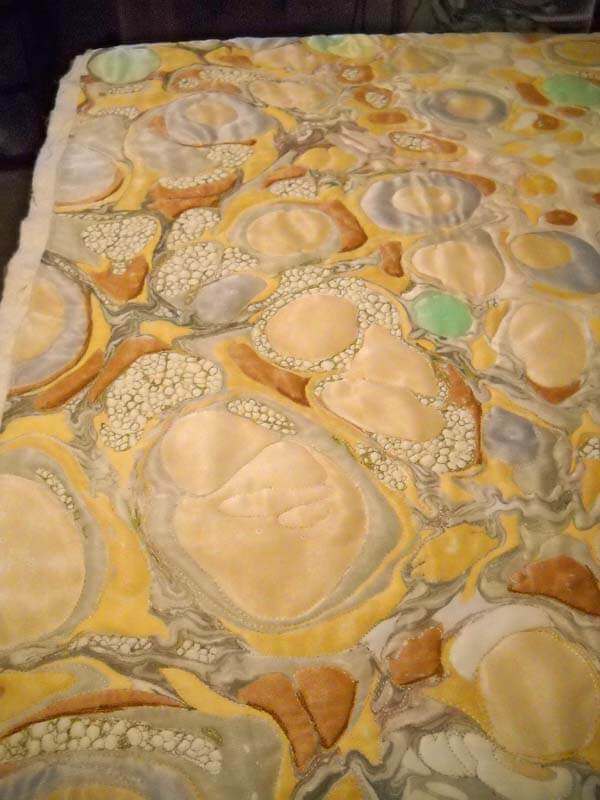 and

Slow start to reading on the web this week – lots of sewing of my own, a couple of major projects in the works, and the beginning of marbling about 400 fat quarters….going to be a couple of busy months!
From MAD MAgazine this week comes their take on Person of the Year – The Molester….
And…if you still need a few last minute gifts, MAD presents the Tweety Bird Smoke Alarm……
If you are watching TV on line, you no doubt have seen (countless times…) the commercials for Omni Heat and Columbia Sportswear. Cool Hunting has a brief ad showing the inner workings of this heated clothing. The company is also using the "Ice Man," Wim Hof. This guy actually can control his body temperature and do things most of us consider nuts. He's quite the spokesperson.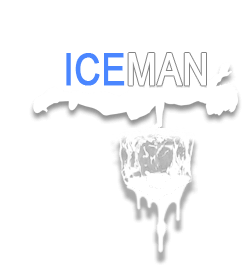 Now here's a project for you chess lovers..."When a Bobbin is Just a Pawn." Really clever! I just think this is so cool!
Like many of us, I came to art quilting via several other craft routes, primarily crewel embroidery in the seventies. I did several Erica Wilson designs, and I loved everything she created. I was saddened to here of her passing, as she was pretty incredible – the NYTimes calling her the Julia Child of embroidery.
From The Best Article Every Day comes 5 Things You Should Stop Doing in 2012. Perfect for this time of year.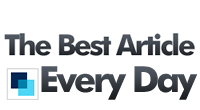 I've been fairly grinch-like this season, just objecting to all the crass commercialism, but I do think this lights-video is one of the classier ones over the last few years. Amazing the technology – and more so the actual set-up of the lights on the house……

And this last is worth an additional three – a really gorgeous short movie by Sharon Wright called Change for a Dollar……perfect for this holiday season.

Have a wonderful holiday and may you have peace and blessings throughout the new year!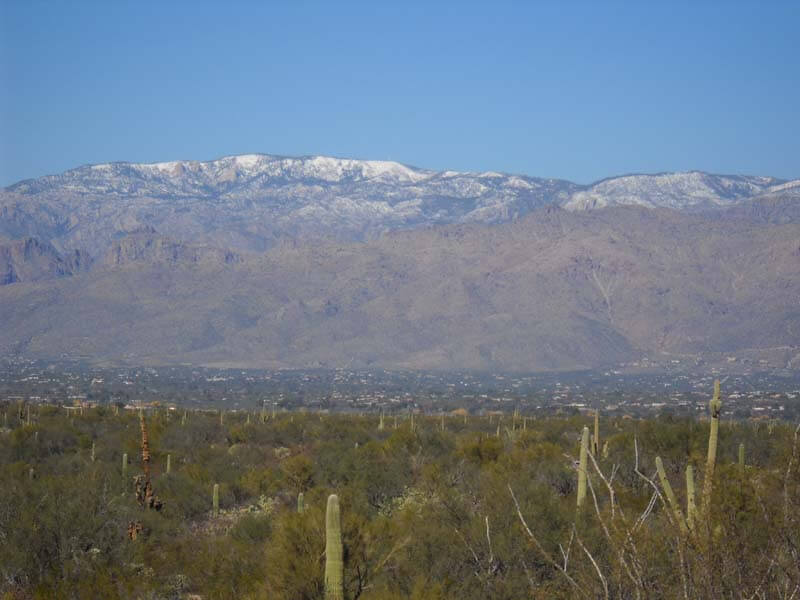 One of the great things about living in Arizona and the Sonoran Desert is the availability of national parks – almost in our backyards. All these pics are from Saguaro National Monument Eat, about 4 miles from where we live. Up above, you can see what passes for snow in Southern Arizona – almost like a ruler was drawn across the Santa Catalina Mountains, which most of us just call Mt. Lemon. The top of the mountain is about 9,000 feet – we headed up from the valley floor to about 5.500 to actually see some of the remaining snow.
You can also see in the picture how civilization is encroaching on the saguaros, those great sentinels of the Sonoran Desert. But this spot is pretty pristine.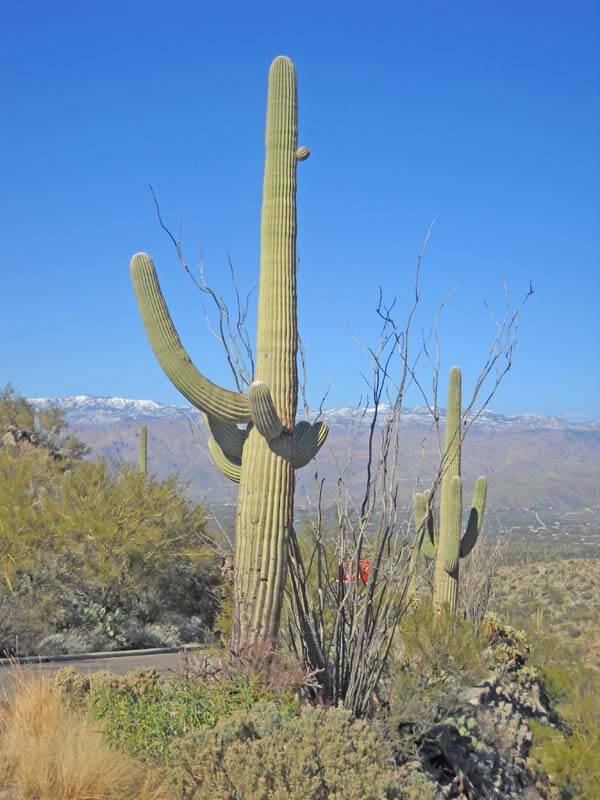 The saguaro cactus is pretty amazing. It has to be 75 years old before it begins one of it's arms, so these guys have been around quite a while. They have gorgeous white/yellow blossoms in the spring. Visiting the park in the spring is spectacular.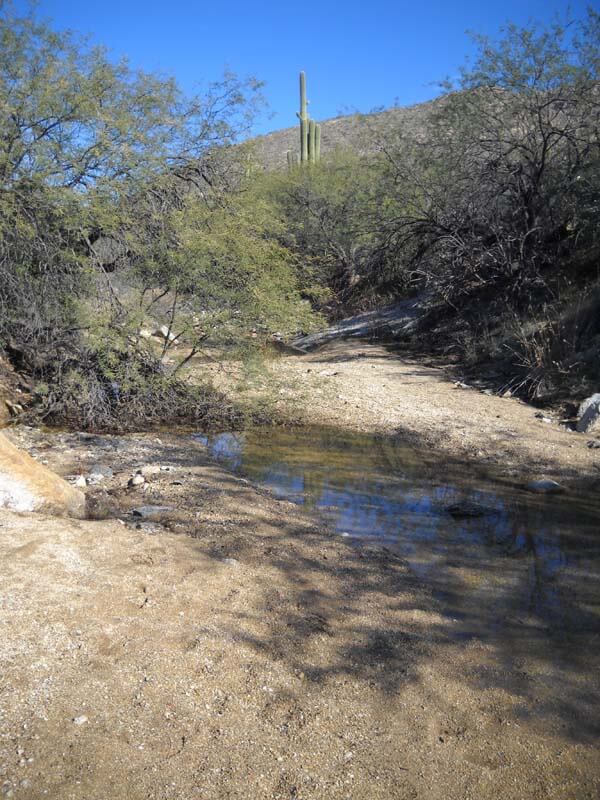 Winter rains are very early this year. Unfortunately you have to visit the park after the rain/snow, because the washes run with water and many times you can't get across them safely. NOw turn around from the top picture and you have….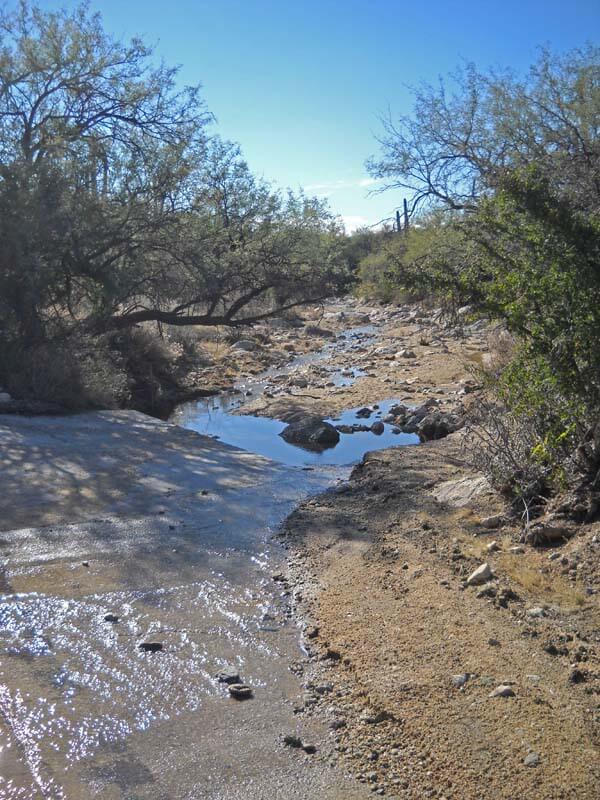 Such great texture!
Speaking of texture, some of our saguaros really took a hit because of last winter's very unexpected – and very deep – freeze. Here's what happens to those majestic cactus: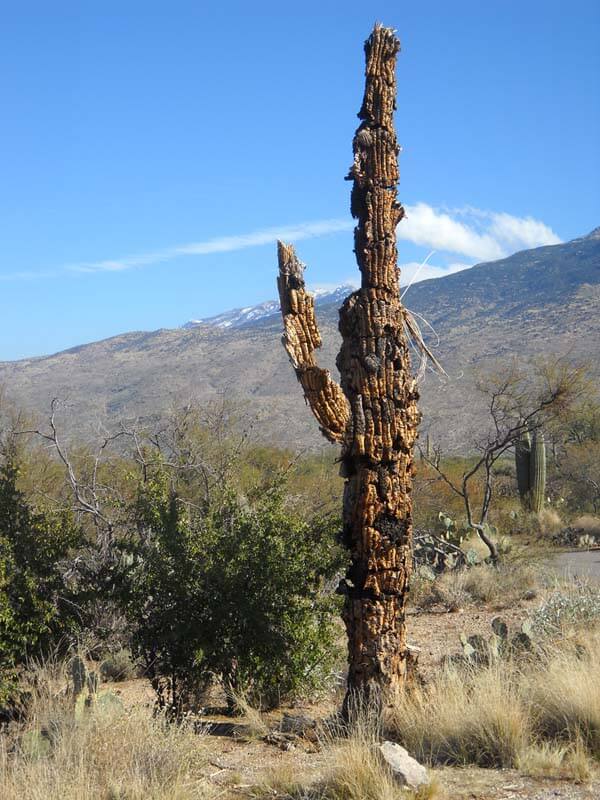 they will decay even further, till all you see are the interior spines. But, oh, the texture is amazing!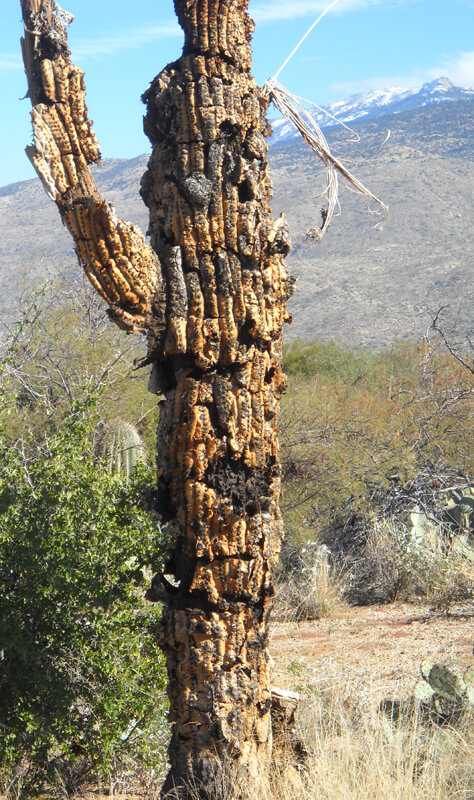 Lots of animals have made this cactus home, so it has quite a history.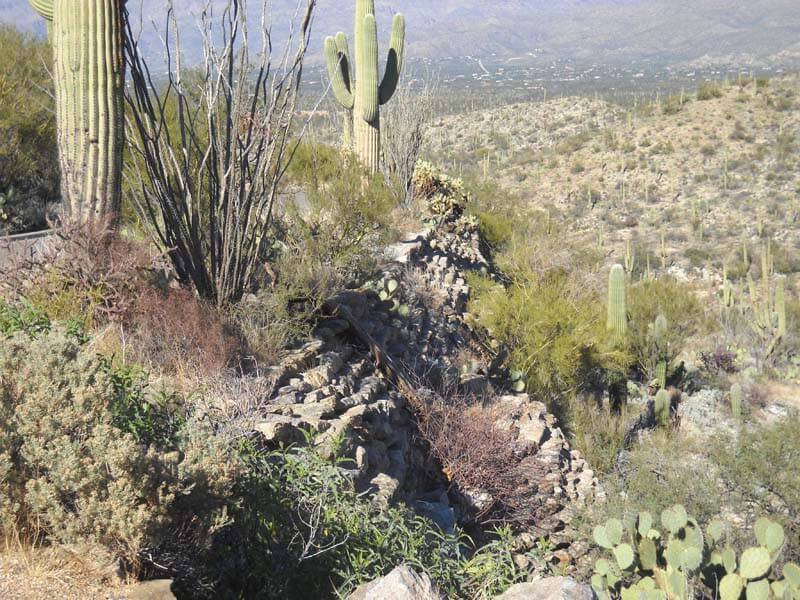 This is part of the drive looking north but going around the eastern loop of the park. Ocotillo, prickly pear, and saguaros, all lining the drive like massive columns. When everything is in bloom, it's pretty amazing.
Now go up Mt. Lemon to about 5,000 feet. You get to the Seven Cataracts lookout. You cna make out the snow in the upper right – we're not high enough yet.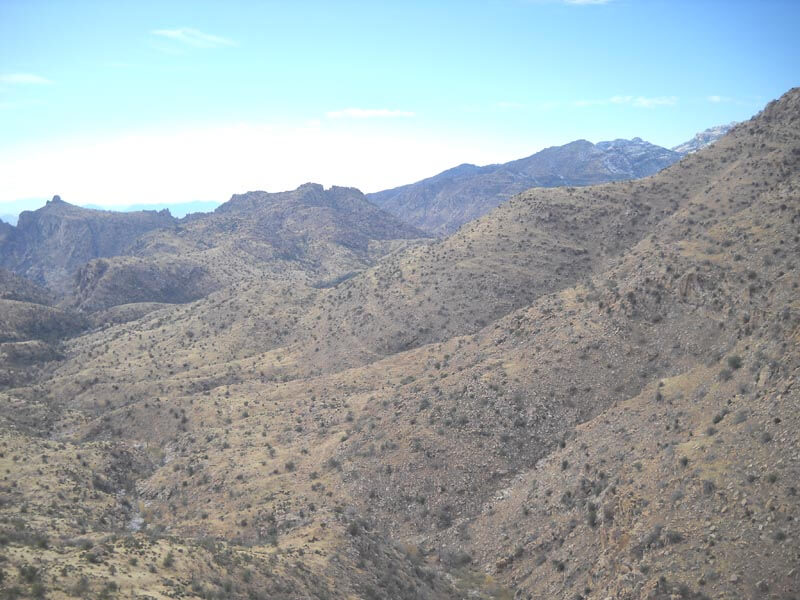 Turning to the right, if you're lucky, the cataracts will have water in them. It's happened twice for us in 17 years. If you follow that whole cavern, you can count the falls.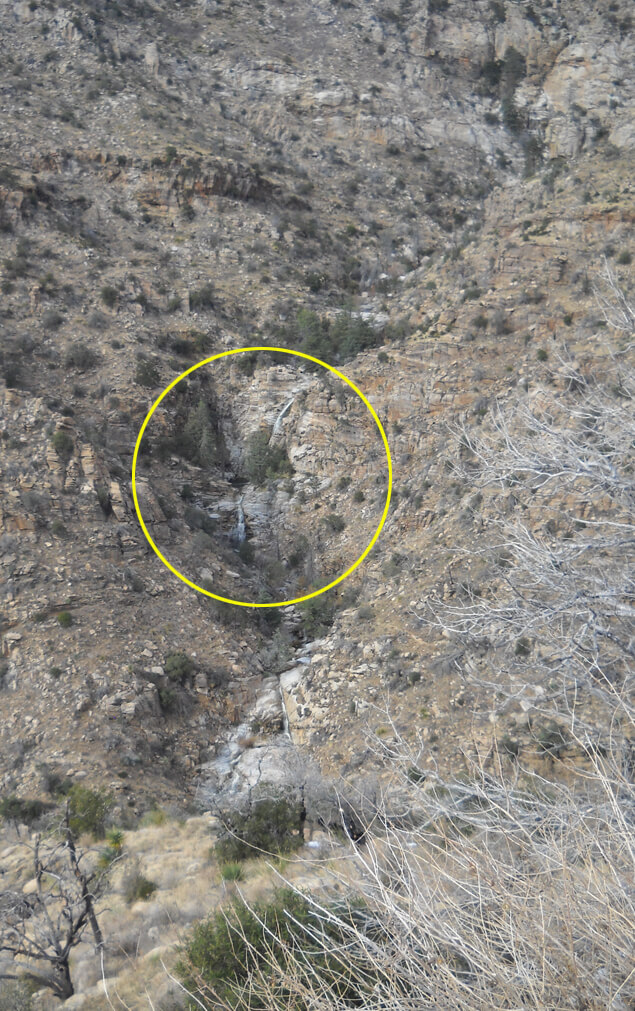 And if you turn to the left, you see the ridges of the mountain ranges beyond Tucson to the south. Tucson is nestled in between.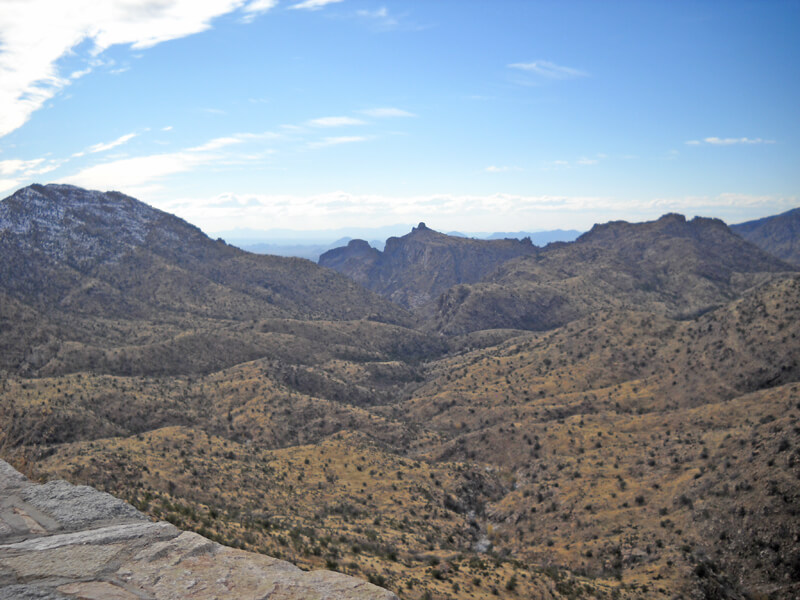 Nice way to spend an afternoon!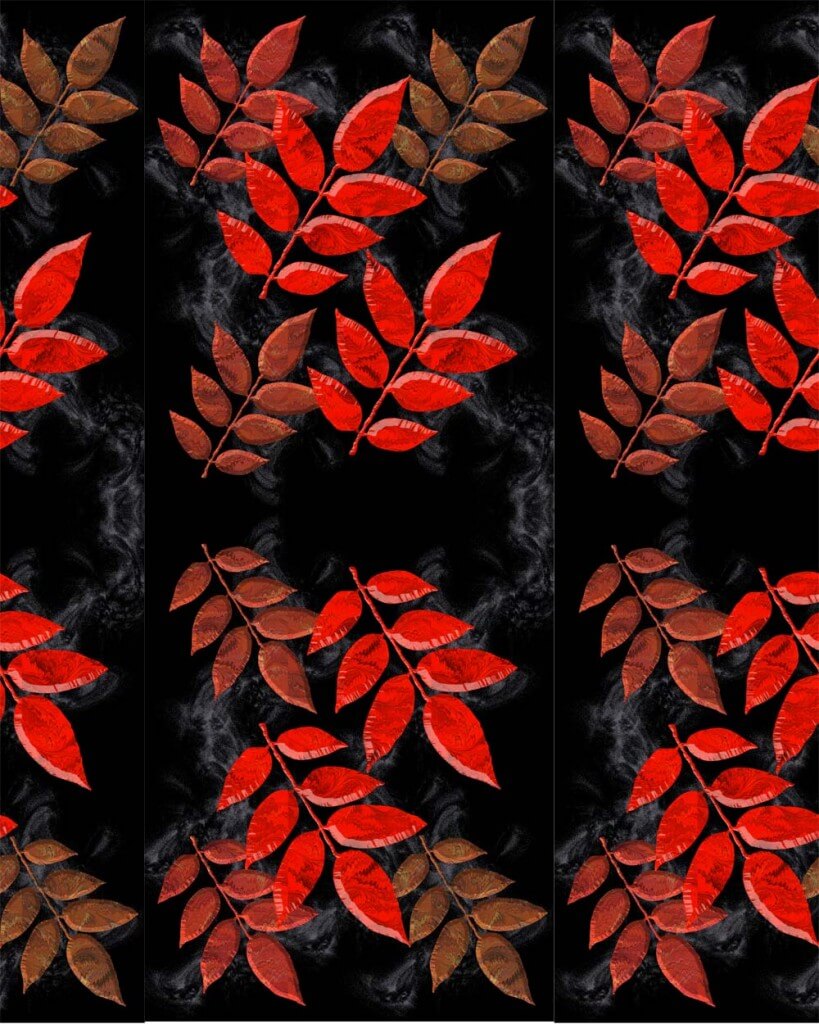 My morning routine  is a very comforting one, as I love staying in touch and surfing the web. Mail, then the local paper, check Google analytics to see my blog numbers, then to Facebook, and then Google Reader. this morning I made it through about four updates on Facebook when I saw a note from a friend of a friend of a friend with a pretty amazing look at the power of music. This is the Welcome Address by Karl Paulnack at The Boston Conservatory. This speaks to the soul of all artists, especially musicians.
The first couple of sentences grabbed me…..
"One of my parents' deepest fears, I suspect, is that society would not properly value me as a musician, that I wouldn't be appreciated. I had very good grades in high school, I was good in science and math, and they imagined that as a doctor or a research chemist or an engineer, I might be more appreciated than I would be as a musician."
I can remember very early in high school suggesting that I might want to go to art school. That was unacceptable to my parents, as I wouldn't be able to make a living in art. I think many of our parents felt that way about the fields their children would pursue. In one of my jobs, at a high school in Vermont, I had a brilliant cellist whose parents wanted him to become an engineer. I remember telling him he needed to follow his heart and do what would fulfill him. At my last high school, I saw a brilliant visual artist and all-around outstanding science student (international winner in a major science competition), choose art school rather than Yale. Two sides of a coin.
There's more to this piece by Paulnack.  He talks about some history of the definition of music.
"One of the first cultures to articulate how music really works were the ancient Greeks. And this is going to fascinate you: the Greeks said that music and astronomy were two sides of the same coin. Astronomy was seen as the study of relationships between observable, permanent, external objects, and music was seen as the study of relationships between invisible, internal, hidden objects. Music has a way of finding the big, invisible moving pieces inside our hearts and souls and helping us figure out the position of things inside us."
I can be awed by the pictures from the Hubble Telescope, but I can cry at the power of music. And I fully agree with his examples of moments in movies where the music is what made the scene. For me, one of my favorites is in Jurassic Park where they first see the dinosaurs. That rise of music fills the soul. And of course, where would the fear of sharks be without those few notes from Jaws? Paulnack talks about music that came from the concentration camps. I saw a great movie a number of years ago about a chorus in a Japanese prison camp. Music saved those women (Paradise Road with Glenn Close)
Paulnack gives his own example of reactions in New York City to September 11.
"The first organized activity that I saw in New York, on the very evening of September 11th, was singing. People sang. People sang around fire houses, people sang "We Shall Overcome". Lots of people sang America the Beautiful. The first organized public event that I remember was the Brahms Requiem, later that week, at Lincoln Center, with the New York Philharmonic. The first organized public expression of grief, our first communal response to that historic event, was a concert. That was the beginning of a sense that life might go on. The US Military secured the airspace, but recovery was led by the arts, and by music in particular, that very night."
I urge you to read his complete address. Perhaps you will look at the power of music differently. Perhaps you will look at the arts differently. Listen to what Paulnack says in his last paragraph:
" I expect you not only to master music; I expect you to save the planet. If there is a future wave of wellness on this planet, of harmony, of peace, of an end to war, of mutual understanding, of equality, of fairness, I don't expect it will come from a government, a military force or a corporation. I no longer even expect it to come from the religions of the world, which together seem to have brought us as much war as they have peace. If there is a future of peace for humankind, if there is to be an understanding of how these invisible, internal things should fit together, I expect it will come from the artists, because that's what we do. As in the concentration camp and the evening of 9/11, the artists are the ones who might be able to help us with our internal, invisible lives."
My machine quilting has improved tremendously over the last six months. It's amazing what quilting for a couple of hours every day will do. This current large piece is moving along nicely, and I'm taking the time to really think about how every element has to work perfectly together.
But…I still need quilting ideas and help. For the longest time I've heard about Continuous Quilting Designs, and I've looked at them, mentally followed them, and then wondered how on earth I could possibly do that. Now that I'm expanding my repertoire, I am still kind of confused about creating a whole motif in one section of a quilt.
I found the answer. Laura Lee Fritz has a series of books with C & T Publishing, and I just had a read-through of 250 New Continuous-Line Quilting Designs. In the words of my students, "OMG, I get it!" Within the first couple of pages I knew I could do this. Laura spells it out simply and completely – how to do EVERY single step. From setting up the book itself for easy use to the types of water-soluble stabilizer to transfer of design to actually doing the quilting – there is no question you will feel like you can create every single one of these designs.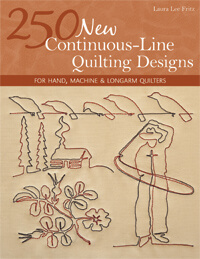 It never occurred to me to trace the design. Maybe that is an obvious step to a lot of people, but "free motion" to me means free-hand. Not so. Here's what Laura says:
"If you aren't ready to make the leap into free-motion quilting, there are simple steps to follow to transfer the designs onto your quilt top. 1. You can trace your designs onto water-soluble stabilizer with a permanent pen (Sharpie and Pilot are good choices) and quilt through it as the topmost layer of your quilt. Try the Solvy stabilizers made by Sulky, or Dissolve from Superior Threads, as they really do wash out of the cloth." (page 4).
There was such a moment of a-ha for me. So that's how you do it.
Here's a really important note that makes a lot of sense to me, given the work I've done with dyslexic students and my readings on brain research.
"Begin by tracing the designs with your fingertips or a pencil to practice the paths, and you will learn to stitch many of them free-hand. This tracing makes the pattern a physical memory and helps you quilt more smoothly." (page 8) Muscles have memory, and I need to practice moving the paper design as though it were cloth, to help train my fingers and eyes just where I need to go. This one sentence tells me Laura really understands this process.
As for the designs, Laura has the following sections: Globe Trotting, Scrolls and Angles, Wilderness, Oldtime Cowboys, Heroic Moments, Wetlands, Baseball, and Edge of Town. I'm looking at the headings, thinking "no way." Turns out there is at least one design in each section that I could incorporate without really even thinking about it.
This is an excellent resource for both beginning and intermediate quilters, on a domestic or long-arm machine. I would think, if I still did hand quilting, that this would really free up design for me. I strongly recommend this book for your library.

PS – in accordance with FTC guidelines, I need to tell you I received a free e-book of this title, with the condition that I would write  a review. Viewers of my blog know that I am honest and wouldn't do anything that would lead you astray in books or materials. My reviews are from the heart and meant to be helpful.

Yesterday I started the "winter" quilt for the group of Seasons, and I made quite a bit of progress. It was an interesting day, as design decisions kept sneaking around as I was working. Now, a while ago I realized I had some "branch" left over from some silk flowers that I thought I could use on this piece. I got a bunch of pieces cut, and then I  realized that about 3 years ago I bought some snowflake glitter for just such a reason as this. And what follows is proof you need to be a little crazy to attempt mixed media….
After spreading some of the glitter on the quilt top itself, I liked it…and realized I had to do some massive clean-up of my "trial and error." Then I wondered if I could coat the small branches with the snow glitter. Once I was able to finally get the glue bottle open, the fun began. I put part of the branch in the glue bottle, tried to shake off excess (not successful), and then dunk the branch in the bottle of glitter. Messy, and lots of snowflake glitter that would shed constantly.
Time for a new plan…dip the top part of the branch in the glue, and then using fingers, distribute the glue down the rest of the branch, and then roll the branch on the pile of glitter on the paper. Shake well and let dry. Clean off very sticky fingers, covered with glitter, and repeat….
I did about nine branches and worried about them drying and sticking to the mat board. I did about 8 small branches, and I love the effect….but I still have to figure out how to attach them. this is certainly a first for me. I'm not one to mix these different media together, and I can see why people get hooked on mixed media collage. In the meantime my idea to add a small piece of blue fabric before the binding changed – I ended up wrapping it to be the binding itself – a lot more subdued that way. I also did some stippling in the gray area – it gave it more texture and lightened the gray slightly.
After a lot of pondering, I took some of my beading processes to attach the branches to the top and bottom of the quilt. The reveal will be next Wednesday.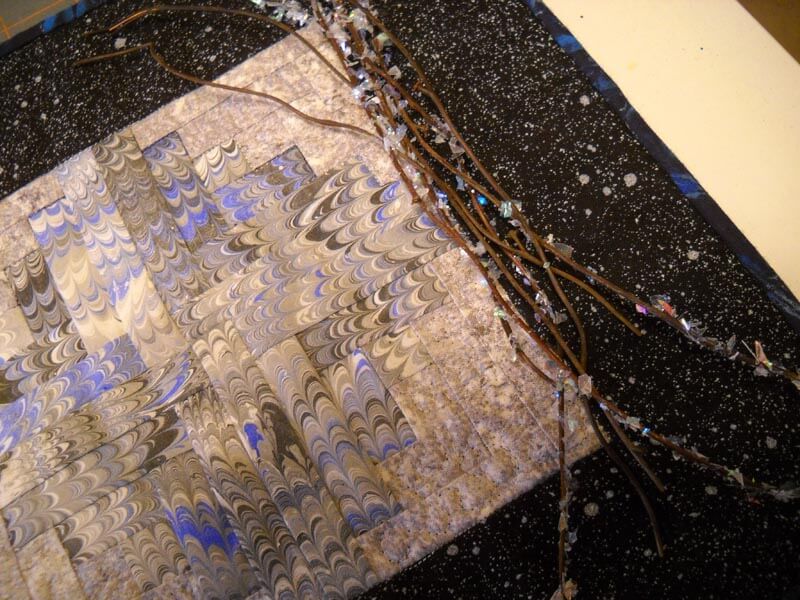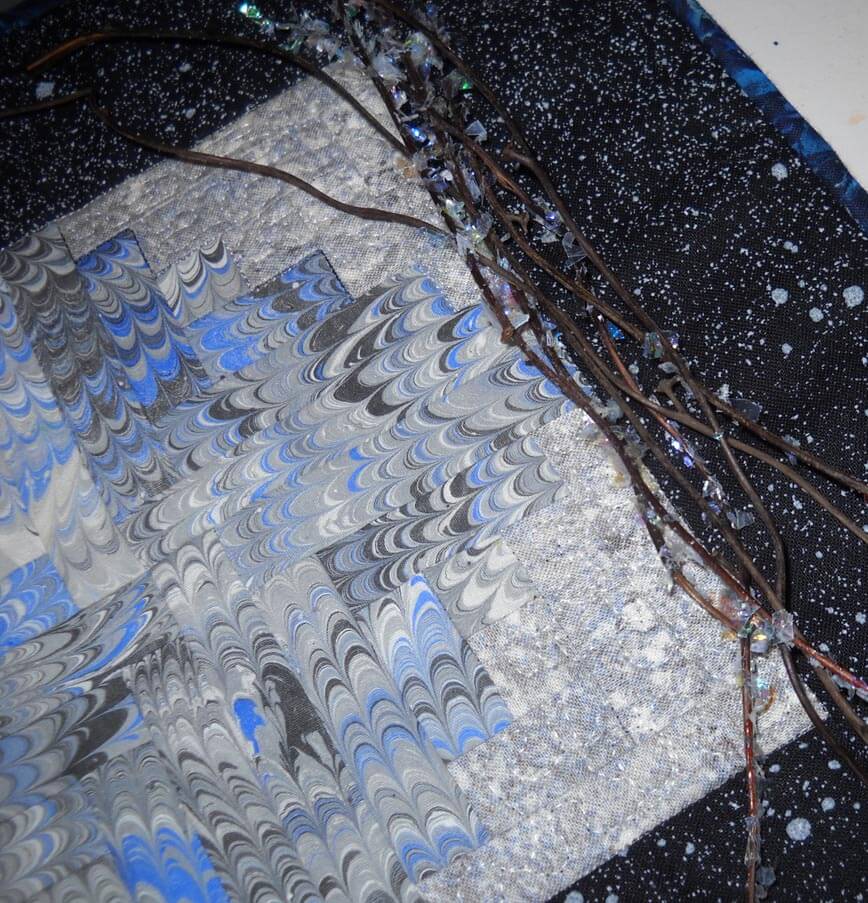 This last is the truer picture of colors – very icy, which is my complete intent.