Posts Tagged 'art licensing'

You know I am a fan of Tara Reed and her Art Licensing Blog. I own several of her ebooks, and she creates and delivers quality. She is having a DYNAMITE sale on her ebook "Goal Wheel for Artists." It's normally $57 and Tara is offering it for $27 until January 13.
View the video. If you need help with goal setting, this could be exactly what you need!

Learn more about "The Goal Wheel for Artists"
(FTC disclosure: I am an affiliate of Tara Reed Art Licensing Blog and receive a commission if you purchase an item.)

I think Tara Reed is pretty amazing. I bought two of her ebooks as I prepare my collections and look for a licensing agent. Yes, I'm an affiliate, and if you sign up or buy something, I will make a small commission. But as I have stated before, I only present to you  materials and people I have done business with and am completely satisfied with the product. You can't go wrong with Tara.
Number 1, she has an extensive library of articles to read, free. Free. LOADS of information, and with the caveats that licensing is hard work and you need to do your homework.
Number 2, she's got a great blog with lots of ideas in each. Again, free.
Number 3, her work is quality, all the way. Tara makes her living licensing her art. She's learned the hard way, and she has a wealth of information.
Number 4, great products available. Her Repeat Patterns in Photoshop answered a lot of questions for me, as I stumbled through teaching myself a very complex program. My first repeat pattern as I worked through the ebook:

Browsing her site is well worth the time. And…if you are further along in developing your collections and ready to "get out there," Tara, along with Maria Brophy (another master at licensing) has a new book out on understanding licensing contracts.   I have a different book that is pretty convoluted in understanding; not Tara and Maria.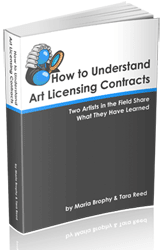 Now, if you need help setting goals – and accomplishing them – something I've had trouble with in the past……check out her Goal Setting wheel. There is also a blog to go along with this – free – with Tara's current goals. It's always nice to go along with someone as they work through the same problems we artists have!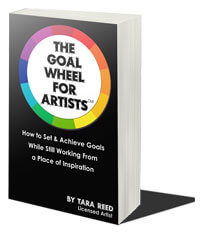 It's December 8, and I know while many of us are finishing up commitments for the year, a lot of us are thinking about next year's goals. I just wanted to put a few things out there for you to think about…..