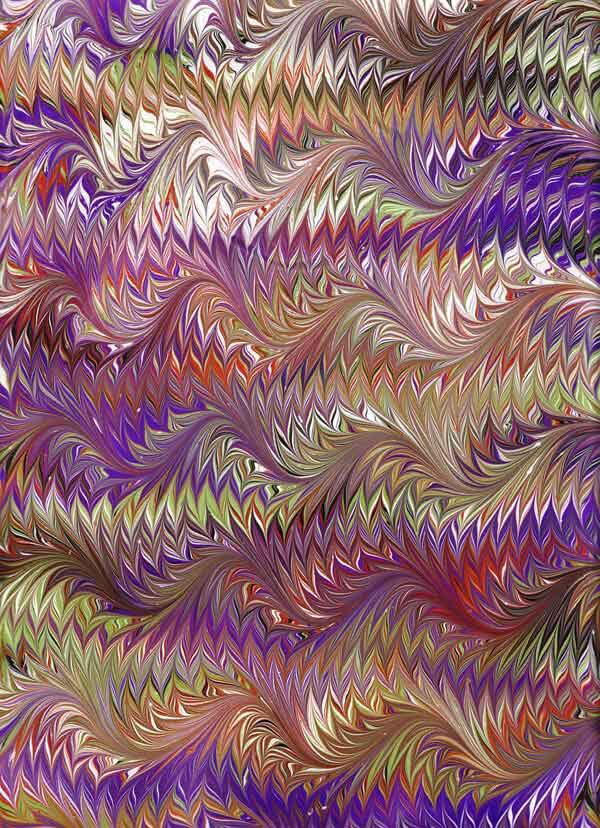 This is one of my most favorite marbling patterns, and I need to practice doing this one on fabric. It's a great pattern, lots of movement, and I SO want to quilt some fabric with this pattern! And it seems appropriate to start out a new year of marketing with a favorite pattern. We spent New Year's Day, hubby and I, working on our schedule for the next few months. We are participating in StashFest in La Conner, Washington, the end of March, so we have to gear up production. That plus building the business.
Normally I would have started out working on all my goals, and then we would have looked at this major opportunity. But….this time was different. And it was good it worked this way. I need to work my business goals around out production schedule, and around finishing my piece for a show deadline on February 13. I need a new portfolio prepared for the March show, additional business cards and postcards – way lots to do for that show. Newsletters – preferred customers as well as collectors – NEED to be addressed – a number 1 priority for this year. Plus maintaining Ebay and Etsy, Fine Art America, and maybe more emphasis with Cafe Press. Given the production schedule for the next 12 weeks, I'm not sure I can do much more.
I do want to get the seasons pattern written, as well as Spring and Summer created. So I am anticipating a very busy first quarter. I hope to have my specific goals set by next Monday. In the meantime, lots of sewing on my one piece, plus practicing from the Free Motion Quilting Project.
In the meantime, here's a post from Tara Reed's Art Licensing Blog: 4 Things to Do to Make 2012 Your Best Year Yet.

I love number four: don't forget what makes you unique!
Also, here's a post from Dumb Little Man: Trying to Improve Your Willpower….an interesting take on our struggles with willpower. Here's a quick nugget:
"The problem is, willpower is a limited resource. You can't stick to a diet by sheer willpower, day after day after day. And you've probably noticed that on days when you've been trying really hard to be patient or to stick with a tough task, you're more likely to crack and fail in a difference area. So, if you try to improve your willpower – forcing yourself to rely on it, or even putting yourself in situations where you'll be tested – then you're just setting yourself up to fail."